Hi everyone!! Spring is officially HERE! In this post, I would like to walk you through how to create elegant pink and green tablescapes for Easter! While Arizona doesn't really get much of a winter, we can absolutely feel that spring is in the air!
My favorite flower shops are putting out so many beautiful options for spring floral arrangements, chocolate eggs are popping up at the stores.
This post shares easy tips on how to style pink and green tablescapes for Easter!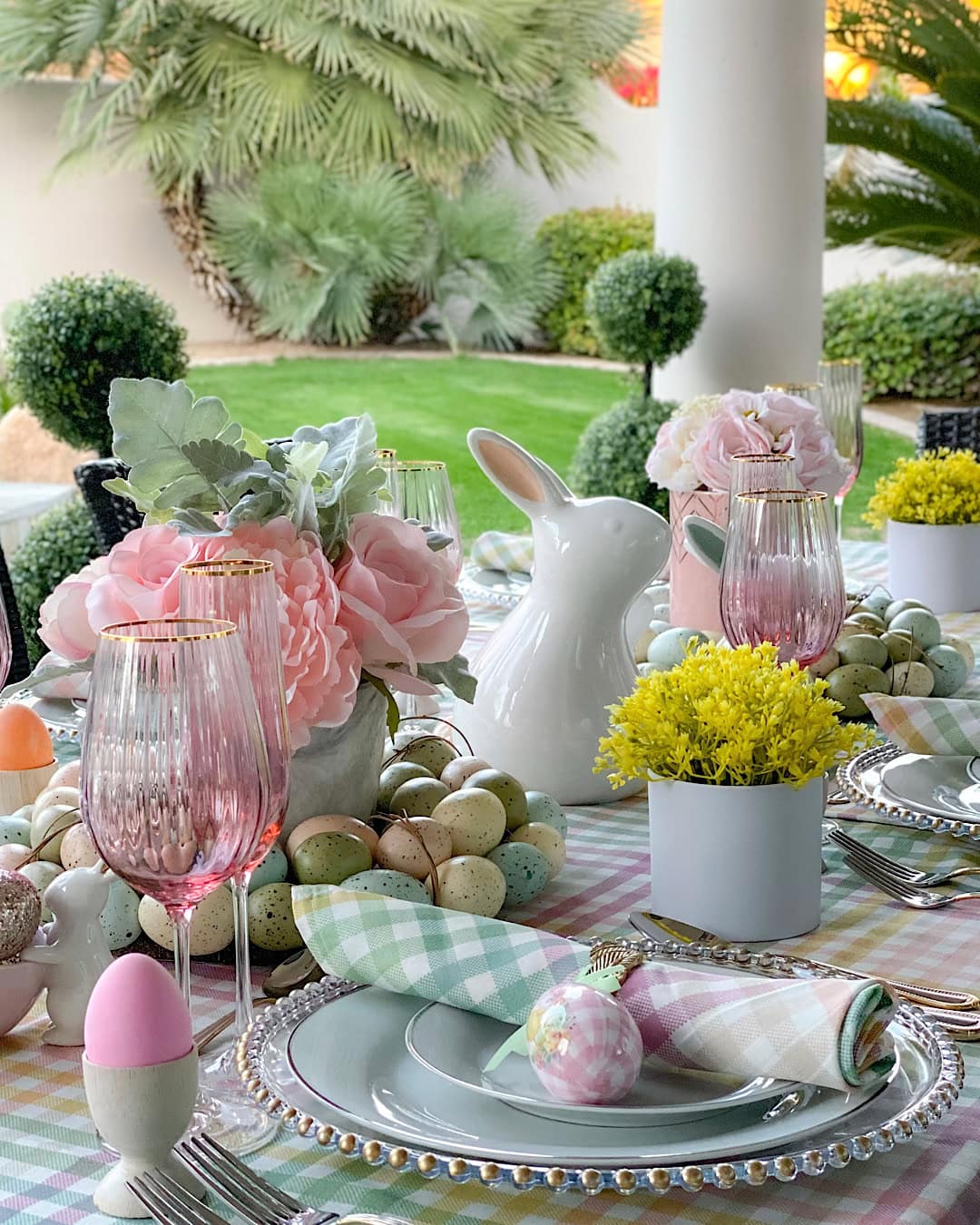 Our little girls Alina and Valentina are starting to ask me about one of their favorite holidays – EASTER!! They LOVE painting Easter eggs, hunting for Easter eggs, eating chocolate Easter eggs, and all of the cute bunny decorations and fun spring colors!
At our house, we love having a nice Easter Sunday brunch, with delicious food, treats, and of course, an elegant outdoor Easter Sunday brunch tablescape.
Perfect Tablescape for Easter
Related Post: 9 Front Porch Easter Decorations That You Will LOVE!!
The way you decorate your table makes the biggest difference in the world and makes any event feel so much more special. There are lots of great everyday tablescapes designs and ideas on Pinterest!
However, if you are planning to create a beautiful Easter tablescape, adding a pretty pastel Easter color scheme, glitter easter eggs, and other adorable decorations for the holiday can turn a simple Easter brunch into a festive event!
If you like pink and green tablescapes, here are some ideas for creating an easy and elegant outdoor tablescape for your upcoming Easter brunch!
What Are Some Easter Decorations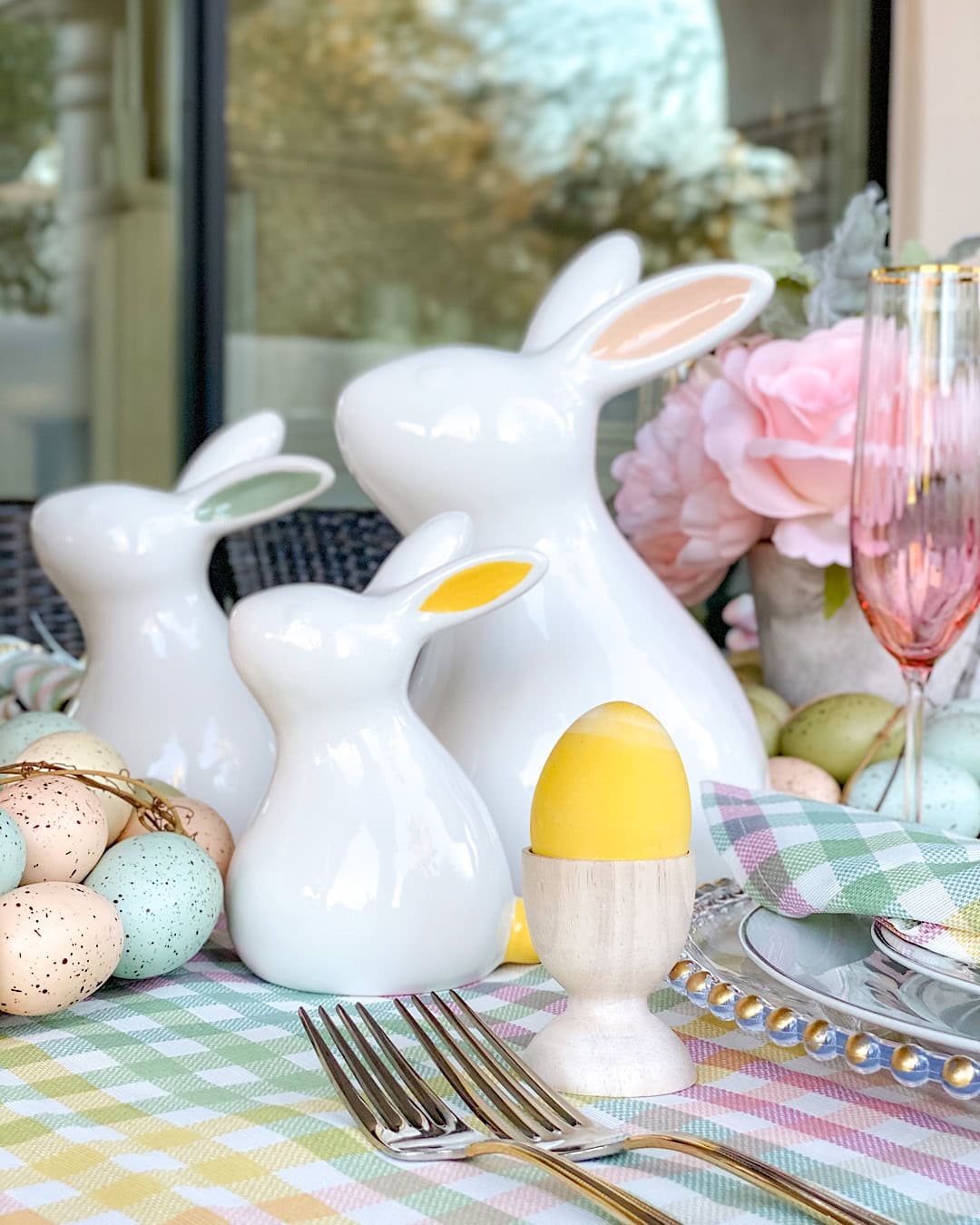 Easter brunch table decorations don't have to be too complicated. Just by adding a few elegant pieces, you can create a beautiful formal Easter table setting. Some great ways to set up an elegant Easter table setting are:
Pink and Green Tablescapes
Tip #1: Place Settings
Related Post: Stunning Pastel Table Setting | How to Create One for Easter or Spring!
Place settings are one of the most important components of a beautiful Easter brunch tablescape. Green Easter table settings are as lovely as designing a beautiful pink tablescape. For this specific table, I wanted to mix pink and green colors for a perfect touch to our Easter table!
In my opinion, place settings can play an important role in creating a festive and welcoming atmosphere for your Easter table. Not only do they add a decorative touch to your table, but they also help guests feel valued and appreciated by providing a designated space for them to sit and enjoy the meal.

Place settings can include items such as dinnerware, cutlery, glassware, and napkins, and can be customized to reflect the theme or colors of your Easter celebration.
Adding nice silverware, such as this vintage jewel gold 5-piece place setting set, is a great addition and can add an elegant touch to your brunch tablescape. I LOVE the stainless steel paired with the 24k gold rim. SO gorgeous!
Pink and Green Tablescapes
Tip #2: Go "All-In" with Easter Bunny Dinnerware Set and Decor
Our little girls love the adorable Easter bunny… So, when I put little bunny decorations around the house and on the Easter table, they go CRAZY!!
You can add some sweet little Easter bunny dinnerware sets, bowls, and decorations to your tablescape for the holiday!

Another great piece to add on for a nice tabletop display is this wooden egg holder. You would be surprised at the selection of Easter dinnerware Target has! The best part about this perfect little egg holder is that you can reuse it for hard-boiled eggs any morning, whether it's Easter Sunday or not!
Pink and Green Tablescapes
Tip #3: Choose Pink Dinner Plates, Green Plates, or White Plates!
Using pink dinner plates, green plates, or simple white plates for an Easter table can be a great idea for a few reasons. First, they are versatile colors that can match a variety of Easter-themed décor and floral arrangements.
Second, these colors are light and airy, lending a fresh and spring-like feel to the table setting. Third, simple white plates are an easy way and a classic choice that can be dressed up or down with different napkins, centerpieces, and accessories depending on the desired level of formality.
Choose Your Color Preference
Whatever your color preference, choosing plates that complement your Easter table décor can help create a cohesive and stylish look for your holiday celebration.
There are SO many different things you can do with your Easter brunch plates. If you want something cheap and easy, then disposable Easter plates are the way to go! But, for fancier brunches, these beautiful Easter plates are a great option.
As you can see in the pictures, I LOVED adding these to my Easter tablescape! The beaded gold trim is just SO pretty around the glass plate!
These beautiful Easter plates and these dinner plates also make fantastic options for Easter brunch. I used these plates as well for my Easter tablescape. The thin silver platinum trim around the porcelain pairs so nicely with the Williams Sonoma plates.
Pink and Green Tablescapes
Tip #4: Woven Placemats
Related Post: 13 Easy Spring Fireplace Decor Ideas!
There are several reasons why woven placemats can be a great addition to your Easter table. First of all, they add a touch of texture and visual interest to your table setting, making it more aesthetically pleasing. Secondly, they can help protect your table from scratches, spills, and other damage particularly if you have young children or messy eaters at your Easter gathering.
Additionally, woven placemats are often easy to clean and maintain, making them a practical choice for a busy holiday meal. Finally, they can be reused for other occasions throughout the year, making them a cost-effective and versatile table accessory.
I love adding placemats to my table settings, it just frames everything so nicely! I didn't do it this time around because I wanted the pretty plaid tablecloth and napkins to really stand out, but in the past, I've used all kinds of great placemats! Such as for Valentina's 5th birthday and our elegant pink gold and white Thanksgiving!
Pink and Green Tablescapes
Tip #5: Gold Flatware
Gold flatware can be a great addition to your Easter table for several reasons. First, it adds a touch of elegance and sophistication to your setting, helping to create a warm and inviting atmosphere for your guests.
Second, gold flatware is versatile and can be paired with a wide range of colors and styles, making it easy to incorporate into your existing table decor.
Finally, using gold flatware for special occasions like Easter can be a great way to make a lasting impression on your guests. So, if you're looking for a simple but effective way to elevate your Easter table, consider adding some beautiful gold flatware to the mix.
Make it your own!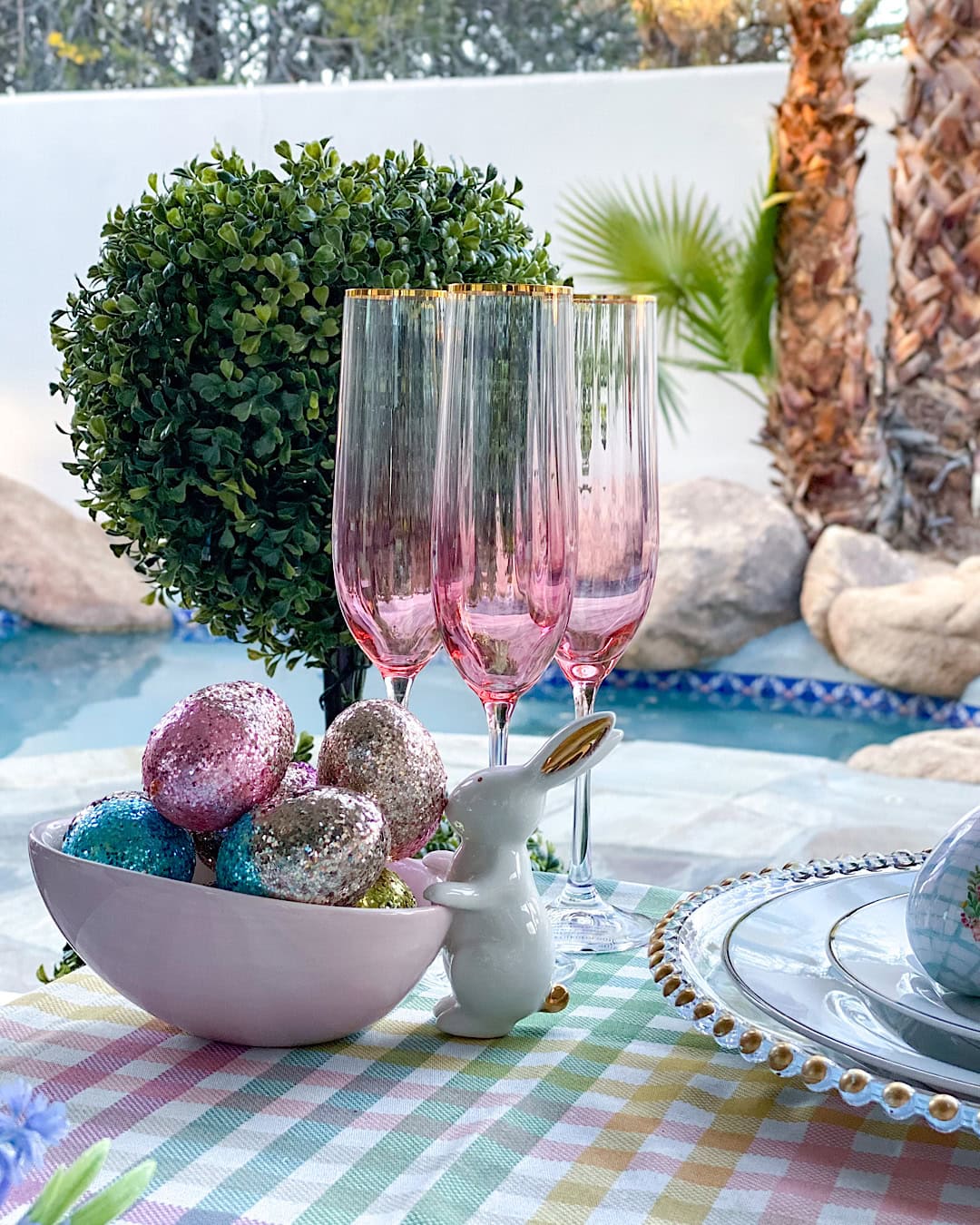 Make the Easter holiday decorations all your own, whatever your style and preferences! If you want to do pastel yellow and white, GO FOR IT! If you want floral and bunnies on everything, go ahead!
If you want more glam Easter décor, go with pretty glitter Easter eggs. Or keep things simple with matte pastels. This assortment of Easter eggs from Target has glittery, shiny, and matte Easter eggs so you can decorate your tablescape however you'd like!
FAQs
Why Blush Pink and Green Easter Tablescape Is a Great Choice
Blush pink and green is a popular color combination for Easter décor because of their fresh, spring-like feel. The soft, pastel tones of blush pink and muted green create a beautiful, understated look that is both elegant and calming.
Using this color scheme for your Easter tablescape can help create a welcoming and peaceful atmosphere for your guests. Also, these colors can be paired with other pastels or neutral tones to create a variety of different looks, depending on your personal style and preferences.
While there are lots of great colors to choose from for Easter, I like to go with a nice blush pink and green. I just think those colors go so nicely with the Easter theme! When Alina had a "Blush Pink and Pastel Green Ice Cream Birthday Party, I realized how great the colors would work for a nice Easter color scheme! The two colors went SO nicely together!
Some nice pieces that you can add to your blush pink and green Easter Tablescape:
These gorgeous blush pink flute glasses and wine glasses from Anthropologie, which you can see I added to my table settings above! The hand-painted gold rim looks SO nice with the sunset pink fade, and of course, the wine and flute glasses match, making it a perfect set!
Easter napkins, like these pretty spring jubilee napkins from Bed, Bath & Beyond, are an awesome addition to your place settings. I loved the colorful plaid, but if you want to stick to a "blush pink and green" theme, they carry a nice pastel green color as well! And these napkins are totally affordable. Also, don't forget Easter napkin rings! The napkins look so nice wrapped up in something like the gold and Easter egg ones I used above.
Try adding on a nice Easter tablecloth, like the plaid one I used above to match the napkins! Or, a lovely Easter egg table runner for a really elegant look!
Blush pink and green glasses, napkins, Easter tablecloths, and runners are just perfect for Easter! Try out this theme when you start decorating and see how it works out for you! Or, try another pair of colors! The fun of decorating is trying out different themes and décor to see what you like!
What are the best pink and green table centerpieces for Easter?
Some great options could include floral centerpieces featuring pink and green flowers like peonies or roses, or incorporating seasonal elements like greenery, pastel-colored eggs, and pretty ribbons. For a DIY project, you could try making a chic mini-wreath or garland using dried flowers or greenery, or filling a glass vase with pink and green candies or jellybeans.
How Do You Make a Beautiful Easter Centerpiece?
For my table, I added pink roses and pops of daisies in blush pink vases, surrounded by speckled Easter eggs. The result was SO pretty! You can see the centerpieces in the pictures above!
I also added a couple of white vases with dainty yellow flowers, surrounded by wreaths of fresh-smelling purple spring blooms and stems (not sure of the names of these flowers, so maybe you want to add them here). You can do something like what I did for your Easter centerpieces, or you can mix it up!
What are the best flowers you can use for a beautiful Easter centerpiece?
Daffodils
Tulips
Lilies
Daisies
Hyacinths
And so many more!
Get creative and make your Easter centerpieces all your own!
What Should I Make for Easter at Home?
Now for the best part! Easter brunch ideas!!! We LOVE eating Mediterranean Omelet (Matt makes the BEST), French toast, and egg benedict along with some fresh fruity mimosa for Easter brunch. We also have fresh berries and fruits on the table. But some other great ideas for Easter brunch at home are:
Easter egg bread
Baked ham
Frittatas
Egg scrambles
Eggs Benedict
Hot cross buns
Scones
Lemon poppyseed muffins
Quiches
Bread pudding
And any other brunch items you enjoy!
Eggs, of course, are a staple for Easter brunch. But sweetbreads and meats are also perfect for the occasion! Don't be afraid to try making something new and have fun with it!
Why Adding Easter Wreaths to The Front Door Is a Good Idea?
Finally, if you are having guests over, don't forget a nice entrance! I added wreaths around my table centerpieces, as you can see from the pictures. But adding one to your front door makes the whole experience of coming to someone's home for a nice Easter brunch that much more special!
I think Easter wreaths for the front door are a great idea because they can add a festive touch to your home! They can be personalized to match your style and the overall decor of your home. Easter wreaths can also be a fun DIY project, allowing you to get creative and make a unique decoration that reflects your personality.
I love this beautiful speckled egg wreath. It's the one I used around my flower centerpieces! It has such a unique look for Easter, and looks beautiful for hanging on your front door!
Alternatively, you can make your own! There are lots of great ideas for DIY Easter wreaths, like pom poms, bunny ears, flowers, woven basket patterns, and more!
Happy Easter!
I hope this guide has helped you and given you some ideas on how to create elegant pink and green tablescapes for Easter! We are all looking forward to eating some nice treats and spending time as a family during this holiday!
The bottom line with Easter tablescape decorating get creative, have fun, and enjoy this Easter with your loved ones! For even more tips and ideas about decorating for Easter, check out my post from last year!
Happy decorating!
Love,
Sherry
Sherry, xoxo