How to Style a Magical Blue and White Tablescape!
There is something about the blue and white colors that I absolutely LOVE!!!! It is one of my favorite color combinations and is perfect for spring and summer! In this post, I want to share some ideas on how to style a beautiful blue and white tablescape.
This table is about how to style an elegant blue and white tablescape for spring or summer!
Easter Vs. Spring-Summer Table Setting
Although I styled this table for Easter, I think the Easter tablescape is very similar to the spring tablescape! You can design this EXACT table for any spring or summer tablescape.
All you need to do is keep the same color combination and remove the Easter decorations (like eggs, carrots, etc..), from this table. You can replace the Easter decor with spring or summer decorations.
Related Post: Capri Blue and White Thanksgiving Tablescape
This post may contain affiliate links, which means that I may receive a commission if you make a purchase using these links.
For example, you can still incorporate natural elements, such as fresh flowers and greenery. Use vases or jars of varying heights filled with flowers to create a dynamic centerpiece. Meanwhile, you can add a few seashells (for summer tablescapes), or butterflies (for spring tablescapes).
Related Post: Stunning Pink and Green Tablescapes for Easter: 5 Styling Tips
Now I want to walk you step-by-step through how to set up a magical blue and white tablescape for ANY occasion! You can also get some design ideas from this table and use your favorite color combination!
Blue and White Tablescape
Tip #1- Setup Your Table Outdoor (If You Can)!
Since we live in sunny Scottsdale, Arizona, we are lucky enough to be able to set up most of our tables outdoors (if we want to)!!! Almost 90% of my tables are set outdoors (even our Thanksgiving table in November)! LOL!!
In my opinion, setting up your table outdoors for Easter, spring, or summer is a fantastic idea for several reasons. First of all, it allows you to take advantage of the wonderful spring weather and appreciate the beauty of nature while enjoying a lovely meal or gathering with loved ones.
Related Post: Stunning Pastel Table Setting | How to Create One for Easter or Spring!
Secondly, the colors blue and white are a perfect choice for a spring tablescape, as they evoke feelings of freshness, purity, and new beginnings. Finally, having a beautifully decorated table can help create a festive and joyful ambiance, making your guests feel welcome.
I'm also a HUGE fan of outdoor pictures! I think outdoor pictures always turn out nicer than any indoor photos! If you like to take a few memorable photos with your friends and family during the Easter celebration or any spring/summer gatherings, consider setting your table up outdoors! You can embrace the beauty of the season and enjoy a memorable time with those you love.
Blue and White Tablescape
Tip #2- Choose Your Table Color Scheme
Choosing a color scheme for styling beautiful tablescapes is a MUST!!! Deciding on your colors is a great way to create a cohesive and visually appealing look for your table.
By choosing a specific color scheme, such as complementary shades of blue, or pairing blue and white with pops of yellow or green, you can create a more cohesive tablescape design.
I also believe choosing a color scheme can make it easier to select table linens, floral arrangements, and other decorative elements that will complement the overall look and feel of your table setting.
As you can see, for this blue and white tablescape, I mixed these two colors with yellow flowers, greeneries, light blue candles, checkered ribbons, and a few other little personal touches. You want to make sure your color flow well with each other!
Blue and White Tablescape
Tip #3- Choose the Right Tablecloth, Table Runner, Linen
To create the perfect blue and white tablescape for summer and spring, choosing the right tablecloth, table runner, and linen is essential. I usually like to match my tablecloth and cloth napkins together! Here are some tips to help you get started:
1- Tablecloth: First thing is you need to consider the size and shape of your table! Make sure to choose a tablecloth that fits your table perfectly, whether it be rectangular or round. For this table, I chose a pastel blue tablecloth.
However, if you are not a big fan of blue or prefer a white table setting, choose the white tablecloth and white linen napkins. You can then use blue as your "accent color".
2- Table Runner: Sometimes I don't use a tablecloth. Instead, for a more casual look, you can always use a table runner. For this Easter table, I wanted to design a more "formal table". Therefore, I added the tablecloth first, then combined it with this fun "Easter Egg" table runner.
For a crisp, clean, and fresh look, choose linen or cotton tablecloths and runners in a lightweight fabric. In the summer, go for breathable fabrics like cotton or linen to keep the table cool and fresh.
You can also consider using a simple white table runner (especially if you are styling a white summer tablescape). Using a white table runner is such an easy way to create a color contrast on your table.
3- Linen and Cotton Cloth: As I mentioned above, I usually try to match a cotton cloth with my tablecloth or table runner. Like this table, this or this…
4- Napkin Rings: Napkin rings are also another fantastic accenting item for your table! For this table, I did not use napkin rings as I placed bowls on top of the dinner and dessert plates.
Regardless of if you are hosting a special event or just a fun little dinner gathering with your friends and family, using napkin rings as part of your decoration, always adds so much beauty to your dining table.
Blue and White Tablescape
Tip #4- Choose the Right Tableware
I LOVE beautiful tableware! I think besides all the fun table decorations, one of the main parts of setting up an elegant tablescape is choosing the right tableware!
You can choose any kind of tableware that you like! Keep in mind your tableware does not have to be expensive to make your table look good. You just need to choose "the right" style of tableware that is within your budget.
When I say choose "the right" tableware, I mean choose a set that goes well with your table theme! For example, if your table centerpiece is full of flowers, candles, and other decorations, you need to choose a "simple" design for your dinner and dessert plates.
Otherwise, your table may look too busy. However, if your centerpiece is minimal, then you can choose dinnerware with bold and busy patterns.
When it comes to choosing tableware for an elegant blue and white tablescape in the spring and summer, there are a few key considerations to keep in mind:
Vista Alegre Dinnerware
As I mentioned above, first try to consider the color, pattern, quality, and craftsmanship of your tableware. Lighter and brighter colors like this beautiful Terrace collection from Vista Alegre are perfect for any table setup in spring and summer.
This white tableware collection offers such unique pieces! If you are looking to design a pretty table (for any occasion), I highly recommend Vista Alegre tableware. When I saw this white dinner plate with gold trims, the beautiful dessert plates, and these elegant bowls, I fell in love with the entire collection!
Another beautiful color combination is blue and white dinner plates. For example, the design I used for my Thanksgiving table. Blue and white plates are one of the easiest ways to decorate your blue and white tablescape.
Next, think about the type of material you want your tableware to be. Porcelain, glassware, and ceramic are popular choices for any formal dinnerware.
Finally, consider the presentation of your tableware. Layering different textures and heights, such as mixing and matching different dinner plates, dessert plates, chargers, flatware, and glassware.
Knowing how to layer your plates, can create a very elegant tablescape. Don't be afraid to play around with colors, patterns, and textures to find the perfect arrangement for your spring and summer entertaining.
Blue and White Tablescape
5- Style A Beautiful Floral Centerpiece
To style a beautiful floral centerpiece for a blue and white tablescape for Easter or spring, start by selecting a mix of the right flowers.
I think adding a little shade of yellow to the blue and white table is so beautiful and perfect for any spring/summer table! If you have a few chinoiserie ginger jars, you can place beautiful white flowers in them! The white flowers will pop so beautifully against the blue and white chinoiserie ginger jars!
As far as the flowers, I think orchids and white hydrangeas are so beautiful! Hydrangeas are usually big and they fill up a good amount of space for your centerpiece! That is why I love them and use them on all of my centerpieces like this!! You can also use other types of flowers like delphiniums, and lilies for your centerpiece.
Cut the stems of the flowers to fit the height of your centerpiece vase, arrange them nicely in the vase and allow the blooms to spill over the edges of the vase.
To complete the look, place the centerpiece on a table runner or tablecloth in a coordinating shade of blue or white, and add candles and other decor pieces (I will explain in the next sections).
Blue and White Tablescape
6- Use Decorative Tree Branches
To create a beautiful blue and white tablescape for spring, consider using decorative tree branches as a centerpiece. To add some height and dimension to the center of the table, gather several decorative tree branches and arrange them in a vase that complements your color scheme. My white branches are on the base, and they are so easy to move around.
I added Easter eggs and orchid flowers to the branches to complete my Easter table! If you are setting up this blue and white table for spring or summer, you can replace the Easter eggs with beautiful blue and white butterflies from any craft store!
Here are some reasons why I love using decorative tree branches while styling my tables, and why I think they make the table look so magical:
1. They add height and dimension: By incorporating tree branches into your table decor, you can create a visually interesting centerpiece that adds height and depth to the overall design.
2. They bring nature indoors: Adding natural elements like tree branches to your table decor helps bring the beauty of the outdoors inside, creating a warm and inviting atmosphere.
3. They're versatile: Whether you're going for a rustic, bohemian, or modern look, decorative tree branches can be incorporated in a variety of ways to suit your style.
4. They're cost-effective: Compared to other types of floral arrangements or centerpieces, decorative tree branches can be an affordable option that still looks stunning.
Overall, adding decorative tree branches to your tablescape is an excellent way to elevate your decor and impress your guests with a unique and elegant touch.
Blue and White Tablescape
7- Use Candles and Candleholders
I use candles on almost 99.9% of my tables!!! LOL!!! Candles and candleholders can be a great addition to any tablescape, adding elegance and sophistication to the overall look.
Candles and candleholders are excellent choices for creating an elegant tablescape. Not only do they provide a warm and inviting ambiance, but they also add height, texture, and dimension to the table.
I think using candleholders adds an extra layer of sophistication to any tablescape. When using candles and candleholders in your tablescape, it's important to consider the placement of the candles carefully.
Grouping candles together at varying heights creates a beautiful focal point while adding depth to the table. For most table setups, using candles and candleholders is the best way to create an elegant and inviting ambiance that your guests will love!!!
Blue and White Tablescape
8- Use Decorative Easter Eggs, Carrots, or Bunnies
Since I styled this table for Easter, I added a few decorative eggs and carrots to my table. This is a great idea and a wonderful way to add a playful touch to your Easter tablescape.
Not only do I place the decorative eggs on my Easter brunch table, but I also like to style a cute bowl full of Easter eggs and leave it on our dining room table during the spring season.
If you choose a white color scheme for your table, choose blue decorative carrots and eggs! The blue decorative eggs and carrots will pop against the white tablecloth, napkins, and white China.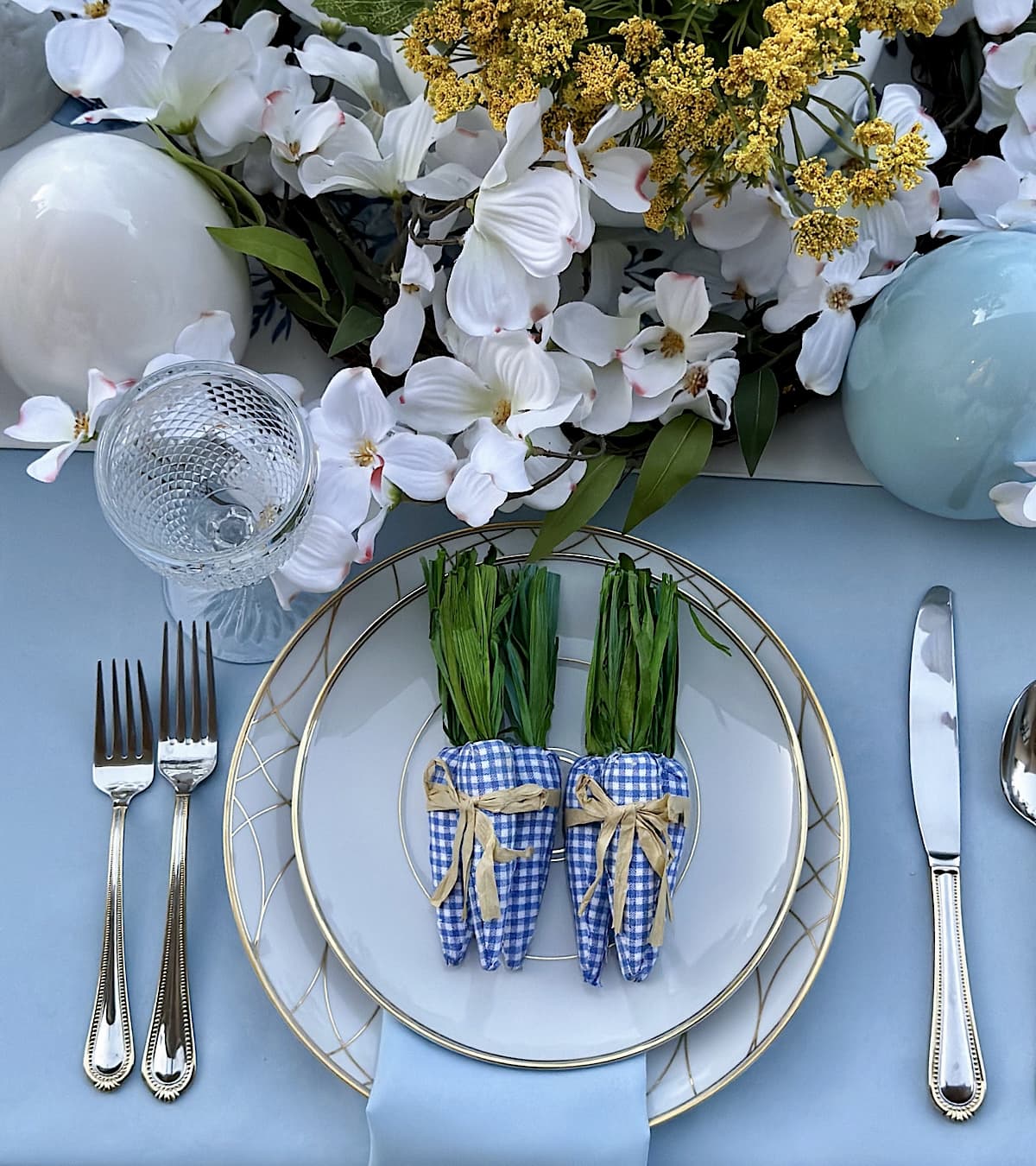 If your tablecloth is pastel blue like mine (or any other shades of blue), then choose white eggs and carrots.
The goal is to create a good contrast between colors! I combined both colors (blue and white) eggs on my table. You can choose whatever combinations you like!
You can experiment with different ways to display the Easter eggs and carrots, such as arranging them in baskets, scattering them along the table runner, or using them as place card holders.
Blue and White Tablescape
9- Incorporate Personal Final Touches- Ribbons
Now that you are almost done styling your table, you may need a final touch to complete the look of your table!
While you want to make sure your table is not "overly busy", incorporating personal final touches like adding ribbons, decorative butterflies, or any other small touches to your spring-summer tablescape will make your table feel more unique and personalized.
These final touches show your creativity and style that directly reflects your personality and taste. Don't be afraid to experiment with different patterns, textures, and even a pop of color while working on finishing up the little details and final touches!
Bottom line!
As I mentioned at the beginning part of my post, I styled this table for Easter. However, you can design the EXACT table not only for spring and summer but also for a fall or winter table!
I designed this blue and white table for Thanksgiving a couple of years ago and I absolutely loved how it turned out! You just need to play with your seasonal decorations and don't be afraid to play around with your colors and texture!
I hope this post was helpful and you have fun decorating your beautiful blue and white tablescape for your next party!
Love,
Sherry XOXO
This post may contain affiliate links, which means that I may receive a commission if you make a purchase using these links.
Shop This Post or Similar
Sherry, xoxo