Hi everyone! I'm so excited to share our front porch Easter decorations for this year with you guys! I can't believe Easter is right around the corner!!!
I hope this post will help you to get some fun ideas to create the same look or similar while shopping for your Easter front porch decorations.
This post is all about sharing great ideas for front porch Easter decorations.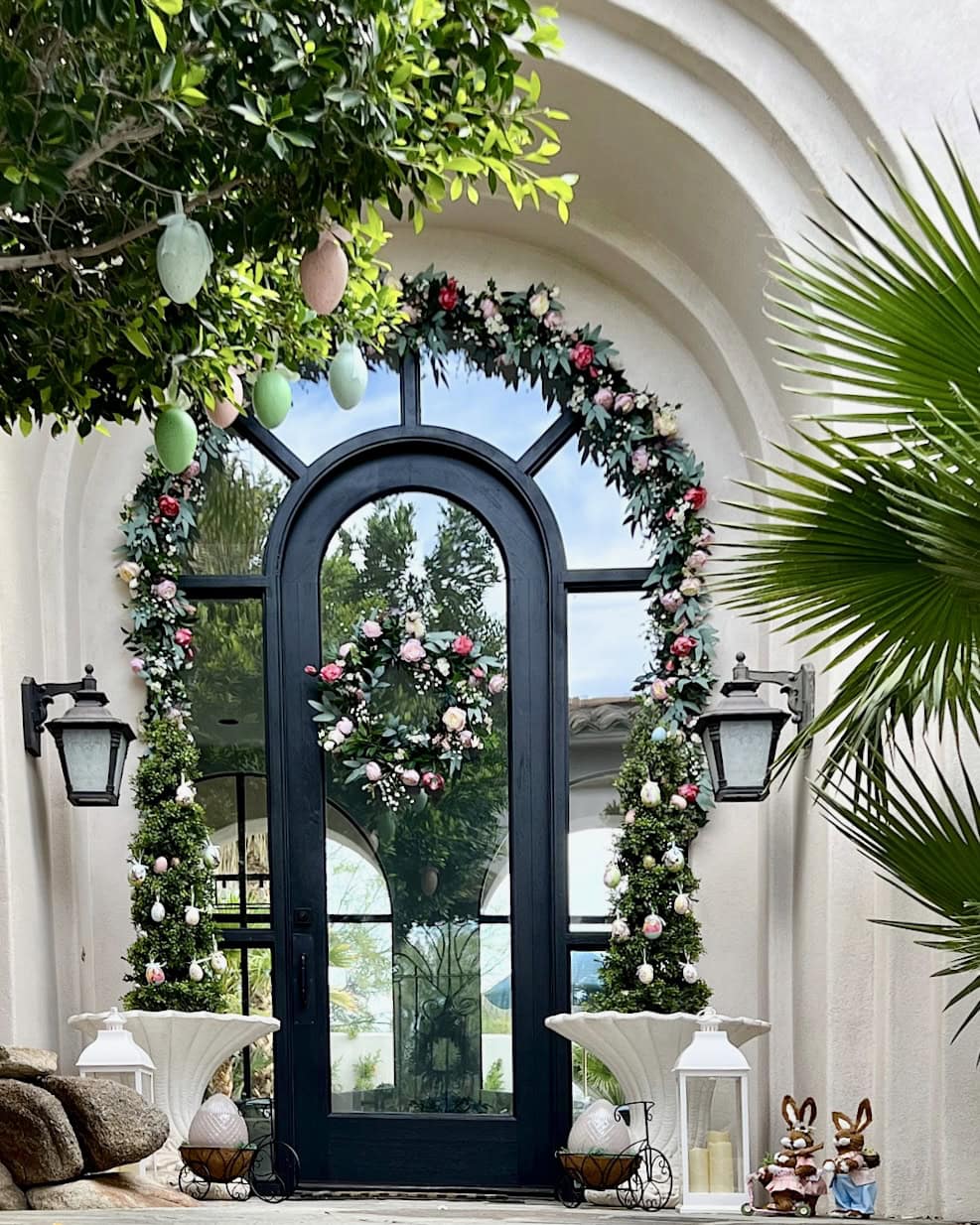 Disclosure: This is sponsored post by Balsam Hill. As always, my opinions are my own.
Easter is a beautiful holiday! The holiday of rebirth and renewal is the perfect time to begin decorating your home with lots of colors!
I believe your outdoor space (courtyard, or the front porch), is the welcome mat of your home! Therefore, I think it is the first place that should be decorated for any given season or holiday!
For this Easter, I decorated our courtyard with the most beautiful floral garlands and floral wreaths from Balsam Hill.
When Easter ends, I will still keep all these beautiful floral garlands and wreaths on our doors/gates until the end of summer! They simply add so much color and beauty to our courtyard!
Related Post: How to Create Stunning Pink and Green Tablescapes for Easter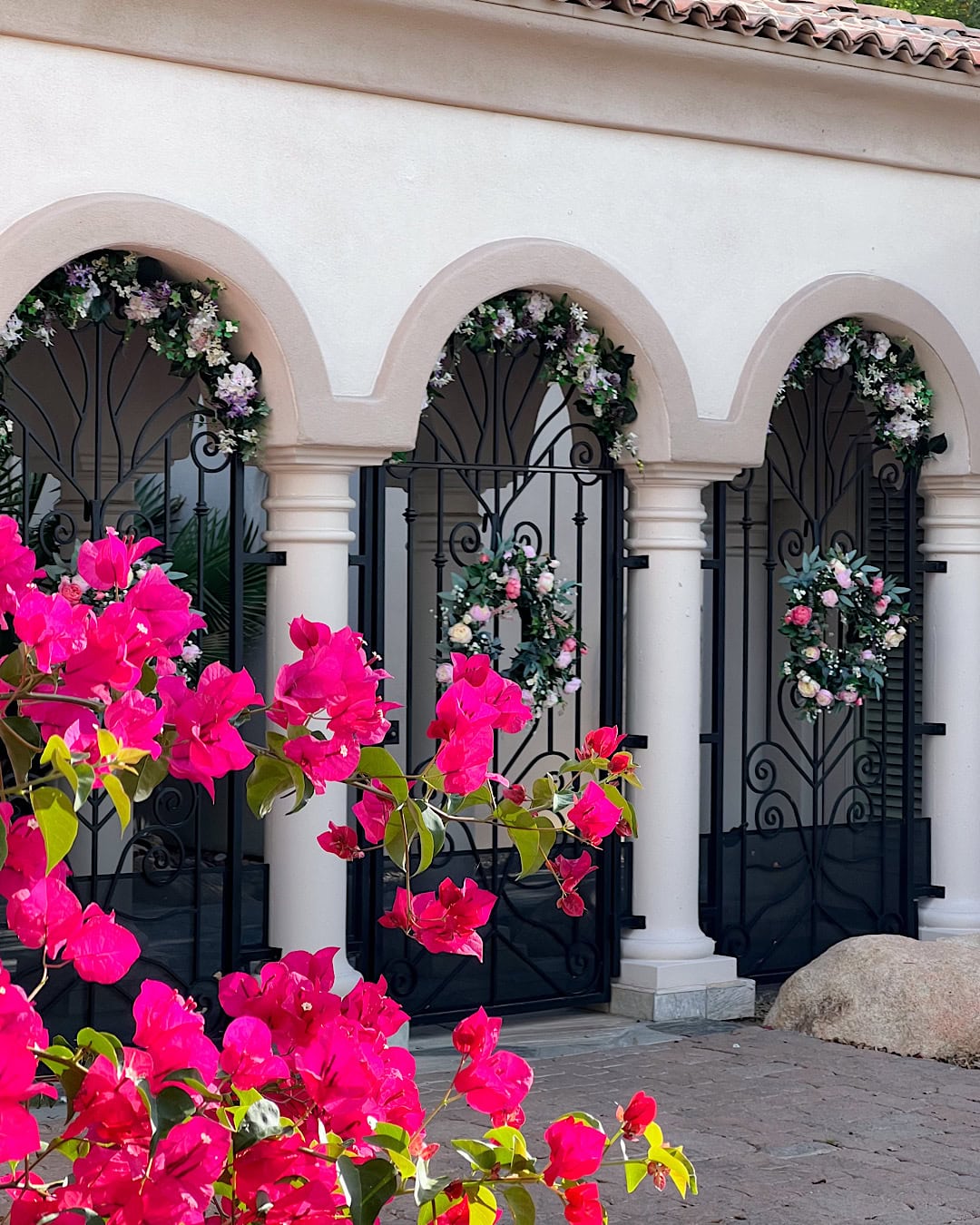 You can take a look at the Balsam Hill website in order to begin your own Easter porch décor outdoor look. Below are the top nine ways that I have found for outdoor Easter décor ideas.
#1: Front Porch Easter Decorations
Start with Flowers
Starting with flowers is simply the easiest way to begin a journey of Easter porch decorations. There is no such thing as too many florals when we are looking at Spring decor of any sort!
We have beautiful spring flowers in Arizona. However, most of the flowers do not last very long under direct sun and it is very difficult to maintain them!
For that exact reason, I decided to switch to natural-looking artificial flowers and plants! I'm SO happy with that decision!
If you do not wish to use living flowers in your decor elements for whatever reason, Balsam Hill is an ideal place to find faux flowers to make your front porch Easter decorations pop.
There is so much that can be done with their luxury wreaths and floral garlands hanging around your doorframe.
I decorated our front door with Balsam Hill's stunning "Outdoor Provence Rose Foliage" garlands and wreaths! The flowers look so elegant and beautiful in person!
I also recommend using real live flowers in pots as part of your Easter decor, if you live in a climate where the flowers will not freeze or die in the heat!
#2: Front Porch Easter Decorations
Hang Colorful Easter Spring Wreaths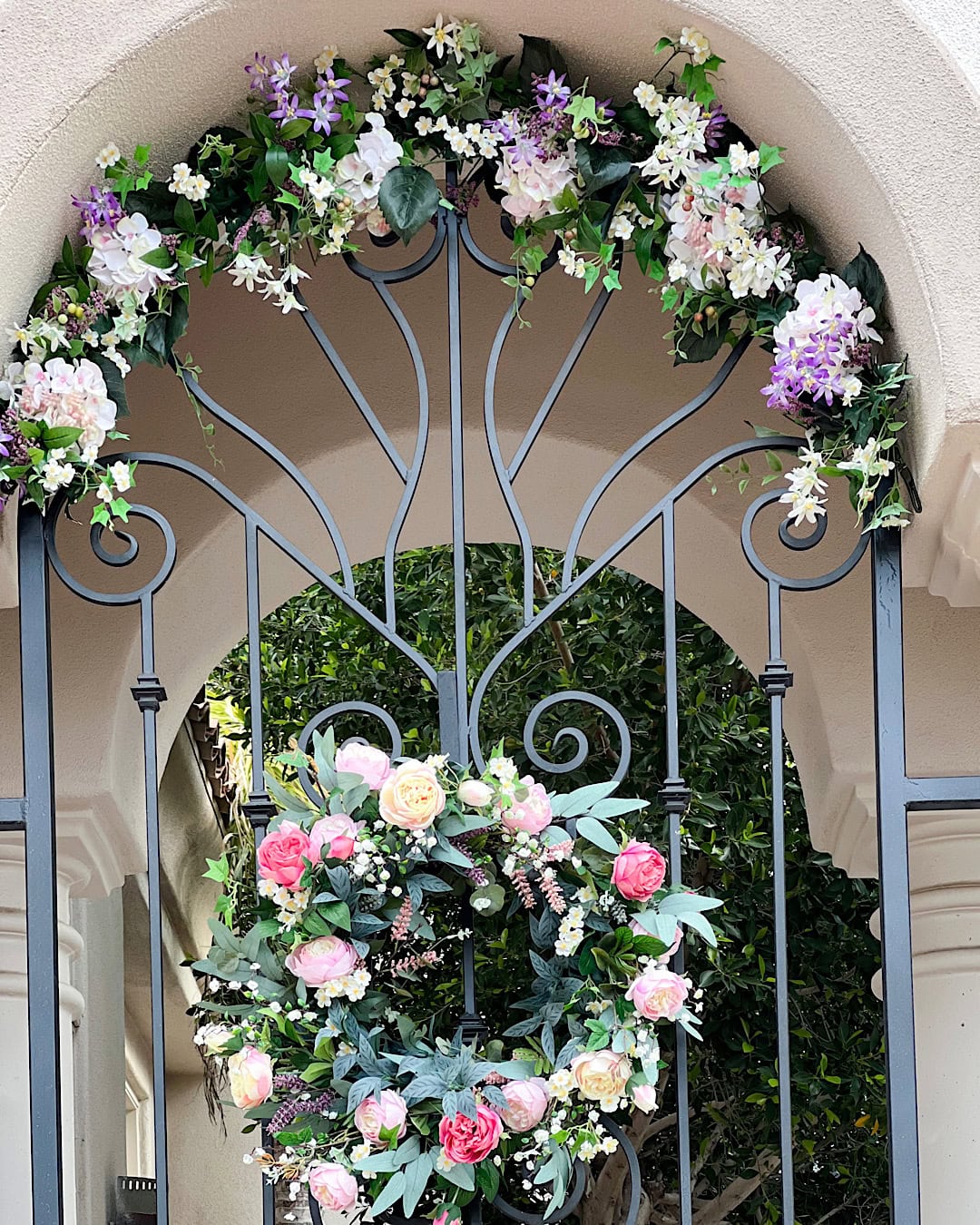 Hanging lovely wreaths is an easy way to add a pop of color to your front porch easter ideas. It is another chance to get flowers involved for this most floral of seasons.
There are several available from Balsam Hill, including those that use their Outdoor Provence Rose Foliage, which is a personal favorite of mine.

These are perfect for creating a lovely soft color palette. I also used their "Outdoor Enchanted Garden Foliage" garlands and matching wreaths on our front door and gates last year and they still look incredible!
For those who are "craftier" than me (LOL), designing wreaths is one of those perfect DIY projects that you should consider for your outdoor Easter decorations.
It is very easy to find wreath forms at your local craft store! You can buy some colorful silk or fresh flowers and create your own wreath for Easter and the spring season! You will also need floral wire and hot glue to fasten the silk flowers to your wreath form.
There are so many other beautiful Easter door decorations that you can consider for your front door! However, I believe hanging a beautiful wreath is a wonderful idea!
There are also so many other beautiful DIY Easter wreath ideas that you can look up on Pinterest. You can design and decorate them in a way that you like.
#3: Front Porch Easter Decorations
Hang Colorful Flower Garlands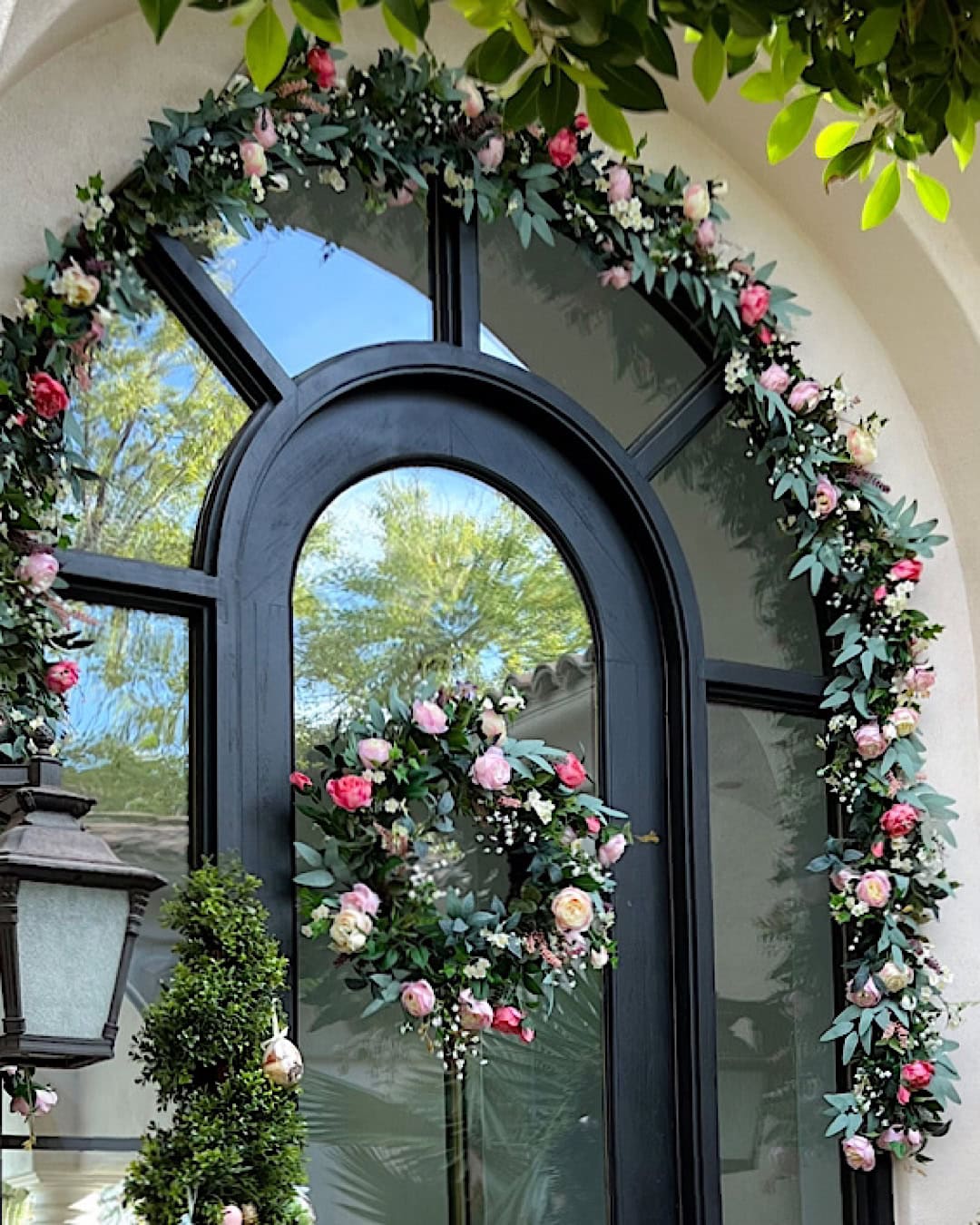 Related Post: Quick & Easy Eater Decoration Ideas
Flower garlands are one of my favorite ways to incorporate florals into any decor project! During Springtime, they are a great choice for Classy Easter décor.
My three favorite choices from Balsam Hill are the Outdoor Provence Rose Foliage, Outdoor Radiant Peony Foliage and the Enchanted Garden Foliage.
I have all of these three garlands and love them!!! As I mentioned, I am using the Outdoor Provence Rose Foliage to create my spring outdoor decor! This design is such an eye-catching spring wreath and I love to use it throughout the spring and summer!
Hanging these lovely garlands around a doorframe is a perfect addition and pop of life on your porch. It is also a beautiful idea to thread your garlands so that they wrap around your porch fence in order to create a cohesive aesthetic.
Another option for hanging garlands is to use hooks that you hang lights on at Christmas to secure them. This will give your porch an Easter woodland aesthetic, and that can be lovely!
If you are not a fan of faux plants and you want to incorporate real flowers, you can even craft, or buy, fresh flower garlands. You can choose the same type or color of flowers that you already have planted in your flower pots to create matching garlands.
Making these is time-consuming, but they are an option if you want to really play up the fresh flowers of the season!
As a bonus, fresh floral garlands will make your entire porch smell incredible. Of course, I personally prefer ready-made garlands! Hahaha!
#4: Front Porch Easter Decorations
Decorate Your Outdoor Topiaries with Easter Eggs
This year I have decided to use Balsam Hill's Outdoor Boxwood Spiral Topiary and decorate them with cute Easter eggs.
I decided to hang some eggs and use some other eggs within the faux boxwood greenery so that it is colorful and fun.

Eggs are one of the best items to feature in your front porch Easter decorations. This project is a great idea to get the kids involved in, as it will allow them the chance to choose where the eggs go, and maybe even decorate the Easter eggs themselves. Valentina and Alina helped me decorate these beautiful boxwood topiaries with Easter eggs in their baskets!
You can also find wooden, foam, or plastic eggs in different colors from Michaels, Hobby Lobby, or any other local craft stores. You can have your kids paint the eggs and hang them on the topiaries.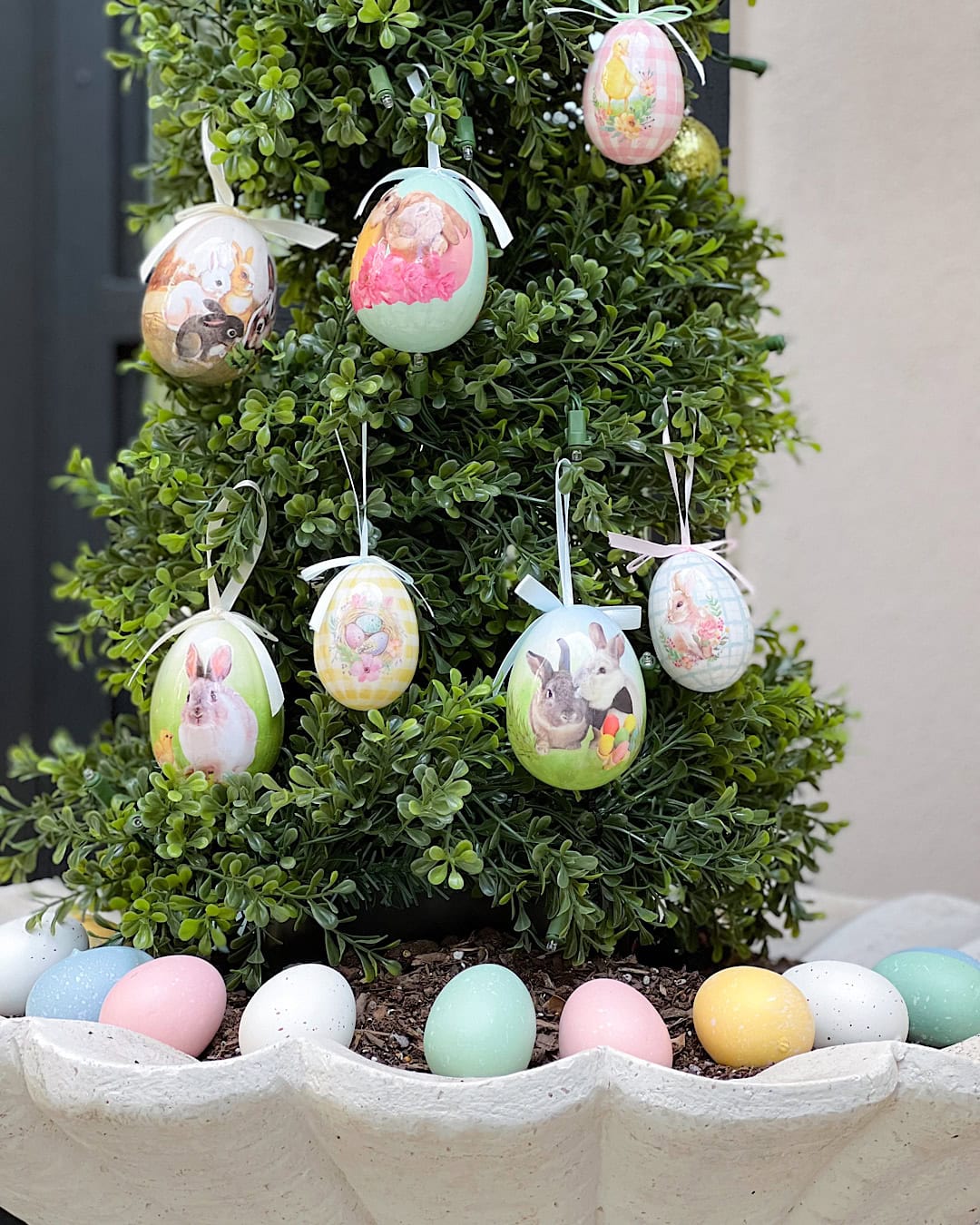 No matter how you choose to create your Easter-themed topiary with eggs, the finished result will be fun Easter décor ideas.
I always believe that just as there is no such thing as "too many" florals in Spring, there is also no such thing as too many eggs in Easter decorations!

#5: Front Porch Easter Decorations
Hang Easter Eggs from Your Tree Branches
Most of us have some trees around our homes, and that is where this idea begins. Making hangable Easter eggs to display on your tree branches will be a fun nod to the holiday without being over the top!
My favorite thing about this idea is that hanging Easter eggs from tree branches outside of your home is another one that would be a fun family project!
Since the tree in our courtyard is tall, we did not include Valentina and Alina to hang the eggs from the branches!!
However, we gave them some Easter eggs to hang on our shorter/smaller plants! You can hang some cute Easter eggs on your tree branches in your front yard, backyard, courtyard, or porch.
#6: Front Porch Easter Decorations
Use Easter Doormat (or Spring Doormat)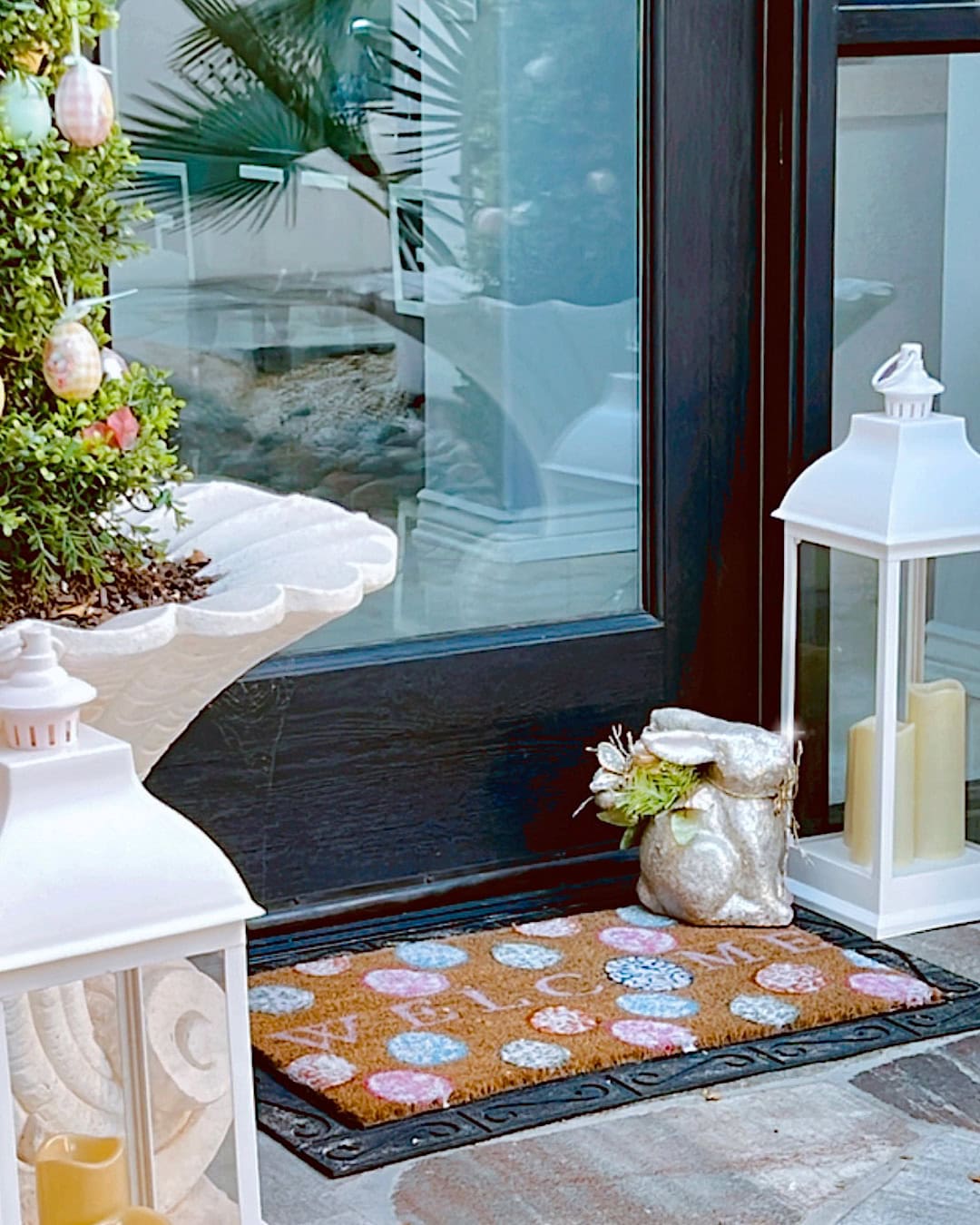 A doormat is the first thing some people may notice before they knock on your front door. This is part of why I like the idea of choosing one that features Easter or Spring imagery to complete your holiday decor.
Many people just have a simple Welcome Mat, but if you are in the process of decorating your entire porch, why leave out the plain mat that has been there all year?
I think adding a beautiful Easter doormat is the best way to bring the spirit of the season to your home without breaking the bank!

I also think choosing a themed doormat is the way to go, and it will pull together your aesthetic well. Easter doormats are a simple way to add a bit of holiday cheer to your front porch.
You can find doormats are your local craft store, or online if you prefer. Spring is a perfect time to feature the Easter Bunny or some other adorable baby animals on your doormat!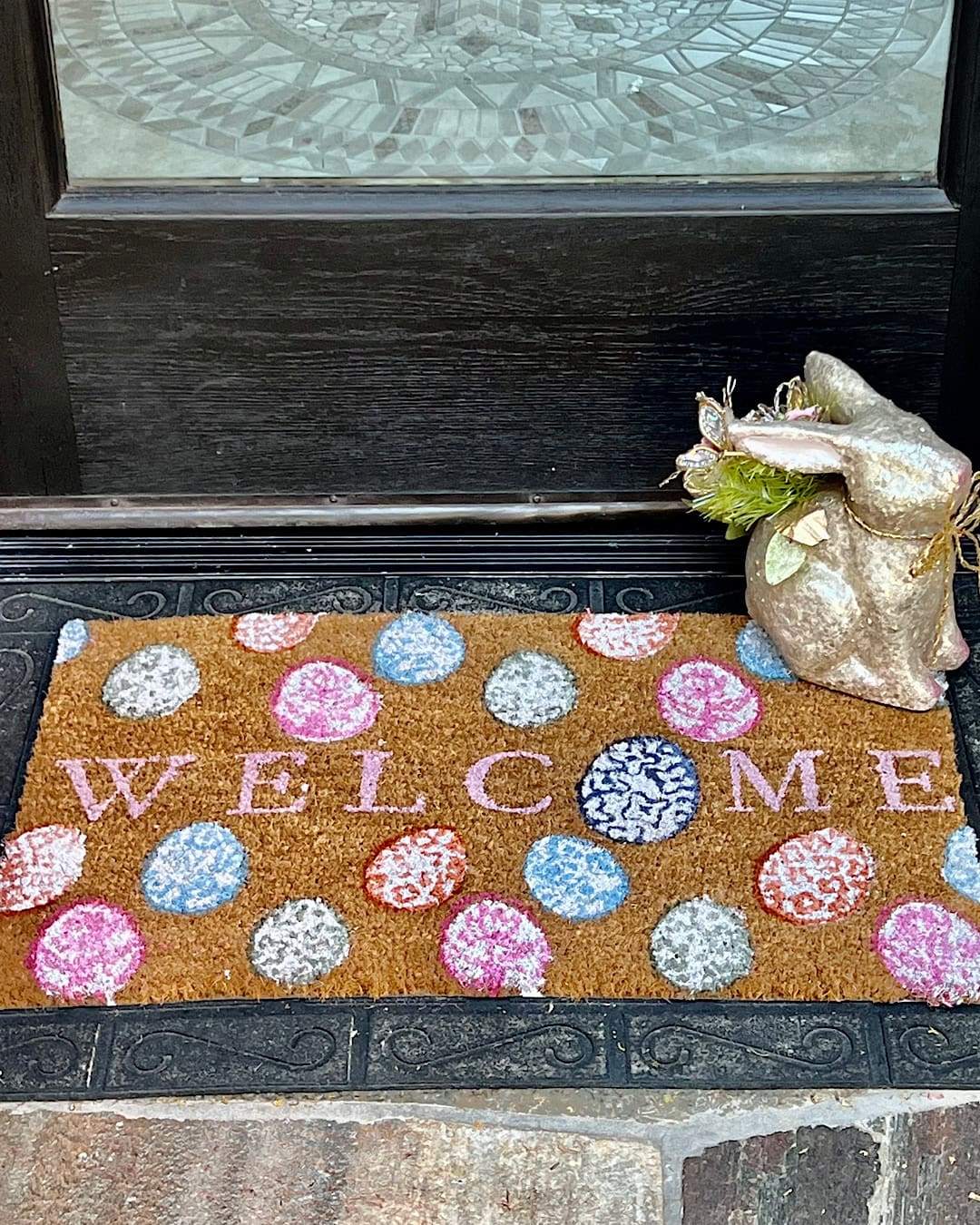 #7: Front Porch Easter Decorations
Place Large Yard Easter Eggs at Your Front Door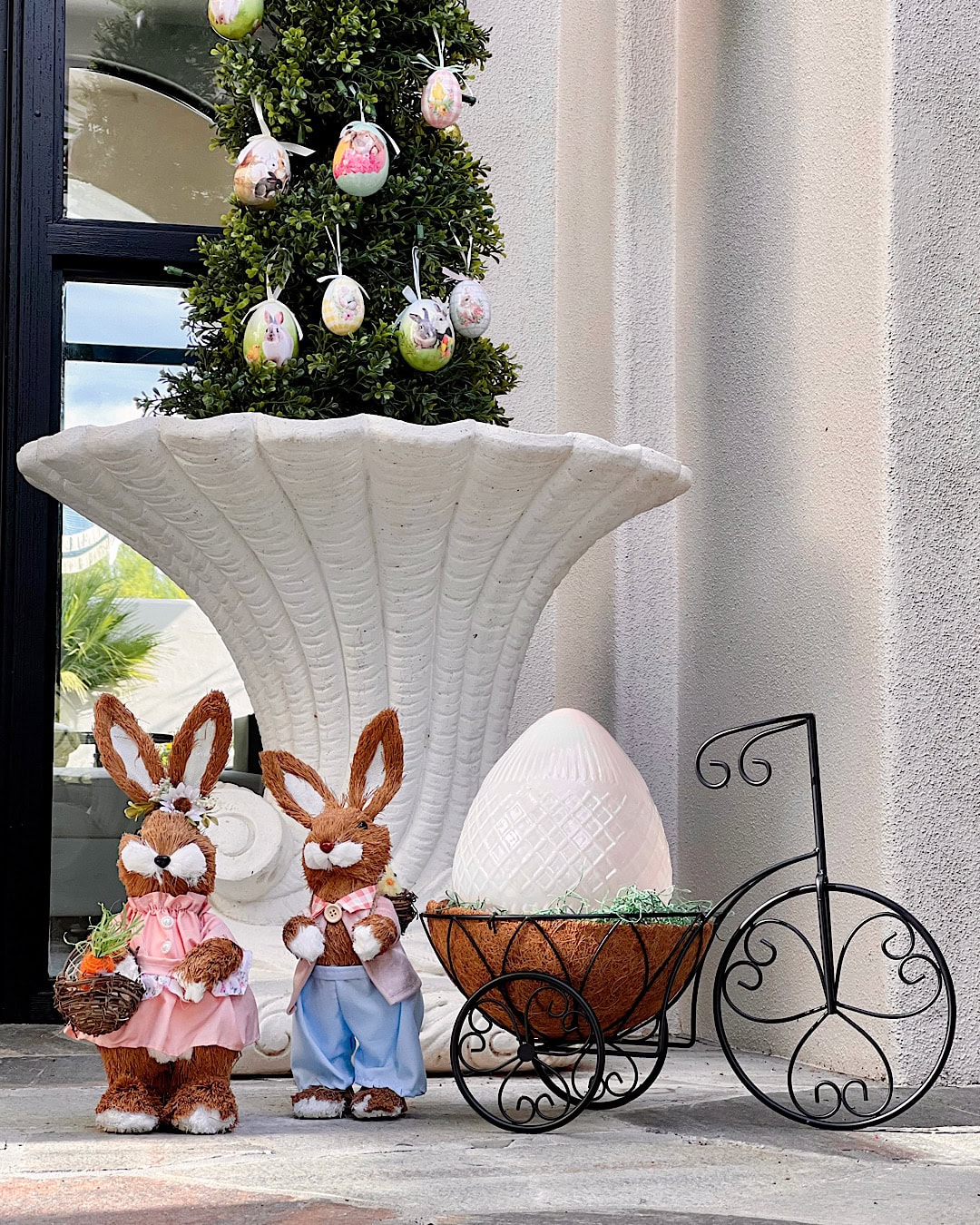 Large Outdoor Easter Eggs are gorgeous for your outdoor Easter décor! Unfortunately, I was not able to find the large Easter eggs that I had in mind this year!
So, when I found these medium sizes Easter eggs, I decided to buy them! I thought placing these medium-sized Easter eggs is a fun way to decorate our entranceway!

I believe placing large Easter eggs at your front door is a great way of continuing the egg theme instead of simply using eggs in your topiaries or trees!
These can even utilize DIY outdoor Easter decorations, as you can buy large wooden cutouts of eggs to paint and place them in bright colors on Easter baskets.
#8: Front Porch Easter Decorations
Place an Outdoor Easter Bunny (or bunnies) at Your Front Door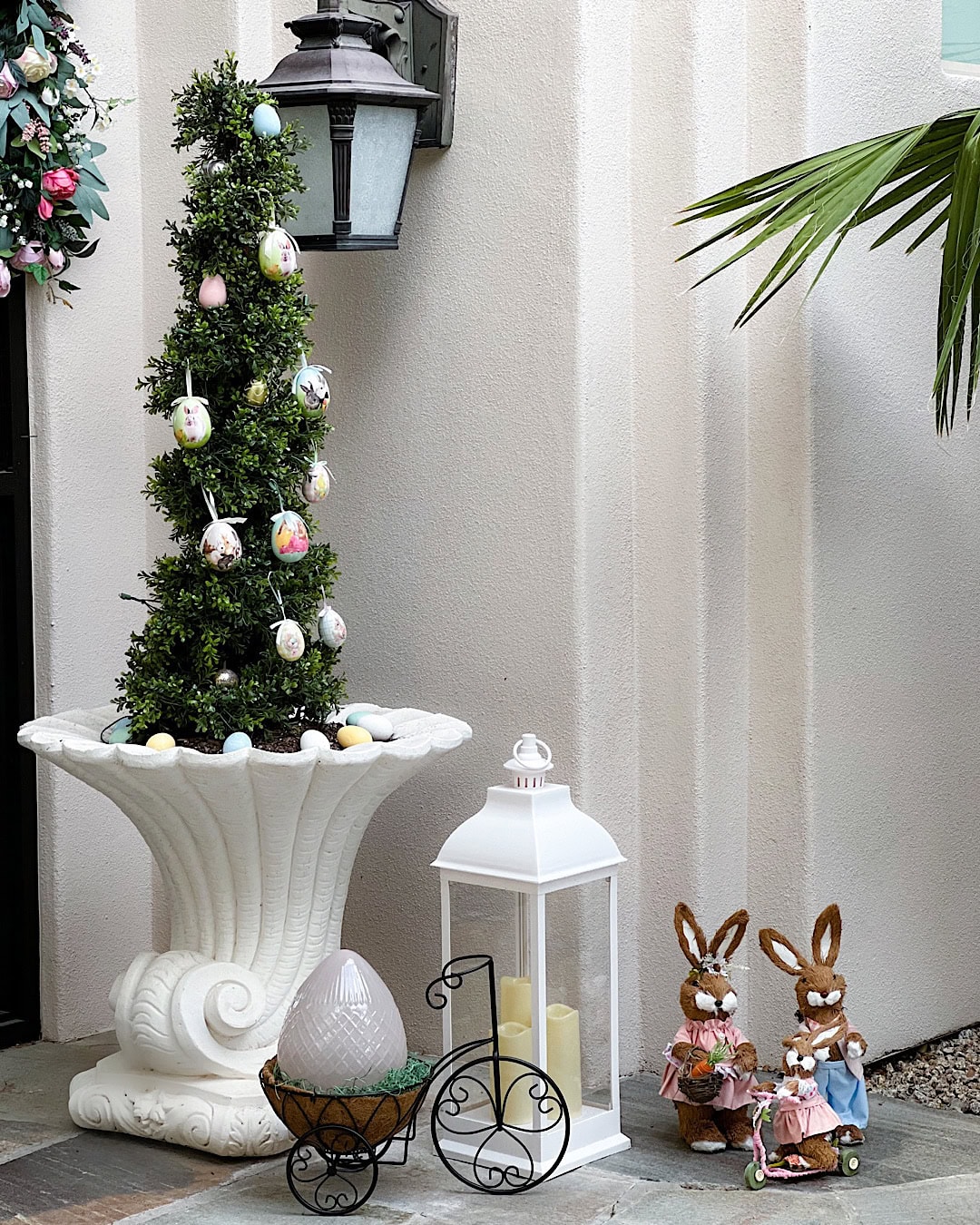 Another idea for easter porch design is placing an outdoor Easter Bunny (or a few bunnies) at your front door.
I think your front door is a great place for the cute bunnies and possibly placing fun decorative carrots in colorful Easter baskets! This combination is so adorable if you are trying to design a beautiful Easter decor for your front door.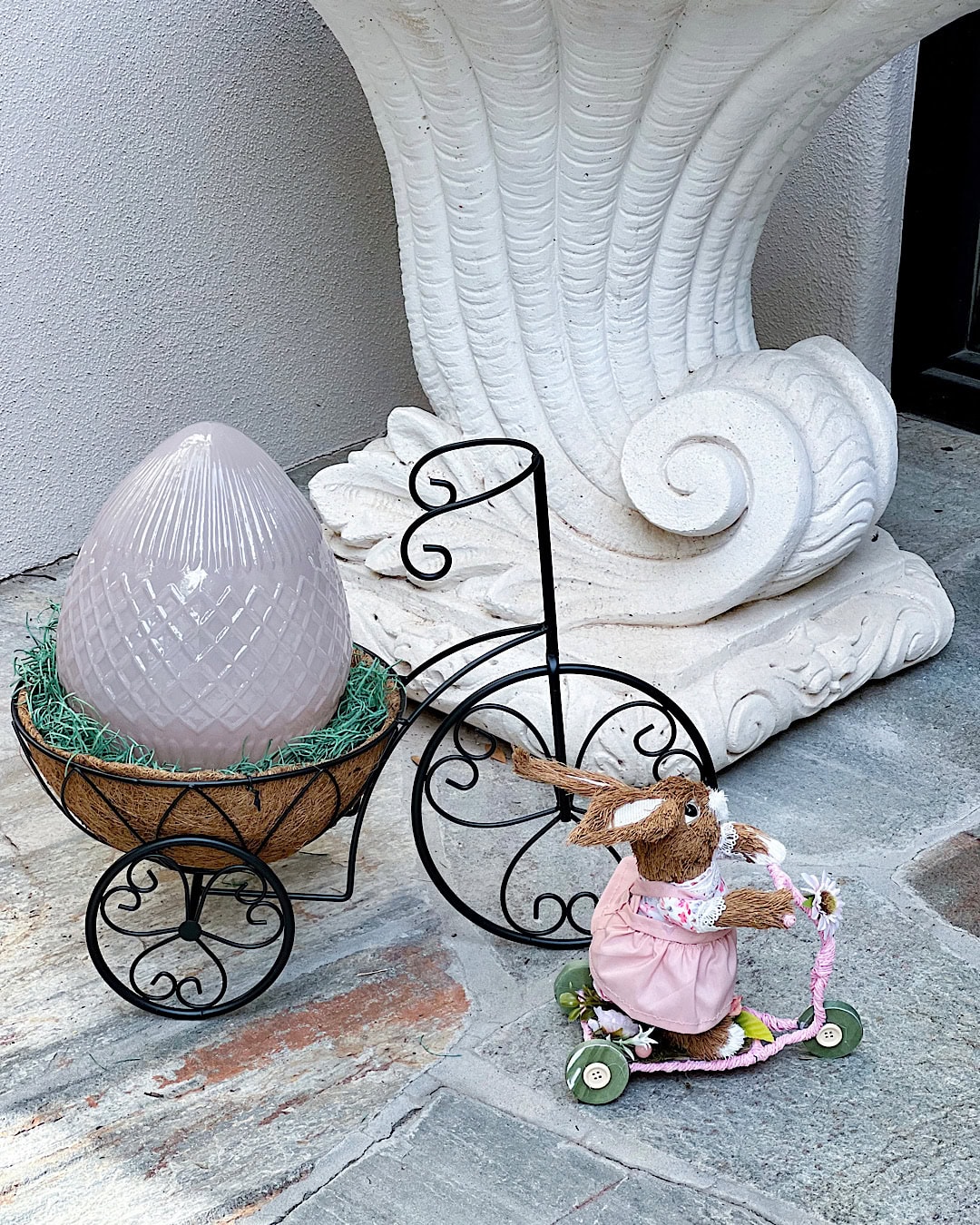 This can also be seen as an alternative to idea number seven, and it is a cute one for those with young children. After all, what child does not adore the Easter Bunny (haha)!!!
You can find several choices for a large outdoor Easter Bunny online and at your local craft store. It can be a cut-out, a light-up decoration, or even a life-size Easter Bunny statue of some sort.
#9: Front Porch Easter Decorations
Place Decorative Easter Carrots in A Basket
My final idea for front porch Easter decorations is to place decorative Easter carrots in a basket (like how I mentioned briefly in idea #8).
I like colorful, decorative carrots. It is easy to find these carrots at your local craft store, and they add some lovely holiday enchantment to your other spring decor accessories.
This is the final chance to do some DIY outdoor Easter decorations. I suggest collecting your carrots, preferably plastic ones as they do best for outdoor use, and a large wicker basket. Line the basket with some flowers or use the classic faux grass. After you have figured out what lining you prefer, pile in your carrots! It brings even more color into your front porch easter décor.
FAQs
This section will cover all of those Frequently Asked Questions about Easter porch décor, spring outdoor décor, as well as outdoor and porch decor in general.
When Should You Put Up Easter Decorations?
Putting up Easter decorations should be done before Palm Sunday, or the week before Easter, if you wish to get the most out of your large outdoor easter decorations!
I personally recommend doing them any time after the Spring Equinox so that your home looks holiday-ready as soon as possible, without being decorated too soon! You also need to consider how long it will take you to put together your desired front porch Easter decorations.
Some of the ideas are more time-consuming than others, and if you are a fan of DIY, then you will need to factor in the time to make your decorations.
How Can I Decorate My Yard for Easter?
Easter Bunny decorations, eggs, baby chicks, and all sorts of classic holiday pastels are ideal for yard decor. Large eggs and large Easter Bunny cutouts, and inflatables are all readily available.
For those with young children, decorating your yard for Easter can also involve making an Easter egg hunt! If you like more tradition, you can also do this right before the holiday with actual hard-boiled eggs. Otherwise, toy eggs can be hidden around the yard for an Easter egg hunt that begins as simple decor, and becomes a game on the holiday!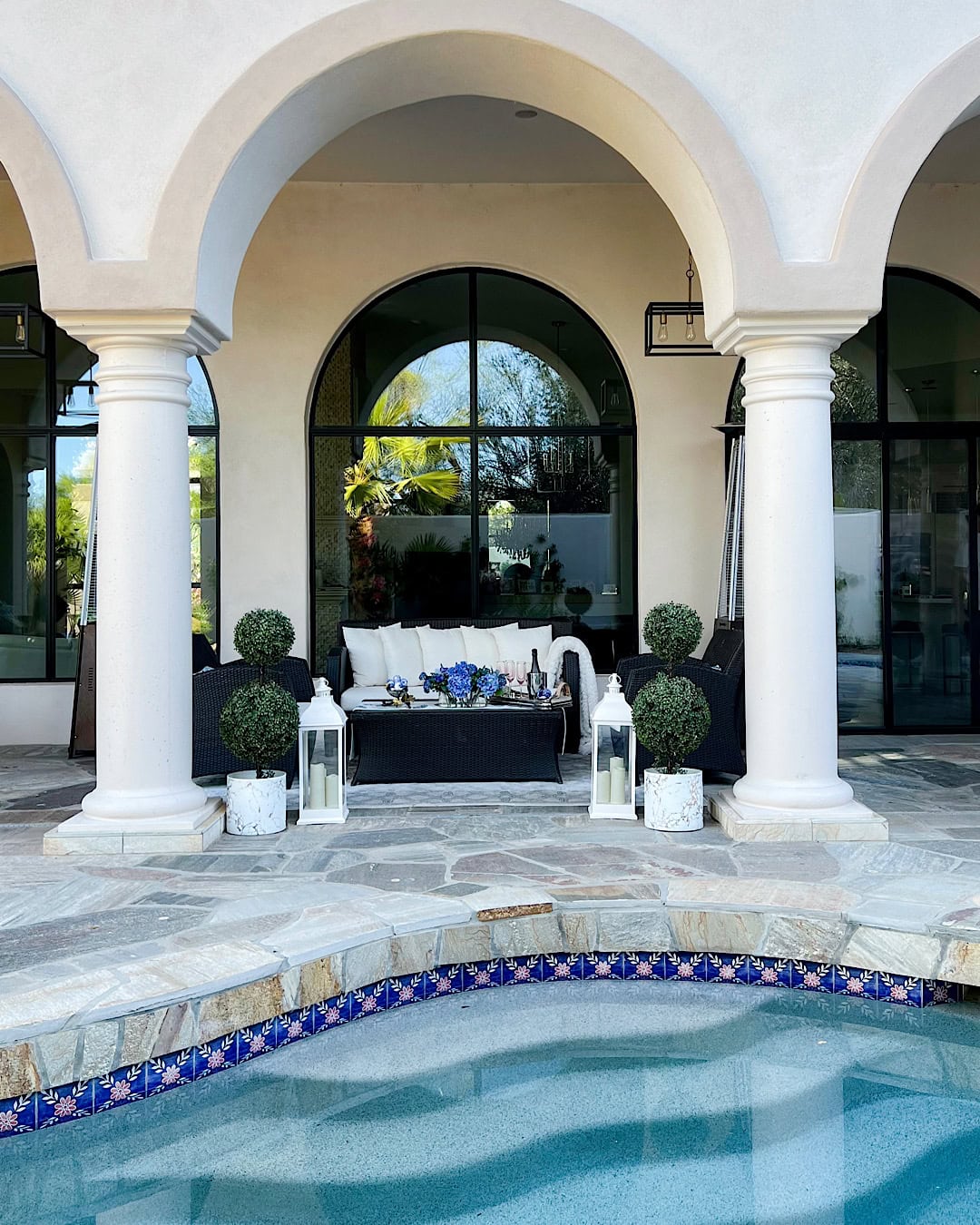 How Can I Make My Front Porch More Inviting?
An inviting front porch begins with a Welcome Mat! As covered in idea number six, you can change these seasonally.
This means that you can always have the perfect look for any time of year, instead of just relying on one simple mat all year round. I highly recommend investing in multiple mats to change with all of the seasons!
Another way to achieve an inviting aesthetic is by having lovely plants on your front porch. Plants are some of the most inviting things you can add to the decor, as they liven up any area, they are used in. This can be changed with each season, as there are plants that fit into the themes of any season.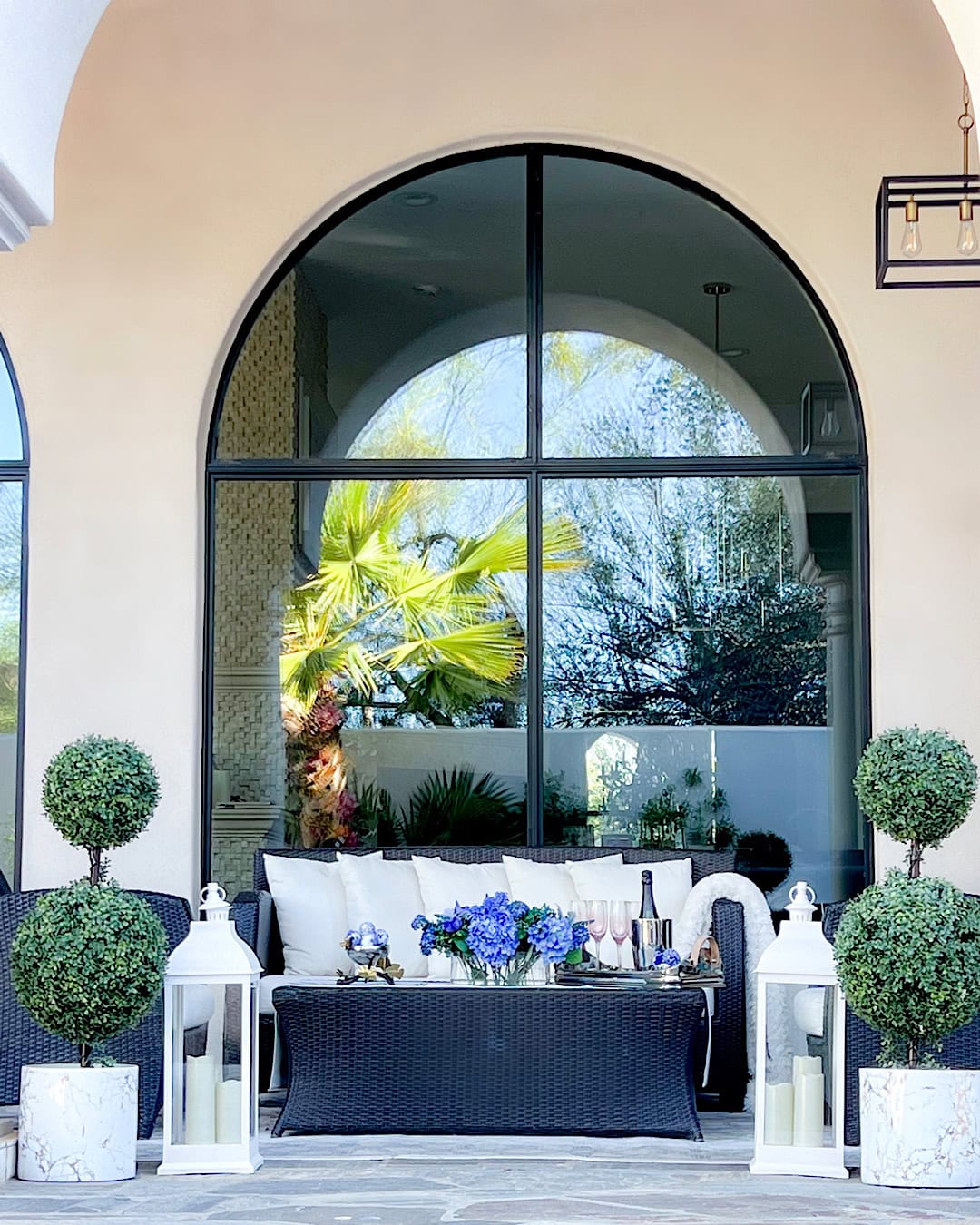 What Should I Put on The Front of My Porch?
Any seasonal plants can but placed on your front porch. Topiaries are always a perfect choice! You can buy excellent topiaries and decorate them for each season!
To create a cozy front porch, you can add a colorful rug, buy cute and comfortable chairs and cushions/ create seating area, add wreaths and garlands to your front door, add fun lighting, add a beautiful front door mat, decorate it with outdoor candle lanterns.
Tips for Entertaining at Home| Easter Brunch
Entertaining at home can be fun and so much work at the same time! Hahaha! Since my favorite part of hosting is decorating, I'm going to share some easy tips with you when hosting guests for Easter!
· Pick a theme
· Choose pastel colors for Easter
· Place colorful Easter eggs on your Easter table
· Place a beautiful Easter runner on your dining room table
· Design an elegant centerpiece with flowers
· Choose a light pink color for your wine and champagne glasses
· Throw a few Easter pillows onto your indoor or outdoor sofa
· Use pastel colors for your table settings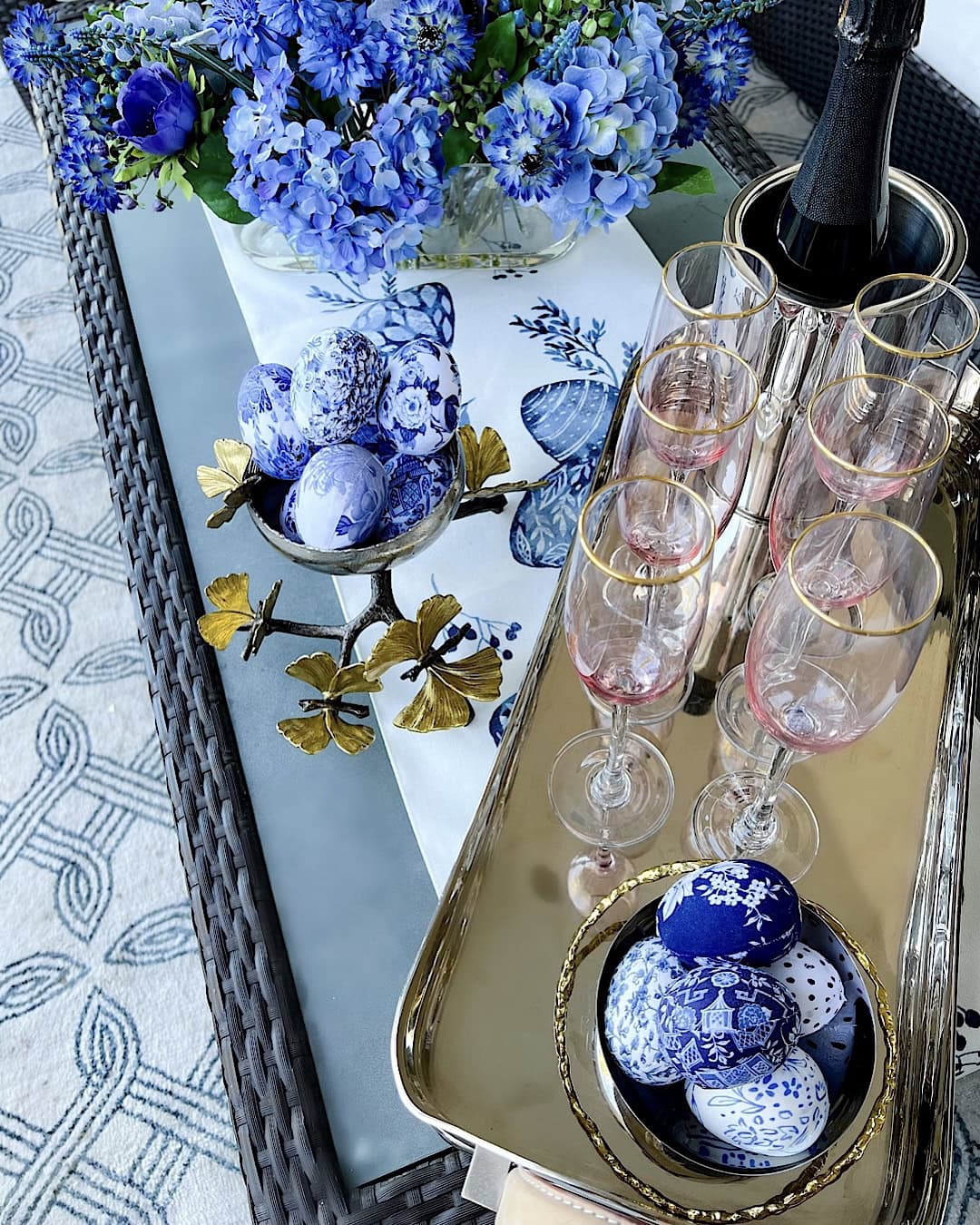 How Do I Decorate My Front Porch for Spring?
I highly recommend incorporating fresh or faux flowers and plants, using pastel colors, colorful eggs, and anything that symbolizes renewal. Throughout this post, I covered nine beautiful and easy ways to decorate your front porch this Spring.
How Do I Decorate My Front Door Area?
Your front door area can be decorated with floral garlands and wreaths, large topiaries, potted live plants, small trees, or large decor items for whatever season it is. Hanging seasonal garlands around your door is a way to liven up your front door area, as well.
All of this factors into why large Easter eggs, or a large Easter Bunny are perfect ways to bring together your Easter front porch look! If you have a large porch or courtyard, you can even have an Easter Bunny on one side of the door and a large Easter egg on the other.
Your limits with your front door area are size and how over the top you wish to go. There are options for all design aesthetics, from minimalist to maximalist!
How Do You Hang Easter Eggs Outside?
Hanging an Easter egg outside is easily accomplished by tying twine around the egg to turn it into a sort of ornament. If it is a faux egg, you can also drill a hole into it, and thread the twine or ribbon through there in order to hang it.
Alternately you could use ornament hangers that are metal, but for outdoor use, it must be noted that they may rust. This is why I prefer using twine or ribbon to get the job done! You can even buy eggs that already have holes punched in them so that they can easily be hung if you do not want to put in the extra effort of fastening twine around them or drilling the holes yourself.
I hope that this post was helpful and inspired you to design your front porch or courtyard for this Easter season. If you take these ideas and put your own spin on them, then I think you will have lovely front porch Easter decoration as well!
Love,
Sherry
Shop This Post
This post may contain affiliate links, which means that I may receive a commission if you make a purchase using these links.





Sherry, xoxo