I can hardly believe it's April Already! Spring has officially sprung, which means that Easter is coming right up! In this post I would like to walk you through how to create a stunning pastel table setting for Easter or any spring/summer party!
I'm so excited to host the Easter brunch at our house this year and want to show you how you can create the same (or similar) table for Easter or spring!
This post is about how to create a stunning pastel table setting for Easter!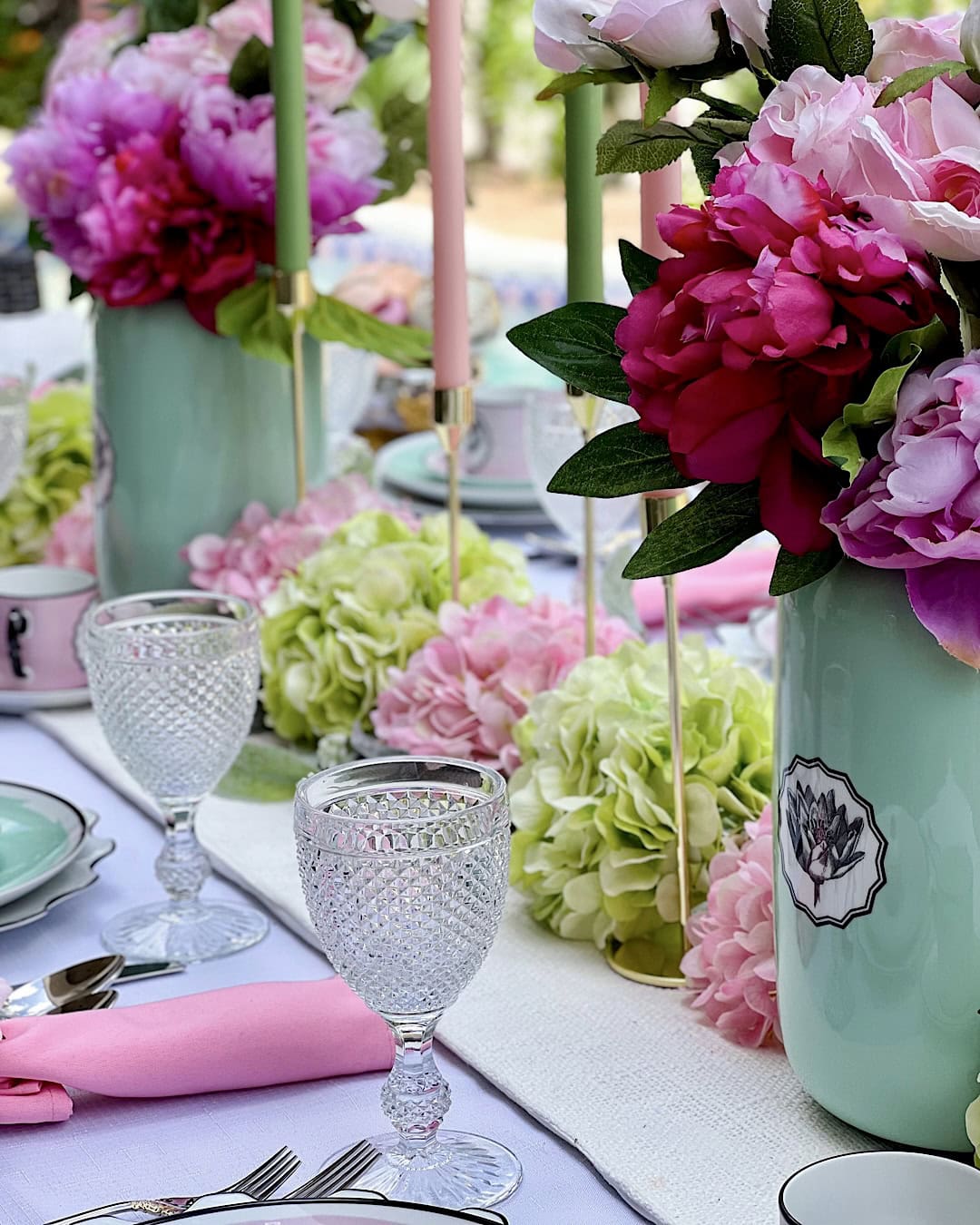 Disclosure: This is sponsored post by Vista Alegre US. As always, my opinions are my own.
Although we have such a mild winter season in Arizona, we can absolutely feel the energy of spring!! Flower shops, local Trader Joe's, AJ's and Whole Foods Market are all putting out so many beautiful flowers, and all the stores have Easter themed decorations and treats. Just looking at these beautiful flowers put me in the right mood! Haha!
Related Post: How to Create Stunning Pink and Green Tablescapes for Easter
This post may contain affiliate links, which means that I may receive a commission if you make a purchase using these links.
This time of year, we get so many opportunities to brighten up our lives, including how to spruce up everyday tablescapes or even spring/summer birthday table setting ideas.
I am getting SO many fun ideas for spring table décor!! Today, I want to share with you about how to create a SUPER easy yet stunning Easter tablescape!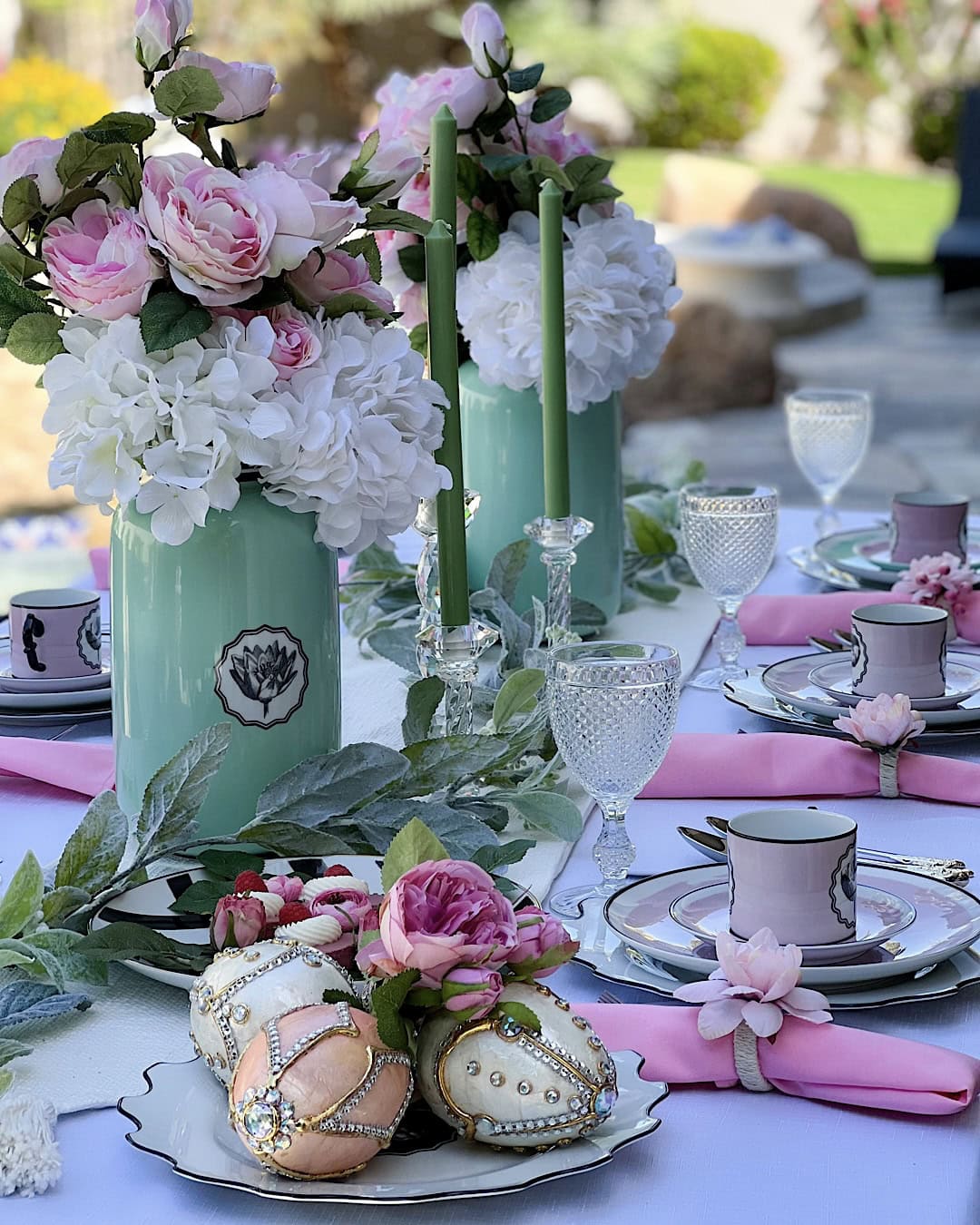 How to Bring Elegance and Feminine Charm to Your Easter or Spring Tablescape Using Pastel Colors!
One of my FAVORITE things about Easter and spring is the return of pastel colors! Whether it's pastel eggs, pastel chocolates, or pastel flowers, these cheerful colors brighten up any setting. They bring a certain vibrance and elegance to their surroundings.

Related Post: 9 Front Porch Easter Decorations That You Will LOVE!!
If you're looking to add a touch of elegance and feminine charm to your Easter or spring tablescape, pastel colors are PERFECT for you!!
There are sooo many ways to include pastel colors in your everyday tablescapes and make for a beautiful pastel table setting. You can include them many ways, from your dinnerware, glassware, napkins, spring table centerpieces, or spring table décor like flowers or candles.

Vista Alegre dinnerware and glassware are simply perfect to style a perfect table for different occasions! I love their beautiful dinner plates, dessert plates, and tea cup and saucer, drinking glasses as well as their beautiful flower vases, to add a touch of luxury and elegance to our pastel table setting.
These choices made a perfect look for a pastel spring table and I seriously could not be happier!! They look even prettier in person!
For a truly unique tablescape, mix and match different pastel colors, or use a color scheme like a pink and green table setting, for a more coordinated look.

No matter how you style it, pastel colors are great to bring an elegant and feminine charm to your table! You can take a look at my last year Easter table for some more ideas!
Related Post: Quick and Easy Easter Decoration Ideas!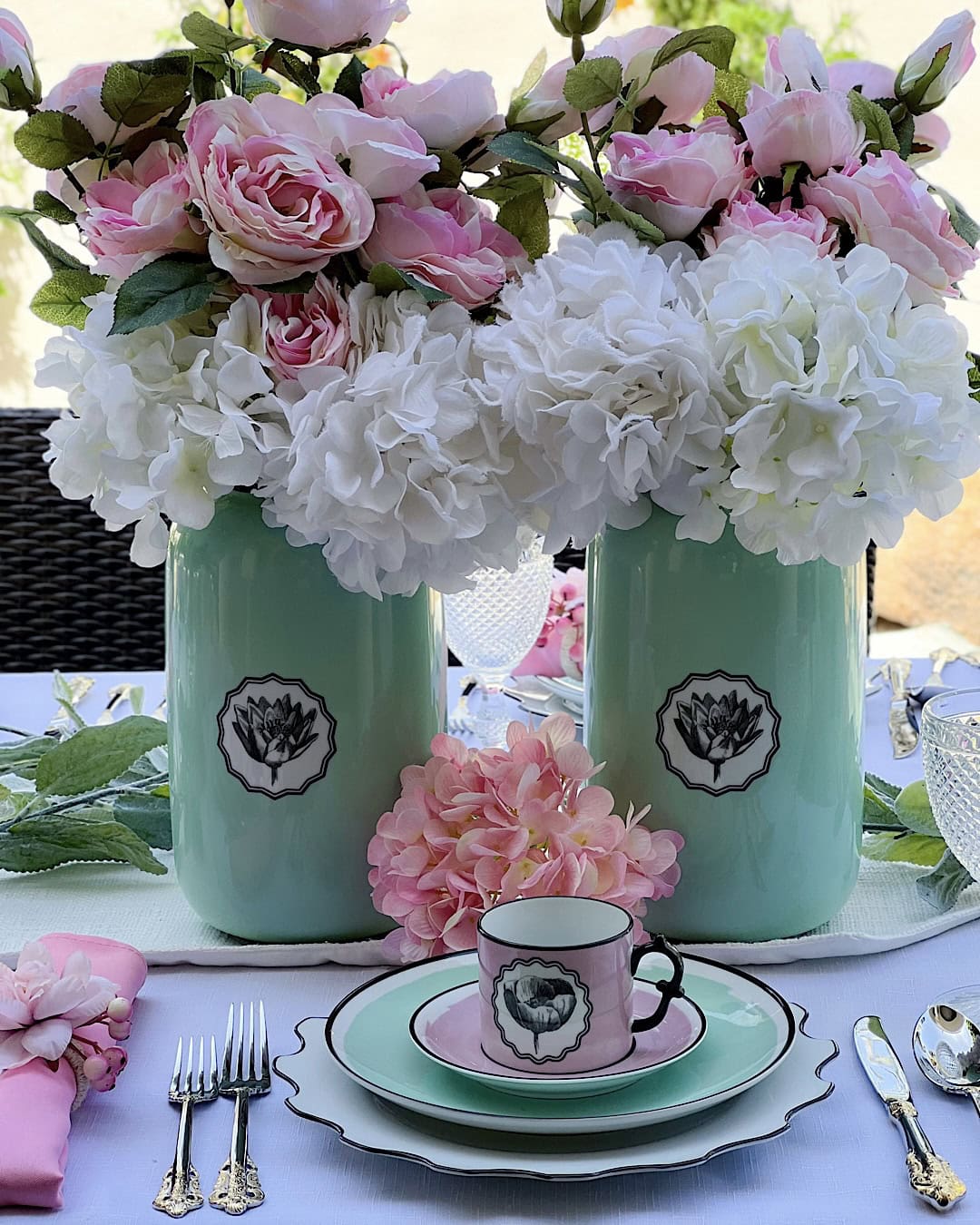 When and How to Decorate an Easter Table?
I usually start putting my Easter decorations about 3-4 weeks before the Easter! However, for the Easter tablescape you need to start thinking on what items you need to setup your table!
There are SOO many different ways to decorate an Easter table! The options for place settings for easter and spring table décor ideas are pretty much endless!! Because there are so many, it's important to plan ahead. That means, collect inspiration from Pinterest, Instagram or Google and don't wait until the very last second (LOL).

There are so many ways to get ideas for your own Easter table!! You don't have to follow all of these table decor ideas perfectly but pick and choose what you like in terms of how you want your very own place settings for Easter to look!!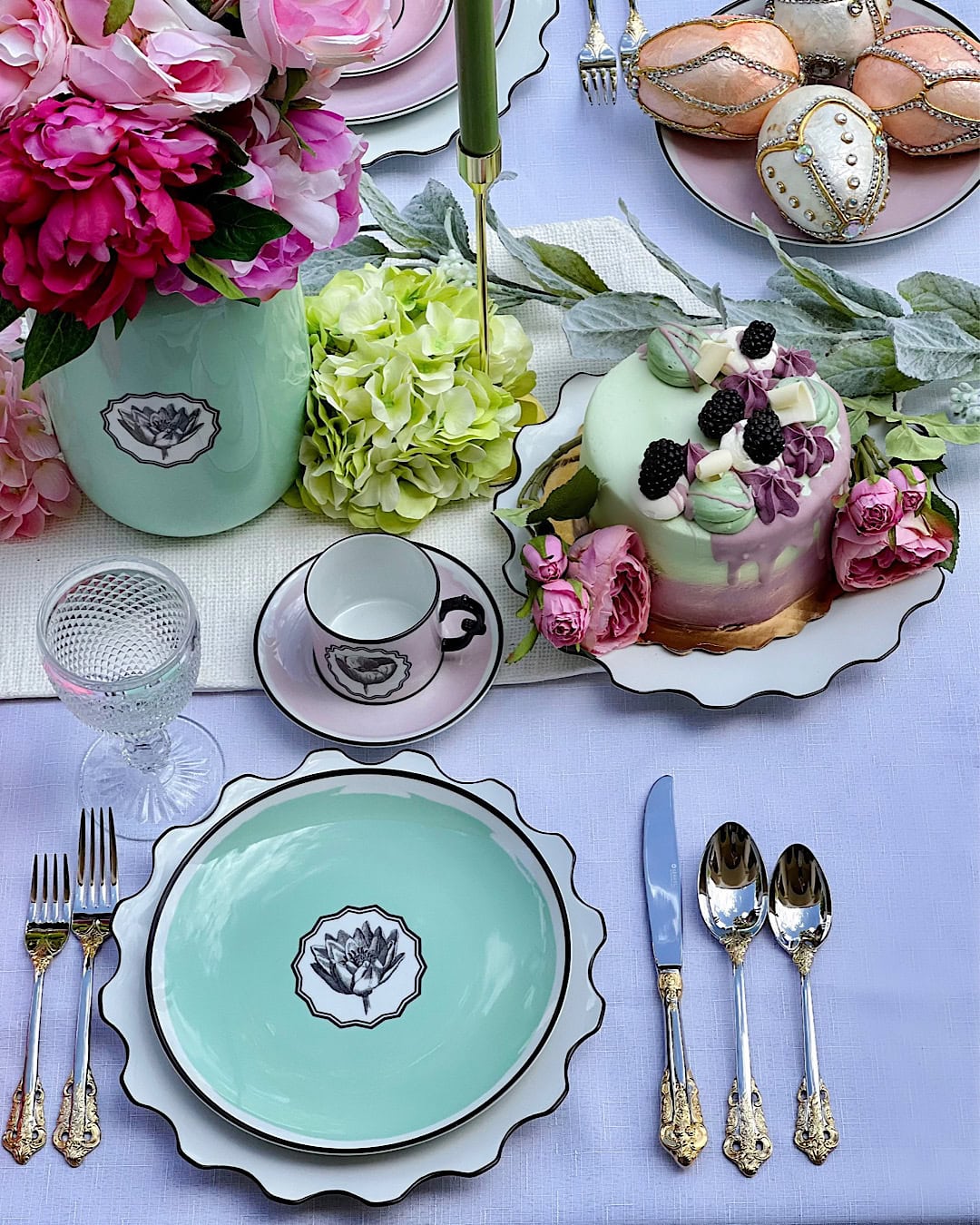 If you're looking to buy decorations for your Easter table, make sure you give yourself time to do this!! I placed my order for Vista Alegre glassware and dinnerware a few weeks ago so I wouldn't worry about it getting here before the big holiday.

To actually decorate the table, I HIGHLY recommend doing this the day before Easter so you can spend that morning with your family and your little ones, focused on the Easter bunny and Easter egg hunts instead of perfecting your place settings for Easter (at least this is how I do it). Here are some of my best ways to decorate an Easter table!!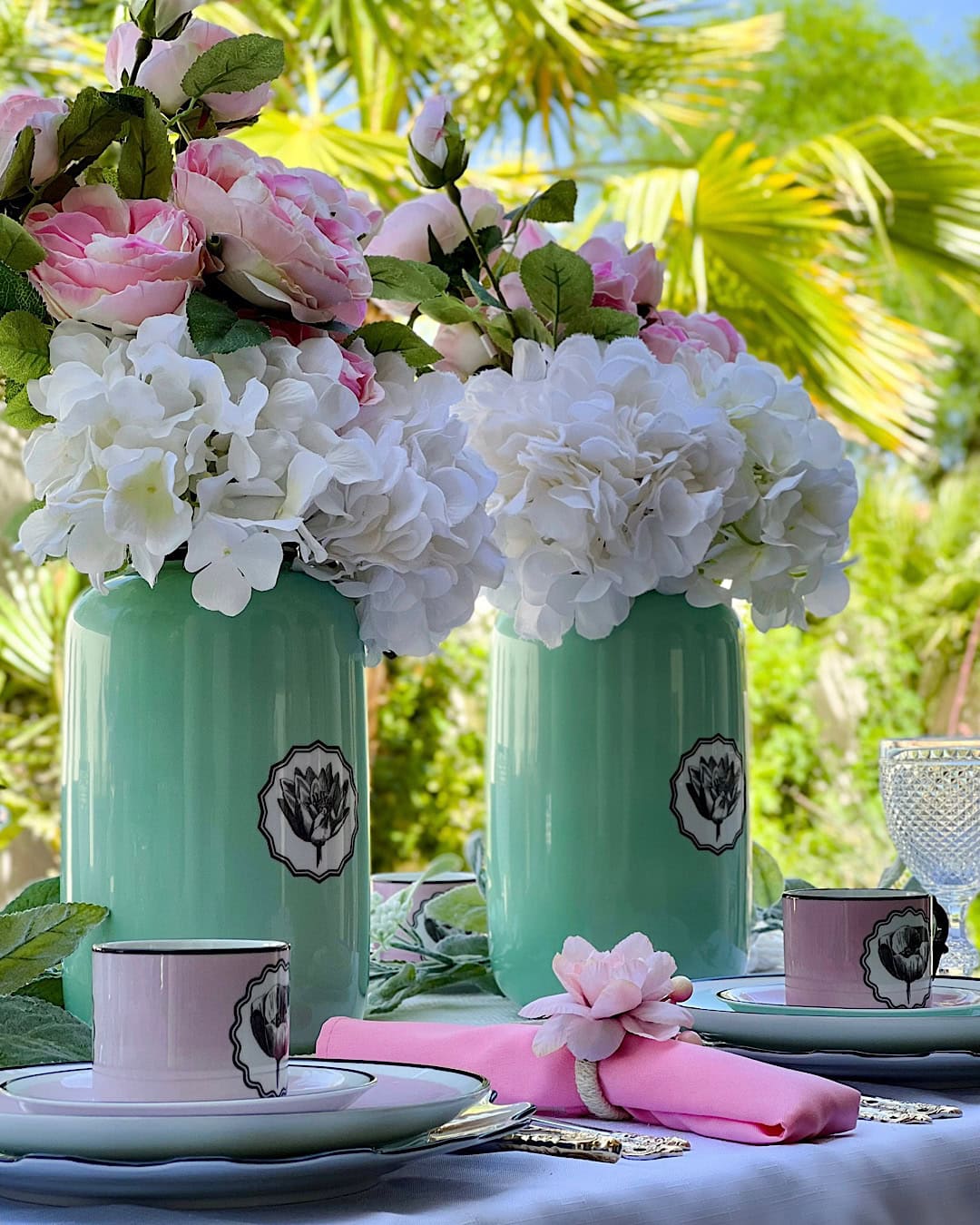 Create a Centerpiece with Fresh Flowers
I went with Hydrangeas and roses, and I LOVE how it looks!! The hydrangeas alternate colors, making for a BEAUTIFUL pink and green table setting theme.

Since they're in the center of the table, the flowers grab attention, and they bring the whole pastel table setting together!! I also got roses to put in vases and I am obsessed with how they look.
The pink pops out and brings such a fresh and exciting spring feel to the table!!
Dress Up the Individual Place Settings
I have these beautiful floral napkin rings that I like to use for some of my spring/summer table settings! I absolutely LOVE them, and they add so much color to my table!! These napkin rings make the place settings for Easter more special.
This is also an awesome way to add a special touch for each of your guests. You can even add pretty, colored napkins like I did and have individual name cards!!
Even though the entire table including the spring table centerpieces is important, so are the details to make everyone at the table excited about the decorations and Easter!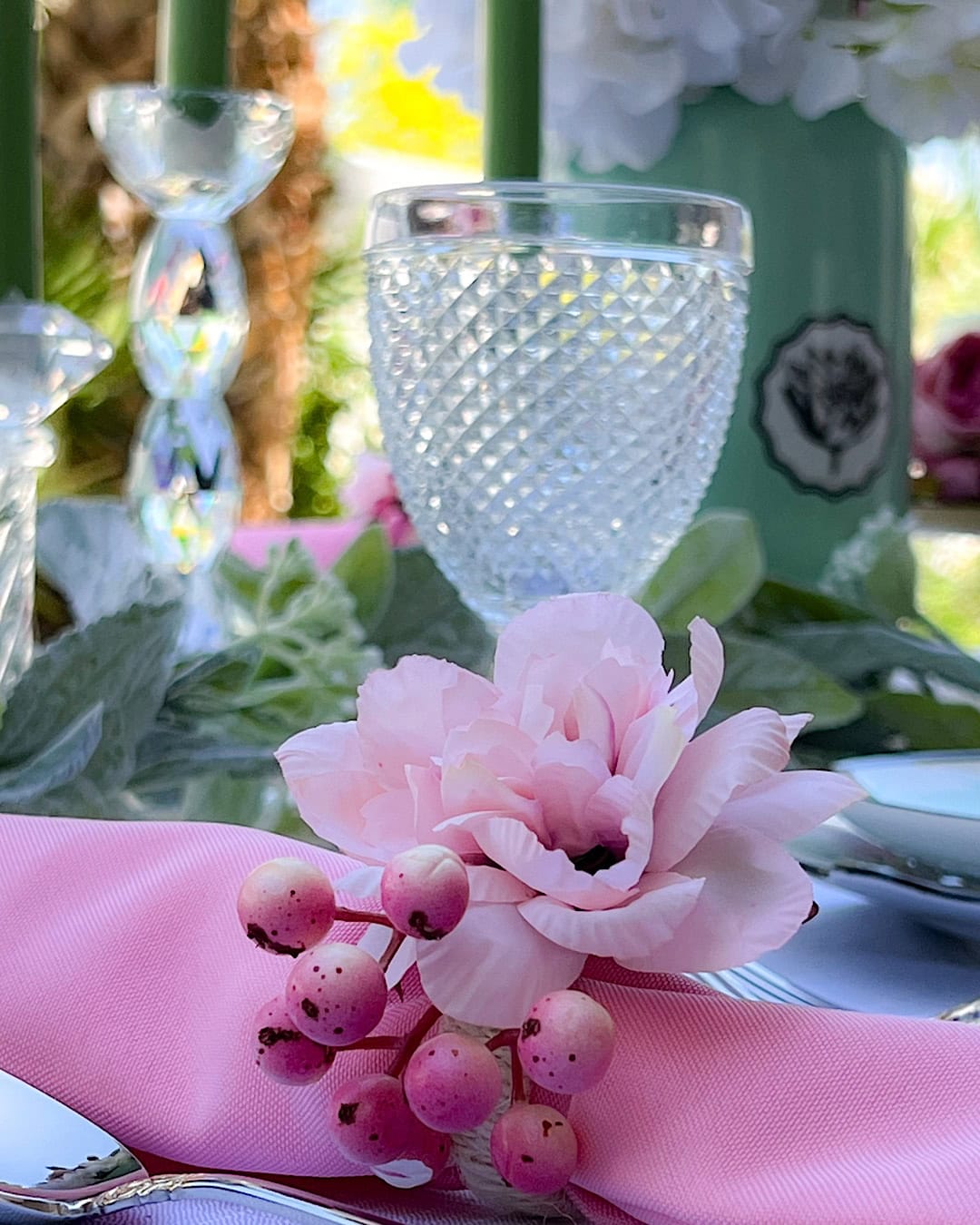 Go With a Pastel Tablecloth
I went with white tablecloth this year because I wanted to create a contrast and focus on pink and green dinnerware. However, if you use a solid light pink or light green tablecloth and napkins, it will add so much more color to your table!

Just keep in mind that if you use pastel tablecloth, make sure to use simple white or off-white plates/dinnerware.
Having the right color tablecloth makes the rest of your pastel table setting pop and look coordinated. This simple detail makes for a good foundation for everything else!!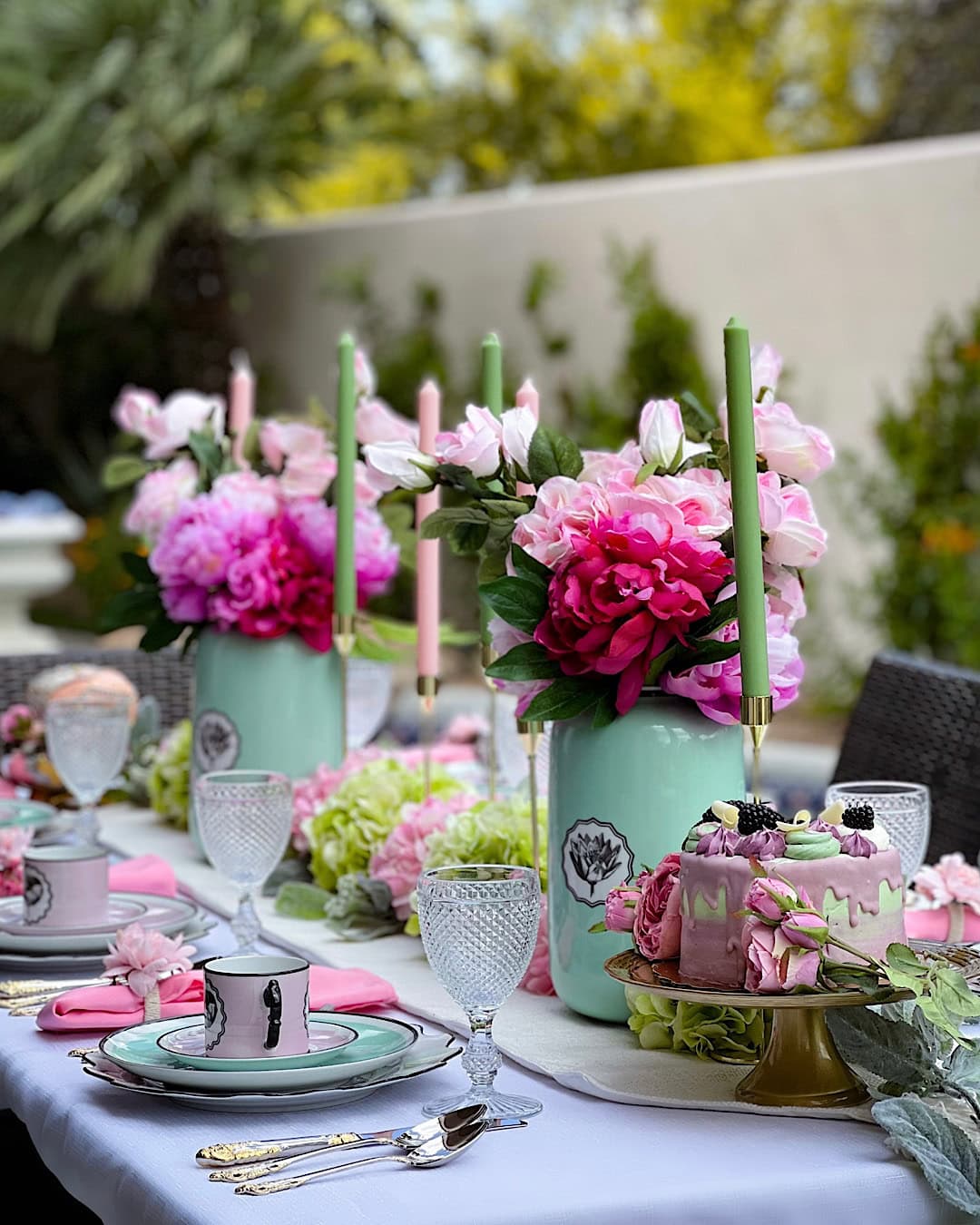 Pastel Table Setting for Easter
One of the BEST parts of Easter is setting a beautiful table to celebrate the holiday with friends and family. This is also such a great way to welcome spring.
Pastel table setting is perfect for creating a cheerful and festive atmosphere and it sets a happy and light tone for the meal.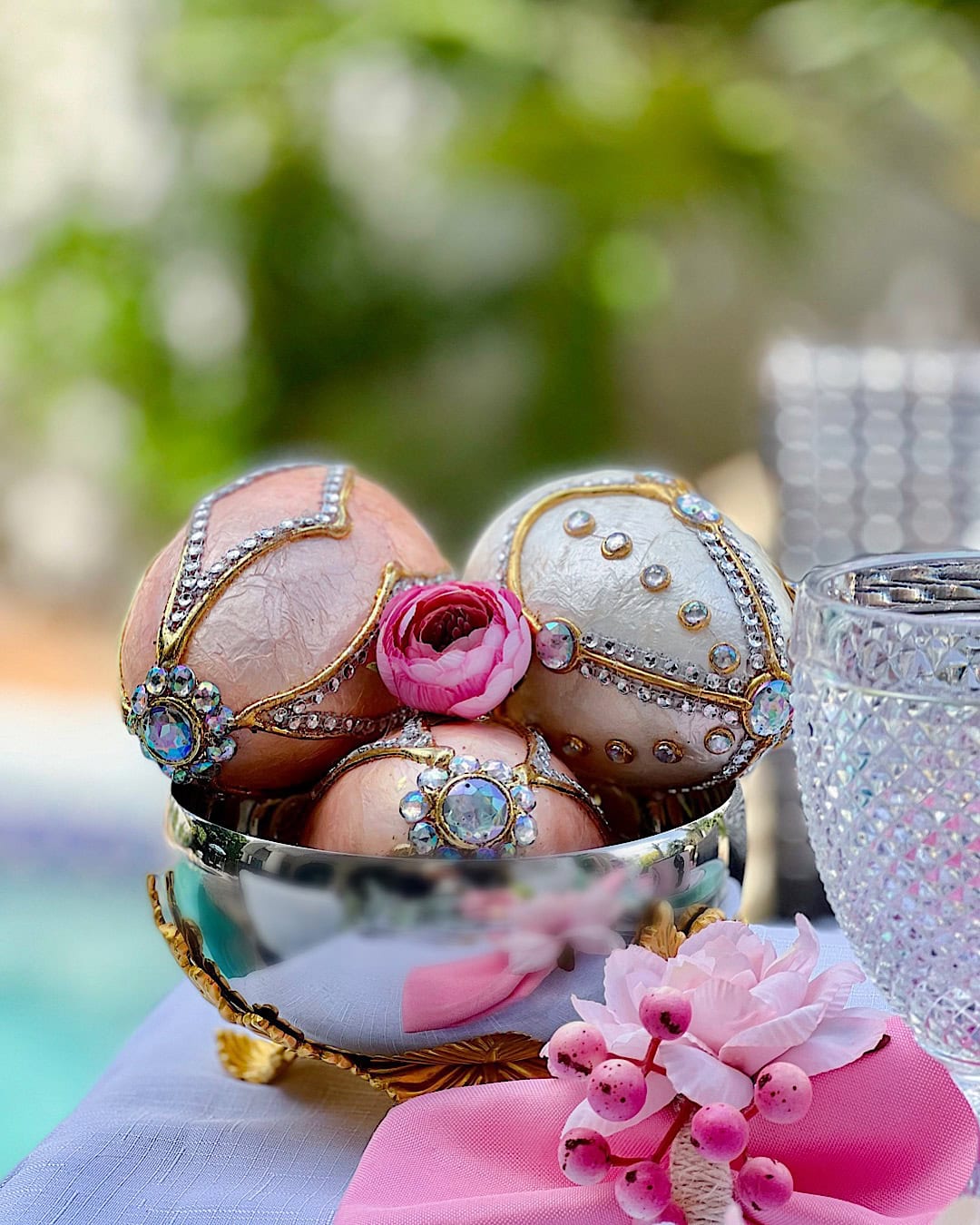 I really love to mix the metals I use and have both silver and gold. When you use both you get such a nice pop of color!
A super simple way to include gold is to have flatware that has both metals, so they stand out (especially ones with gold handles)!! They add a tasteful and elegant touch to the pastel table setting!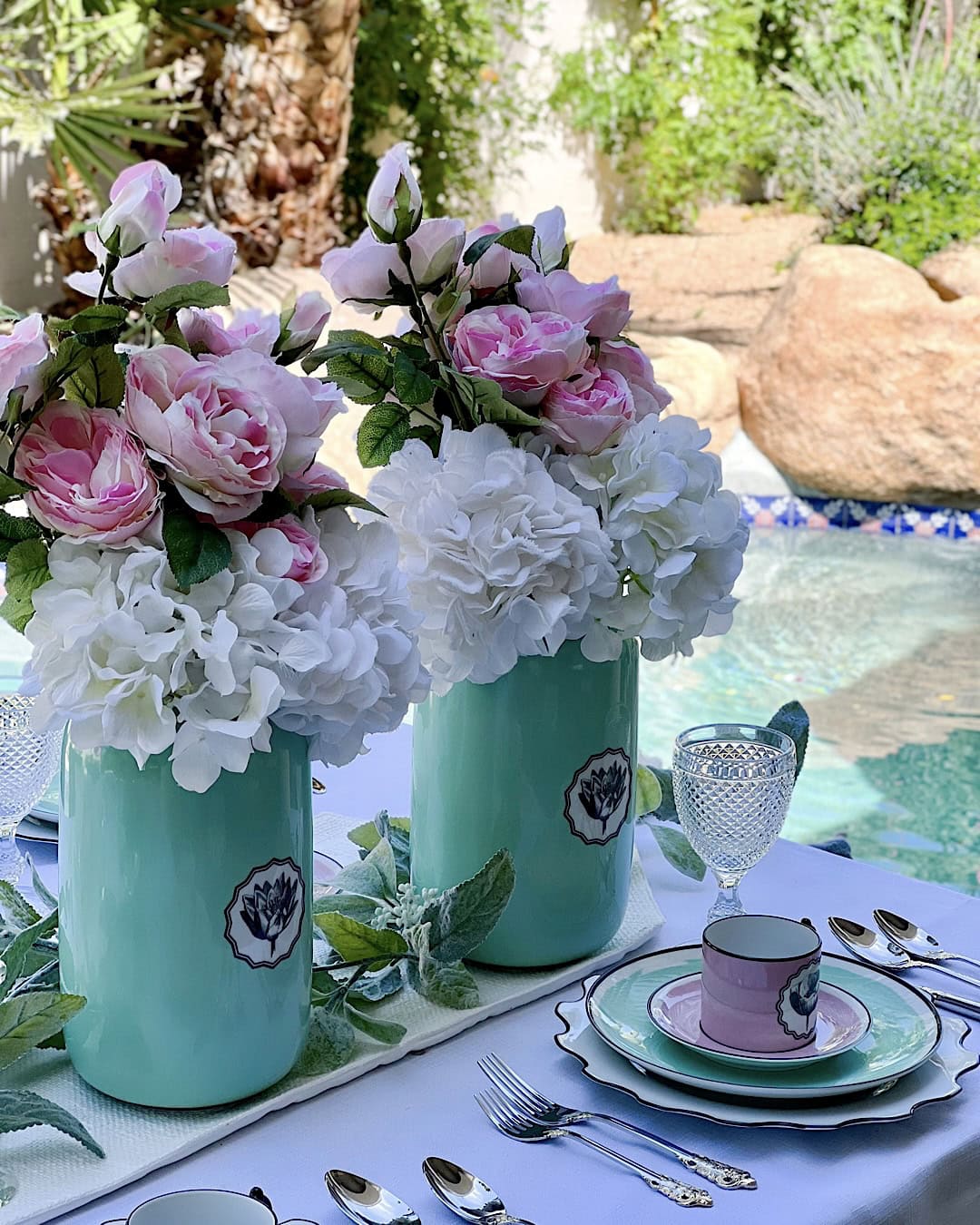 You can also choose to match items like glasses and plates to fit the pink and green table setting theme. Go with a muted, light pastel green, or clear glasses like these Vista Alegre glasses that add some personality to the table!!!
You can even add Easter decorations to your already existing spring table décor!! Especially for kids, they will LOVE this.
Find some pastel Easter eggs, candy, or macarons to spice up the table setting and make it even more holiday themed. Seriously, have fun with this!!
Place settings for Easter are such a good opportunity to be creative and try new things when it comes to decor.
Pastel Table Setting for Spring
This is the perfect way to honor and celebrate the change of seasons as the weather begins to warm up and the days get longer!!

We're starting to have more guests now, and for springtime entertaining, I love dressing up the table to be festive and fun. It matches the season! You seriously cannot go wrong with a pastel table setting for spring!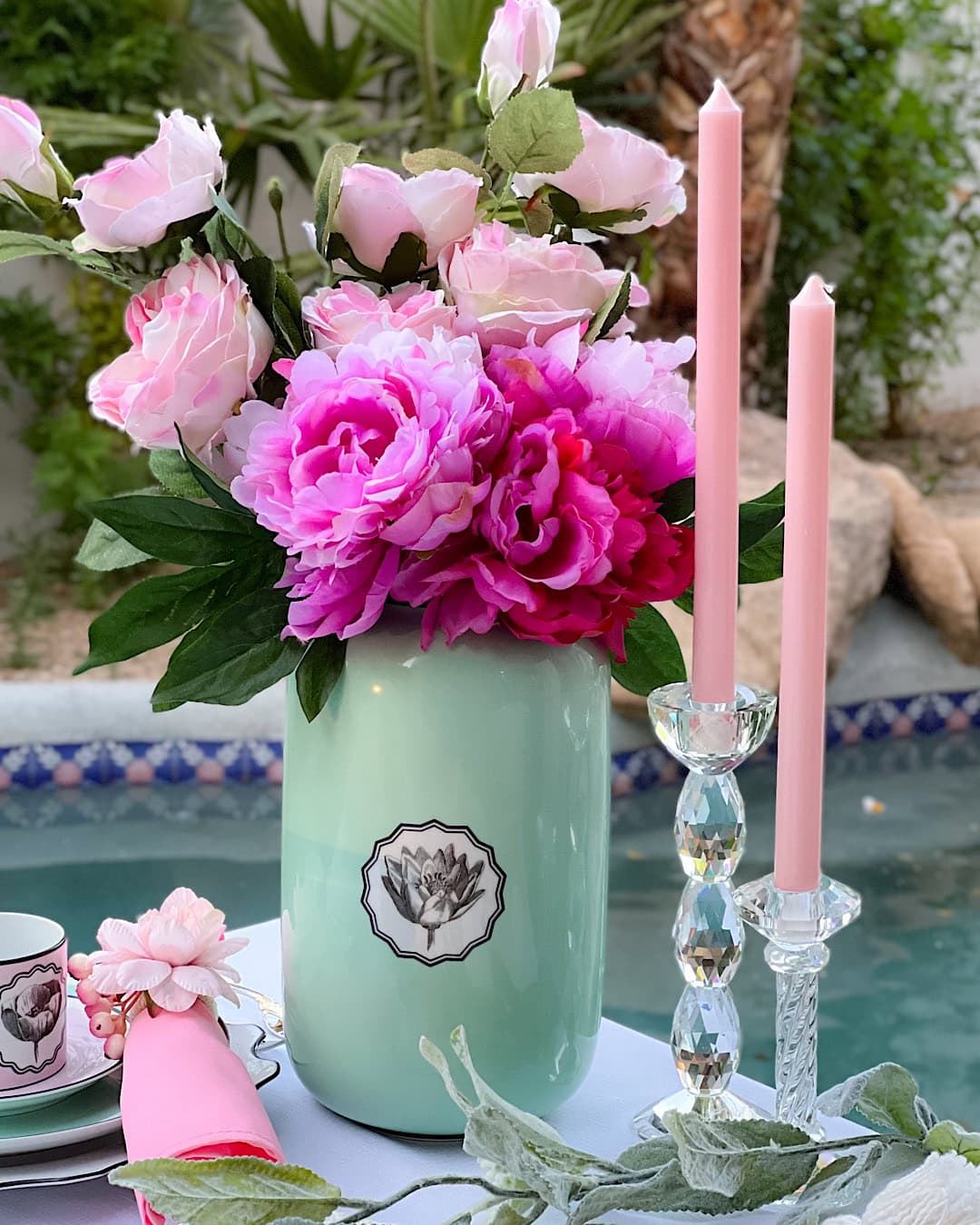 This cheerful color palette is perfect for everything from Easter brunch to a springtime soiree, to even Mother's Day later in the spring. One of my favorite pastel table settings is brought together by plates from Vista Alegre Dinnerware.
I absolutely LOVE the Herbariae set!! It is great not just for Easter but for the whole spring!! One of my favorite parts of this set is that it was inspired by five flowers, so you get pictures of the beautiful flowers along with the pastel colors of the set!!
Even down to the smallest details of the Vista Alegre Dinnerware, coffee cup and saucer, the flower design is clear and vibrant, and I just love the spring energy it brings to the table.
Related Post: Mantel Decorating Ideas for Spring
Besides your dinnerware, glassware and flatware, don't forget about all of the other types of spring table decor for a pastel table setting.
So many of the ideas and decor for Easter also carry on to ALL of spring too!! This means floral centerpieces, flowers like hydrangeas on the table, as well as thoughtful details like colored pastel candles. Mix and match decorations to get a wide variety, it looks great!!
Happy Easter! I hope this guide was helpful for you to get some ideas and inspiration for your own pastel table setting and place settings for Easter!
We are all looking forward to eating some delicious treats and spending time together with family during this holiday! Get creative, have fun, and enjoy this Easter and have a wonderful start to your spring!!
Happy decorating!
Love,
This post may contain affiliate links, which means that I may receive a commission if you make a purchase using these links.
Shop This Post Or Similar








Sherry, xoxo