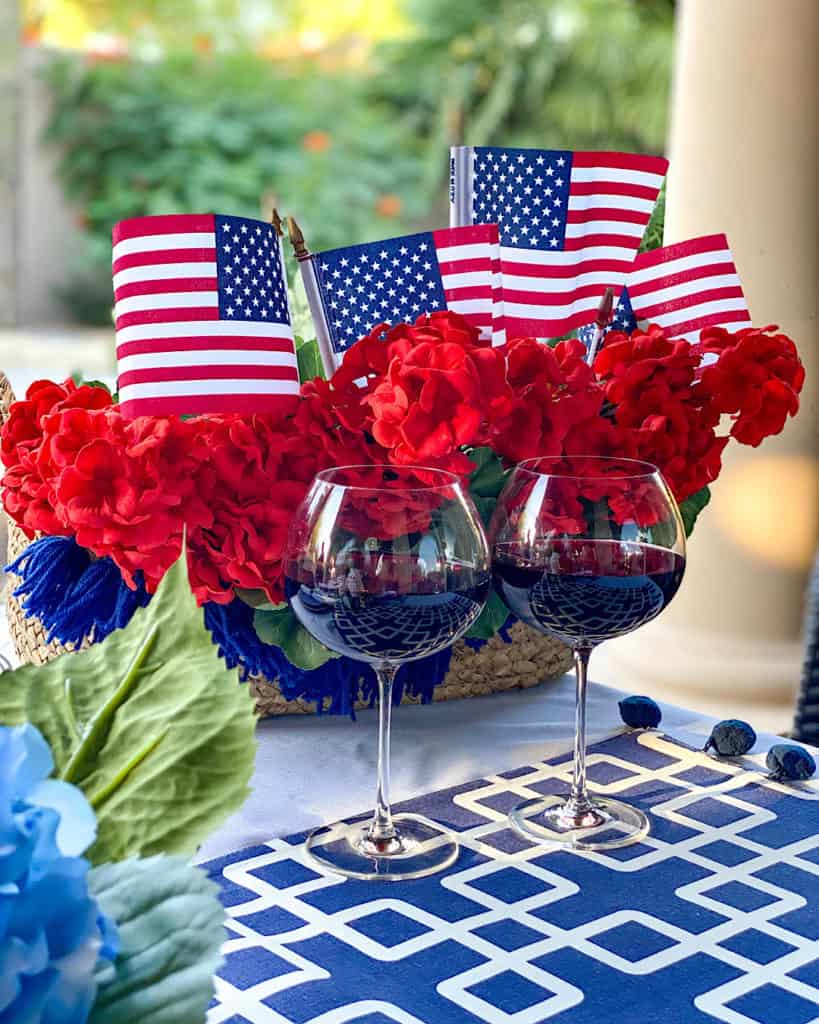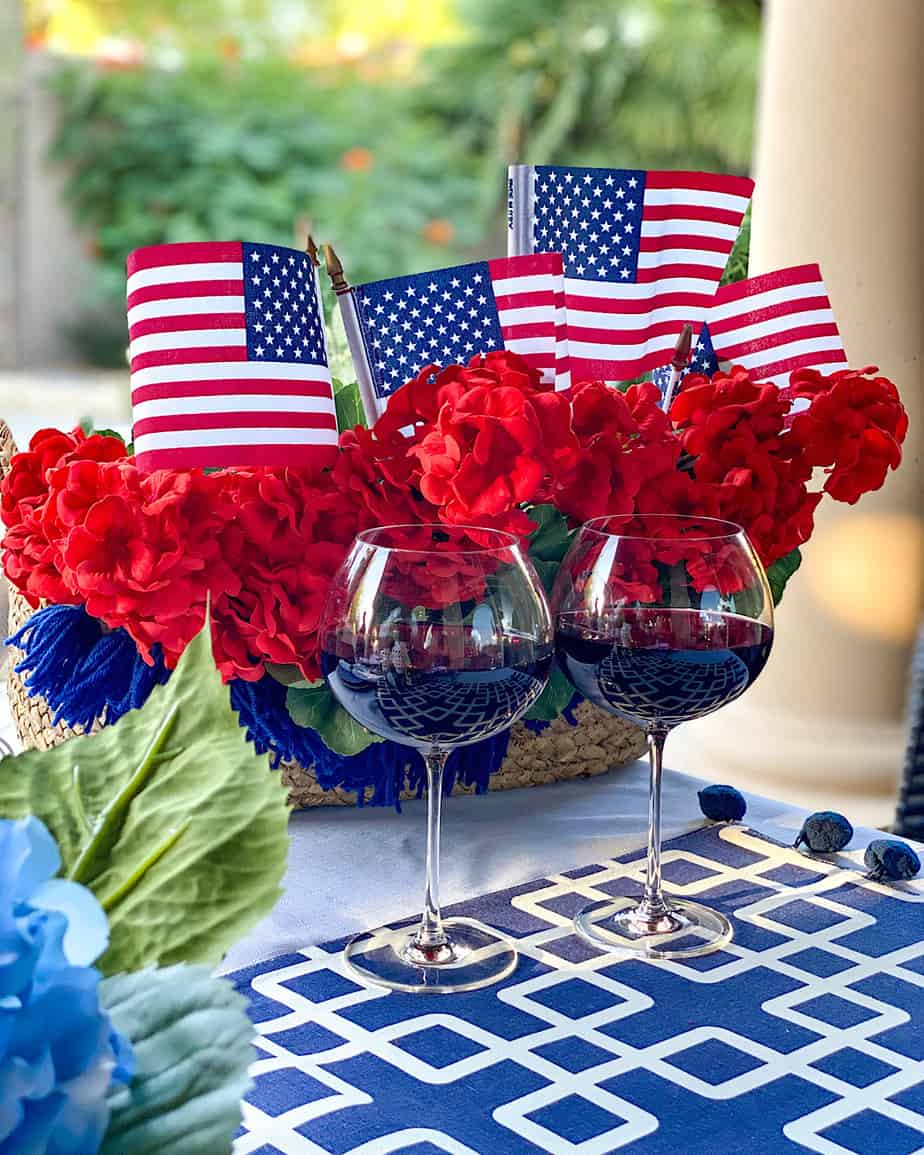 I'm so excited about planning this year's 4th of July table decorations! But this year due to the fast spread of Covid-19 in US and around the world, celebrating holidays feels so different and possibly a little "strange"! Every year (before the Coronavirus crisis), we tried to come up with some plans for 4th of July! We either planned a fun little staycation at one of our favorite local resorts/hotels, or we drove to Sedona or we had a gathering with our friends and/or family.
Unfortunately, the coronavirus outbreak has forced all of us to change the way we celebrate and socialize. However, I think you can still make the best out of every situation and turn this fourth of July to a fun and memorable holiday with your family! For example, you can fire up the grill in your backyard or rooftop with the best 4th of July recipes and bring style on your table!
One of the things I enjoy the most about having friends and family gatherings or throwing parties are the DECORATIONS!!!! I absolutely love and enjoy coming up with fun décor ideas for each holiday or party – so I'm super excited about these ideas for 4th of July table Decorations! I'm going to share with you today how to easily throw an elevated BBQ that you and your family will enjoy this 4th of July!
4th of July Table Decorations – The Tablescape
Plates: I found the cutest blue and white plates last year on Amazon and they still have the same plates (different patterns). The best part is that they won't break and they are reusable. They are perfect for outdoor entertaining or for a picnic so you don't need to use them only for 4th of July parties! You can also wash them easily in the dishwasher!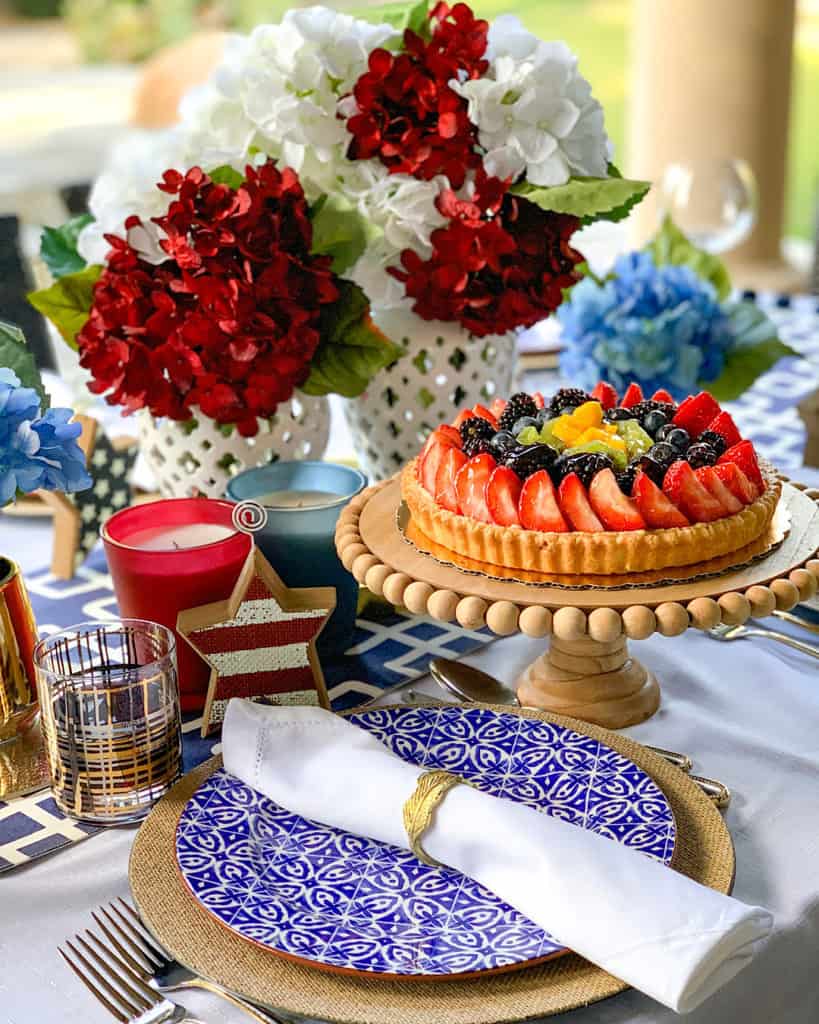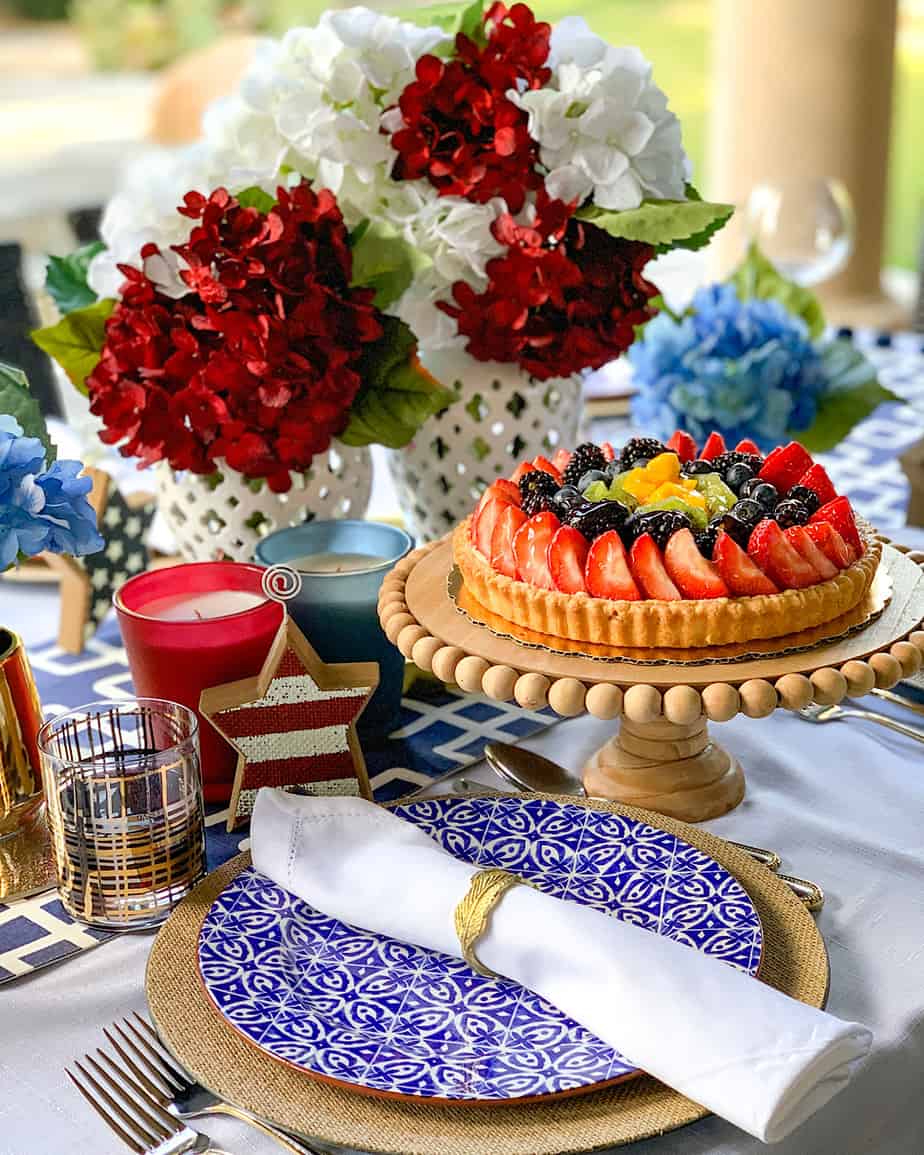 Chargers: I got the natural color chargers from World Market. They are sold out, however, you can find similar designs from Crate and Barrel or Pottery Barn. There are several designs that will work perfectly for any outdoor setting.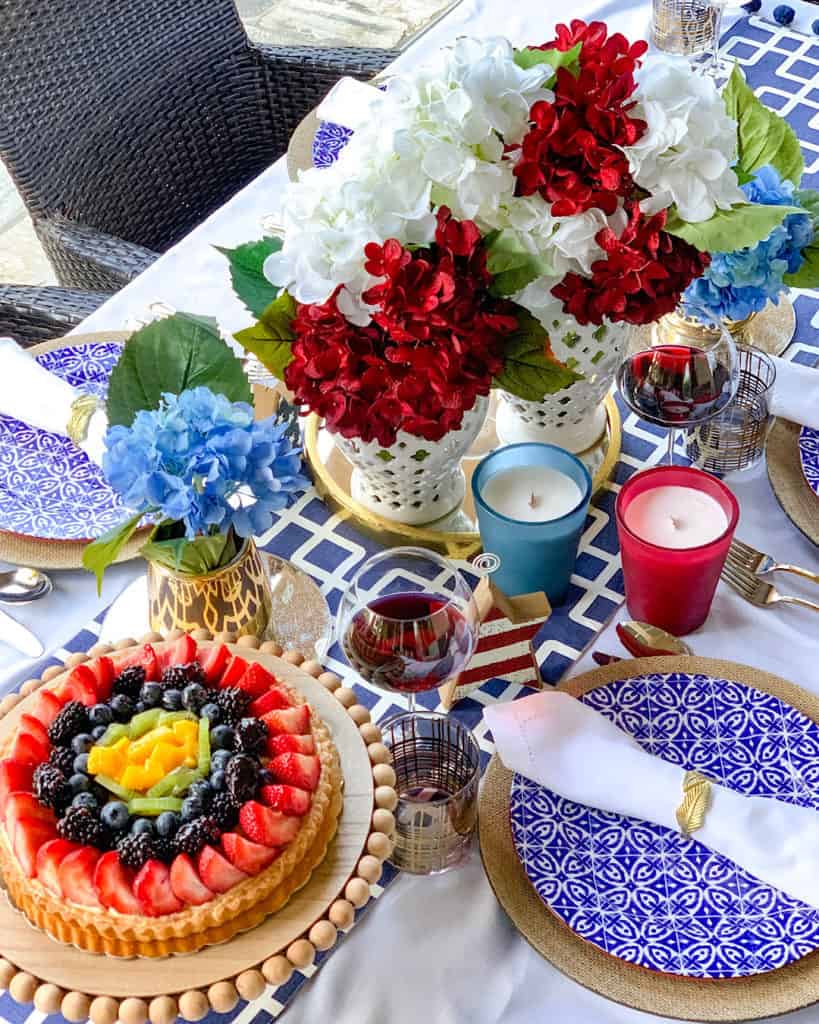 Centerpiece Décor: As much as I love fresh flowers, for some reason I was not able to find fresh red hydrangeas at our local flower shop last week. Therefore, I decided to order these burgundy faux hydrangeas, as well as some white faux hydrangeas so I could make a cute floral arrangement in these beautiful ceramic vases.
Red & Blue Glass Candles: I have had these candles for awhile and had never used them. I thought they would be perfect for this 4th July! But if you are looking for candles I think you'll find some fun candles at Anthropologie as well as Bath and Body Works!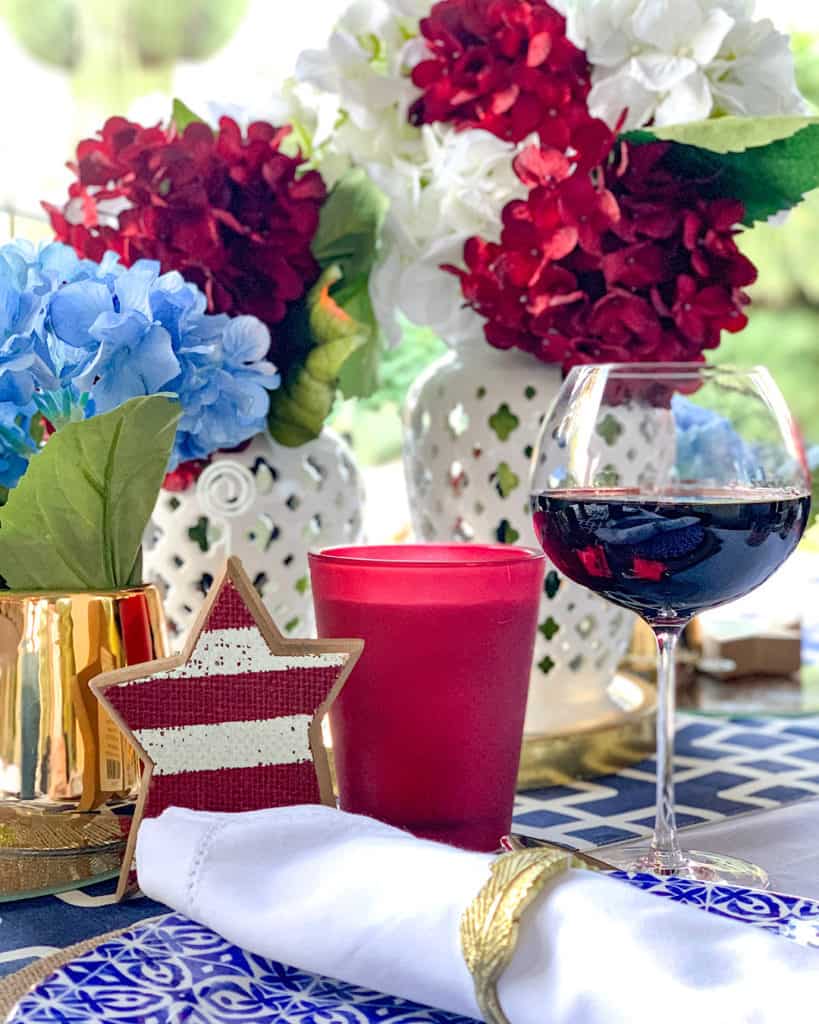 Cake Stand: I'm linking a few of my favorite cake stands here that would work perfect for 4th of July table setting!
A: I love this simple but elegant gold-finished base and wood top cake stand! It is perfect for an indoor and out door setting!
B: I also love this blue Italian cake stand for 4th of July table decoration! You can use this beautiful color throughout summer!
C: And lastly, this two-tier red checker dessert stand is a perfect choice for your 4th of July table!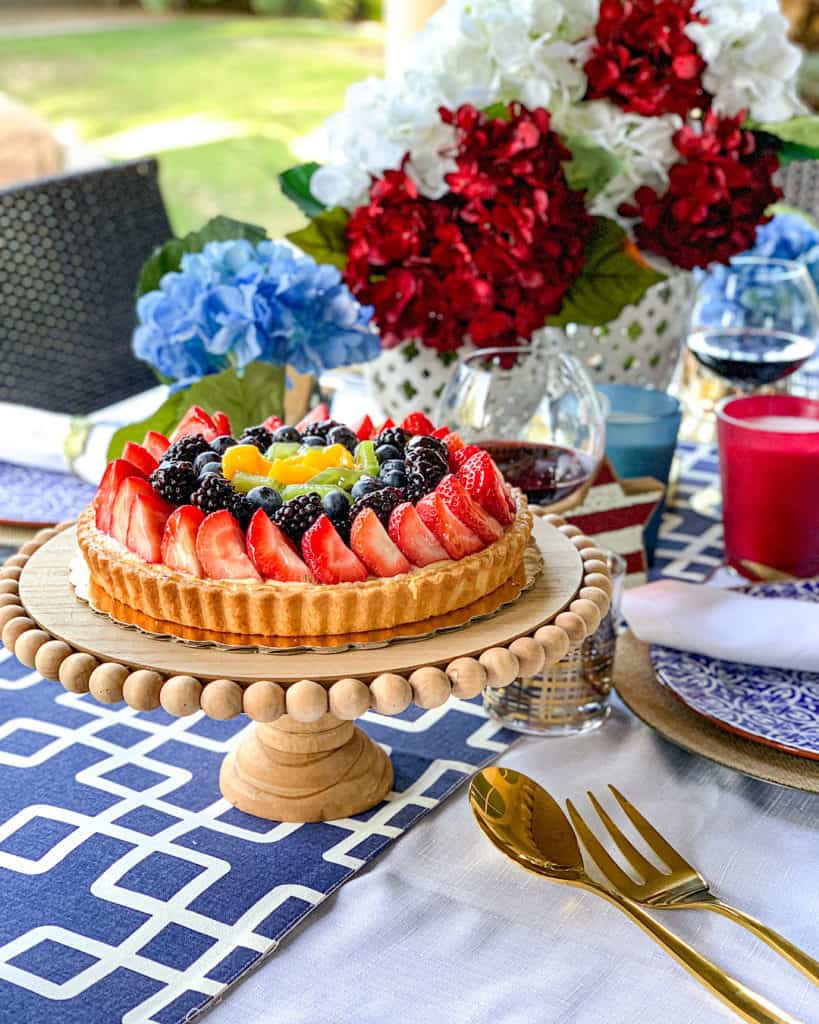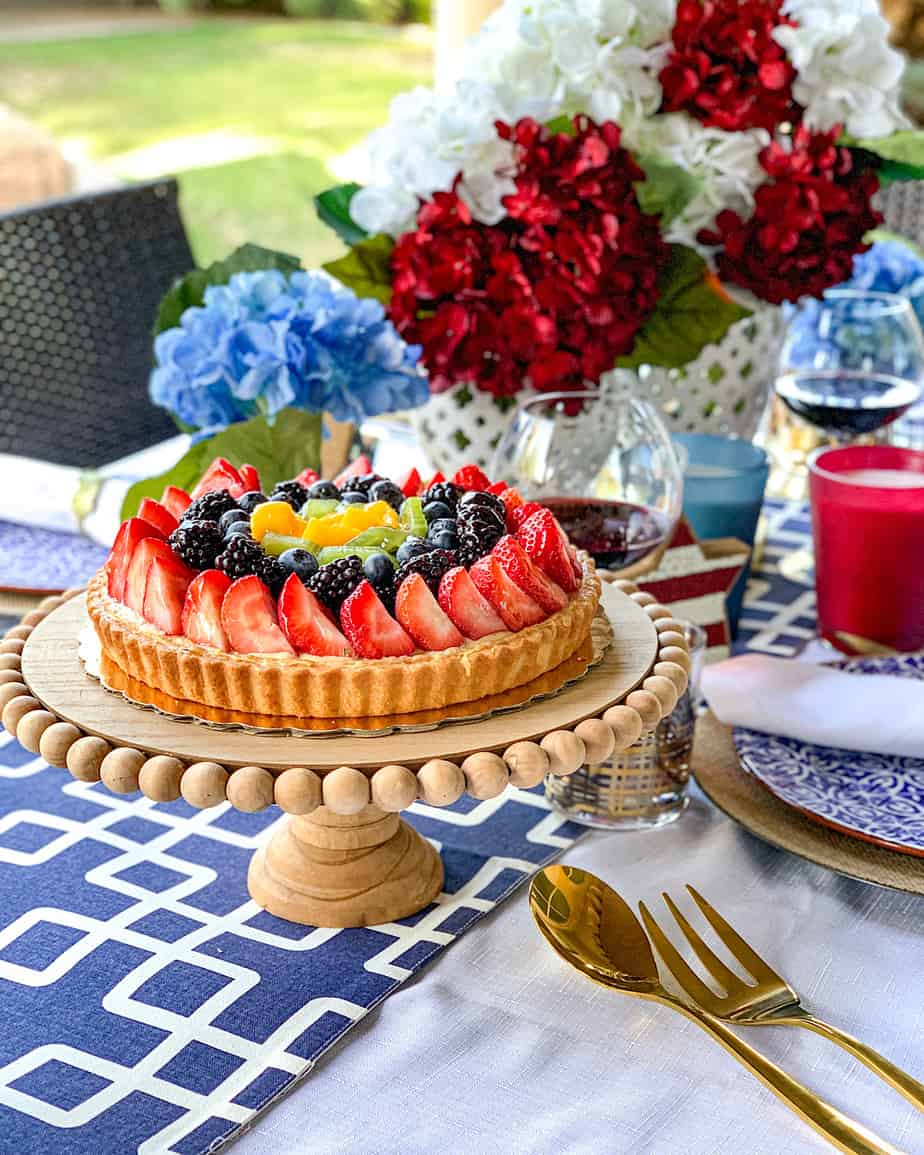 Napkin Rings: I found these leaf design napkin rings at Pottery Barn a couple of years ago. Unfortunately, they are now sold out. Since our flatware and our drinking glasses had some gold trim, I liked to use these napkin rings to compliment everything else on the table. But, if you are looking for some cute napkin rings that would be a nice fit for your 4th of July elegant tablescape, I think these gorgeous ginger jar napkin rings are perfect! I also think these red cords wrapped napkin rings will work great as well!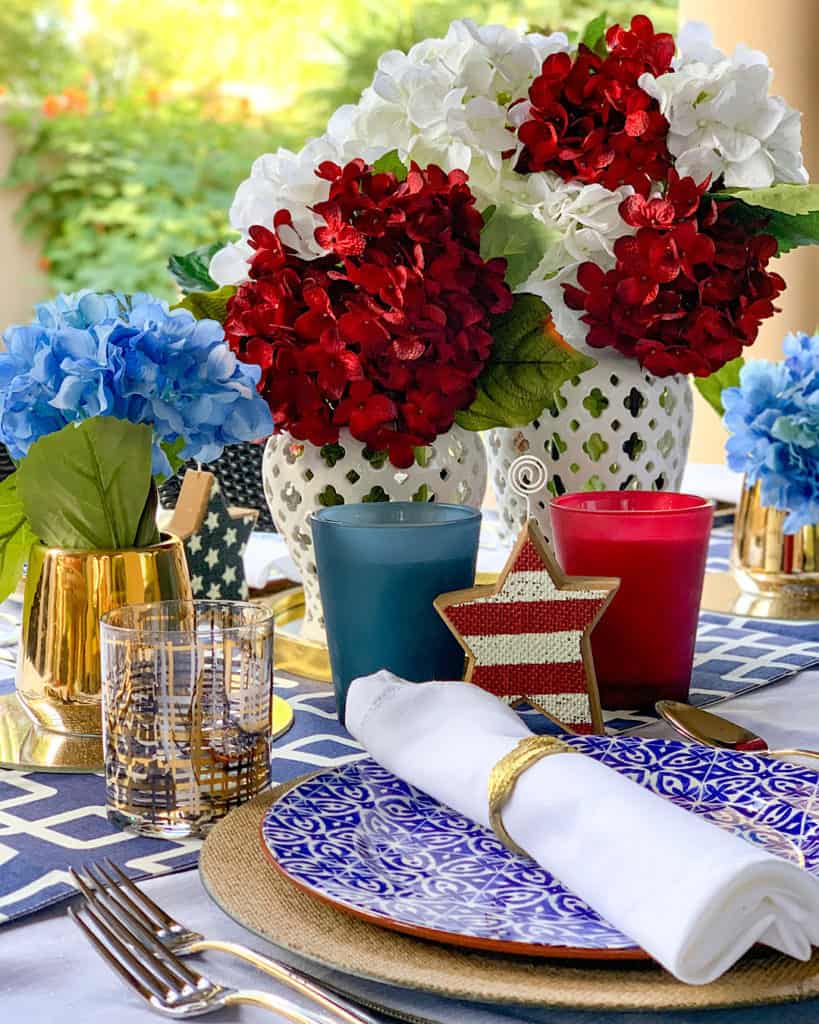 Wine Glasses: These wine glasses are from Crate and Barrel and I absolutely love them! I'm obsessed with Crate and Barrel wine and champagne glasses as well as all of their wine accessories!
Glasses: My sister and my brother in law bought us these gorgeous glasses paired with the decanter from Crate and Barrel a couple years ago and I'm still SO in love with them! They currently don't have the exact same patterns in stock. However, I LOVE their new design just as much! I think they are simply gorgeous and work for any occasion – but especially for 4th of July.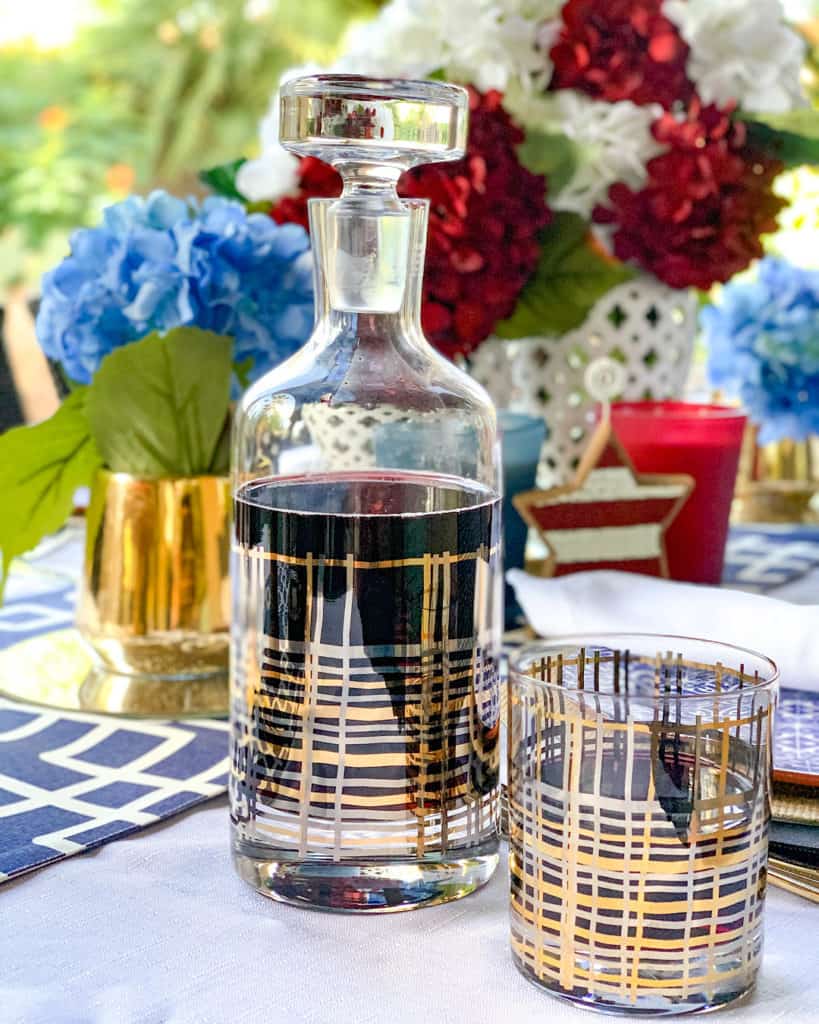 Red, Blue and White Fruit Tart: Don't forget to add some "patriotic theme" desserts and cakes on the table! Since I don't really enjoy baking as much, I buy all our desserts! Hahaha! But if you are not like me and want to bake your desserts at home, you can get some fun recipe ideas here or here!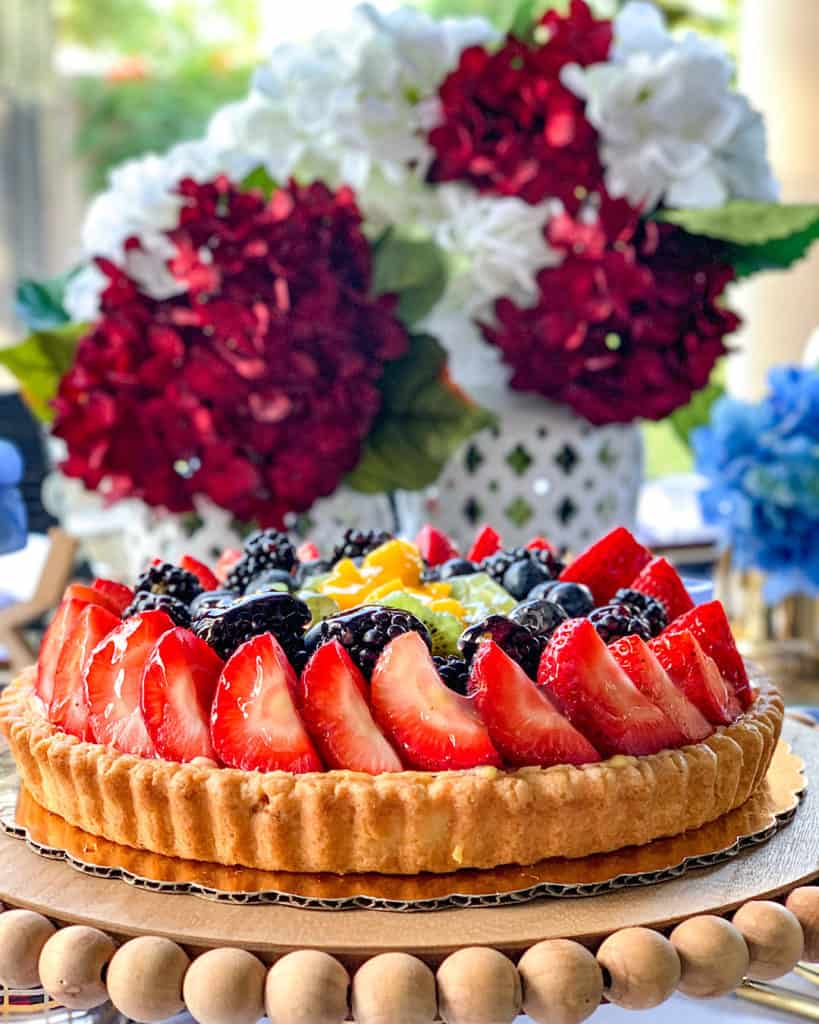 I really hope you enjoyed my ideas for 4th of July table decorations and party design ideas! No matter how you are planning to celebrate this 4th of July, I hope you'll have a fun day full of joy with your loved ones and make some unique 4th of July quarantine memories!!!
And even if you're not planning a party for 4th of July – sprucing up your home can make all the difference! Check out my post on how to give your kitchen a quick refresh!
Happy 4th of July everyone!
Love,
This post may contain affiliate links, which means that I may receive a commission if you make a purchase using these links.

Sherry, xoxo