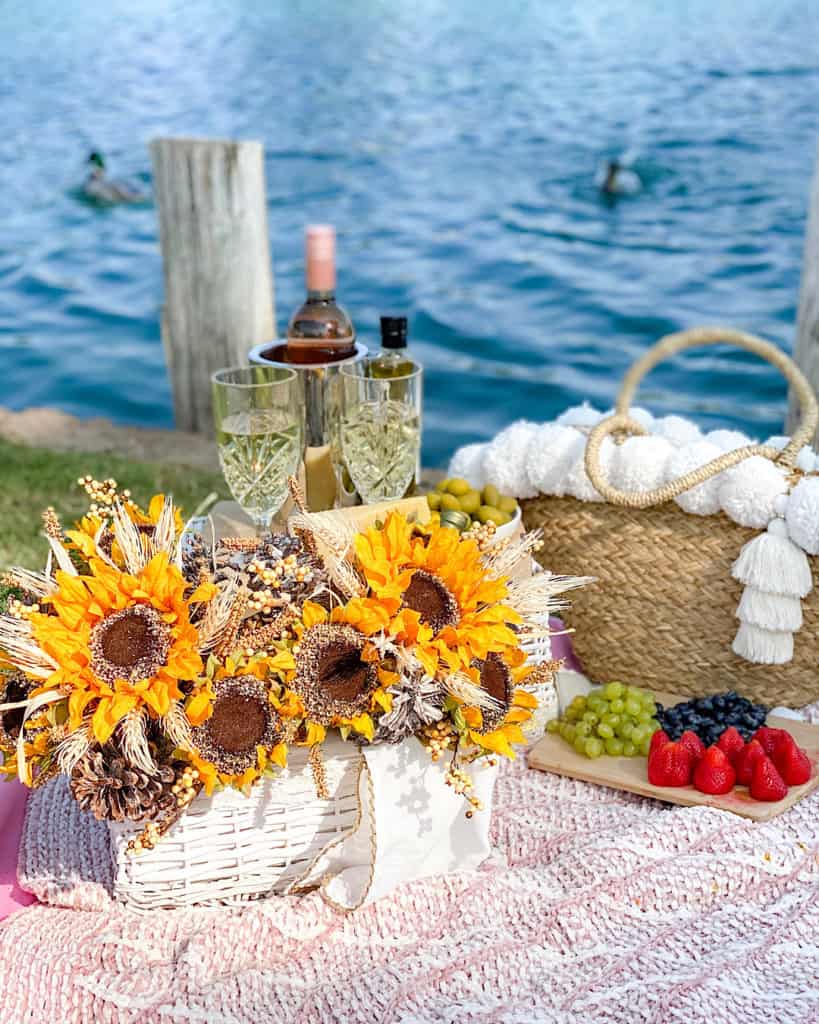 Happy Monday everyone! Hope you had a weekend full of fun and relaxation! Today I am bringing you my top tips for how to pack an awesome picnic… We had a fun little picnic near a lake we love so much in Scottsdale this weekend! The picnic was fun for our little girls and for us as adults! We packed a lot of fun snacks and fruits that our kids love, as well as cheese, olives, French baguette, and some white wine and rose for ourselves!
Valentina and Alina were so excited and running around barefoot on the grass! They were even more excited to see the ducks on the lake and started feeding them all the baguettes in the basket! Hahaha! Once we ran out of the baguettes, Valentina started feeding them the blueberries, raspberries and grapes thinking the baby ducks need to eat so they can grow faster! Hahaha!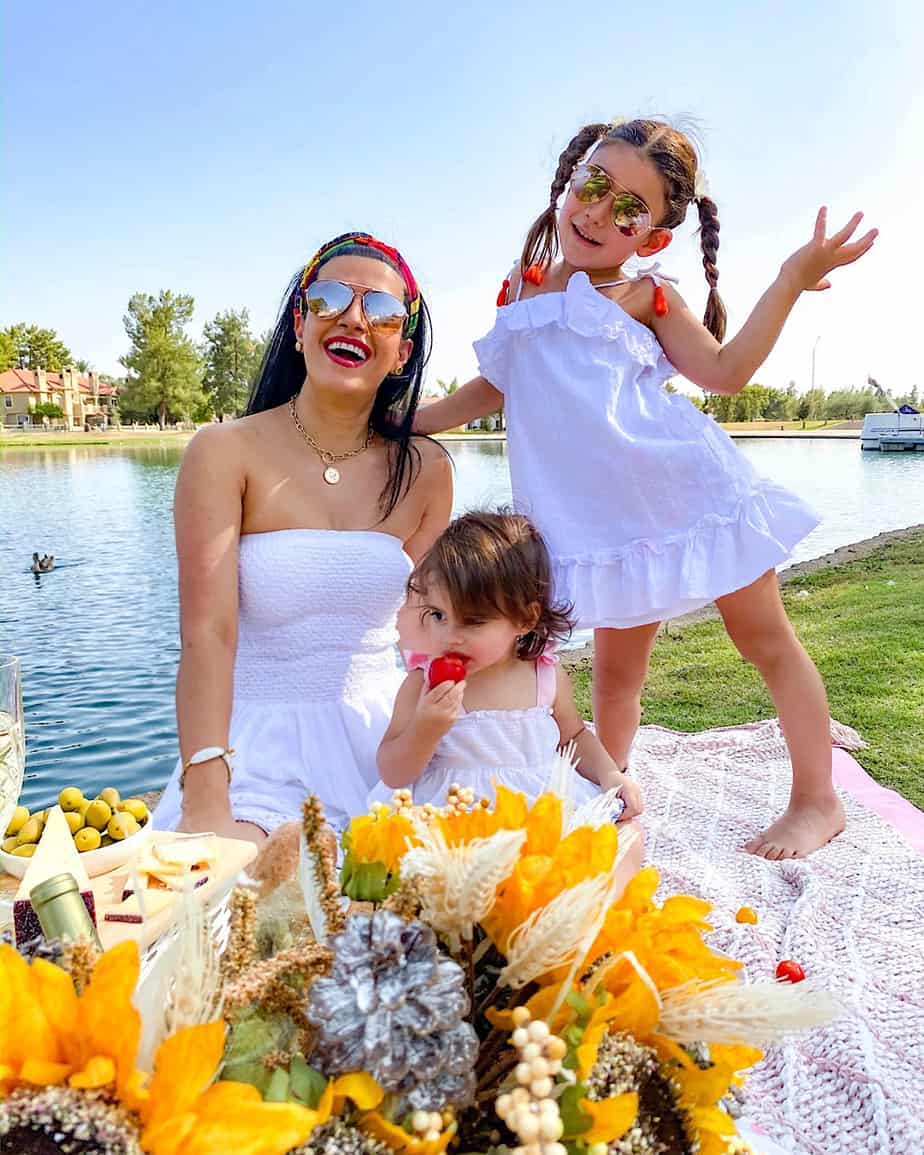 Watching them having so much fun, made us want to plan more and more picnics! Hopefully when the pandemic is over, we will plan more picnics with their friends! Summer activities have been fun at home, but we are super excited that Fall is finally here so we can plan more "outdoor activities" as a family or sometimes just as a couple!
I would honestly say one of Valentina's favorite activities is going on picnics! Picnics truly make her feel like she is on vacation! Hahaha! We try to be "creative" and take our kids to different parts of Arizona for picnic.
As fall is approaching, we are planning to go "picnicking" in Sedona, Flagstaff, Prescott, and some cooler temperature areas around Arizona. This way they will get to visit different parts of the State as they are growing up!
While picnics are fun and you get to enjoy some fresh air, soak up some vitamin D, snack on some yummy food and drinks, enjoying nature and most importantly spending quality time with family and friends, it can feel like so much work to a lot of people!
When I talk to some of my friends with or without kids, they always say picnics "sound" amazing, but they are so much work and there is so much planning involved! Therefore, they skip it all together and prefer to go to a restaurant to eat… While I agree about there is more "prep time" involved with planning a picnic, I think they are SOOO much more fun than just eating out at a restaurant… They are especially more fun if you have kids!
Therefore, I have decided to share some ideas of how to pack for an awesome, fun, and memorable picnic with your significant other, family, friends, or your parents!
What Food Do You Pack for An Awesome Picnic for Adults?
6- Classic Italian Sub Sandwich
10- Salami, Mozzarella and Roasted Red Pepper Sandwich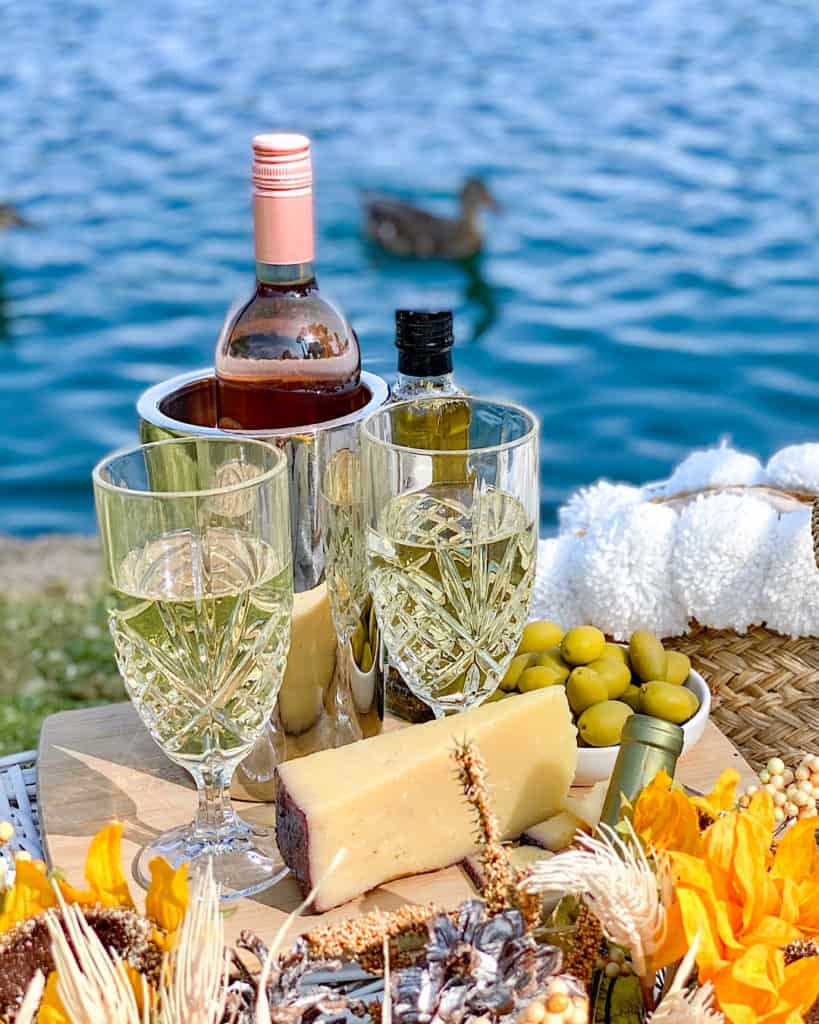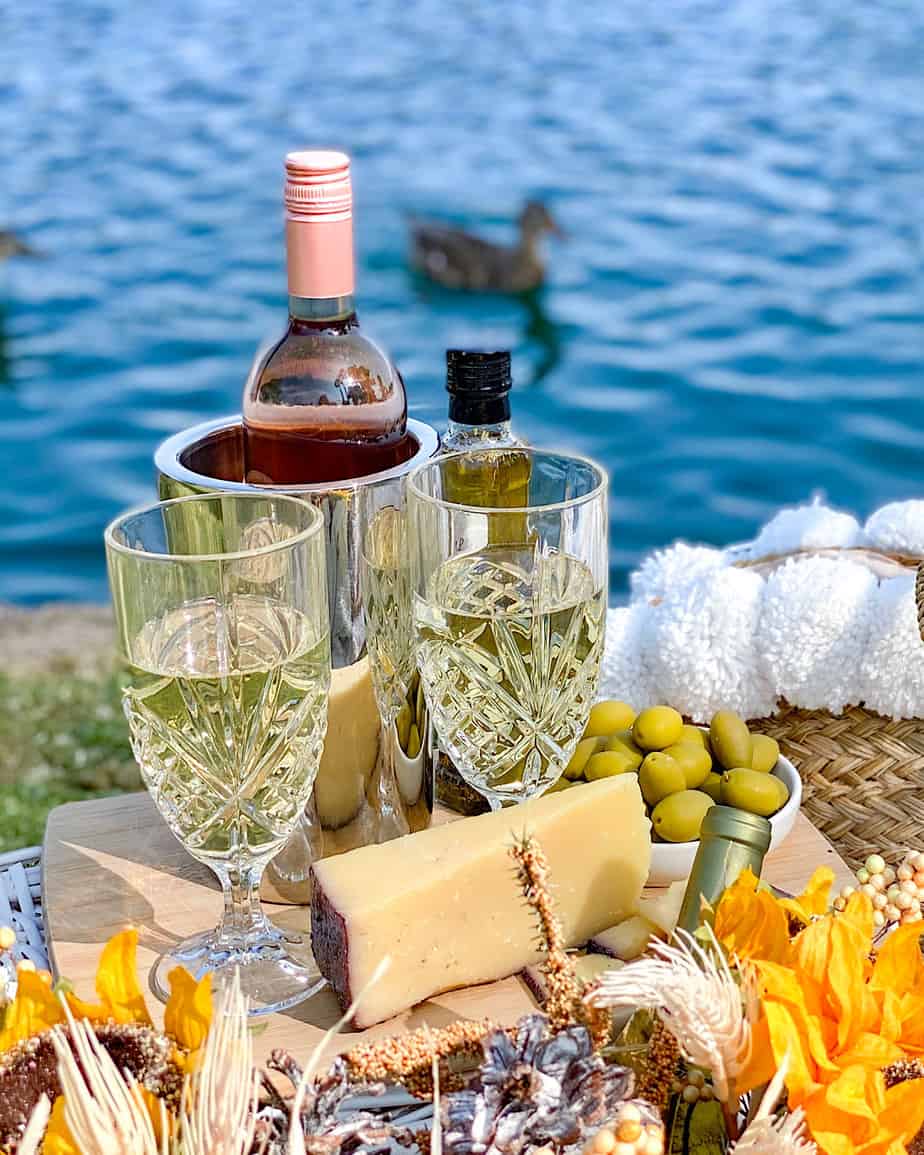 What Food Do You Pack for A Picnic for Kids?
1- Chocolate Chip, Peanut Butter & Banana Sandwich
3- Child Friendly Hummus with Crudites
4- Peanut Butter, Jelly and Apple
5- Honey Ham and Cheese Sandwich
7- Pizza Toast
10- GoGo Squeez Fruit and Veggie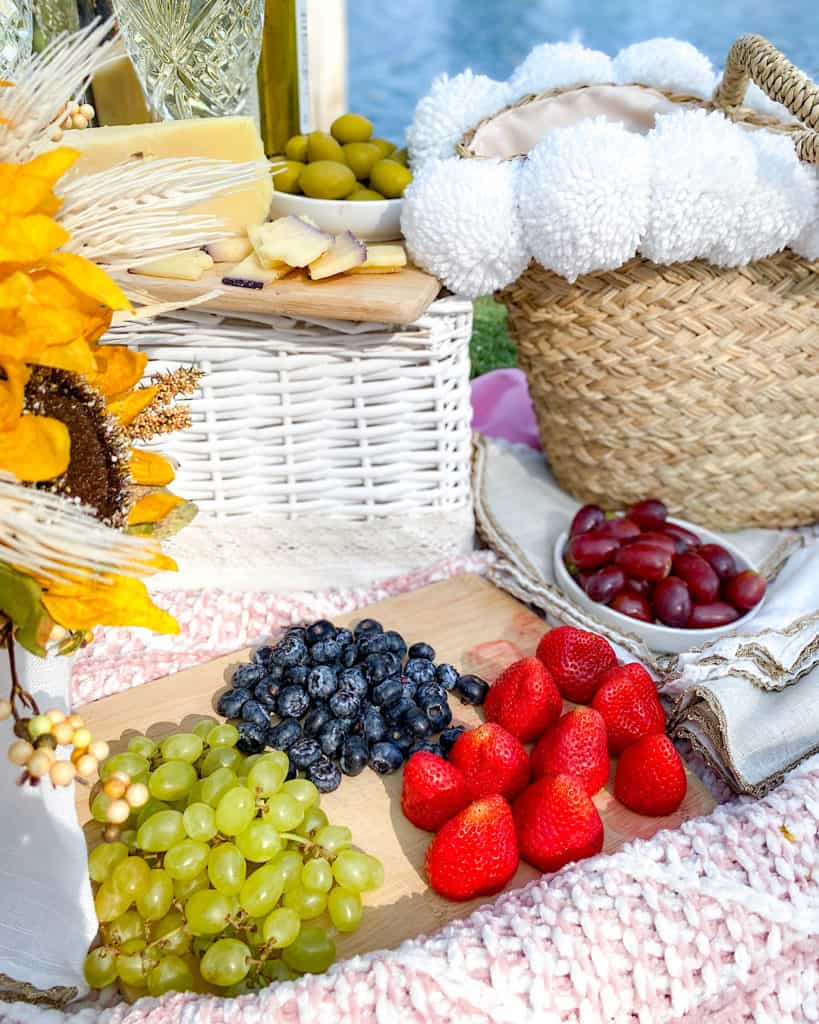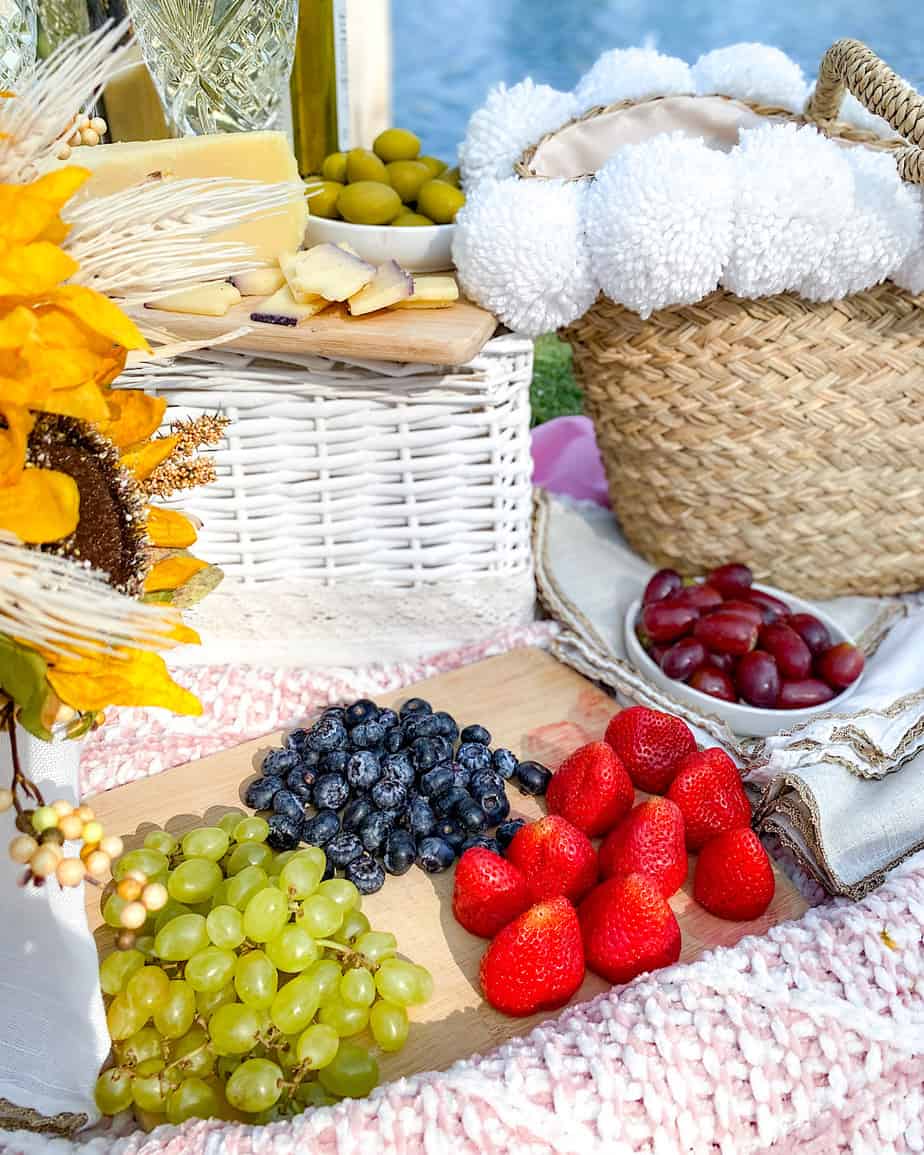 What Do You Put In A Picnic Basket?
Frozen Bottles of Water
Plates
Plastic Cups
Plastic Plates
Napkins and Tissue
Corkscrew/Bottle Opener
Wet Wipes
Salt and Pepper
Paper Towels
A Tray
Serving Spoons
Folding Knife
Cutting Board
Trash Bag
What Should I Pack for a Romantic Picnic for Two?
Picnic Blanket
Food Basket
Romantic Picnic Décor
Candles
Roses
Chocolate-Dipped Strawberries
Chocolate Truffles
Heart Shaped Treats
Champagne
Wine
Beer
French Baguette
Cheese
Toast
Olives
Grapes
Cherries
Berries (Raspberries, Strawberries, Blueberries)
What Are The Best Picnic Blankets?
I usually like to throw one or two big waterproof blankets on the ground (the area we choose to picnic) and then cover the water resistance blanket with a softer and cozier blanket. I am listing some of the top-rated picnic blankets here! But I first want to clarify that I do not own all these blankets. I own a few, however, I am listing the top ranked blankets here for you based on the customer reviews:
1- Durable & Waterproof Beach and Grass Picnic Blanket
2- Machine Washable Extra-Large Picnic & Beach Blanket
3- Outdoor Picnic Blanket with Water Resistant Backing
4- English Plaid & Camel Blanket Tote Outdoor Picnic Blanket
5- Wild in Bloom, Beach and Picnic Blanket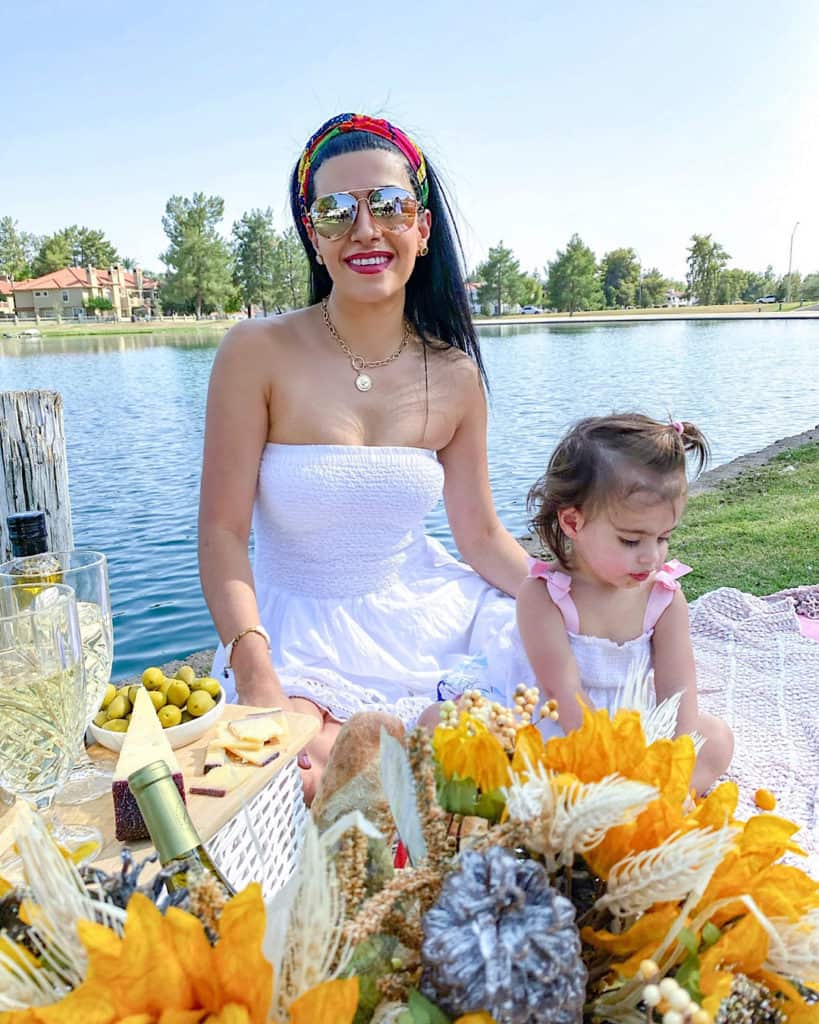 What Are The Best Cutting Boards And Knives For Picnic?
1- Picnic Time Brie Cheese Board
2- CTFT Cheese Board and Knife Set Bamboo
3- Kunaboo Bamboo Cheese Board and Knife Set
4- Toscana Cheese Cutting Board
5- Oenophilia Bamboo Hors d'Oeuvres Plates (set of 4)
What are the Best Picnic Backpacks?
1- Allcamp Picnic Backpack For Two
2- Sunflora Picnic Backpack for Four
3- Corsica Wine & Cheese Picnic Basket
4- Forich Insulated Cooler Backpack
5- Catalina English Style Picnic
I think picnics are such fun outdoor activity with friends and family! Without a doubt are fun!!! I hope this post help you to pick the best picnic backpack, cheeseboard, blankets and great food and snack ideas for your next picnic!
Have fun picnicking!
This post may contain affiliate links, which means that I may receive a commission if you make a purchase using these links.
Shop This Post Or Similar

Sherry, xoxo