Even though Arizona doesn't get much of a change between seasons, spring is one of my FAVORITE times of the year. I LOVE all of the fresh flowers that spring brings, and it gives me an opportunity to decorate and freshen up the kitchen, as well as other areas of the house with all kinds of gorgeous spring floral arrangements!
I always love decorating my home for spring with fresh flowers and pops of spring colors, like pink, white, purple, and yellow. I think they really brighten up a room and bring the life of spring straight into your home! But how do you make a spring floral arrangement? Today, I have made a simple step-by-step guide to help you bring spring straight into your home!!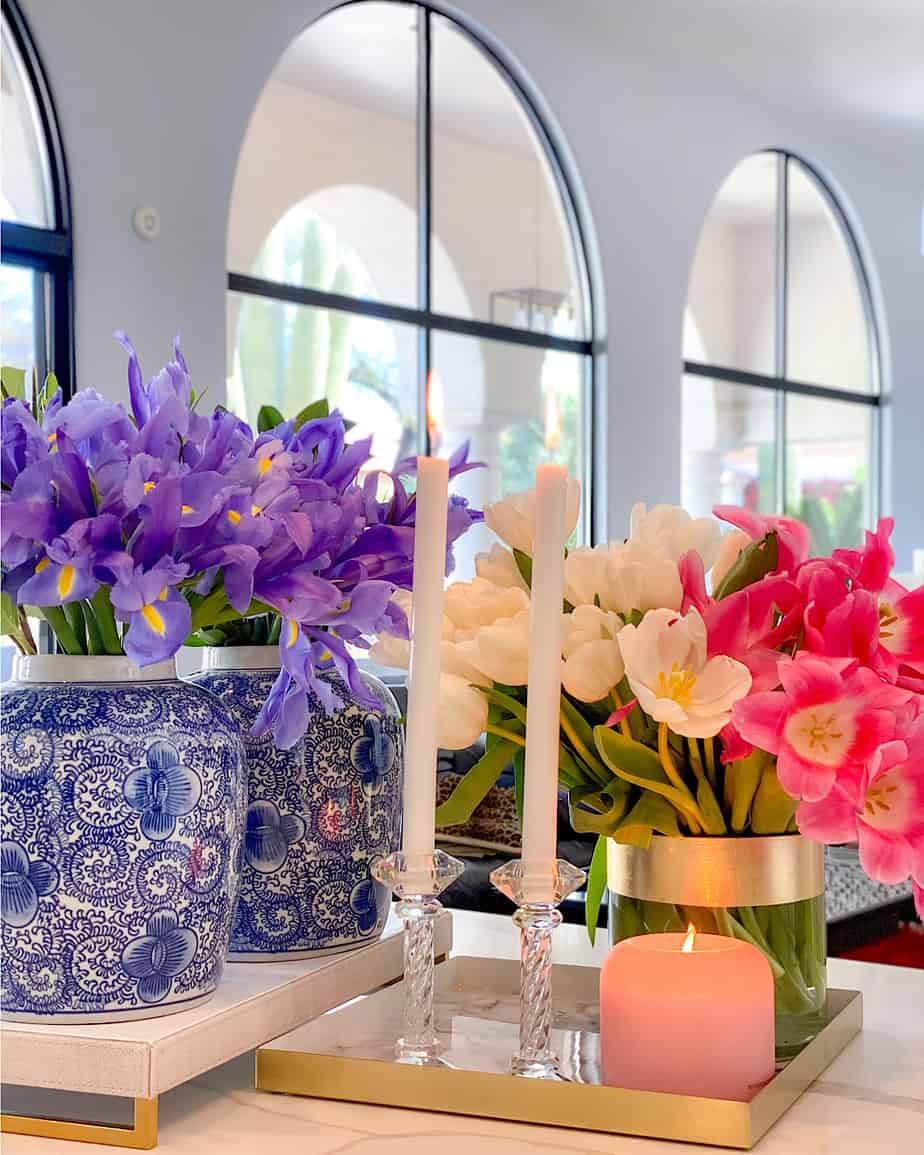 Step by Step Flower Arranging for Beginners
If you would like to learn how to make floral arrangements for spring, here is an easy step-by-step guide (plus some extra special tips!!).
How to make a spring floral arrangement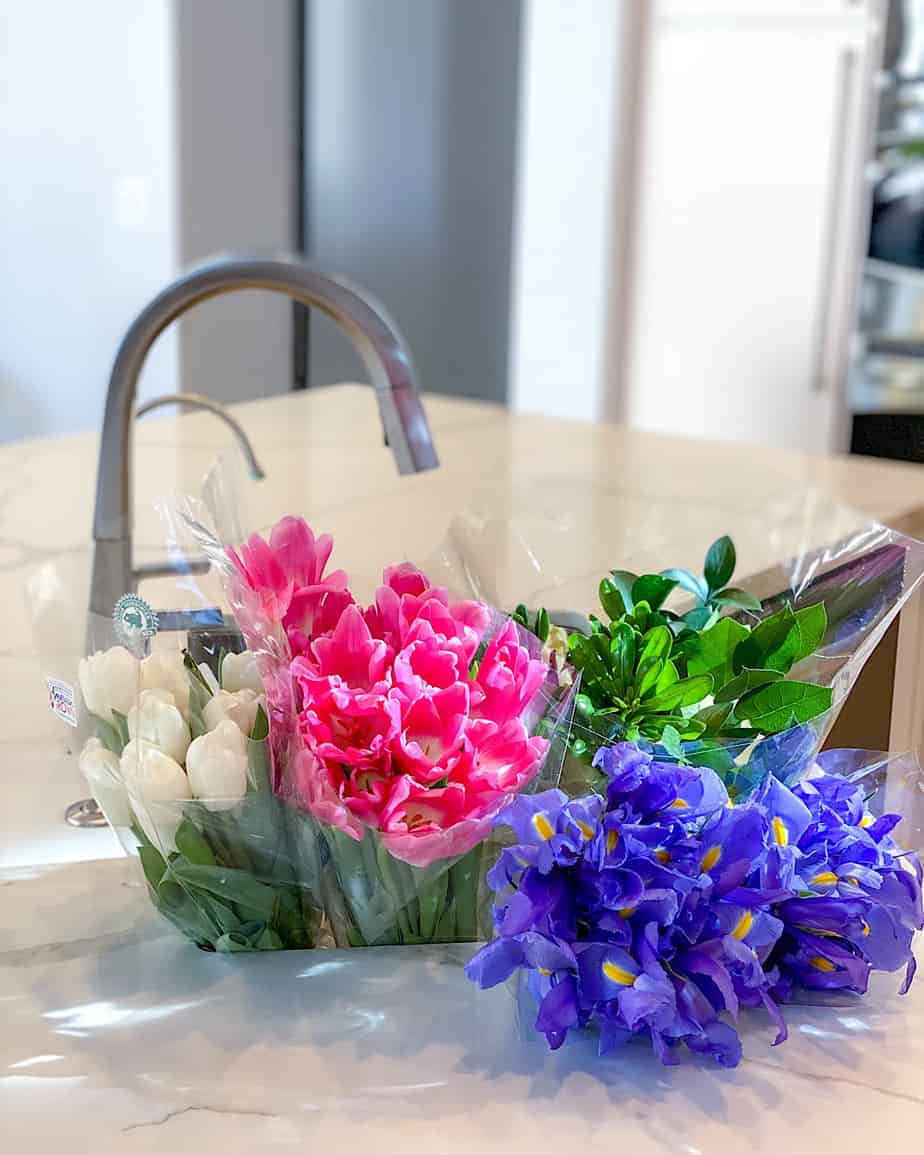 1- Start by selecting some different flowers that you especially love! My favorite flowers for spring are tulips, Iris, light pink roses, and peonies in pretty pops of bright colors.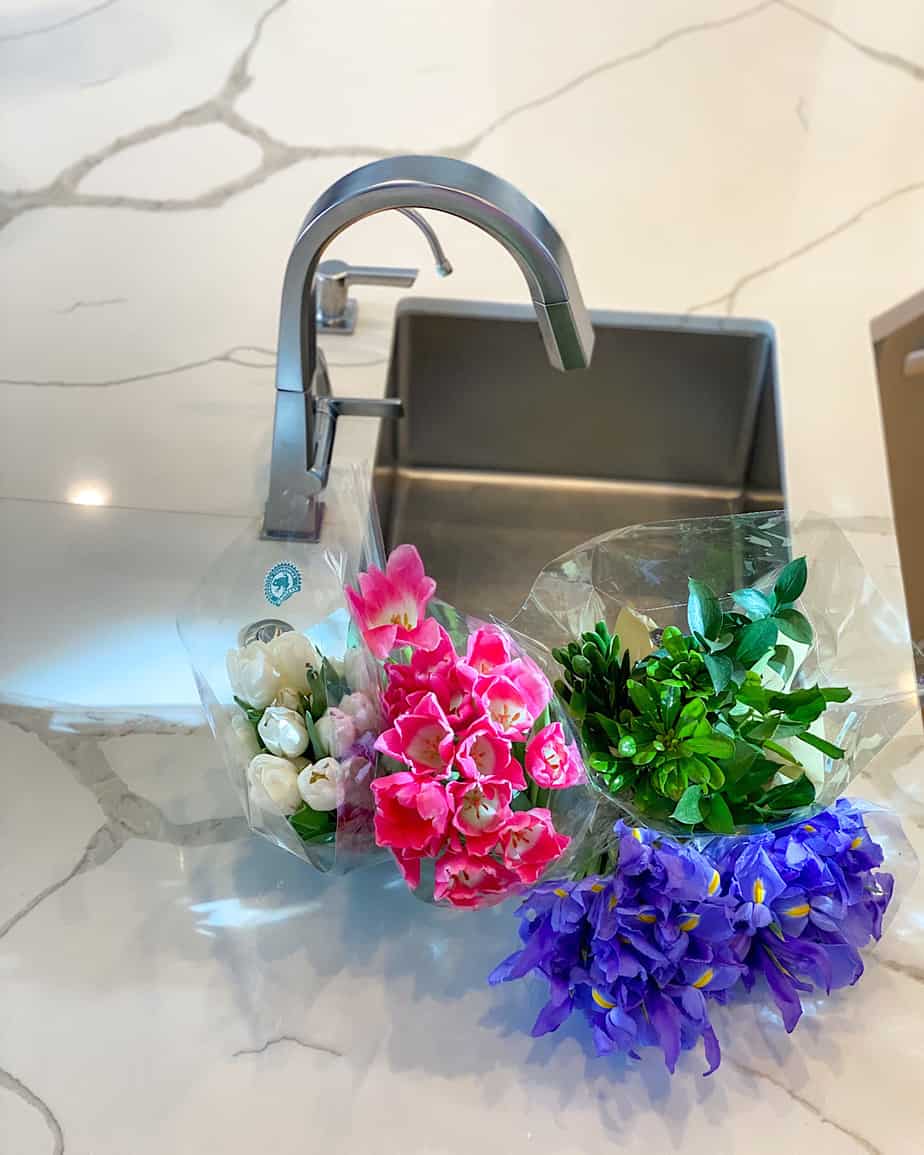 Here are some of the flowers that I think would look gorgeous in a spring floral arrangement: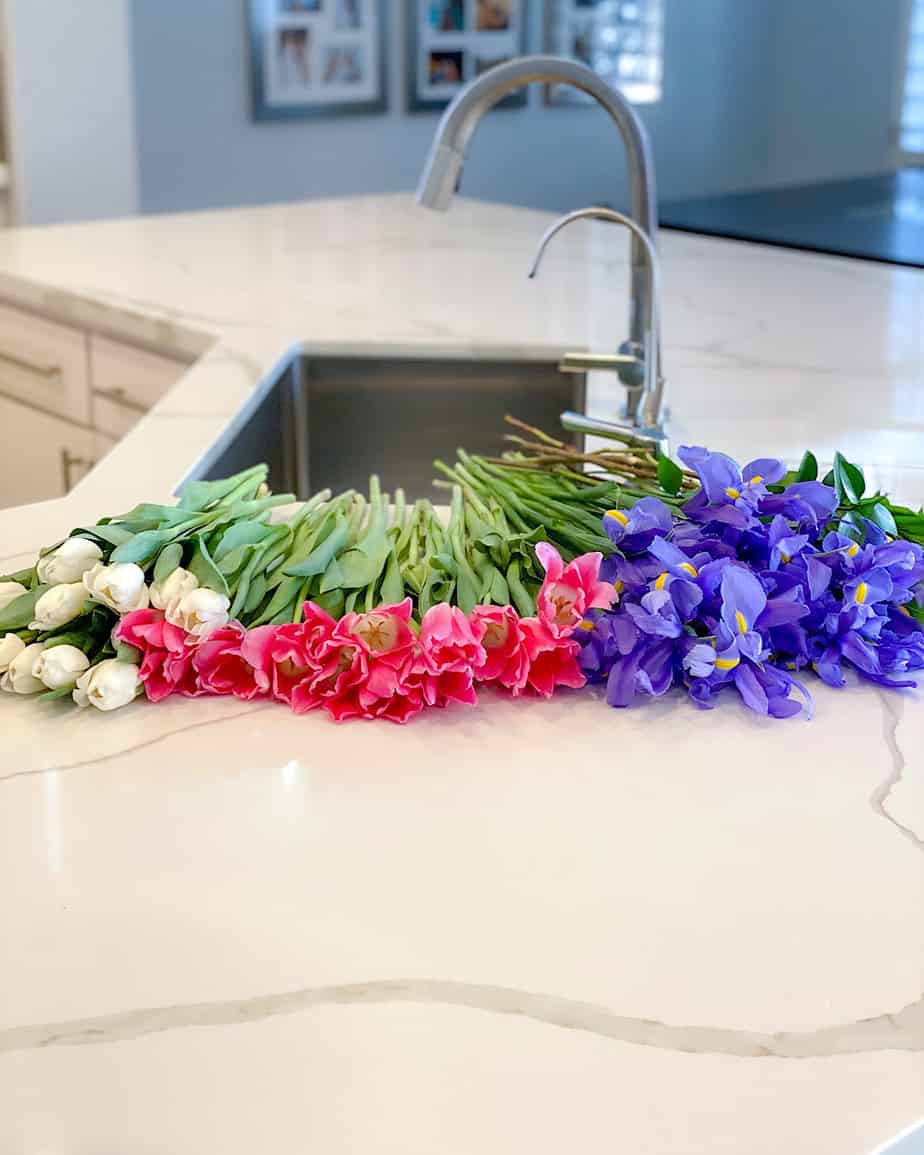 Crocuses
Hyacinths
Primrose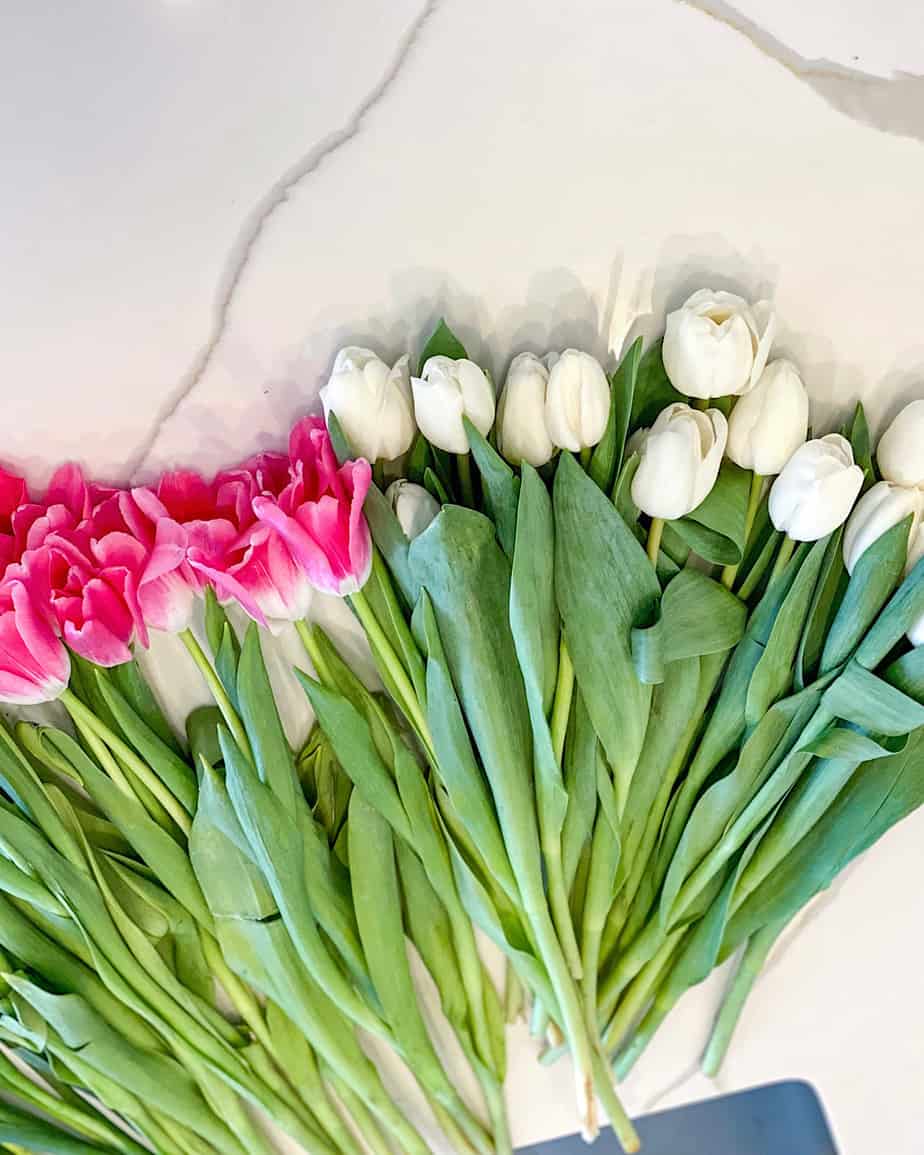 Pansies
Violas
Sweet alyssum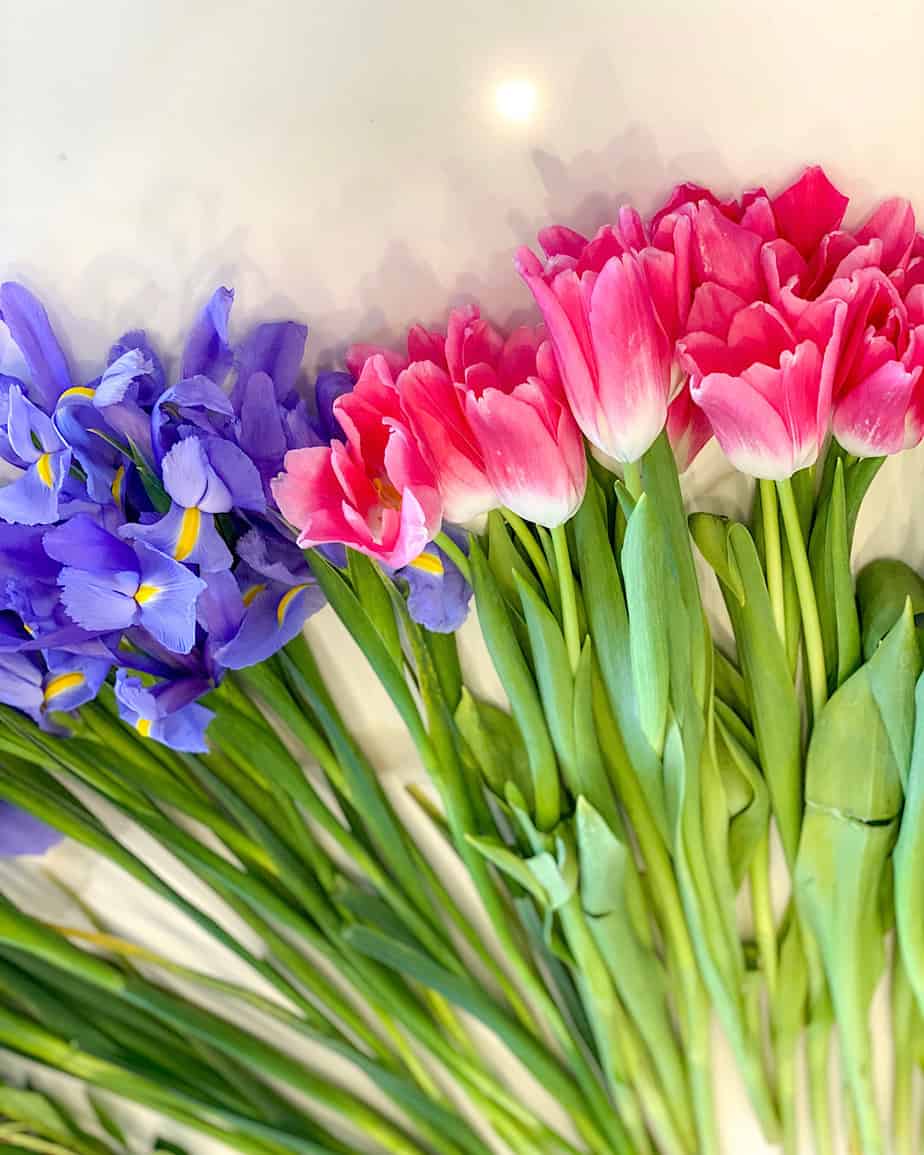 Sunflowers
Daisies
Carnations
Queen Anne's lace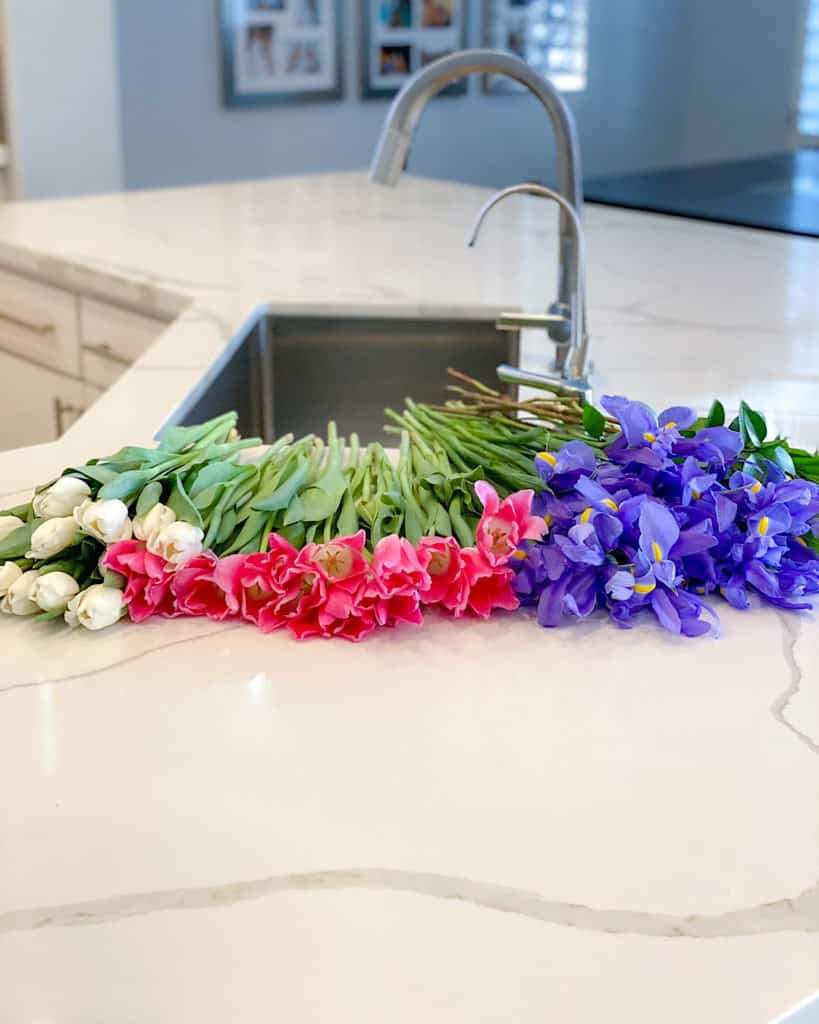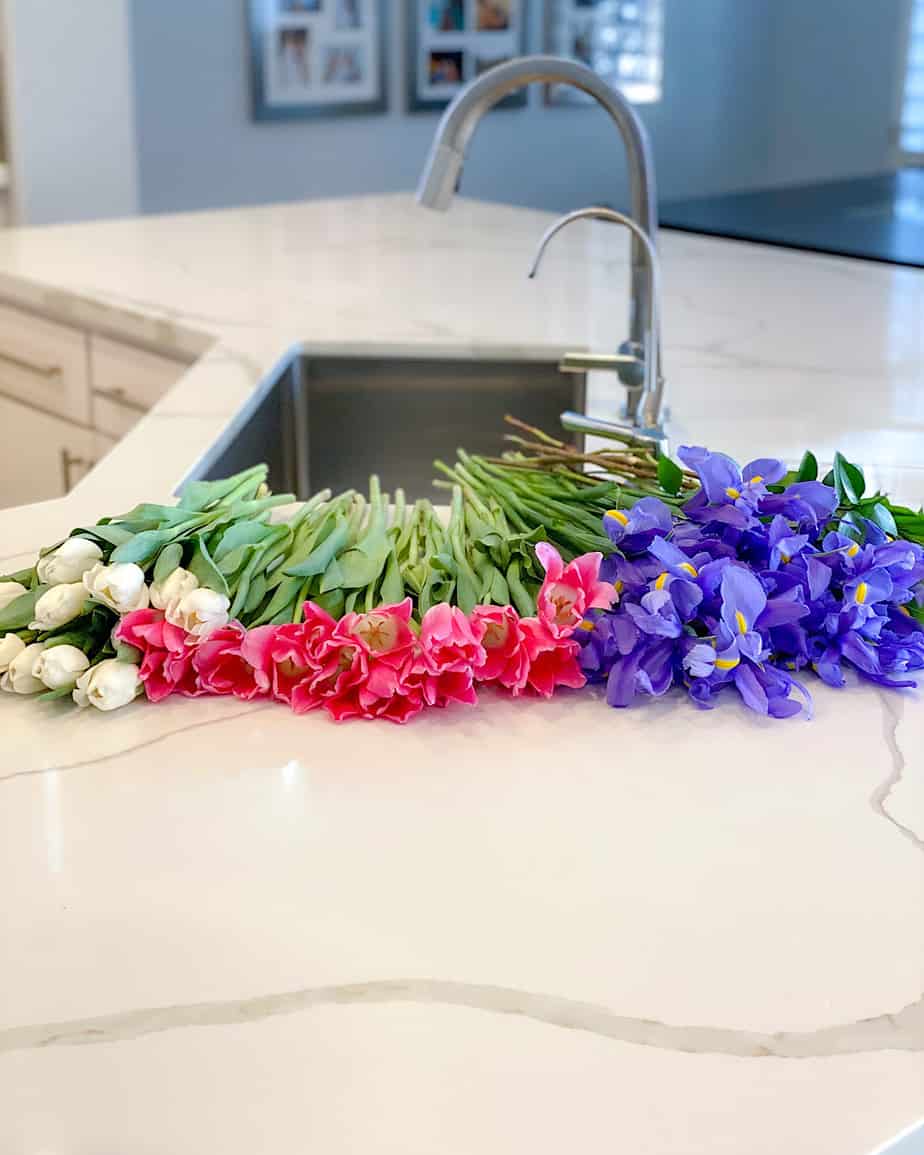 With spring being the "season of flowers" it can be hard to choose which ones you want to include in your spring floral arrangement! These few are all great options, but feel free to make it your own with your personal favorite spring flowers! This "flower arrangements how to" is only a guide!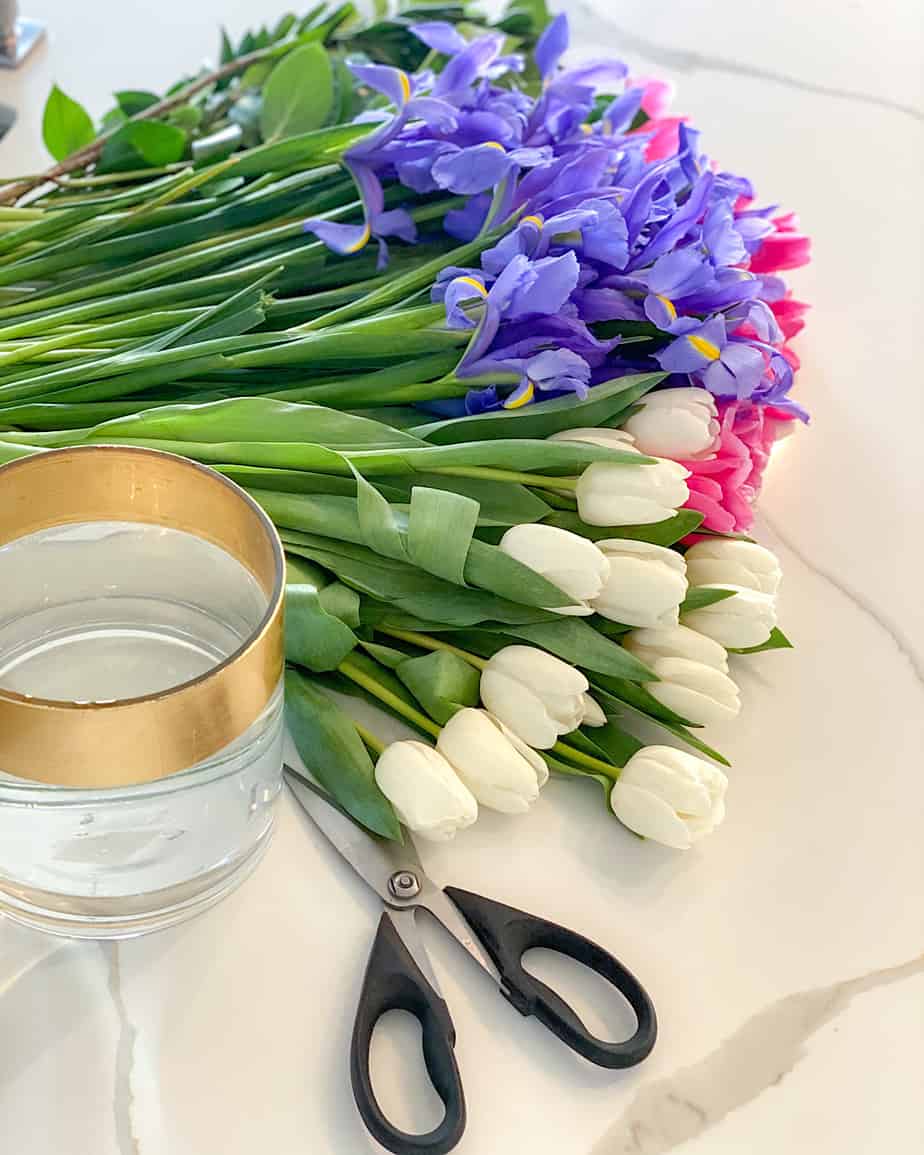 2- The next step is to gather up all of your tools and materials! You'll want to make sure you have:
A vase for the flowers
Something to hold everything in place to make it much easier to arrange the flowers, such as floral tape or what is known as a "flower frog" (this is a great floral arrangement tool that looks like a circular ball with holes that you can snugly put at the bottom of a container that helps you to keep your flowers organized!)
Scissors for trimming
Plant food to put in the water so that your flowers last as long as possible!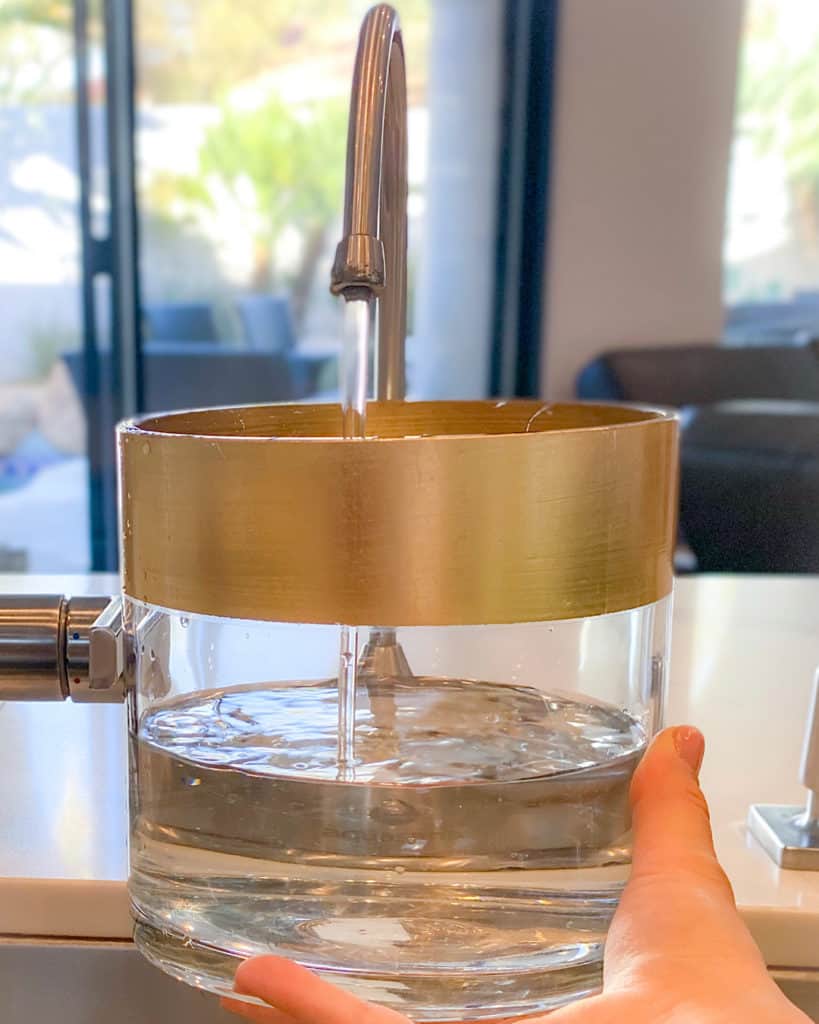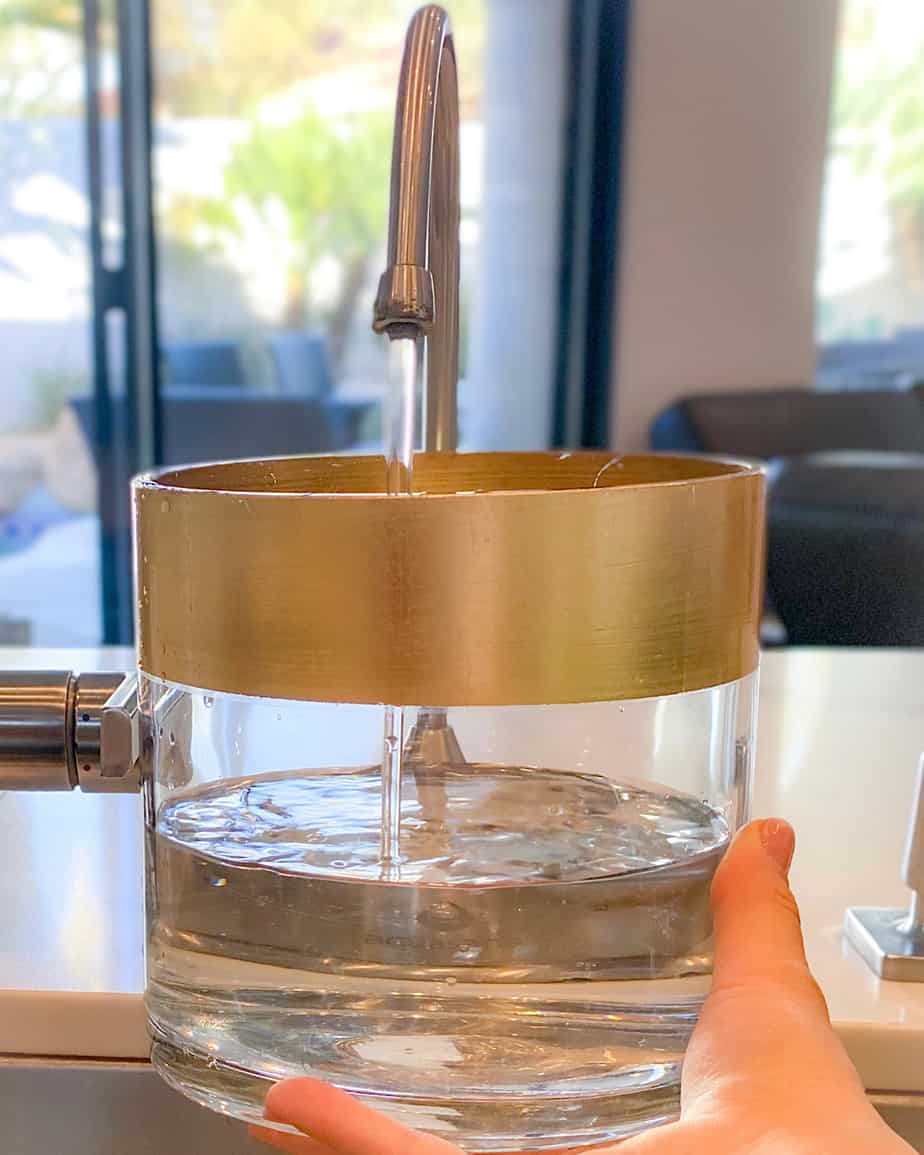 3- At this point, you'll want to cut your flowers at a 45 degree angle so that they can drink the water more easily. It's also important to remove any thorns or extra leaves from the stems in order to allow the water and plant food to move more directly into the blooms for beautiful, fresh-looking flowers!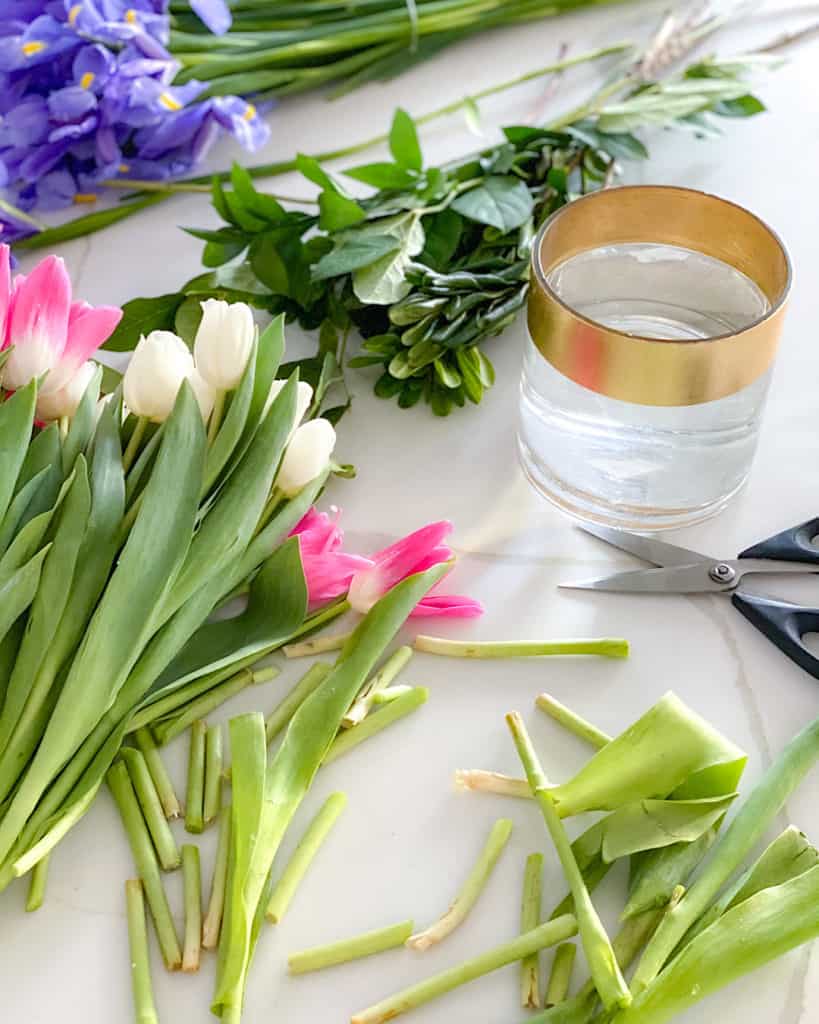 4- Decide how you want to start arranging flowers in a vase. Once you've clipped your flowers and they are ready for you to place into your vase, think about how you want to arrange your bouquet. Do you want it to come together as a certain shape? Like an oval, a triangle, diamond, or circle shape? Or would you rather build it in a vertical or horizontal way? Remember, make it your own!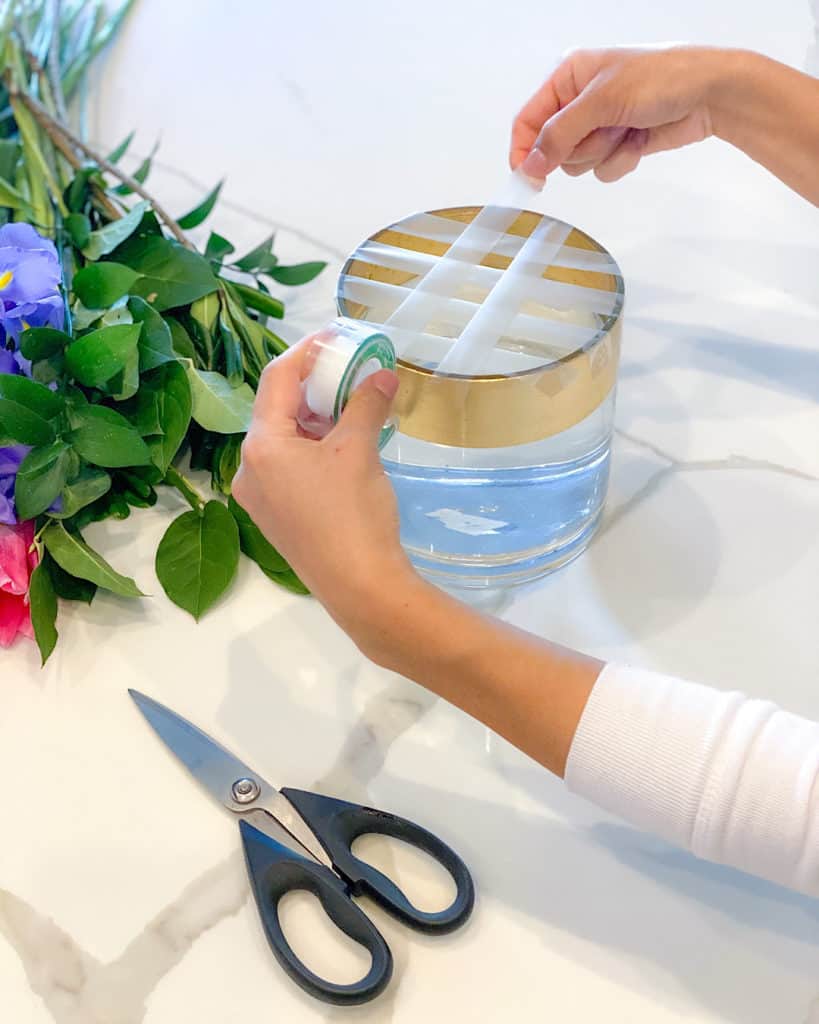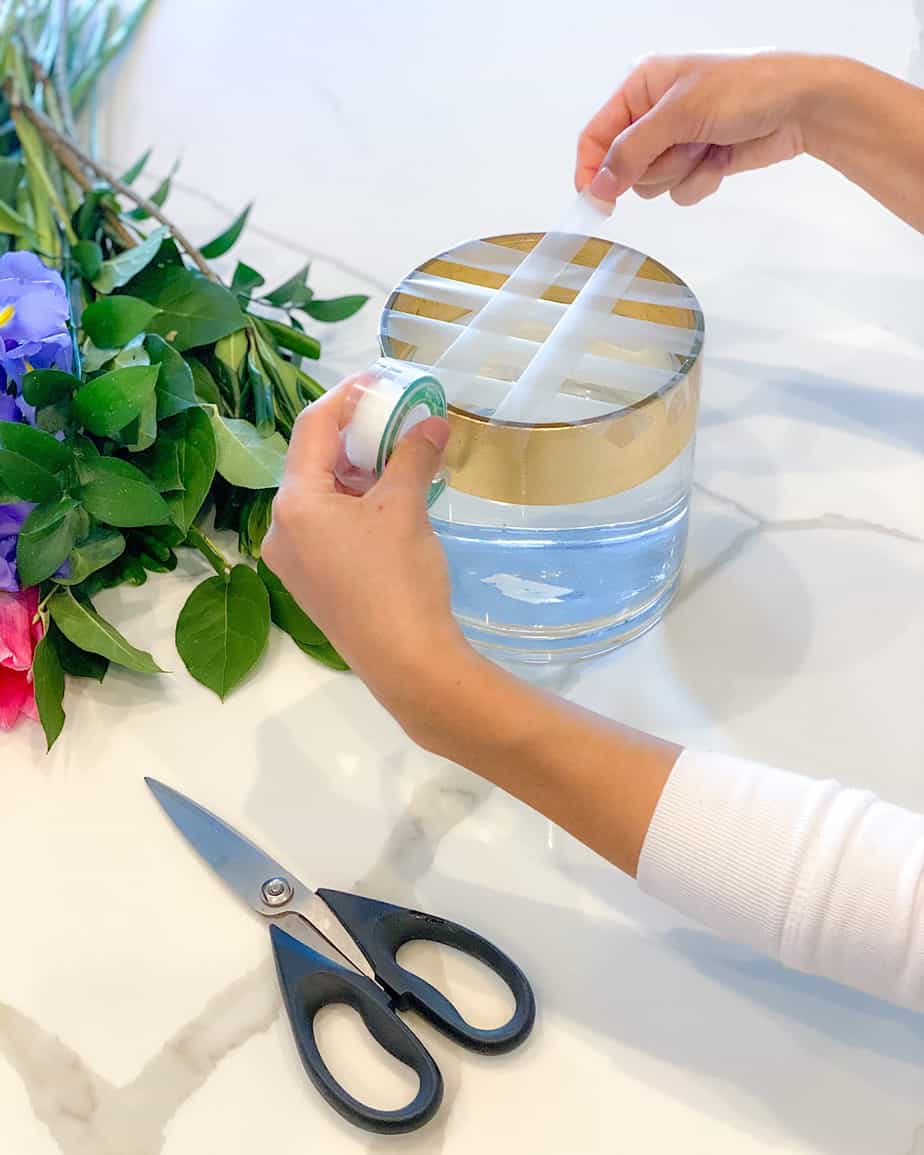 5- Now for the fun part!! Place the floral tape in a grid-like pattern to help guide your arrangement, or place the "flower frog" into the vase. Then, fill up your vase about two-thirds of the way with some water and sprinkle in some plant food. Now you may be wondering how to arrange a bouquet in a vase. Don't worry! It's not as hard as it seems!
For a simple modern floral arrangement, the easiest way to create a beautiful spring bouquet is to focus on the five elements of floral design.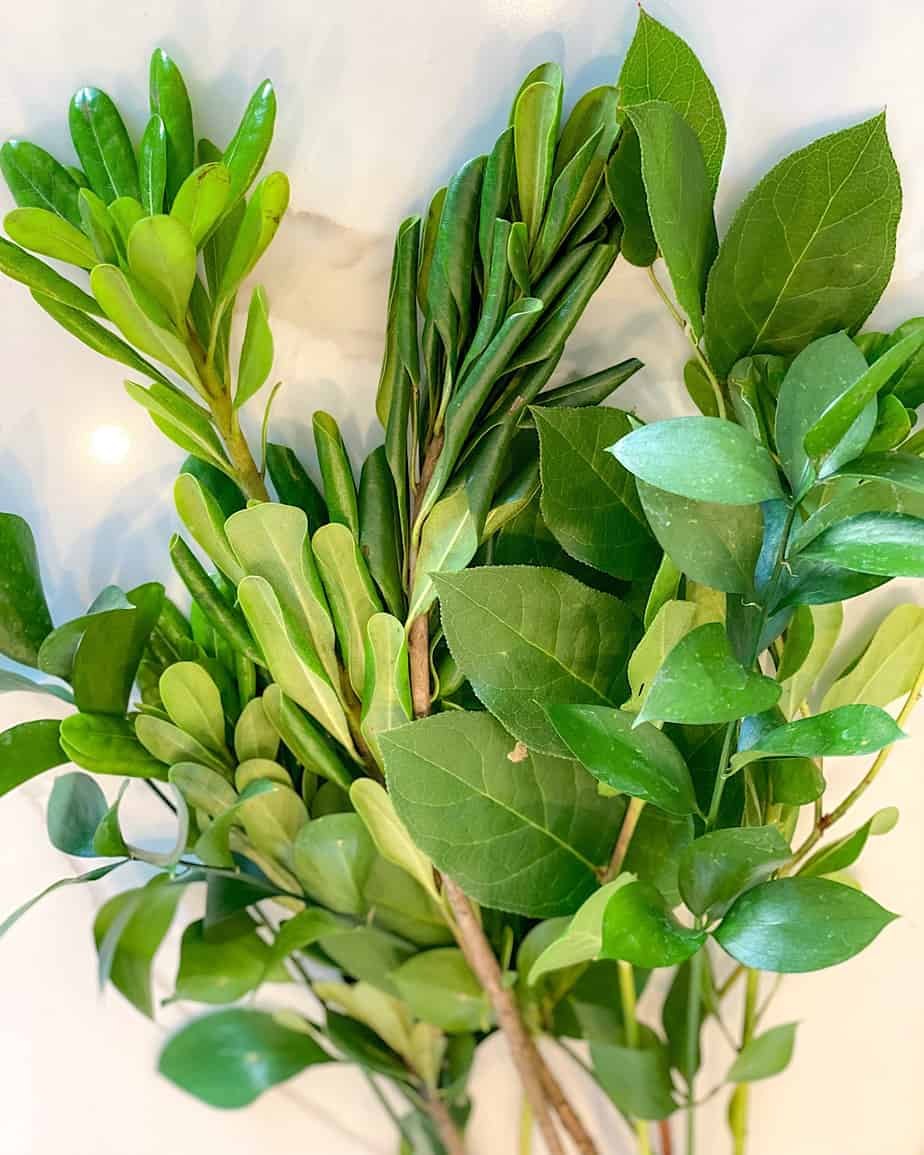 What Are the Five Elements of Floral Design?
The five elements of floral design will help to guide you in arranging your flowers in a unique and beautiful way!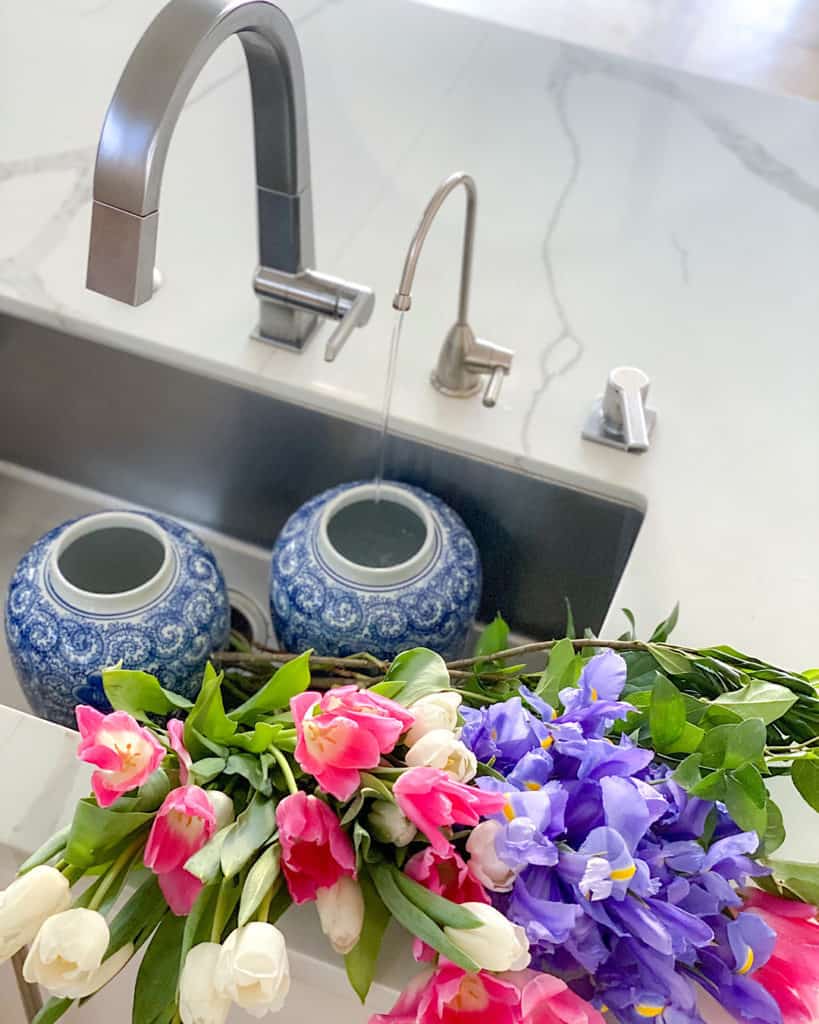 The first element to keep in mind is line. This affects the shape and structure of the floral arrangement. Where do you want the viewer's eyes to fall when they look at your beautiful spring bouquet?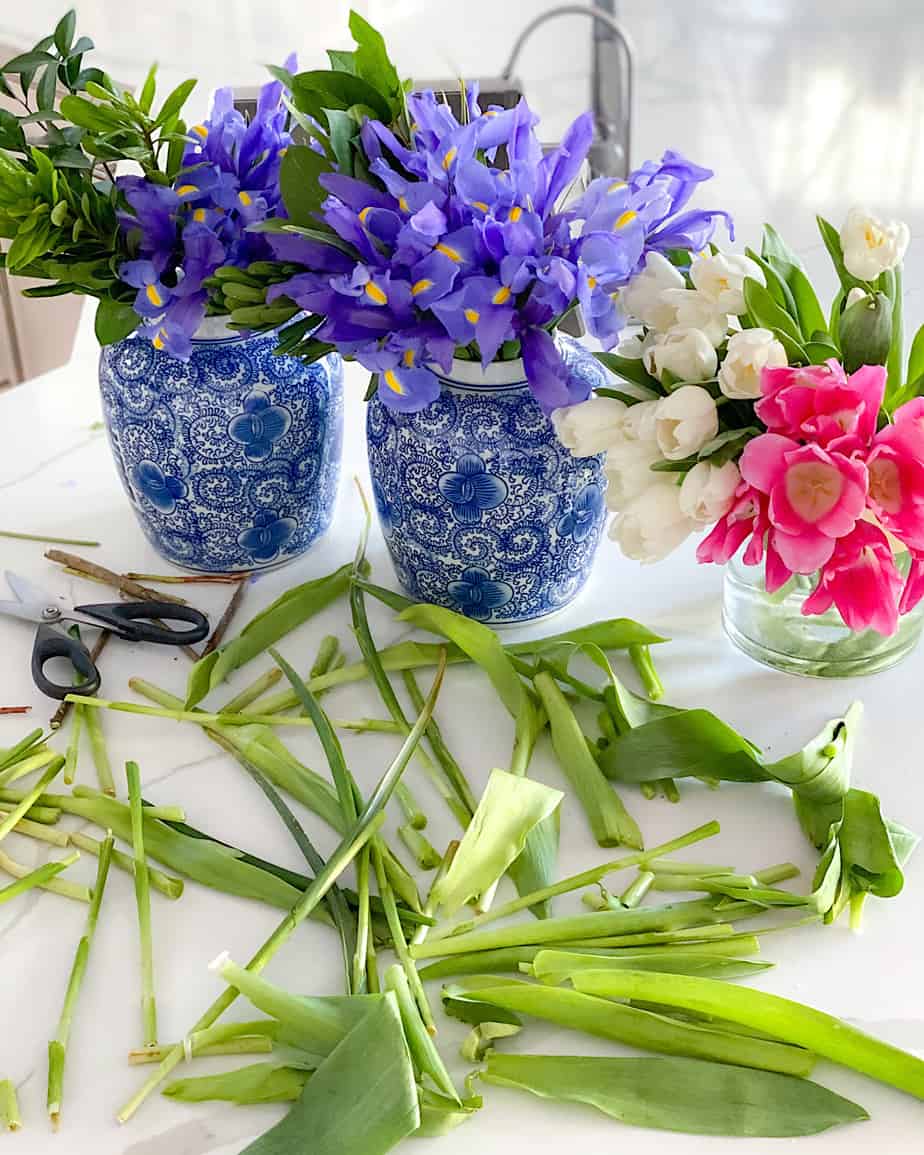 The second element is color. While pink, white, purple, and yellow are all gorgeous colors for spring (and, like I said, my favorites!!), another helpful tip is to use a color wheel to help you with your designs. Contrasting and complimentary colors typically will work very well together!!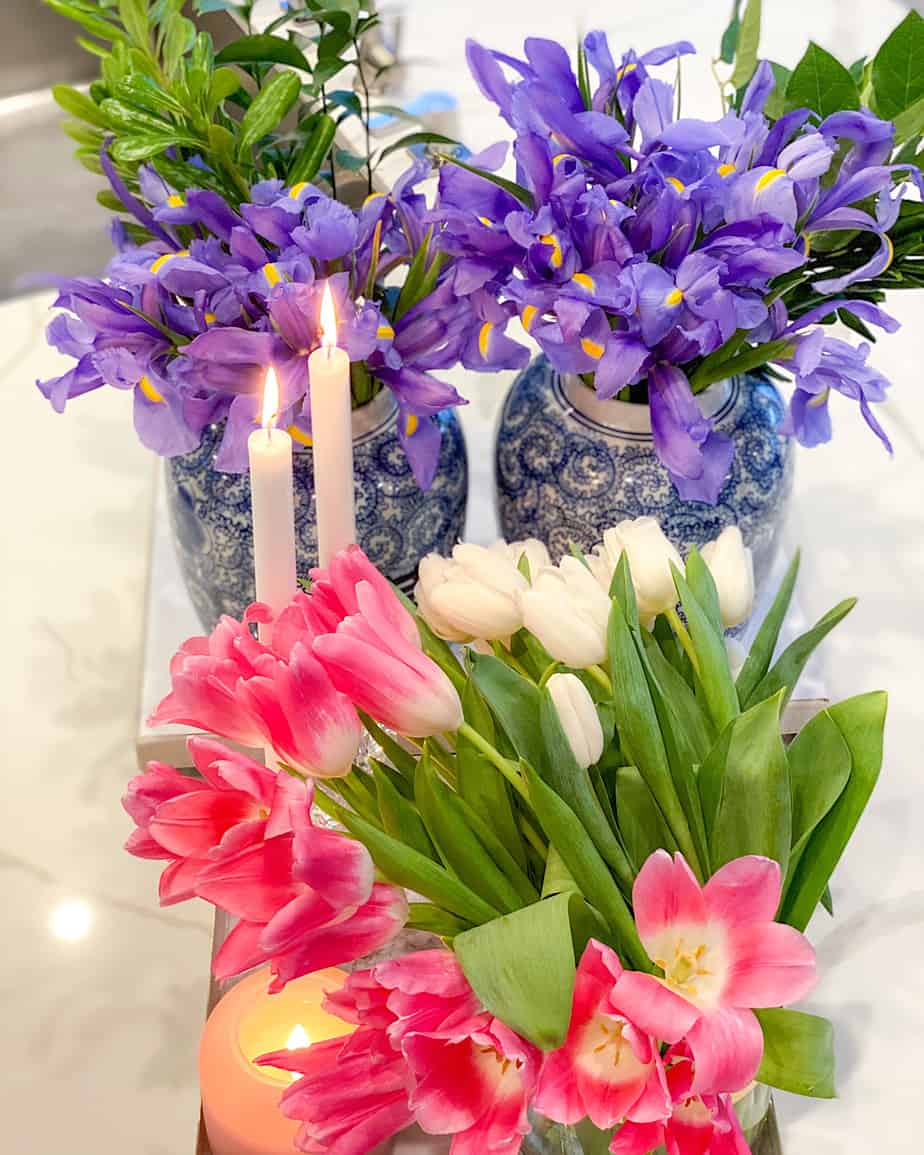 The third element is form. Form involves three important factors: height, width, and depth. Basically, how tall do you want the bouquet? How wide? How many flowers and what types? When you are placing your flowers into the vase, keep these three points in mind to create a beautiful form for your flowers to fall!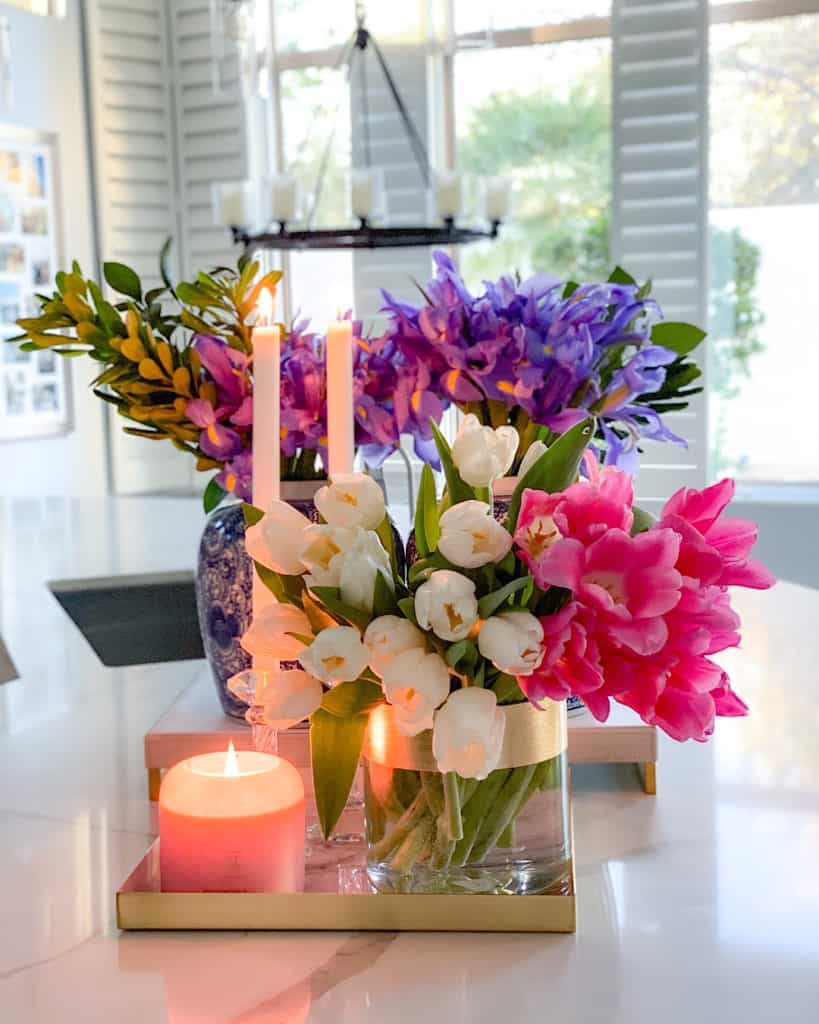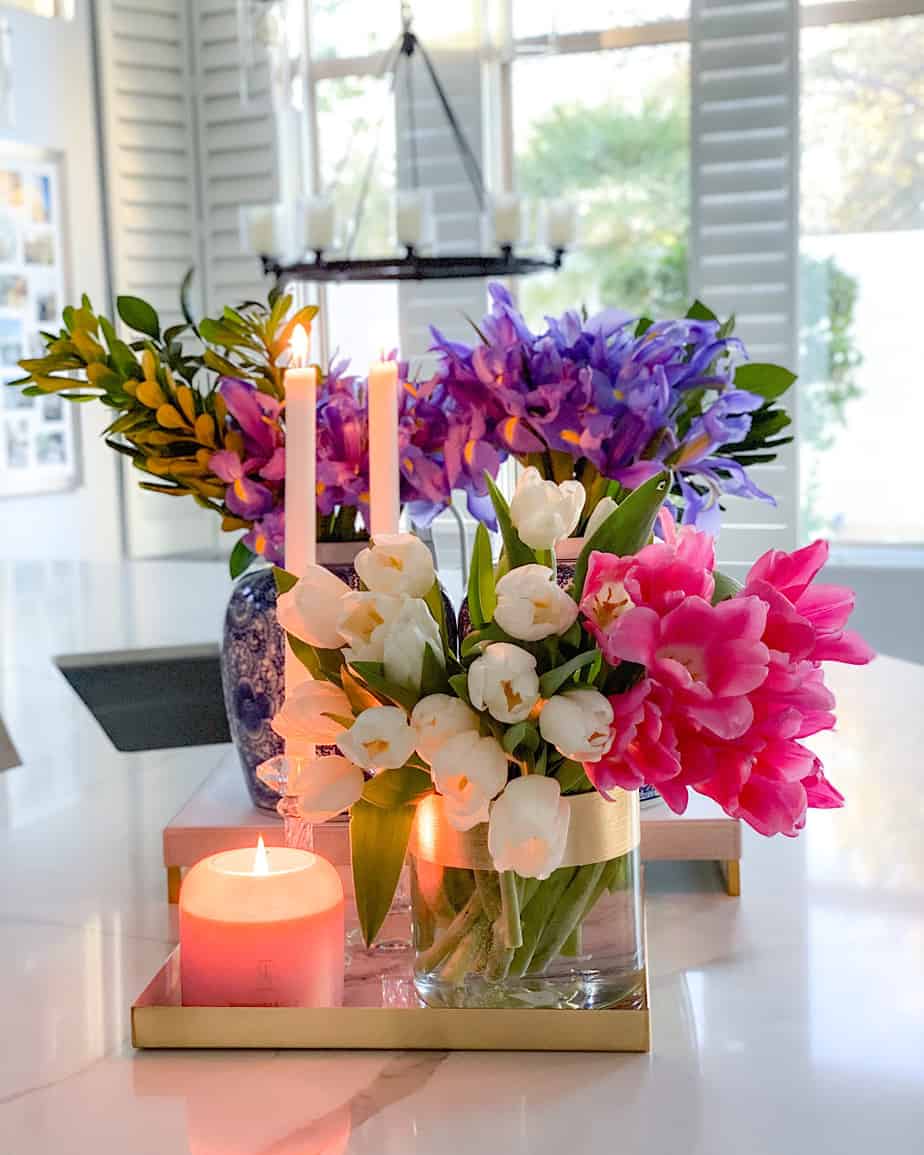 The fourth element is space. The spacing of your flowers allows the flowers to each shine and complement one another in a way that does not feel cluttered or overcrowded. The goal is to allow all of the flowers to work together to create a beautiful floral design!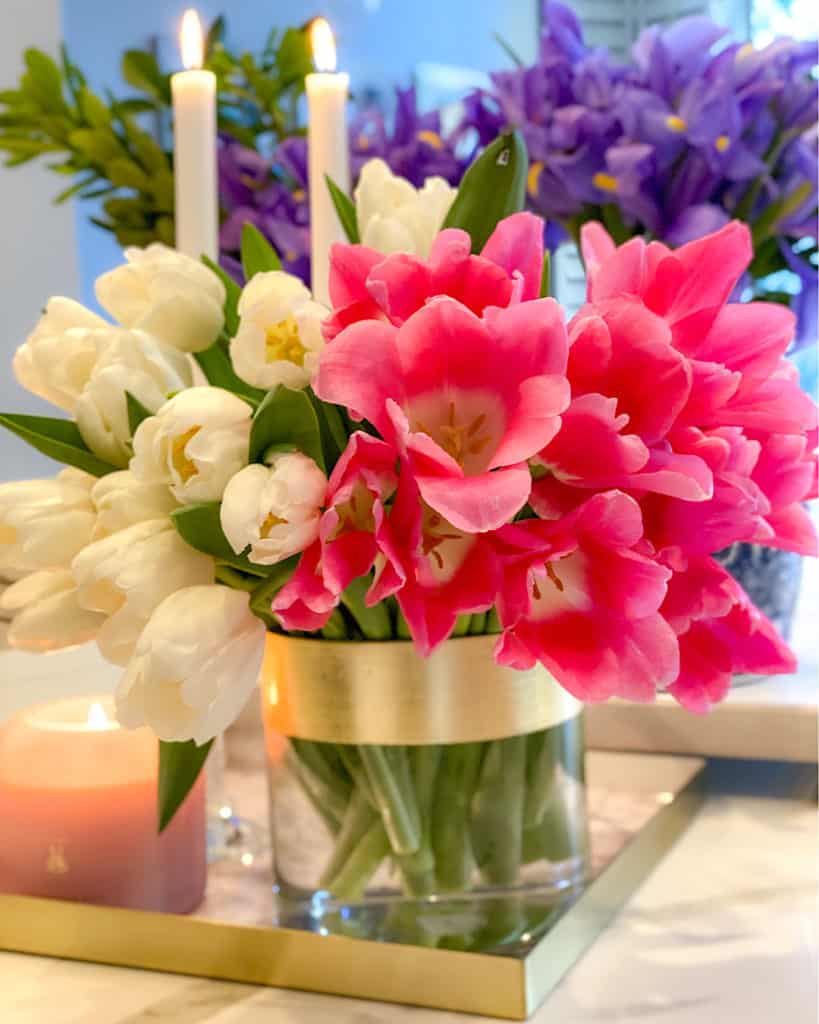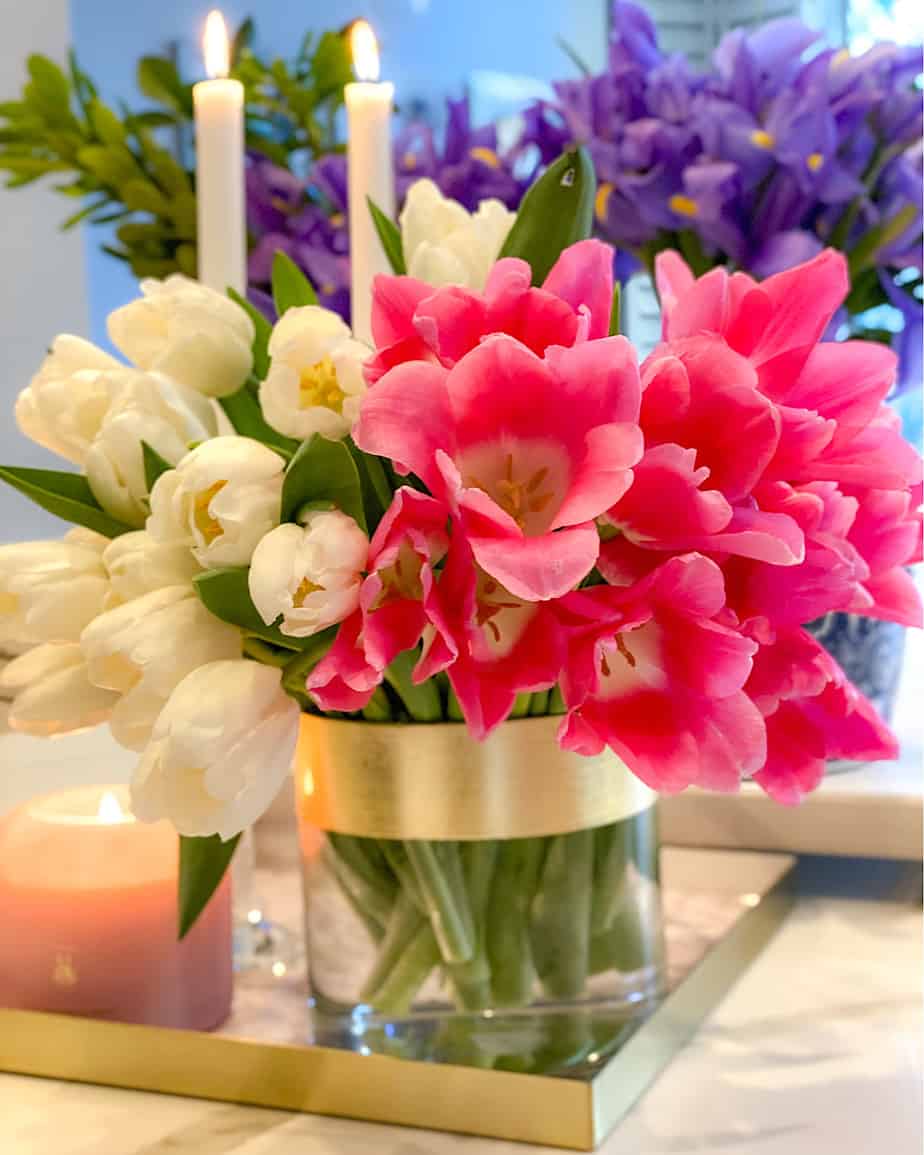 The fifth and final element to keep in mind when arranging your flowers is texture. Texture is what gives the floral arrangement interest and character to make the piece your own! Try adding in foliage, greenery, and decorative pieces in addition to your colorful flowers to give your floral arrangement individuality and its own special look! Keeping all of these elements in mind is a great way to arrange your flowers in a beautiful and unique way for spring!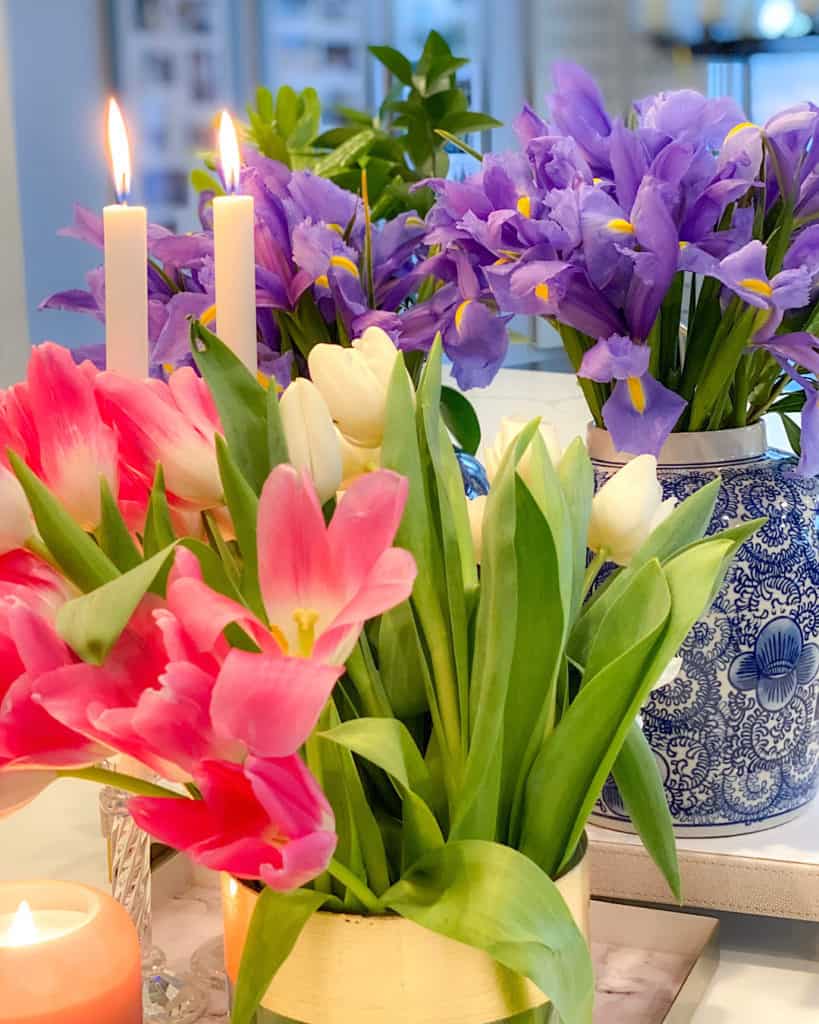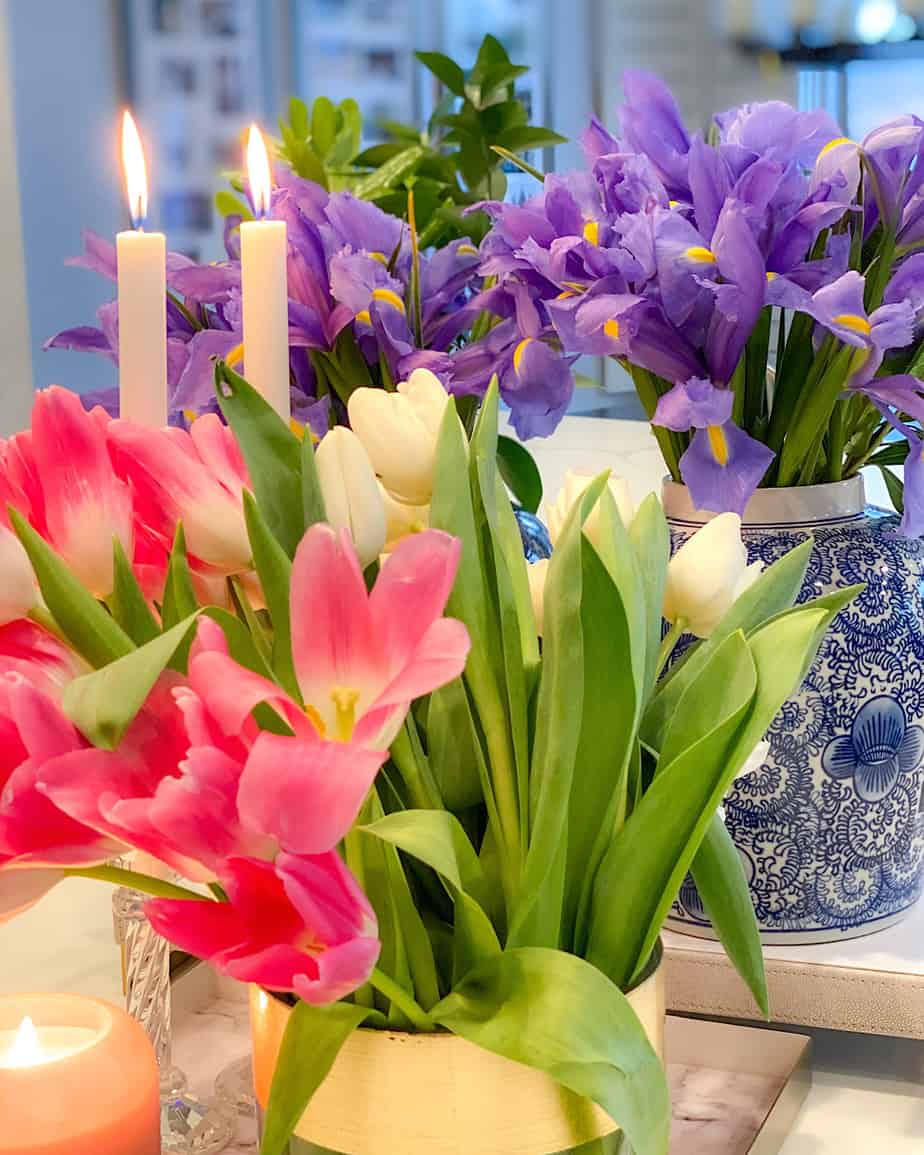 More Helpful Tips and Tricks on How to Make a Spring Floral Arrangement
There are SO many ways you can create a floral arrangement for spring, depending on what type of style, colors, and feel you are going for! While I love fresh tulips, roses, and peonies in beautiful spring colors gathered together in a pretty vase, some people enjoy a more rustic look, choosing to arrange their flowers in a basket instead.
Believe it or not, if you do decide to arrange your flowers in a container other than a vase, such as a simple woven basket, there are ways of arranging your flowers to fit this style as well!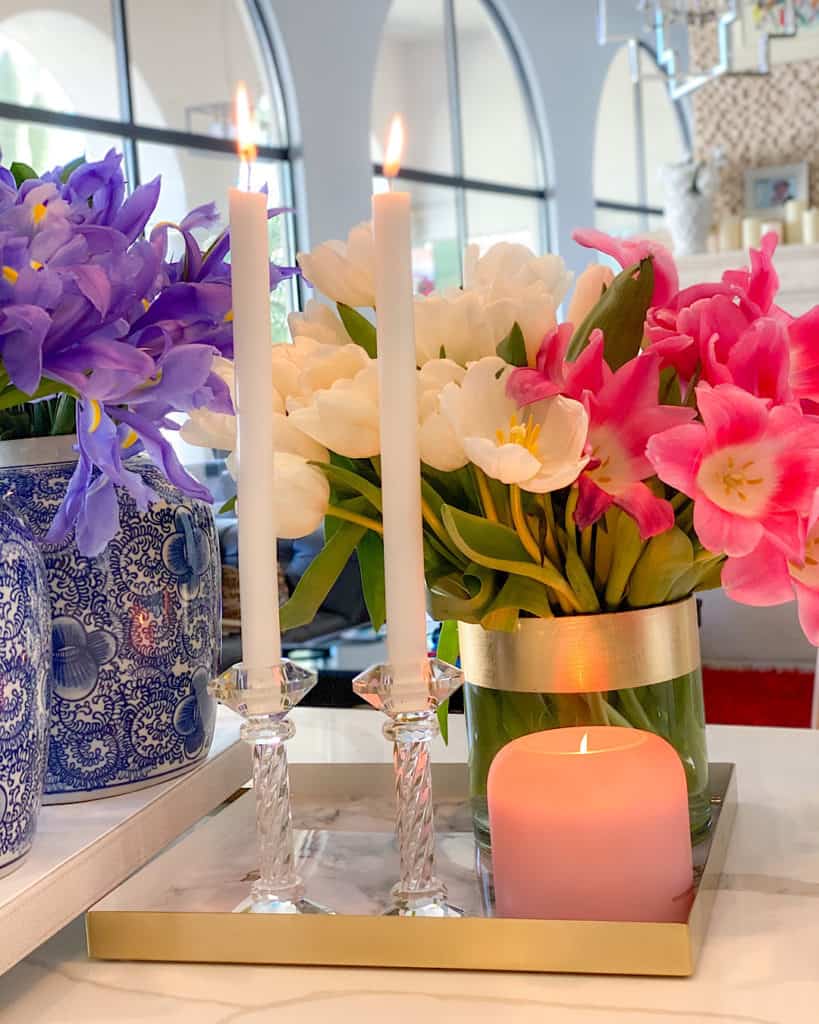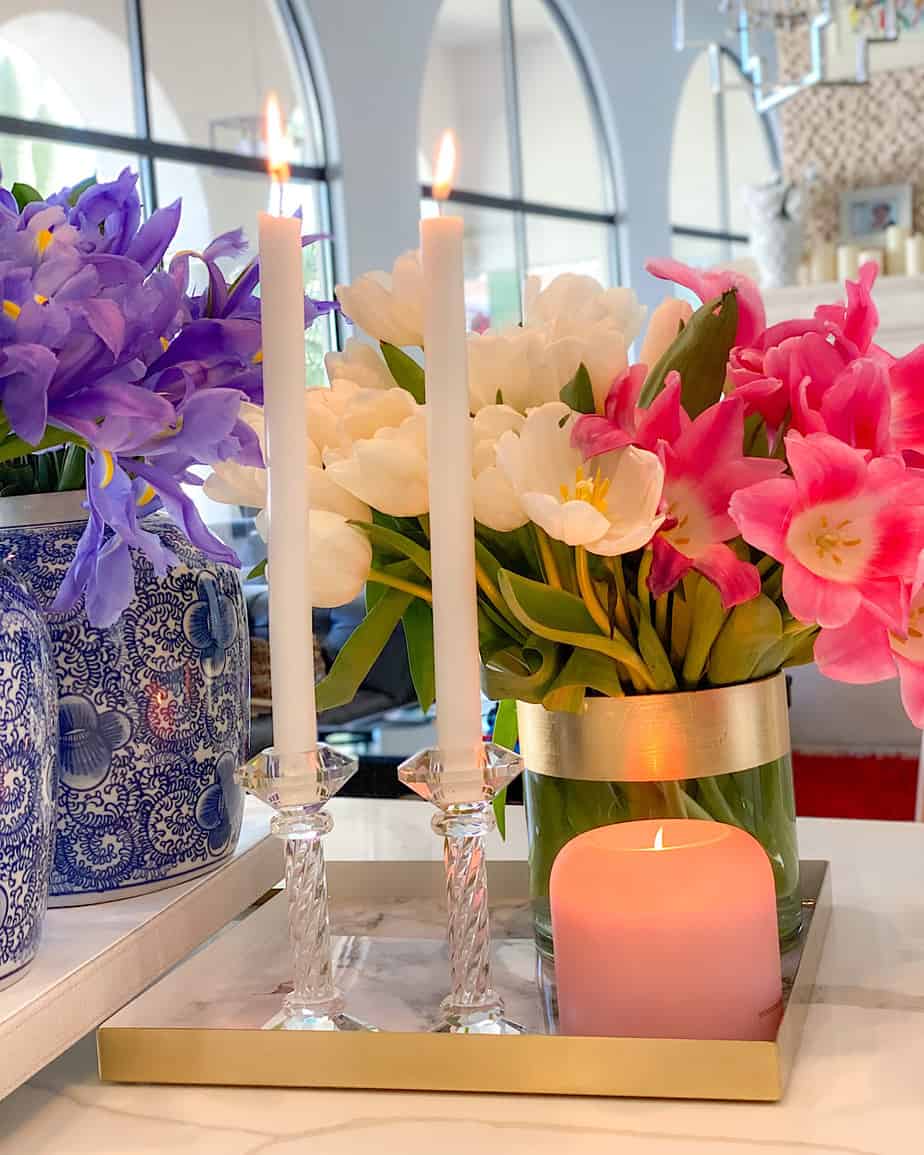 How do you arrange flowers in a basket? The way you arrange flowers in a basket really depends on the type of basket that you have. This will determine the way that you present your flowers! If you have a cornucopia basket, your flowers will lay in a horizontal line, whereas a round basket will call for a greater number of overflowing flowers. And, a small, shallow basket will look nice with a minimalistic, vertical flower arrangement.
If you are working with fresh flowers (which is what I prefer! I LOVE the fresh spring smell they bring, and I think they just look nicer!), then you should use plastic lining to protect the basket from any mold, rot, or mildew. Instead of just laying the flowers right down into the basket, it's better if you add in a soaked floral foam poked with holes for the flower stems to help them last longer and stay fresh.
You can also add additional decoration to your basket, including moss, ivy, or other decorative pieces to bring your basket arrangement together. And just like with the vase arrangements, color is important here, too. Using flowers of different sizes and in different complementary or contrasting colors provides a gorgeous display that is perfect for spring.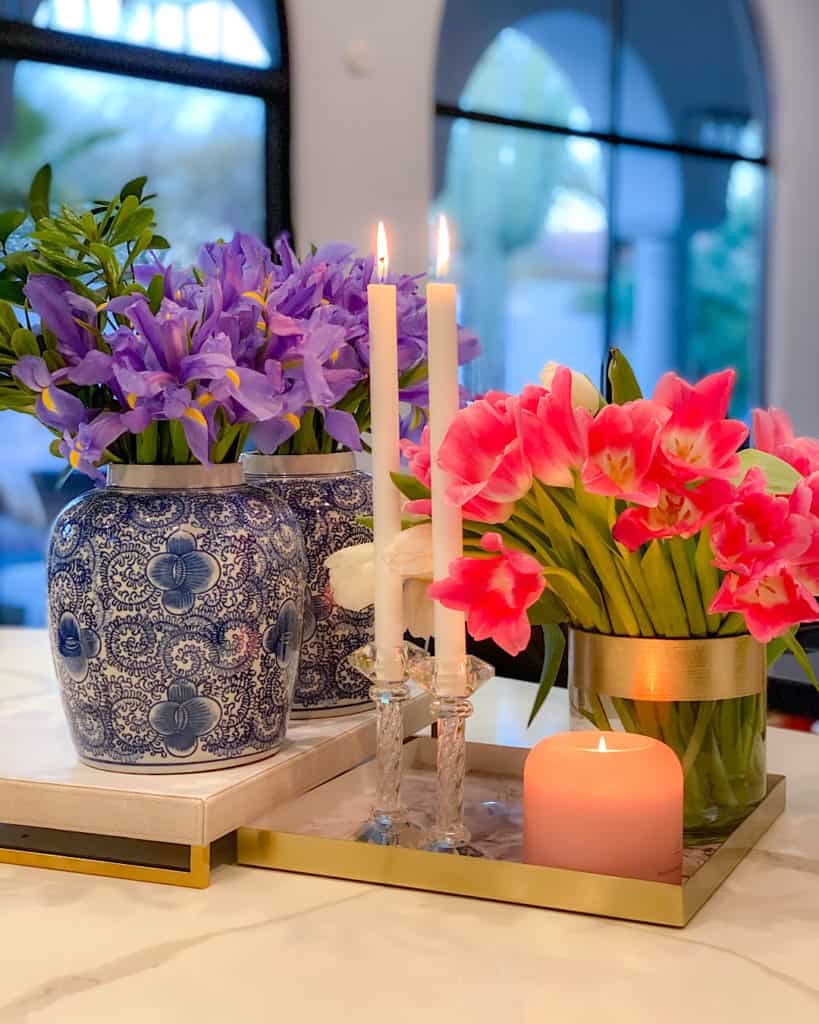 Don't Forget the Holidays! Spring brings with it fun and exciting holidays, including one of my girls' FAVORITE holidays: Easter! Alina and Valentina LOVE painting Easter eggs with me, and they ESPECIALLY love the extra chocolate, haha!
There are many easy ways to decorate your house for Easter, and you can start by incorporating an Easter flower centerpiece arrangement. It's SO simple! All you need to do is start by creating a spring floral arrangement, and just add in a few Easter elements! For instance, small Easter eggs in different beautiful spring colors, Easter egg candles, or teacup flower vases for Easter brunch. Such an easy addition to a spring flower centerpiece arrangement as the Easter holiday comes around the corner!
Bonus Tips!
I know that by now you must be SO excited to put together your gorgeous spring floral arrangement! But just a few more bonus tips for you before you get started!
While using floral tape makes creating your floral arrangement a MILLION times easier, you can also "cheat" (like I did – LOL) and use scotch tape! It makes a great substitute for floral tape. But for the best results, purchasing a floral arrangement kit, like this one, makes the whole process EVEN EASIER. With multicolored floral tape options, wire cutters, floral water tubes, and more, getting a floral kit can save you the hassle of trying to find whatever you have around the house.
I love to use these beautiful blue and white vases and glass gold-rimmed vases for my floral arrangements. You can find a similar blue and white vase to the one I like to use here, and gorgeous gold and glass vases here (BONUS: the gold-rimmed vases can also be used to display floating candles for any holiday!)
To tie it all together, add a pretty spring-colored candle holder, like this beautiful pink marble candle from Amazon. I love to use candles with fresh spring and fruity scents – it goes SO well with the natural smell of the freshly-cut flowers. For a more elegant look, you can use crystal candelabras, like these ones, which you can see I used above. Or, these dazzling crystal pillar candleholders. SO gorgeous… Either set pairs beautifully with a floral arrangement!
And displaying everything on a crisp display tray, like this one, which you can see I used in the pictures above, gives it a nice frame to display everything together. The best part? All of these items are reusable! You can use these beautiful pieces for all different occasions any time of the year!
Happy Spring! As you can see, creating flower arrangements step by step is not as tough as you might think, and it can be a great way to invite the spring season into your home!
I hope you've enjoyed my guide on how to make a spring floral arrangement! Happy spring and enjoy your spring flowers!
Love,
Sherry
"This post may contain affiliate links, which means that I may receive a commission (at no cost to you) if you make a purchase using these links".
Shop This Post or Similar








Sherry, xoxo