Good morning everyone! Cherries are by far one my FAVORITE summer fruits! I am not a recipe creator (LOL), but I decided to share some of my favorite summer cherry cocktail recipes with you guys today.
I hope you like these refreshing drinks as much as we do at our home! I listed two of my favorite "non-alcoholic" cherry drinks as well as two "alcoholic" drinks in this post! Also if you want to get more ideas of other great summer drinks you should check out this post: "Five Refreshing Poolside Drinks & Summer Cocktails You Have To Try!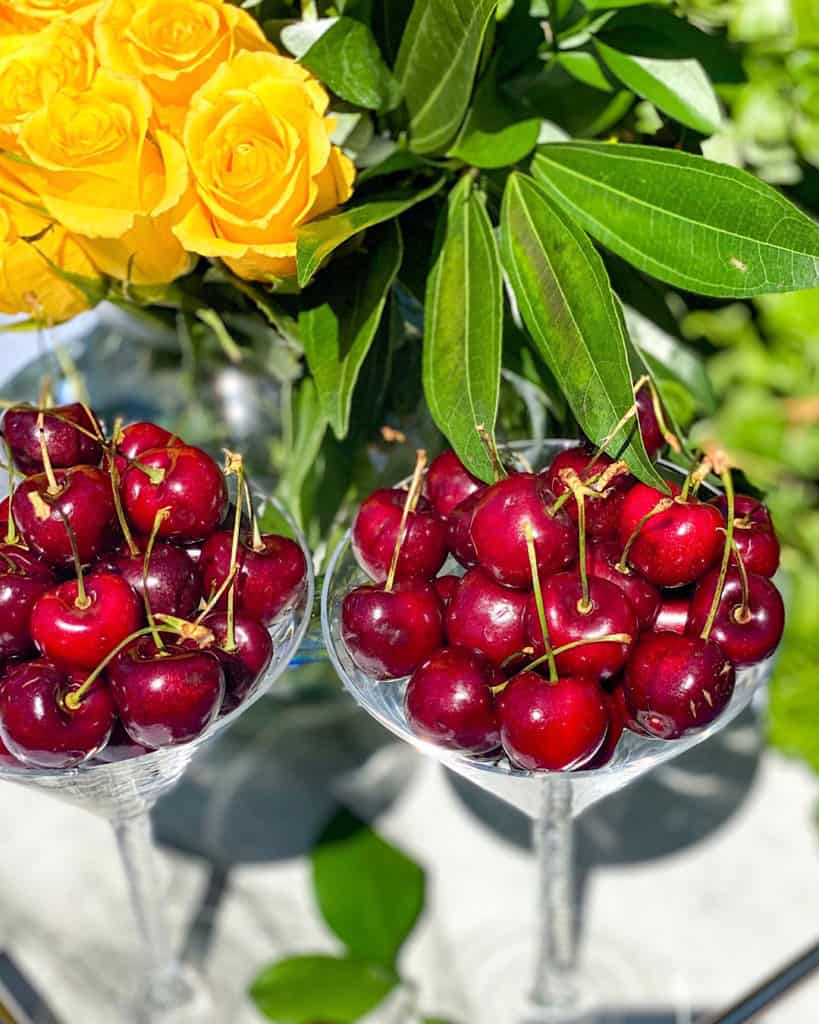 So without futher ado…..
Cherry Cocktail Recipes
1- CHERRY LEMONADE (NON-ALCOHOLIC) BY: HILAH COOKING
INGREDIENTS
1 cup fresh cherries (about 14 cherries)
Optional: a few thin slices of fresh ginger root
1 cup very hot water
6 tablespoons Xylitol or sugar or honey
3/4 cup lemon juice
2 cups cold water
2 cups ice
INSTRUCTIONS
Rinse and stem cherries. Place 3-4 at a time on a cutting board and press on them with the flat side of a chef knife until crushed. Remove pits and coarsely chop cherries. Use a plastic cutting board unless you don't mind pink stains on your wooden cutting board. And beware of cherry stains on your clothes.
In a heat-proof pitcher, put hot water, cherries (ginger) and whatever sweetener you're using. Stir until sweetener is dissolved.
Add lemon juice, cold water and ice and stir until cold.
Makes about 6 cups of cherry lemonade (6-8 servings)
2- CHERRY 7UP FLOAT (NON-ALCOHOLIC) BY: 7UP
INGREDIENTS
1 pt. vanilla ice cream
2 L. 7UP® Cherry
Whipped cream and maraschino cherries, for garnish
INSTRUCTIONS
Scoop about 1/2 cup of ice cream into a glass.
Add enough 7UP® Cherry to fill the glass.
Top with whipped cream and cherry, for garnish.
Serve with a long spoon and straw.
3- CHERYY MINT MOCKTAIL (ALCOHOLIC) BY: WENDY O'NEAL
INGREDIENTS
1 cup fresh cherries, stemmed and pitted
1/4 cup fresh mint
2 tbls SPLENDA® Sugar Blend
1/4 cup fresh lime juice
3 cups club soda
Ice
INSTRUCTIONS
In a large bowl, combine cherries, mint, and sugar. Using a potato masher or pastry blender, muddle ingredients together until cherries burst and mint has released it's flavor. Add to a large glass pitcher and add lime juice, club soda, and ice. Mix gently to combine.
Serve over additional ice.
4- SWEET CHERRY BOURBON SMASH (ALCOHOLIC) BY: FEAST IN THYME
INGREDIENTS
1/4 cup fresh sweet cherries, pitted and halved
1 oz mint infused simple syrup (recipe below)
2 oz good bourbon
1/2 oz lime juice
Club soda to taste
Whole cherry and mint leaves to garnish
Ice cubes
Mint Infused Simple Syrup (Makes about 1 cup)
1/2 cup granulated sugar
1/2 cup water
1/2 cup fresh mint leaves, removed from stems
INSTRUCTIONS
Sweet Cherry Bourbon Smash
Combine cherries and simple syrup in the bottom of a rocks glass (I also like to use a half-pint jar depending on my mood). Muddle (i.e. smash and crush) the cherries with the syrup until pulpy. Add the bourbon and lime juice and stir. Add one or two ice cubes, and top with club soda.
For the Mint Infused Simple Syrup
Combine the water and the sugar in a medium saucepan over high heat and bring to a boil, stirring to dissolve the sugar. Reduce the heat to a simmer and add the mint leaves. Let the mixture reduce and infuse for about 10 minutes over low heat. The syrup should thicken slightly (don't let it turn golden). Remove from heat and let the mixture cool to room temperature. Using a metal sieve or slotted spoon, strain the spent mint leaves from the simple syrup and discard. Store the mint-infused syrup in an airtight bottle or jar in the fridge until used. Unused syrup will last four to six weeks in the fridge.
NOTE:
Serving Tray: I found this cute tray while I was surfing Amazon a few weeks ago! It was less than $40!!! There were so many great reviews about it so I decided to order one! Once it arrived, it looked exactly like the picture. However, it is not real stone but it is very light weight likely made of wood with a faux stone finish! I think this is fun decorative tray to add to your home décor. You can even place your make-up on it, candles, different flower vases and so much more!!!!
Crystal Martini Glasses: These timeless martini glasses were gifted to us by my aunt few years ago. They are from Ralph Lauren Home Collection. Unfortunately they are sold out, therefore I linked a similar one here or you can take a look at their beautiful bar and glassware collection here!
Hope you'll enjoy making and drinking these delicious cherry cocktail recipes 🙂
Love,
This post may contain affiliate links, which means that I may receive a commission if you make a purchase using these links.
Shop This Post Or Similar

Sherry, xoxo