Celebrating a birthday is one of the biggest things in life that makes most kids truly happy! At least that's what makes our little 5 year old (Valentina) happy the most! She literally counts months and days until her next birthday! Hahaha!
Knowing how excited she gets celebrating her birthday, I like most other moms, was so disappointed and upset to tell her there will be no birthday celebration with friends this year.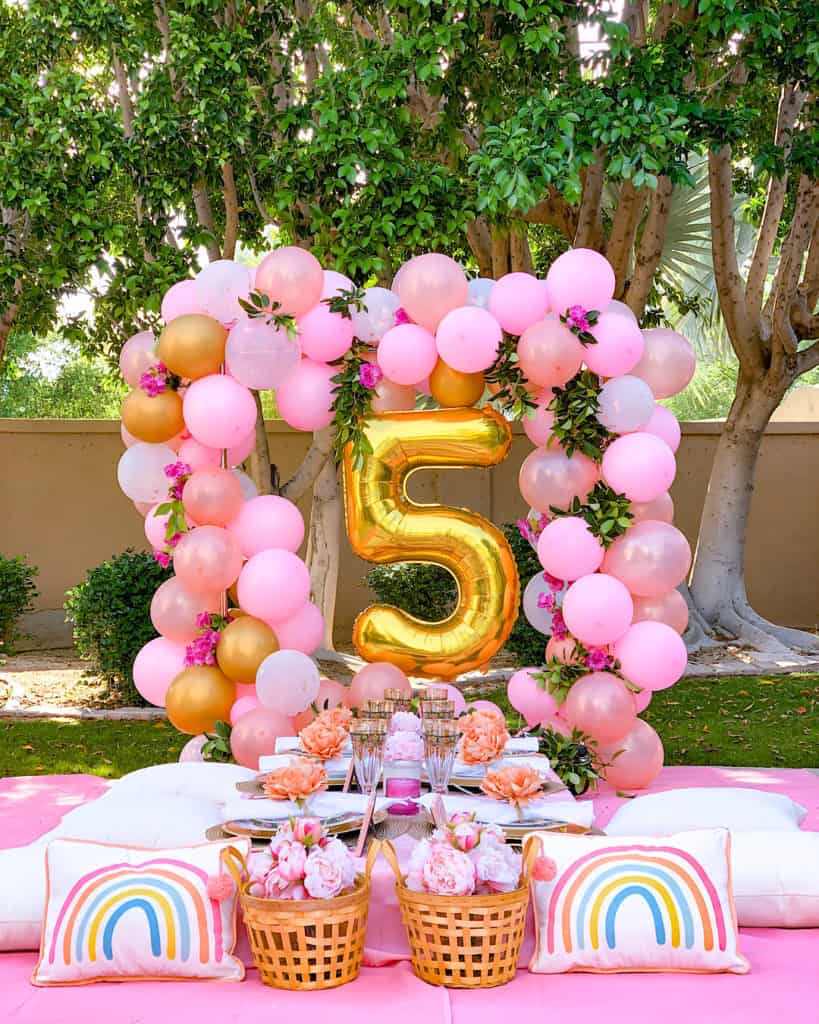 I was thinking to myself, how could I create a memorable "quarantine birthday party" for her that will be a lot of fun and hopefully she will always remember.
Since she is only 5 years old she may or may not "remember" this birthday. However, she can always look back at the birthday pictures and smile!
Ever since the "lockdown" started, we have spent so much of our time in our backyard. Valentina is now obsessed with picnics in the backyard!
She is also so into "rainbow", EVERYTHING! Rainbow pillows, rainbow cakes, rainbow swimsuits and toys…. Hahaha! So we decided to throw a little backyard picnic birthday party for her!
How to Throw a Simple and Easy DIY Birthday Party at Home
To be honest, since there weren't going to be that many other guests at her party, I started ordering some decoration items on Amazon about a week before her birthday ("Thank You" Amazon prime, LOL)! For the rest of the items, I made use of what we already had at home!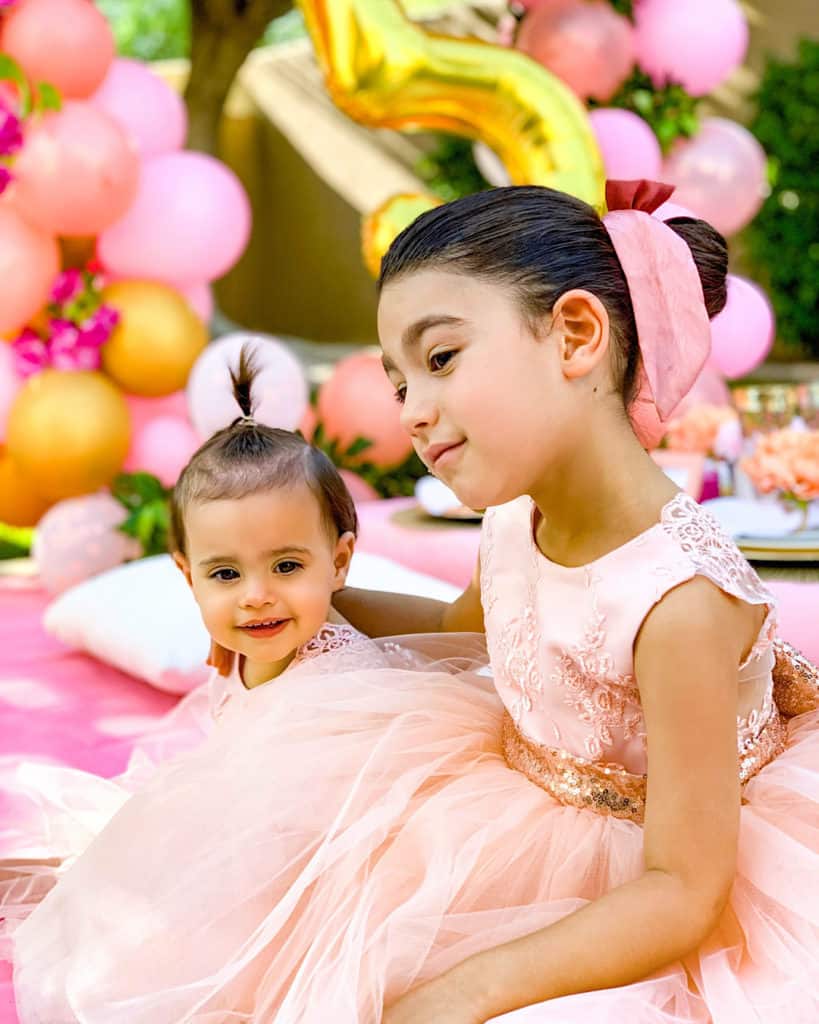 The long-short table: We had a long table in our garage which we folded the legs so it would give us the "short and long look" that I had in mind. Then we used the cushion from our patio furniture love seat to put under the table to raise the table a slight bit more.
We then covered it with the light pink table cloth that I ordered on amazon! That's it! Very easy! The table set up only took 5-10 minutes!
You can also use some wood pallets which you can get from Home Depot, Target, amazon… (I will put some links for you at the end of this post).
Table Decoration: Then I set up the table in about 20 minutes! I used our own placemats, plates, flatware, cloth napkins and my favorite floral napkin rings from Create and Barrel for spring! (Since these floral napkin rings are last year style, they are completely sold out. So I will link similar items at the end of this post).
Cake: Originally we were not going to order any cakes from outside at this time due to Covid-19. My sister Kereshmeh had planned on baking Valentina's birthday cake herself!
She wanted to make her a chocolate cake, however, Valentina wanted a rainbow cake. My sister thought about it and decided to order her cake from one of her favorite bakeries in Santa Monica called the Milk Bar.
Not only did we love the taste of her cake, but also amazed with the shipping and packaging of the cake!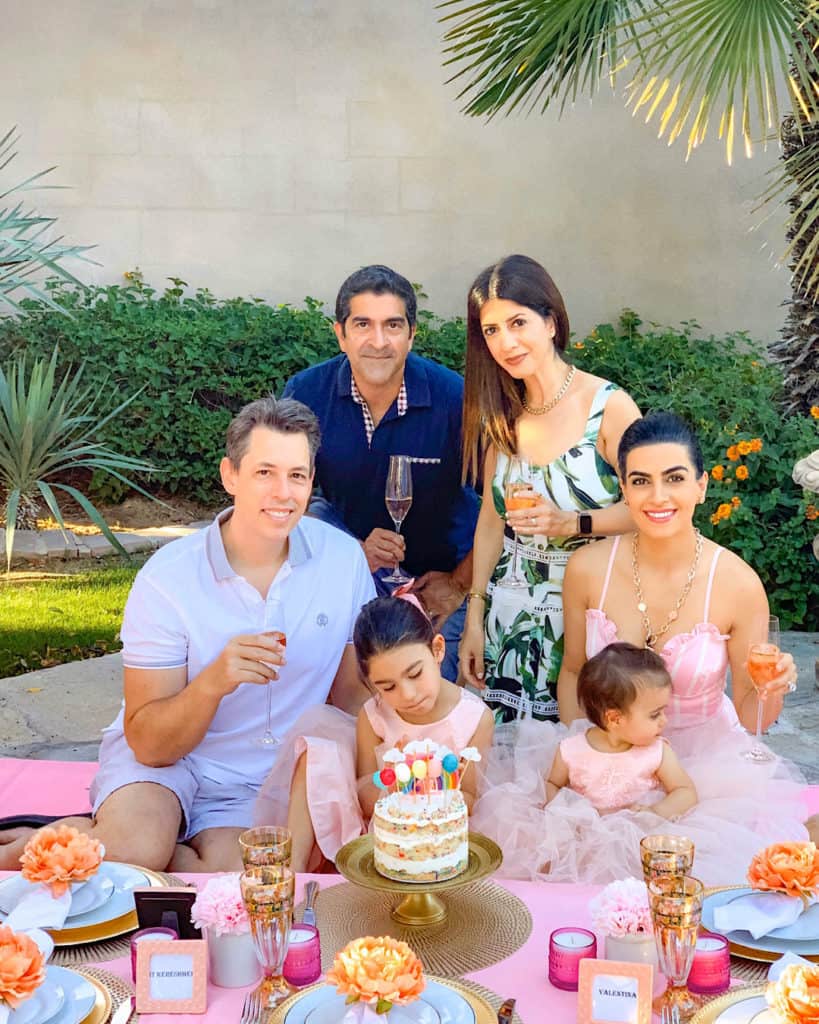 Dresses: The dresses were gifted to us by "Itty Bitty Toes". My daughter Valentina LOVES Itty Bitty Toes dresses! She feels like a true princess every time she wears one of their beautiful dresses! They fit true to size and they have the cutest designs both for girls and boys! Here are some of their beautiful designs from last Christmas time.
Balloon Arch: The only part that took a LONG time was creating a balloon arch! The reason that took so long was due to the pandemic, all the stores were closed! So Matt and I had to blow up 100 balloons by ourselves! This was an absolute torture! Hahaha!!!
We started blowing the balloons one by one at 10am and ended at 2pm (we both tried not to complain since Valentina was sitting there and was so excited)! LOL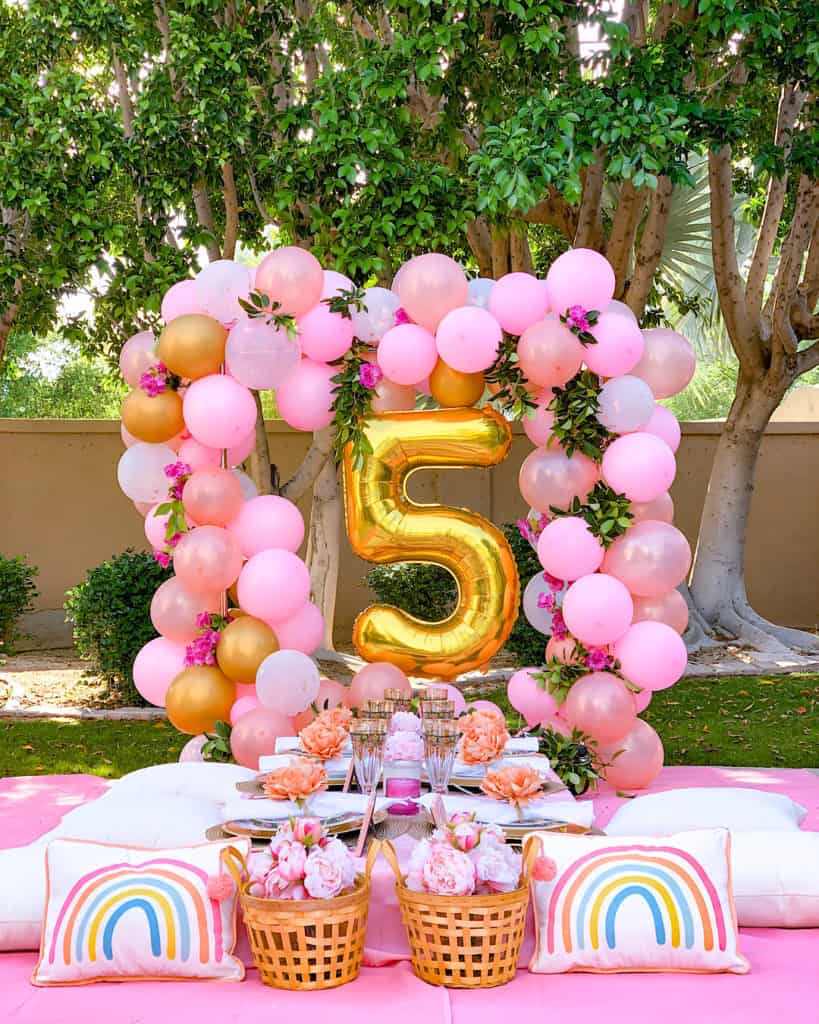 A little funny story on how we made the balloon arch: I originally planned on throwing the balloons all around her table, but as our living room was getting full of with balloons, I told Matt that I wish we could somehow make a balloon arch!
Matt came up with an amazing idea of using one of my old clothing racks from our retail store. He suggested that we wrap the balloons all around my clothing rack.
We ended up making the coolest "DIY" balloon arch at home. We cut a whole bunch of flowers and leafy branches from our backyard to accent the arch with flowers and green leaves.
They were great for covering the clothing rack wheels! Hahaha! Matt and I were so excited about our balloon arch for Valentina's birthday! One of the best features was the clothing rack had wheels, therefore, we could move around the whole balloon arch anywhere we wanted easily! LOL
Honestly, if I thought that I wanted a balloon arch, I could easily order the "balloon arch kit" from Amazon and it would work a lot easier than using my old clothing rack! Hahaha! However, we will never forget the balloon arch we created ourselves.
We ended up having such a fun evening celebrating our sweet little girl's 5th birthday at home. That's why I want to share some more creative quarantine party ideas to celebrate kid's birthdays at home during quarantine.
14 Quarantine Party Ideas for Kids' Birthdays
Have a picnic in your backyard!
Fill your child's room and/or bed with colorful balloons!
Host a remote sleepover, let them have some fun and "giggle time".
Use "zoom" or "house party" app for a fun virtual birthday party.
Make your kids get involved with decorating the house for their birthday!
Bake their cake or cupcakes with them!
Decorate your front yard!
Have a "drive-by" birthday party!
Ask friends and family to record their birthday wishes and send their videos.
Have an out- door movie night
Have a family game night!
Have them dress up fancy (their favorite character)
Have a dance party!
Take them camping, fishing or biking (pick one of their favorite out- door activities).
Practicing social distancing is very difficult on most children! They can't fully understand the canceled school events, sports, trips, play-dates with friends and more. So whatever you end up doing, make them feel so special on their birthday!
Try out one of these Quarantine party ideas! With a little bit of creativity, you can make their "quarantine birthday" so memorable!
Love,
Sherry, xoxo
Since most items in the posts are sold out, I'm going to link similar items for you here:
SHOP THIS POST