I'm so excited that spring is finally here!!! If you want to give your fireplace a seasonal makeover for spring, I'm sharing 13 easy spring fireplace decor tips and ideas in this post. In my opinion, a fireplace is a perfect centerpiece for any home, and it can create a lovely and cozy area in any room.
This post is about the spring fireplace decor tips and ideas!
There are plenty of ways to style an elegant fireplace for spring and summer without breaking the bank. From floral arrangements to cheerful accents, you'll find plenty of ideas here to give your space an inviting and cozy feel just in time for the new season!
This post may contain affiliate links, which means that I may receive a commission if you make a purchase using these links.
Beautiful Spring Mantel Decor Ideas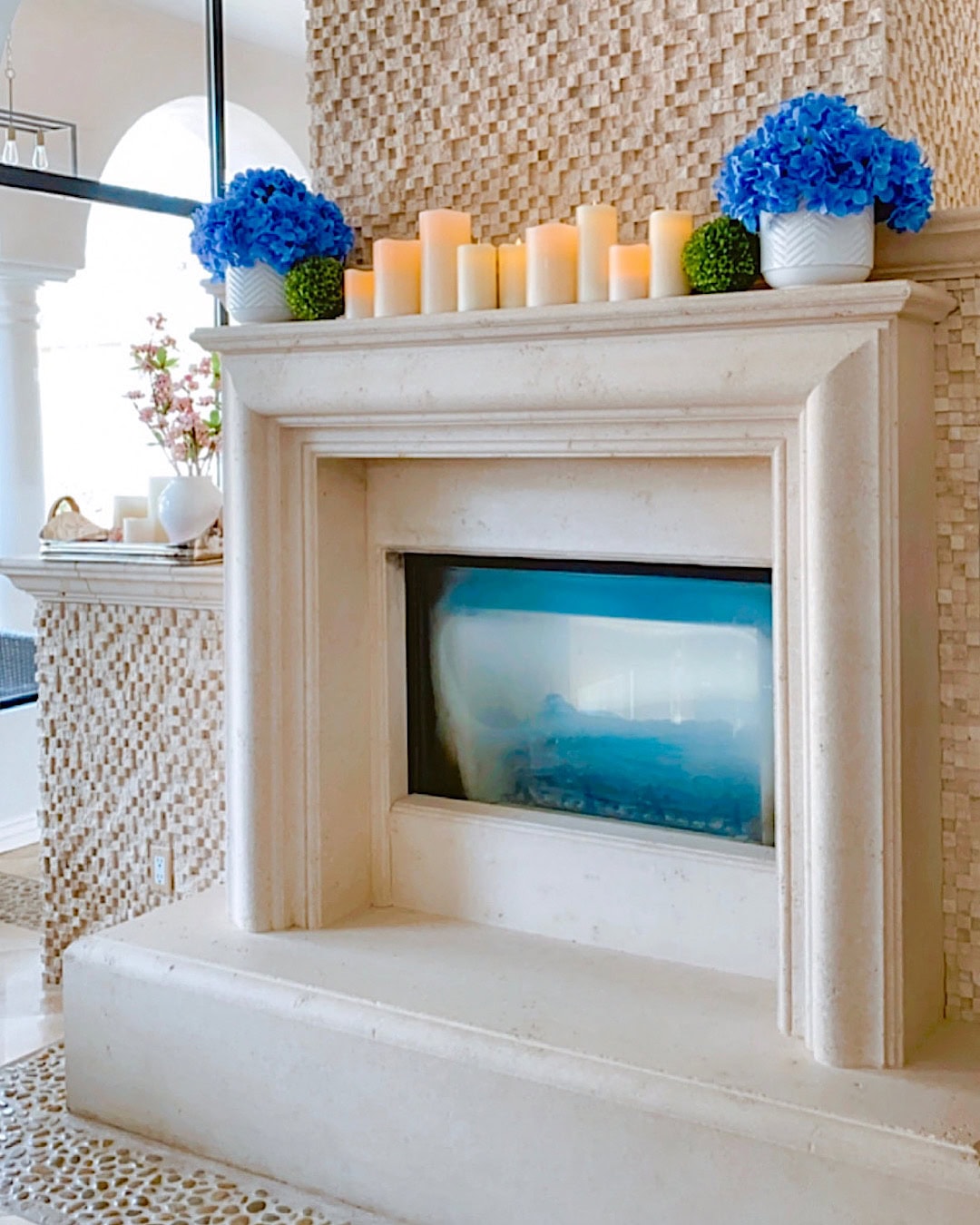 Related post: 9 Front Porch Easter Decorations That You Will LOVE!!
Spring is such a great time to decorate your home with beautiful bright and pastel pops of color to freshen up your home.
You can add pretty pieces and spring living room décor anywhere around the room. I especially LOVE decorating our fireplace mantle. Although we won't be using the fireplace anytime soon (LOL – way too hot this time of year!), I still love decorating it in spring colors and fresh pieces to bring spring straight into our home.
If you look on Pinterest, there are thousands of great mantel decorating ideas for spring. For example, you can use natural elements like fresh flowers, and simple greenery. Or you can use a large faux flower spring garland or other floral display, boxwood topiary, colorful eggs and SO much more to design your mantel for spring using your own personal style.
Spring Fireplace Decor
Tip#1: Hang a Colorful Wreath for a Simple Yet Elegant Look
I love the beautiful floral spring wreaths!!! I think hanging a colorful wreath for spring fireplace decor is a great way to add a touch of cheer and brightness to your home. Not only will it brighten up your living room and make it more inviting, but it can also help set the mood for the season.

Wreaths are an easy way to bring in the colors of spring – think pastels, florals, and soft neutrals – without overwhelming the room. They can be hung above the mantle or on either side of the fireplace as an eye-catching focal point. Wreaths are also incredibly versatile and can be switched out easily with other seasonal decorations such as floral arrangements or garlands.
Spring Fireplace Decor
Tip #2: Create a Floral Display with Artificial or Fresh Blooms
Related Post: 9 Tips to Design a Stunning Pink Tablescape Like A Pro!
Creating a floral display with artificial or fresh blooms is a great way to bring life and beauty to your fireplace mantel decor for the spring season. Artificial flowers are a low-maintenance option that can be used to create stunning displays without worrying about wilting or fading over time.

Fresh blooms, on the other hand, provide a more natural and vibrant look while allowing you to take advantage of seasonal flower varieties. With either option, you can use your creativity to craft unique designs that will transform your fireplace into an eye-catching focal point in any room.
A floral display is always the first choice that I consider for my spring decor. It also brings an air of freshness and optimism for the new season, making it an ideal choice for anyone looking to brighten up their home and welcome spring.
Spring Fireplace Decor
Tip#3: Style a Rustic Spring Mantel
A rustic mantel gives you the opportunity to incorporate natural elements such as wood, stone, and greenery into your design. The natural focal point and cozy atmosphere created by a rustic mantel also help to make your living space feel warm and inviting. With some simple touches like candles, flowers, and other decorations, you can create a unique look that reflects the beauty of the season.

Adding a few well-chosen pieces of artwork or furniture can help to tie the design together in an interesting and aesthetically pleasing way. By styling a rustic spring mantel for your fireplace decor, you can create a stunning focal point that will bring life to your home this spring!
Spring Fireplace Decor
Tip #4: Tree Branches
In my opinion, adding a few tree branches to your mantle is one of those great beautiful spring male ideas! Tree branches can be a perfect way to add a touch of natural beauty and texture to your fireplace decor. Here are some tips for using tree branches in your spring fireplace decor:

1. Start by selecting thin, lightweight branches that will be easy to work with. Look for branches with interesting shapes and colors that will add visual interest to your mantel.
2. Arrange the branches on the mantel in a beautiful pattern, such as a fan shape or an asymmetrical design. You can also use invisible wire or twine to tie the branches together if needed.
3. Add flowers, leaves, moss, or other natural elements around the branches to give them more depth and texture. You can also hang decorations such as ribbons or bells from the branches for a festive look.
4. Place candles or lanterns among the branches for a warm and welcoming glow. This will create an inviting atmosphere for gathering around the fireplace during springtime get-togethers.
Spring Fireplace Decor
Tip #5: Fresh Greenery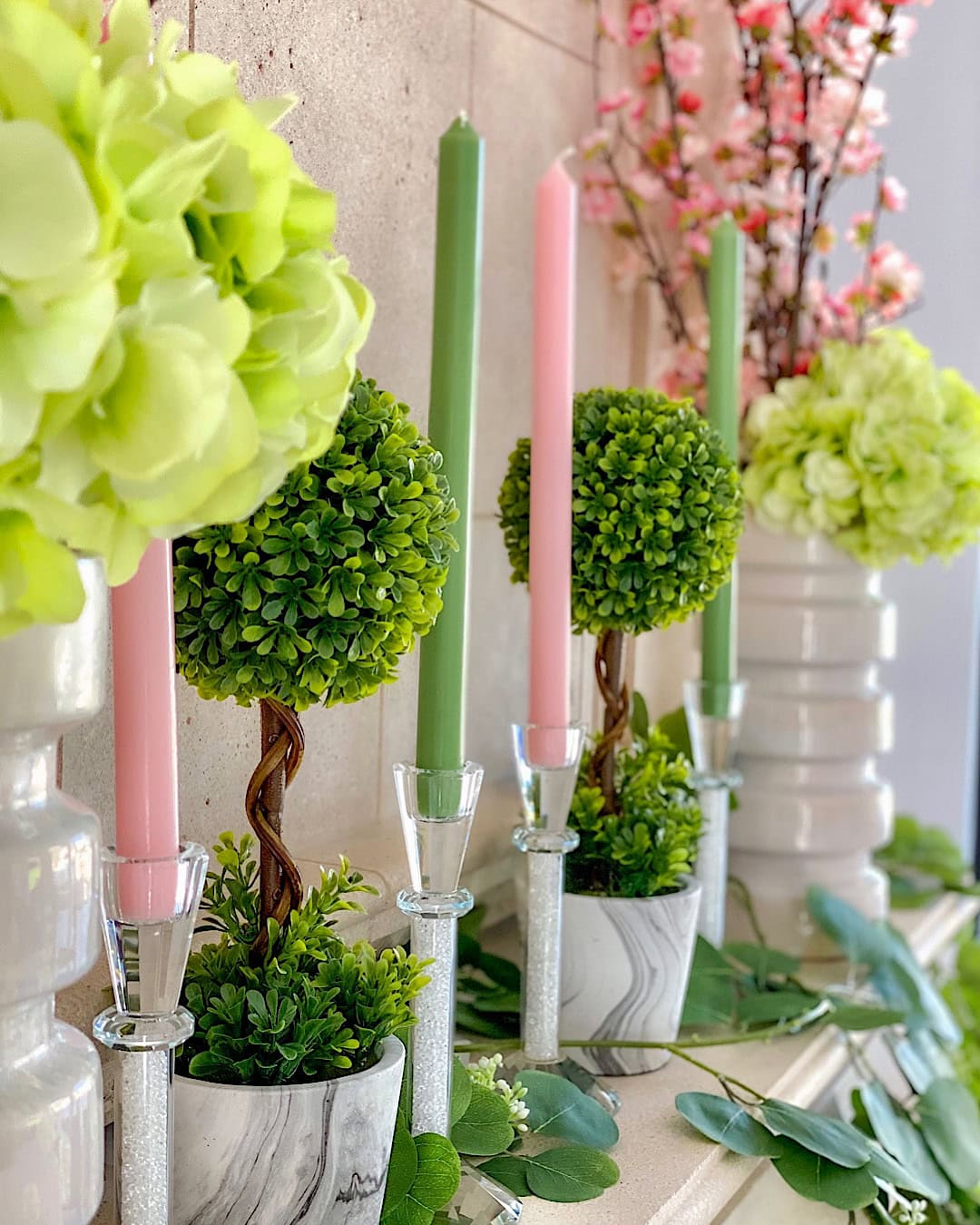 Related Post: Stunning Pastel Table Setting | How to Create One for Easter or Spring!
Adding fresh greenery to your spring fireplace decor is a great way to bring the outdoors inside and create a warm, inviting feeling in your home. Greenery can help to soften the hard angles of the mantel or hearth, providing a natural contrast to the wood or stone.
Fresh plants can also add a touch of color and life to the room, which is perfect for springtime. Greenery can be used in many different ways around the fireplace; from potted plants and cut flowers to garlands of ivy or eucalyptus. Whatever type of greenery you choose, it will add a unique touch of color, life, and beauty to your spring fireplace decor.
Spring Fireplace Decor
Tip #6: Faux Greenery
If you are anything like me and cannot keep up with taking care of your fresh greenery (LOL), consider faux greenery!
Adding faux greenery to a spring fireplace decor is a great way to bring a natural, refreshing look to your space. Faux greenery comes in different shapes and sizes, so you can easily find pieces that fit your style and complement the existing decor.

It also adds texture and depth to any space, making it feel more inviting and cozier. You also don't have to worry about watering or taking care of them, as they never die!
Overall, incorporating faux greenery into your spring fireplace decor is an easy and effective way to enhance the look of any room and a good idea if you are looking to style a simple spring mantel.
Spring Fireplace Decor
Tip #7- White Candles and Other White Accents
White candles and other white accents can be a great addition to a spring fireplace decor. White is a classic color associated with light, renewal, and freshness, making it the perfect choice for a spring-inspired look.

Adding white candles to a mantel or shelf can bring an ethereal glow to the room, while white decorations like vases and flowers can add texture and contrast. Other white accents such as pillows and throws can also help create a cozy atmosphere in your living space.
White accents are versatile and timeless, so they can easily be used in any season. Whether you choose to go bold with all-white decor or simply add some subtle touches of white here and there, these accents will help bring a little bit of winter's chill into your home this spring.
Spring Fireplace Decor
Tip #8: Use Spring Pastel Colors Candlesticks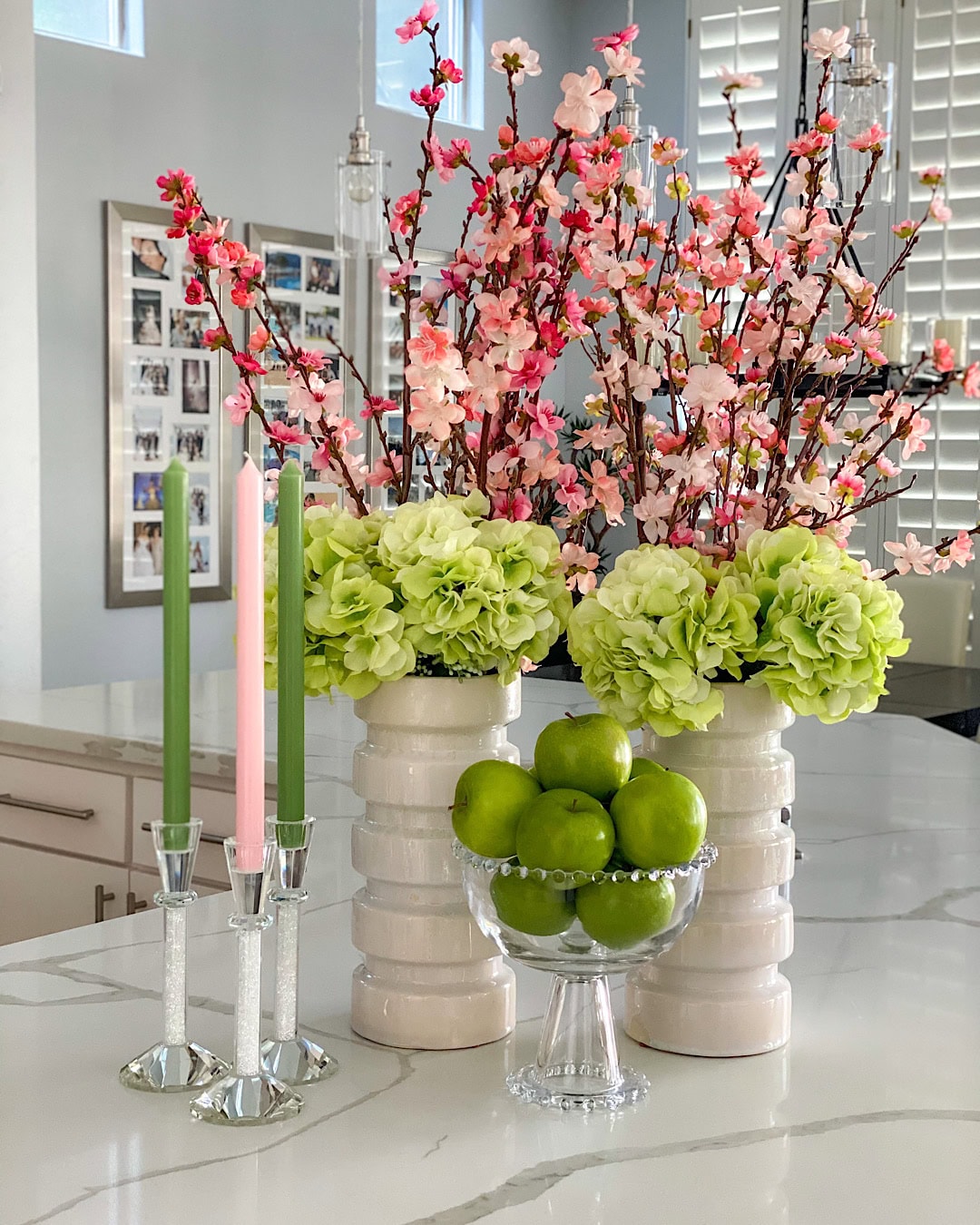 Related Post: 9 Stunning Spring Coffee Table Decor Ideas
Using Spring color palette candlesticks to decorate a fireplace or a coffee table in the springtime is a great idea for adding a cozy and inviting touch to your home. Not only are they aesthetically pleasing, but they also provide a calming atmosphere.

Candlesticks come in a variety of styles and finishes, so you can easily find one that fits your aesthetic. Plus, they add texture and dimension to your space, helping to bring the entire look together.
Candlesticks are also versatile—you can use them on the mantel, side tables, or even on windowsills. They can be used with either real or flameless candles, making them both decorative and functional. With a few simple touches like colorful candlesticks, you can quickly makeover your fireplace for the spring season and beyond!
Spring Fireplace Decor
Tip #9: Use Colorful Eggs
Using colorful eggs as part of your spring fireplace decor is a great way to add a touch of new season charm to your living room.

Easter eggs are lightweight and easy to hang or arrange on mantles and shelves, making them practical for decorating in tight spaces. Whether you choose to paint the eggs with bright colors or leave them in their natural colors, Easter eggs bring a warm and inviting vibes into your home.
Our little girls (Valentina and Alina), love to color Easter eggs! They place the eggs in a cute basket and leave it by the fireplace! This is our fun little family activity for spring!
Spring Fireplace Decor
Tip #10: Use Mason Jars
I LOVE using mason jars in my spring decor! I think Mason jars are a great way to add a touch of rustic charm to your spring fireplace decor. Here are some ideas on how to use mason jars for your spring fireplace:

1. Fill mason jars of various sizes with fresh flowers and leaves and arrange them on the mantelpiece for a beautiful and natural display.
2. Put candles inside mason jars and line them up along the mantle for a cozy, romantic ambiance.
3. Fill several mason jars of different heights with sand or rocks, and place tea light candles inside for an eye-catching display.
Whatever you decide to do, adding mason jars to your spring fireplace decor is sure to bring a cozy, inviting atmosphere into your home!
Spring Fireplace Decor
Tip#11: Consider Easter Decor

I love incorporating the Easter decor into the fireplace mantel in our living room. By incorporating pastel-colored garlands, spring-themed candles, and Easter eggs or bunnies, you can create a cozy and festive living room that celebrates the season.

I also love how the Easter decor can also help to lift your spirits and bring a sense of joy and renewal to your home. To bring some natural elements into your decor, consider incorporating fresh branches, twigs, and greenery. Use vases or jars to hold the flowers and other decorations with varying heights to create visual interest.

Consider incorporating light pastel colors such as yellow, pink, green, and blue. And don't forget to hang some spring-themed art and create a cozy seating area around the fireplace. With some creativity and imagination, you can create beautiful Easter-themed decor for your living room!
Spring Fireplace Decor
Tip #12: Display Framed Photos with Springtime Scenes
To display framed photos with springtime scenes for spring fireplace decor, first choose a selection of photos that capture the essence of spring think blooming flowers, greenery, and bright colors. Next, select frames that complement the colors and style of your fireplace and home decor. You may also want to consider using frames that feature lighter, brighter colors to complement the springtime theme.

Consider arranging the frames in a cluster on the mantel or using a mix of sizes and styles to create a collage effect. For added impact, you may want to incorporate other springtime elements, such as fresh flowers or branches, into your display.
Once you have your photos and frames selected, arrange them in a grouping above your fireplace or mantel, using different sizes and orientations to create visual interest. You may also want to include some natural elements, such as small potted plants or fresh flowers, to enhance the springtime feel.
Spring Fireplace Decor
Tip #13: Stack Books
I love to select books with brightly colored covers or floral themes that evoke a sense of spring. Then I like to group them in stacks of varying sizes and heights, creating a mix of vertical and horizontal stacks. You can then, incorporate decorative objects such as vases, sculptures, or candles to add interest and texture to the display.

You can also experiment with incorporating natural elements such as branches or sprigs of fresh flowers to bring the outdoors inside. Play around with the arrangement until you find a balance that feels cohesive and visually appealing to you.
Best Spring Color Scheme When Decorating Mantel
Spring colors are my FAVORITE part about decorating for the season! It's so beautiful when all of the Easter eggs, garlands, flowers, and everything are coordinated together in gorgeous spring colors.
There are so many different color schemes you can choose from for spring! My personal favorite is the playful variety of yellow, purple, blue, pink, and green. This color scheme reminds me of fresh spring flowers! I love adding these beautiful colors to the mantel and around the house this time of year!
Some other great spring color schemes are:
Monochromatic – Choose one spring color and use different shades around the mantel and your home to bring everything together!
Pastels for Easter – Pale yellow, baby blue, and soft rose pink are beautiful for the season.
Spring break – Bright, rich colors like hot pink and turquoise add a fun flare to your mantel.
Cool spring tones – Pairing playful daffodil yellow with cool blues, greens, and greys gives a nice outdoor bloom feel to your mantel and your living room space for spring.
Spring Living Room Décor Ideas
You can take your spring décor from the mantel all the way out through the rest of the living room. I love keeping everything cohesive and complimentary! I think it looks so much nicer that way!
Some great spring living room décor ideas are:
Adding pretty spring floral arrangements around the room
Hanging floral wreaths above the mantel, or in another central area of the living room
Adding welcoming, "homey" signs in simple or spring-themed frames
Placing candles in glass or taper candle holders – a bonus if it's a nice fresh spring scent! Like a garden, fruity, or floral
Adding more Easter décor to the room, such as shiny, wrapped chocolate eggs, ceramic Easter bunnies, or other egg decorations.
Top Spring Home Décor Trends
Some spring trends that you can incorporate into your home décor for the season include:
Vintage pieces: Chic vintage pieces are making a comeback! Using pretty, romantic vintage colors, like jade and rose, can bring a nice comforting feel to a room.
Minimalism: This trend focuses more on simplifying the clutter with minimalist shapes and natural materials. Any stoneware or ceramic pieces that are in neutral colors and organic shapes are great for this trend and bring a simplistic elegance to any room.
Natural earth tones: Adding items to your home in calming, earthy shades bring a "nature" feel to the room, like sage green, inky blue, and pale pink. Try adding pieces in these colors for a relaxing springtime environment.
Live plants: More and more people are adding plants into the rooms in their homes. Beautiful live plants in large baskets or vases can help purify the air and freshen up the room while also bringing a more natural feel.
Round shapes: "Round" is a super popular trend right now for spring! Rounded pillows, mirrors, rugs, frames, and other types of décor can make everything feel modern and wholesome, with softness and depth.
Fluffy and fuzzy: Adding cozy cushions is great for any time of the year, really! But especially now since people are spending so much time at home, these comfort items have grown in popularity for spring!
Spring Decorating Ideas for Outdoors
When decorating your home for spring, don't forget about the outdoor areas! If you have a porch, one really great way to decorate for spring is to add floral pillows to your outdoor chairs and porch swings for a nice spring theme.
Adding a spring wreath to the front door with flowers, natural materials, and even Easter eggs is a great way to add some spring flare to your home!
A few other fantastic ways to add a touch of spring to outdoors are:
Adding potted plants with fresh spring blooms around your house
Placing floral centerpieces on your outdoor tables for a pretty addition to a tablescape
Adding decorative birdhouses around the outdoor area
Draping floral decorations over railings and entryways
Adding hanging decorative pieces, like small cone bouquets, on the doors leading outside
FAQ
How Do You Decorate a Spring Mantel?
There are SO many great ways to decorate your mantel for spring. Just adding a few pretty pieces can really make the mantel stand out and open up the rest of the living room.
Using spring mantel garlands is a gorgeous way to brighten up the living room. Spring mantels featuring a garland or banner look fantastic for the season! Try adding garlands with beautiful bright colors and flowers to really liven up the area.
What can I put in front of my fireplace as decor?
– Vases: A tall vase with flowers or branches is a great way to add a touch of color and texture to the fireplace.
– Mirrors: Adding a mirror to the mantelpiece will reflect light and give the room an extra sense of depth.
– Candles: Candles can create a calming atmosphere, while also providing additional light in the room.
– Artwork: Framed artwork can be hung above the mantelpiece to add visual interest and personalize your space.
– Sculptures: A unique sculpture or bust can be placed on the mantelpiece for an elegant, timeless look.
How do you accessorize a fireplace?
– Hang a mirror above the mantelpiece to add depth and reflect the light in the room.
– Place decorative objects such as candles, vases, books, or other items on the mantelpiece for a more personalized look.
– Add wall sconces and/or pendant lighting around the fireplace for extra illumination.
– Place an area rug with a pattern or texture that complements the fireplace in front of it.
– Add plants or foliage around the fireplace to bring some natural elements into the space.
What is the best way to decorate around a fireplace?
– Firstly, choose a focal point for the area around your fireplace. This could be the mantel, a wall hanging above the mantel, or a painting on the wall.
– Consider adding some decorative elements such as candles, books, plants, vases, or sculptures to create a cozy atmosphere.
– Hang curtains or drapes to frame the fireplace and add a sense of warmth and elegance.
– Incorporate furniture pieces such as an armchair or sofa to create a relaxing seating area.
– Add rugs and throws to bring in color and texture to the space.
Happy Spring Decorating!
There are so many terrific ways to add spring to your whole home, indoors and out. Whether you want to spruce up your mantel with flowery décor, or you want pops of color all throughout the house, how you decorate your home for spring is totally up to you!
I hope this article inspired you and helped give you some ideas to bring spring into your home!
XOXO
Sherry
This post may contain affiliate links, which means that I may receive a commission if you make a purchase using these links.
Shop This Post Or Similar










Sherry, xoxo