9 Stunning Spring Coffee Table Decor Ideas
Are you looking for some inspiration to freshen up your living room for this spring? If so, I am going to share some Spring coffee table décor ideas that can easily transform your home as the weather starts to warm up.
I honestly think coffee table decor is something that can easily, and cost-effectively, change with each passing season. The Springtime of the year is the perfect time to bring in some natural and beautiful decor into the home!  
This post is about beautiful and easy Spring coffee table décor ideas!
After a little bit of a Spring cleaning, decluttering, and organizing your home, it is time for decorating for the new season! One of my favorite ways to decorate our living room is to start off with decorating our coffee table and fireplace mantel like you can see in this post!
Spring Coffee Table Décor Ideas #1:
Choose a Chic Decorative Tray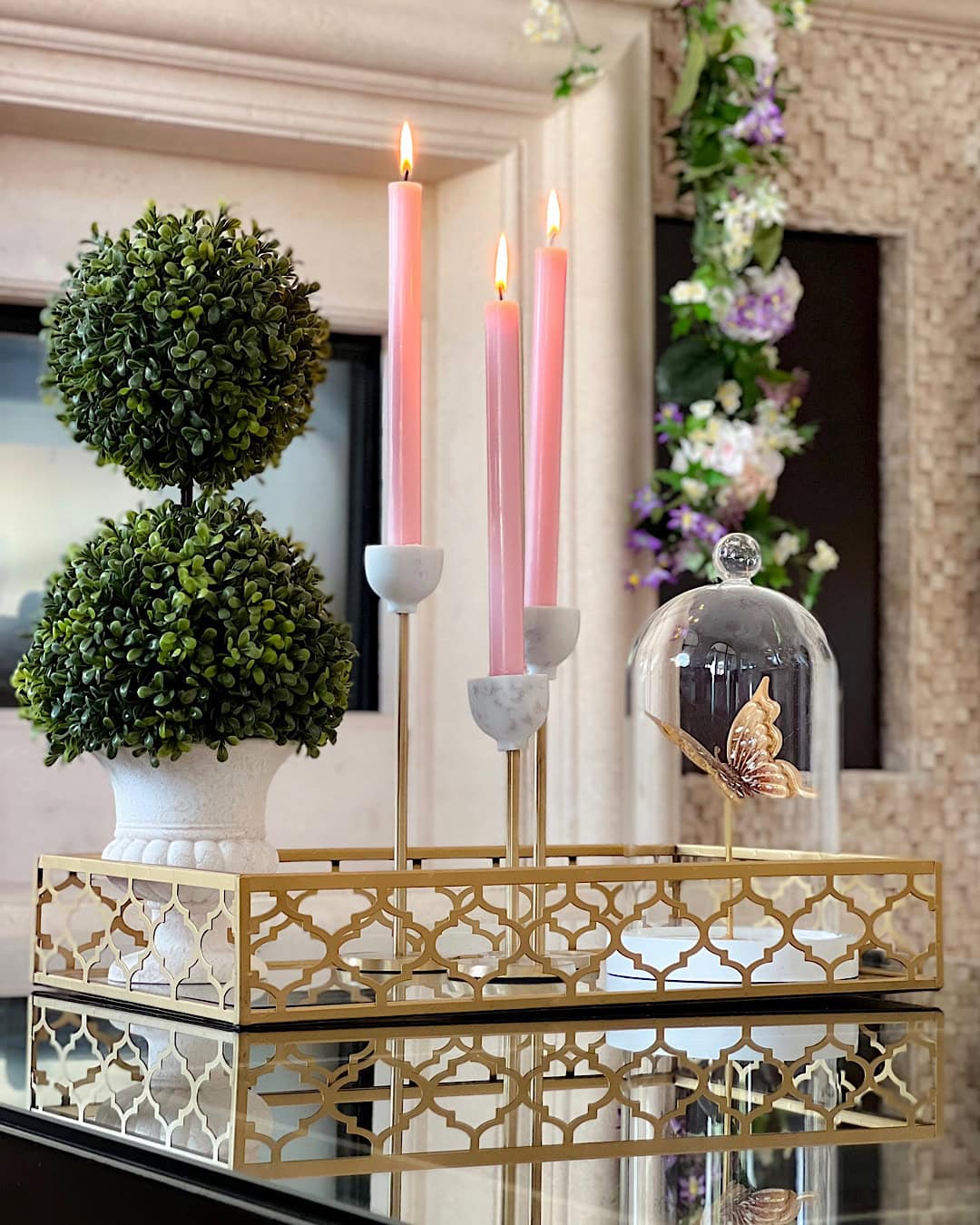 A great option to create a beautiful aesthetic for the Spring season is to choose a chic decorative tray.  A leather decorative tray would be a great choice for those who want a feminine option! There are many leather trays to choose from! Here are some elegant decorative trays to consider:

For those that would like to go with a more "girly" option, there are plenty of floral trays that would make the Spring coffee table decor pop. Styling these trays can be a time to have a lot of fun. Here are some fun floral trays to consider:

One of my favorite ideas is to put out an elegant teapot and cups to give a beautiful twist to your decor. Working with trays can be an easy way to fill an empty coffee table. A tray has great utility for those who love to entertain. When it is not living on your coffee table, your tray can help you serve drinks, coffee, and appetizers to guests (this is exactly what I do… using my decorative trays for serving drinks and appetizers).
Related Post: Mantel Decorating Ideas for Spring
Spring Coffee Table Décor Ideas #2:
Create Minimalist Look with Candles and Candle Holders
A second easy idea to make a beautiful Spring coffee table decor look is to use candles and candle holders. There are endless options of candles to choose from to utilize on your minimalist coffee tables.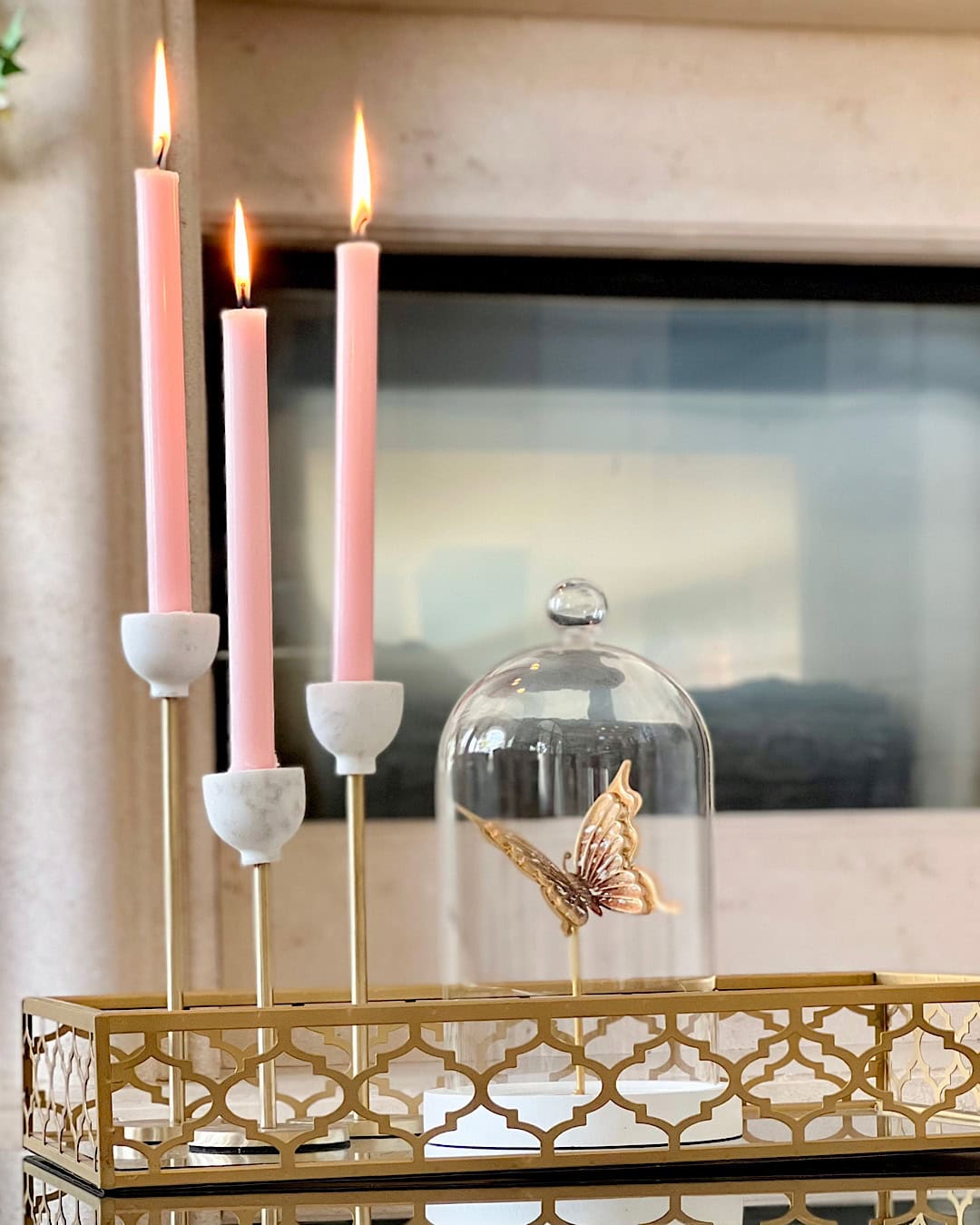 For those who want a more classically spring look, I suggest looking for candle holders that have flowers and butterflies in the design. Do not forget to choose appropriately Springtime scents if you are choosing scented candles. Good options for scents are florals and light fruity fragrances. Here are some beautiful spring candle holders for your coffee table:

Spring Coffee Table Decor Idea #3:
Faux Boxwood Topiaries
Option number three for a lovely Spring coffee table decor look is to utilize faux boxwood topiaries. The delicate, natural shaped leaves of a boxwood topiary are an excellent addition to your spring coffee table. They provide texture and interest without taking up too much space! Topiaries allow for a very green Spring look to be created on your coffee table.  
Most topiaries do not tend to include flowers, but you can always add some a few colorful flowers to them! I think topiary with flowers can create another type of "fairytale dreams centerpiece"! If you do not like to make your own topiaries (like me) LOL, there are many easy-to-find options of faux boxwood topiaries online. Here are some beautiful options for you to consider:

Spring Coffee Table Decor Idea #4:
Stack up a Few Books!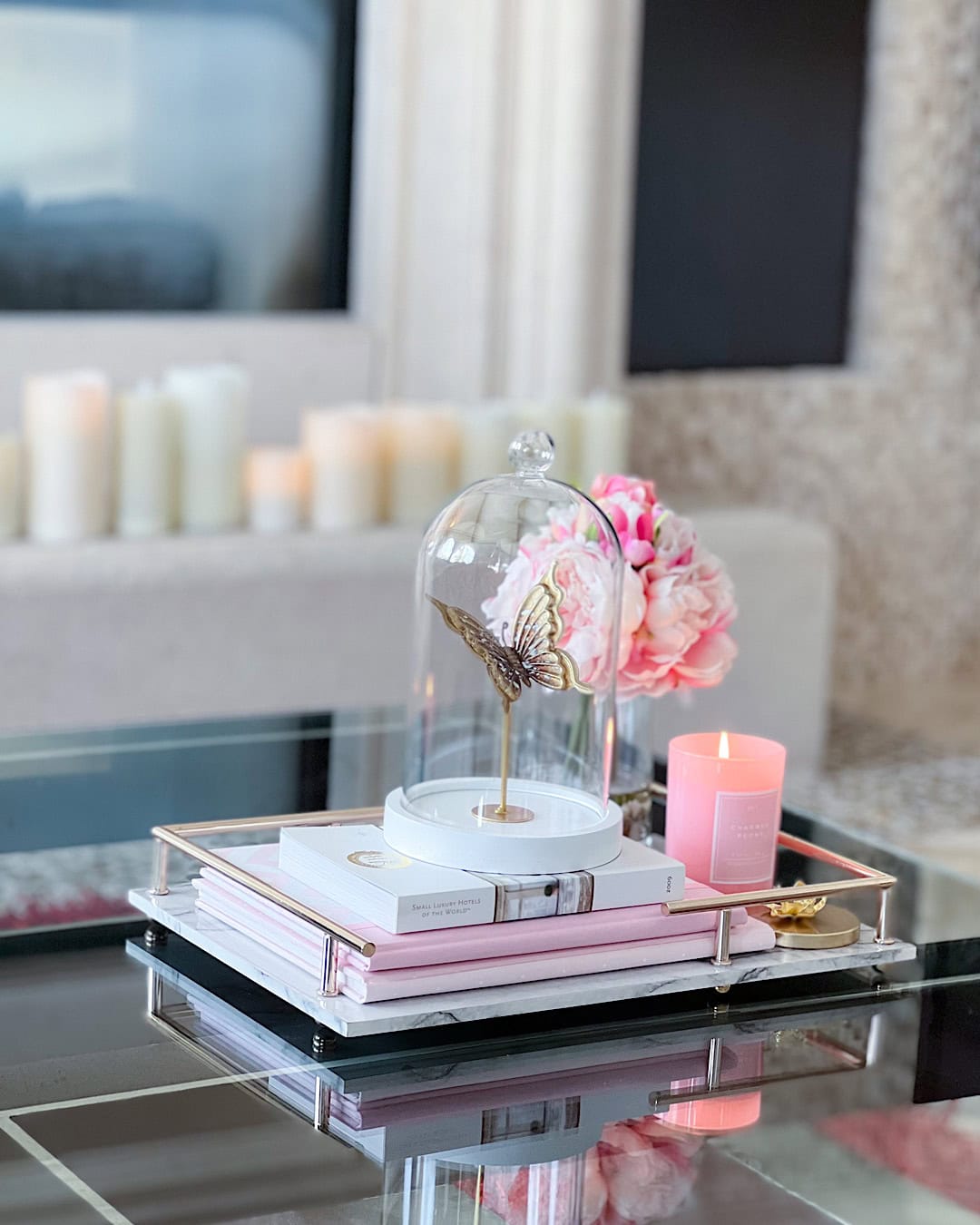 Option number four is another great way to design a beautiful minimalist coffee table! This is one of my favorite ideas on the list! Stacks of books will bring a naturally literary vitality to your Spring coffee table decor. You can choose books from your library or buy books with lovely floral covers to carry the Spring element further.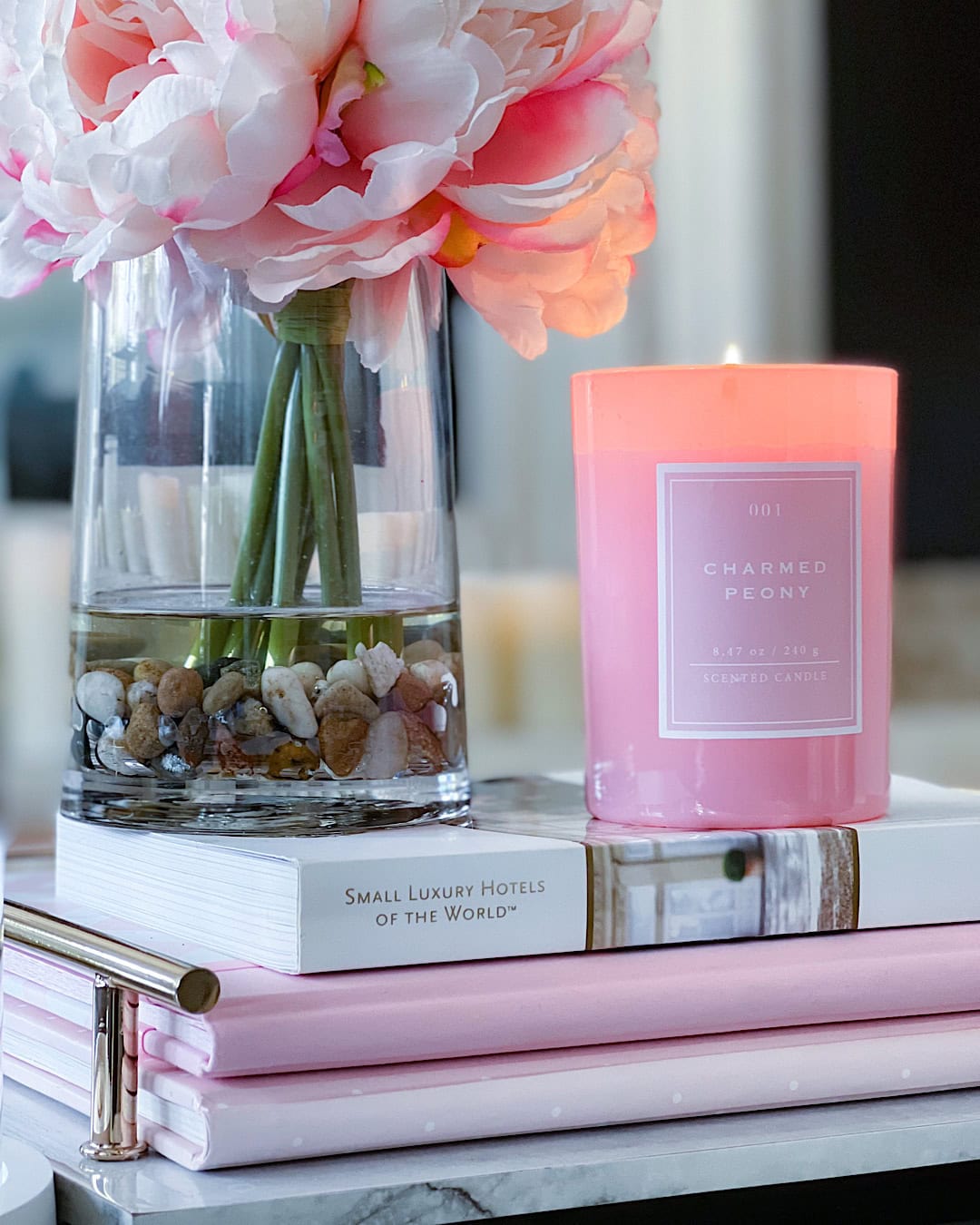 That lovely leather decorative tray (suggested in option one) can come in handy as a place to stack the books on top of, giving the Spring coffee table decor a truly literary twist! You can also use marble look tray (like mine).  If you are not choosing from your own library of books, I recommend choosing booking based on the color of their covers. There are even services devoted to creating bundles of books based on the color of the covers so that they are aesthetically pleasing. 
Once again, Etsy is a great source for many of these books. I would highly recommend turning to Etsy, specifically, if you would like antique books.   Antique books are very beautiful, and they make for a lovely intellectual look! Here are some great coffee table books for you to consider:

Spring Coffee Table Decor Idea #5:
Design a Simple and Chic Fruit and Flower Centerpiece
Option number five is to create a simple centerpiece using fruit and flowers. I have been coming across so many beautiful fruits and flowers centerpieces on Pinterest that I started truly loving this look for my spring table décor!
Elegant silk flower centerpieces with fruit added to them will pop with so many colors! At your local craft store, you will be able to easily obtain faux flowers and fruit (or you can find some great quality decorative fruits on Etsy)!
Take your time choosing soft colors of flowers to make for a nice pastel palette for this Spring centerpiece. For example, I suggest using lavender and violets with grapes. This will create a multi-layered purple pallet that is a beautiful, and uncommon, option for a Spring centerpiece. 
Other fruits and flowers will work, of course, and I would suggest that something uncommon for Spring would make an eye-catching choice. You can also add the right greenery to accent your centerpiece which will get you a warm "Spring look"! Here are some beautiful decorative fruits and silk flowers to consider for your centerpiece:

Related Post: How to Make A Spring Floral Arrangement Step by Step – RB Italia Blog
Spring Coffee Table Decor Idea #6:
Group Your Ginger Jars!
Option number six is to group ginger jars to create a fun Spring coffee table look. These beautiful jars with their intricate designs are a perfect option to create a sweet and feminine coffee table aesthetic! Purchasing at least three matching ginger jars will make for a cohesive design look for your living room centerpiece.  
I personally recommend buying vintage or antique ginger jars, as they will be all the more unique to your coffee table. You can choose jars of many a color, so they can fit in with your overall color theme that already exists in your living room!   
For those that would like to have a lot of color in their decor, I would recommend purchasing several colors of ginger jars. Collecting lavender, pink and white jars together will create a beautiful and colorful centerpiece!
Red, orange, and yellow jars will create a warm "sunny look" which is also so beautiful! Those that love a basic pallet can make the choice of using neutral colors like white, black, brown, and cream. Here are some beautiful ginger jars to consider for your centerpiece:

Spring Coffee Table Decor Idea #7:
Design Fresh or Faux Flowers in a Cute Bucket Centerpiece
Option number seven is another chance to create a silk flower centerpiece.   You have the option of creating these centerpieces with either fresh or faux flowers.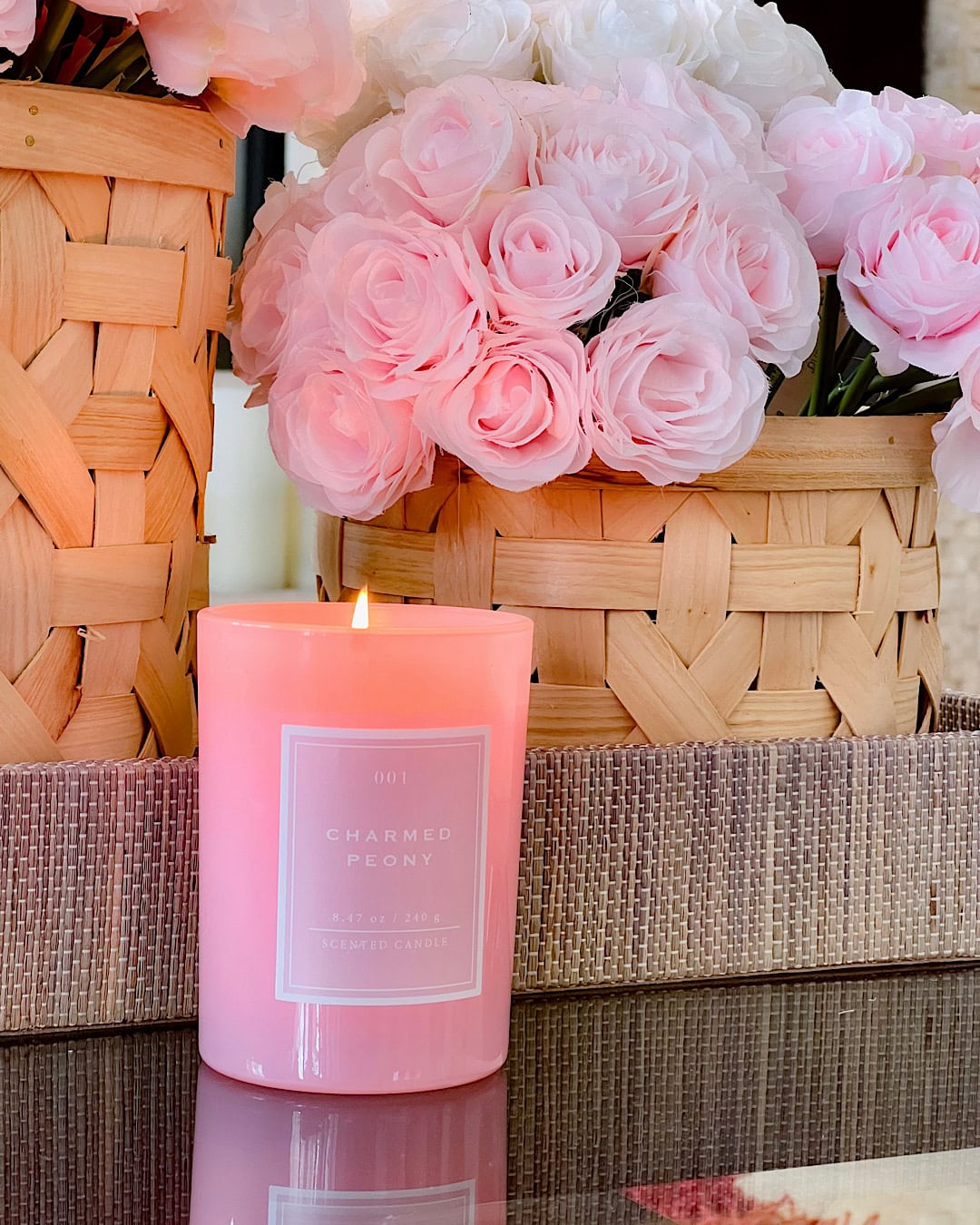 All you will need is a pretty colored bucket, some foam to secure the faux flowers, or water if you are using fresh flowers. Choosing several different flowers is key to this type of centerpiece. 
Daisies, roses, lavender, and lilacs are all excellent options to put into your cute little bucket!  Whether you want to be simple and have just a small bucket with a pretty arrangement, or you would prefer a more complex design, this is a very easy idea to create your own centerpiece.
As a bonus, if you choose to use faux flowers this will become a centerpiece that you can use from year to year!
Here are some cute decorative flower buckets to consider for your centerpiece: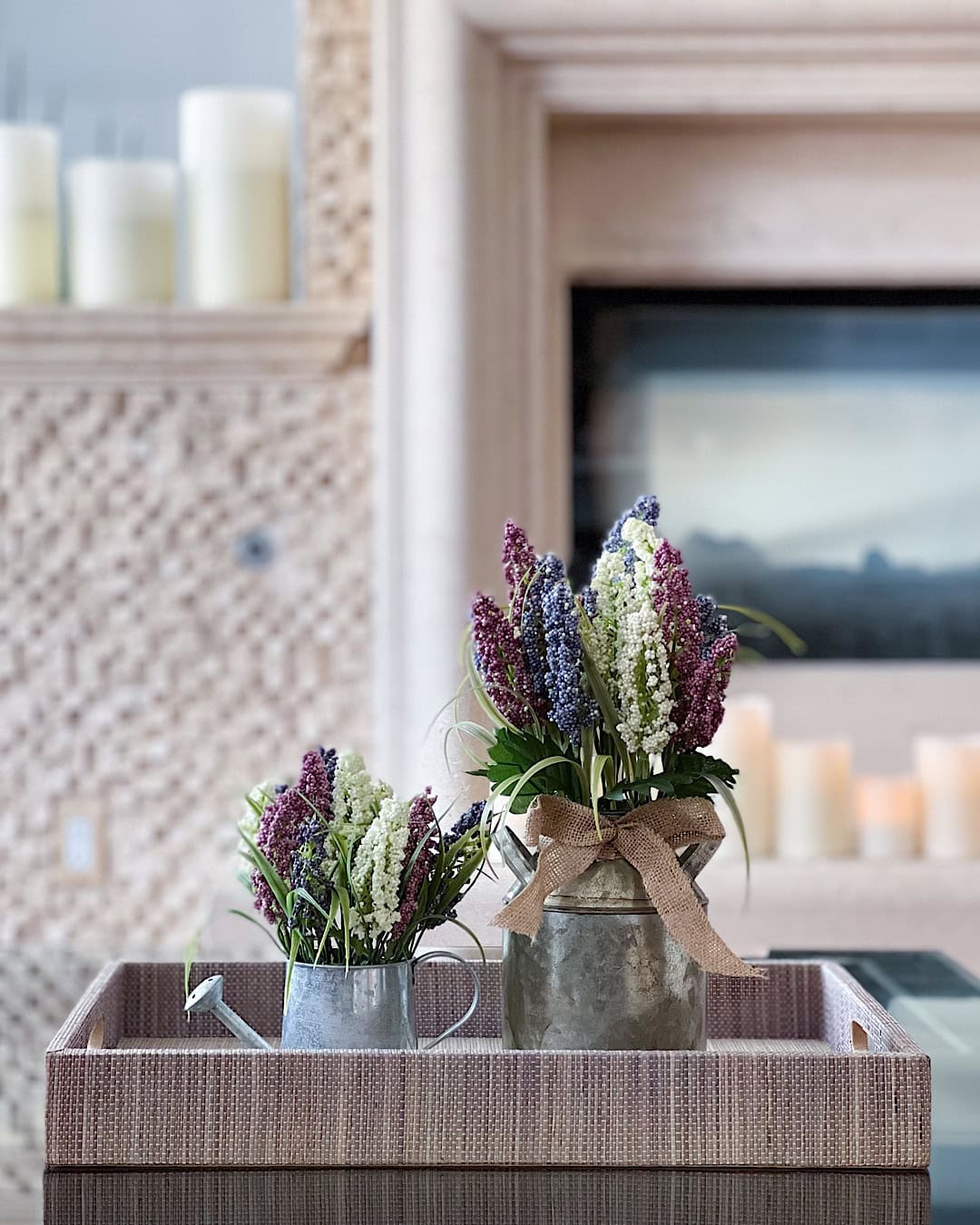 Related Post: How to Freshen up Your Kitchen for Spring
Spring Coffee Table Decor Idea #8:
Teapot Flower Arrangements. Big Trend Alert!
Option number eight is set to become one of the biggest trends for this Spring season! That cute teapot I mentioned in option one can also be used as a sweet little flower arrangement. Once again you will want some foam if you are using faux flowers to secure them. However, for this particular option, I prefer to use fresh flowers! Only with fresh flowers can you get the full effect of the true beauty of a teapot flower arrangement.    The smell of fresh flowers will give your whole home a fresh and clean aroma. I suggest choosing any type of wildflowers to allow a beautiful overflowing teapot of Spring colors!
Metallic, porcelain, and glass are all types of teapots that you could choose from. If you want a porcelain teapot, I suggest one with a lovely floral pattern painted on it. Anything metallic should be kept polished to a beautiful sheen to keep the room as fresh as the daisies in your teapot! Here are some cute teapots to consider for your centerpiece:

Spring Coffee Table Decor Idea #9:
Butterfly Centerpiece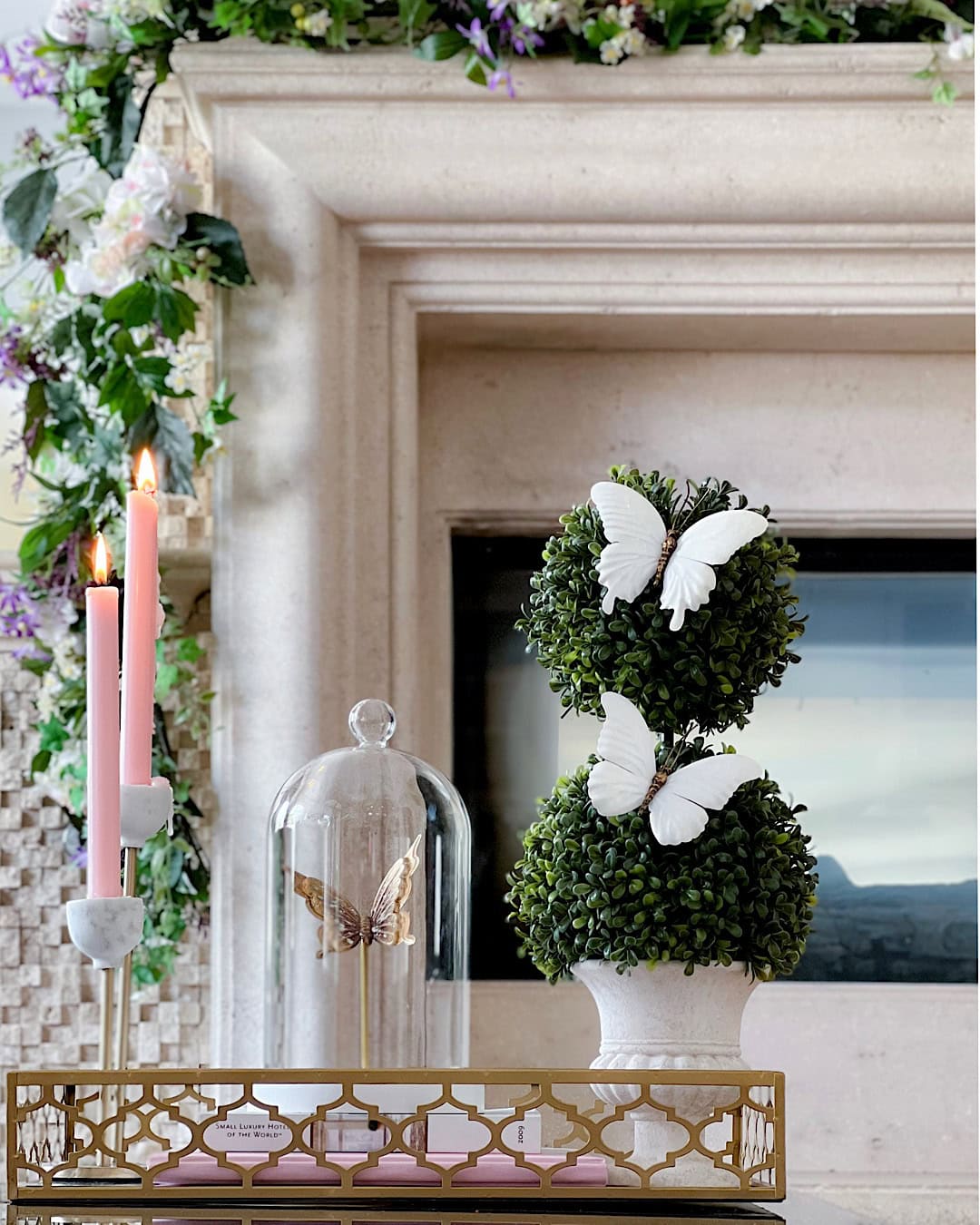 My final idea for this post is to have a butterfly centerpiece on your Spring coffee table. Butterflies are a perfect representation of the concept of renewal. They are also incredibly colorful and lovely creatures, making them another ideal way to make your centerpiece pop! 
Using flowers and other plant life you can make a very natural-looking butterfly design. Pretty fake butterflies are another thing that can be obtained at your favorite local craft store. These pretty critters can also be added to the other floral centerpieces that I went over in other options!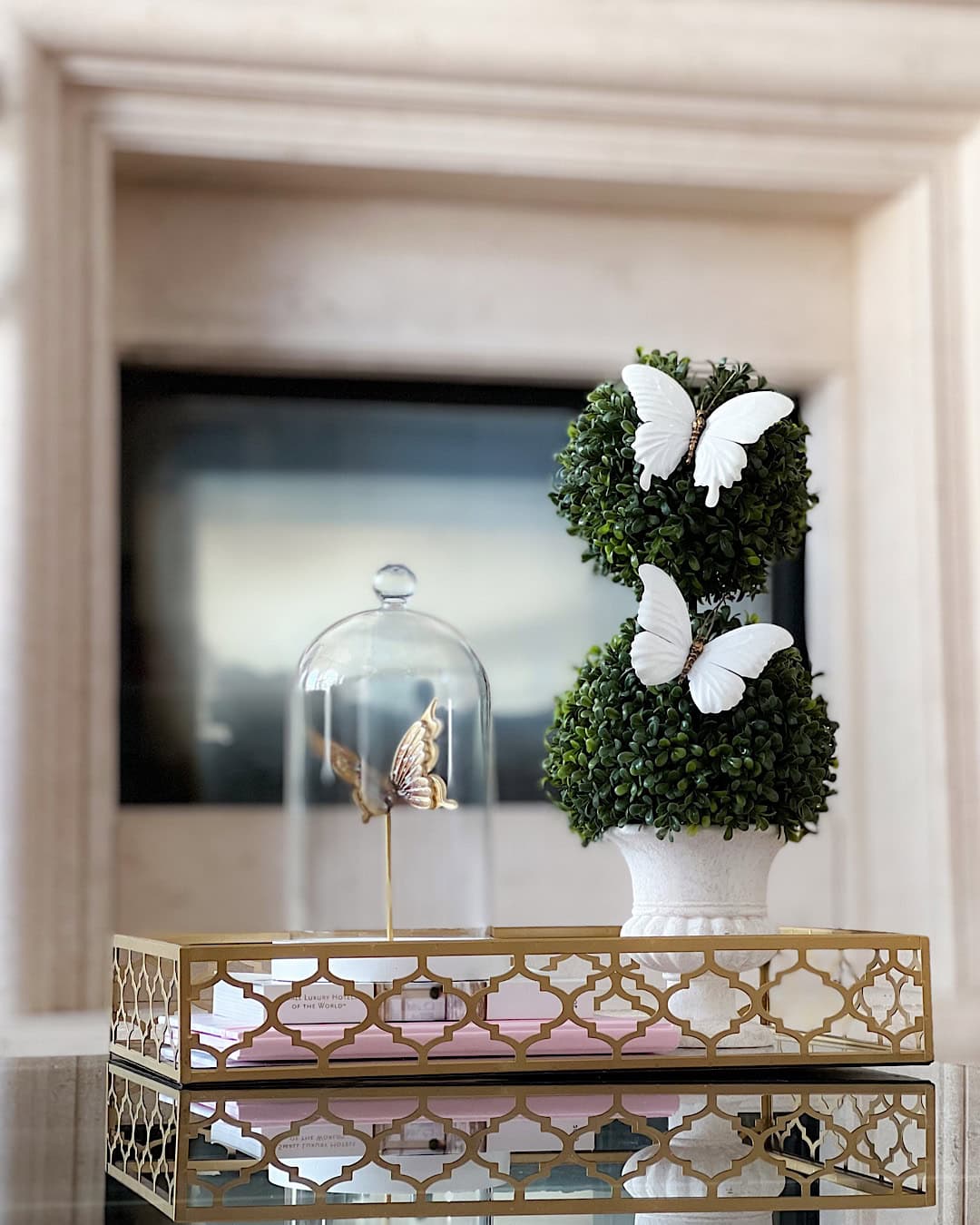 All you really need is several faux butterflies and some glue to create a magical centerpiece for your coffee table! I suggest buying butterflies that have clips on the back to make it easier to make this really pretty little centerpiece, and that way you would not even need any glue.   
All you need to do is clip the butterflies to the petals of your faux flowers.   You can also use butterflies that are on sticks that can be secured into foam, just like your fake flowers, in order to create the effect of them flying!   If you are not a big fan of butterflies, you use dragonflies or hummingbirds instead.  Both of these creatures are equally as pretty and colorful as the butterflies to use in your Spring coffee table centerpiece! Here are some cute butterflies to consider for your centerpiece:

FAQ
What do you put on a coffee table in Spring?
This has been the primary question that I have sought to answer throughout this post. The prime elements in a Spring coffee table include flower centerpieces (fresh or faux), fairytale dreams centerpiece, and butterfly centerpieces. Using all sorts of colorful elements is key to celebrating the season of flowers and renewal.  Pastels are the perfect color palette for those who want a softly Spring feeling!  It does not stop with butterflies and flowers.  Using hummingbirds, dragonflies, and fairies you can create a unique and magical coffee table aesthetic for the Springtime!    
How do you make a coffee table look elegant?
For an elegant coffee table using a minimalist touch is a key choice.  Candles of all sorts add a light-filled ambiance to your living room centerpiece. Metallic sheens make for a clean and simple elegance. If you want elegance to involve florals, I recommend creating silk flower centerpieces, as the flowers will not die.  Faux flowers additionally provide a lesser likelihood of cleanup.   Real flowers will need to be tended to, and cleaned up after, as they begin to shed their petals.     
What do you put on an empty coffee table?
An empty coffee table is a blank canvas waiting for you to paint it with your personality and style! Use this empty space as an opportunity to get creative and be true to yourself stylistically.  If you just hate seeing your empty coffee table until you can get all of the pieces together to create the looks described above, I suggest putting out magazines or any large books you have lying around.   Even just placing coffee cups on the table so it is not empty will be an adorable placeholder while you are shopping at the local craft store!  
What do you put on top of a glass coffee table?
A glass coffee table is your chance to create an elegant fairytale dreams centerpiece. In the candle section, I described using metallic candle holders is always a great idea for a glass coffee table. A simple decorative tray and well as a few stacked books are always great ideas to create an elegant look for your glass coffee table. 
How do you style a two-tier coffee table?
A two-tier coffee table is the chance to create multiple looks at once!   On the top, you can choose from one of the several floral designs options that I have already discussed.  For the second tier, I suggest using those stacks of books to fill up the space!  You can purchase these on Etsy or purchase the supplies to create your own at your local craft store.   This will give a romantic look to your living space!
How do you style a coffee table tray?
A coffee table tray can be styled with both books and teapots, as described above.   Another option is to spread any magazines that you have on hand on top of the tray.   It can also be a fun location to keep glass candy dishes and bowls for snacks!    If you would like to keep with the Spring theme, I would recommend having your snack bowls filled with candied violets.   For those who love cooking and creating in the kitchen, you can make candied violets at home, just make sure you buy food-grade violets!   As a bonus for the parents reading, this is a fun thing to do with your little ones!  Pretty food items and teapots create a lovely little space in your living room to host dinner parties and family gatherings.   Coffee table trays are the perfect choice to utilize food and drinks into a decor aesthetic!
This post was about sharing a few stunning spring coffee table décor ideas with you! No matter what type of table you have, or the style that fits your needs, I think I have provided options for everyone. Beautiful Spring coffee tables are not just something that can be found in magazines. With a little inspiration and some effort, you too can have a lovely living room display! Do not be afraid to mix and match the ideas that I have provided here. Remember that at the end of the day this is your home, and you can decorate it to express your individual personality!
Shop This Post
This post may contain affiliate links, which means that I may receive a commission if you make a purchase using these links.