If you are looking for pink and gold candy table ideas this post will give you the 9 best ways to design an elegant candy table for your next party!
Pink is one of my FAVORITE colors!!! If you have been reading my blog for a while or following me on my Instagram, you know how much I love and enjoy using different shades of pink in my home décor and even in my closet. You take a look at some of my pink designs here, here, here, or here.
This post may contain affiliate links, which means that I may receive a commission if you make a purchase using these links.
This year, I decided to design a fun candy bar for Valentine's Day for my family (especially our little girls) in our backyard. Whether you're throwing a birthday party, baby shower, bridal shower, or even a wedding reception, this timeless pink candy buffet and dessert table will make your event even more special! You can get some more outdoor candy and dessert table ideas here.

Pink and Gold Candy Table Ideas
#1: Setup Your Table Outdoor
Related Post: How to Style an Elegant Valentine's Day Dessert Table
I LOVE outdoor parties and events! Therefore, I try to set up most of my tables outdoors (in our backyard). Since we live in Arizona, the weather for outdoor gatherings and table setup is simply perfect (at least for 6 months).
However, if you do not wish to set up your table outdoors, you can still design and create a similar setup indoors using these easy tips!

I think it's a great idea if you can set up your candy station or dessert buffet outdoors! Not only will you have more space to work with, but the outdoor setting will provide an ideal backdrop to your colorful treats.
It also gives your guests an opportunity to enjoy the fresh air while they indulge in sweet treats. Plus, the natural light will be perfect for taking beautiful photos of your setup.
Related Post: 9 Tips to Design a Stunning Pink Tablescape Like A Pro!
When planning an outdoor candy table, make sure to choose a location that is sheltered from wind and rain and has plenty of seating options.

And don't forget to provide some shade if it's hot out! I always bring a few extra umbrellas out when I set my tables in the summertime! With some creative planning and attention to detail, you can create a unique and memorable candy table experience for both you and your guests.
Pink and Gold Candy Table Ideas
#2: Select the Right Candies
When selecting the right candies for your table, you'll want to consider both the aesthetics and the flavors. Popular pink and gold candy options include pink cake pops, rock candy sticks, gumballs, and gummy bears.

You can also mix in some other colorful treats such as jellybeans or chocolate-covered pretzels for a more eclectic look. No matter what type of candy you choose, make sure that it's fresh and of good quality.
Related Post: Stunning Pastel Table Setting | How to Create One for Easter or Spring!
That way, your guests will enjoy it all the more! If you're not sure what kind of candy to get, it's always best to talk to a local confectioner who can help you find the perfect combination for your table.

I personally prefer to choose only one shade for all the candies (pink) as a base color. Then, add gold or rose gold accessories to my table (like gold serving trays, bowls, dishes, jars, etc…). Some people prefer to have both colors of candies (pink and gold) on their candy tables. This is a completely personal choice!
Pink and Gold Candy Table Ideas
#3: Add textures and Incorporate Different Materials
Adding textures and incorporating different materials is a great idea for decorating a candy buffet table. Simply because it adds visual interest, depth, and dimension to the space.
Textures can be added with items like burlap table linens, fabrics, wallpaper, rugs, tassels, ribbons, and even lace. Different materials such as wood, metal, glass, acrylics, velvet, and glitter can also be used to create a unique look on your candy table.

This will give your guests something extra to look at while they indulge in sweet treats! Not only will it be visually pleasing, but it will also add a luxurious feel to your space.
Additionally, you could add elements such as pom-poms, tassels, ruffles, or other textured items to the table for an extra touch of glamour.
By adding textures and incorporating various materials into your candy table design, you can create an inviting and eye-catching look that will make your event stand out.
Pink and Gold Candy Table Ideas
#4: Fill Glass Jars with a Varieties of Pink and Gold Treats
Related Post: 9 Easy Tips to Host an Epic Outdoor Movie Party!
Designing and filling glass jars with a variety of pink and gold treats for your candy table is a fun and creative way to add a festive touch to any special occasion. To start, you'll need to choose the types of treats you'd like to display in your jars.
For a pink and gold candy table, try picking out different shades of pink candy, such as gummy bears, marshmallows, or rock candy.

You may also want to include some other treats in gold wrappers or packaging, such as chocolate coins or Goldfish crackers. Once you have chosen the treats for your jars, it's time to get creative!
You can use ribbon or lace to decorate around the rim of each jar or use paint pens and stickers to give them a unique look.
Finally, fill each jar with pink or gold treats and arrange them on your candy table. Also remember to keep some candies on the side, if you want to have favor bags.
You can add some of these candies inside each favor bag and have your guests enjoy the delicious candies even after the party!
Pink and Gold Candy Table Ideas
#5: Create A Focal Point
Creating a focal point on a candy table can be a great way to add visual interest and draw the eye to the main elements of your display.

Cakes are an excellent starting point, as they offer a unique way to showcase both your color scheme and your theme. You can choose from many different shapes and sizes, such as round, square, or tiered cakes, in colors that match your pink and gold palette.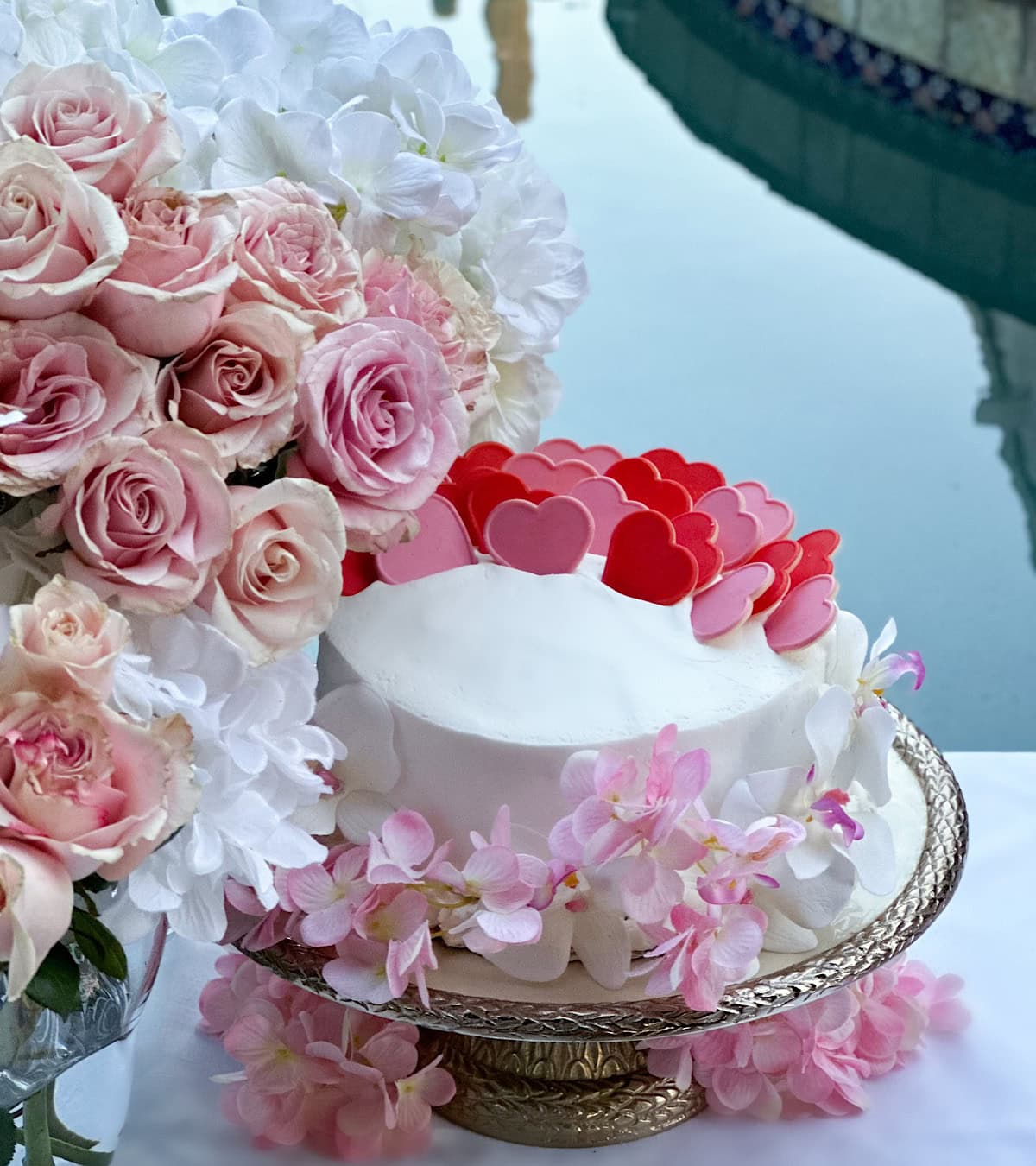 As you can see my cake is designed with pink and little red edible hearts! This is simply because I designed this table for Valentine's Day. You can design a pink and gold candy table for any occasion/party.
Just remember to create a focal point on your table! Also, try to incorporate edible decorations such as gold glitter, fondant flowers, or chocolate truffles for little extra sparkle. You can also create visual drama by adding different heights with cake stands or tiers.
Pink and Gold Candy Table Ideas
#6: Add Cotton Candy
Adding cotton candy to a pink and gold candy table is a great idea because it adds a unique, playful touch to the display. Cotton candy comes in a variety of colors, so you can easily find one that complements the other elements on the table.

It also adds an element of fun, as guests can watch it being made or simply enjoy eating it. Plus, it's light and airy, so it won't overpower the other sweets.
With its sweet, fluffy texture, cotton candy will be a hit at your party!! Plus, it's easy to make and can be tailored to fit any occasion or theme.

Our little girls (Valentina and Alina), love love love cotton candy!! hahaha! This is also a wonderful idea for kids' birthday parties!
Pink and Gold Candy Table Ideas
#7: Add Gold Accents
As I mentioned above, I like to choose blush pink as a base color for my table. This is why I decided to add a few gold accents to my table to create the contrast that I wanted! Adding gold accents to your candy table is a great way to elevate the look and create a more luxurious feel.
Gold accents can be used in many different ways, such as using gold-plated trays for displaying the candy, adding gold-rimmed plates, or even having small touches of gold in the decorations.
Gold also has an air of sophistication and elegance that can help make any event look more stylish and polished. Plus, when combined with pink, it creates a beautiful color palette that is so beautiful.
Pink and Gold Candy Table Ideas
#8: Add Flowers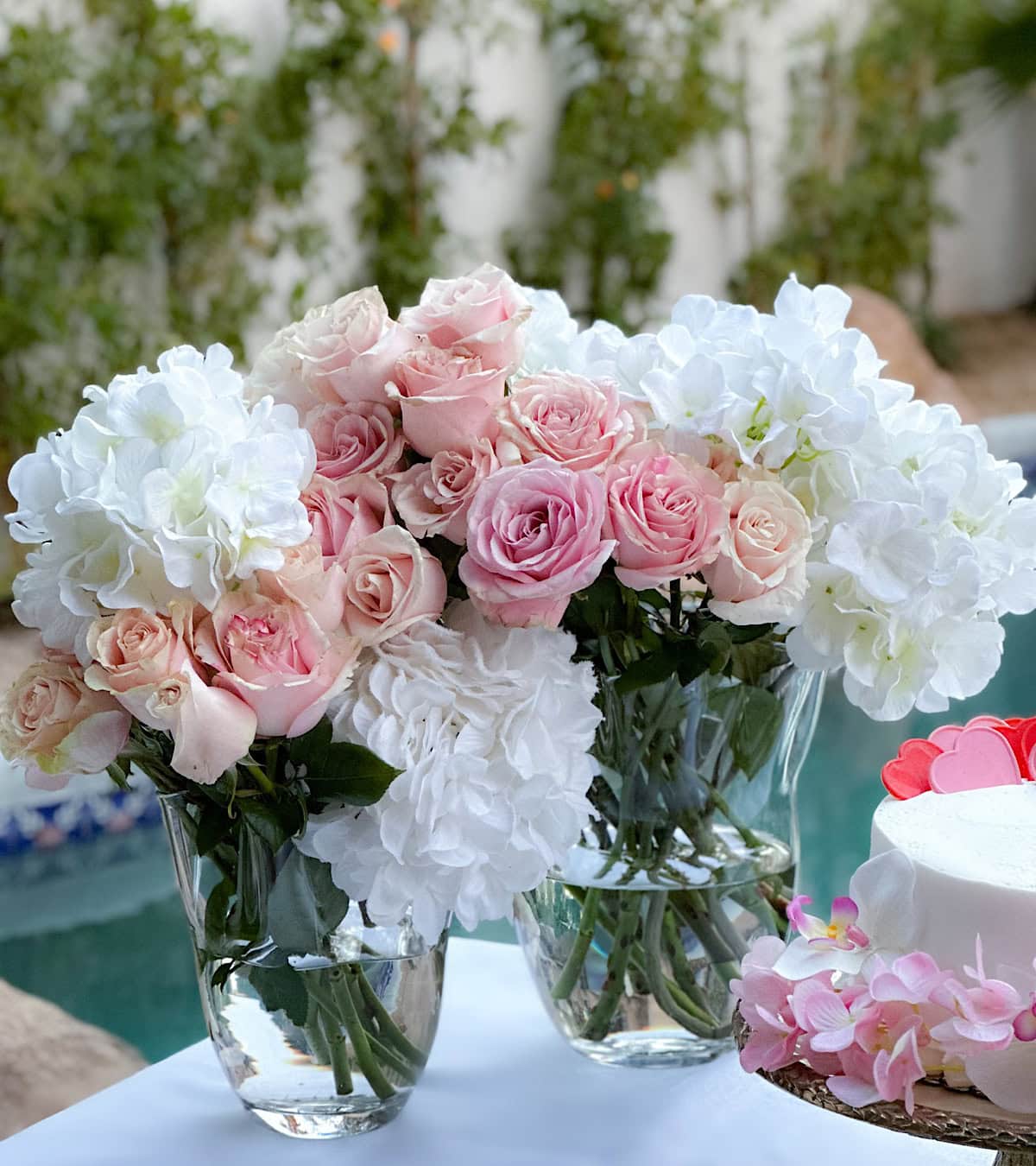 Adding flowers to a candy table is a great idea because it adds a touch of elegance and sophistication to the overall look. Flowers can bring a sense of beauty and bliss to any event, and when combined with a candy table, they can create an unforgettable experience for your guests.
Flowers also add texture, color, and depth to the table, making it more visually appealing. Flowers are relatively affordable, making it easy to create an impressive display without breaking the bank.
Finally, flowers can also help to set the mood of the event, bringing a sense of joy and celebration to any occasion. Whether you choose vibrant blooms or delicate pastels, adding flowers to your pink and gold candy table is a great way to make your celebration even more special.
Pink and Gold Candy Table Ideas
#9: Create Different Heights with Your Flower Vases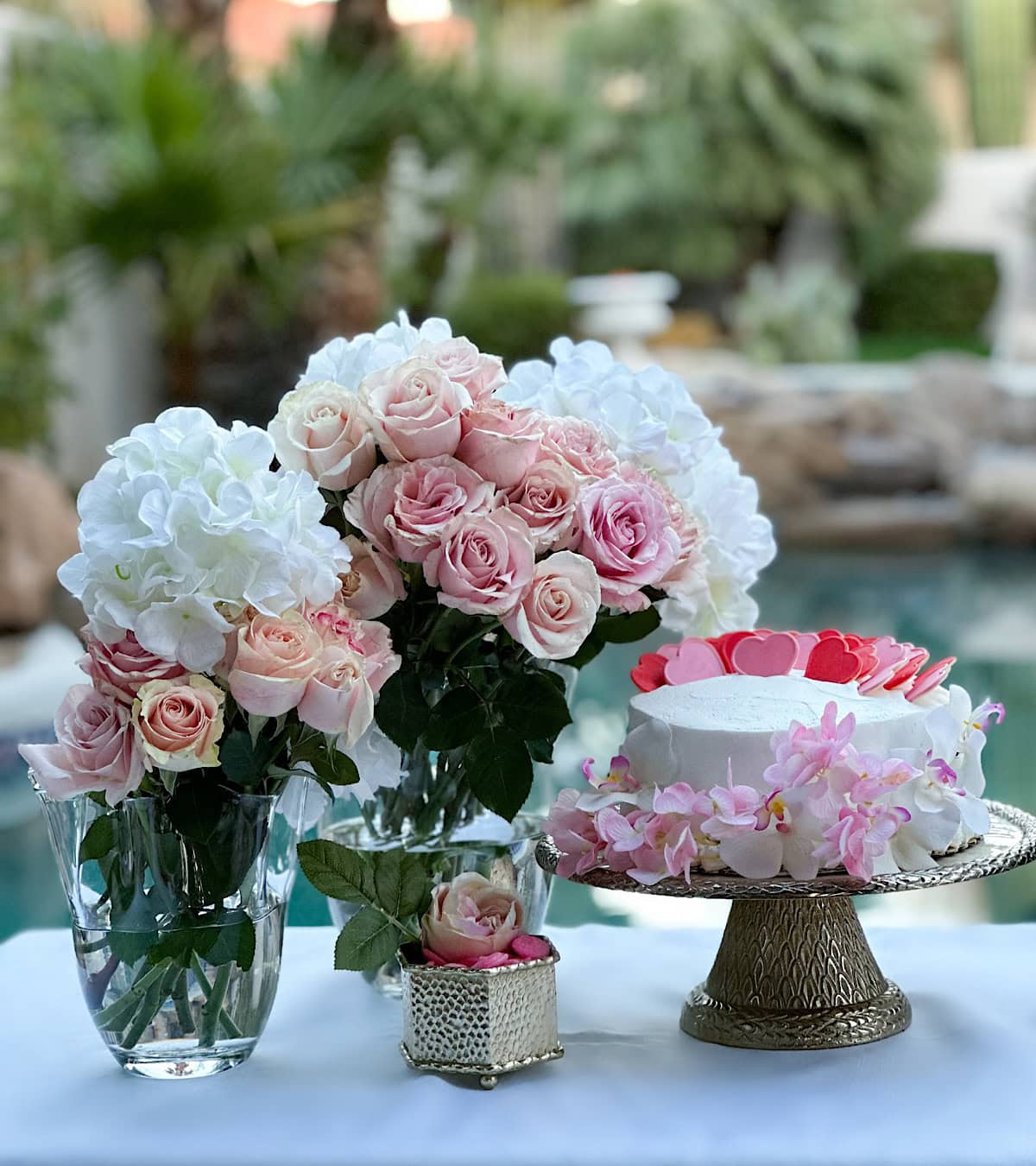 Creating different heights with your flower vases on a candy table is a great idea for adding visual interest and dimension to the display.
By placing taller vases in the back and shorter ones in the front, you can create an eye-catching arrangement that will draw attention to the table. You can also use different colors of flowers or textures to further enhance the look.

Additionally, using various heights of vases can help create more space on the table to showcase other décor items such as sweets, treats, or balloons. Overall, using different heights of flower vases is a great way to make your pink and gold candy table stand out and be remembered.
FAQ
What should be on a candy table?
A variety of candy: Choose a selection of different types of candy such as hard candies, chocolates, gummies, and lollipops.
Candy jars: These can be filled with a variety of candies such as chocolates, gummies, lollipops, jellybeans, and more.
Tablecloth: Cover your table with a festive tablecloth that coordinates with your decorations.
Baskets: Baskets are perfect for holding smaller items such as wrapped candies, mints, and other bite-sized treats.
Serving bowls and platters: Place each type of candy in its own bowl or platter for easy access and eye-catching presentation.
Scoops or tongs: Provide scoops or tongs so guests can easily take the candy from the bowls.
Decorative elements: Add decorative elements to make your candy table look festive, such as colorful ribbons, balloons, flowers, or confetti.
Bags or boxes: Provide decorative bags or boxes so guests can easily transport their treats home.
Utensils, plates, and napkins: Place utensils, plates, and napkins nearby so guests can enjoy their treats.
Signage: Add signs with the names of each type of candy or a fun message.
How do you display candy at a wedding?
Use clear containers: Clear glass jars, vases, and bowls are visually appealing and will make your candy stand out.
Create a tiered display: Place your containers on different levels to add dimension and visual interest.
Add colorful accents: Ribbons, flowers, and other decorations can be used to complement the colors of your candy.
Label each container: Include the name of each type of candy so guests know what they're getting.
Choose a focal point: Place your candy display close to the entrance or another focal point of the wedding reception venue.
You can get some more ideas here.
How many items should be on a dessert table?
The number of items that should be on a dessert table will depend on the size of your event and the type of desserts you are serving. Generally, it is recommended to have at least 3-4 different types of desserts. For smaller events, you may want to include 5-6 items. For larger events, you may want to include 7-10 items. Make sure to have enough food for all your guests and consider any dietary restrictions they may have.
How do you make a candy buffet guide?
First, decide on a theme and color palette for your candy buffet.
Create a list of the different types of candy you would like to include in the buffet.
Choose a variety of containers in different sizes, shapes, and styles that will fit with your theme.
Consider any additional decorations such as balloons, banners, or signs that could enhance the look of the buffet.
Arrange the containers on tables or other surfaces according to your design plan.
Fill each container with the appropriate type of candy and label them accordingly.
Place scoops or tongs near each container so guests can easily serve themselves.
Offer bags or boxes for guests to fill with candy from the buffet.
How to make a candy buffet bar?
Choose a variety of colorful and tasty candies to include in the buffet.
Select a variety of jars or containers to display the candy in.
Place labels on the containers to indicate what type of candy is inside each one.
Decorate the area around the buffet with decorations that match your theme, such as balloons, streamers, or other festive items.
Set up scoops and small bags for guests to use when taking candy from the buffet.
Have an attendant available to help supervise the buffet area and keep it clean and stocked with more candy as needed.
Bottom Line
A candy table is an excellent way to add a special touch to your party. By combining the colors pink and gold, you can create an impressive display that will wow your guests.
From pink and gold popcorn boxes to cupcakes topped with edible glitter, there are plenty of ways to make your candy table stand out.
Whether you are hosting a birthday party or a baby or wedding shower, I hope these 9 pink and gold candy table ideas will help you create something truly spectacular.
Don't forget to have fun while creating the perfect candy table for your special event!
Love,
Sherry
Shop This Post
This post may contain affiliate links, which means that I may receive a commission if you make a purchase using these links.








Sherry, xoxo