Elegant Patriotic Centerpieces
for your 4th of July Table
Elegant patriotic centerpieces are the easiest way to elevate your mood for the exciting 4th of July holiday. From simple vases filled with red, white, and blue flowers to creative arrangements made from flags, patriotic table runners and so much more… In this post, I'm sharing 10 easy tips to create elegant table for your 4th of July celebration!
This post is about how to create elegant patriotic centerpieces for your 4th of July celebration!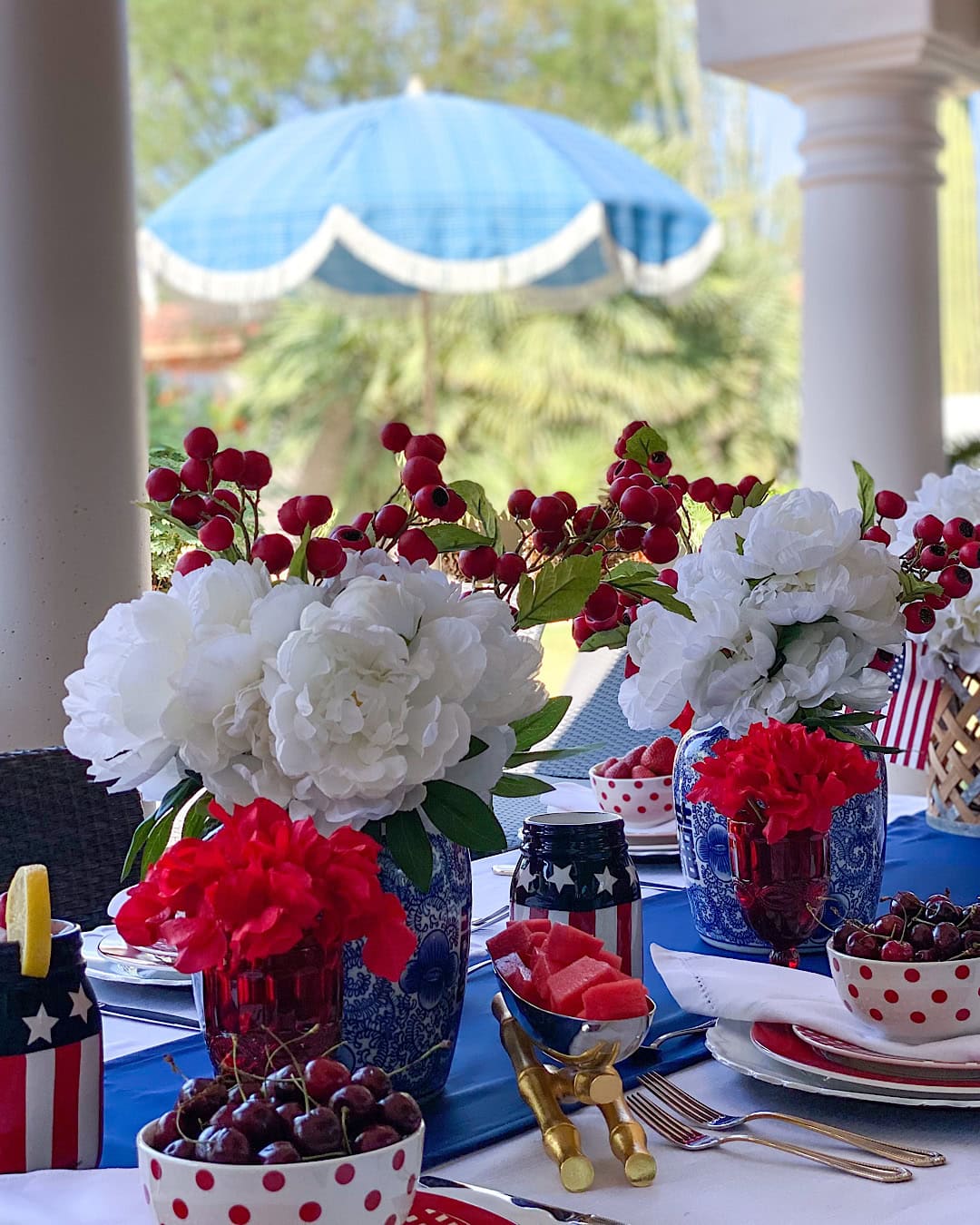 I love celebrating holidays with my family! I feel like holidays are a great excuse to either travel or spend more time with your friends and family. It is a great opportunity to relax and enjoy fun foods, desserts, and drinks! (Make sure to scroll down to get lots of delicious BBQ recipes)!!!
In our house, the Fourth of July celebration involves lots of pool time for Valentina, Alina (LOL), and of course lots of family time for us! We usually go to watch fireworks at nighttime!
I honestly cannot believe the fourth of July is coming up so fast and it is time to come up with ideas on how to design a few different fun, colorful and elegant patriotic centerpieces for your holiday celebration table!
Related post: how to bring style with your 4th of July decorations.
Shop This Post Or Similar
This post may contain affiliate links, which means that I may receive a commission if you make a purchase using these links.

While I shared some easy tips with you last year, I also wanted to share a few easy tips on how to create a fun, festive, and elegant 4th of July tablescape with you this year! You really don't need much – just some simple decorations – but you'll be able to create an amazing Fourth of July party atmosphere.
Think creatively about what will work best with your theme or style. If you are having a more formal party then choose decorations that are also formal: use silverware instead of plastic cutlery; set out place settings with cloth napkins rather than paper goods; fill vases with fresh flowers in patriotic colors like red, white, and blue.
Related Post: 4th of July Family Fun Activities – 6 Ideas!
If, on the other hand, you're hosting a more casual party then choose decorations that are also casual and maybe create an outdoor bar with ice buckets and glasses in patriotic colors. Whatever your style is I want to share some ideas on how to create a fun and easy patriotic tablescape for summer entertaining and this 4th of July!
1- Create Elegant Patriotic Centerpieces By
Adding a Blue, White, and Red Runner to Your Table
I love using runners on my table for most occasions! I think table runners and centerpieces are the easiest way to complete the look of your table! Adding a red, white, and blue runner to your 4th of July table is the best way create an atmosphere that will make everyone feel festive.
It also provides color as well as texture for you to choose from in order to customize any table setting so it can be both elegant and traditional!
2- Use Red, Blue or White Napkins
Red or Blue Cloth Napkin- This is an easy way to bring color into the holiday without going overboard with decorations. I usually like to match the napkin colors with my tablecloth! For example, if I choose white for my tablecloth, I like to use white napkins.
This is totally up to you and your style… When trying to create elegant patriotic centerpieces, one of the best and easiest way to bring elegance to your table is by adding beautiful cloth napkins.
You can choose a simple white tablecloth and white napkins, or you can mix and match the blue and red tablecloth and napkins! I also love how this one has the stripes on it or this design– very patriotic!
3- Create Elegant Patriotic Centerpieces By
Serving Your Guests on Patriotic Plates
Celebrate with your guests the 4th of July on patriotic plates! You can choose either blue and white, or red and white plates. Blue is a great color for those who want to show their patriotism by displaying stars from our national symbol- The Flag of America. Red would be perfect if you are looking for something more playful that could also work as an appetizer plate too!
Last year, I used these blue and white plates for our 4th of July table! Since I wanted to change up the look of our table this year, I decided to go with these red and white plates. These are cute porcelain plate sets, however, do not expect them to be "super fancy"! Hahaha!
They are colorful, fun and perfect to create a "patriotic look" for the 4th of July, Memorial Day celebration, or any other casual gathering! If you prefer to use plastic plates instead you can consider some other options like these red plastic plates or these "fancier looking" disposable plates that includes silverware and cups!
4- Create Elegant Patriotic Centerpieces By
Adding Red and White Flowers in Vases
I LOVE adding flowers as a centerpiece to my tables! They are the easiest and one of the simple elegant centerpiece ideas for any table setting! I absolutely love fresh flowers; however, you can find so many beautiful faux flowers these days.
Add some red and white flowers in vases to your table décor. They can be the centerpiece, or they could just add a splash of color on one side! I used my blue and white vases, made a simple arrangement with these beautiful white faux peonies, and simply added a pop of red!
You can also use any white, blue, red, or even clear vase! These are a few of my favorite vases:
Also to add an "extra touch", use some colorfully styled accents such as ribbons, streamers, or bows along with various types of greenery depending upon what grows best at different times during each.
5- Create Elegant Patriotic Centerpieces By
Serving Red Fruits or Berries or Fruit Salad
A patriotic way to include fruit in your July 4th menu is with fresh red fruits like cherries or strawberries. They represent stars in the sky and can be a fun addition to any meal!
I also LOVE fruit salad! Make a red, blue, and white fruit salad with some blueberries, raspberries, strawberries, and make a cute design with delicious, whipped cream on top!
6- Choose Red or Blue Drinking Glasses
I love colorful drinking glasses, especially in the summertime! I put these beautiful clear drinking glasses with gold design on our last year's table.
After our table was set, I felt something was missing…! That was the RED or BLUE drinking glasses! That is why this year, I made sure to order some fun "patriotic" glasses!
I got these red vintage glasses from Amazon! I love the design and I think they are perfect for the 4th of July, Christmas, Memorial Day, or any other celebrations that you want to add a "pop of red" to your table!
7- Create Elegant Patriotic Centerpieces By
Adding "Mini Flags" To Your Flower Arrangements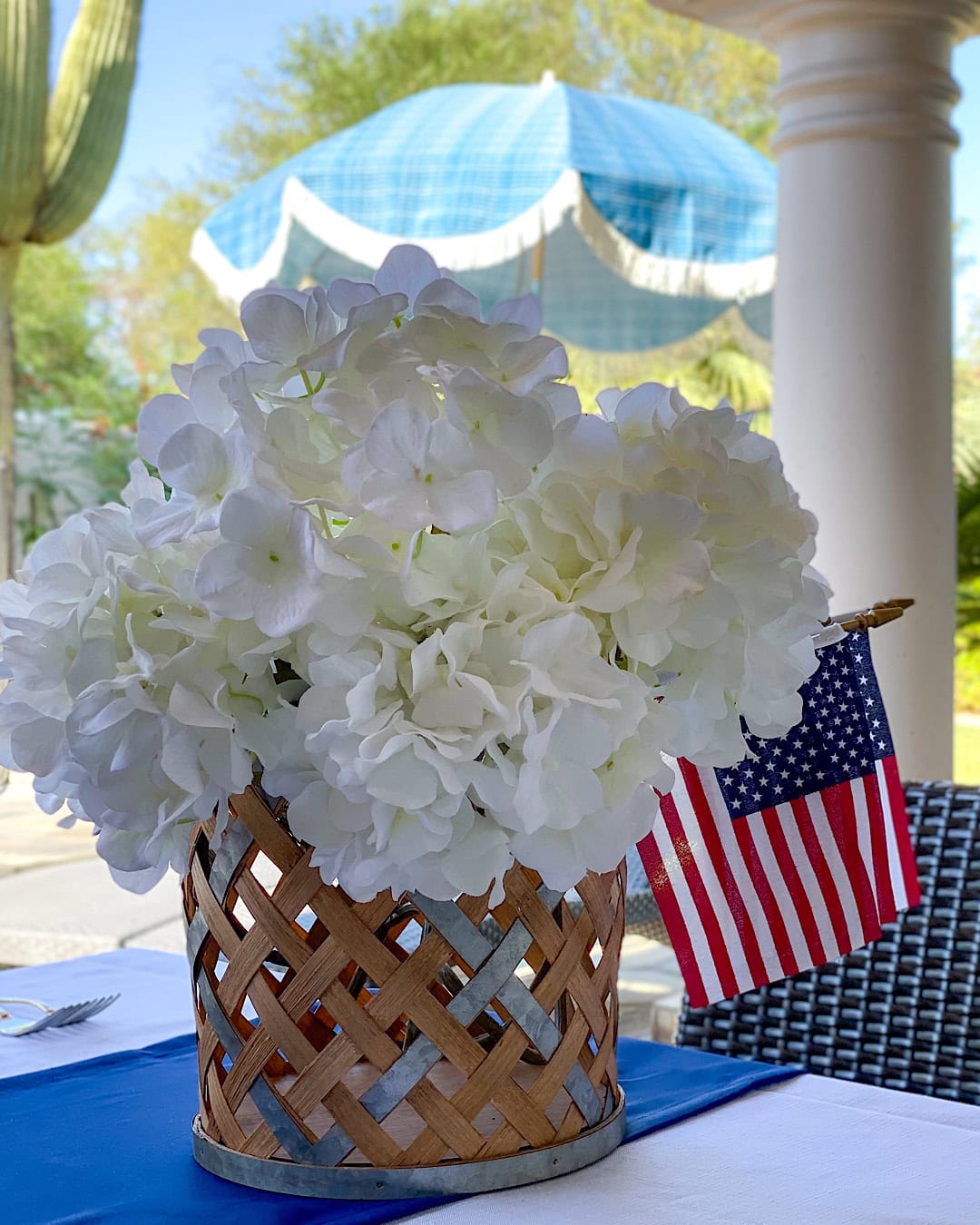 Regardless of your flower arrangements (using fresh or faux flowers), adding mini flags always helps to give a festive look to your table! You can buy a cute weaved bamboo basket, put some white or blue flowers in it and simply add a few mini flags to your flowers!
8- Get a Cute US Flag Mason Jar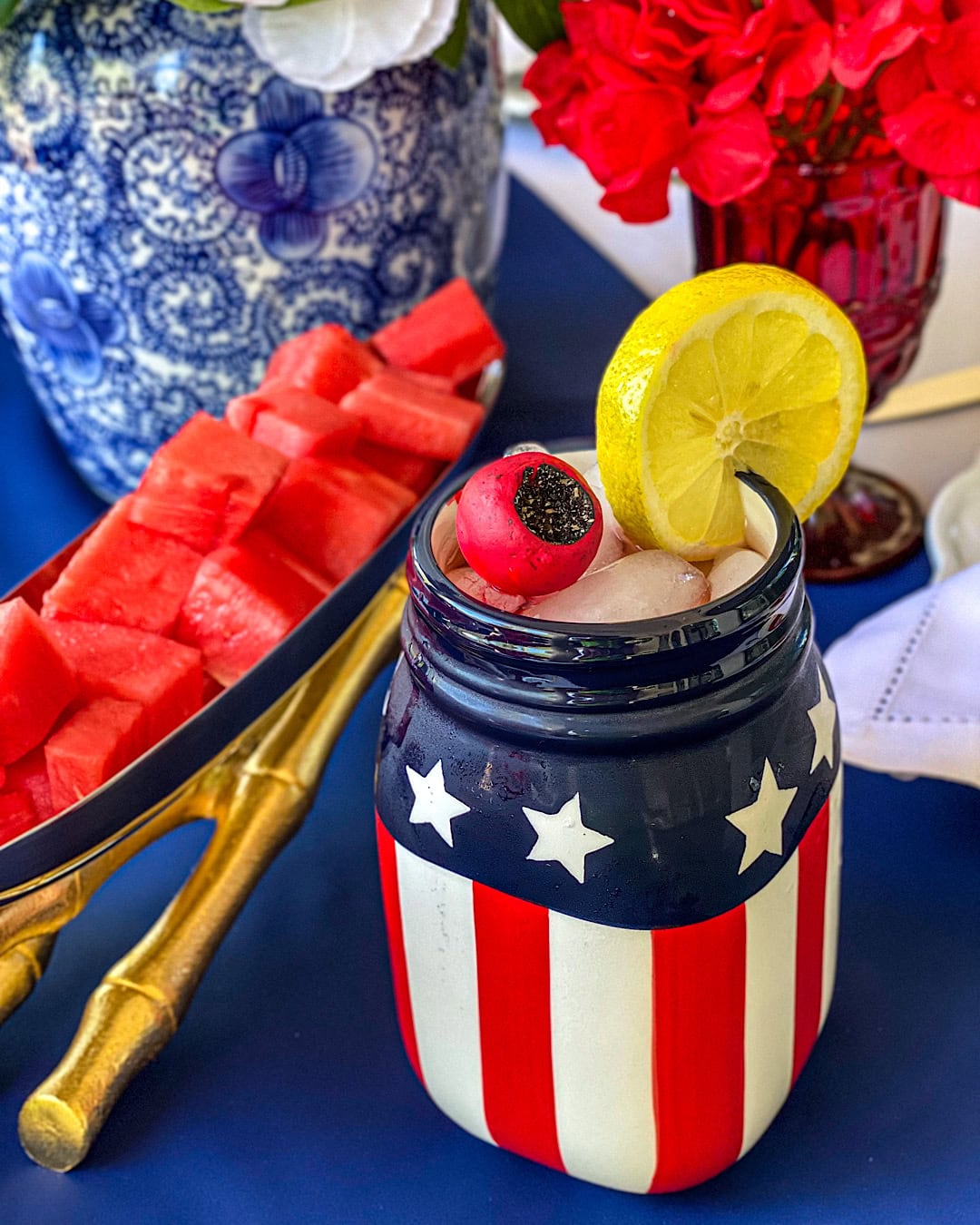 I used this cute US flag ceramic Mason jar for some refreshing drinks on our table! I think serving your drinks in US flag Mason jar is one of the fun and unique centerpiece ideas for your table.
I got this on Amazon but they are completely sold-out! You can get a similar style and use it as a small little vase for your flowers, or fill it up with candies, or put mini-US flags in them!
They are so cute! You can also use other decorative glass canning jars on your table! If you decide to buy glass canning jars, you can add US flag ribbons around them and make them look really cute!
9- Make Red-White-and-Blue Ice Cream or Sorbet
This was Valentina's idea last year! Hahaha! Since she loves ice cream so much, she asked me why we don't make a "red or blue" ice cream as one of our 4th of July desserts! LOL! I thought that's a great idea!
While I have no sorbet or ice cream on this table (LOL), but I think putting some "red" sorbet (like raspberry or strawberry flavor), or vanilla ice cream and design it with red berries or cherries, is a great idea! I also think cherry cheesecake popsicles is another great option to consider!
10- Celebrate July 4th by Serving BBQ Ribs on A Platter with Baked Beans, Coleslaw, and Cornbread
There are so many great 4th of July barbecue recipes online, however, I think burgers and BBQ ribs are some of the most popular ones! If you want to take it easy, put some BBQ ribs on the platter, serve them alongside baked beans, coleslaw and cornbread.
From the basics (coleslaw, pasta salad and corn on the cob,) to more "advanced" dishes, I want to share some of my favorite dishes for this 4th of July celebration with you:
When looking on Pinterest, there are so many other great 4th of July centerpiece ideas and many DIY centerpieces that you can do for your table decoration than just these ideas!
With a little creativity and some DIY skills (or store-bought supplies), you can create an amazing centerpiece and a beautiful table to sit, eat and enjoy some friends and family time! Love to hear that which one will you try?
Happy celebrating the 4th!
Love,
Sherry
Shop This Post Or Similar
This post may contain affiliate links, which means that I may receive a commission if you make a purchase using these links.





Sherry, xoxo