I want to share how happy I am about my experience working with our sponsor, Behr Paint. I am excited to share some "before and after" pictures of our home exterior paint as well as our experience with Behr Paint exterior products!
It is only 35 days to Christmas and only 41 days left to say goodbye to 2020, one of the worst years of the century! (LOL). Each December, I feel sad saying goodbye to the year that is ending! This is the only year that I am counting days to say hello to 2021!!! Hahaha! I am looking forward with optimism about making some fun vacation plans as well as a few home projects for 2021!
Entering the holiday season, I wanted to add a "fresh look" to our house for a "fresh start" in 2021! We changed our home interior paint recently. At the time I was 9 months pregnant with Alina and we ran out of time to paint our house exterior.
Matt and I talked about it over this summer and decided to move forward with our house exterior paint project. We thought painting would be one of the best ways to update and freshen up our home for the holidays! I honestly think exterior painting is one of the least disruptive home improvements, simply, because you do not need to leave your house or move around furniture like when you paint the inside of your house.
Last year, when we were evaluating different paint brands for our interior paint, our painting company suggested that we use Behr paint. They shared their positive experience with Behr's quality products. We also did a lot of research online and evaluated different several options. Based on our research, we finally decided to go with Behr paint and we were very happy with our choice.
Since we were very happy with Behr for our interior paint, we did not consider any other paint brands for our exterior paint. The decision was easy, we chose the Behr Exterior range!
Getting Our Home Ready for the Holidays with New Behr Paint Exterior
Painting your house before your guests arrive for the holidays is a great way to get into the holiday mood and spirit. When I say painting your house for the holidays, I do not mean painting the house in holiday colors (like green, red, gold…) ha ha ha!!! Choose beautiful natural colors that look amazing year around. The fresh paint can help your holiday decorations pop more!
Some people on the other hand, prefer to paint some rooms (like a living room or bedrooms) with warm and comforting colors right before the holiday season to make it look cozier for the holiday season.
The first thing you need to do is to decide the size of your paint project, the time frame before the holiday season, and your budget. The type of paint you need to choose is another important decision to make when considering your painting project. High quality paint will last years! It is important to choose a good paint brand. Regardless of if you want to paint your house exterior or the interior, or both, I am going to share some tips on how to choose the right color paint for your house!
Tips on Choosing Exterior Paint Color
Make Sure Your HOA Approves Your Colors: One of the first things to keep in mind when choosing an exterior paint color is if you live in a community that involves an HOA (Homeowner Association). You may not be able to choose your "favorite" colors and you will likely be restricted to a color combination that the HOA has predetermined. Since we do live in an HOA community, we had to contact our HOA to get the "approved colors". Our HOA only allows a few different colors for the body of the house and a few different colors for the trim and pop outs.
Make Sure Your City Approves Your Color: We live in Scottsdale, Arizona. The city of Scottsdale does not allow the color "white" for home exterior. I love bright exterior house paint colors. Therefore, I wanted a pretty "snow white" color for our exterior. However, we had to choose "off white" for the body of house and "off beige" for the trim and pop outs due to the city color limitations. I will share the color names and shades that we chose for our home exterior with you in this post.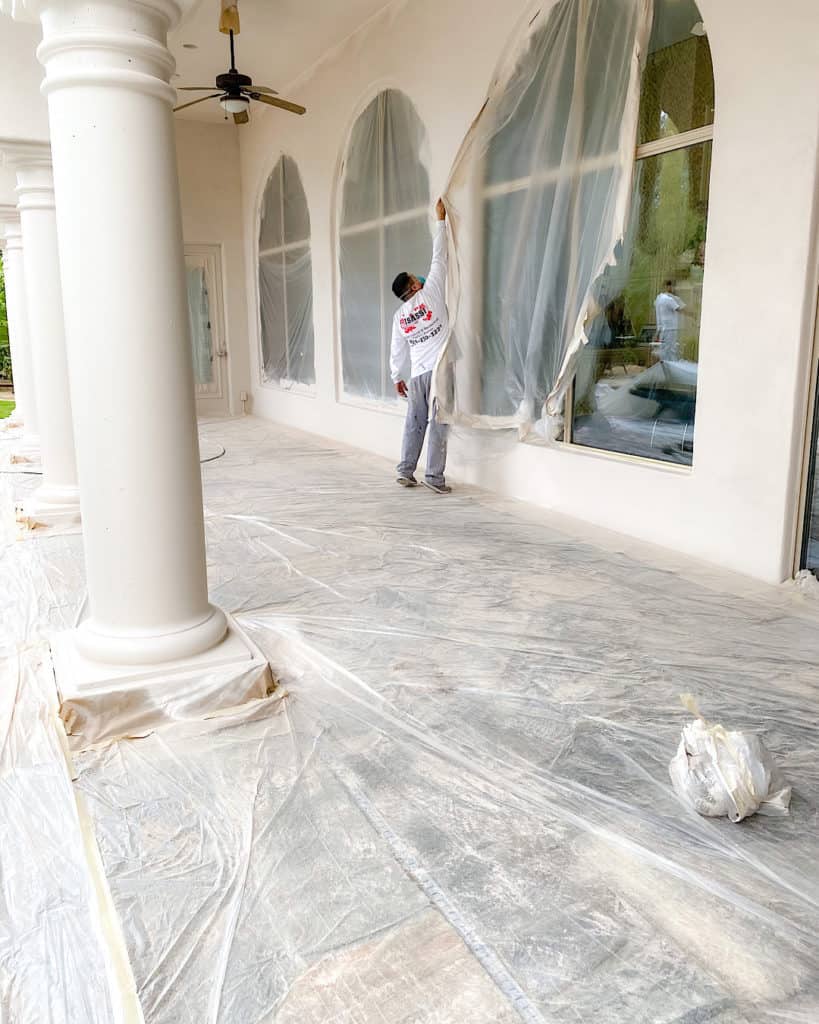 Light Colors Make A Building Look Larger: There is no wonder that most grand estates are often painted white. White makes your house to look larger. White is the favored color for classical architecture. You can use darker colors for trim and white for the "body of the house".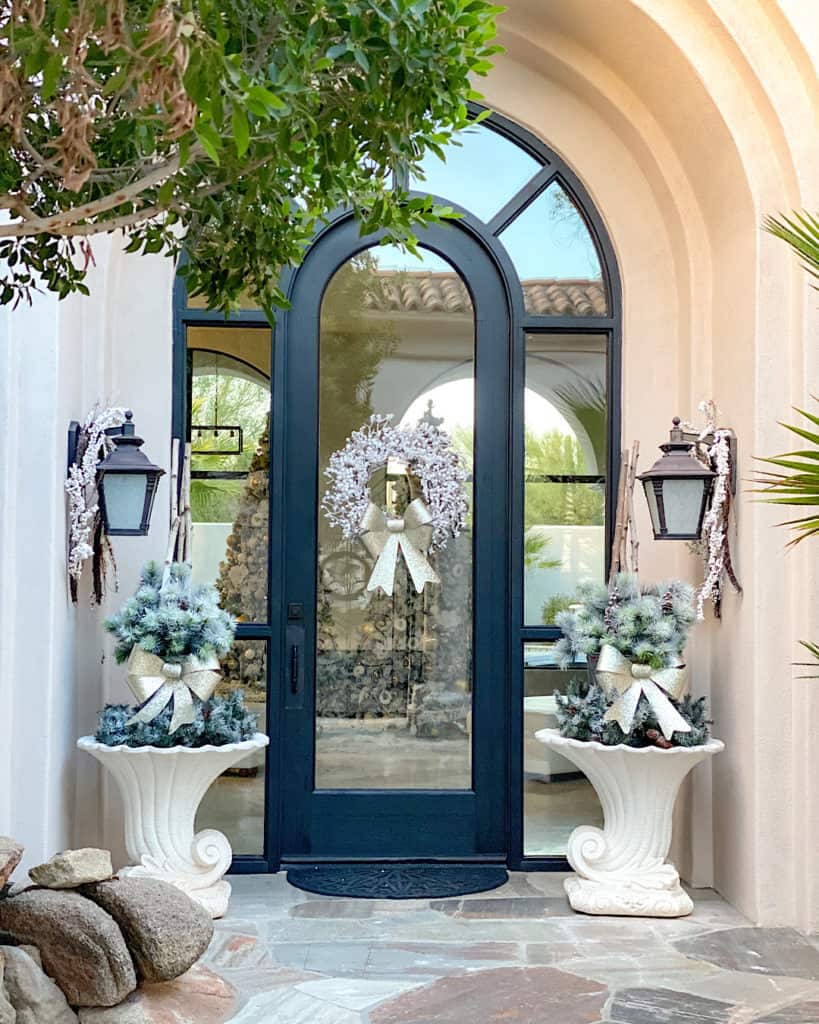 Consider Exterior House Paint Durability: This is especially important if you live in extreme climates. Hot temperatures in Arizona (Scottsdale/Phoenix), last almost 5 to 6 months of the year. Therefore, it is crucial to choose a durable and long-lasting paint. This also applies if you live in an extreme cold climate. Either way, always consider to a long-lasting paint so you do not have to re-paint your house every couple of years.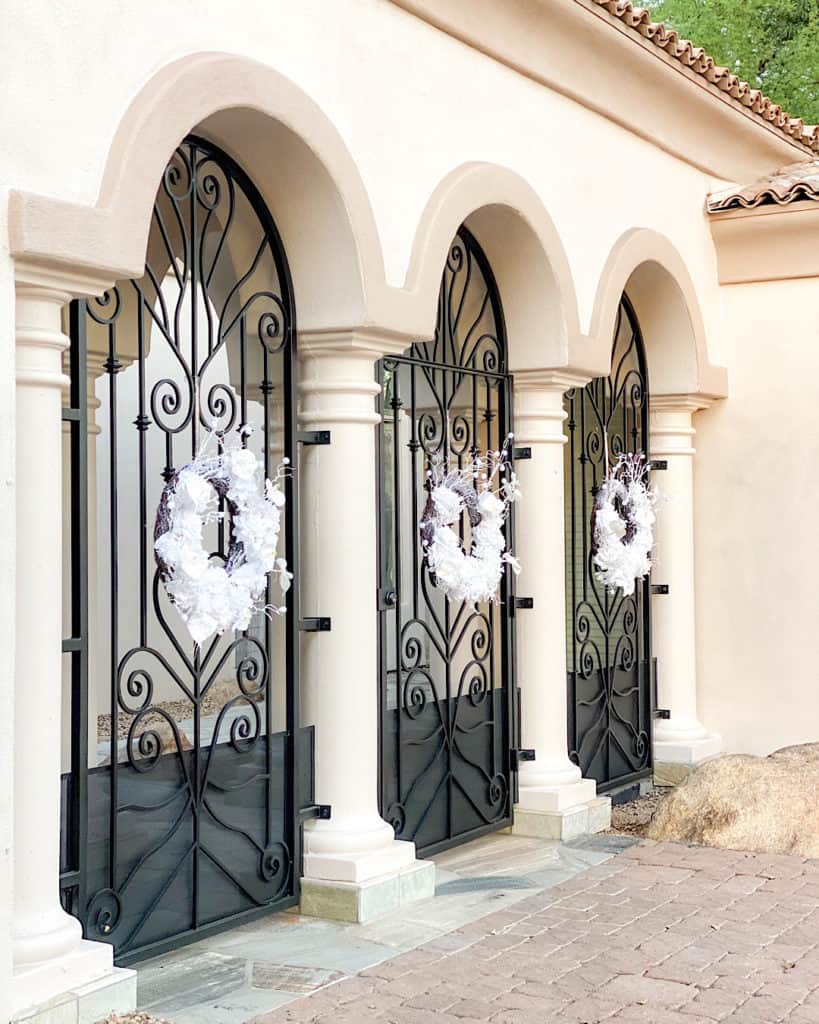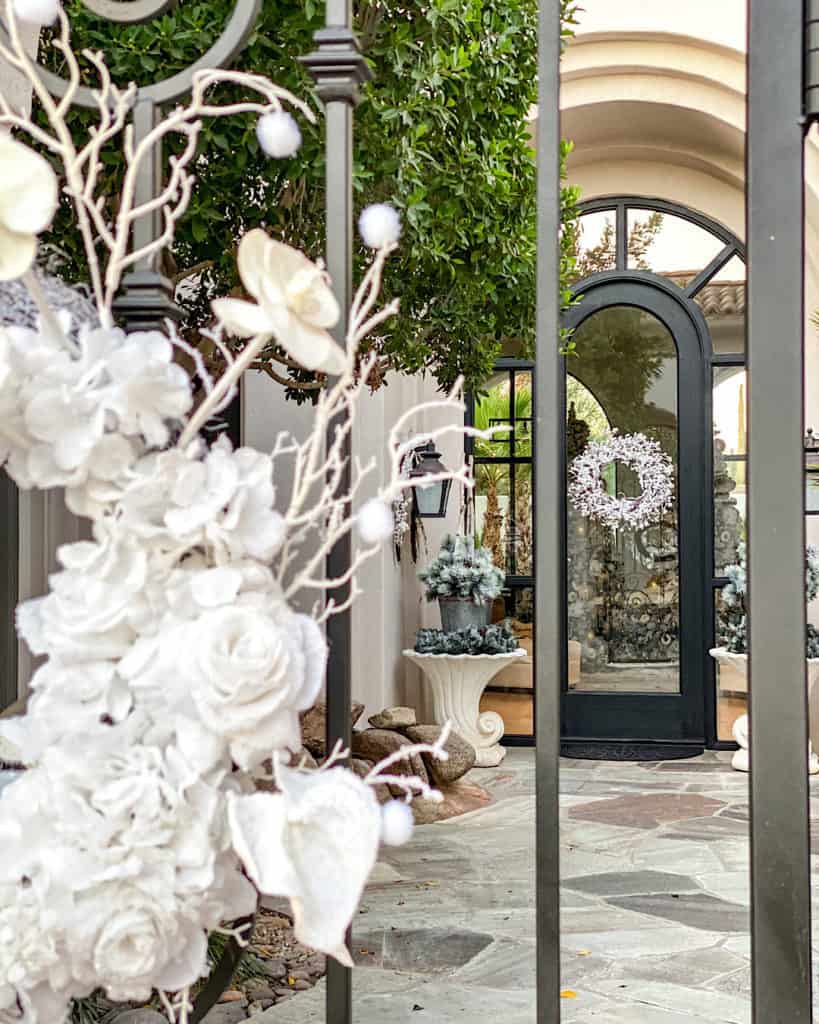 Consider Your Roof Color, Garage and Other Accent Colors: When deciding about the new paint color, you will need to consider the color of your roof, your garage and other arches and accents. If your roof has a natural color or even black, you do not have to worry that much about color clashing. However, if you have roof with slight red undertones or brown, you may have to pay more attention to your exterior paint color choices.
Why We Chose Behr Paint
Since we were very happy with our interior paint choice we did not look elsewhere when choosing a paint brand for our house exterior. One of the reasons we loved Behr paint is because you can clean them so easily! For water-based paints, you can always clean your walls with soap and water. For oil-based paints, you can use mineral spirits.
The other thing that I love about Behr products is that they have numerous varieties of colors, shades and finishes to choose from! You can easily look at the Behr paint color chart or use the Home depot Behr paint visualizer to make a better decision on your interior or exterior paint colors.
I love how easy and accessible the Behr paints are at Home depot! Their employees at the paint department are well trained about Behr products. I got several samples first, we tried them on our walls to make sure we liked the shades before we made our final decision about the colors. Lastly, I love Behr paint exceptional stain-resistance and durability.
The Colors We Chose for Our Exterior Paint by Behr
Behr provided us their signature Behr Marquee paint product for our project. Marquee paint guarantees coverage with only one coat which will save time and extra labor costs as the primer is integrated. Additionally, it has advanced stain-blocking which is especially helpful if you have kids. This high quality paint is color fading and dust resistant which is very important to us living in the hot Scottsdale AZ desert. These are the colors that our Homeowner Association approved. We are very happy with our choices and the final results. As I mentioned above, Behr offers varieties of colors, shade and finishes to choose from!
The Colors We Chose for Our Exterior Paint by Behr
Paint Brand: Behr Marquee
Sheen: Exterior Flat
Color Name& Color Code:
For the main color we chose Behr "White Trade" Exterior- color code: (DE1050).
For pop-outs/ trims we chose Behr "Hedge Hog", Exterior- color code: (DE1052).
For the metal front gate, we chose the Behr "Black Direct to Metal", Exterior.
For our wooden front door, we chose Behr "Black Matte Exterior".
For our wooden front door (inside the home), we chose Behr "Black Matte Interior".
Now that our house interior and exterior are both painted, I am excited more than ever to make our home ready for the holidays! If you do not have time to paint your home for the holidays, you can always paint it in the beginning of the year for a nice and fresh look for the new year! And of course I highly recommend the Behr Paint Exterior range!
Happy Holidays Everyone! And please check out my post on my interior decor tips for the holidays too!
These are more "before and after" pictures!
Sherry, xoxo