Happy "almost" Valentine's Day everyone! Finding the perfect elegant Valentine's Day Decor is a MUST to celebrate Valentine's Day! Adding festive and fun decor to your home isn't hard to do at all. I LOVE to decorate our home for different holidays! In this post, I would like to share a few simple decoration tips with you, so you will be all geared up and ready to decorate your home and design an elegant Valentine's Day table display! Use these simple Valentine's Day home decorating ideas to add fun and flair! Your house will be just as ready for the day of love as you are!
This post will show you the best tips to create an elegant Valentine's Day decor for your table display!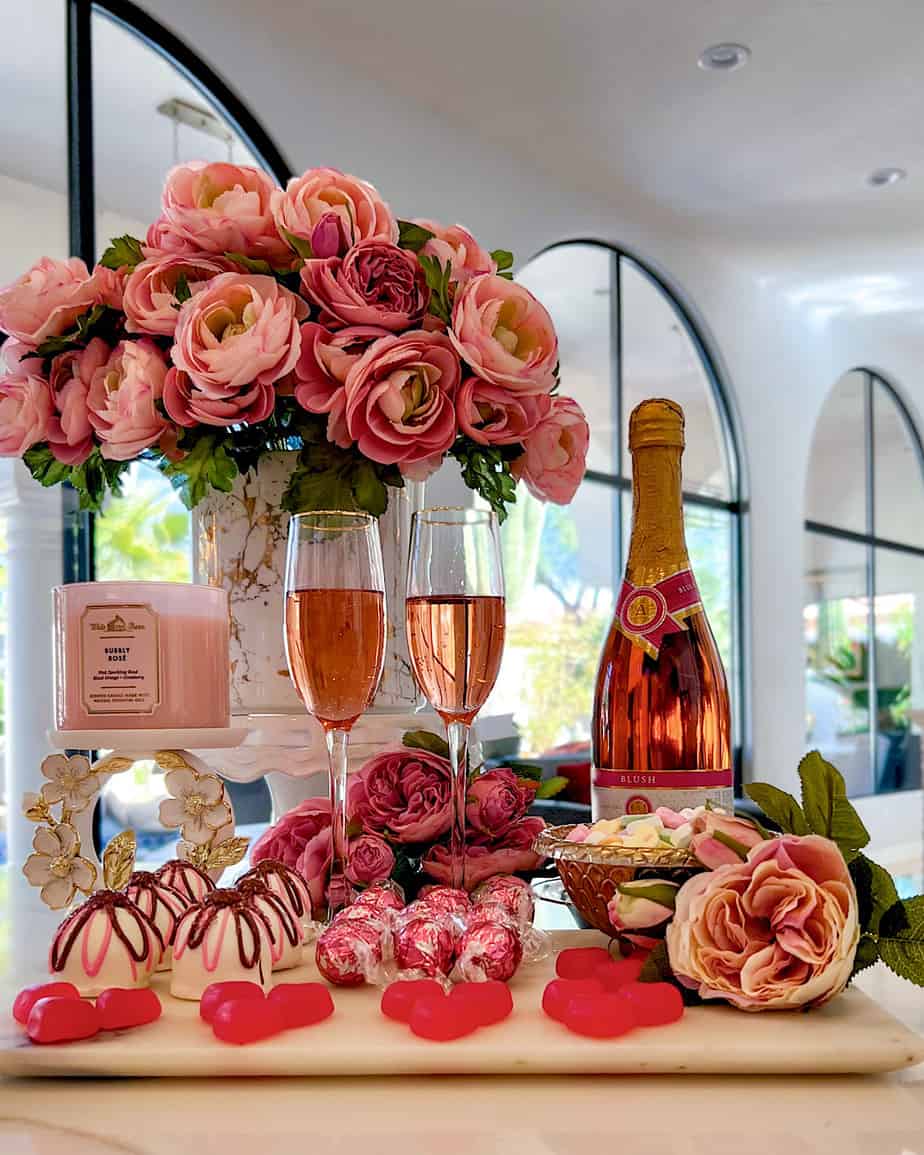 Elegant Valentine's Day Décor Tips
Love is in the air! You can easily add a touch of elegance to your home this year by using these simple tips! You can create a sophisticated look for your Valentine's Day celebration and transform your home into a romantic retreat in no time!
1- Start with Red or Pink
You can't go wrong with adding red or pink to your house! Those are the two main colors to celebrate the day and can really be a great way to add some glam Valentine Decor. You can use red and pink flowers, red and pink candies, or even red and pink cut-out hearts to sprinkle out all over the room. Anything that has those two colors in it is fair game for modern Valentine decor.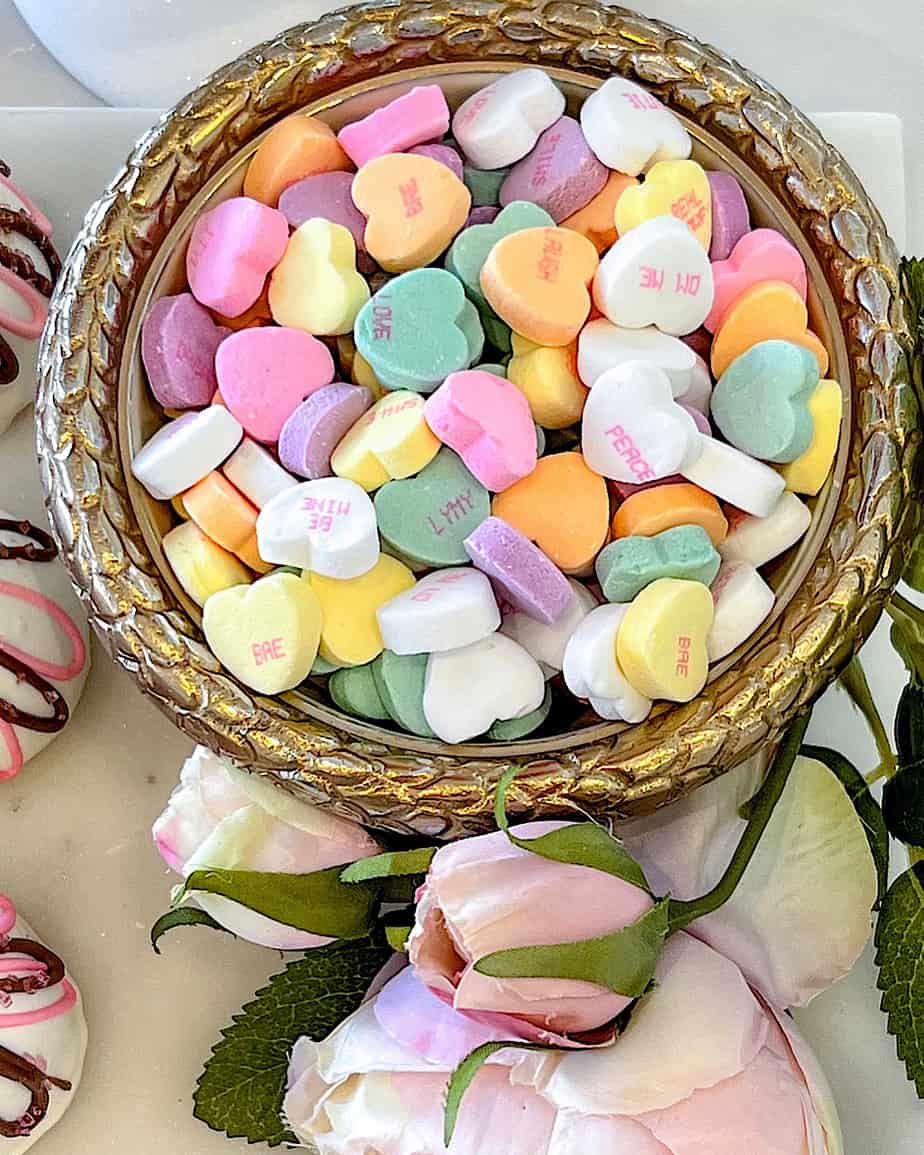 2- Arrange Fresh or Faux Flowers in a Vase Using Red or Pink Flowers!
On Valentine's Day I always love to "give and receive" fresh flowers (especially roses)! However, when it comes down to decorating our home for Valentine's Day, I believe using faux flowers can be stunning as well! I have several gorgeous faux peonies, hydrangea bouquets, orchids and so much more other elegant faux flowers that I love and use for my seasonal decorations.
Find a beautiful vase to display them in and set them on your table or mantle. The great thing about using faux flowers is that they'll last for a really long time! No more having to throw away flowers that dry up! You can also buy a beautiful faux flower arrangement that you do not need to worry about any arrangements!
For example, this, this and this artificial peony arrangements from Etsy are simply perfect for your table display! If you want something more luxurious, you can get this or this silk slower arrangements from Nieman Marcus!
Related Post: 9 Valentines Gift Baskets for Her That She Will LOVE!!! – RB Italia Blog
3- Add Candles and Candelabras to Your Centerpiece
Candles add such a warm feeling and glow to the room! I really like the look of gold and silver candelabras, but you can easily add in whatever works for you. I'm in LOVE with adding candles of different sizes to the top of the mantle! I just think that it brings out a fun and glamorous look for Valentine's Day.
Related Post: Classy Elegant Outfits for Valentine's Day – RB Italia Blog
4- Add Candles All Over Your Fireplace
Candles are the perfect way to set a romantic and loving mood. You can also use candles as a fun way to add a heavenly scent to your home as well. With so many candles available to choose from, focus on ones that are pink or red or have something lovey-dovey written on them. All that's left to do is light the candles and set the mood! Most candles last anywhere from 4-10 hours once lit so they should be able to last all day long without a problem. You can also use battery operated candles (which I LOVE)!!!
Related Post: How to Set-Up an Elegant Valentine's Day Dessert Table – RB Italia Blog
5- Setup an Elegant Dessert Table (Include Pink and Red Macarons)
Bring on the sweets! Sweets is what Valentine's Day is all about! The good news is that there is NEVER a shortage of desserts that are perfect for sharing (or buying and enjoying yourself)! Pink and red macarons would be totally delicious and would look great on your Valentine's Day dessert table. Truffles and cake pops are also super sweet treats as well.
I'm also a huge fan of cupcakes, fudge, and cookies, too. Basically, if it's sweet, you can count on me to eat it (LOL)!!!
A dessert table loaded with sweets is a delicious way to decorate the house.
Related Post: 2021 Valentine's Day Gift Ideas for Her – RB Italia Blog
6- Gourmet Chocolates
Speaking of sweet treats, don't forget the gourmet chocolates. This is a day to splurge and get the good stuff! Gourmet chocolates filled and made with only the best ingredients are a truly special gift and awesome focal point for your decor.
Related Post: Valentine's Day Gift Ideas ($50- $300) – RB Italia Blog
7- Rose Bubbles Are Always a Good Idea!
There is always space on your decorating list for Rose Bubbles! Perfect for sipping, drinking, and cheering one another to celebrate the day of love. An elegant drink table can be a simple and effective way to add a fun look to your home.
Related Post: 14 Things I LOVE for Valentine's Day – RB Italia Blog
8- Add Texture with Valentine's Day Runner
(Velvet or Silk Runners Are Perfect for Valentine's Day)
Texture is a simple trick for creating a layered look in a room. Velvet and silk are beautiful textures that would be excellent for your home decorating needs. Line the table, the mantle, or even have lighter fabric draping over the lamp. As long as it's not a fire hazard, it's all good to use!
Related Post: Fun Things to Do with Your Kids on Valentine's Day – RB Italia Blog
9- Create an Elegant Red or Pink Rose Garland for the Fireplace Mantel
I am all about getting a bit "crafty" for the big day (haha)!! You can make your very own beautiful rose garland or plan early and buy some Esty valentine's day home decor! Both are excellent options and totally up to you! If you can plan and get started ahead of time, making your own Garland would be a super cute addition to your home!
Related Post: Valentine's Day Outfit Ideas 2020 – RB Italia Blog
FAQs
Even though it might not seem difficult to decorate your home for Valentine's Day, there are some common questions that people tend to have. I gathered them up and answered them for you in case you had the same questions, too!
How can I decorate my house for Valentine's Day?
There are several choices, but ultimately it is up to you! You can go for glam Valentine decor, modern Valentine decor, or high-end Valentine decor or minimalist decor! All are doable, awesome, and certain to make the day super special.
How do you make a romantic room for Valentine's Day?
In my opinion, it's a combination of love, thought, and planning. Adding candles, rose pedals bedspread, champagne, truffles, canopy curtains, rose garlands are all easy to setup and great ideas! That combination will ensure that you have a perfectly decorated room that will look stunning no matter what.
When should you decorate for Valentine's Day?
I start decorating for Valentine's Day no later than Feb 1st. I am all about decorating early so I can get into the "holiday mood". Some people start decorating their home for Valentine's Day from mid-January and they keep it all the way until Feb 15th (one day after the V-Day)!
How do you decorate a room with simple things for Valentine's Day?
You really just need to remember that simplicity is sometimes the best! You can add couple of cute Valentine's Day pillows and throws to your sofa. Or design a simple bowl of Valentine's Day chocolates and truffles and add couple of flowers to the bowl. You can buy one or two adorable red or pink coffee mugs and create a fun little Valentine's Day "coffee bar" in a corner of your kitchen…. and many other little simple decor ideas that do not involve a big budget or an elaborate decoration!
How can I make a romantic night for her at home?
All you need to create a romantic night at home is a good bottle of wine or champagne (or other simple beverages if you do not drink alcohol), play your favorite music, light the candles, cook together, watch your favorite movie after dinner while enjoying some chocolate covered strawberries and a few sweet treats! Simply, all you need is someone that you love to celebrate with, and no distractions. Oh – and great home decorations as well!
What are some romantic ideas?
Thinking outside the box is always romantic! While I LOVE the idea of decorating inside the home, don't forget to take the decorations outside for some fun outdoor valentine's decorations as well. You can set up an outdoor movie with a popcorn bar or even a cute dinner table outside under the stars!
This post was all about sharing easy tips to create an elegant Valentine's Day decor for your table display!
No matter how you choose to celebrate Valentine's Day this year, I hope that these ideas will help make your table display both elegant and memorable. Have fun with it and happy Valentine's Day!
More Valentine's Day Posts
Don't forget to check out my other gift ideas and holiday suggestions for even more Valentine's Day fun!
Sherry, xoxo