Happy holidays everyone! I hope you are all enjoying this beautiful season! In this post, I'm going to share with you how to decorate a beautiful candy cane Christmas tree as well as decorate a fun candy cane fireplace mantel! There are only a few simple steps that you need to follow, and it will only require about 1-2 hours of total time investment. Then you will have your very own tree in all its' candy-striped glory! Hahaha!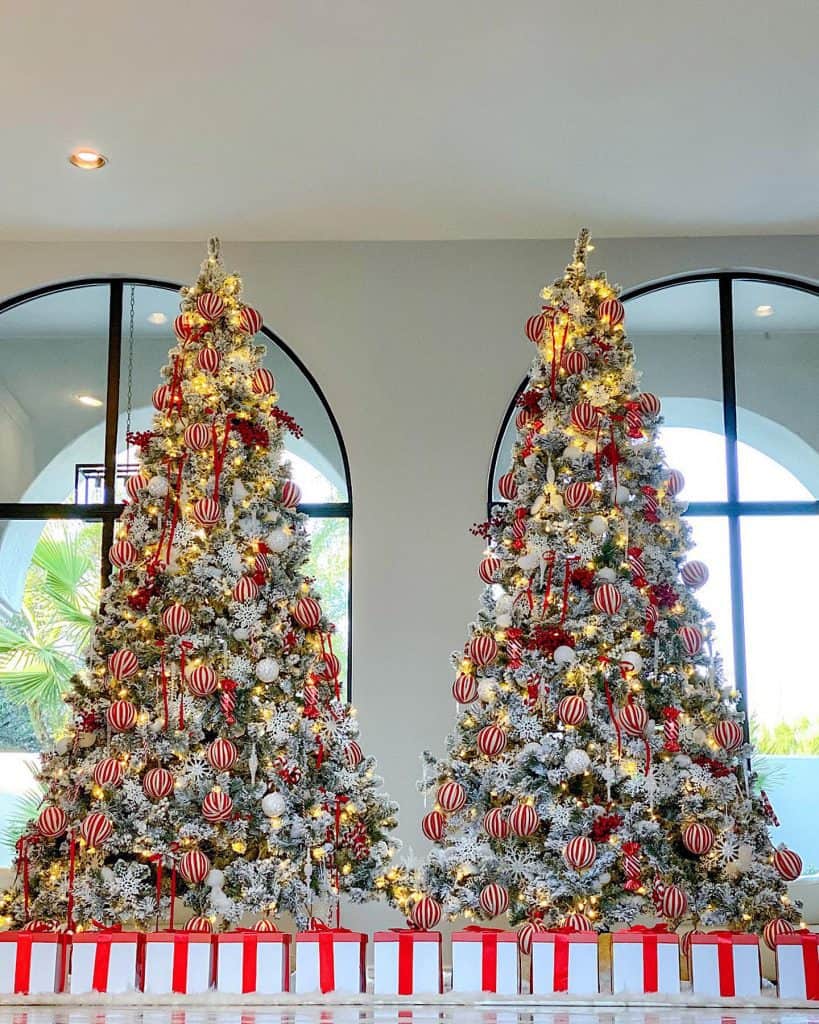 I can't tell you how much I LOVE this time of year!! Although it can be a little bit of a stressful time with all of the decorations, holiday shopping, wrapping, etc.… I love it anyway! Mostly because I enjoy decorating our home for Christmas and I feel like this is the perfect excuse to put my love for design to a fun use!! I also like to involve Valentina and Alina in decorating around the house!! (at least make them feel like they are "helping")!! hahaha
Why I Decided to Go with Candy Cane Theme This Year!!!
Every September I start thinking about what colors and themes to choose for our Christmas trees! While I truly loved and enjoyed decorating our last year's Christmas trees in "Gold and White" colors, I did not want to repeat the same decorations. I LOVE pink Christmas trees, however since I decorated our Christmas tree in pink in 2019, I was not quite ready to go back to "pink trees" again.
I was debating between the candy cane theme and two other themes… All of the sudden, one day on Instagram I came across the coolest candy cane Christmas tree decorations on display in an amazing-looking hotel lobby in London, England! I made my final decision and wanted to create fun candy cane Christmas trees!
I think candy cane decorations are a staple of Christmas that really help create a stylish and cozy atmosphere in your home. They have such a bright and festive look and add a chic twist to Christmas! This is why I decided to go all-in this year and theme my both trees around the red and white holiday classic!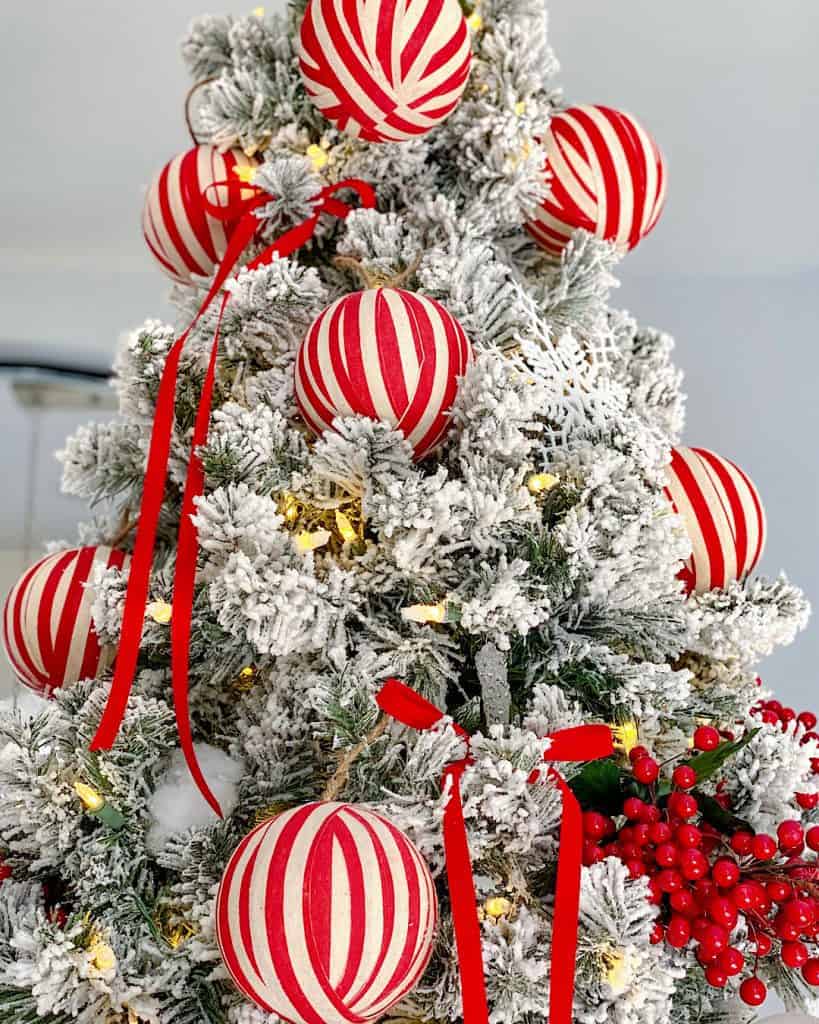 How to Make the Candy Cane Tree
Making a candy cane Christmas tree is all about decorating the tree with red and white from top to bottom! I made mine using striped design red and white ornaments. The red and white striped design was what I saw in that picture in the hotel lobby in London. I completely fell in love with them! You can choose any other red and white design (it does not need to be stripped)! I also LOVE the pink and white candy cane theme! If you do not want to go with a red and white theme, you can choose pink and white or even tiffany's blue and pink candy cane theme!
I was originally thinking to design our candy cane trees in tiffany blue and pink, however, I had such a hard time finding the right colors of ornaments. I decided to stick to the red and white color combination as it is more of a classic Christmas decoration anyways! As long as you use one of these color schemes, you will be able to create a beautiful and chic candy cane Christmas tree.
This post may contain affiliate links, which means that I may receive a commission (at NO cost to you) if you make a purchase using these links.
1- Choose your Christmas tree type (Firs, Artificial, Natural, Flocked, None-Flocked, etc.…): I love the look of flocked Christmas trees, which means the tree has a snowy, white look as if it was covered in snow. You can either buy one that is already flocked, or you can do the flocking yourself! Whether your tree is real or faux, you can create the snow-covered look by purchasing flocking powder online and doing a little DIY. If you do choose to use a flocked tree, the overall appearance of the snowy texture will really add to your candy cane theme.
2- Christmas tree lights: Our flocked Christmas trees are already lit-up. Therefore, we do not need to add any strands of lights to them. However, if your tree is not already lit-up, the best option for the candy cane tree lights is either solid white lights or alternating strands of red lights and strands of white lights equally! Make sure to wrap the light strands close to one another to create a bright red and white tree!
3- Choose your ornaments: Once you have the tree that you want to decorate you can start adding the candy cane Christmas ornaments! Choosing the ornaments is my FAVORITE part! When it comes to the decorations, there are a lot of candy cane Christmas ornaments that you can use. The way you choose to decorate your tree is entirely up to you, and you have plenty of options! The key to a candy cane Christmas tree is using red and white, (or pink and white). As long as you stick to those two colors you will have a candy cane tree in no time! For my Christmas trees, I used a mixture of red and white striped ornaments as well as some actual candy canes!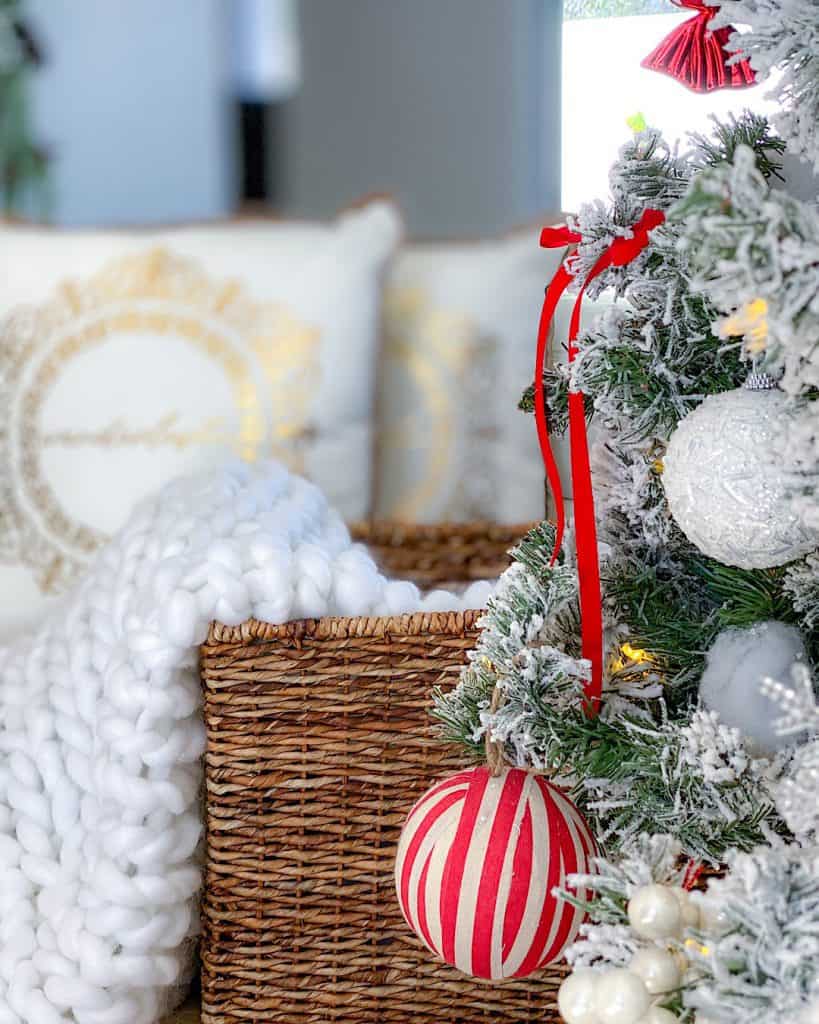 4- Add white snowflake ornaments: Adding white is important because it will help the red stand out and create that candy cane look you are going for. I love the way snowflake ornaments look on a Christmas tree, especially on a flocked one! You can use any style of white ornaments, as long as the white is evenly distributed around the tree. In addition to the snowflakes, I also used white balls with a bit of sparkle on them. Whether you want to use matte, sparkly, or shiny Christmas ornaments adding the touches of white throughout the tree will help create that overall look you are going for!
5- Add red holly berries: In addition to white, no candy cane tree would be complete without the red! Besides the color in the candy cane stripes, adding additional red holly berries will help balance the white that you've used so far. To go for a traditional Christmas look I love to use bunches of holly berries tucked into the branches. Adding holly berries to your tree adds a beautiful red color as well as a lovely texture!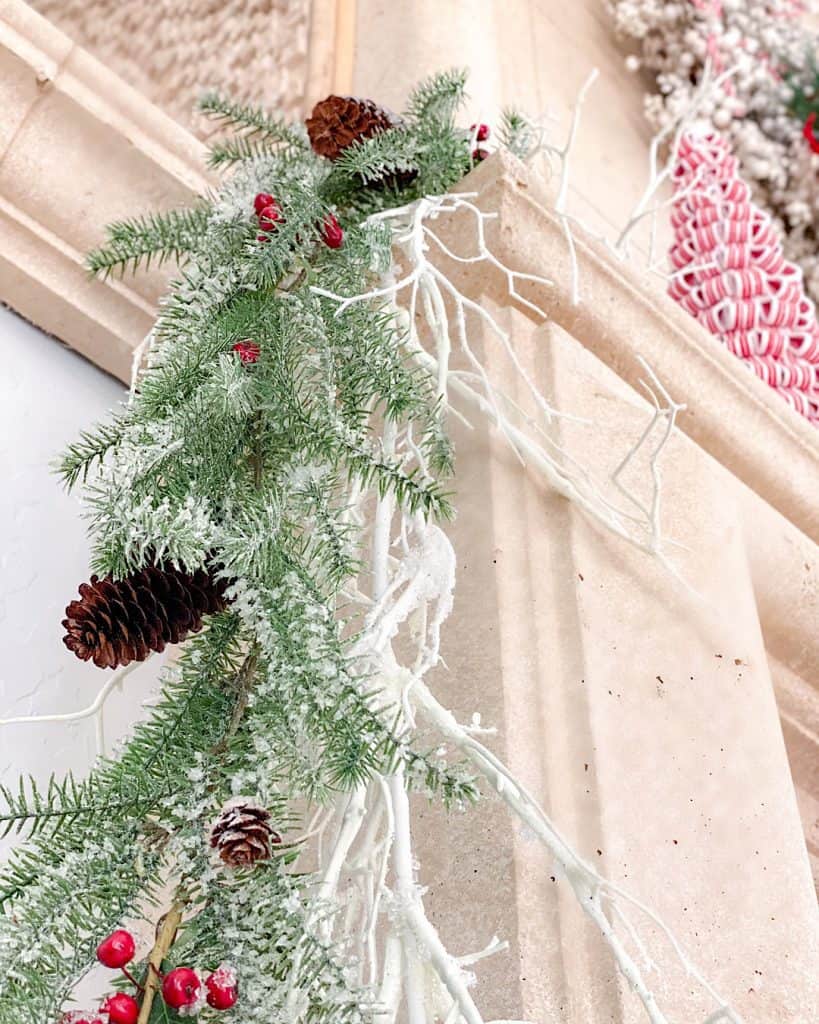 6- Add red or white ribbons throughout your tree: I LOVE adding velvet or silk ribbons and bows on my trees with the ends of the bow hanging neatly on the branches. Adding ribbons to your tree creates a beautiful texture to your tree and makes it look so elegant! I chose to go with solid red velvet ribbons as I did not want to have too many patterns competing! However, you could use a candy cane striped ribbon instead of a red one, too! It's entirely up to you!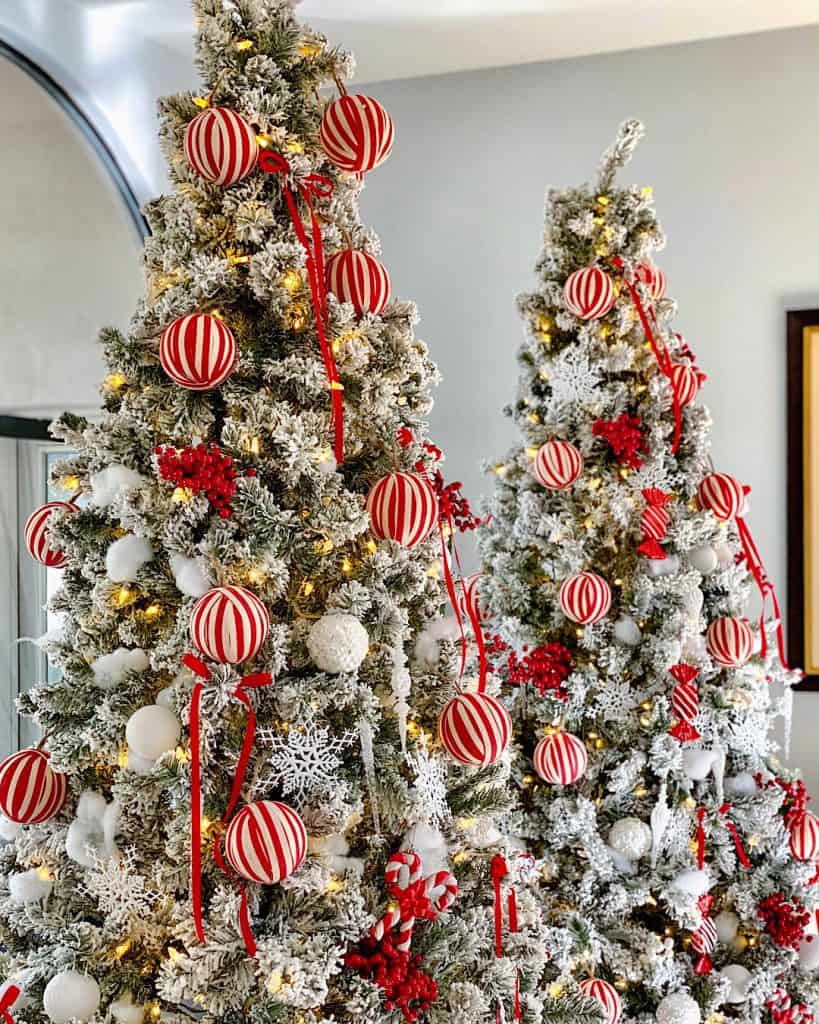 Now if you want to decorate your tree as I did, the next and final thing you will need is the candy cane tree ornaments! For my tree, I used large red and white striped balls, red and white striped glass candies, red and white candy ornaments, and actual candy canes. You can decorate your Christmas tree with as many or as few candy cane ornaments as you would like! You can even decorate with entirely red and white striped ornaments and ribbons. As I have said before, the only thing a candy cane Christmas tree needs to be is red and white – what you use is up to you!
Red and White Candy Cane Christmas Decorations
In addition to adding red and white candy cane ornaments to your tree, you can add candy cane decorations throughout your house! Having the same color scheme in different parts of your home really ties everything together and creates a very finished, polished look. There are a lot of candy cane decorations out there, and for our home, I used the red and white theme in a few different ways. We usually set up our Christmas trees by our fireplace. Hanging some candy cane striped stockings on the fireplace was a perfect way for me to tie together the design! I also love matching the red and white decorative candy cane Christmas trees (small and medium size).

Another great way to incorporate the red and white color scheme is through bouquets made with holly! I used my ceramic white vases, added some Christmas greeneries, and completed the look with some beautiful red holly berries! They are so simple, yet really stand out in our living room and kitchen!
DIY Candy Cane Wreath
Along with the candy cane decorations I've mentioned so far, adding a candy cane decorated wreath is the cherry on top! For mine I used an old white wreath that I already had and simply hung some miniature candy canes around it, then I placed a red bow on the bottom with a few small pinecones and bunches of holly. If you want to make your own candy cane wreath, there are multiple ways you can go about it! I did mine with one that I already had, but you can even make your own wreath entirely out of candy canes.
If you want to make your own using only candy canes, all you will need to do is grab a hot glue gun and some regular-sized candy canes. Simply glue the backs and hooks of about 20 or 25 candy canes until you've formed a circle, then add some ribbon or string to hang it with! You can use real or faux candy canes to create a candy cane wreath, just remember that if you use real ones, you will probably have to get rid of them before next year! (Or you may have a sticky and melty mess next Christmas)!! The fun thing about decorating is being able to make something your own. However, you decide to create a Christmas wreath it will surely make a great addition to your Christmas decor!
I hope that this post has given you some ideas on how to make this year or your next year's holiday season magical! I honestly think the Christmas season is such a great time to get your family and kids in the holiday spirit and create memories that will last them a lifetime.
You can start by creating your very own magical candy cane Christmas tree! This is a very fun, and easy-to-do craft project. It not only looks amazing, but it's also simple enough for even young children to participate in making it happen. I hope that this post has given you some ideas on how to make this year's holiday season magical!
Love,
Sherry
Sherry, xoxo
Shop This Post or Similar
This post may contain affiliate links, which means that I may receive a commission (at NO cost to you) if you make a purchase using these links.