Hello everyone!! Valentine's Day is just around the corner!! It's crazy how fast time flies…! I have already shared with you some of the best Valentine's Day gift ideas for him and her. But, let's talk about another very important part of this special day:
What are you going to wear on Valentine's Day?
And what are you going to do?
When it comes to what you're going to wear on Valentine's Day, there are SO many options for putting together the perfect outfit! Here are two of my most recent outfits for this Valentine's Day!! I can't decide which one I want to wear for the day this year. Maybe I'll just wear both!! (LOL!!) And keep reading for ideas on what to do on Valentine's Day!
Enjoy my guide on what to wear on Valentine's Day and I hope you get some cute ideas!
What to Wear On Valentine's Day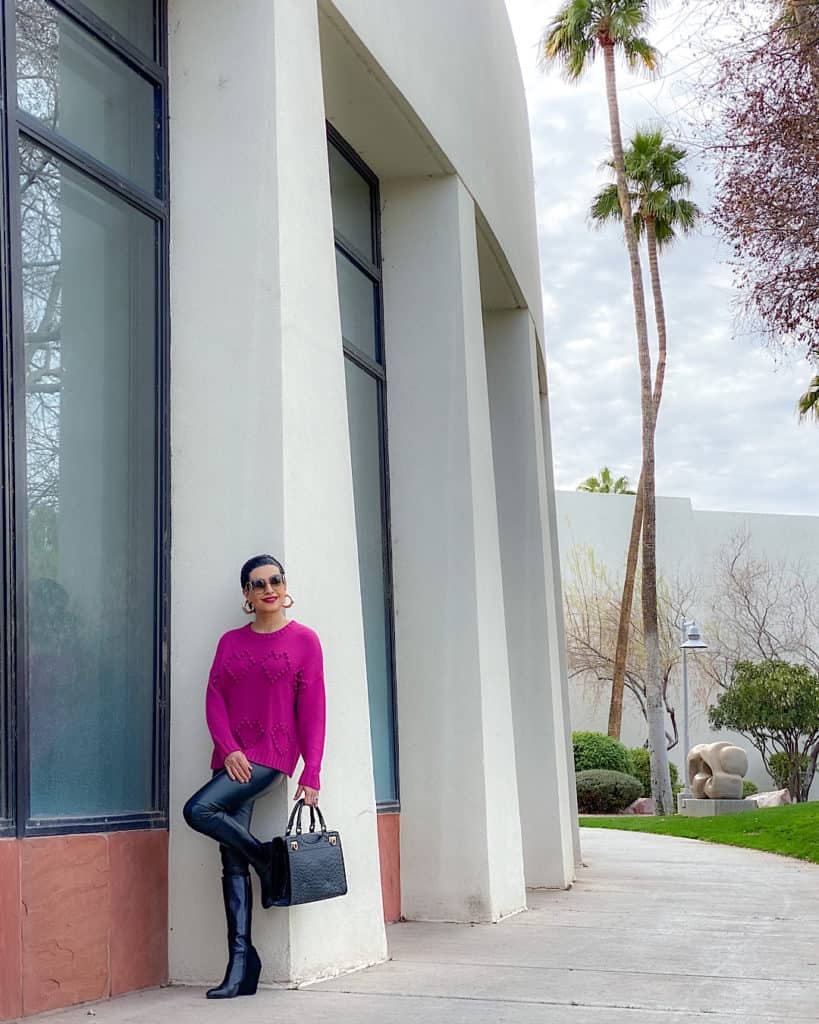 "This post may contain affiliate links, which means that I may receive a commission (at no cost to you) if you make a purchase using these links".
Shop This Look or Similar

My leather/suede boots and my ostrich handbag are from two of the Italian designers that we carried at our shoe store a few years ago! Since they are such classic designs, I love to wear them over and over!!! Unfortunately, these exact items are not available in the United States. But Fortunately, I have a couple of "replacement suggestions"! These Stuart Weitzman black wedge boots are so beautiful and on sale! There are also a couple of more affordable options, which are these and these cute booties. You can also get this beautiful black tote bag by Strathberry at Nordstrom. Or you can get this lovely bag from Mark & Graham and personalize it.
You can get these black faux leather leggings or these or these! The faux leather leggings that I am wearing is from Athleta and they are SUPER comfy! I totally recommend them! They are all great options! I also bought these cute medium size tube hoop earrings from Nordstrom over the Christmas holiday! My sunglasses are by Chloe. They are sold out. But you can buy the "newer version" of these Chloe sunglasses at Nordstrom. My heart shape sweater is from Nordstrom. You can get a similar look here.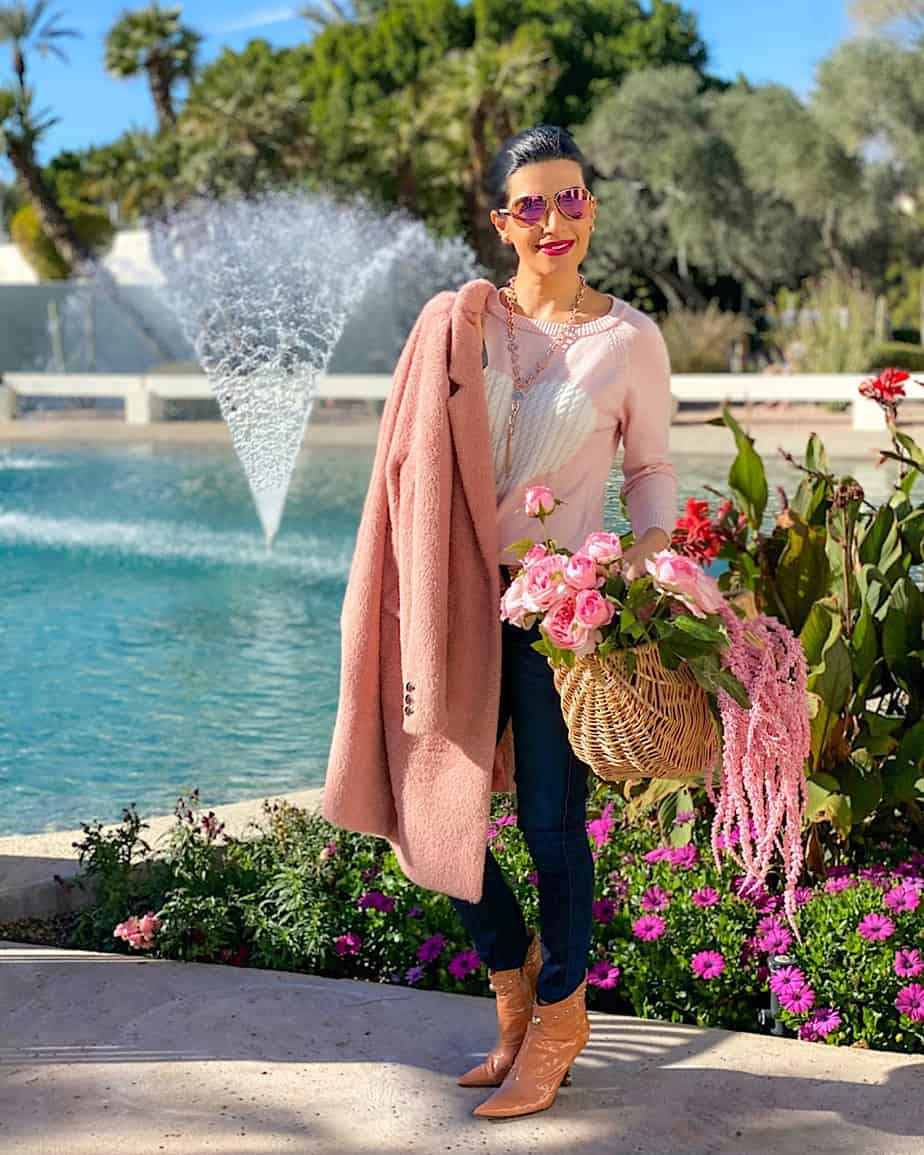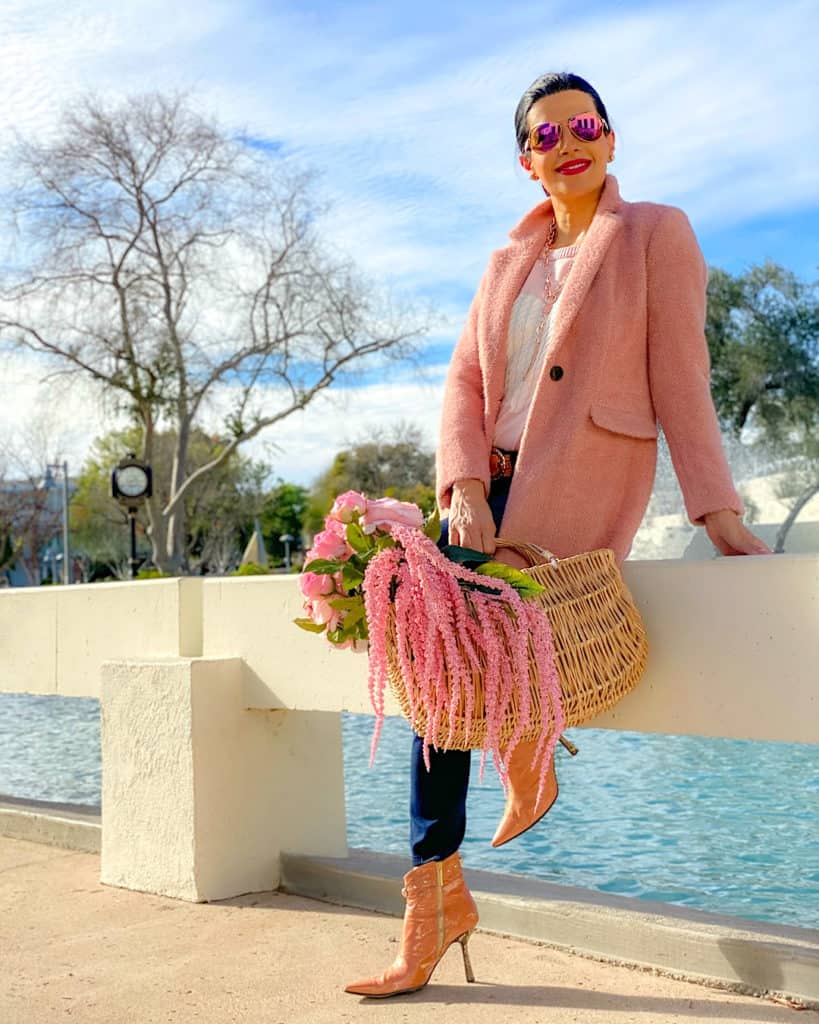 These dark blue skinny jeans are SUPER comfy and cute! I have three other colors of the same jeans! They are my "go-to" jeans! I highly recommend them! I saw this cute soft pink heart shaped sweater on Instagram. To be honest, I have mixed feelings about Amazon Fashion! Sometimes I find SUPER cute sweaters, tops, activeware or even cute clothes/ shoes for Valentina and Alina… But other times when I receive the products, they don't look exactly like the picture (this happens with some of my other online shopping, too). The good news is if you don't like what you get on Amazon, you can EASILY return it! Their customer service is incredible!
My shoes, handbag, and belts are all from our Italian shoe store. Since they are no longer available in the United States, I recommend these cute suede soft pink booties by Stuart Weitzman or for more affordable options (and still cute), you can choose these or these ankle boots by Schutz. I found this cute light pink coat last year at Nordstrom. You can get something similar here or here. My sunglasses are from Henri Bendel. You can get a similar pair here.
Shop This Look or Similar

While there are a few beautiful substitutes for the sold out pieces I am wearing this Valentine's Day, there are a million other ways you can style and dress for this fun and romantic holiday!! I like to mix it up and wear outfits that are a stylish combination of cute and classy. If that's the look you want to go for, then here are a few amazing outfit suggestions for you!!
How to Look Cute and Classy on Valentine's Day
There are SO MANY great options for Valentine's Day outfits for women. I usually like to wear a pretty, pink, red or white sweater with a gorgeous pair of heels. I love this mix of cute and cozy look. You can also get some outfit ideas for Valentine's Day on this post! While it doesn't get too cold here in Arizona, for those of you who live in places that snow, finding a cute and classy outfit for cold weather is a MUST.
What to wear on Valentine's Day if it's cold: If it's cold where you are, I HIGHLY recommend picking up a cute sweater, like some of the ones I'm wearing in my photos above!! I think that some of the best Valentine's Day sweaters by FAR are the adorable heart-shape sweaters. Such a cute Valentine's Day staple!
Here are some great choices for your cute and classy look this Valentine's Day:
This "Heart Me" sweatshirt is so cute, and GREAT for layering!
This super cute sweater from Talbot's is incredibly soft for Valentine's Days in, or it can work as a great outer piece! I LOVE the little "L'amour" at the bottom. SO adorable!
This "Love" sweater from Anthropologie is a great pullover for a more basic statement look!

Valentine's Day Outfit Ideas That Won't Break the Bank!
For some more affordable Valentine's Day outfits, Amazon has the BEST stuff! Also, they are SO FAST!! I know for me, any holiday takes SO much planning and preparation… and sometimes I just need something CUTE and FAST! If you need to get your outfit quickly and last minute this year, I always love Amazon Prime for fast shipping and amazing pieces. Here are some super cute Amazon Valentine's Day Outfits for Women:
This sweet and cozy pullover Valentine's Day sweater comes in multiple colors for any style! (I am wearing this one in the pics above!! Such a great piece!!)
I LOVE this chunky knitted cardigan!
For a more toned-down look, try this lightweight long-sleeve V-neck sweater.
Pair any of these sweaters with a killer pair of heels and a gorgeous shade of lipstick and you are ON YOUR WAY!!

A few of my favorite shades of lipstick for Valentine's Day are:


Romantic Valentine's Day Outfit Ideas to Wow Your Date!
If you are planning something fun and special with your significant other this year, whether it's a nice evening out and you need a dress for Valentine's Day dinner, or a nice picnic in the park, here are a few fabulous and romantic outfit ideas for a Valentine's Day date! For a hot dinner date outfit, I recommend a bold red dress with heels! SO gorgeous, and PERFECT for Valentine's Day!!
Here are a few great styles to choose from: This pretty lace ruffle dress from Nordstrom, and this sassy Noemi dress and Kerry mini dress from Revolve are all flattering and fabulous for a romantic evening!!

If you prefer "Pink" over "Red", then here are some cute choices for you! I love this beautiful turtleneck sweater dress from Anthropologie! I LOVE most sweater dresses! You can simply wear them with boots or heels and look great! I also love this and this blush pink dresses both from Revolve! They are both on sale and SO cute!

You can also buy a cute coat, faux fur cape or a jacket to complete your look and keep you warm!

If you decide to stay home and have a comfy and cozy Valentine's celebration with your partner or your family, these cute sweatshirts and sweatpants are the best! I love Old Navy's Pajamas and loungewear collections! They are So soft and comfortable! These sweatpants and sweatshirts are so cute and a perfect look for "stay at home" celebration! I also LOVE Summer Salt SUPER soft sweaters and cashmere! This and this are my favorite for Valentine's Day!

How to Celebrate Valentine's Day for Couples During COVID?
Now that we know what you're going to wear on Valentine's Day, what are you going to do? What is the best way to celebrate Valentine's Day for couples during COVID? While a nice dinner or a picnic are great ideas, you can also set up a romantic atmosphere in your own home to celebrate Valentine's Day without leaving the house!
So, how do you make a romantic evening? A few ideas for Valentine's Day at home are:
Pop some popcorn, dim the lights, and curl up on the couch to watch your favorite movie together!
Surprise your soulmate by decorating the living room with candles, Valentine's Day decorations, and chocolates and enjoy some quality time.
If you have a fireplace, sit out back, cozy up, and make some s'mores together!
Cook your significant other a romantic meal. Or better yet, do it together! Set the mood and light some candles and turn on some nice, romantic music.
There are so many ways to celebrate Valentine's Day at home. The ideas are endless! If you do decide to make dinner together, or surprise your romantic partner with a meal, you may be wondering, "what food is eaten on Valentine's Day?"
Chocolates and desserts are great for Valentine's Day (check out some of my favorite ways to set-up an elegant Valentine's Day dessert table!), but for dinner, you could make a nice peppercorn steak or roast chicken, and a fancy potato side dish. Or, you could make something fun, like different types of pasta! Spaghetti carbonara or fettuccine alfredo are always a hit! Or even a big fancy salad with all kinds of delicious veggie toppings! You could even make something new that neither of you have ever tried before!
If you DON'T feel like cooking, there is nothing wrong with finding some nice food delivery in your area for Valentine's Day. If you want to eat pizza and chill out on the couch instead of having a big fancy evening, by all means!!! Whatever you decide to do, and whatever you decide to eat, it's YOUR Valentine's Day!!
How to Enjoy Valentine's Day While Single During COVID
Just because you don't have a significant other doesn't mean you can't still enjoy Valentine's Day! There are SO many fun things you can do on this special holiday. If you are wondering what to do on Valentine's Day when single, then here are a few things you can plan for this wonderful and special day!!
Tips for celebrating Valentine's Day if you are single:
Invite some friends over and have a girls day! Watch movies, eat some snacks, and have fun with just the girls!
Create a relaxing atmosphere and have your very own spa day – light candles, put on a face mask, take a hot bath, and just relax!
Treat yourself! If there is something a little pricey that you've been eyeing for a while, now is definitely the time to get it! Splurge a little, and treat yourself with something special!
Take an online class! There are TONS of online cooking classes, dancing classes, art classes, and more! And on Valentine's Day, a lot of them are themed! Learn how to make DELICIOUS dark chocolate desserts this Valentine's Day from your own kitchen!!
How to Celebrate Valentine's Day With Your Kids During COVID?
While Matt and I hope we will get to spend a little much-needed quality time together at SOME point during Valentine's Day (hahaha fingers crossed!!), we will for sure be spending some time with the whole family as well. While normally we would go out and do something, during COVID, it's been a little tough trying to find things to do together!
So how can you have a fun and enjoyable Valentine's Day with your kids during COVID?
Just because COVID is around, doesn't mean you can't still go to your local park(while following the social distancing rules), or have a fun picnic together as a family!
Make Valentine's Day cookies and other sweet treats!
Take a trip to your local library and pick out some Valentine's Day-themed books to read together! If you're steering clear from public places, then ordering on Amazon is another great option!
While it's nice to give and receive gifts from your significant other, it's also great to give your kids Valentine's Day presents, too! They love feeling loved and involved!!
A Few Nice Valentine's Day Gifts for Kids Are:
A fun Valentine's Day-themed craft you can do together!!
Valentine's Day baskets for kids – fill them with their favorite candy, a huggable teddy bear, and anything else you think they'll like!
A customized stuffed animal for them to snuggle with when they fall asleep!! (Especially after a Valentine's Day candy sugar rush, hahaha!!)
Matching Valentine's Day-themed pajamas! I love the ones that have a cute heart pattern – SO adorable!
It just goes to show, you can have just as great of a Valentine's Day with your significant other as having a Valentine's Day with kids! (LOL!!). However you choose to enjoy it, I hope you all have a Happy Valentine's Day this year and I hope this guide on what to do and what to wear on Valentine's Day is helpful for you!!
Love,
Sherry
Shop This Post Or Similar

Sherry, xoxo