Hello everyone! Summer is here, and if you know me, you know that I LOVE sunshine and outdoor décor! Arizona summers are SO HOT!! Our summer usually starts the first or second week of May! Therefore, earlier in the season; I was thinking to myself, how can we make the most of summer at our own house? So, I looked into the outdoor living trends in 2021 we can look to recreate at home.
I am going to share some of my favorite front courtyard décor ideas so that you can live it up from the comfort of your own home. These ideas are so simple and yet so cool, that you will not want to leave the house. I am also going to share 10 cool patio design ideas at the end of this post!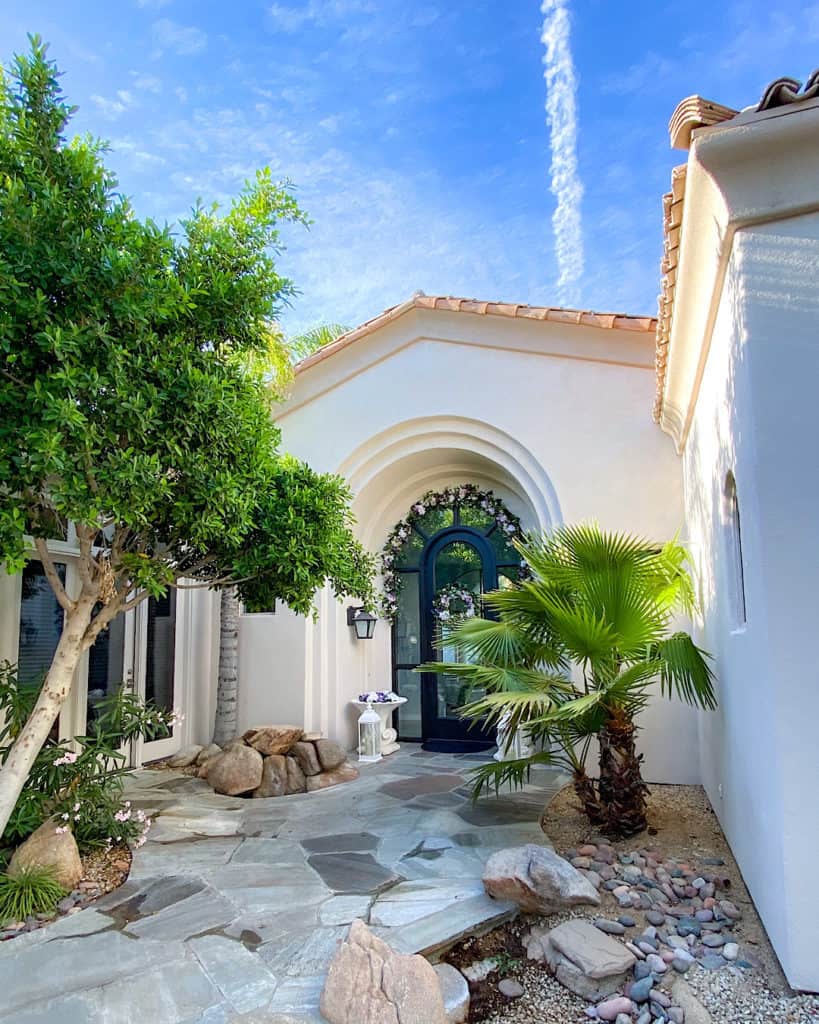 Firs of all, Work With What You Have!!! I get it…. Not everyone has a courtyard that they can chill in, but that doesn't mean that you can't dress up what you've got. You can implement these ideas into your porch, balcony, or garden! Don't be afraid to play around.
Inspiring Courtyard Ideas for Living and Entertainment
There is just something so cool about courtyards, right? When Matt and I go for our daily walk, we love to look at our neighbors' courtyard decorations! The flowers, cute chairs and umbrellas, the courtyard fountains and so much more! I think "dressing up" your courtyard makes your house stand out. You can also help to create a more beautiful neighborhood!
Here how you can turn your courtyard into a daydream-like hub:
Front Courtyard Décor Ideas
Use Real or Faux Plants and Flowers
We have a lot of "real" flowers and plants in our backyard! However, the way our courtyard is built, the flowers and plants are in the direct sun all day! Therefore, none of our flowers can survive the direct heat! We tried to plant many different flowers in our courtyard for years and eventually I got so tired of dealing with dead flowers and plants, so I decided to order some beautiful faux flowers for our courtyard! That was the BEST decision ever!!! LOL!
I wish we would have done this years ago! These beautiful faux floral wreaths and garlands are from Balsam Hill. They are high quality and look amazing the entire summer! They look so natural and real! I also love these gorgeous floral wreaths as well as these Peony garlands. You do not need to do any maintenance or watering all year! Hahaha!
Outdoor Living Trends In 2021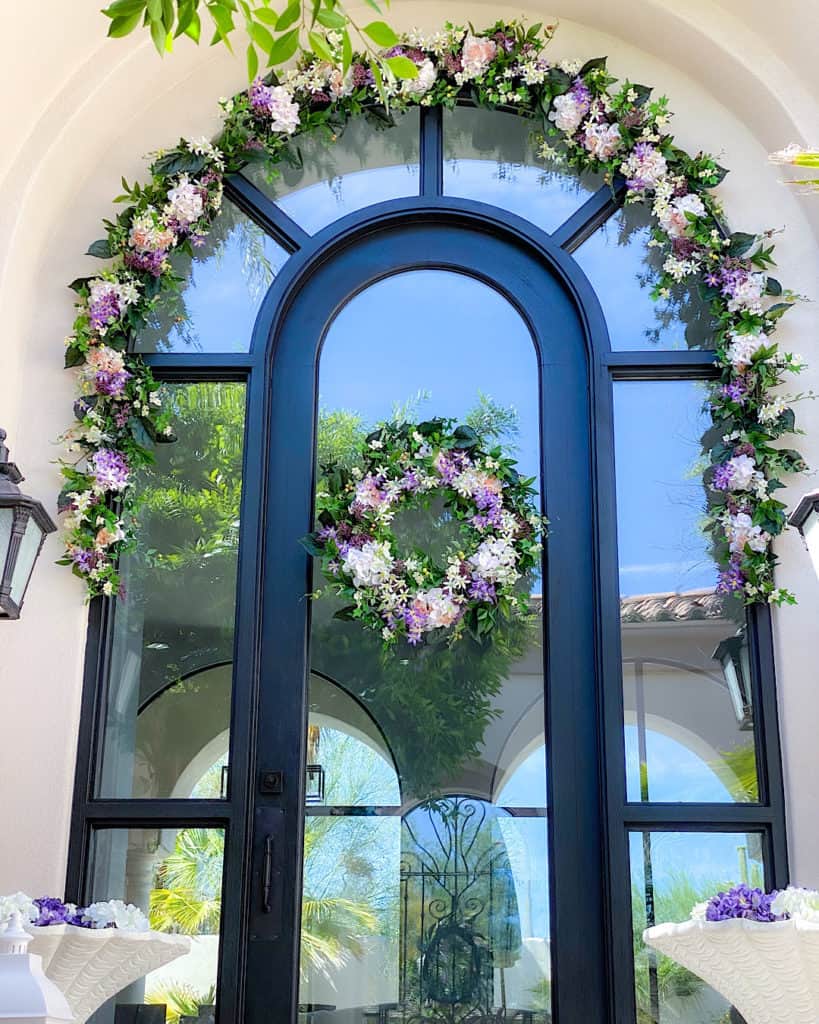 If you have a flair for landscaping and do not mind spending a little extra, or can enlist a contractor, try the following:
Streamline the Outdoors with Your Home
Design your courtyard to match your home's entrance or patio. This way, they will feel like one unified, large open space.
Add a Front Courtyard Fireplace
Fireplaces are timeless and highlight your courtyard all year round. Here's a portable fire pit that I absolutely LOVE.
Try One of These Cool Courtyard Waterfront Ideas
These submersible rainbow lights are genius. If you don't have room for a water feature, I think this portable patio pond is perfect for small spaces. Water features are my favorite front courtyard ideas. Arizona summers can be intense, but I feel refreshed just looking at them.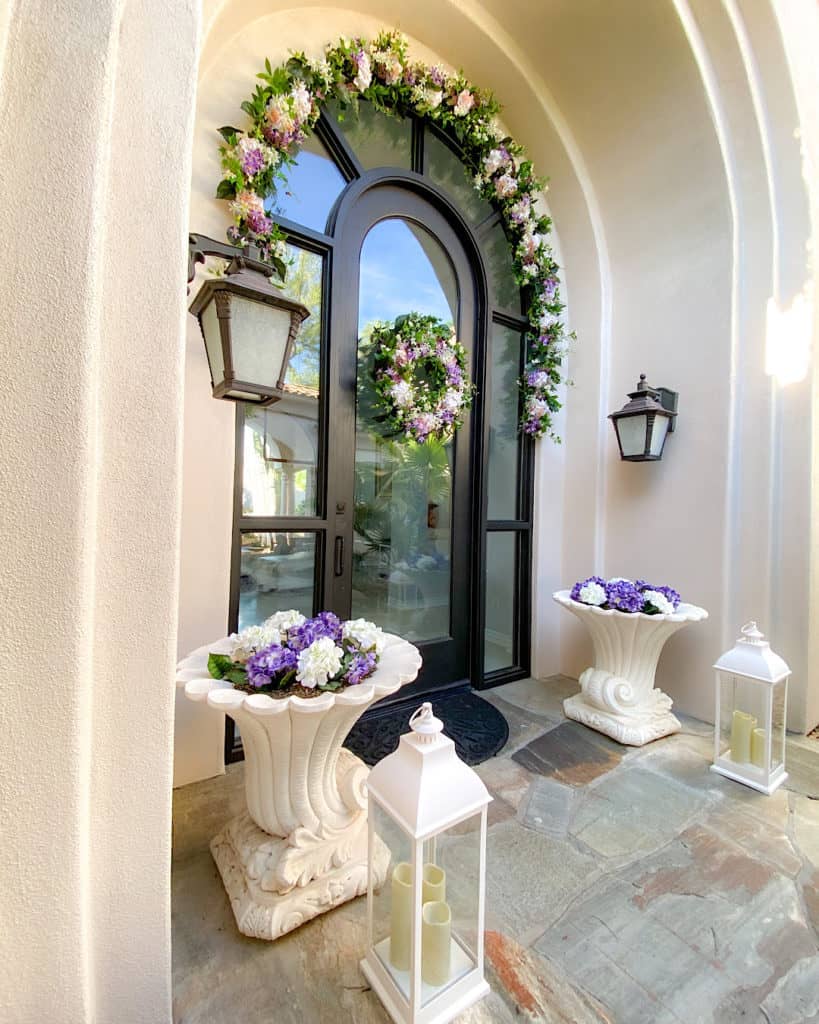 Transform Your Courtyard Seating Area
Nooks Are Great for Small Yards
A comfortable bench is all you need for a great reading spot (or afternoon naps!). If you have enough room, add a breakfast table. Your mornings will improve tenfold.
Create a Lounge Outside
Look at this gorgeous outdoor suite. It's sophisticated, it's cozy and it's perfect for family or intimate gatherings. It is like an outdoor living room!
Outdoor Offices Are "In"
I know…, it sounds a bit odd! Hahaha! And if you live in Arizona like me, do not even bother trying this idea, LOL! However, if you live in a "cooler climate", I promise, a desk in your yard will change your life. If you are going to be working from home, you may as well get some sunshine.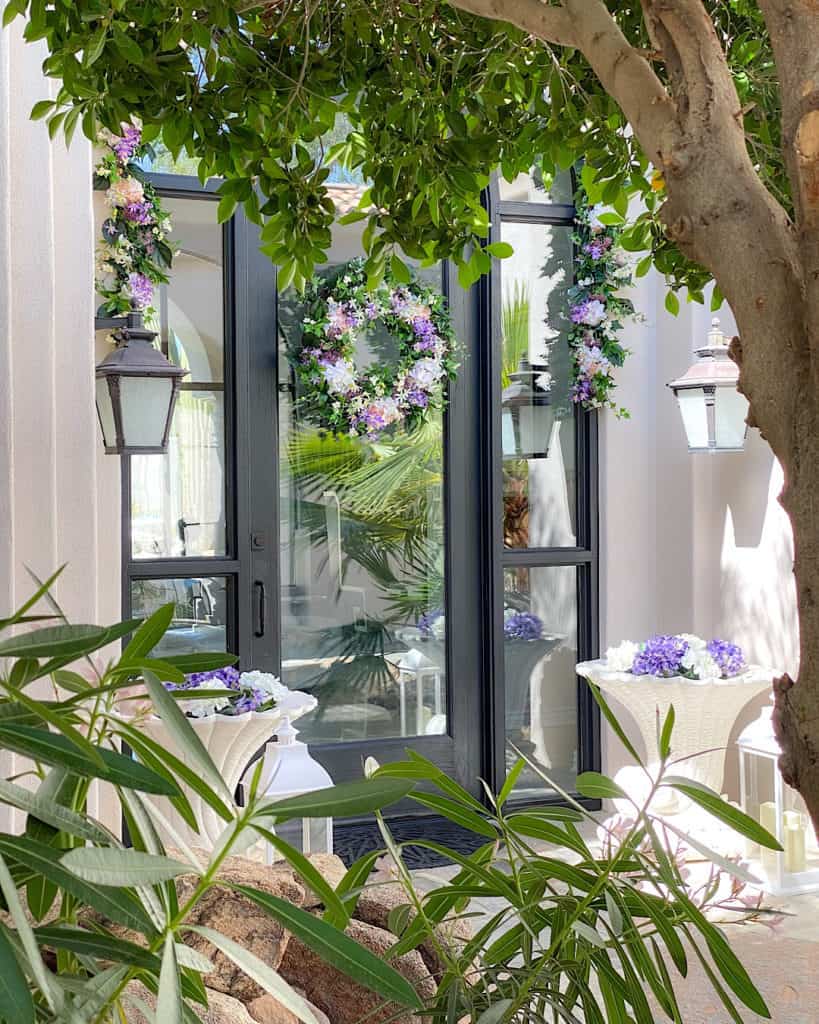 On a Budget?
Add Lights
If fairy lights aren't your style, this stunning faux faucet with solar lights is bound to turn heads. Or you could opt for something less quirky, like this lovely waterproof lantern.
Be Snug As A Bug in A Rug!
Seriously. A rug is probably the quickest, easiest way to makeover your courtyard. I love this one from Amazon and this blue and green one from Wayfair!
Simple Patio Ideas
As promised, I will quickly cover my top patio design ideas. Remember, these apply to all outdoor spaces.
Add Colorful Décor
Adding bright colors bring a unique twist to your patio! Check out these indoor/outdoor geometric throw pillows. You could also add flowers or colorful decorations. There are endless colorful patio décor ideas.
Have A Theme
I'm really into blue and white patio décor for the past couple of years! I also LOVE tropical patio décor! I'm considering it for next summer!
Outdoor Hammocks
I love outdoor hammocks and they are still a fun trend in 2021. This blue and white hammock bed is beautiful and weather resistant. I also LOVE this cool Mackenzie-Childs "Boheme" hammock. These can add so much character to your patio!
Update Your Space….: Some modern farmhouse patio décor ideas include installing minimalist fixtures or multifunctional furniture. You could also try adding contemporary sculptures for that "21st-century feel".
Turn Your Patio Into A Bar
You could install a full bar set-up, mini bar, or something like this 3-Piece Bar Set or this or super fun "Island and Hutch Outdoor Bar" from Pottery Barn or something more affordable and for a smaller space like this patio cooler.
Build A Concrete Jungle
If you live in the city, adding spots of nature will give your patio or balcony a fresh, new atmosphere. If you plant herbs, you will save money too!
Use Space Wisely
Vertical planters are a cool way to have a garden going in limited space.
Get Convertible Furniture
I love this cute folding table and chair set for patio that comes with small bar cart! It takes up little room as it is, but it can easily be stored when not in use.
Be Inspired
If you renovate and completely transform your patio, these Elle Decor patio ideas will get you fired up. I always look for inspiration in magazines.
Light Up Your Space From Above
A chandelier or something simpler like this elegant rustic design chandelier from Wayfair will be a highlight.
Outdoor Décor Trends in 2021
If you like to keep up with fashion, here's what's in this summer in terms of beautiful outdoor living trends in 2021:
Go Green!
2021 is all about authenticity, and adding flora is an excellent way to accomplish this. I must say, it will require some maintenance, but it is totally worth it!
Be Comfortable
No plastic chairs, no uncomfortable benches, and no abstract furniture that is a pain to sit on. This year they are claiming comfort! Get yourself a couch and relax outside as you would in your living room.
Be Versatile
Why buy different items when you can buy one and configure it into what you need at the moment? It saves space and money.
Add Woven Hints
Emphasis on the hints. Woven outdoor décor is still strongly "in". Just be careful…. Too much of it might come across as tacky, and you definitely don't want that!
Create Serenity
Though we all want our spaces to look good, but try to create an outdoor space that you can rest, relax and recuperate in, rather than choosing "fashionable" look first.
Return to Nature
There is a lot of hype around earthy tones and natural materials this year. Stone and wood fittings are huge right now, as are ceramics, woven décor, and live plants.
Ambiance
Soft lighting will work wonders at night. These could be fairy lights, lamps, or even candles. It will set the mood and turn your space into a hub for all hours.
Happy Summer Decorating!
With a little creativity, you can transform your courtyard and backyard into a peaceful place to enjoy your summer days! These changes make you feel like you are staying at a beautiful resort. There are so many simple but effective outdoor living ideas that you can run with. Even little things, like adding a dash of color or a little potted plant can make your space iconic. Do not be afraid to experiment! (PS You might also like this post on setting up a summer brunch outdoors!)
I hope you enjoyed these tips for outdoor living trends in 2021! Stay safe and have a fun summer!
Love,
Sherry
Sherry, xoxo