Hi everyone!! Wow, I can't believe March is behind us already and we are nearly a week into April!! With the weather heating up and sunshine heading our way, it's the perfect time to start breaking out the best white summer dresses as the 2021 summer season starts creeping around the corner!!
I bought this beautiful white summer dress that I'm wearing at Bloomingdales (online) over Christmas. As soon as I saw it I just HAD to get it!! It's so pretty, lacey, and absolutely PERFECT for summer weather!! Adding in some matching wedges, hoop earrings, and a classy gold belt just brings the whole look together. While this Karl Lagerfeld dress is unfortunately sold out, there are so many other adorable white summer dresses that you can buy for the season! Here are some of the best white summer dresses that are perfect for transitioning out of spring and into the hot summer weather!!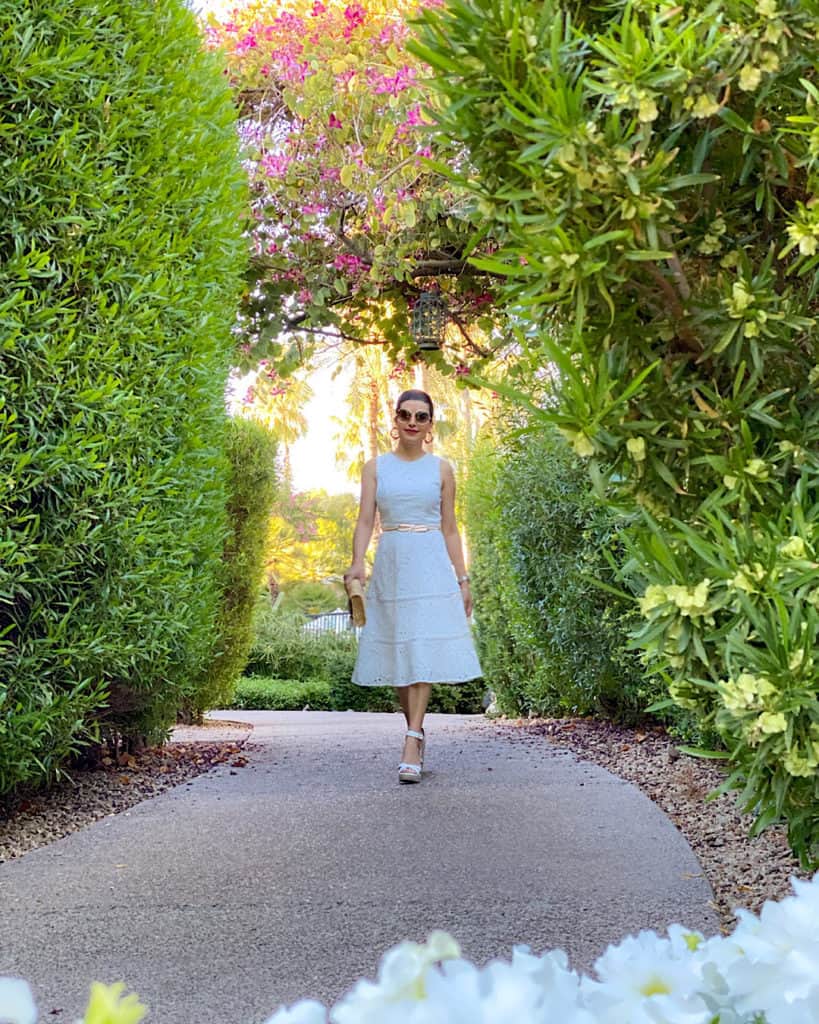 The Best White Summer Dresses

When you are shopping around for the perfect white summer dress, the first thing you need to think about is what type of dress you are looking for. Do you want a white casual dress that doubles as a coverup for strolls on the beach and swimming afterwards? Or something fancy you can wear to warm evening dinners? Once you have decided on the type of dress you are looking for, then you can start shopping!
A nice white bodycon dress is a great option for fancier summer nights out. This Betsy & Adam caped sheath dress from Macy's is perfect for an elegant evening. I love how it drapes so beautifully in the back! Another gorgeous little white dress for the summer is this adorable faux-wrap fringe dress, also from Macy's. It's such a great look for summer nights out and fun dinner parties!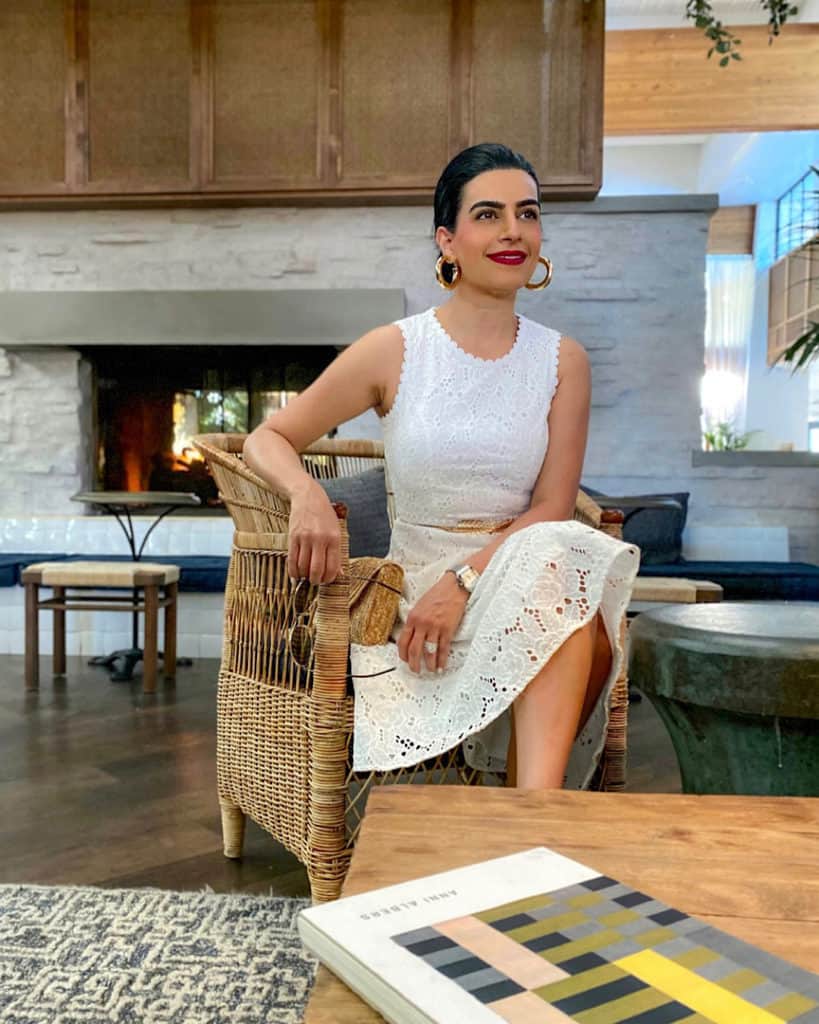 Dresses like these are amazing for the summer heat when you're trying to stay cool but still look nice! Another great little white dress Amazon pick is this BEAUTIFUL crochet bell sleeve dress. It has such a unique style, and I LOVE the little pom poms on the skirt and the sleeves. SO cute! Or, this French Connection mini dress from Bloomingdales. Such a great look to show off your summer tan! For date nights, there are so many simple and cute options for a romantic evening!
Some of my favorite dresses for these special occasions are:

Breezy Womens White Dress Summer Picks

For a more casual and breezy look for relaxed weekends and Fourth of July celebrations, wearing a lightweight, long dress, cotton dress, bohemian white lace dress, or flowy dress are all gorgeous options for the summer!
One of my favorite white long dress options is this adorable cotton ruffle sleeve dress from Bloomingdales. I love cotton for the summer! It's so airy and light. This ruffle sleeve dress is one of the best white cotton summer dresses for the season, as well as this simple natural element midi dress. For a more boho look, this white bohemian lace summer dress 2021 from Amazon is SUCH a pretty flowy white dress for women. Or, this beautiful Gianni Bini scalloped dress. All absolutely gorgeous options for summer! All of these summer picks are breezy, casual, and PERFECT for the season!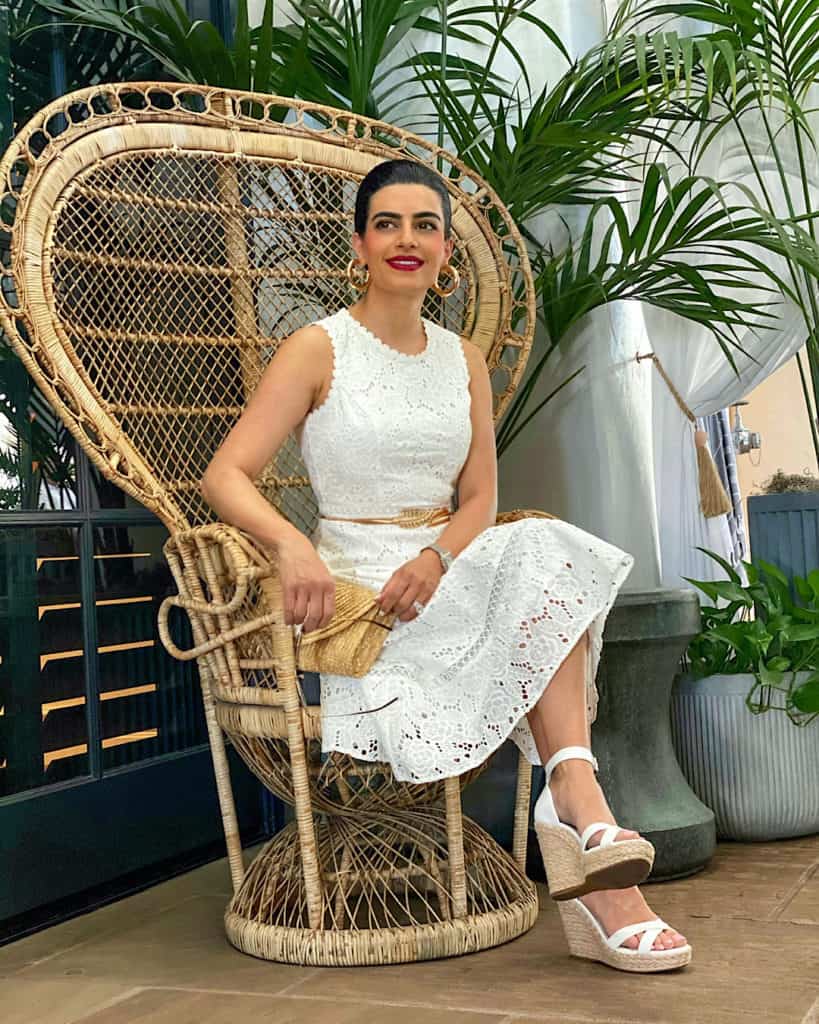 What Is the Best Material for Summer Dresses?

I've already mentioned how I love cotton for summer clothing. It's light, casual, breathable, and versatile, making it SUCH a great choice for the summer weather! But, there are some other great materials you can wear to help you stay cool and breezy throughout the summer, including:
Seersucker
Linen
Chambray
Jersey
These options are lightweight, flexible, airy, and PERFECT for the summer heat! Along with these materials, there are some popular summer styles that look great for the season, whether you're walking on the beach or walking into a classy restaurant. I LOVE ruffles and lace. They're SO pretty, and they are two of my absolute favorite styles to wear during the summer!! There are so many options when it comes to buying lace and ruffle dresses.
Here are a few of my favorites:
This white women lace dress from Revolve has a gorgeous floral lace overlay. I love it for the summer!
This lacey Harmonia dress, also from Revolve, is another pretty option, with a detachable black ribbon neck detail for a versatile look.
This lace sheath dress from Nordstrom is a beautiful and classy lace dress that works for a sunny daytime brunch or an evening dinner!
This beautiful Briarwood romantic white ruffle dress from Lulus is SO stunning for the summer! The combination of the lace with the ruffle is stunning!

This white midi lace dress from Revolve is a gorgeous option for sunny days!
This pretty summer dress with ruffled cap sleeves from Amazon.
Whichever white summer dress you choose, whether it's ruffled, lacey, boho, or bodycon, choose the dress that makes you feel confident and comfortable! Wear your unique summer style proudly!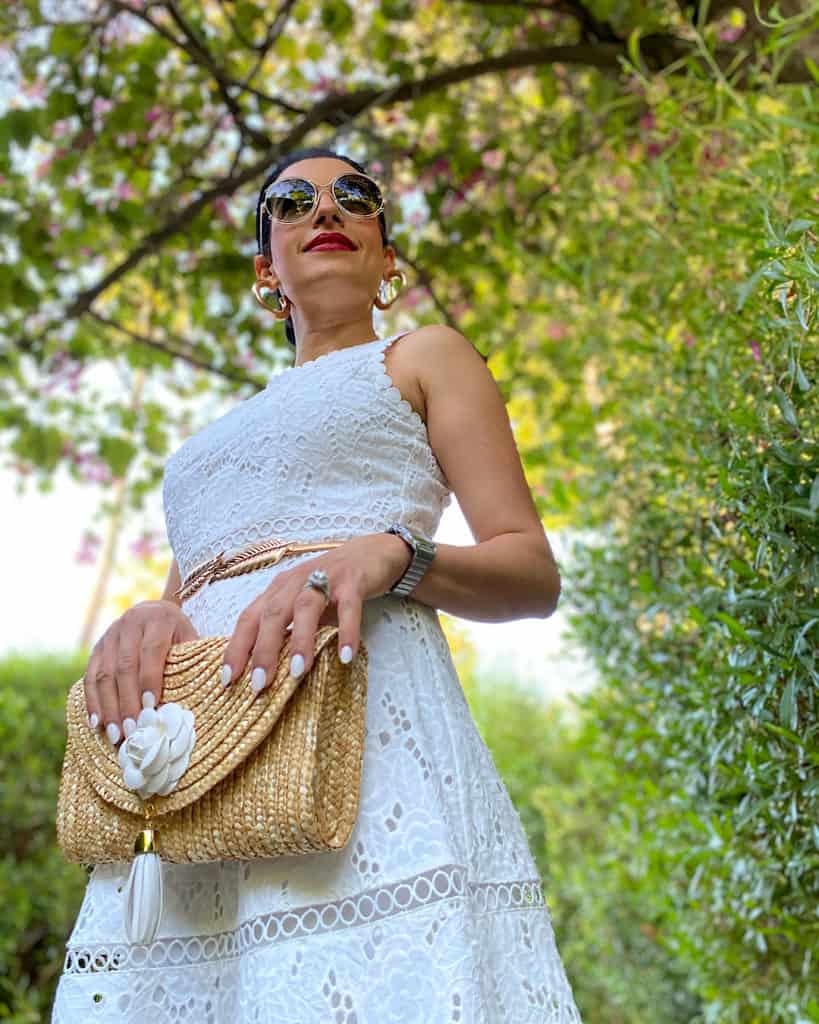 What Shoes to Wear with Dresses in the Summer
Along with finding the perfect dress, it's just as important to find the perfect shoes! As you can see from the pictures, I love wearing wedges with my summer outfits! They give your legs a nice long, slimming look and they just look so cute with just about anything!
You can also wear:
Sneakers: Adding a cute pair of sneakers gives your summer dress a casual, sporty look, and they are SUPER comfortable!
Trendy white boots: These look adorable with a short mini dress or bodycon dress for a sleek, statement look!
Ankle boots: These look especially cute with the more bohemian dresses for a free-spirited flair!
Silver or gold sandals: Adding these along with a white summer dress gives a nice stylish look.
Tan or nude sandals: These are great for summer, and they go perfect with any color! From white dresses, to green, to black, and every color in-between!
Bright-colored flats: these add a nice pop of color to an all-white summer dress.
Chic flip-flops: The term "flip flops" doesn't have to mean cheap shoes that you buy at the drugstore! Sliding on a pair of chic, shiny flip flops adds a casual, yet put-together look to your outfit!
Sporty sandals: Strapping on a pair of sporty sandals with your white summer midi dress gives a nice casual feel to your look. You can get sporty sandals in a variety of colors and patterns for your unique style!
Lace-up sandals: The lace-up look is SO cute, and it works with any dress for almost any occasion!
High heels: Heels, of course, NEVER go out of style! If you are heading out for a nighttime event, add a pair of high heels and you are ready for the summer night!
Spring Outfits 2021 Women
While summer is just around the corner, we are still in the middle of spring, so spring fashion trends are still on our minds! Some cute spring outfit ideas 2021 are:
Floral and embroidered dresses and blouses
Bold midi dresses and midi skirts
Airy, cotton clothing
Athleisure and loungewear
Cozy cardigans (as the cool weather shifts into the heat)
Breezy linen and cotton jumpsuits
Cozy top and bottom sets for staying at home
Bright spring colors for any article of clothing – pinks, yellows, blues, and greens
Knit dresses (for colder climates, before the heat really kicks in!)
Spring is a great transition time to start putting away your cold weather jackets, and begin breaking out the lighter, airier fabrics, colors, and florals. But once that summer heat comes out, TRUST ME – you'll want to be wearing the perfect white dress to keep cool in the hot sunshine!
No matter what you're looking for, whether it's white resort dresses for summer, beach daytime dresses, or evening wear, I hope this article helps you find the perfect white summer dress for your unique style!
Happy almost summer!
Love,
Sherry
This post may contain affiliate links, which means that I may receive a commission if you make a purchase using these links.
Shop This Post or Similar




Sherry, xoxo