9 Easy Tips to Host an Epic Outdoor Movie Party!
Last weekend we hosted an outdoor movie party along with a pool party for Valentina and Alina's birthdays! It was SOO much fun!! From the decorations to the snacks to the movie, all the kids loved it.
This post is about easy tips to throw an epic outdoor movie party!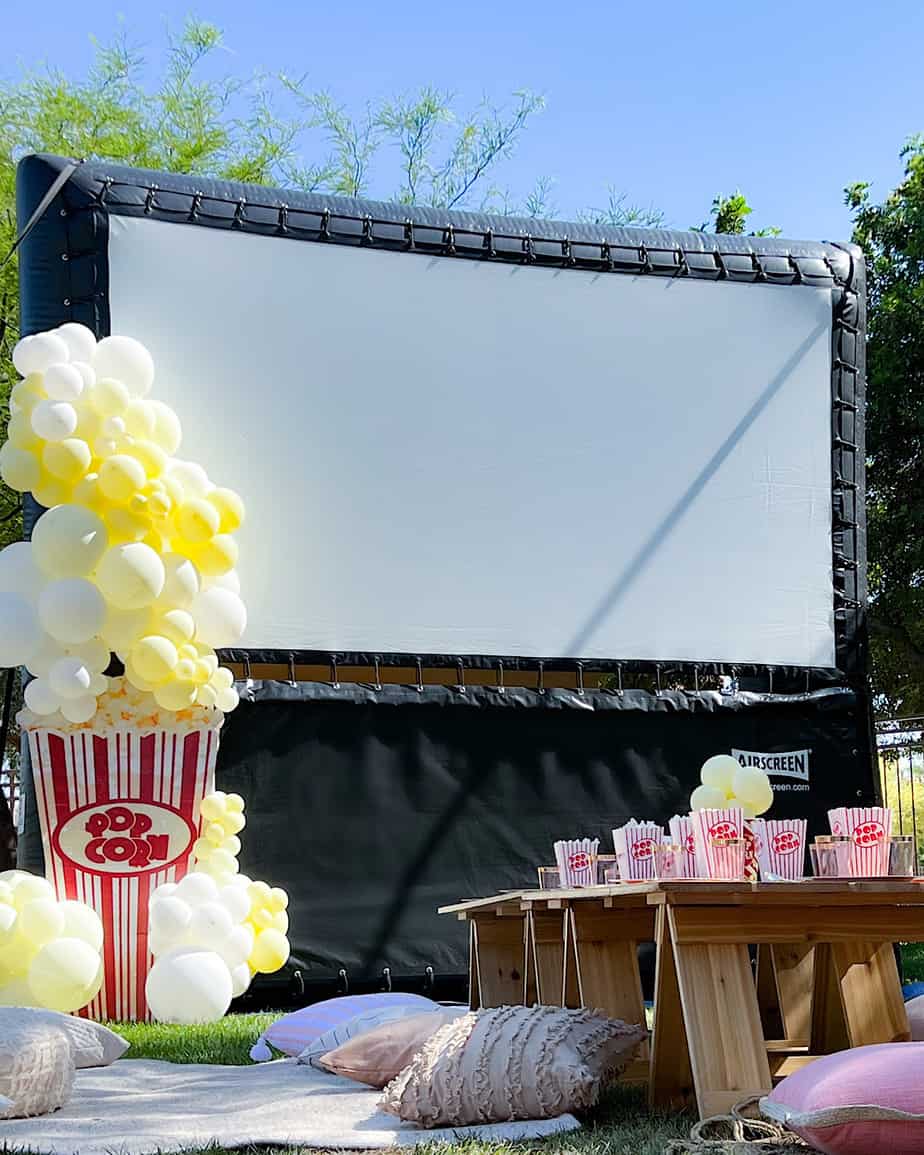 The movie birthday party was combined into one party for both Valentina's 7th birthday and Alina's 3rd. We were so excited to be able to celebrate with friends and family, and the outdoor movie birthday party was such a good choice for the theme!! Here are some outdoor movie birthday party ideas if you want to do this yourself!!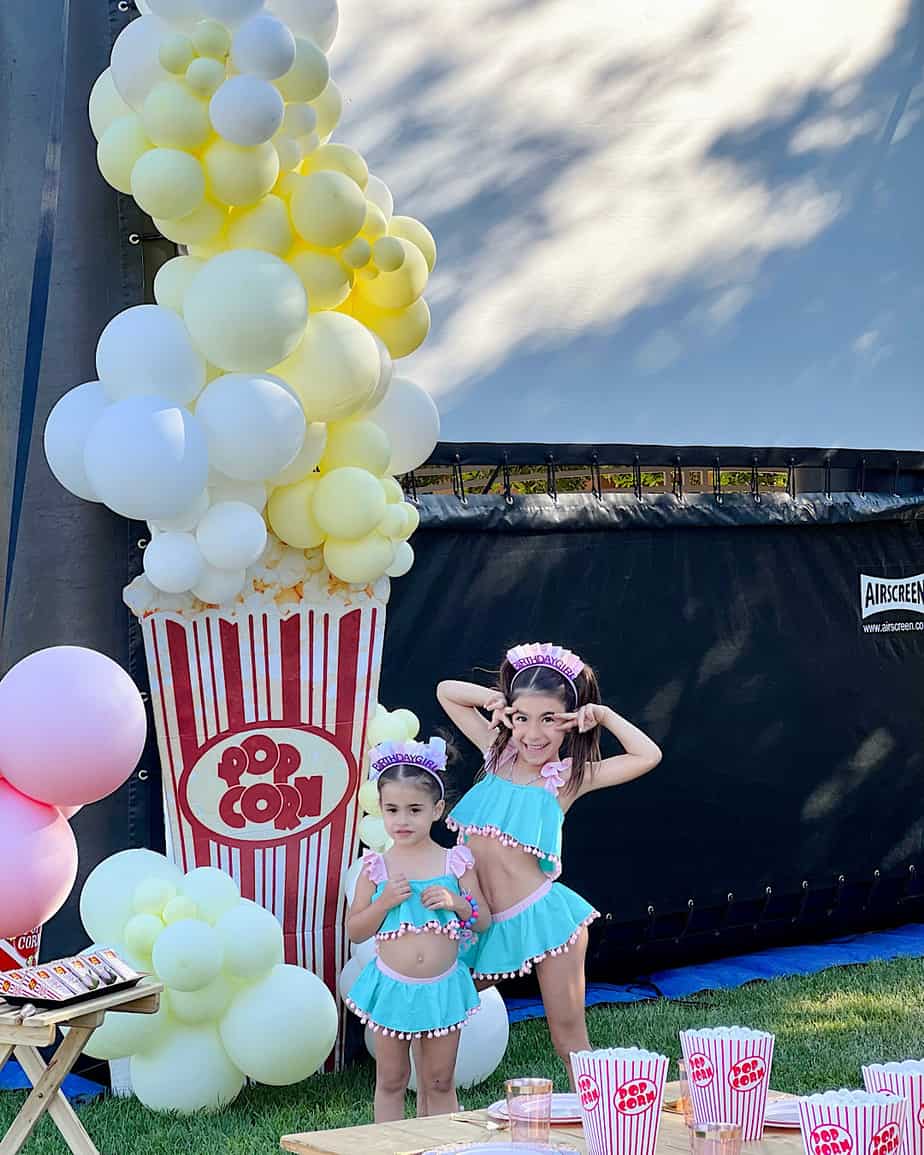 How to Host an Outdoor Movie Night
The outdoor movie night is such a fun way to spend time with your friends and family especially if it's during the warm summer months. The best part about these events is all their different themes and options – there truly will be something for everyone! This can be an amazing party idea for kids or adults!
Related post: Planning a Birthday Garden Tea Party
Outdoor Movie Party Tip #1:
Host the Movie Night Outside of Your Home– If Your Party Is Big
First, it's so important to know what you want the setup to look like and have some ideas. Since Alina and Valentina's friends' invitation list was growing (LOL), we decided not to host their birthday party at our house this year! We knew with that many 3 to 7 years old kids running around, our house would not be the best place to host this party! Hahaha!
Therefore, we decided to host the party at one of our community pool areas which has a cute little park. By doing that we avoided all the "after-party" clean-up in our house! Hahaha! We still had to clean so many popcorns and candies on the grass area (LOL), but we were glad that it was not at our house! Hahaha!
Outdoor Movie Party Tip #2
Hop on Pinterest for Awesome Outdoor Movie Party Ideas!
Pinterest is a great place to start and is ALWAYS my favorite tool when planning a party, or any other hosting! Before I even started planning, I made a mood board which was so helpful when figuring out everything from decorations to food to gift baskets!!
While browsing Pinterest search phrases like "outdoor movie party ideas", "outdoor movie night birthday party ideas", "outdoor movie night food ideas", "outdoor movie night setup", "outdoor movie night snacks", or "outdoor movie theater backyard" and so much more! You will get lots and lots of great ideas on how to start planning your party!
Related Post: Blush Pink and Pastel Green Ice Cream Birthday Party
Tip #3: Choose Your Favorite Outdoor Movie Setup |
Outdoor Movie Night Seating Ideas
For an outdoor movie gathering, making sure that there is a nice setup where the guests can sit and relax to enjoy the movie is SO important. For our outdoor movie night birthday party, we made sure to set up a cute picnic area and included picnic tables for the girls and their friends to sit and enjoy the dinner, as well as be comfortable while watching the movie.
Tip #4: Look into Glamping Tent Rental Companies in Your Area
The kids went CRAZY over the glamping tent at our movie night party. Since it was a pretty big size tent, so many kids were able to fit into it and play! The excitement that this glamping tent created for the kids was unbelievable! The tent was nice and clean when it was first installed. However, shortly after the kids went inside the tent, they started a really funny "popcorn fight". The tent was then covered with popcorn and candies! They had a BLAST!!! I totally recommend considering renting some sort of tent for the kid's movie night party!
Tip #5: Look into Inflatable Movie Screen Rental Companies
The kids all loved the huge inflatable movie screen!! It was such a treat to have a huge inflatable movie screen on the grass area! A good quality movie screen is a MUST!!! We rented this screen from one local outdoor movie screen rental company. They did everything from the delivery to set up and bringing down the screen after the party was over! So, we didn't have to be worried about any screen or sound setup!
The screen does not have to be inflatable! We chose the inflatable screen because it was so much bigger than the "none-inflatable" screens. We also thought the inflatable screens look more fun for kids' birthday parties!
Related Post: How to Throw a Simple and Easy DIY Birthday Party at Home
Tip #6: Popcorn, Popcorn, Popcorn Are A "MUST Have" for An Outdoor Movie Night Party
You cannot have a movie night party without serving some delicious popcorn! The funny story about Valentina and Alina's movie night party was almost none of the kids ate the popcorn! They started throwing the popcorns at each other (LOL). The next thing we knew, it was an epic "popcorn fight" among the kids! Haha! It was so many popcorns all over the place! However, if your movie night party is for older children, teenagers, or adults, most people will eat the popcorn while enjoying the movie!
Tip #7: Serve Pizza, Hot Dogs, or Hamburger Sliders
Another one of my tips for planning an outdoor movie birthday party is to make sure that all of the food is in line with the theme!! We served pizza and hamburgers for kids and adults! Honestly, the kids were so excited with the popcorn and candies that they didn't eat that much food! Hahaha! However, serving these kinds of foods, make them feel like they are in their movie theater and makes the party even more special.
Tip #8: Look into Kona Ice Truck Rental in Your Area
Nothing makes the little kids happier than a fun little Kona Ice truck! At least this is what makes our little Valentina and Alina SOOO excited! Matt came up with the idea of hiring a Kona Ice truck for the movie night and I thought it was a great idea! We hired a local company for a couple of hours for our party. They served deliciously, shaved ice with different flavors! The kids we SO excited and LOVED it! No wonder they did not eat any of their pizza! hahaha!
Tip #9: Order a Fun Movie Theme Birthday Cake
I think the highlight of each birthday party is the CAKE!!! There are lots of great "movie theme cakes" that you can order! If ordering the costume movie theme cake is expensive or not available in your area, you can easily get a simple white, red, or any other "movie theme colors" that you want and add some fun "movie-themed cake toppers".
We used to order Valentina and Alina's cake from a local bakery that we loved. However, she was not accepting any orders this year. I found another amazing bakery in town where she created these beautiful movie theme birthday cakes for our party. Since we combined Valentina and Alina's birthdays together, we ordered one cake for each of them!
Related Post: How to Plan a First Birthday Beach Party
What You Need for an Outdoor Movie Birthday Party
Projector
Screen
Speakers
Pillows and blankets
Outdoor lighting
Glamping Tent or Teepee tent
Picnic table
Popcorn bar or popcorn set up on the table
A candy bar or serve movie theater candy
DIY Cardboard Ticket Booth
Movie party decorations
Pizza, hotdogs, or hamburger sliders
Movie theme birthday cake or popcorn cake
Cute mini popcorn boxes
Cotton Candy
Movie Projector and Screen: Collecting ALL of the right materials for an outdoor movie birthday party is SO important to help you throw the best party possible!! To even make the outdoor movie gathering happen, you first obviously need the equipment to show the movie itself. This means purchasing or renting a high-quality projector, a screen (we LOVED the big inflatable movie screen that we rented), and speakers so that the movie is shown in the best quality possible.
Pillows and blankets: Besides the movie itself, I also wanted to make sure that the kids were comfortable while they were watching it. So lots of throw pillows and blankets, to make them feel cozy and even be able to lay down if they wanted while watching.
Outdoor lighting: We did not add more outdoor lighting as we thought our glamping tent light and the movie light were enough. However, adding outdoor lighting is always a good idea if you think the area you are hosting does not offer enough lighting.
Glamping Tent, Teepee tent, and Picnic Tables: As I mentioned above, we rented a big glamping tent and a few picnic tables so the kids could have a good and comfortable place to hang out during food and the movie.
I'd absolutely recommend splurging a little and going for a tent!! The kids LOVED it, and it added such a different feel to the outdoor movie birthday party. It was such a special treat for Valentina and Alina to spend more fun time with their friends inside the tent!
Popcorn bar or Popcorn set up on the table: You can also set up a popcorn bar and candy bar, so it's just like when kids are picking snacks at the movies!! They all looooved all the options. Another way is to serve movie theater candy. Make sure the kids have lots of options, so they feel like they are actually at the movies!!
DIY Cardboard Ticket Booth: This is an incredible idea that I found on Pinterest and simply ran out of time to create a fun ticket booth for the kids!
You'll need a DIY Cardboard Ticket Booth, another thing that is such a fun touch to the outdoor movie night birthday party. This way it can be just like the kids are getting a ticket to go see the movies!! I totally recommend this cute idea if you have time to create it!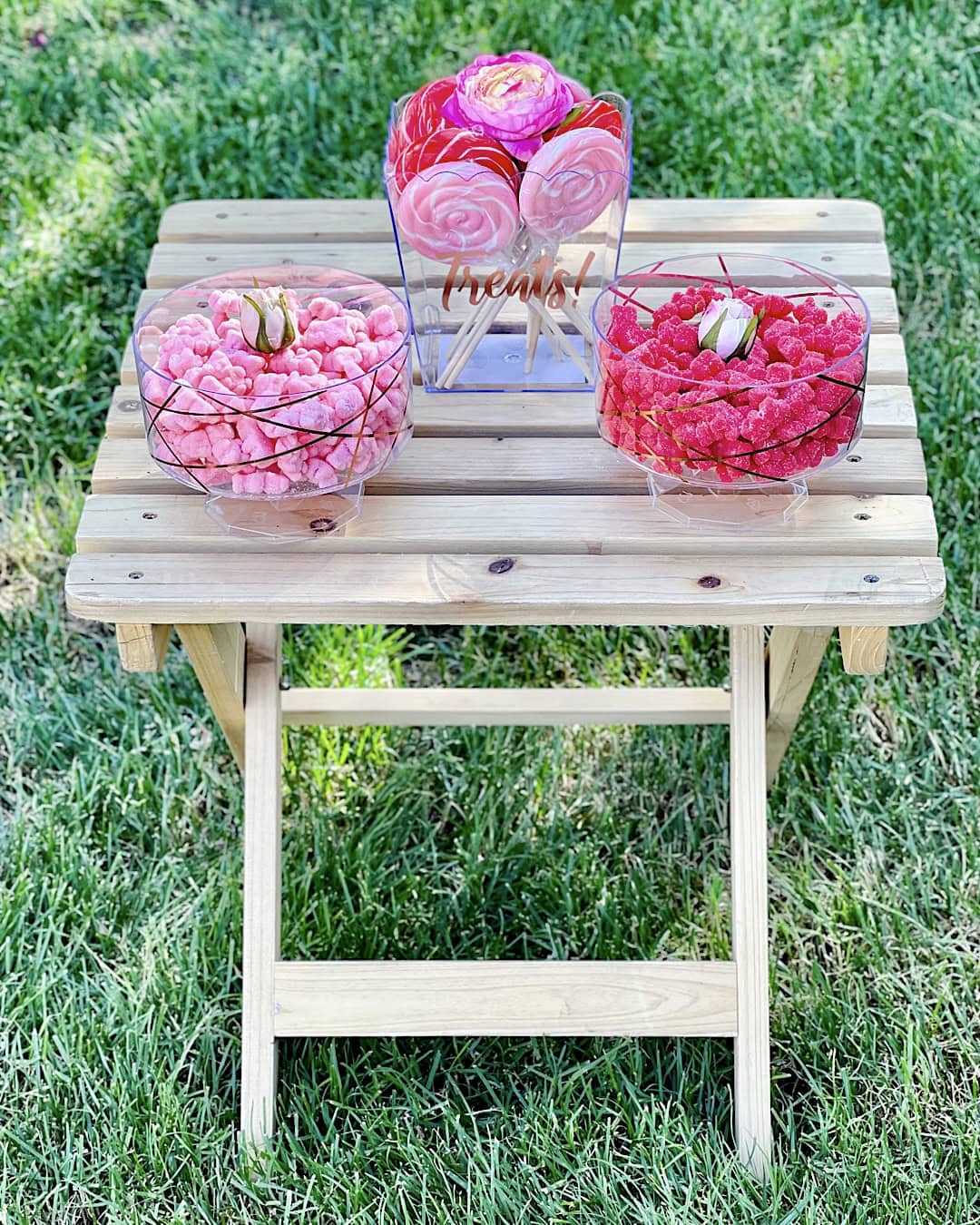 Movie party decorations: Obviously, movie party decorations are so important for any kind of movie birthday party. This means Hollywood-themed, retro-themed, popcorn-themed, whatever you want!!!
Pizza, hotdogs, or hamburger sliders: Consider serving hotdogs and pizza or hamburgers, which the kids are sure to love.
Movie theme birthday cake or popcorn cake: Some more outdoor movie birthday party ideas are to order a Hollywood birthday cake or popcorn cake, in line with this theme.
Cute mini popcorn boxes and cotton candy: You can also set up cute mini popcorn boxes and have a cotton candy machine for the kids. It's soooo hard to go wrong with all of these options!!
Outdoor Movie Night Seating Ideas
For an outdoor movie birthday party, there are so many great options for seating!! One option is to set up chairs, so it looks just like a movie theater, with rows of chairs facing the screen. This is good if you have a really big group so everyone can see the screen clearly.
A less structured option that makes for more relaxed seating is to place chairs, blankets, and pillows in a semi-circle around the screen so everyone can see each other and also chat during the movie. Kids will love this as they can share snacks and get comfy with pillows and blankets during the movie!!
Another one of my outdoor movie birthday party ideas is to use outdoor furniture like lawn chairs or bean bags to set up seating. You could also get fancy and rent chaise lounges or deck chairs. Having a number of different types of outdoor furniture lets people choose how they want to sit. Just make sure that everyone has a good view of the movie screen, is comfortable, and can hear the movie clearly from where they are sitting!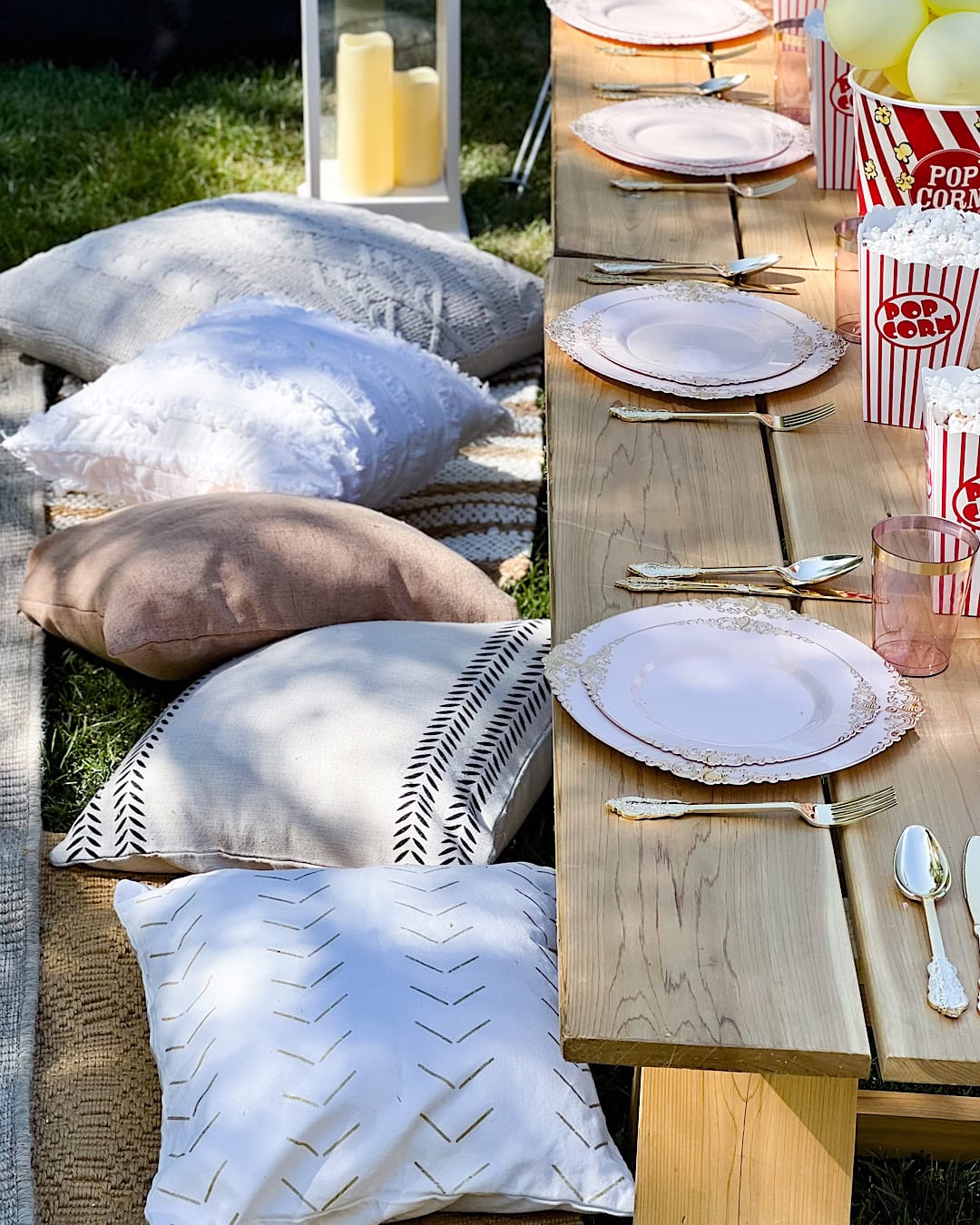 Movie Night Birthday Party Food Ideas

As I mentioned above, for our dinner, we chose two easy kinds of foods for kids and adults! Pizza and hamburger sliders. Make sure to keep the food simple, easy, and tasty. You can get some great "mini movie night foods" on food network.
What are good movie foods, snacks, and desserts?
Pizza
Chips and salsa
Sliders
Mini Sandwiches
Nachos
Mozzarella sticks
Salami roll-ups
Pretzel bites
Mini bacon and onion pasties
Baked mini meatballs
Corn dogs
French fries
Honey BBQ chicken wings
Pizza rolls
Pepperoni stuffed bread
Sea salt caramels
Sweet and salty party mix
Spiced pecans
Cupcakes
Outside of the dinner itself, snacks and dessert can easily be movie-themed and still yummy!!
For an outdoor movie birthday party, opting for a Hollywood or popcorn-themed cake is such a cute idea. It looks so life-like and all the kids loved it. Another idea for movie-themed birthday party food is for movie-themed cupcakes, where each cupcake looks like different scenes from movies. The kids can even decorate this themselves and will have so much fun doing this!!
You can also go for a popcorn bar and give lots of options for toppings for your movie birthday party food ideas. Obviously, popcorn is a classic choice that everyone will love, but you can also get creative with movie-themed candy to go along with it. This means candies like Reese's Pieces or Junior Mints. Another fun idea for movie-themed birthday party food is to serve movie-themed drinks!!
To make the drinks even more movie-themed, you can serve them in glasses with straws or poured into plastic cups with labels that match the movie theme. This is such a simple way to incorporate more of the movie into the details of the party!!
Movie Birthday Party Games
Outdoor movie birthday party games are a great way to keep kids entertained while they wait for the sun to go down and start the movie!! Since we combined our movie night theme with a pool party, I did not have to come up with any ideas for a movie birthday party game (LOL)!! However, if you have not planned any other activities besides the movie, and you have a lot of kids, you need to come up with some fun game ideas!
You can divide the kids into teams and have a relay race with movie-themed words. The kids will be so happy to run around, and they can get all their energy (and sugar!!) out before they sit down to watch the movie so they will be more relaxed and calm.
Another great idea is a Hollywood-themed scavenger hunt. This will keep the kids active and help them get creative to think about where the objects are hidden. You can hide movie posters and memorabilia around the party area for guests to find. And you can even make a special prize for the team or kid that completes the scavenger hunt first!!
If you want to put a bit more effort and materials into the game, an obstacle course is a fun option that the kids will sooo enjoy doing. To take it to the next level, set it up so that the kids have to navigate while blindfolded. They could even be in teams, giving each other pointers since one of the kids will be blindfolded.
If you decide to throw an outdoor movie birthday party, or any kinds of backyard movie night, I hope that this blog post was helpful for you to get some ideas and inspiration!! Valentina and Alina loved the theme and decorations this weekend and we are SO glad we got to be able to celebrate this day with friends and family. And the theme made it so fun to be able to create this for the kids!! I hope these outdoor movie birthday party ideas were helpful and have fun planning your own party!!!
Happy party-throwing!
Sherry, xoxo