If you are looking for the best hiking shorts for women that are comfy and cute, this is a great post for you! When it comes to choosing the perfect pair of hiking shorts there are a few things you want to take into account; comfort, function and how good they'll look with the rest of your wardrobe. Additionally, in this post I will also be sharing some of my favorite hiking shorts!
This post is about best hiking shorts for women that are comfy and cute!
We went to Sedona (Arizona) with my family over the weekend. My sister and I went for a beautiful hike on the stunning Red Rock Canyon trail on Saturday morning! The weather was so beautiful, however, I'm glad that I was wearing shorts instead of a long hiking pants! The hike would not be nearly as pleasant if I was feeling too hot in long pants! As it gets hotter, it becomes more and more important to make sure that my outfit choices are comfy, cute, and good for the hot weather.

How to Choose the Best Hiking Shorts for Women
When it comes time to choose the best hiking shorts for women, there are a few things to consider! First, think about the climate you'll be hiking in. If it's hot and humid, you'll want to try to find lightweight women's shorts.
Also, make sure the shorts have plenty of pockets for storing snacks and other small items. You'll want the best women's shorts for hot weather! If you'll be doing a lot of bushwhacking, look for shorts with built-in sun protection and durable fabric that can withstand scratches from branches and rocks.
The material of the shorts is also very important!! Do you want women's fabric shorts? Or lightweight women's shorts? Other factors like water-resistance and how tough the fabric is also come into play.
Finally, consider the style of the shorts. If you want something that will transition easily from the trail to town, choose a pair with a clean, classic look. Whatever style you choose, make sure the fit is comfortable and relaxed so you can enjoy your hike worry-free.
Related Post: What to pack for an awesome picnic!

Key Features of Hiking Shorts
Comfort
Flattering fit
Material
Adjustable waistband
Weather resistance
Versality
UPF protection
Stretch
Functional pockets
Quick drying
Good mobility
Moisture-wicking
Storage
Breathable fabric
When you are trying to find the best hiking shorts for women or the best women's shorts for hot weather, there are a few important features to look for!!
First, if you have thick thighs, to find the best hiking shorts for thick thighs, make sure that you find shorts that have a little bit more room around the legs. You will also want to make sure that the waistband is wide, flexible, and will not dig into your skin or chafe while you are walking.
Next, if you're hiking in hot weather, make sure you find shorts that are made from light, breathable fabric. This will help you from overheating and ensure that you find the best hiking shorts for hot weather.
Another important feature is additional storage, which can be SO helpful for long hikes, especially with kids. This means shorts with pockets or an attached belt. This makes it super easy for storing snacks or other small items during a long hike!!
With so many different options available, it's so important to make sure your hiking shorts have the features you need, and these key features of the best hiking shorts for women are a great place to start!!

What Type of Shorts are Best for Hiking?
With the internet making all types of shorts and products accessible, it can be difficult to know the type of shorts that are best for hiking!! One thing that makes this process easier is reading reviews from blogs or influencers you follow or asking your friends. Word of mouth is always the best!!
The best hiking shorts for women will be the pair that fits all of your needs the best and that you think is both comfortable and stylish!! So, the best hiking shorts will be different for everyone. Maybe you're looking for a pair that is lightweight for hotter, lengthy hikes. Or a pair that is durable and has sun protection, so you don't end up with a sunburn!
There are so many pairs to choose from, and hopefully the points in this post will help you pick the best pair for you. At the end of this post there are some specific types of hiking shorts that you can choose from and short descriptions, so you will be sure to find the best women's shorts for hot weather!!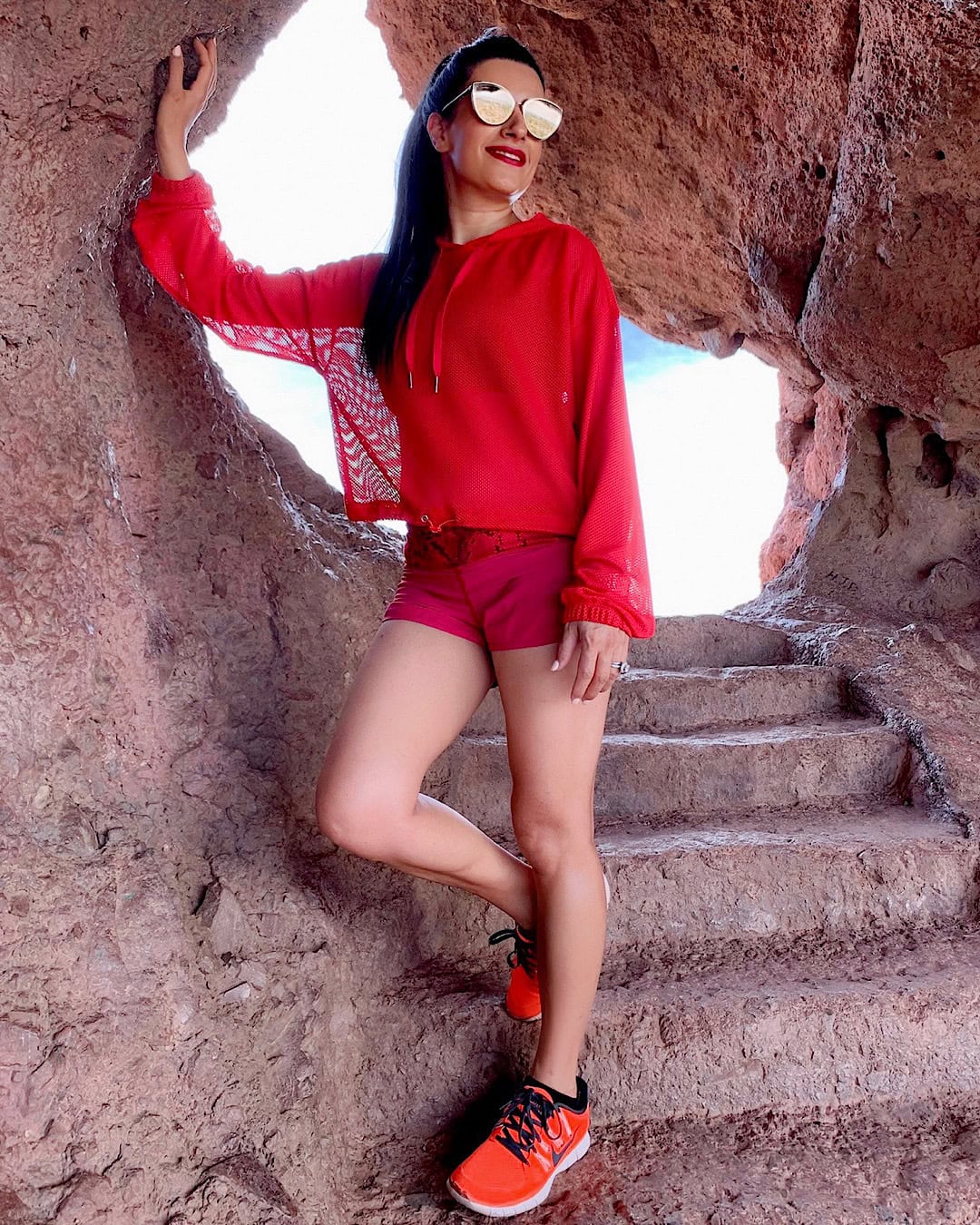 What Material is Best for Hiking Shorts?
For many years, cotton was the fabric of choice for hiking shorts. It is durable and inexpensive, and it breathes well, making it a good choice for hot weather. But people have slowly realized that there are some downsides to cotton. For example, if you're caught in a rainstorm, it tends to absorb sweat and hold on to odors. So…there are much better options!!
Recently, synthetic fabrics have become super popular for hiking shorts. They are actually often made from recycled materials, making them environmentally friendly and also practical. Synthetic fabrics like polyester and nylon are lightweight and quick-drying, which makes them some of the best hiking shorts for hot weather. Polyester and nylon are also a lot more odor resistant than cotton and they will simply hold up better over time!!
Are Leggings or Shorts Better for Hiking?
There is no one size fits all answer to this question!! But it depends on your situation and a variety of factors. You should consider the climate, the terrain, and personal preferences about what is comfortable for you.
In general, though, shorts are usually a better choice for hiking. This is because they allow for greater freedom of movement and ventilation, which can be useful in hot weather. They also tend to dry a lot faster if they get wet.
Leggings can be a good choice in cooler weather, or if you are hiking through long grass or brush. They provide more coverage and protection from scratches and ticks and will also make sure that you stay warm much better than shorts do.
Ultimately, the best hiking shorts for women are the ones that best meet your individual needs, so make sure you think about what you want and know all of your options!!
Best Hiking Shorts for Women
Recktrek Zip-Off Pant: These Outdoor Voices hiking shorts are awesome! They start as pants, and you can gradually take sections off until you get to the length you need. The waistband has a snap closure, zipper fly, and also a removable nylon belt.
Patagonia Nine Trails Shorts: For anyone who wants versatile, lightweight women's shorts these are a great option for you! These Patagonia hiking shorts are made out of a polyester/spandex blend that is very breathable, moisture wicking and so comfy!!
Nike: These Nike women's shorts with pockets are a great option that will leave you with pockets at your side to carry your key, cards, etc… They also have a smooth feel to keep you comfy in your long summer hikes.
Athleta: These Athleta hiking shorts are some of the best hiking shorts for hot weather. With a thin, durable material they will keep you comfy and prevent you from overheating!!
Lululemon: made out of a high-quality material and designed for activities like running and hiking, these Lululemon hiking shorts are one of the best hiking shorts for women. Plus, they are sweat-wicking and breathable, and you really can't go wrong with Lululemon!
alo: with small side pocket, these alo hiking shorts are so cute and perfect for carrying your credit card or a key!! They also have a zip closure in the back which is perfect for keeping valuables safe. They are also some of the best hiking shorts for hot weather because of their quick dry material!
Madewell: these Madewell hiking shorts are a comfy and cute option!! Made from recycled nylon, they also have UPF 40+ sun protection and dry super quickly! They also have a built-in adjustable belt and mesh-lined pockets.
REI Sahara Bermuda Shorts: for an excellent option, check out these women's lightweight Bermuda shorts. They are even water repellent to repel moisture and dirt and have six pockets and are made out of lightweight material.
The North Face Aphrodite Motion Shorts: these are some of the best hiking shorts for women because they really have it all! If you're looking for four-way stretch, moisture-wicking, and sun protecting, the North Face Aphrodite Motion shorts are a great fit for you.
Columbia Saturday Trail 10in Long Short-Women's: for a durable and versatile option, these Columbia hiking shorts women's will meet all of your needs. They are stain-repellent, comfortable and made from a lightweight nylon material!!
Fjallraven Abisko Midsummer: these are one of the best hiking shorts for hot weather because of their lightweight fabric and awesome ventilation. You really can't go wrong with these Fjallraven hiking shorts, especially in warm weather.
I hope this post was helpful for you in choosing the best hiking shorts for women to help you stay comfy and cute while you hit the trails. You seriously can't go wrong with any of these, and I love sooo many of these options!! If you have any of the same favorites, please let me know in the comments!! Also, if you are looking for some tips for hiking, camping, fishing or other fun outdoor activities, you can get lots of great tips on Camping Forge.
Happy hiking and let me know if you try out any of these shorts!
Love,
Sherry
Shop This Post
This post may contain affiliate links, which means that I may receive a commission if you make a purchase using these links.