11 Stylish Shoes to Wear with A Maxi Dress
Hi everyone! In this post, I am going to share with you 11 different kinds of shoes to wear with a maxi dress! I used to wear ONLY midi or mini dresses…. I always thought Maxi dresses are not for me… Until one day I fell in love with a Maxi dress that I found at Nordstrom. I loved the fabric and the fit so much, that I had to buy it! Since then, I bought many more beautiful maxi dresses.
This post is about best shoes to wear with a maxi dress!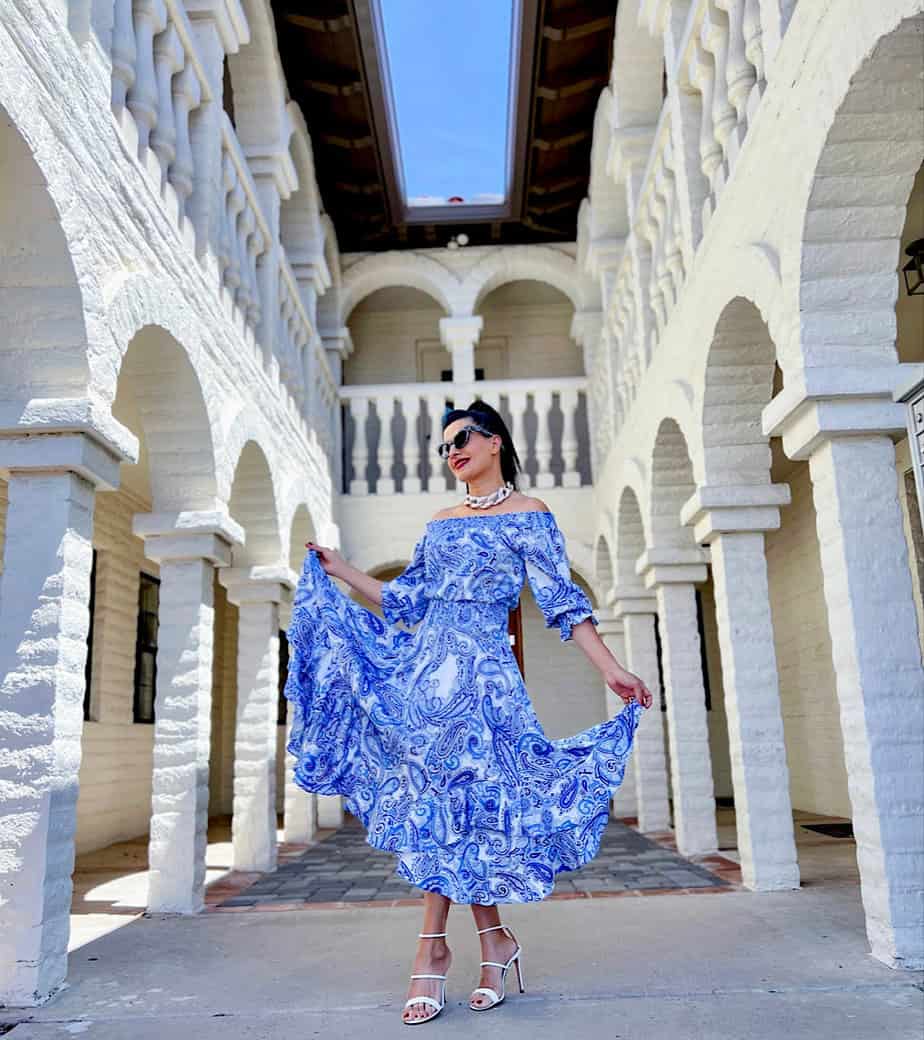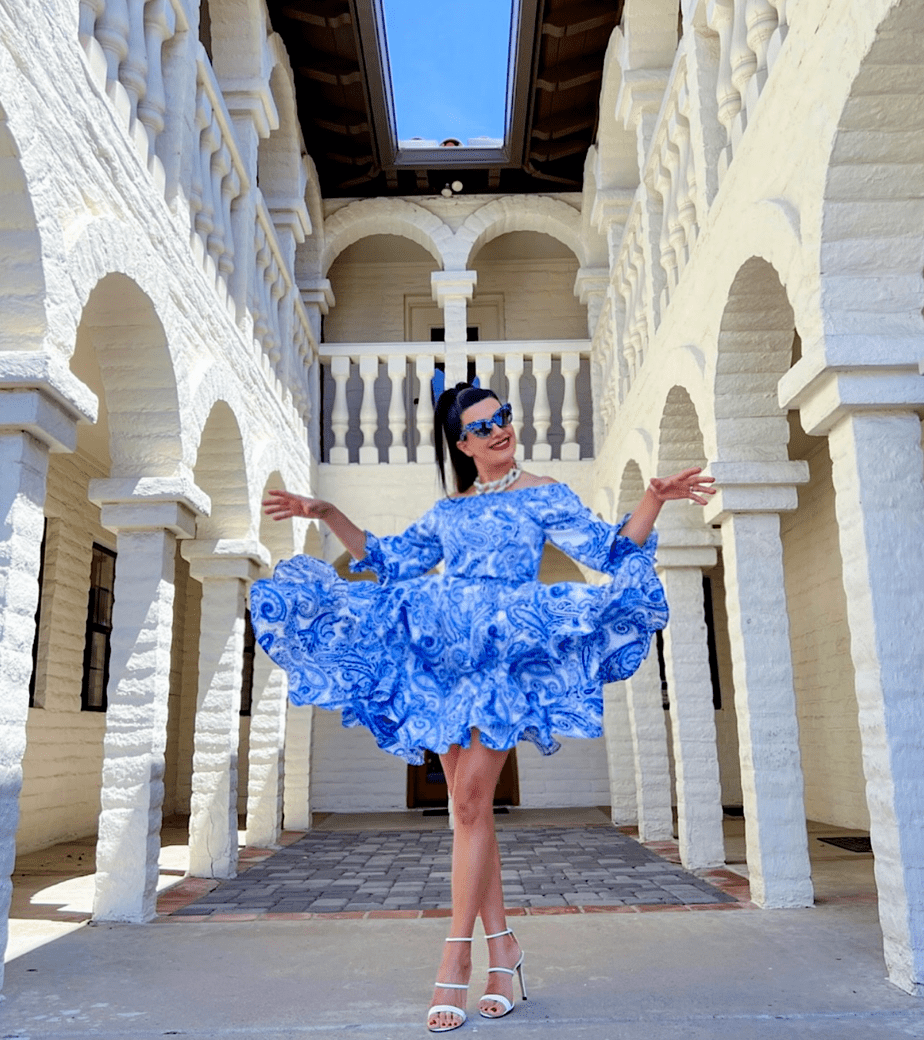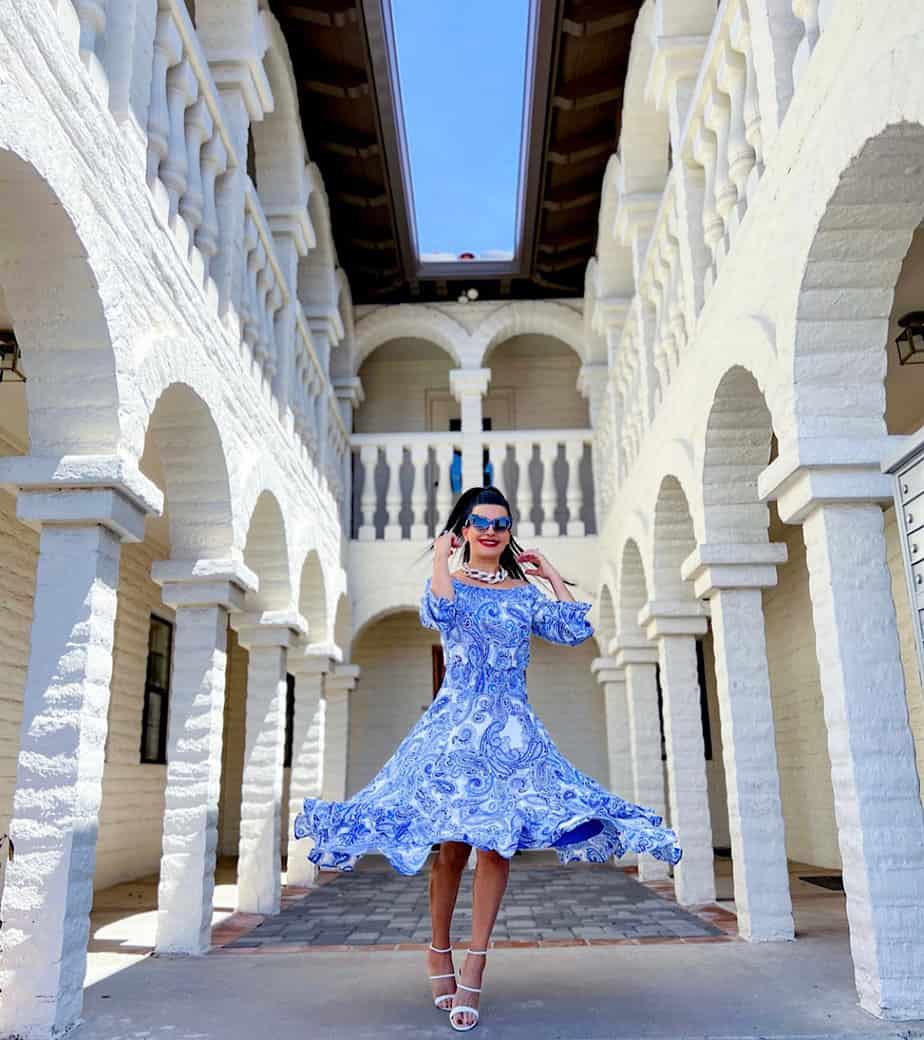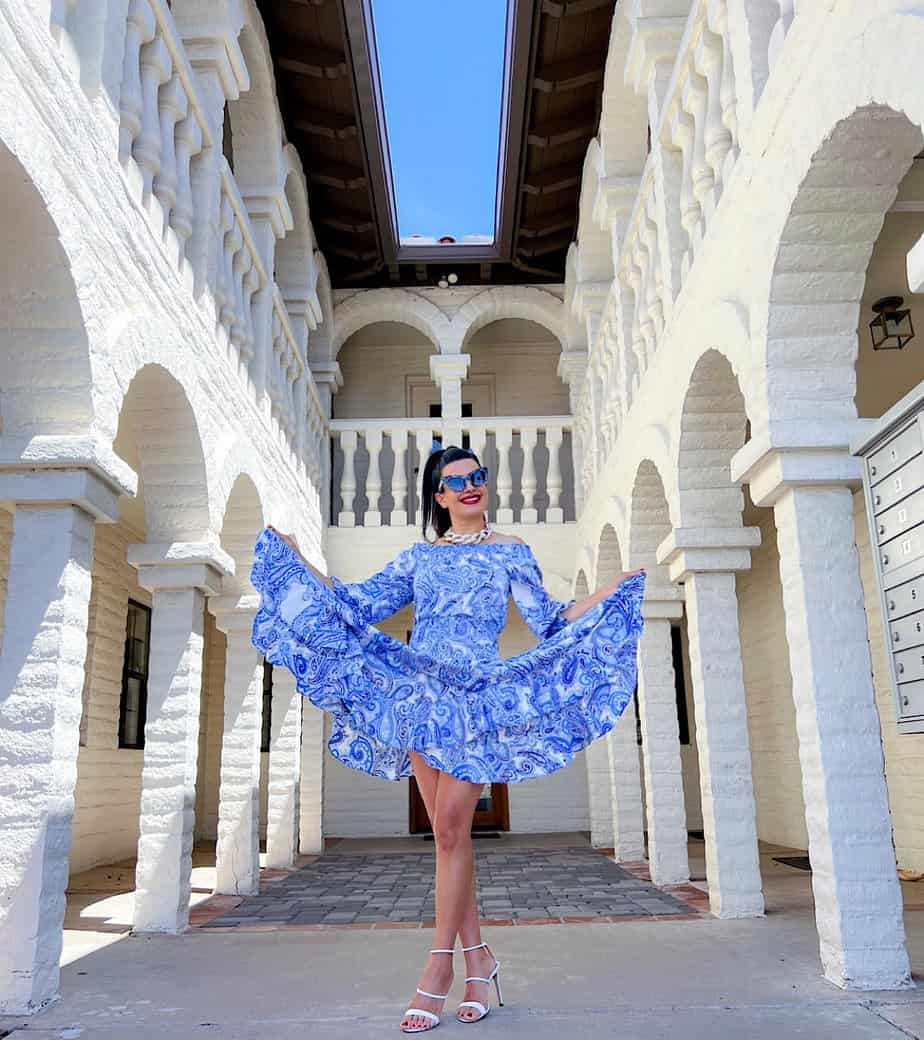 This post may contain affiliate links, which means that I may receive a commission if you make a purchase using these links.
Maxi Dresses
Sometimes the only challenging part is what shoes to wear with Maxi dresses. That is why decided to share a post about this topic! You might be asking, what are maxi dresses? Maxi dresses are these beautiful, flowy, or fitted dresses that can be either floor length or ankle length.

I am now a HUGE fan of maxi dresses because the dress is so versatile, and the shoe possibilities are endless! Maxi dresses can be either super casual, or dressy… it all depends on how you accessorize!

Maxi dresses can come in a wide variety of styles and print options. From minimal prints and neutral tones to bold colors and designs. Whether you're going out for a romantic dinner on the beach, a stroll through the city, or just going around doing errands, I'm going to help you choose the perfect shoe for your Maxi dress!

What Shoes to Wear with Maxi Dress in Summer
1- Flat Sandals
In the summertime, one of my FAVORITE shoes to pair with maxi dresses are classic flat sandals! A nice combo of a flowy maxi dress with a chic pair of sandals is all you need to look stylish and be comfortable during the summer and warm weather. For a more casual look or boho dresses, you can go with simple design flats with no extra embellishment like floral details, rhinestones, bows, etc.

2- Heels- Great Shoes to Wear with a Maxi Dress
If you want to dress up your maxi dress for an event or wedding, wearing heels is always a good idea! Heels are classy and they simply add to your height. If you are a "heel" person, there is a huge range of heels to choose from. Anywhere from skinny pencil heels to stilettos and chunky heels! They all look perfect with maxi dresses!

3- Wedges
If heels aren't your style, or you just aren't sure how to walk in them (LOL), wedges are a great option for you! If you want some dressier shoes to wear with maxi dresses, try wearing wedges that has some elements of design like floral details, rhinestones, bows, etc… If you're looking for closed-toed shoes for summer, try out a closed-toe wedges. They are slightly more dressed-up than open-toe wedges.

Related Post: How to Accessorize a White Dress
What Shoes to Wear with Maxi Dress in Fall
4- Peep Toe Heels- Great Shoes to Wear with a Maxi Dress (in Fall-Winter)
In the fall, I love to pair my maxi dresses with peep-toe heels. Peep-toe heels are so nice in the fall because they provide some coverage against the chilly weather (even though we don't get much of that here in Arizona), but if it's a warmer fall day you won't be too hot. They're a good option to have when deciding what shoes to wear with a maxi dress because they're such a middle ground. They elevate your look from being casual, at the same time don't make it too fancy, depending on the maxi dress you pair it with.

Related Post: How to Accessorize a Yellow Dress
Shoes to Wear with Maxi Dress in Winter
5- Tall Boots
You can also wear your maxi long dresses with boots, either ankle-high or knee-high, depending on what kind of look you're going for. The tall boots and ankle boots both can be dressed up or down. Pairing long dresses with boots can be super intimidating, but in the winter it's a must and looks so cute! Finding the right boots to wear with a maxi dress is hard but SO worth it.

6- Ankle Boots- Another Great Shoes to Wear with a Maxi Dress (for Fall/Winter)
Ankle booties are a definite must-have in anyone's closet!!! If you want to make your look more boho or even more edgy, I definitely recommend trying it out! If you're going the boho route, go with some light brown colors, or some with eclectic, quirky, patterns such as animal print. If you're looking for a more edgy look with your maxi dresses, try a leather ankle booty, or one with a dark color scheme.

7- Combat Boots
I know what you're thinking…. NO WAY that the rough combat boots go with a maxi dress… (LOL)!! But trust me, if you choose a right combat boot with a maxi sweater dress, it adds the perfect amount of rugged mixed with beauty.
Combat boots also look so fun with maxi skirts! I really love that look for fall/winter! You can wear a long maxi dress if you don't want to show them off, or if you want to showcase your boots, you can opt for an ankle-length maxi or a long maxi dress with a slit.

Related Post: What to Wear with Polka Dot Dress.
Comfort Shoes to Wear with Dresses
Some people think that in order to be comfortable you have to sacrifice fashion and I'll be the first to tell you that is NOT the case. There are so many shoes that are both comfy AND cute!
Flats are an amazing option to wear on the go, there is such a variety of flats ranging from a casual flat you can wear while running errands to a flat with jewels that you can wear at your wedding! You can always find fashionable or classic pairs of flats to wear with maxi dresses.
Go with Low Platform Heels and Wedges
If you don't want to wear flat and you're looking for that extra height, try a low platform shoe! They will help you add some extra height, without giving you the pain of your standard heel or stiletto. I think platform shoes give your back much better support than non-platform shoes. That is why they are so much more popular!

Some cushy sandals are also a SUPER cute summery option if the weather is warm or if you're going for a beachy vibe! The most obvious comfy shoe to wear with your dress is a sneaker! They're NOT only for working out. Pair a chic, white sneaker with your dress, whether it's flowy or bodycon, they both combine to make a comfy, yet a fashionable option on the go!
8- Sneakers
Lastly, pairing a long dress with sneakers is so fun and comfortable if you're looking to go with a more casual option. These sneakers are so comfy and cute! They will simply look amazing with casual maxi dresses!

9- Flip Flops
Flip flops and maxi dresses are simply a perfect combination especially for summer or a beach vacation! It can also be perfect for a garden party, summer shopping, BBQ parties and so much more! You can always find a cute pair of flip flops to compliment your maxi dress!

10- Slides
Mules are similar to flats but add a little more sophistication and class if that's the vibe you're looking for. I love wearing slides with maxi dresses especially in fall/winter! Slides are another great way to dress casually and stay comfortable! There are so many different cute slides to choose from! Anything from designer slides to none-designers, casual to dressy… there are lots of amazing styles and options to choose from….

11- Espadrilles
To me, there is something special about espadrilles sandals. They fit great and they are so comfy! They have the most flexible soles while allowing your feet to breath! I also think they are such a cute look for maxi dresses! You can wear the year around with maxi summer dresses, as well as a fitted sweater dress!

What Shoes to Wear with Ankle Length Dress
Picking the right shoe for your ankle-length dress is so important because the shoes will be on full display! If your dress has more detail, like my blue maxi dress here, you can go for a minimal heel! I chose a white heel to go with the blue and white design of the dress.
Patterns can be overwhelming if they aren't balanced with neutral or solid colors. The minimalist style of the heels is such a beautiful combination against the intricate designs of the dress, creating balance in your outfits and completely elevating them!
What Shoes to Wear with Maxi Dress for Wedding
I don't know about you, but I LOVE weddings!!! Choosing what to wear to the wedding is always so fun and exciting! Some types of shoes are more appropriate for big, formal, events like weddings. Since a maxi dress can be considered a pretty informal dress, we should elevate it with some elegant heels. You can also read this guide if you are attending a wedding and will be in the bridal party!

If your maxi dress doesn't have a lot of patterns on it and isn't "busy" as some say, go with a bold heel. A heel with embellishments or jewels will boost up your outfit, or even a lace-up heel, especially if your maxi dress is ankle length!
There are a few different lace-up heel styles you could choose from. There are thicker ribbon lace-up heels, which would go super well if your maxi dress were more ruffled and frillier. If you're looking to make your lower legs look slimmer, this is also a great option because the thickness of the ribbon adds body to the shoes, making the appearance of your legs look smaller.

There are also the standard lace-up heels that have a small, sleek, lace. These make any dress look so much more elegant, and if your maxi dress is a bit more on the plain side, try a metallic or shiny lace-up heel! I always say this… but BALANCE is so important when planning your outfits! If you have a really patterned outfit, go with a simpler shoe and accessories.
If your outfit is more on the plain side, go crazy with bold accessories and shoes! Some people like to wear platform sandals with maxi dresses for a wedding! This is also not a bad choice if you are a fan of platform sandals.
Shoes to Wear with Sweater Dresses
The weather is going to start getting cooler in just a few weeks! And you know what that means…SWEATER DRESSES! I love sweater dresses because they're so chic and versatile. Sweater dresses can be styled in so many different ways that are so unique from each other!
My first go-to with a cozy sweater dress is some knee-high boots! I simply love to wear boots with sweater dresses. Deciding what shoes to wear with a long dress can be tricky but wearing long dresses with boots is such a classic, elegant look (if you choose appropriate colors and textures together).

Cute Maxi Sweater Dresses that Go with Tall Boots and Ankle Boots
If you're looking for that classy, sweater dress look, I would recommend a gray long sleeve sweater dress with black knee-high boots. You can also wear peep toe shoes or lace-up boots for a dressy look!
If you're trying to keep your look more casual but still want to wear a comfy sweater dress to keep warm, dress it DOWN with some more casual accessories and shoe options. For example, try pairing your sweater dress with a dainty leather backpack, and opt for some fuzzy mules for footwear! Or you can simply wear any type of ankle boots (flat or heels).
So, what about a long dress with sneakers? This is DEFINITELY doable with a sweater dress. But first, we need to dress it down, and try breaking up the elegance of the sweater dress with some different materials. Plaid blazers, jeans, or leather jackets, etc. can all help you achieve this look.

FAQ
What Type of Shoes Do You Wear with a Maxi Dress?
There are literally so many shoes and boot options to wear with maxi dresses because of how versatile maxi dresses are! If your goal is a casual fit, try out some sneakers, espadrilles, flat sandals, mules, or even wedges.
If you want to elevate your look into something dressier, go for a sexy knee-high boot, a sleek minimal heel, or even a heel with some embellishments like jewels and rhinestones. If you're feeling daring and can walk in them (LOL), stilettos are also a great option as they'll add so much height to your look. Platforms are another great option as they'll also add height to your look, while still being comfortable for your feet! Many people also like wearing flip-flops with a casual maxi dress.
Can You Wear Wedges with a Maxi Dress?
Wedges are amazing shoes to wear with a maxi dress! Wedges are often considered a more casual shoe. They're good shoes to wear with long dresses, and even a good option for closed-toe shoes to wear with the maxi dress. If you're looking for a more casual, yet slightly dressed-up outfit, they're definitely a fashionable choice ESPECIALLY for summer! Some people like chunky heels instead of wedges! The y will both work fine with maxi dresses.
What Boots go with a Maxi dress?
Because of how beautifully flowy maxi dresses are, pointed-toe boots are a great option! Because they'll help balance out the outfit and add more sharp angles and dimension.
Maxi dresses honestly look great with so many different materials. However, I suggest wearing boots that are either made from leather or suede. I personally do not like cotton, wool, nylon, or polyester boots with maxi dresses!
I also think wearing suede ankle boots with a maxi dress for fall or winter is always a good idea!!! In my opinion, ankle boots look so cute with any maxi dresses or sweater dresses!
How Long Should Maxi Dress be with Heels?
It is SO important to make sure you have the right length-to-floor ratio when pairing your maxi dress with heels. Your maxi dress should not be touching the ground, because tripping is NOT fun. Heels are hard enough to walk in without having to worry about stepping on a long maxi dress or skirt! hahaha!!!
If you want to wear heels with your dress, the ideal maxi dress length will fall between your ankle and the tops of your toes. Leaving enough room to walk, and also allowing others to see the beautiful shoes you chose to pair it with… Also, just a tip to keep in mind, these kinds of shoes are ALSO great shoes to wear with maxi skirts, not just maxi dresses!!
Is a Maxi Dress Appropriate for a Wedding?
Maxi dresses are ABSOLUTELY appropriate for weddings. I would even go as far as to say that they should be a go-to option to think about when planning your outfit for one!
They're so comfortable, yet fashionable, perfect for those long wedding days. If the wedding is formal, pair your maxi dress with a sleek minimal heel (perfect footwear), or a shiny lace-up heel to dress it up.
If the wedding you're going to is semi-formal, try pairing your maxi with some dressier flats with some embellishments on them. Lastly, if the wedding invite asks for a casual dress code, go for some cute sandals with floral accents, or some wedges! These are all great options to wear with maxi dresses. You can read this guide on Maxi dresses for wedding guest if you need more help!
How do you Style a Flowy Maxi Dress?
There are SO many ways to style and enhance a flowy maxi dress. This might seem super simple but so many people forget about belts! If you want to add a bit more structure to your flowy maxi dress, add a cute thin belt.
If you're trying to keep things simpler, go with some neutral sandals, flats, or wedges. If your maxi dress is more on the plain side color-wise and you're looking to elevate your look, add a bright pop of color with your jewelry or handbag, even matching your accessory colors to your shoes will help balance your outfit and make it whole. Since a flowy maxi dress just screams summertime, try adding a fun, floppy hat! This will give you such a beachy vibe and would be perfect for a summer getaway.
I hope this post was helpful for you if you were wondering what shoes to wear with maxi dresses. Now go look for the most perfect maxi dress and a perfect shoe to go with it!
Love,
Sherry
This post may contain affiliate links, which means that I may receive a commission if you make a purchase using these links.
Shop The Post or Similar










Sherry, xoxo