Happy 6th birthday to our sweet little girl, Valentina! Less than 2 months following Alina's birthday, so much has changed! Our family are now all vaccinated for Covid so we could FINALLY have some of Valentina's friends over to our house for her birthday! I am so grateful for the ability to get the vaccine!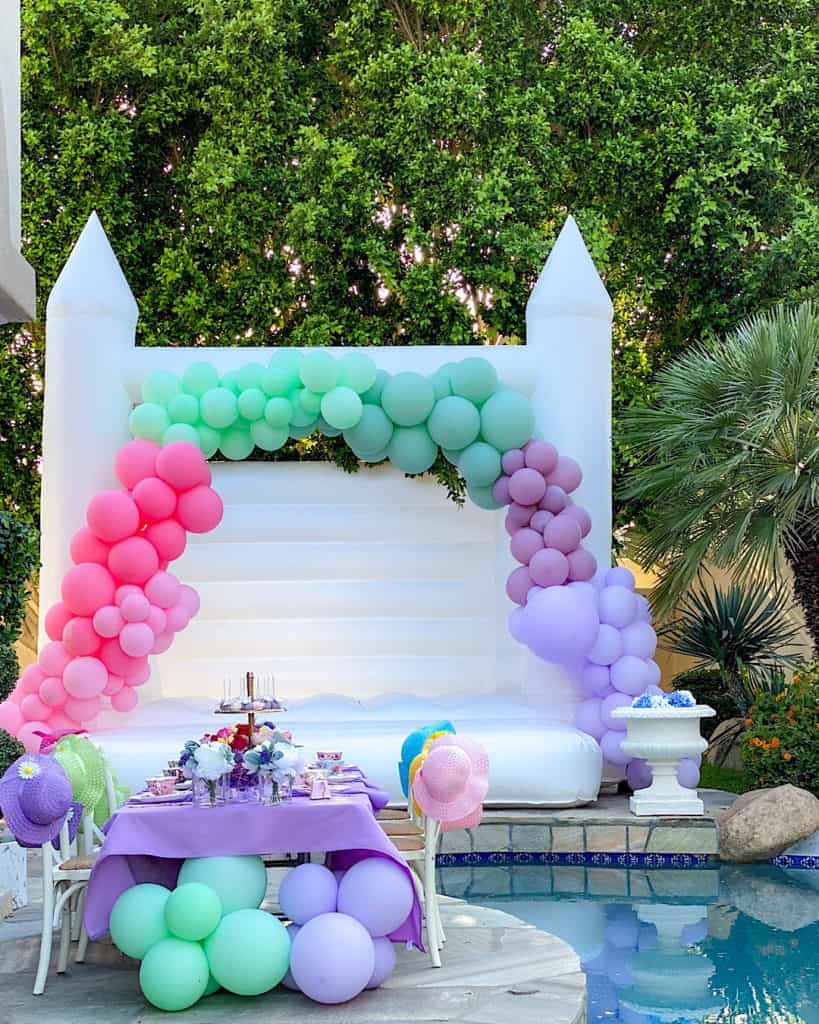 When I started planning her birthday, I looked up some birthday cakes for 6-year-old girls on Pinterest. While I was browsing different cakes on Pinterest, Valentina was sitting next to me and saw a beautiful teapot cake! She said this cake is so beautiful! I wish I could have it for my birthday! I immediately thought that a tea party theme sounds like a fun birthday idea for her, so that's how we came up with the idea of a birthday garden tea party!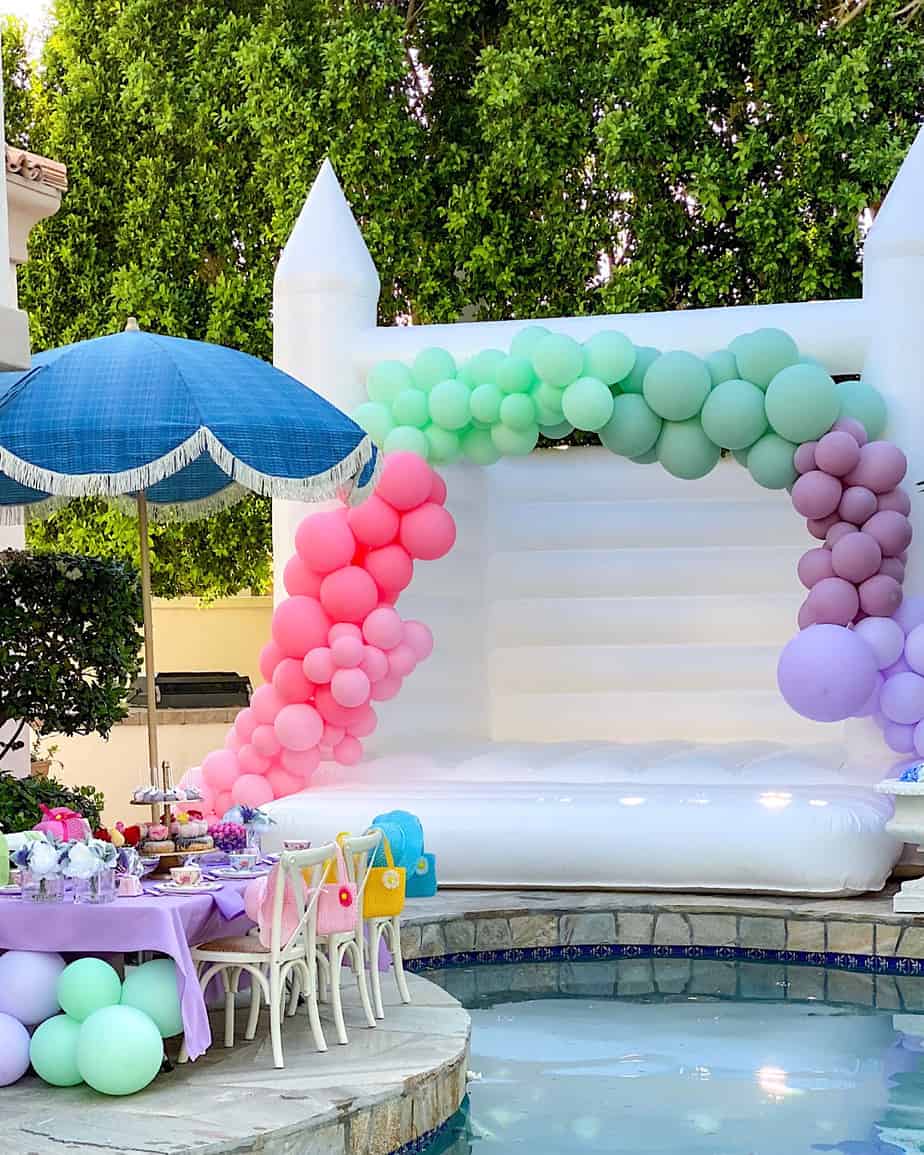 Planning a Birthday Garden Tea Party
We decided to invite a handful of her friends and have a little tea party in our backyard. We also decided not to tell Valentina that her friends were coming to her party and wanted to keep it a SURPRISE!!! When her friends walked into our house, she screamed from the excitement! She could NOT believe it, because she did not have any of her friends over to house for SOOO long! The look of excitement on her face was priceless!
Where We Got the White Castel Bounce House for Valentina's Birthday
One of the biggest highlights of Valentina's birthday party was this GORGEOUS white castle bounce house from Jump into Bliss. The kids LOVED it sooo much and jumped on it all night! I was looking for a white Castle bounce house! I knew I could add colorful balloons to it and make it look so pretty for a "spring" birthday party! I started to look on Instagram and came across Jump into Bliss Instagram page! I absolutely LOVED their beautiful white bounce houses! I sent them a message and asked if they have a "white castle bounce house". They said they just lunched a new one and sent me the pictures! Ahh!! I fell in love with it!!! I did not even bother to look elsewhere!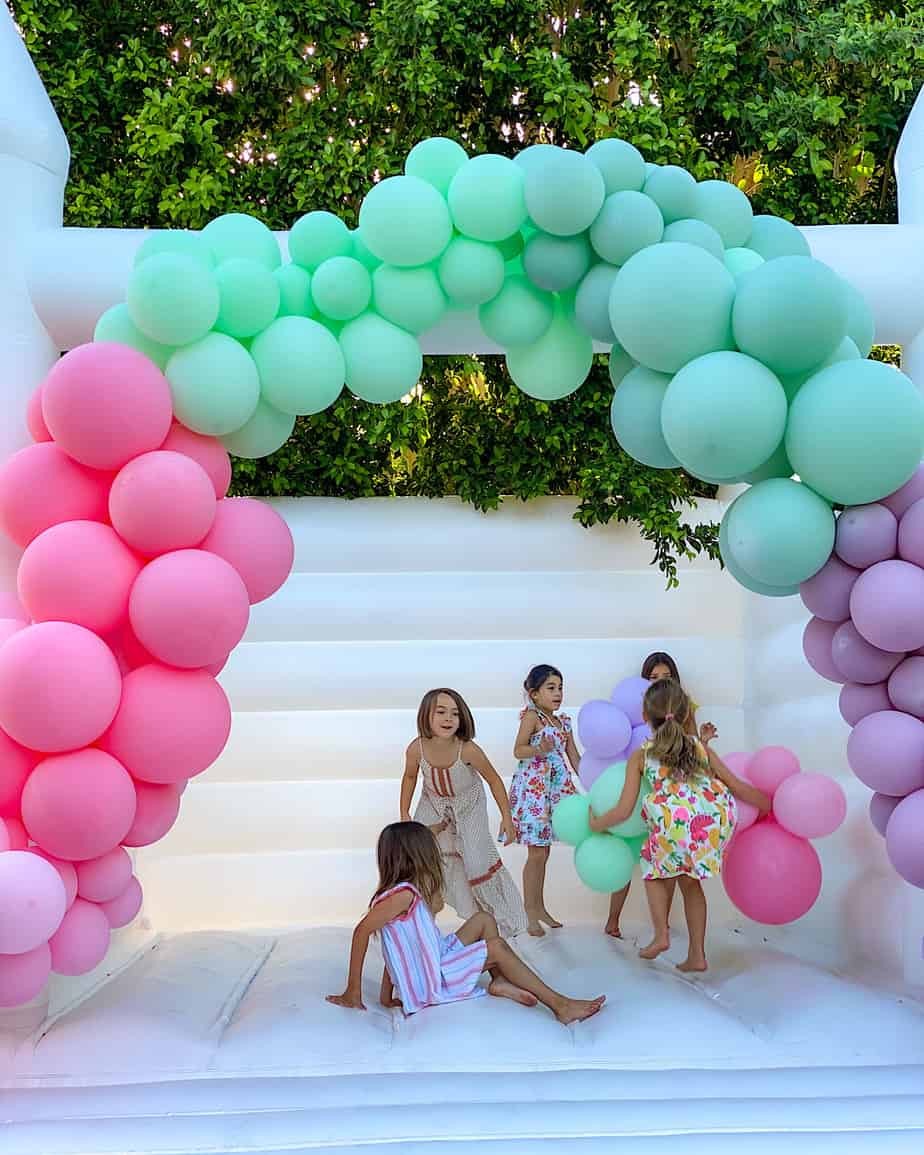 It was such a pleasure to work with the owners (Allie and Blanca). They were both SO sweet and so professional! They came and set up the entire bounce house one day before the party and picked up everything the day after the party! The quality of their product was amazing! Everything, from the delivery to setup and the cleanup was so smooth and easy!
Where We Got the Valentina's Birthday Teapot Cake
There are so many amazing custom cake bakeries in Scottsdale and Phoenix. But my FAVORITE one is Maryam's Cakery! She is so talented and so creative! She is very passionate about her work and it really shows because her cakes look like art pieces. Making a "pouring teapot cake" is HARD!! I still do not know how she did it!! Hahaha! Her work is simply flawless, and her cakes taste AMAZING!!!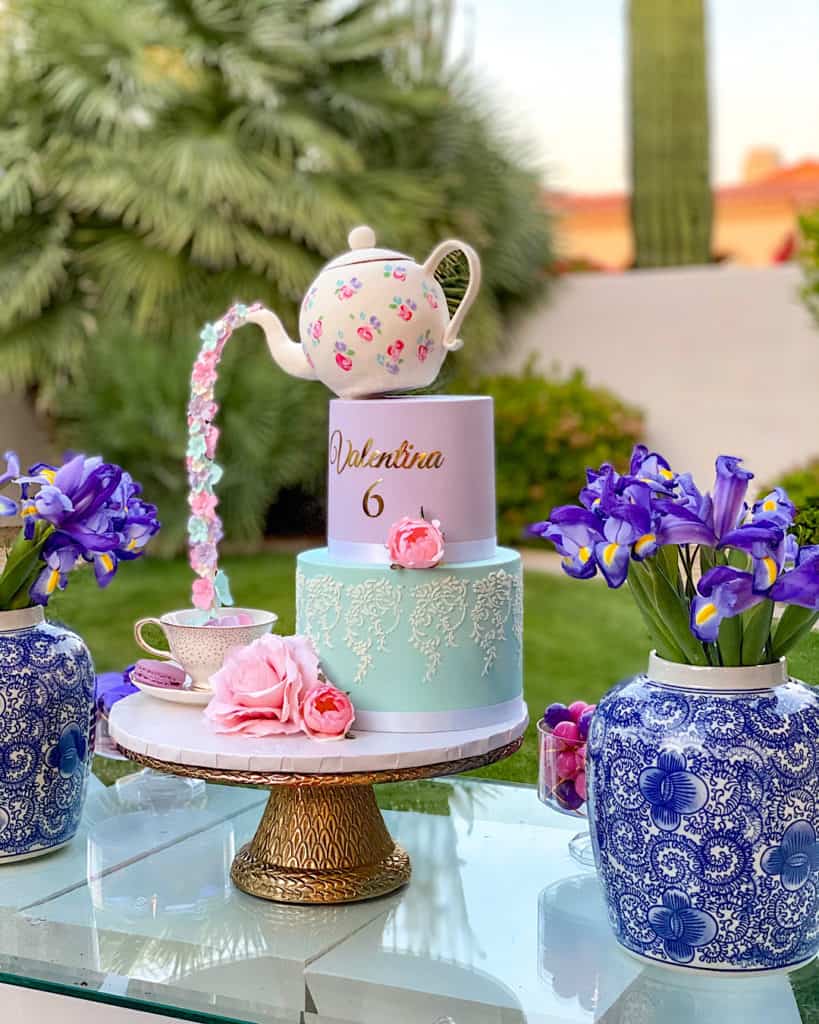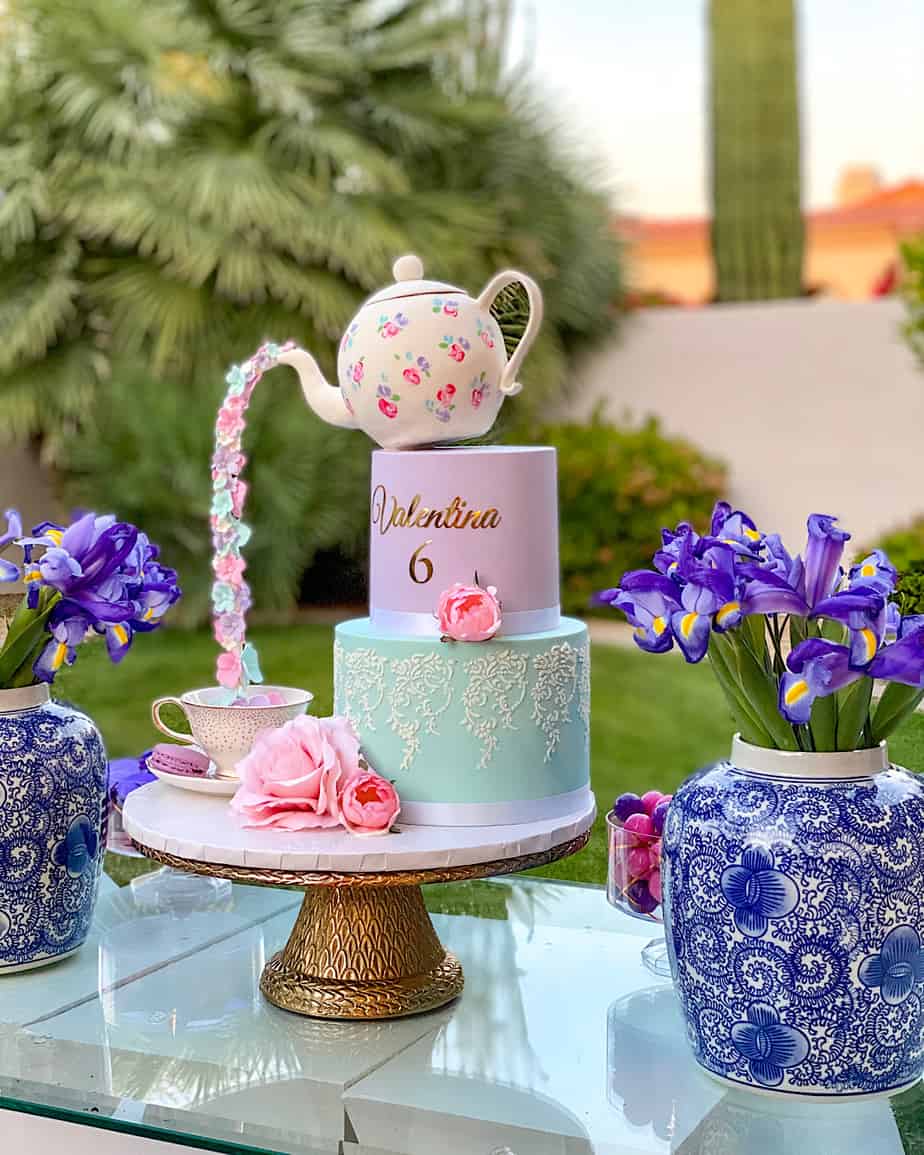 She bakes her cakes in her kitchen at home, so they taste like a great homemade cake! She has a gallery of gorgeous cakes on her Instagram! She also made Valentina's 4th birthday cake and Alina's 2nd birthday cake. I look forward to celebrating more birthdays with her incredible cakes! The look on Valentina's and all of our guests faces when the cake was brought out was fantastic. They couldn't believe that was the cake!!!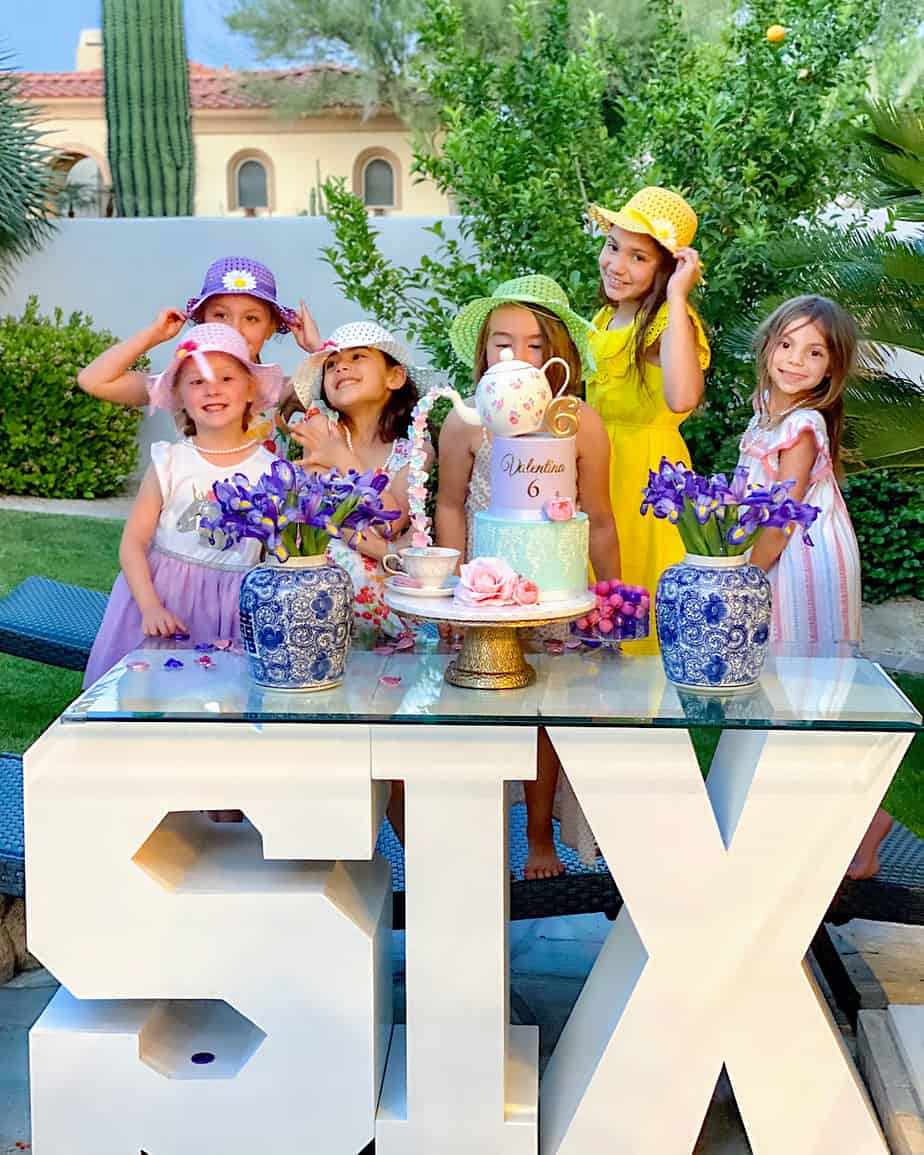 Who Designed Valentina's Birthday Balloon Garland
I worked with Luz Balloons for Alina's 2nd birthday and I could not be any happier! They are such an amazing company and great people to work with! Luz (the owner) is so kind and so easy to work with! She is so creative and always has lots of great ideas! She can design anything that you ask her! I wanted a soft lavender, light green, and pink balloons for our white castle bounce house!
I did not want the balloon garland to take over the castle. So asked her if she could make a simple and elegant balloon garland around the top of the castle! She did an incredible job, and we were all beyond happy about the way it turned out! Valentina LOVED it soooo much! They also brought the cute birthday cake table with letter "SIX". It looked so cute! They have a beautiful gallery of their beautiful balloons garland and balloon arches on their Instagram page!
How to Host a DIY Garden Tea Party for a Little Girl's Birthday Party
Hosting a DIY garden tea party can be SUCH a special experience for little girls' birthdays. There are so many ways to host a tea party themed birthday party for 6-year-old girls, the number of little girl tea party ideas can be overwhelming! This guide will give you the tips you need on how to have a child's tea party for everyone to enjoy!
Outdoor High Tea Birthday Decoration Ideas
Having a fun outdoor high tea party for Valentina was a great ideas. It gave the parents and kids SO much more space to enjoy themselves, have some desserts, and participate in all kinds of fun activities. Beside the tea table, we had a gorgeous lavender, pink, and pesto green balloon arch around the outside of a white castle bounce house we got for Valentina. The kids LOVED the bounce house, and the arch looked GORGEOUS.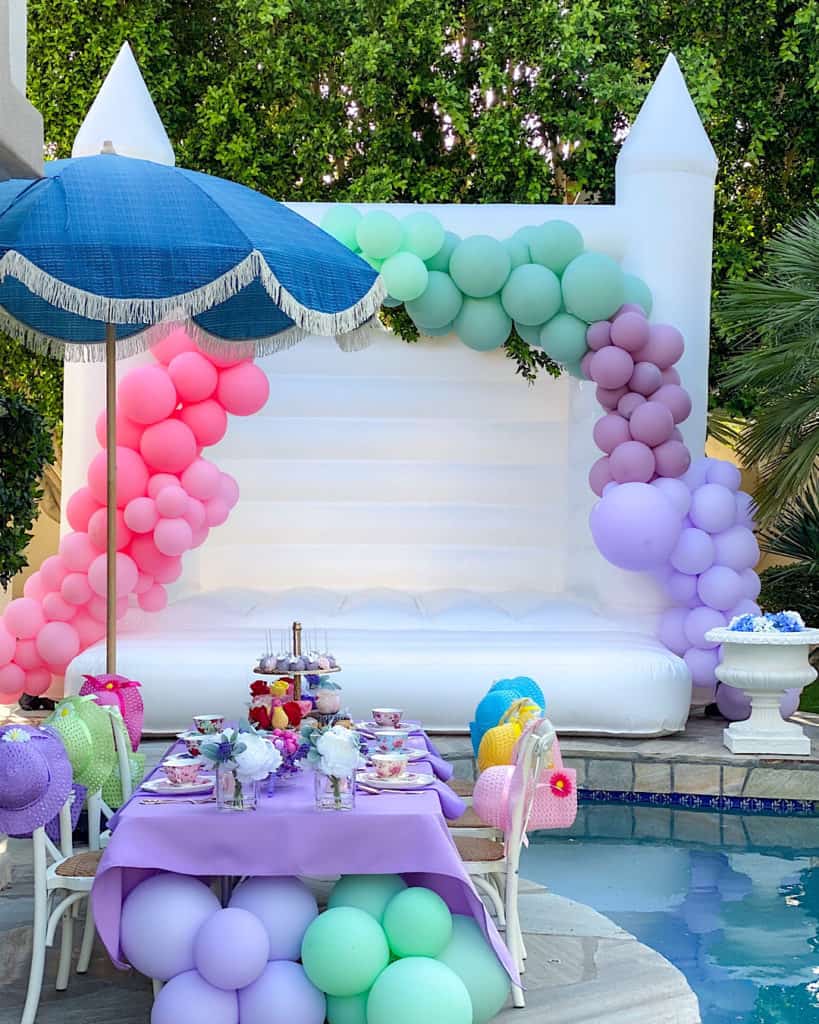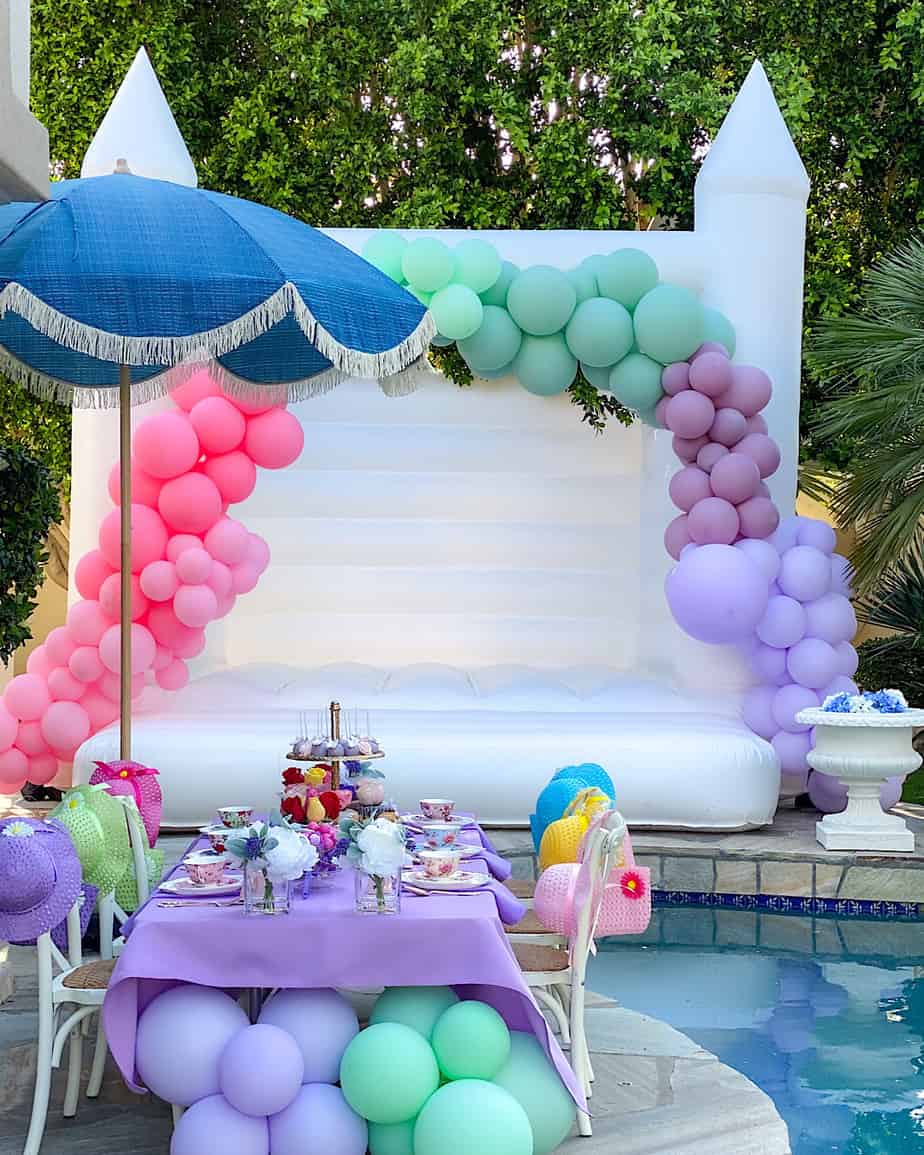 Some other high tea balloon decoration ideas for birthday party at home are:
Blow up balloons in different sizes in shiny pearl tones, such as white, cream, and light pink, and tape them to the wall so they look like shiny pearls – PERFECT decor for a tea party for girls.
Lavender is a popular color for spring, and what little girl doesn't love a nice light purple? For a lavender flower party, or lavender vintage tea party, hang up balloons in different areas in multiple shades of purple and lavender to decorate for unique birthday party themes.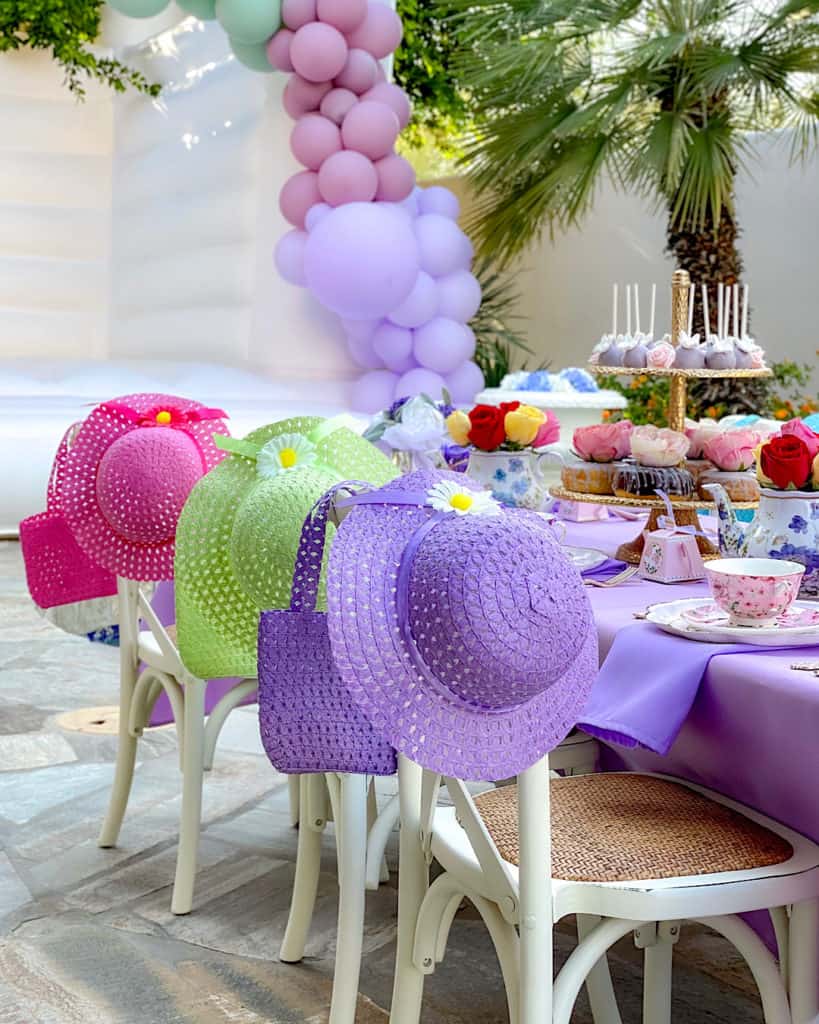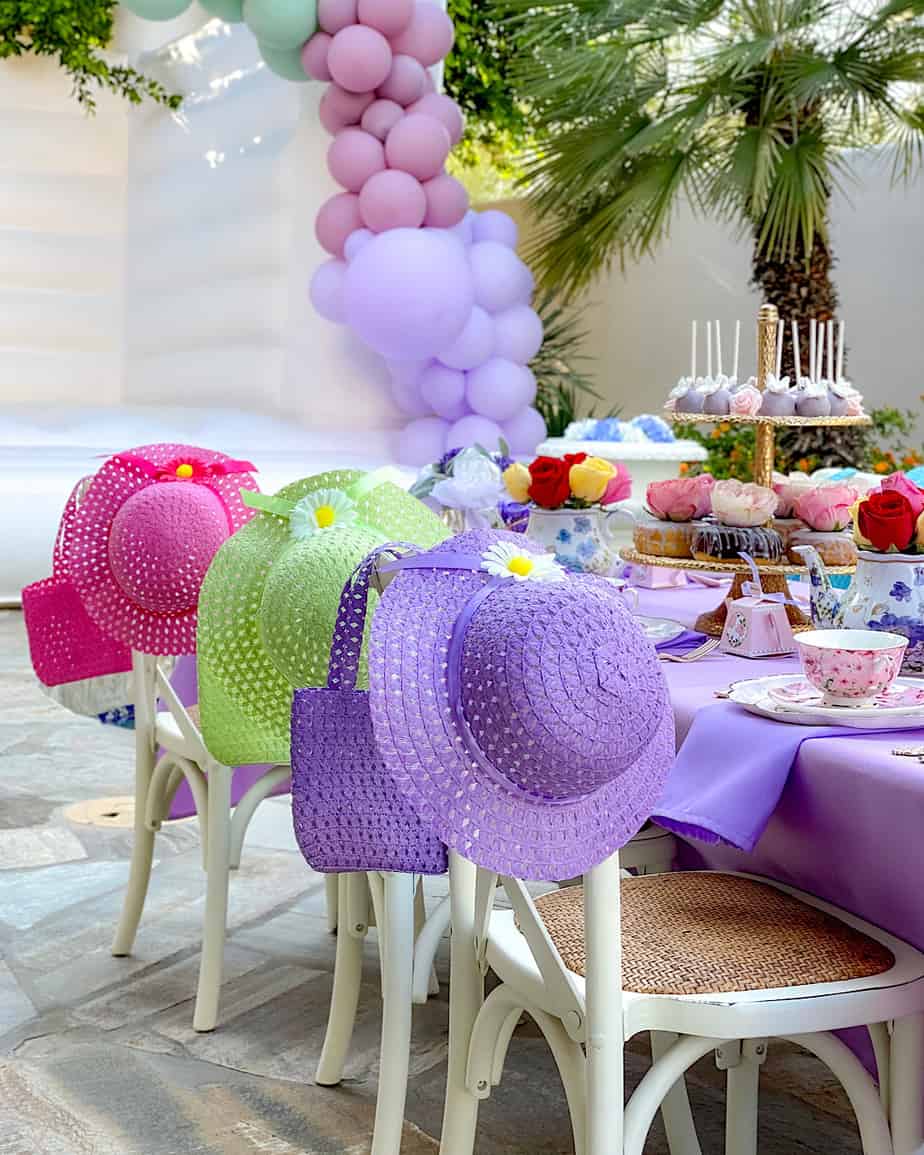 Tie pictures of your tea party princess to the ends of balloon strings and let them hover around the room or above the table.
For an extra sweet touch, add paper cones to the bottom of balloons to make them look like ice cream.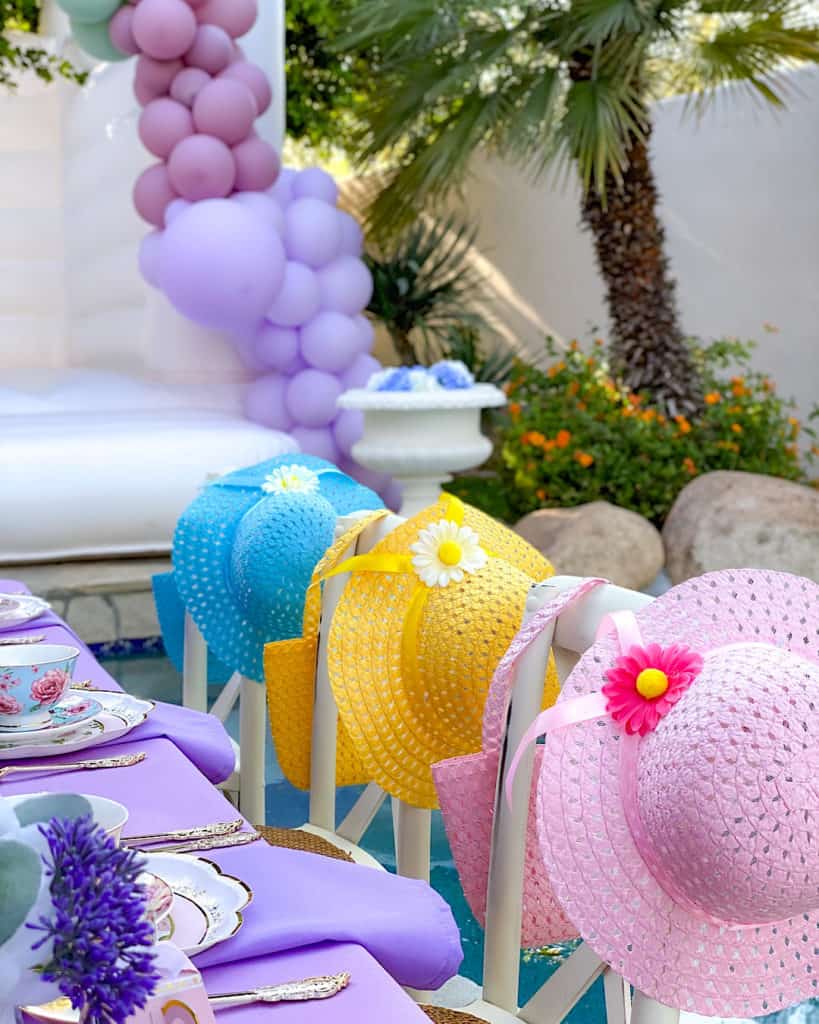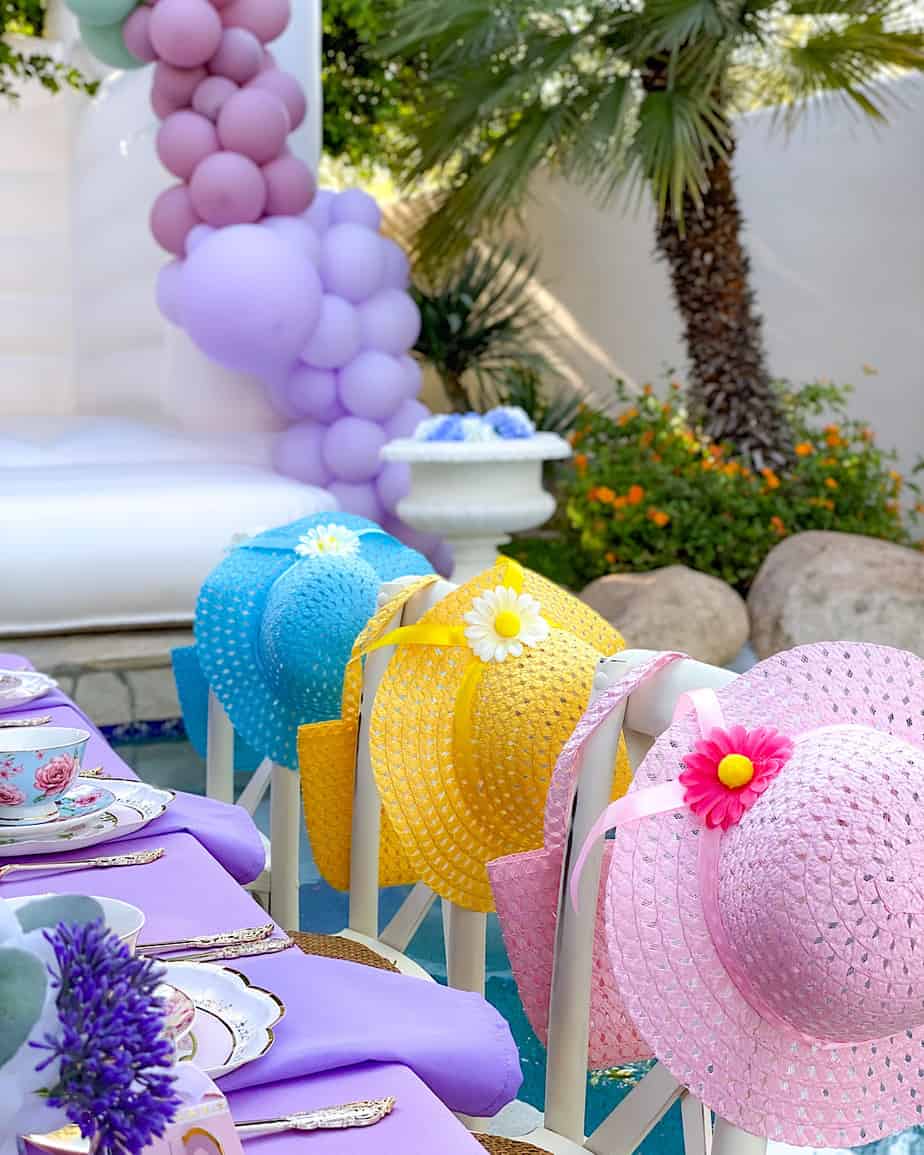 Some other tea party birthday decoration ideas are:
Setting out teapots with flowers as beautiful centerpieces
Adding lace, floral tablecloths, and other pretty decor to the area
Using floral plates, cups, and napkins to fit the theme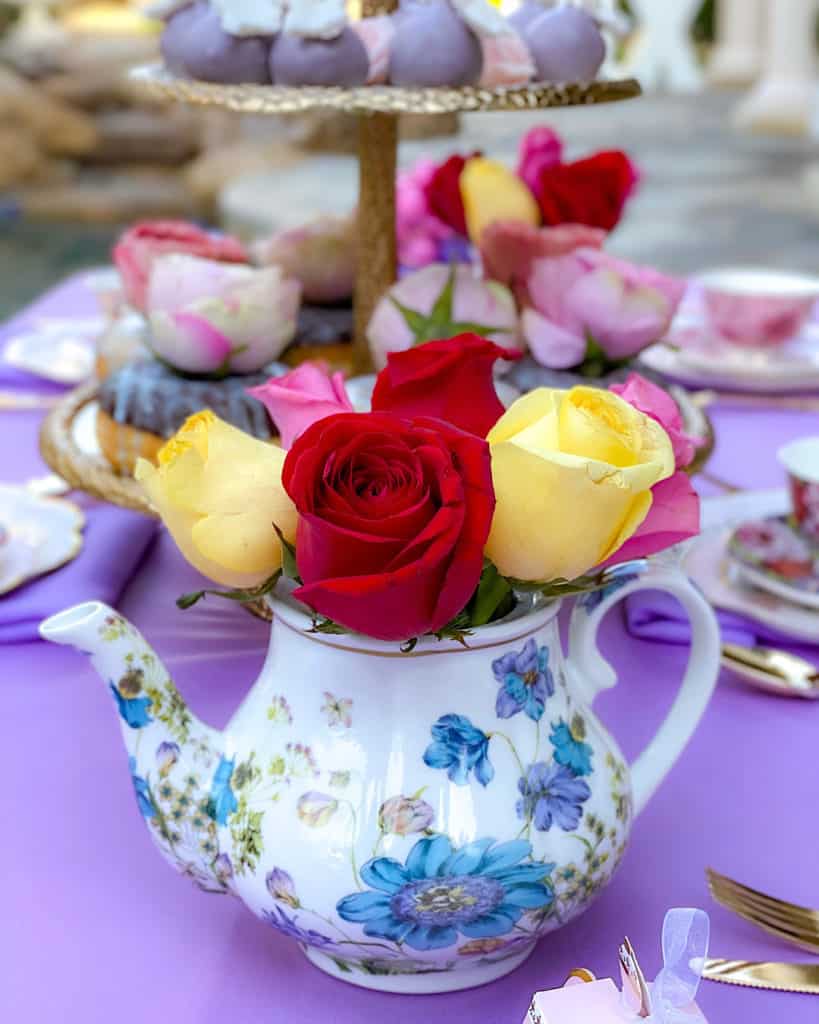 Adding colors like soft pink, gold, and lavender to set the tone – we added pesto green to Valentina's theme for an extra rich color contrast
Gold and crystal cake stands and decorative details
Confetti and sparkles in the colors of the theme
If tea parties are not your child's thing, there are so many other elegant party theme ideas, such as vintage 1950's, pearls, fairies, movie stars, and princesses (BONUS: the princess theme can also be used as part of a double theme for princess tea party birthday ideas!). Or, some other 6 year old birthday party theme ideas for little girls who are NOT into princesses and tea parties are: favorite movies, book characters, carnival, jungle, or any other theme your child is interested in!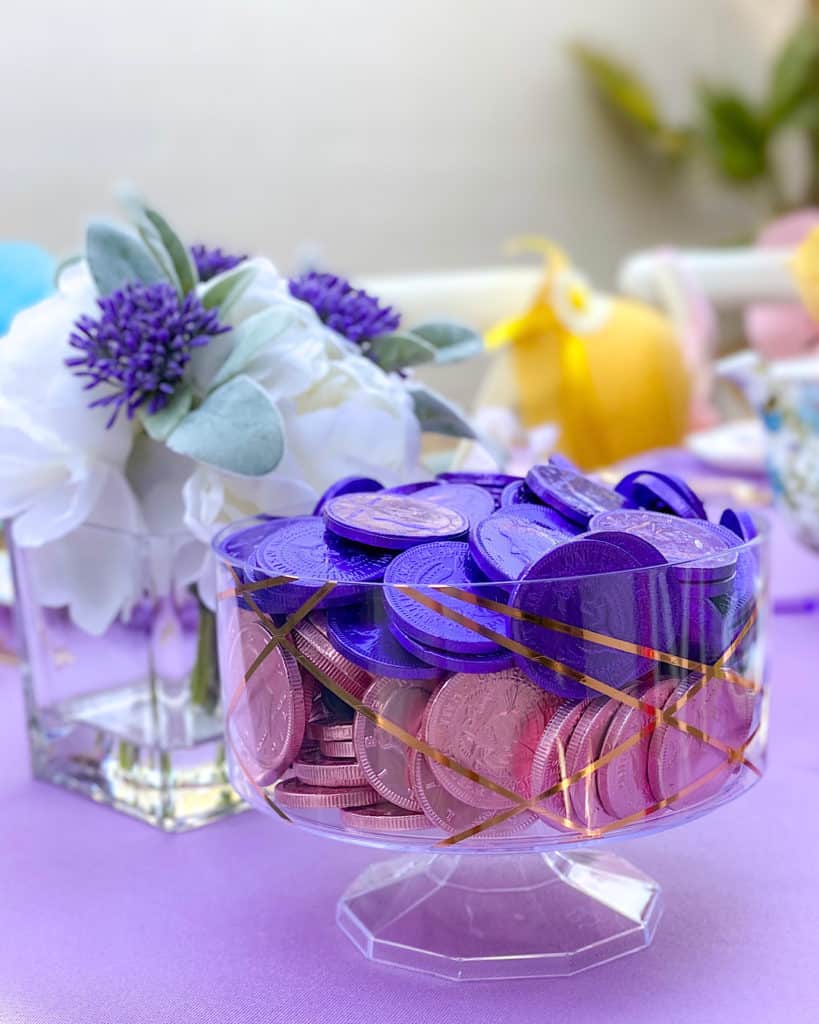 What Do You Serve at a Child's Tea Party?
One of the best parts of tea parties is the SWEETS! Valentina LOVES sweets, so this tea party theme was PERFECT for her! I got some vanilla and chocolate doughnuts as well as chocolate lavender cake pops for the kids. Since most kids do not like or drink tea, we served them lemonade, apple juice and orange juice!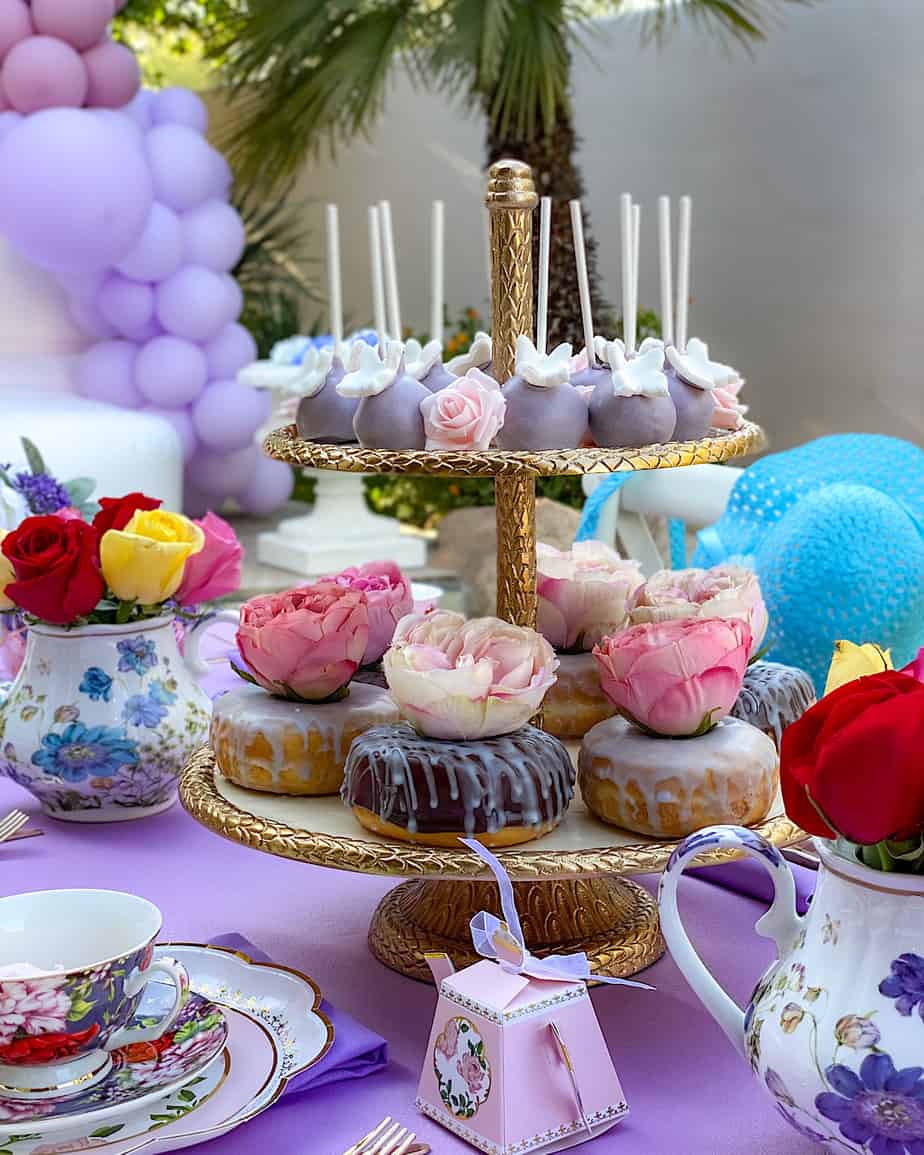 Cake: Of course, what is a birthday party without cake? You can get a birthday teapot custom cake in any flavor you'd like (we ordered chocolate cake). For a really cool tea party cake, get a pouring teapot birthday cake so it looks like the tea inside the pot is actually pouring out onto the cake! SUCH a unique idea and it looks AMAZING for a tea party theme!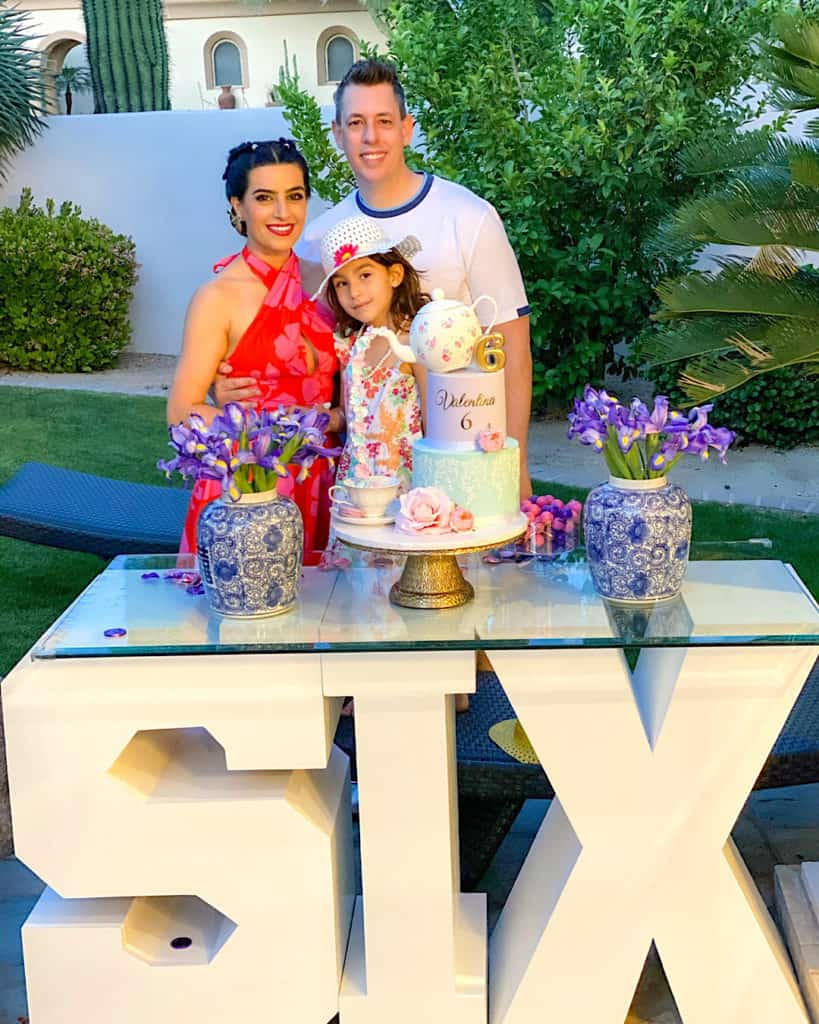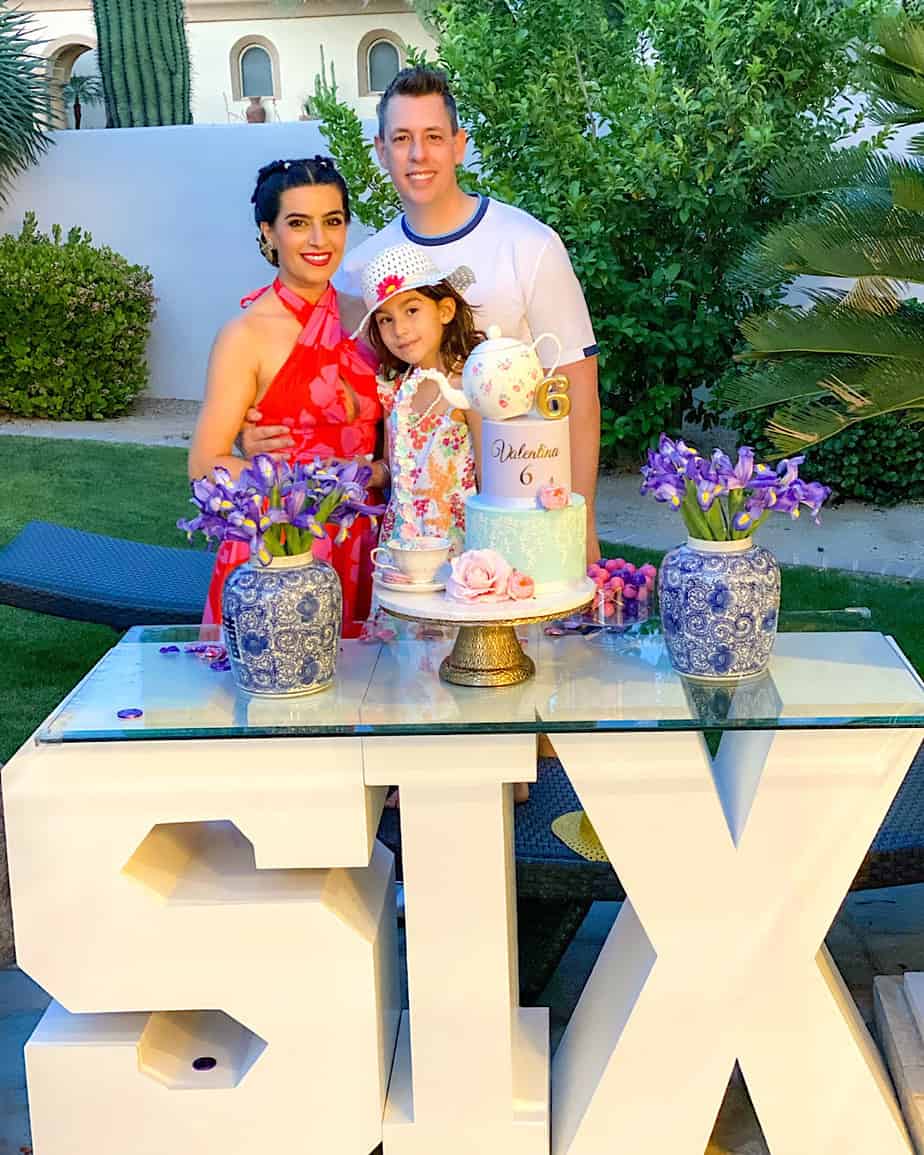 Some great pouring teapot birthday cake ideas are:
Gravity-defying pouring teapot cake: The teapot looks like it is hovering over a teacup that is sitting on top of the cake. This can be done in many ways, such as attaching a wire from the base of the cake to the bottom of the teapot.
Tilted cake: With this option, there are around three layers of cake stacked on top of each other in a fun "tilted" way with a teapot sitting on top, pouring into a cup that is teetering on the side of the bottom layer. It's a funny way of doing the pouring teapot cake!
Teapot on top: For this option, the teapot is directly on top of the cake and a tea cup is off to the side, unattached to the cake. It looks like the tea is coming out of the teapot and pouring from a short distance into the cup – a really cool way of doing a tea party cake!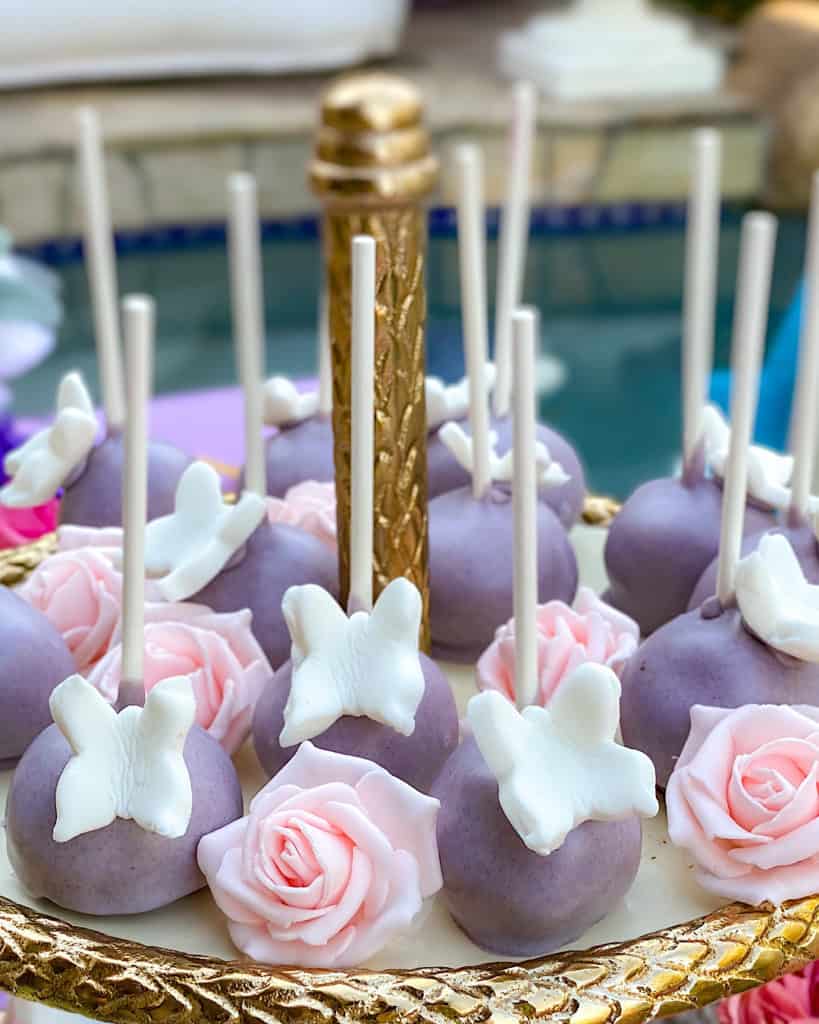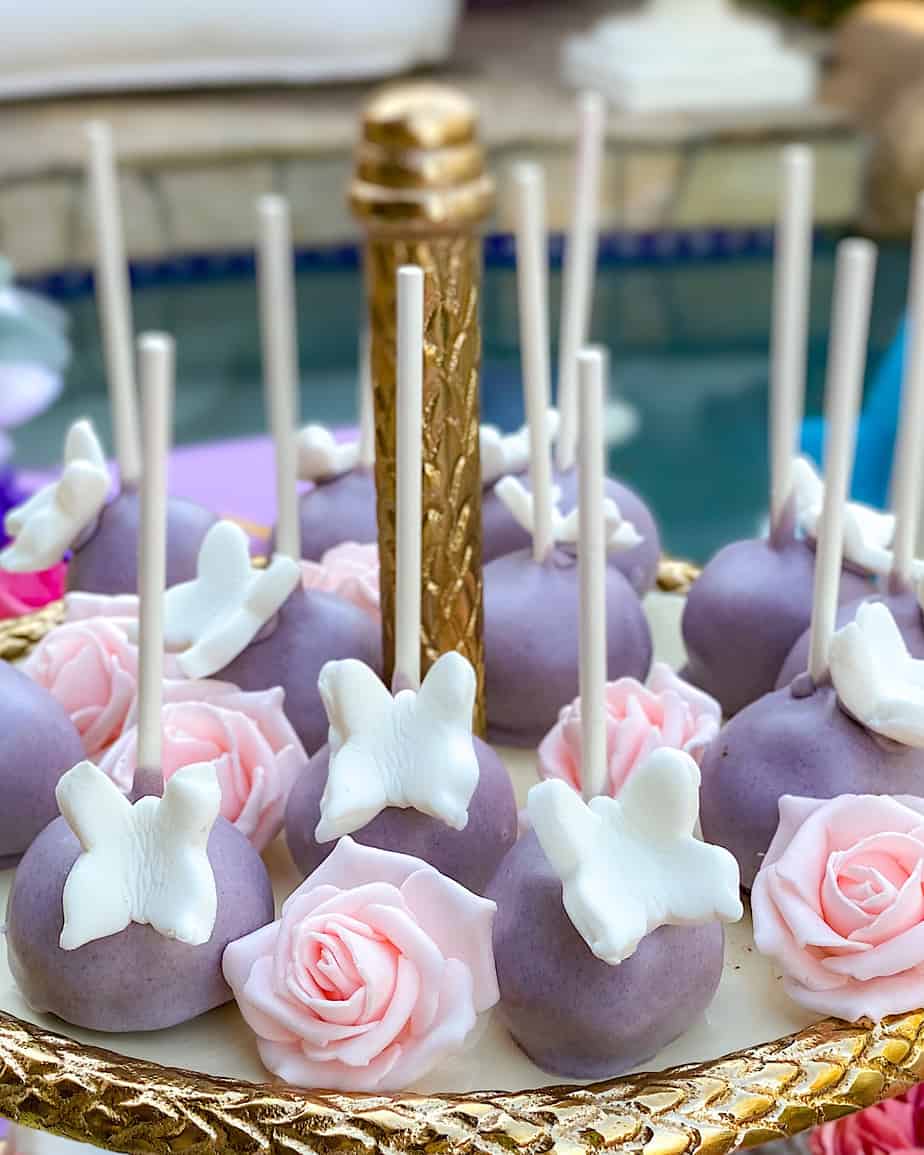 There are a million tutorials out there for moms who like to bake and want to give the pouring teapot birthday cake a try! While cake is the most anticipated part of birthday parties, you need to have other tea party food for the kids! Some ideas for little girl tea party food are:
Tea sandwiches: You could do something more traditional, such as cucumber and cream cheese or chicken salad, or create your own tiny tea sandwiches with whatever your child likes! (Valentina's aunt was supposed to make the tea sandwiches but she completely forgot! LOL)!!!
Mini scones with devonshire cream and raspberry jam
Mini cakes and brownie bites
Cookies
Tiny cupcakes
Fruit (for something a little healthy!)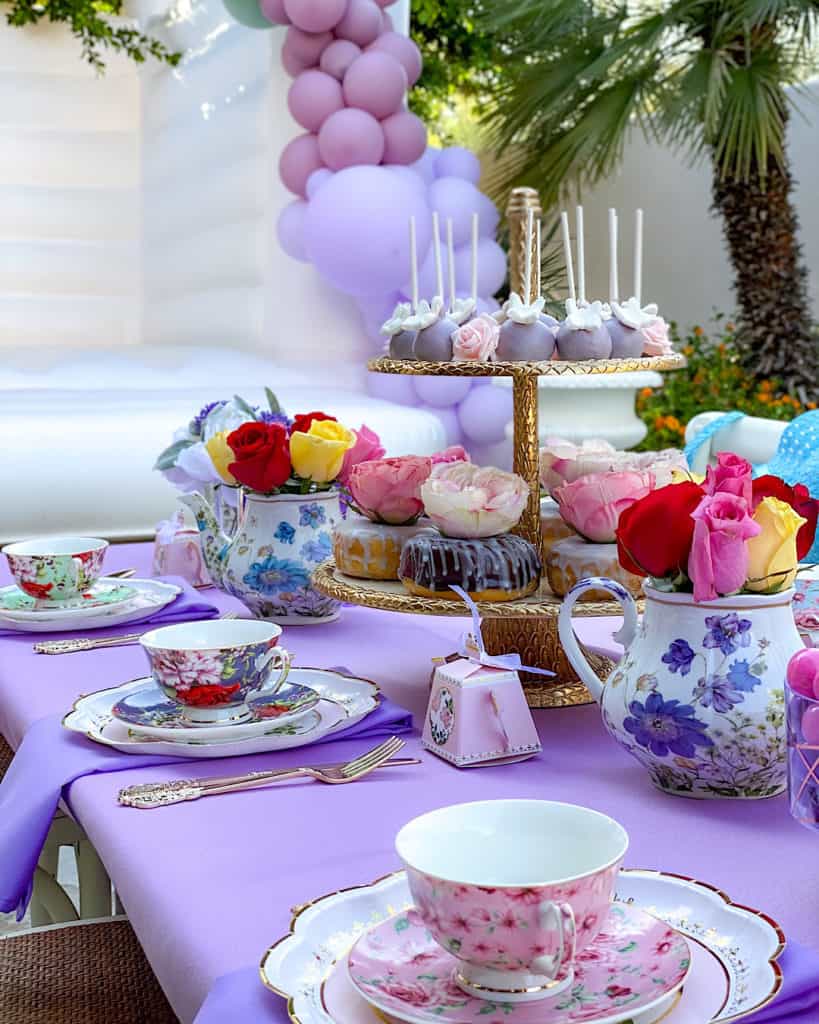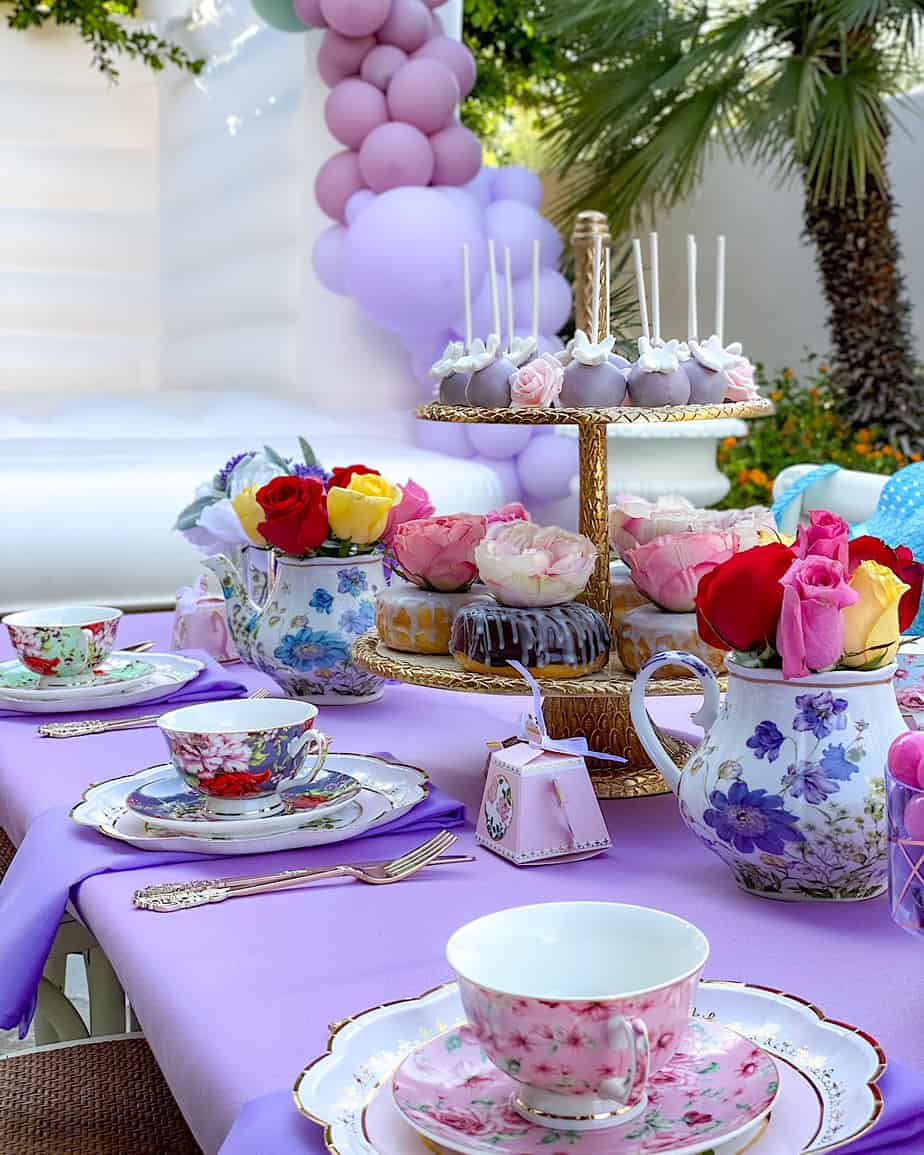 Tip: It's always good to ask ahead of time if any kids have food allergies or restrictions so that you can accommodate everyone!
You could even create a children's afternoon tea menu (I forgot to create one), and set them on place settings around the table where the kids and adults are going to eat so that parents can anticipate what food options the kids can choose from, and so the kids can practice a little reading and manners by asking for what they want (a win-win for everyone!)
Bonus: print the menus on pretty paper with decorative borders to fit the theme, and pictures next to the words for kids who cannot read so all of the kids know what they are getting. Now finally, the TEA! Because what's a tea party without the tea? (LOL). Not all the kids are going to like tea, so it's good to have some other options for drinks, such as hot chocolate, lemonade, and sweet tea.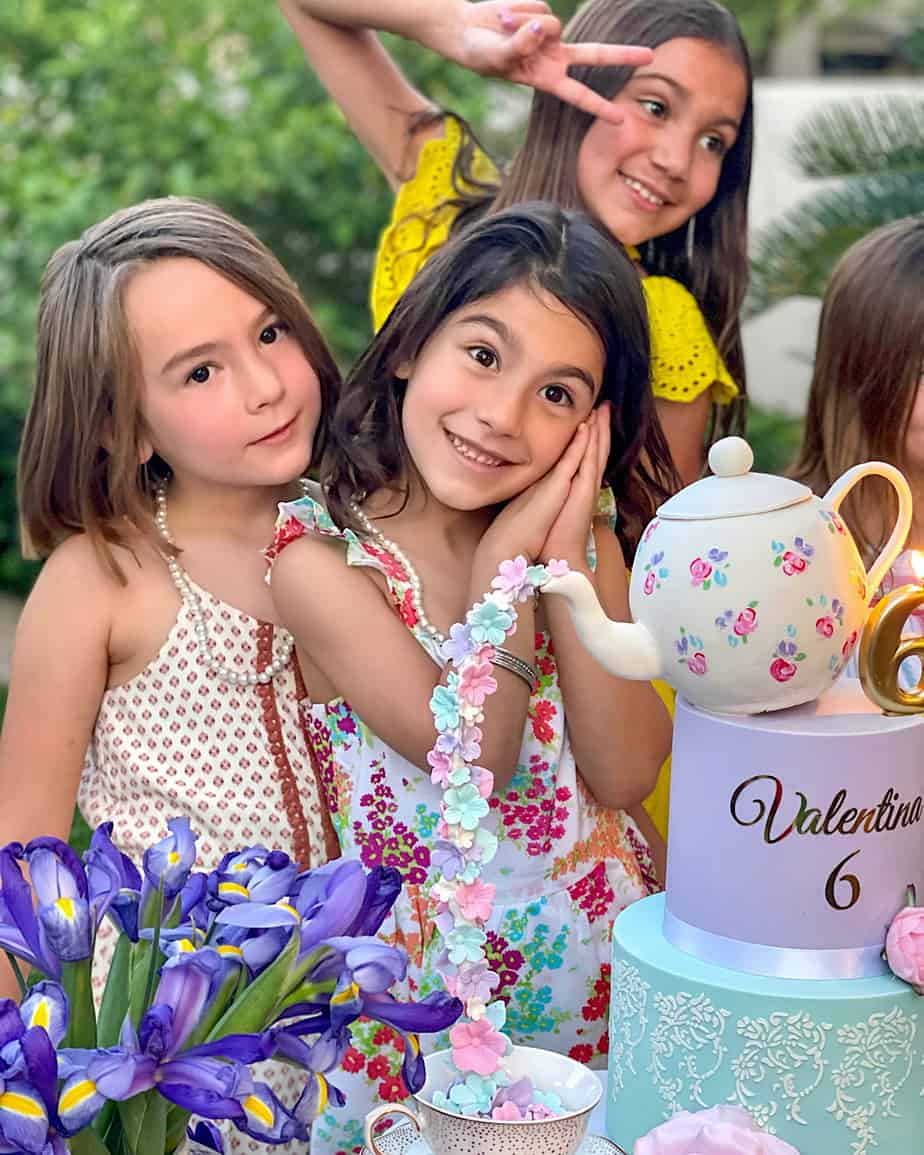 But for the kids who do want to try the traditional hot tea that typically goes along with a tea party, it's best to get an assortment of yummy teas that are CAFFEINE-FREE. With the sugary sweets already being eaten, it's best to avoid giving the kids caffeinated beverages! It's nice to get some sweet-tasting, fruity, or mild-tasting teas for kids. Something complex, such as Earl Grey, would likely be too much for kids. It's best to stick with sweet, fruity, and simple.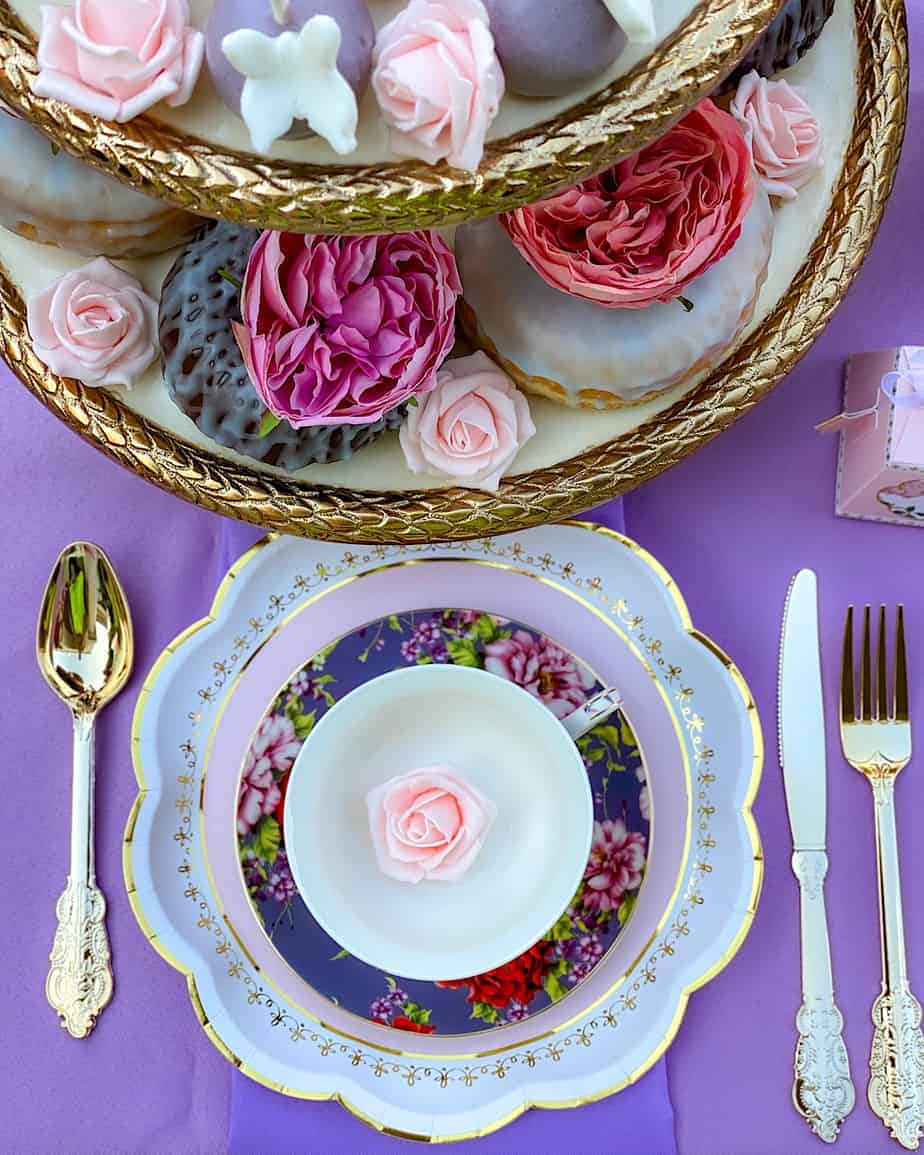 While Valentina is only turning six, you could do this same theme for older children. A tea set for kids will be smaller in size so that they can handle the teacups and other pieces. But a tea set for older child is going to be closer to adult size, and should include:
Teacups
Teapot
Spoons
Plates
Saucers
Creamer
Sugar bowl
You may even want to treat them to a nicer material, such as porcelain or glass, since they are older.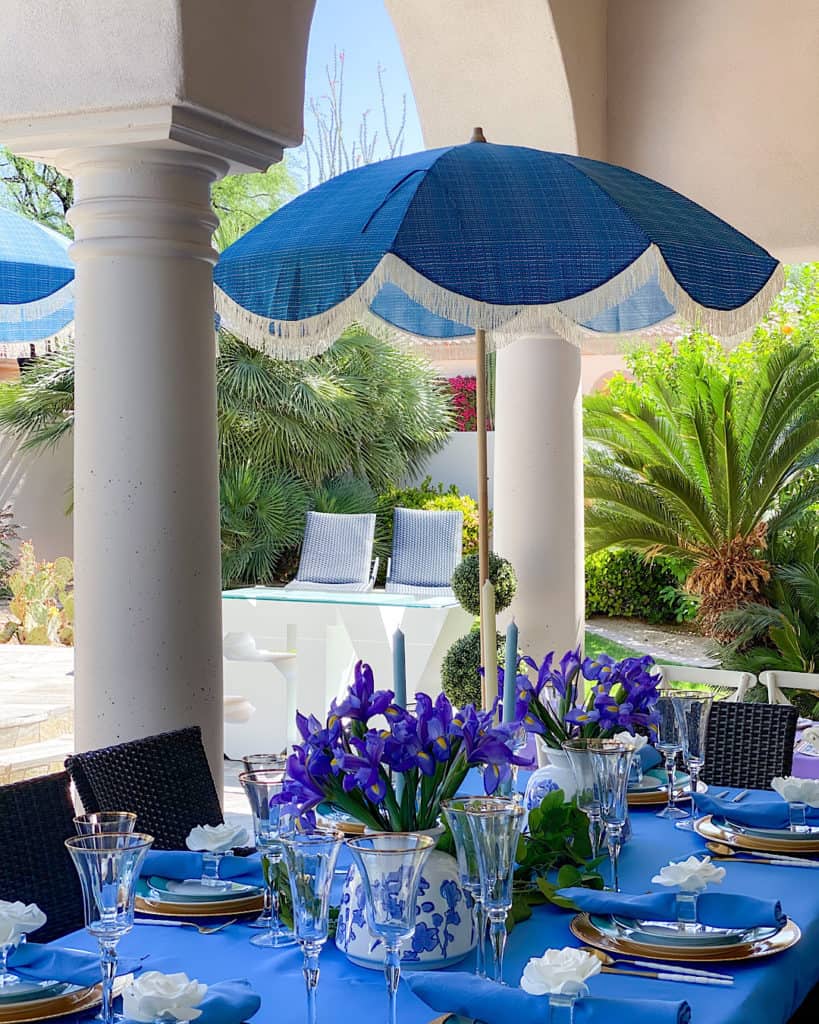 What Activities Do You Do at a Birthday Tea Party?
Now for the fun part! ACTIVITIES! What can you do to make the tea party extra fun? Some other super fun little girl tea party activities you can do are:
Musical Tea Cups with the "I'm a Little Teapot" song: This game is similar to musical chairs, except when the music stops, the kids grab a teacup off the table and pretend to sip tea. A fun way to put a spin on the traditional game!
Blind Tea Test: This is a fun way to get kids to try different teas and practice using describing words! Players are blindfolded and the other player gives them a sip of tea. They then have to describe what flavors they taste!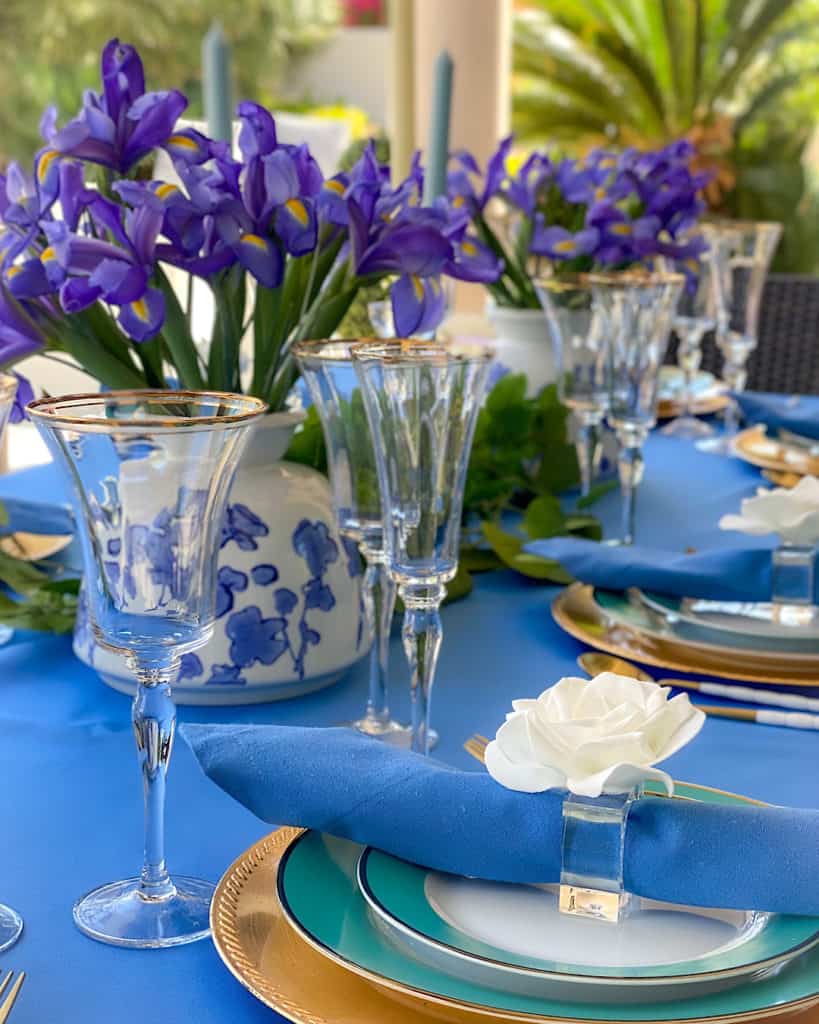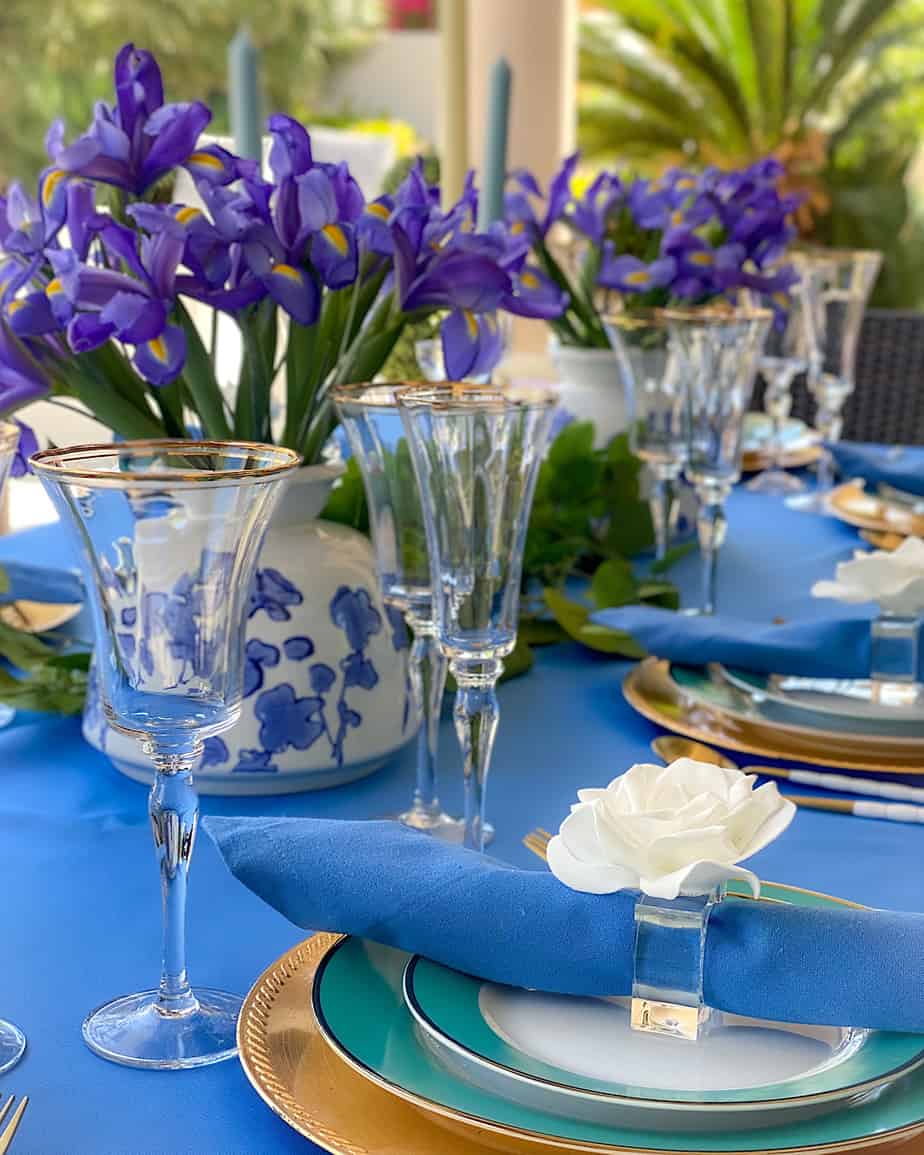 Tea Bag Toss: Have players line up one behind the other and take turns tossing teabags into tea cups on a table (Tip: Tape the teacups down so that they don't move!)
Tea-Themed Coloring Station: Give the kids some coloring sheets with tea-themed pictures on them to color and take home (or give to the birthday girl!)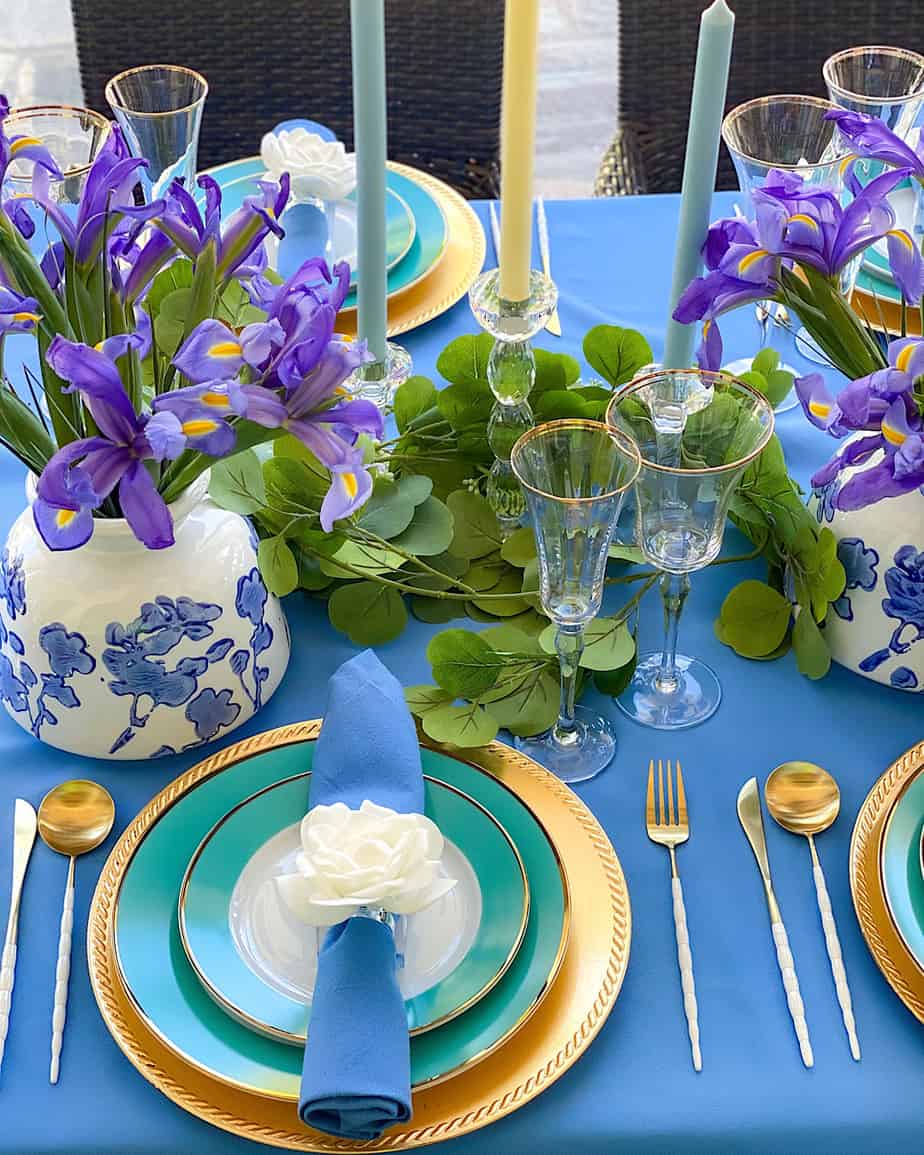 When Is the Best Time to Have a Tea Party?
Having a tea party is great at any time! I believe you are never too old for a nice tea party with friends or family! But as far as the time of year, for an outside garden tea party, like what we did for Valentina, it's best to have it during a time when the weather is going to be nice. The weather can be hard to predict sometimes, no matter how hard we try! So, it's always good to have an indoor backup plan!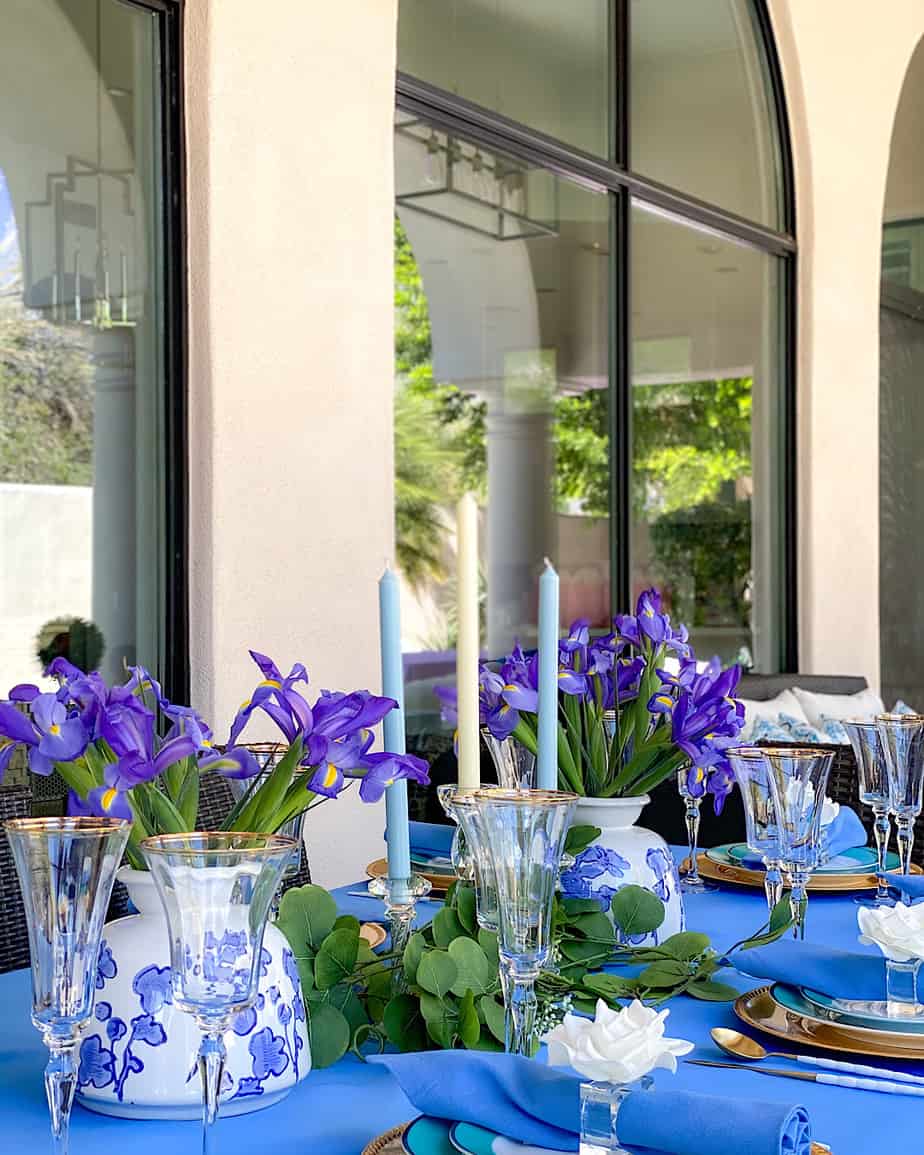 Give Tea Party Favors! When the party is over and the kids (and the parents! – LOL) are ready to go home, giving out party favors is always a nice farewell. We had so much fun with the birthday garden tea party favors!
Some nice tea party favors are:
Teapot party favor like these adorable ones!
Kids hats and matching bags like these from Amazon!
Little tea bags and sugar cubes to take home
Edible jewelry
Flower or princess bookmarks
A baggie of sweets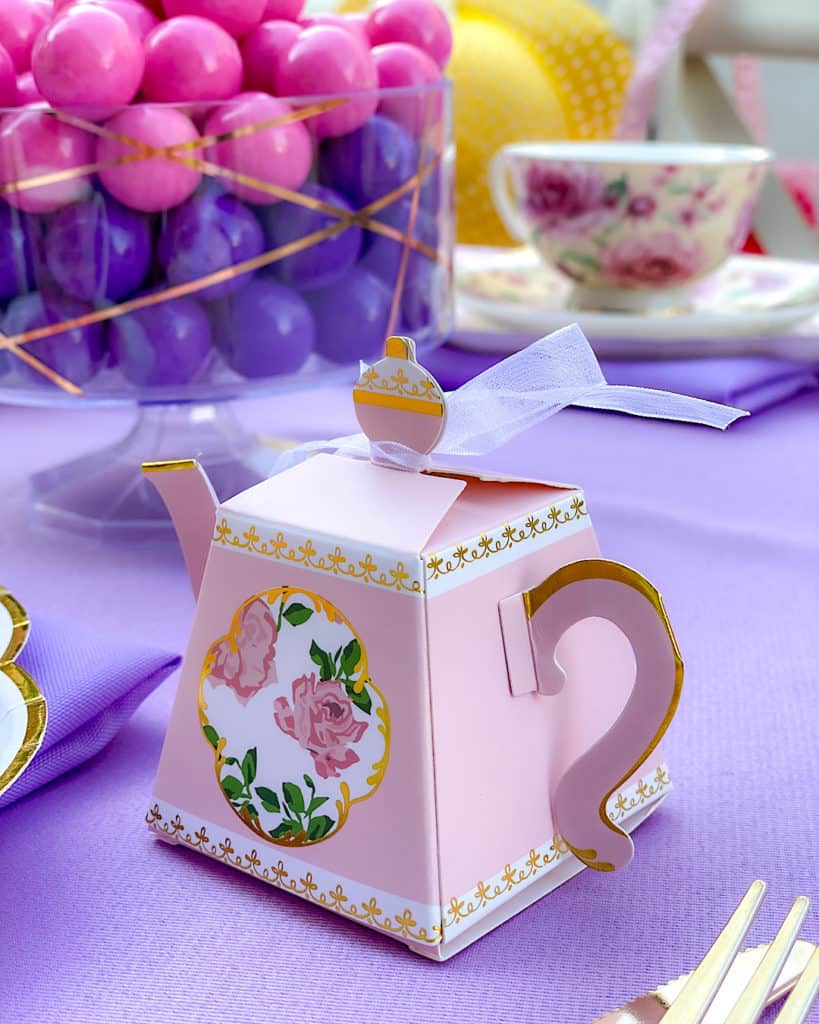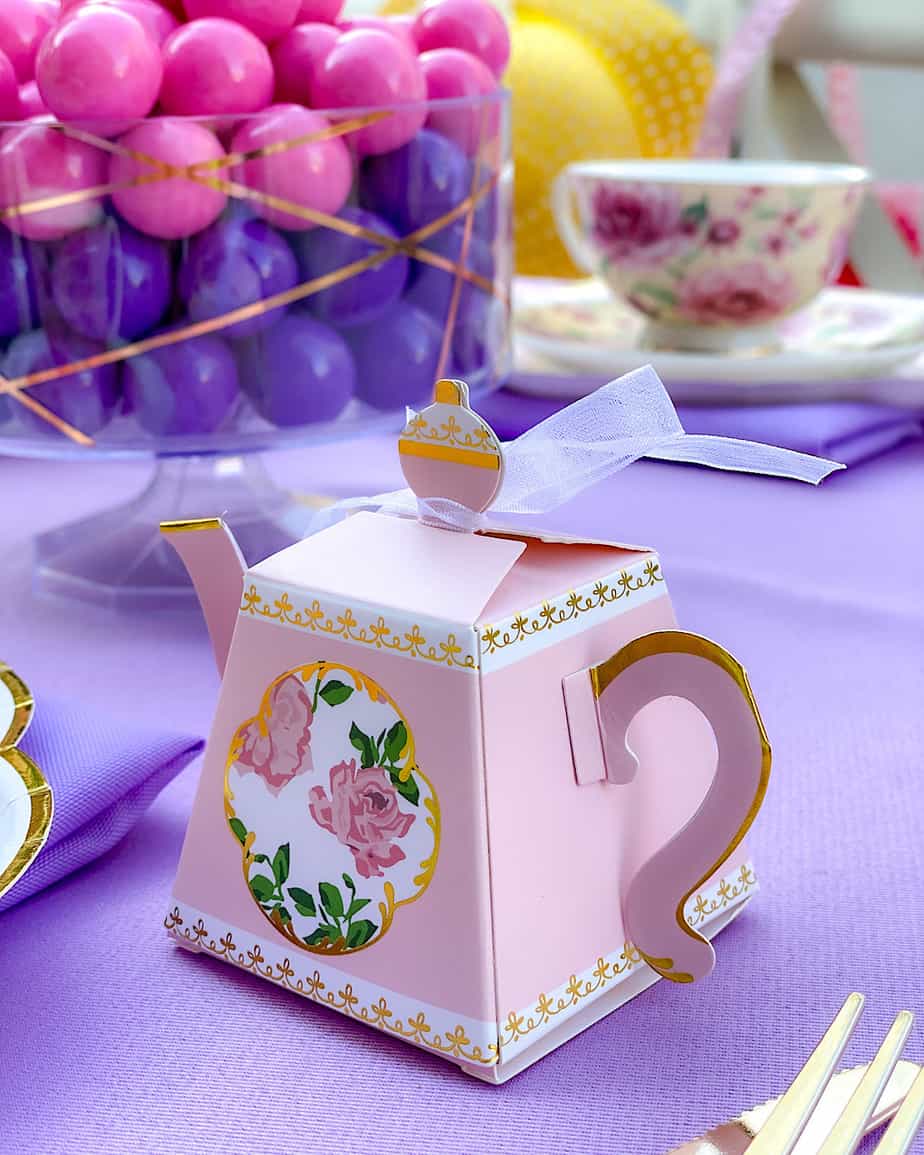 Valentina LOVED her birthday garden tea party! She was mostly excited to play with her friends in the backyard and in her room! We as adults had an amazing time in the backyard! We enjoyed the beautiful temperature, had some dinner, wine and desserts and danced all night with some fun songs!
I hope these tips help you throw a fabulous tea party for your child!
Love,
Sherry
This post may contain affiliate links, which means that I may receive a commission if you make a purchase using these links.
Shop This Post

Sherry, xoxo