Planning My Baby's First Birthday Party
As you all know, I love throwing parties, and I was really excited to be planning my baby's first birthday for my little angel Alina! I prayed SOOO much for our little baby Alina! She was our miracle baby! If you are new to my blog, you can read about infertility challenges with my second child here.
After a miscarriage and several months of trying, we finally found out that I was pregnant with our baby #2. I literally thought I was DREAMING!!! I wanted to share the news with the whole world, but we had to keep it private until the "scary miscarriage zone" would pass!
I seriously can't believe how fast time flies and now we just celebrated our sweet baby Alina's first birthday!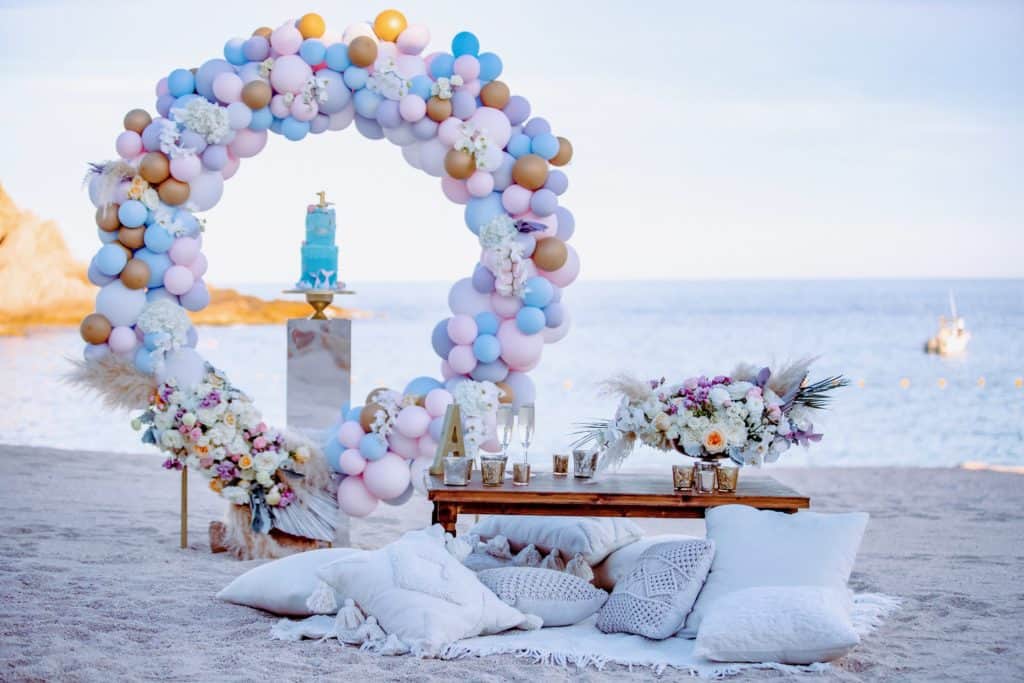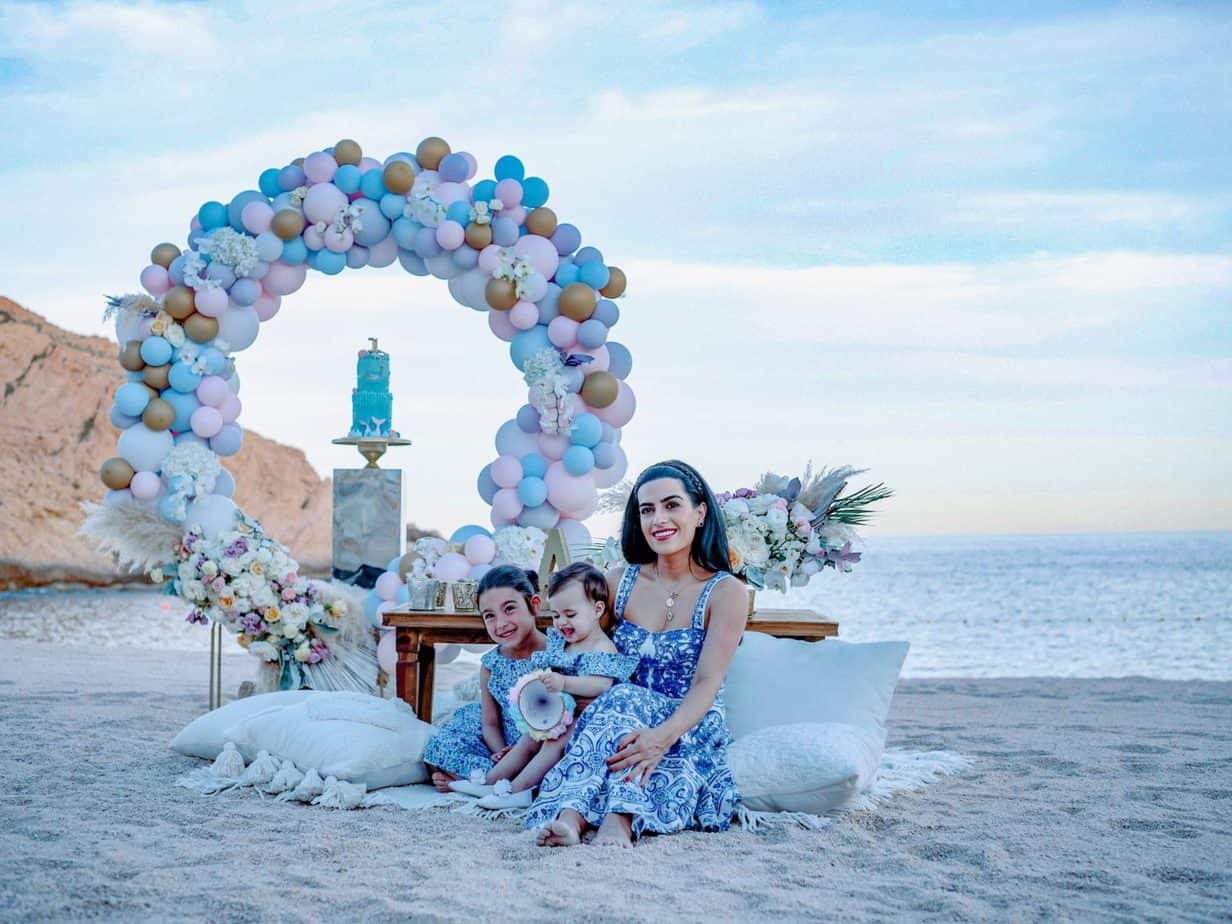 Planning My Baby's First Birthday Party
I was trying to think about what to do for Alina's 1st birthday for a while… I looked at and researched a million ideas online. I searched ideas on "how to make baby's 1st birthday special", "fun baby's 1st birthday ideas", "how to plan baby's first birthday party", and so much more.
However, at the end of all my research, Matt and I decided to do what we thought we would enjoy the most as a family which is having her birthday at the B.E.A.C.H!!!!
We decided to have a cute "beach picnic birthday party" for her with just me, Matt and Valentina and then have a small birthday celebration with our family in Scottsdale after we got back!
After looking at several resorts in Cabo San Lucas Mexico, we decided to stay at the Montage Los Cabos. Montage is a breathtaking family friendly resort. The hotel has "swimmable beach" and the beach looked so calm and peaceful which made it a perfect place for her birthday setup. The hotel staff were beyond helpful to plan and coordinate everything for her birthday!
How I Planned Alina's First Birthday Beach Party
There is no better way to celebrate a Spring birthday party than by throwing a party at the beach! I wanted a beautiful beach picnic birthday party around SUNSET time, so I set about planning my baby's first birthday party right here!
Our little family birthday party turned out so amazing and was so memorable!!! Something that I will never forget for the rest of my life!
Planning Alina's first birthday party ended up being SO EASY!!!! Planning any event, whether it is a wedding, birthday party, or graduation, etc. in another country or city can be very stressful!
However, no matter where your party/ event is all you really need is to find good people to work with! By saying "good people" I mean vendors/companies that are honest, responsive, creative and they can "deliver" everything as they promise!
For the past 5-6 years, I don't really "google" as much to find vendors/companies!!! My #1 search engine is now INSTAGRAM!!!! I find most companies based on my hashtag search on Instagram and if I like their work, then I google them to read reviews. If the reviews are good, then I contact them!
I did my usual search on Instagram to find vendors for everything I wanted for her birthday (Cake, flowers, balloon, decorations and photographers….). I contacted each vendor separately and then finalized every vendor with our hotel's concierge.
I'm going to list the vendors we worked with just in case you are planning a celebration or event in Cabo San Lucas, Mexico! These companies did an amazing job to create the most memorable first birthday party for us and our little girl, Alina!
Flowers: Cabo Floral Studio
Flowers: Cabo Floral Studio
Since Matt and I got married in Cabo San Lucas, I already knew an amazing florist in Cabo (Cabo Floral Studio). They designed absolutely gorgeous flowers for our wedding.
"Rene" and his partner "Francisco" are the owners and the main designers of Cabo Floral Studio. I reached out to Rene and explained what kind of "family beach picnic party" we wanted!
Rene shared several ideas with me… I loved all of his ideas!! We also wanted a low height table and some beachy looking pillows and blankets to throw on the beach so we could all sit on it and celebrate Alina's birthday…. He was able to get everything we wanted!
I love working with Rene and his partner! Both are so creative and such amazing people to work with! I can't wait to use his services for our future celebrations in Cabo! You can look at some of his amazing work on his Instagram page here!
Cake: Cabo Cakery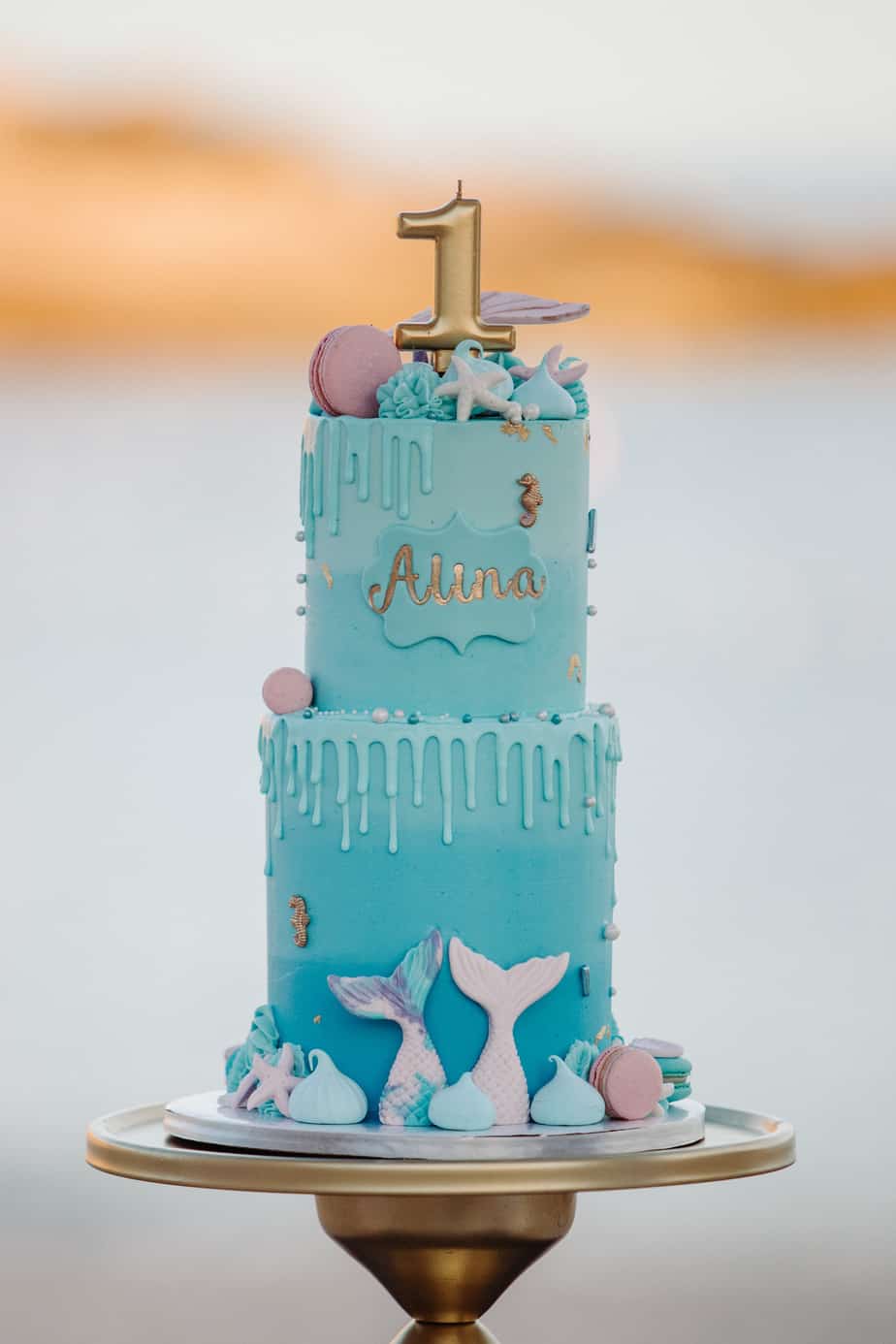 Cake: Cabo Cakery
As I was doing my search on Instagram using #Cabocakes, I came across the Cabo Cakery page. Their gallery and their designs looked beautiful!
So I started reading several reviews about them online. They had over 95 reviewers giving them a Five Star review. Everyone talked so highly of the taste of their cakes, the incredible designs, and most importantly the owner's professionalism (Paulina and Aurea).
Once I read all these reviews, I wanted to talk to them and see if they would make the cake I wanted for Alina's birthday.
The owners/chefs/artists (Paulina and Aurea), were so incredibly kind, friendly, helpful and they had so many fun ideas of different cake designs. I fell in love with their suggestions.
The designs they offered and how fast they responded to any questions that I had was unbelievable! I did not look at any other bakeries after my first contact with them!
You can look at some of their beautiful work on their Instagram page here!
Balloons: Detalles-shizue
Balloons: Detalles-shizue
Our florist (Cabo Floral Studio) referred me to this wonderful balloon designer in Cabo. Since our florist had worked with the balloon designers, I didn't get to talk to them.
But they designed the nicest balloons! Cabo Floral Studio added beautiful "girly" color flowers to the balloon arch and made it look absolutely gorgeous! The way the balloons and the flowers complimented each other was amazing. I'm so pleased to have worked with them when planning my baby's first birthday!
Photographer: Mc Neill Films
Photographer: Mc Neill Films
I found William the photographer behind the Mcneill films on Instagram. William and his partner captured every beautiful moment of Alina's first birthday!
They worked together so well to entertain our little girls while taking their photos! Taking picture of kids is one of the hardest types of photography in my opinion.
They were able to distract them enough to take their photos! We had so much fun with them! You can look at some of their beautiful work on their Instagram page here!
Beach Party Tips & Ideas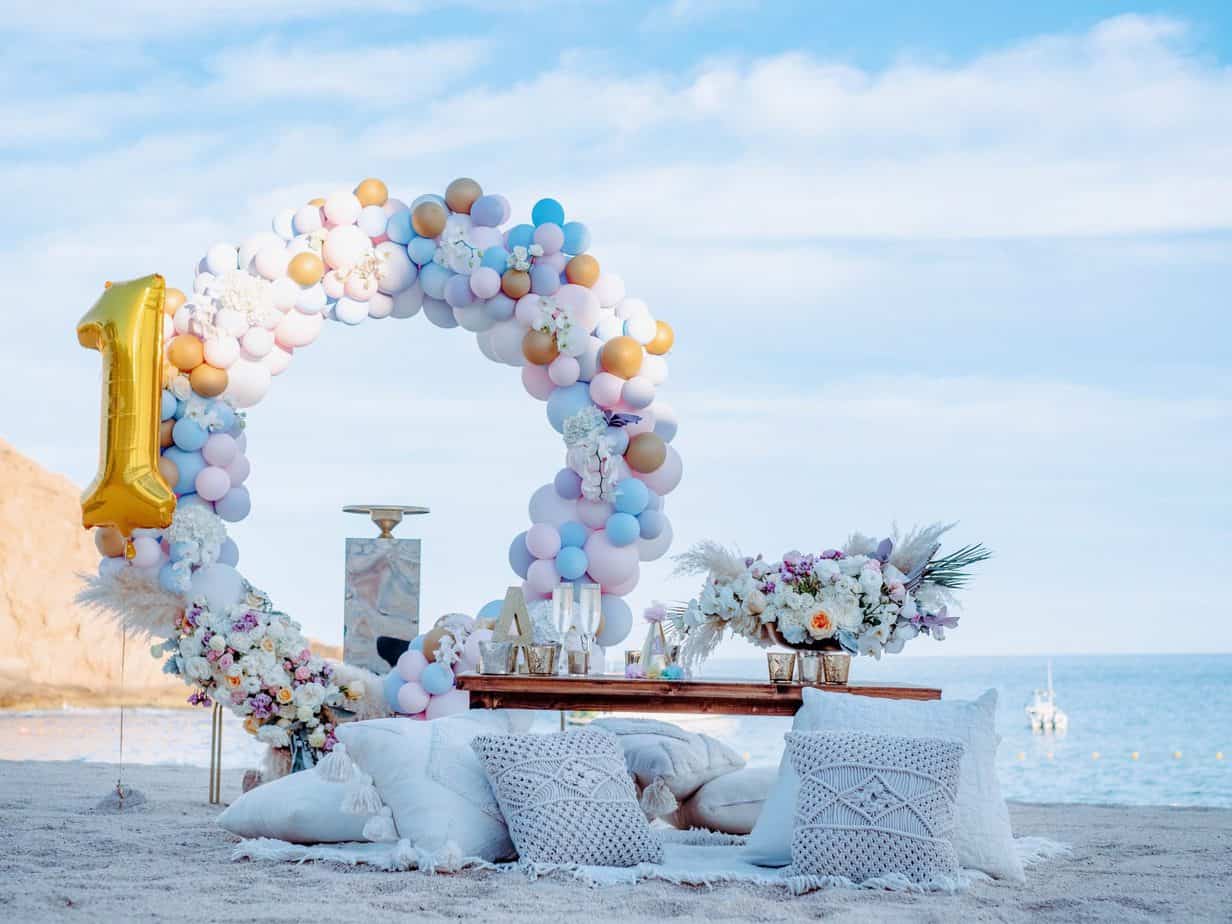 Whether you are planning an adult beach party or a kid's beach party, I'm going to share some beach party tips and ideas with you here:
Depending on your party size, prepare well in advance (I planned everything in a month, however some bigger parties may take a longer time to plan)
Wine companies are now making wine in single-serving containers. Take lots of them, champagne and beer
Don't forget other refreshments (non-alcoholic) drinks
The Music Matters! Play your favorite beach songs throughout the party.
Bring equipment for a game of beach volleyball.
Decorate flip-flops
Decorate cake pops so they look like beach balls
Make a seashell party favor
Create crafts with beach or tropical themes
I hope some of these tips help if you are planning a beach party!
After having Alina's first birthday party on the beach, I think a beach party is one of the easiest birthday parties to plan that kids and adults will both have a blast!
Planning my baby's first birthday was such a joy, and I honestly think, if we would live close to the beach, I would throw my kids birthday parties on the beach every single year! Hahaha! They are so easy and so FUN!
Love,
Sherry, xoxo