The Haft Seen set is a beautiful representation of the Persian New Year (Nowruz) which is right around the corner. To celebrate, many families inside and outside of Iran decorate their homes with different haft seen set. The haft seen typically includes seven items that all begin with the letter "S". Since I love the blue and white combination, I decided to design our Haft Seen table with these colors this year! You can also use this combination for any spring or summer table setup!
This post is about how to set up an elegant blue and white Haft Seen Set for your Persian New Year table.
How to Style a Beautiful Blue and White Table Setting for Your Haft Seen
When searching for Haft Seen table ideas or Haft seen decoration on Pinterest, Instagram or Google you find so many great ideas, colors and beautiful designs. It all depends on the style that you would like to design your table!
If you prefer a minimalist table décor, then you can create this exact table and color combinations only in a smaller scale table setup. If you have a bigger table or prefer to spread-out your haft sin items, then you can create a table design like my table.
Related Post: Persian New Year (Nowruz) Table Decoration- What Goes on It!
A blue and white table setting is a classic combination that never goes out of style. This combination looks so elegant. It reminds me of when I have visited London and enjoyed an amazing afternoon tea in the beautiful traditional blue and white teacups and saucers. Haha!
The right glassware and China plates and everything you need to create this table will be available at any major retailer or online store these days. While this is a Haft Seen/ Nowruz table, as I mentioned above, you can easily use this color combination for any other spring tablescape or Easter holiday setting.
Related Post: What is the "Persian New Year"- "Nowruz"?
Start with Blue and White Chinoiserie Vase
Since I was planning to setup our Haft Seen set on our outdoor dining table, I was looking for large blue and white chinoiserie vases. You can always choose smaller size vases, if you do not have the room for it or simply do not like the bigger vases. If you want to create an "statement" on your table, a large size blue and white vase is the way to go! You can find these vases from several online home décor stores. Here are some examples for you:
Choose Your Flowers
If you choose the blue and white vase, you can choose either blush pink, fuchsia, white or yellow flowers to complement these vases! I was easily able to find beautiful fresh tulips from our local Trader Joe's! However, I had such a hard time finding the fresh cherry blossom branches. Certain types of flowers are harder to find in Arizona!
Although I did not want to put any silk flowers on our Haft Seen table, I had no other choice but to fill my big and tall chinoiserie vases with faux cherry blossom branches. If you live in a city or area where you can find fresh cherry blossom branches, I strongly recommend going with that option. However, if you do not, then you can buy artificial cherry blossom branches like these:
Choose Your Decorative Glass or Wine Glass for Your Vinegar
I love looking for decorative wine glasses to display the vinegar on the Nowruz table! I always find unique glasses on Etsy or Amazon! If you prefer simple designs, then you can buy a simple wine glass or even a small glass bowls from any retailers online! I found these lovely glasses from Amazon. Here are some other examples for you to consider:
Choose "White" or "Blue and White" Candle Holders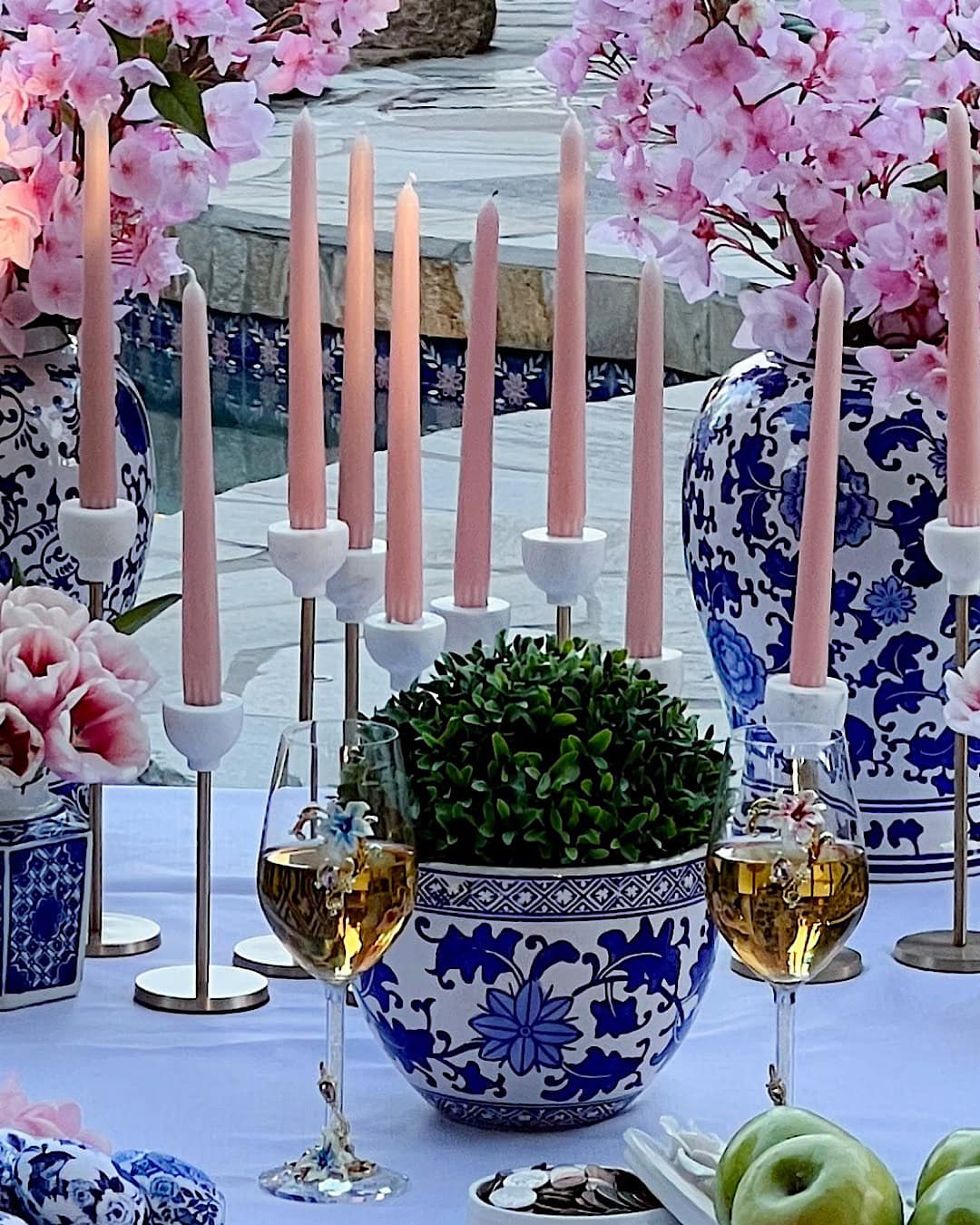 The easiest way to add elegance to your Nowruz table is by adding candles and candle holders to your haft seen set. I love blue and white candle holders, however, since I already had several other blue and white vases on my table, I decided to go with white candle holders. When styling a blue and white table setup or tablescapes, you want to make sure not to "overuse" the blue and white patterns. Too many of the same patterns can make your table to look very busy and the items will "compete with each other"! Therefore, it is better to use some solid white or solid blue items to balance out the colors on your table. Here are some examples for you:
Choose Your Tabletop Mirror
I had a hard time finding a blue and white chinoiserie tabletop mirror. Therefore, I looked for a white tabletop mirror. I found this mirror on Amazon and I first thought it was too small, but it ended up being a great size on our haft seen table! You can also find beautiful vintage tabletop mirrors on Etsy (my favorite place to find unique items). Here are some beautiful white tabletop mirrors for you:
Choose Bowls and Dishes for Your Haft Sin Items
All Haft Sin tables must include seven items which they start with the Farsi letter "S". The items are:
Sabzeh (wheat, barley or lentil sprouts grown in a dish)
Samanu (wheat germ sweet pudding)
Senjed (Oleaster)
Serkeh (vinegar)
Seeb (apple)
Seer (garlic)
Somāq (sumac)
You need to put each of these items in a dish or bowl. You can use any of your decorative dishes or bowls that you already have! For this specific blue and white table, I tried to use white dishes and bowls. You can get some of the decorative items on my Haft Seen table here:
So, there you have it! A few easy tips to get started styling your own blue and white Haft Seen table setup. I hope these ideas give you the inspiration you need to create an elegant blue and white Haft Seen table or any other spring table décor.
Here are some frequently asked questions about the Persian New Year that I like to cover here:
FAQ
What goes on a Nowruz table? As I mentioned above, all Haft Sin tables must include seven items which they start with the Farsi letter "S".
1- Serkeh (Vinegar)
2- Sabzeh (wheat, barley or lentil sprouts grown in a dish)
3- Seeb (Apple)
4- Senjed (Oleaster)
5- Seer (Garlic)
6- Somāq (Sumac)
7– Samanu (Wheat germ sweet pudding)
There are also some other items on the table which some start with the letter "S" and some others do not! For example, Sekeh (coins) which symbolizes wealth. Ayneh (the mirror) symbolizes the self-reflection. A goldfish bowl represents life. Tokhmeh-morgh (decorative eggs) which symbolizes fertility for the family.
Tokhmeh-morgh (Decorative Eggs)
Sekeh (Coins)
Ayneh (Mirror)
Mahi (Goldfish)
What does Haft Seen symbolize? Each item in Haft-Sin symbolizes a concept in Persian culture.
Sabzeh: rebirth and renewal of nature.
Samanu: represents fertility and the sweetness of life.
Senjed: is for love and affection.
Serkeh: the symbol of patience.
Seeb (apple): represents beauty.
Seer (garlic): representing good health.
Somāq (sumac): The symbol of sunrise.
When to set up Haft-sin table? The tradition is to start cleaning your home with "deep spring cleaning" about 3-4 weeks before the first day of Spring (which usually falls into March 21st). Then you start decorating your Nowruz table about one week to few days before the Nowruz.
How long is Persian new year? Nowruz is the Persian-language term for the day of the Iranian New Year, also known as the Persian New Year. It begins on the spring equinox and marks the beginning of Farvardin, the first month of the Solar Hijri calendar. Source: Wikipedia
What do Iranian do in Nowruz? From the first day of Nowruz, there are 14 days of holiday. Some people travel and some others stay at their hometown. The big tradition is that the very first day of Nowruz people call and visit the older family members. As more days go by, people visit the rest of the family members and friends. This is also a great holiday season to relax, go on picnics, hiking and shopping.
What do Iranians eat in Nowruz?
Sabzi Polo. (Persian herbed rice)
Shirin Polo. (Persian sweet rice pilaf)
Reshteh Polo. (Persian aromatic rice and noodle pilaf layered with meat)
Kookoo Sabzi. (Persian herbed omelet)
Fish Stuffed With Herbs, Walnuts and Pomegranate
I hope this post was helpful to design an elegant Nowruz table. You can choose any color combinations for your haft seen set. I simply love blue and white color schemes along with a touch of soft pink! Please leave a comment below and let me know your favorite colors for spring and what is your favorite item on this Nowruz table!
Shop This Post
This post may contain affiliate links, which means that I may receive a commission if you make a purchase using these links.
Sherry, xoxo