Disclosure: My family and I were invited as guests by The Phoenician, a Luxury Collection Resort in Scottsdale. As always, all opinions are my own.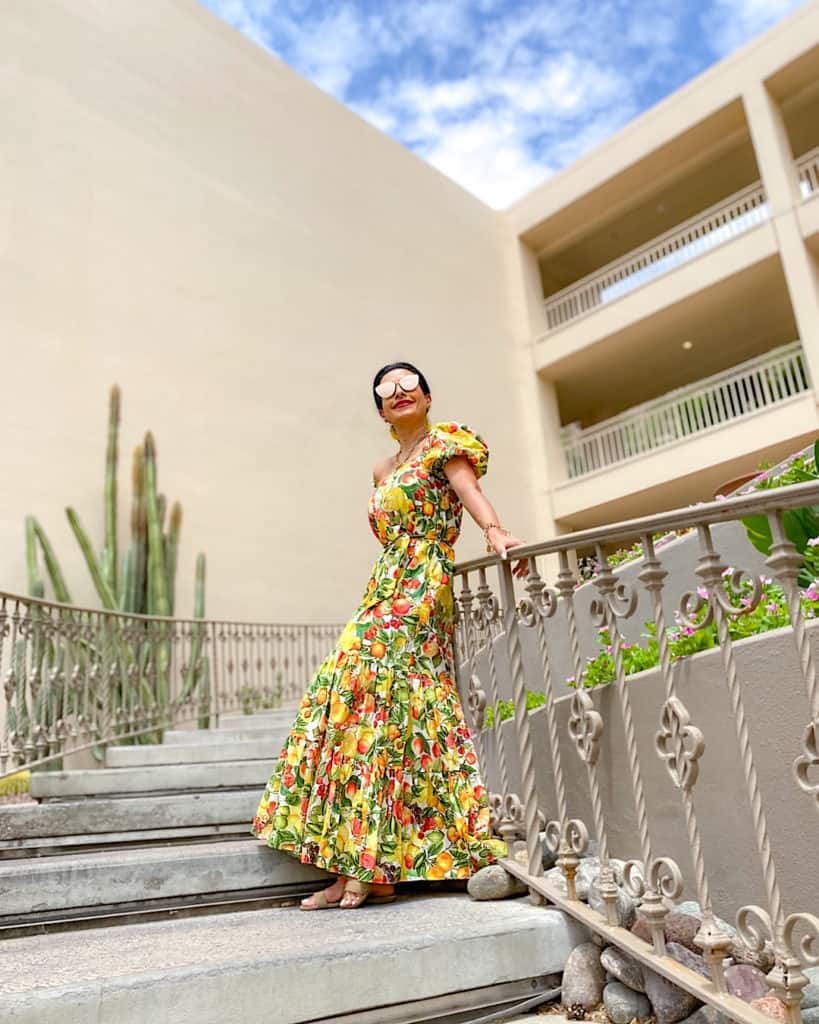 Arizona offers several luxury world-class golf resorts and spas for families and couples. However, in this post, I want to share our experience and the fun memories that we made while staying at the Phoenician Resort in Scottsdale. With so many Covid-19 travel restrictions, testing requirements for kids and adults, and so many other flight limitations these days, Matt and I decided to plan a few fun staycations this summer with our little girls Valentina and Alina!
When it comes down to travel planning, sometimes you don't realize that you can have an INCREDIBLE vacation in your own city/state. For some reason, every time that I think of a vacation, I look outside of Arizona. However, you can skip the long airport lines, flight delays, transportation/traffic issues and so much more… and just enjoy the amazing resorts that are close to "your own backyard". I am so glad that we made this decision! This summer has been so fun!
Travel Guide – The Phoenician, A Luxury Collection: A Lush Desert Resort
I love how the Forbes Travel Guide called the Phoenician a lush desert resort! While many people travel to Arizona to experience the desert life, when you stay at The Phoenician, Scottsdale you will have the best of both worlds! There are several lush gardens, palm trees, and stunning flowers all around the resort.
The Experience
Besides the great rooms, I think one of the most important parts of any hotel stay is the "experience" that the hotel staff can create for you as a guest! From the moment we walked into the resort lobby, we were greeted so kindly by several staff members. This warm welcome immediately set the tone for a great stay. The resort staff was wearing masks and we noticed that the resort was extremely clean, which put us at ease since the pandemic is unfortunately still present.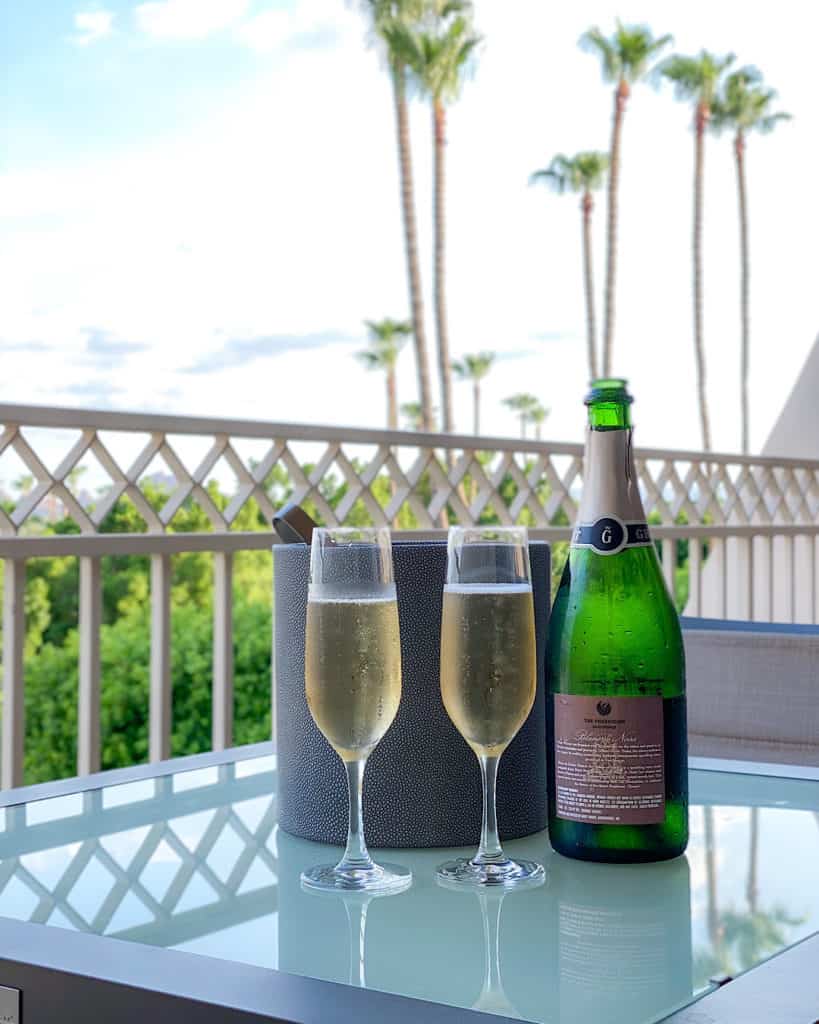 Entering our room, we were so happy to see that the room was large and beautiful. Waiting for us in the room, was a nice bottle of chilled champagne for Matt and I, which was so refreshing and it created a wonderful start to the weekend for us!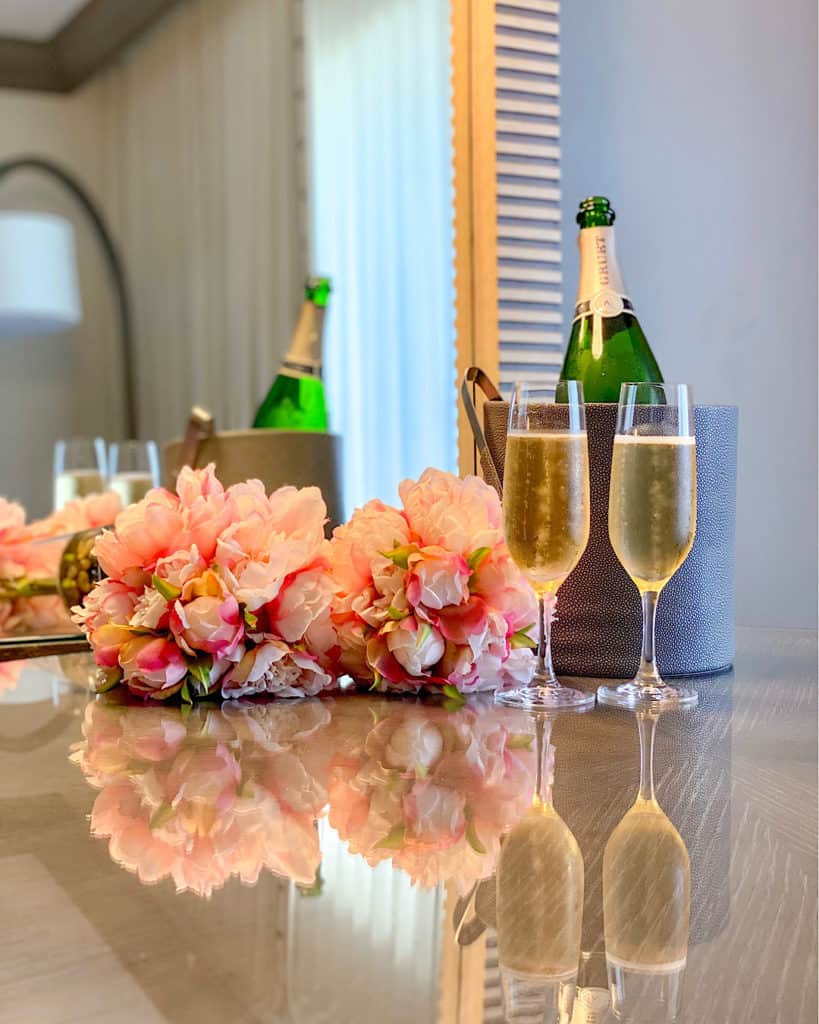 Our little girls also received the most thoughtful "welcome goodie bags" which included two soft stuffed bunny toys and lots of delicious snacks! Valentina and Alina were so excited when they were greeted by these lovely gifts!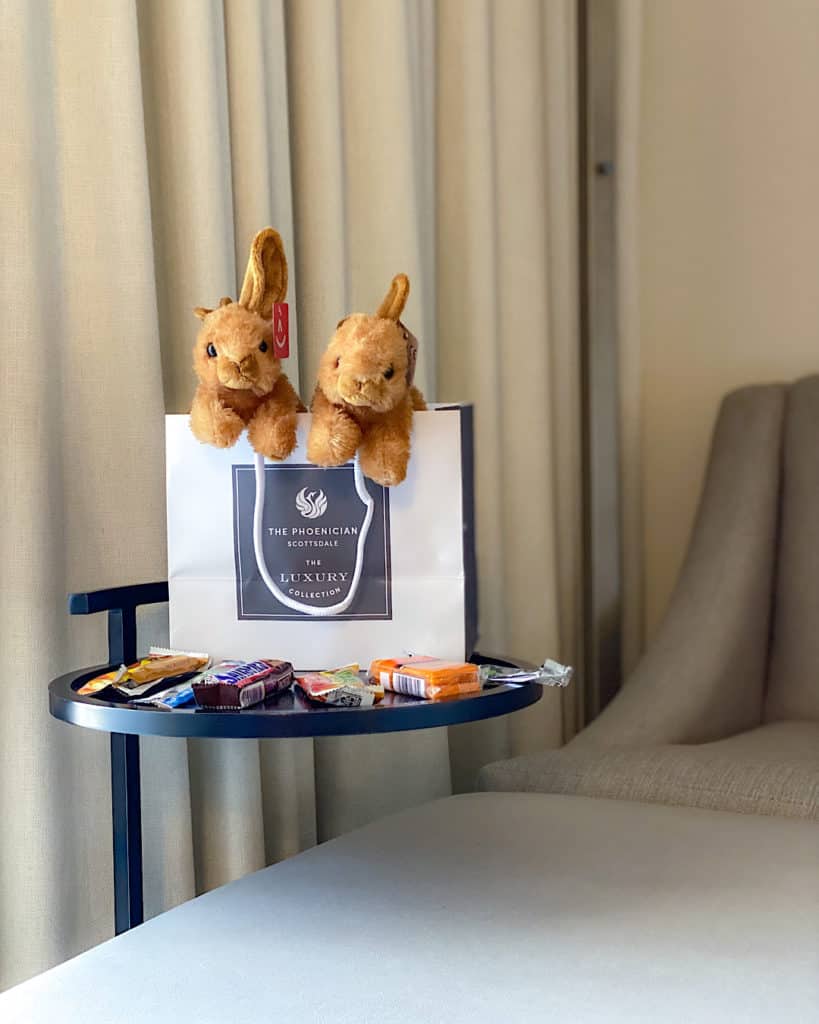 Since the beginning of the pandemic, many resorts and restaurants are having a much more difficult time keeping up with their service (due to the lack of employees). We were so impressed how the Phoenician resort still maintains its exceptional service! From the room services to the restaurants, pools, and the spa, the service was AMAZING!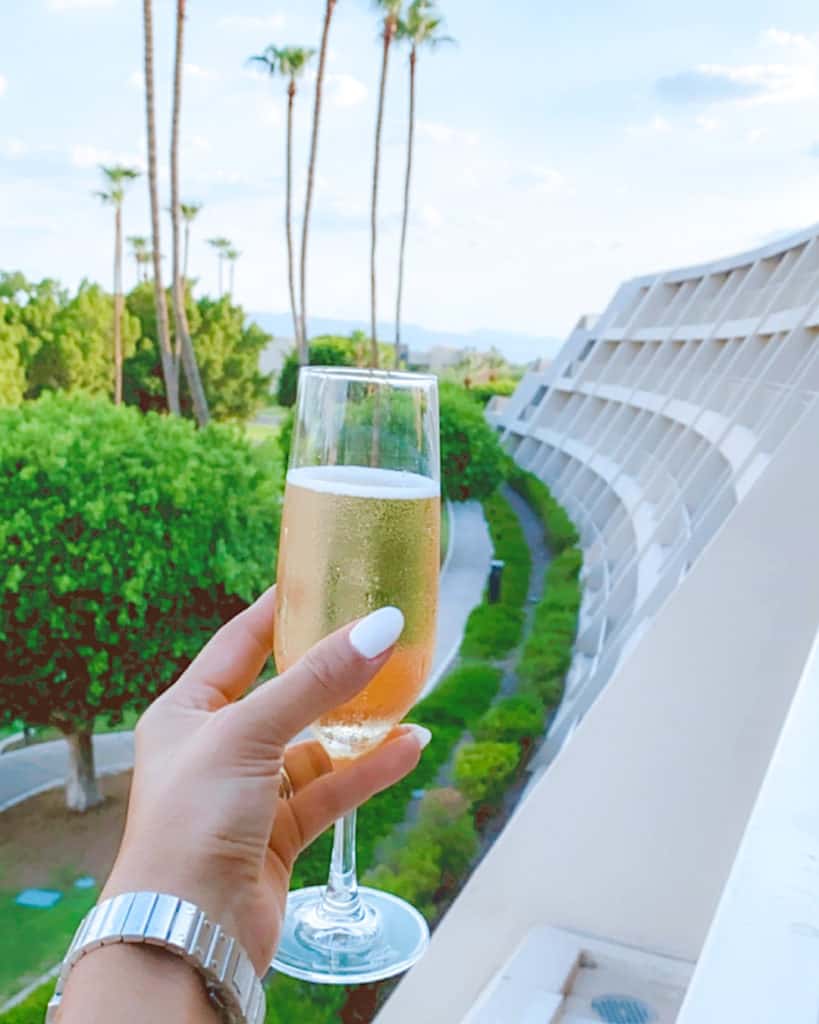 The Rooms
The Phoenician resort completed a massive three-year plus renovation. They completed the renovation project at the end of 2018 and there is no part of the resort that has not been touched and improved including the rooms!
All rooms feature elegant furnishings, Italian marble bathrooms, and private patios and balconies. We were not staying in a suite; however, our room was very spacious and had a beautiful view of the pool from our own private patio.
There are several types of rooms and suites at this lovely resort
Or you can stay at one of the beautiful Casitas
The Pools + Private Cabanas
The pools at the Phoenician resort were an absolute highlight of our stay this weekend! Hahaha! Matt and I loved the pools as much as Valentina and Alina did! I loved how there are "multi-tiered" pools which include an upper level of aquatic recreation, and a lower-level, "Mother-of-Pearl" pool, and an adult-only pool in the center.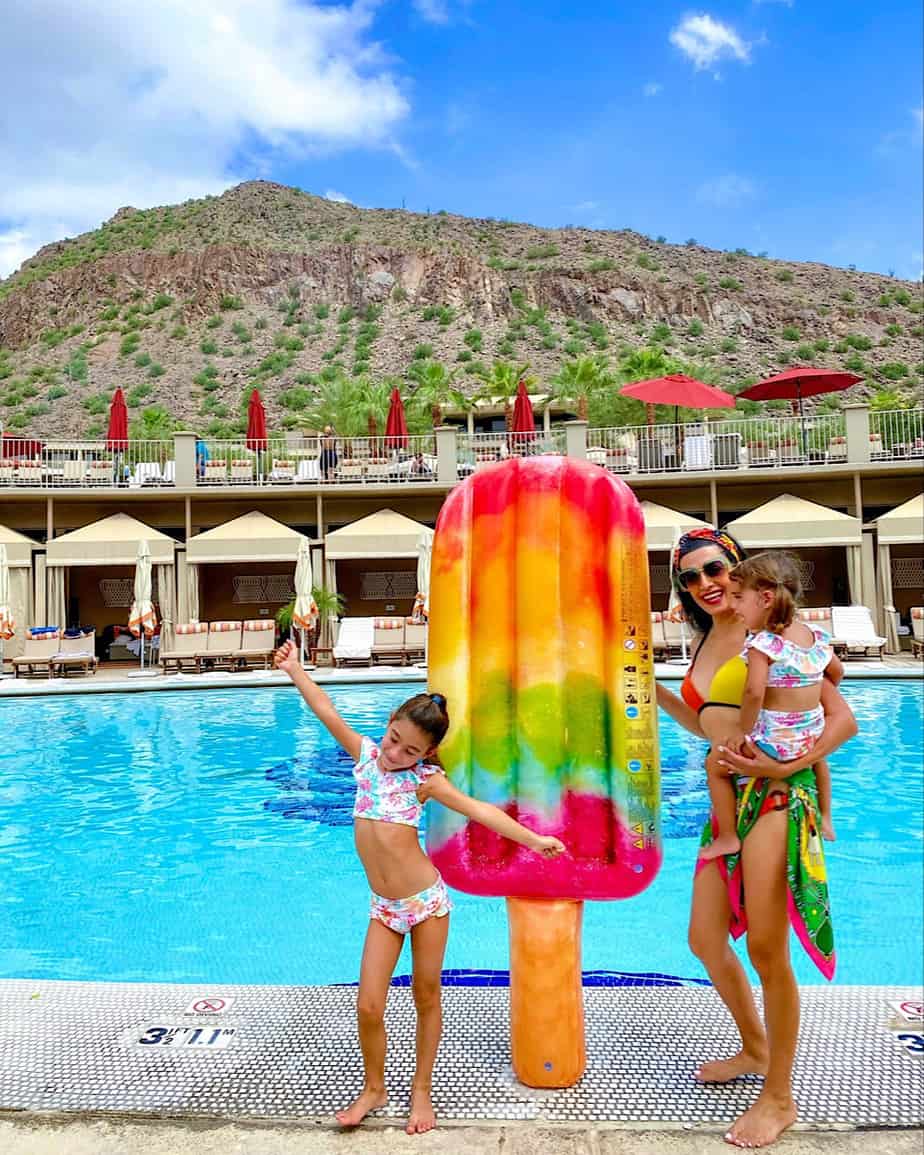 The Phoenician Cabanas and the pools are exclusive to the resort guests and offer great dining poolside. Booking the Cabanas can be so fun especially if you are traveling with a group of friends or if you are staying at the resort "as a couple".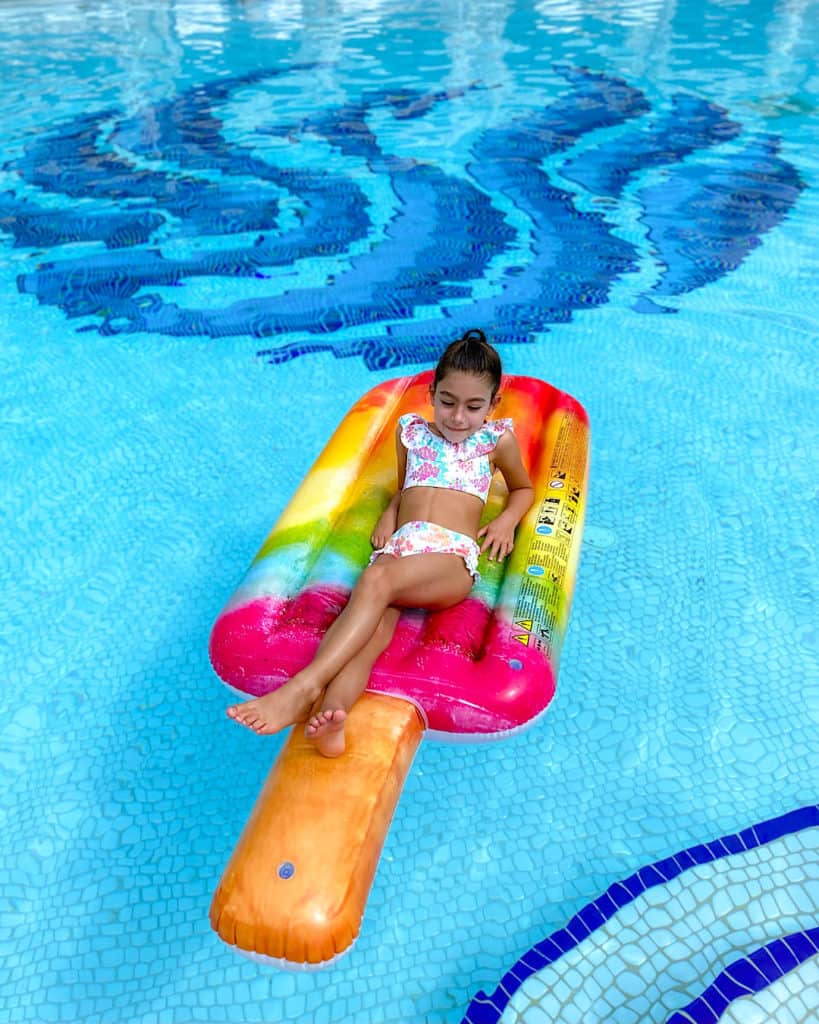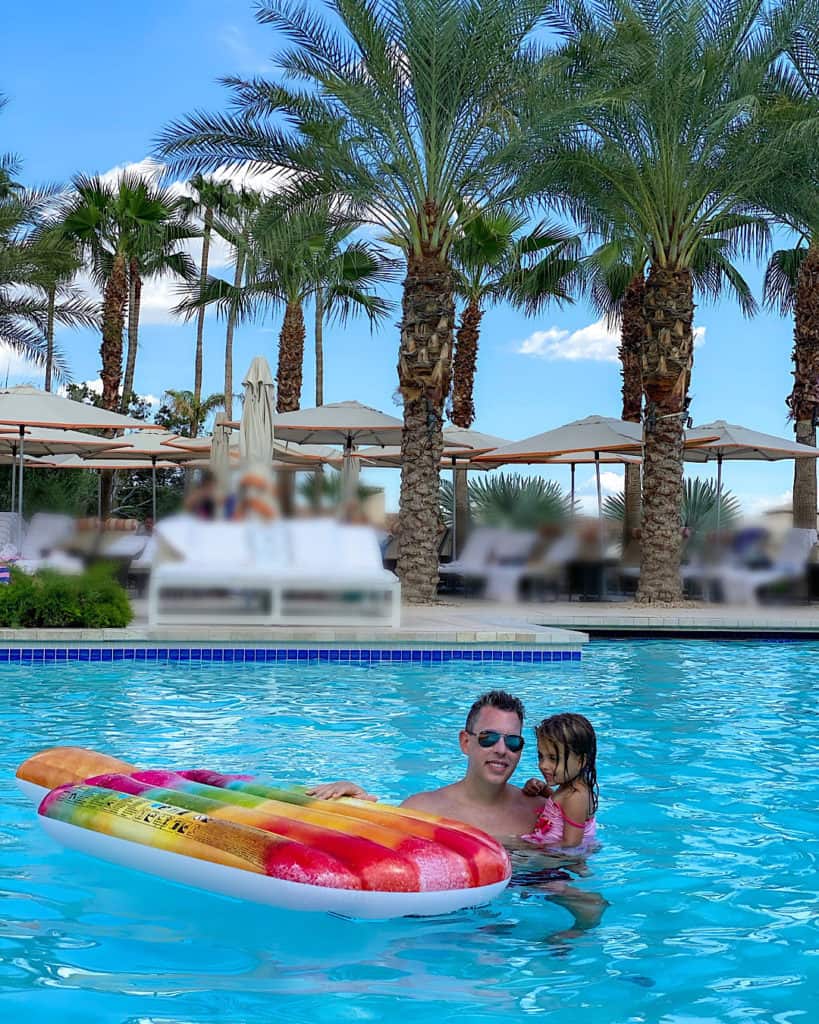 I loved how the resort separated each of the pools from each other by tiers! They are all connected to each other by stairs, however, you if want to have some quiet time and extra relaxing time, you can stay at the "adult-only" pool. If you are with your family and kids, you can choose other tiers for families. It is such a lovely set-up.
All of the pool areas have food and drink services poolside. The staff we very attentive but not intrusive. The drinks were refreshing and the food was good.
The Waterslides/ Kids Water Play Zone
Ok… if you have kids between ages one to 12 or even a little older, they will LOVE this water play zone! One thing that Matt and I really enjoyed about the Phoenician resort kids zone (besides how fun it was for our little girls), was the fact that it was so close to the main pool and bar area.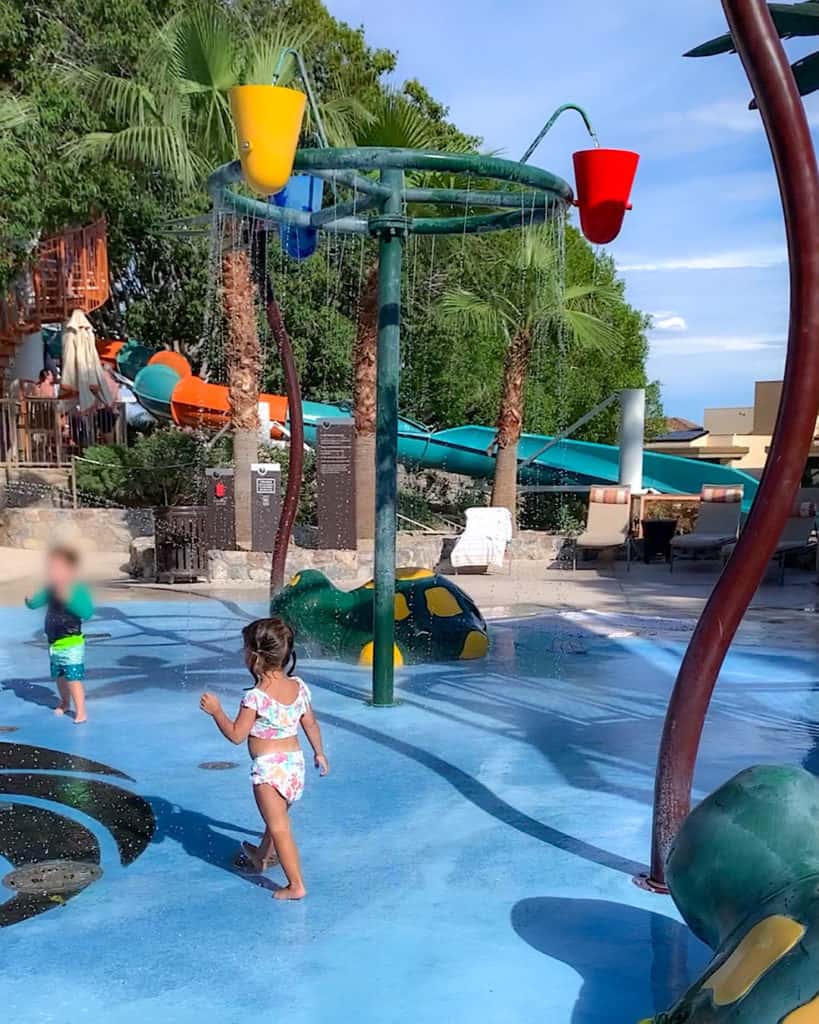 Valentia was running back and forth with her little friends between the kid's water play zone and the main pool. The waterslide was located next to the kid's zone and it was SOOO FUN!!!
Anytime that we stayed at other family-friendly resorts in the US or outside of the US, we have noticed that many resort kid's play zones are SO far away from the main pool area. Therefore, the parents end up sitting at the play zone for several hours (while their kids are playing) with no pool for the parents, no restaurants, or bar close by.
The Phoenician resort layout is simply perfect. Matt and I could easily enjoy our time at the pool while watching our kids playing right next to us! We just LOVED it!
Travel Guide: The Phoenician Spa
The Phoenician Spa is a luxurious Arizona destination that has all of the expected amenities, from its impressive front doors to the breathtaking chandeliers. You can relax in the modern design waiting area with an elegant dry bar and nail salon or enjoy your day at their rooftop pool while viewing Camelback Mountain.
I booked an 80-minute "Relief Massage". This signature massage adds the benefits of CBD oil to the entire body. I have to say… if you have never tried a CBD oil massage, make sure to ask your massage specialist to add this incredible plant-based oil for you!
My massage specialist (Micalynn) was incredible!!! Not only was she so professional and an expert at her job, but she was also incredibly sweet and loving! I totally recommend her if you book at the Phoenician spa! They offer AMAZING massages, body treatments, and facials at their spa! I can't wait to go back and try the "Hydra Facial"!
While the kids' zone was the biggest highlight of Valentina and Alina's fun staycation, the Phoenician spa was the biggest highlight of my staycation! Hahaha! Unfortunately, I did not get a chance to spend that much time in the rooftop pool after the massage. However, if you book any spa treatment, you can have a full day of using the rooftop pool, steam rooms, hair salon, and nail lounge. I TOTALLY recommend it.
Travel Guide: The Phoenician Golf Club
Unfortunately, since Matt and I do not play golf, we did not get to experience the stunning golf courses at the Phoenician resort. However, if you are a golfer, make sure to experience the stunning Phoenician golf club!
The Phoenician golf club was redesigned and reopened in November of 2018. The iconic course previously featured three, 9-hole offerings, each with a different profile, creating 27 separate holes of play. Now, the course offers one, 18-hole!!! The water features throughout the golf course were all renovated! The golf club, the locker rooms, and even the 19th hole restaurant were all renovated and redesigned! I totally recommend visiting if you are a golfer!
We also had dinner at the Phoenician Tavern the first night (located above the golf club), and we loved it. The food was great, and the service was unbelievable. The most favorite part of the dinner experience for Valentina and Alina was getting a ride to the restaurant by the golf cart! (LOL)! Valentina still talks about it! Hahaha!
Travel Guide: The Phoenician – Dining
J & G Steakhouse: Regardless, of you are staying at the Phoenician resort or not, it is so worth celebrating a special occasion at J & G steakhouse! The J & G Steakhouse is one of our favorite Scottsdale steakhouses. Matt and I have celebrated several anniversary dinners, birthdays, Christmas dinners and so much more at this incredible steakhouse!
Our favorite dishes are Filet Mignon, Prime bone-in rib eye (Matt's FAVORITE), French onion soup, Tuna Tartare, and Peekytoe crab cake! Ahhhh! I can name several more…. however, these dishes are simply our favorites and I TOTALLY recommend them!
Mowry & Cotton: This restaurant has such a cool and relaxing atmosphere! We had breakfast in the mornings at Mowry & Cotton's patio viewing the pools and the green lawns. We also enjoyed our lunch and dinner at this lovely restaurant.
For breakfast, I had the most delicious "Avocado Toast" with sunny side eggs, queso fresco, radish, watercress! As I am writing about it, it makes my mouth water! Valentina and Alina LOVED their "Buttermilk Pancakes" with chocolate chips!
For lunch, my favorite dish was "Avocado Caesar" with gem lettuce, crispy baguette, capers, parmesan. We also LOVED the "Blackened Shrimp Tacos" with charred pineapple & tomatillo relish, black pepper thyme aioli, avocado, flour tortilla, lime! They were all so delicious!
For dinner, I ordered "Buccatini Pasta" with spinach, tomato, calabrian chile pesto, lemon mascarpone and I added salmon. Which was SO good! Matt ordered the Pacific Seabass with baby turnips, pineapple & gooseberry relish, cilantro. We both loved our choices!
The service was just as great as our food! Lexi was our sweet waitress! She went above and beyond to make sure we are all enjoying our meals, drinks and the kids were happy! We loved the experience at the lovely and relaxing Mowry & Cotton.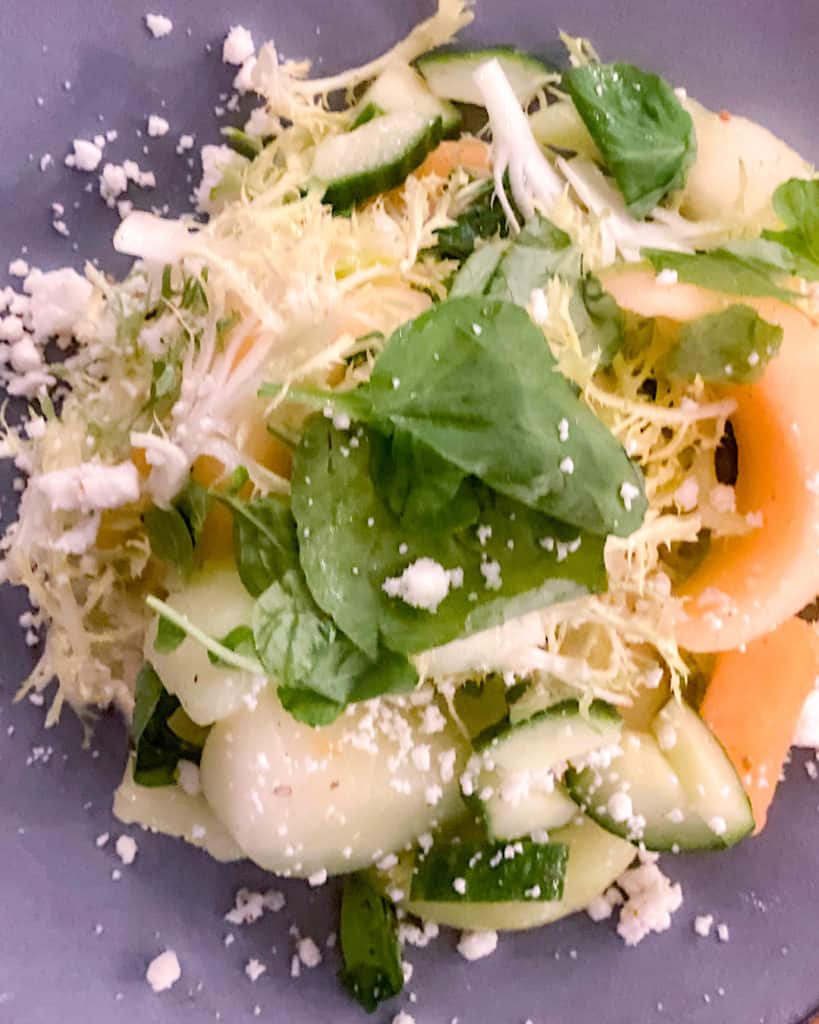 The Phoenician Tavern: The Tavern offers casual dining and has the loveliest view of the golf course! We started with Burrata Mozzarella salad as our appetizer and ordered the Grill Salmon. It came with Cilantro-lime cauliflower rice, heirloom tomato salad, tomatillo romesco sauce. It was SO delicious!
If you like Salmon, you will love this dish! Joey served us at our table, and he was incredible! He was so professional and kind to us and our little girls! The Tavern is also known for its great Happy Hour!
Thirsty Camel: According to Forbes Travel Guide, the Thirsty Camel at The Phoenician Resort in Scottsdale Arizona is one of the 44 BEST bars in the world! Matt and I enjoyed some wine and cocktails at this beautiful bar right before our dinner! The panoramic view of the resort is absolutely beautiful!
Afternoon Tea: Afternoon Tea at the Phoenician is something that you do NOT want to miss! Their afternoon tea really makes me feel like I am in London! Hahaha! They have such an elegant setup, delicious finger sandwiches, fresh-baked scones, and the best pastries that go well with your favorite tea!
They also offer sparkling wines! Even if you do not stay at the Phoenician Resort, I totally recommend booking and experiencing the "afternoon tea" at this beautiful resort. You can take a look at the Afternoon Tea menu here!
Travel Guide: The Phoenician – Live Music and Entertainment
We loved the nightly live music in the lobby of the resort. You can enjoy some nice cocktails and wine at the Thirsty Camel bar while enjoying the live entertainment. Since we had Valentina and Alina with us, Matt and I could not stay longer to enjoy the music. However, we are planning to go back for a date night at this beautiful lounge and enjoy the live entertainment and some drinks!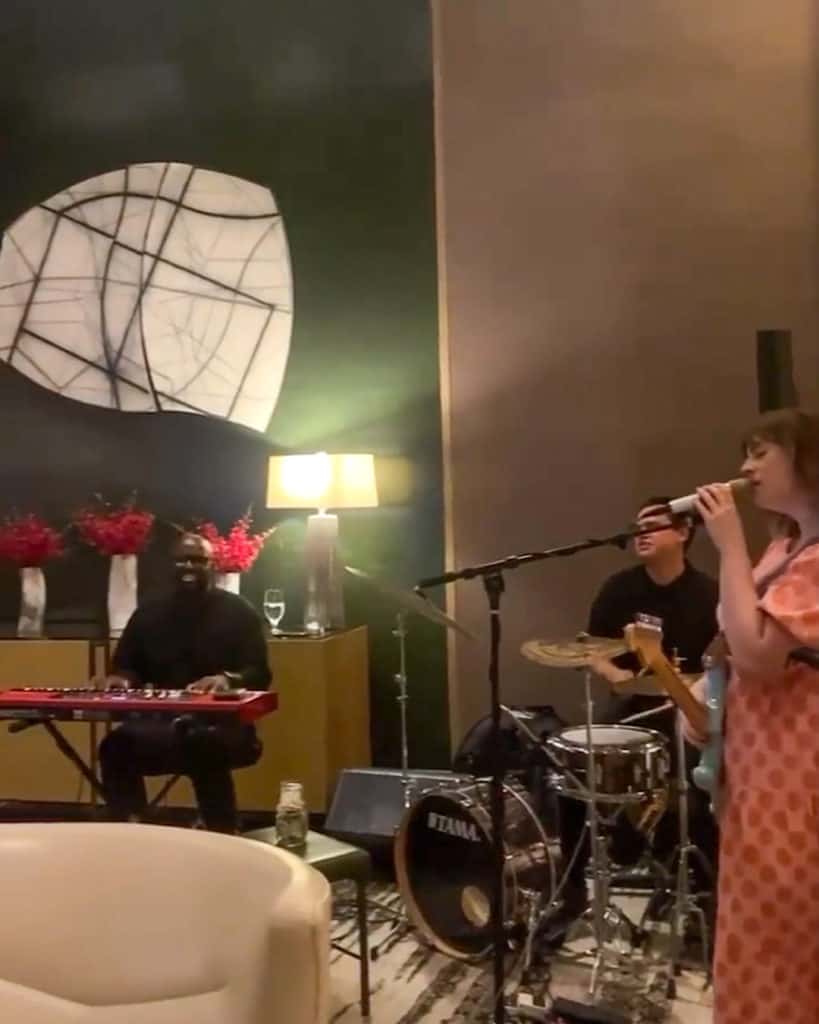 The Phoenician Athletic Club
This is a 4600+ square foot fitness center that is equipped with all you would ever need for a complete workout! I loved getting my workout done right before starting our day at the pool. We ate so many delicious foods, desserts, and drinks while staying at the resort, and I was so glad that they had this beautiful athletic club that I could burn all the calories from the day before! Hahaha!
A Perfect Location
Talking about a perfect location…. The Phoenician resort is only 2.5 miles from downtown Scottsdale and Scottsdale Fashion Square mall. If you are visiting Phoenix/Scottsdale for the first time, you will enjoy the cute shops and restaurants in oldtown Scottsdale. They are all located with a 5 to 7 minutes drive from the Phoenician resort.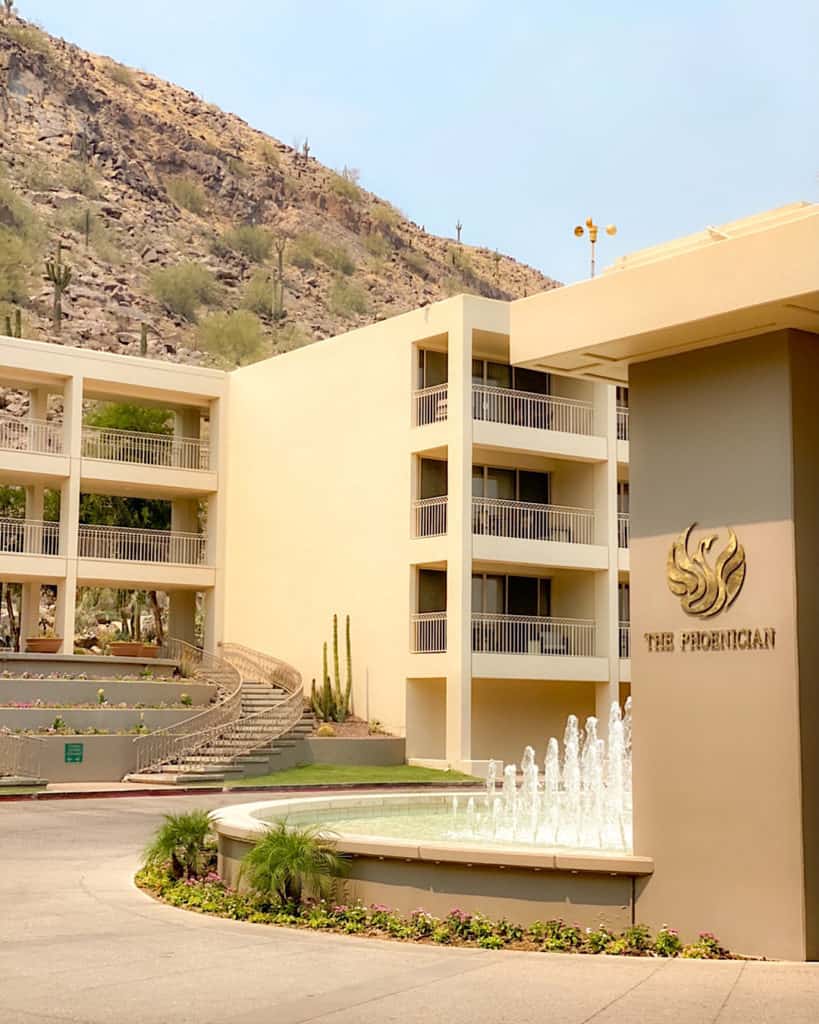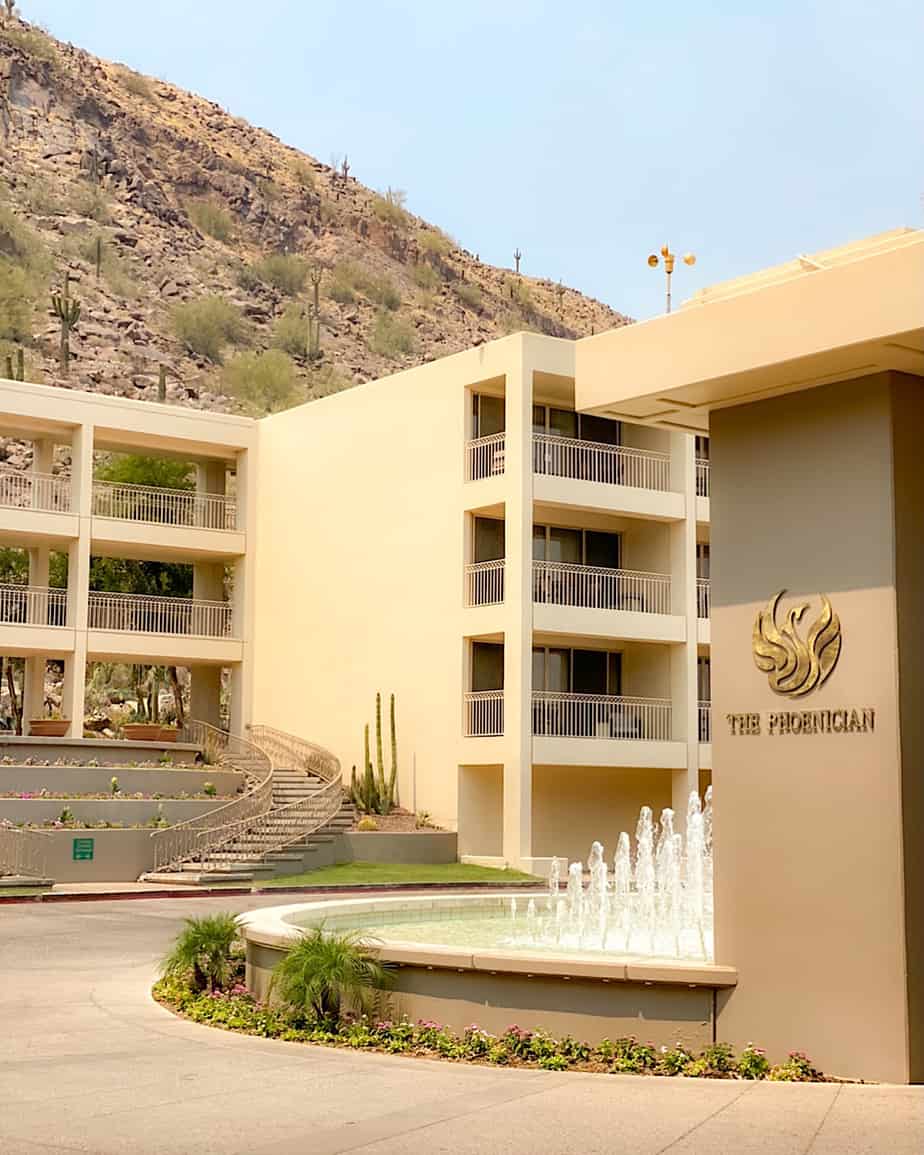 You can also visit the Biltmore Fashion Park which is another beautiful outdoor mall with several restaurants and bars. The Biltmore Fashion Park is only 5 miles away from the Phoenician resort (about 10 minutes drive).
Phoenix Sky Harbor International airport is only 9 miles away from the Phoenician Resort! As a tourist, you will love the location of this resort! You just have to keep in mind that you MUST either rent a car, use Uber, Lyft, or some sort of transportation while visiting Scottsdale/Phoenix.
The Phoenician resort is the ultimate destination for any family, couple, or "friends getaway", to have a fun and stress-free vacation OR staycation. It offers stunning scenery and first-class service with plenty of amenities such as a championship golf course, spectacular pools, fine dining and so much more! Also, if you have never been to Scottsdale or Phoenix, this is a perfect destination for an unforgettable vacation.
I hope this Travel Guide: The Phoenician was helpful and you will enjoy your stay at this stunning resort as much as we did! If you have been to this beautiful resort, please leave a comment and let me know what was your favorite thing about the Phoenician resort!
Love,
Sherry XOXO
PS Need some summer wardrobe inspiration for your holiday or staycation? Check out my last post here!