Happy Persian New Year (Nowruz) and the first day of spring! I'm so excited to share with you some inspiration for Nowruz table decorations! Nowruz in Iran is equivalent to Christmas in US, Canada, Europe, etc.… The streets of Tehran and other cities in Iran get so crowded with people shopping for decorations for their Persian New Year table (Haft-Sin/ Haft-Seen). You can literally smell "spring" in the air, the happy energy and all the excitement that comes with celebrating Nowruz! One of my FAVRORITE memories of Nowruz is the annual decorating of our Haft-sin when I lived in Tehran! Even though I have been living all these years in the US, I have not even missed one year decorating our Haft-sin!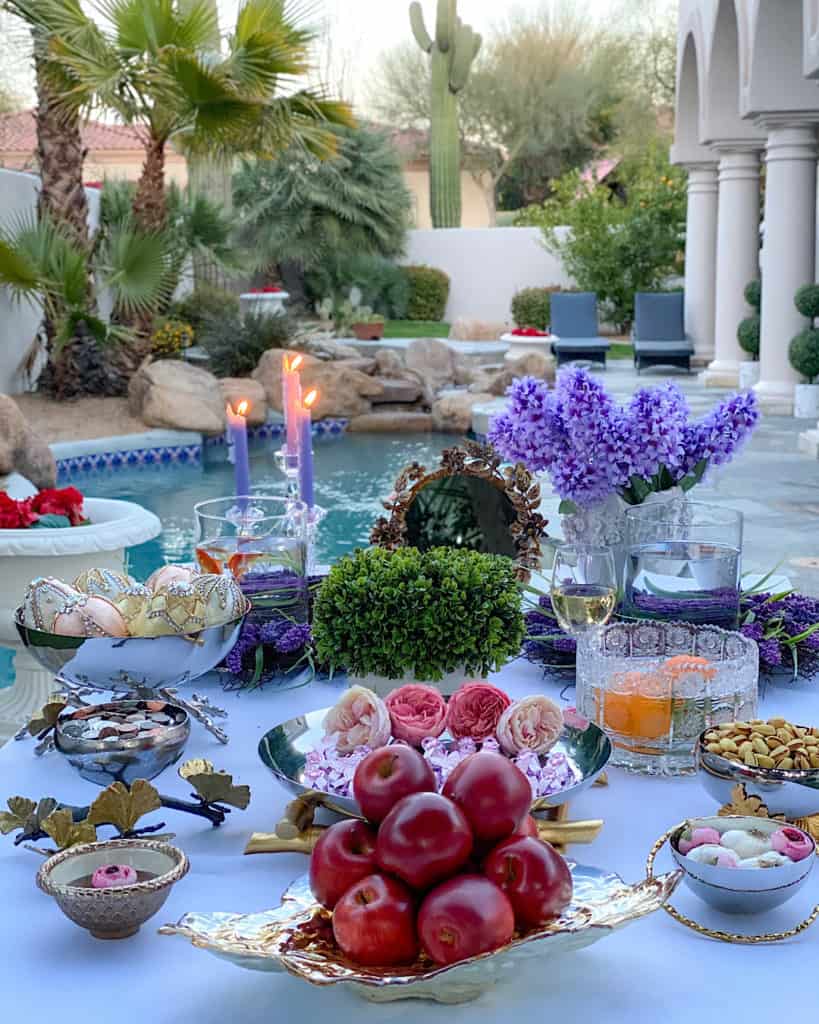 Shop This Post or Similar

Even if for some reason I travel during the Nowruz and will not be home, I make sure to set up our Haft-Sin table before leaving our house! Hahaha! I remember last year right before the Nowruz I got severely sick! But I still made sure to set our table in our backyard and had a small celebration with my family!
In this post, I want to talk more about Nowruz table decorations and what items go on the table! I would also like to talk about the seven symbols of the haft-seen and their meanings AND what you are "supposed to eat" on Nowruz!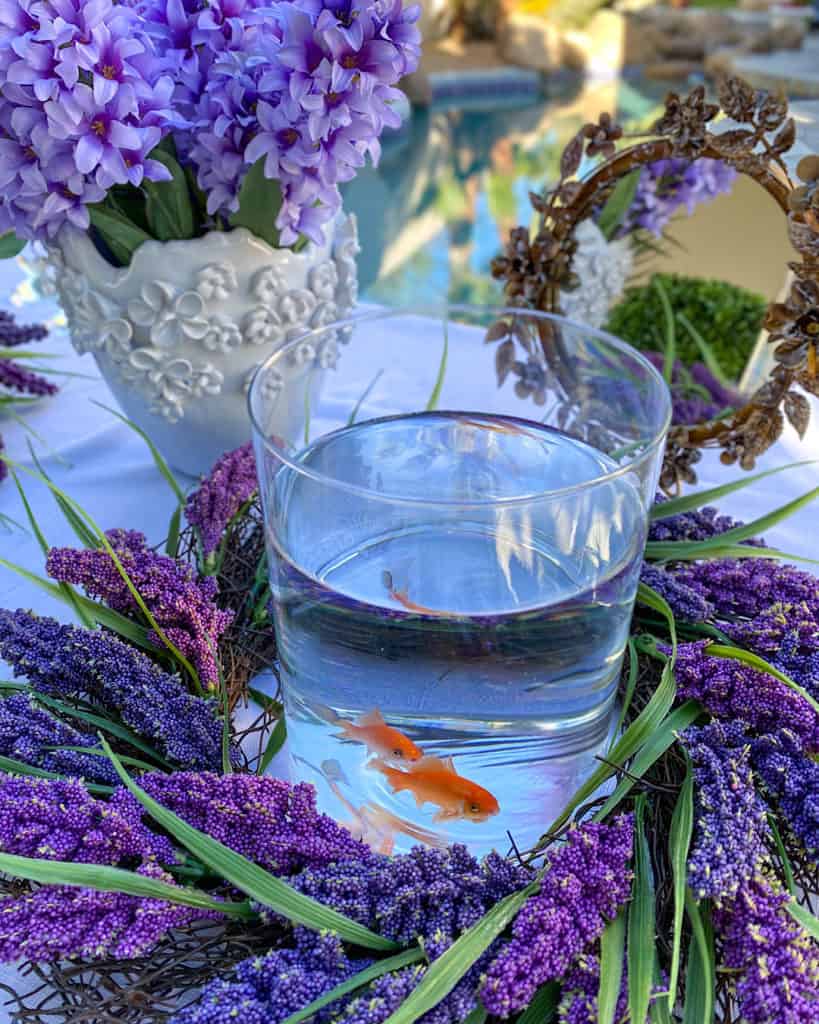 What Does Nowruz Mean?
Nowruz is the Persian New Year! The word "Nowruz", (or Nooruz), means "new day". The spelling and pronunciation may vary by country. Nowruz is NOT a religious holiday. It is a celebration of new beginnings, new/better year and shedding away the past! Nowruz marks the first day of spring and it is usually between March 19-21st. It has been celebrated in Iran for over two thousand years by all the people regardless of language, ethnicity, or religion.
What Goes On a Persian New Year Table?
Nowruz Table Decorations
Here are the most common seven symbols of the Haft-Seen that all start with the letter "S".
1- Sabzeh: Wheat, lentil or barley sprouts growing in a dish – symbolizing rebirth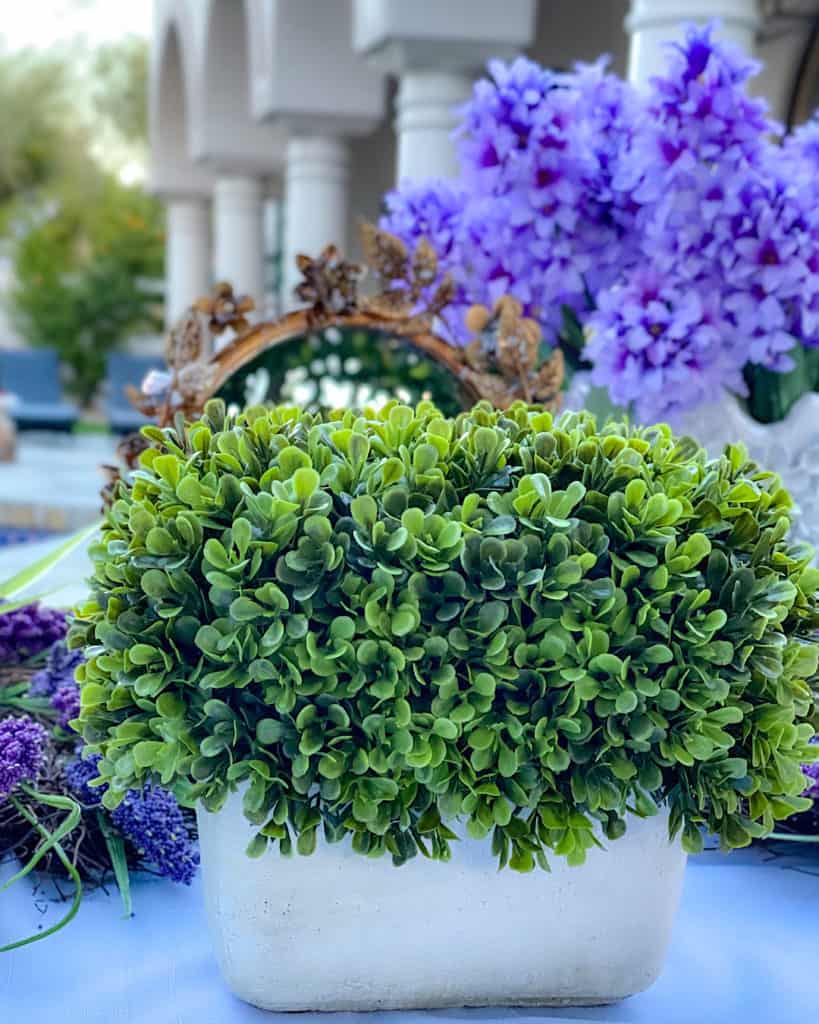 2- Sib: Apples- symbolizing health and beauty
3- Serekh: Vinegar- symbolizing age and patience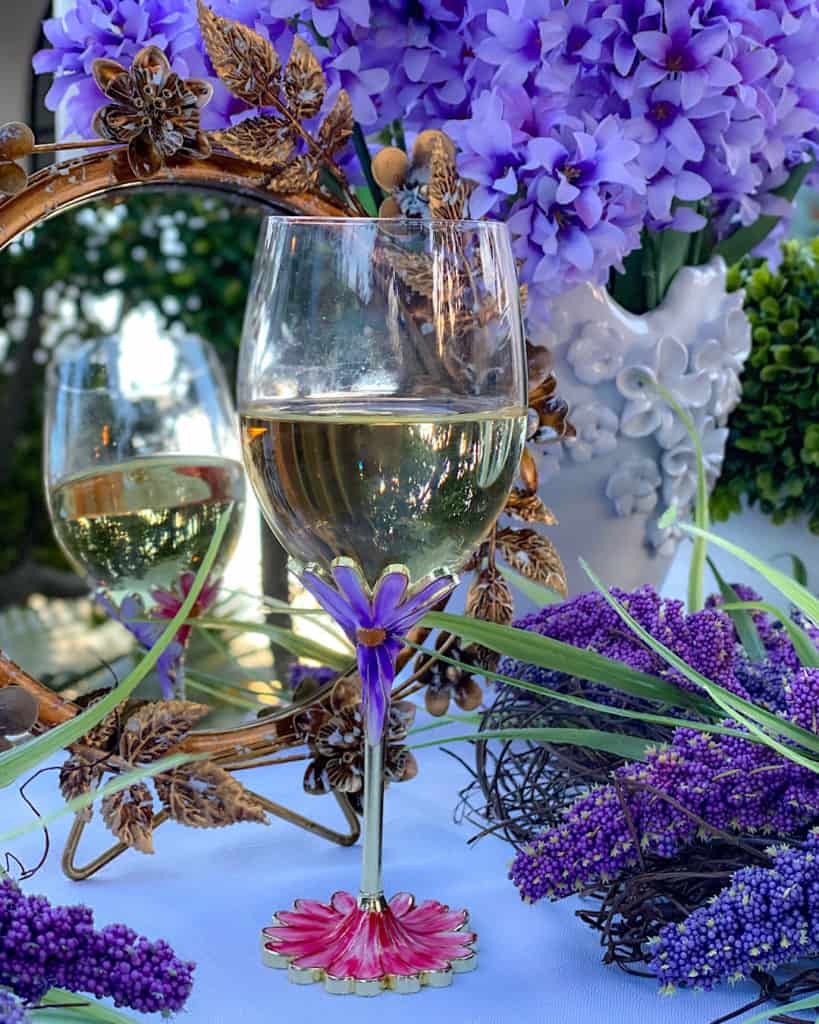 4- Samanu: A sweet pudding made from wheat germ- symbolizing affluence
5- Sir: Garlic- symbolizing medicine
6- Sekeh: Coins- symbolizing wealth and prosperity
7- Sonbol- The fragrant hyacinth flower symbolizing the arrival of spring.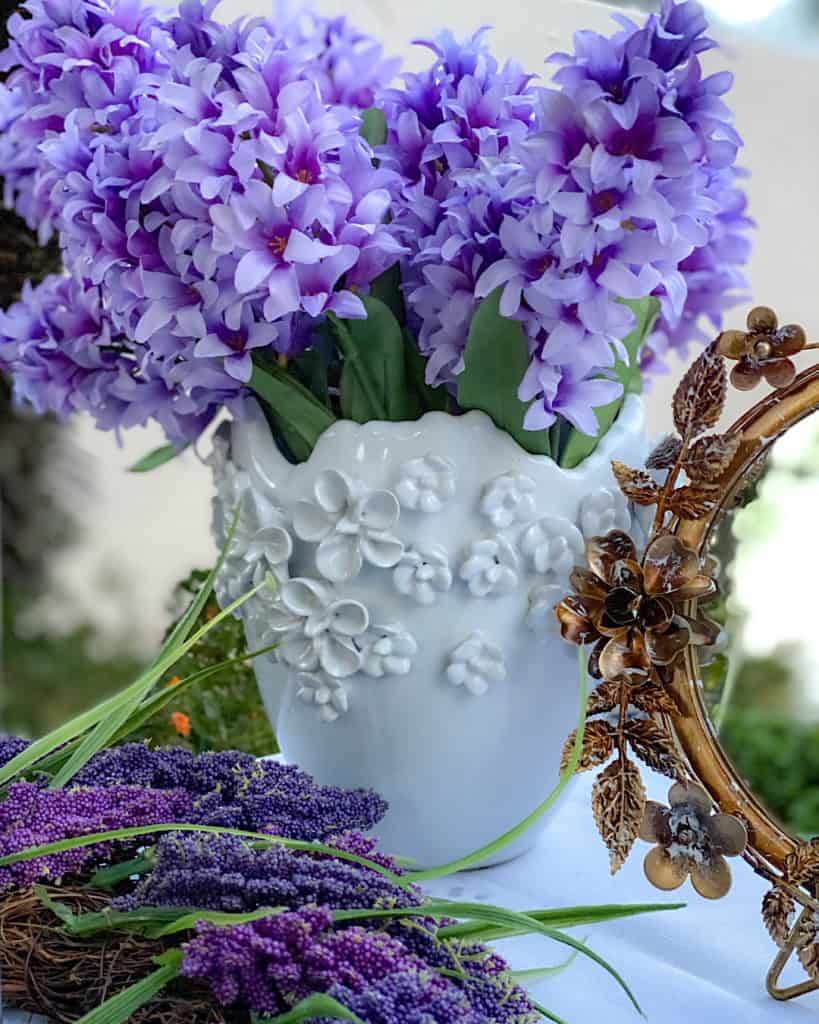 You can also add or substitute one of the items above with for example:
Somagh: Sumac berries- symbolizing the color of sunrise
Senjed: The dried fruit of the Oleaster tree- symbolizing love
Some other Non- "S" items on the table include:
A mirror: symbolizing self-reflection and introspection
Decorated Eggs: symbolizing one for each member of the family (fertility)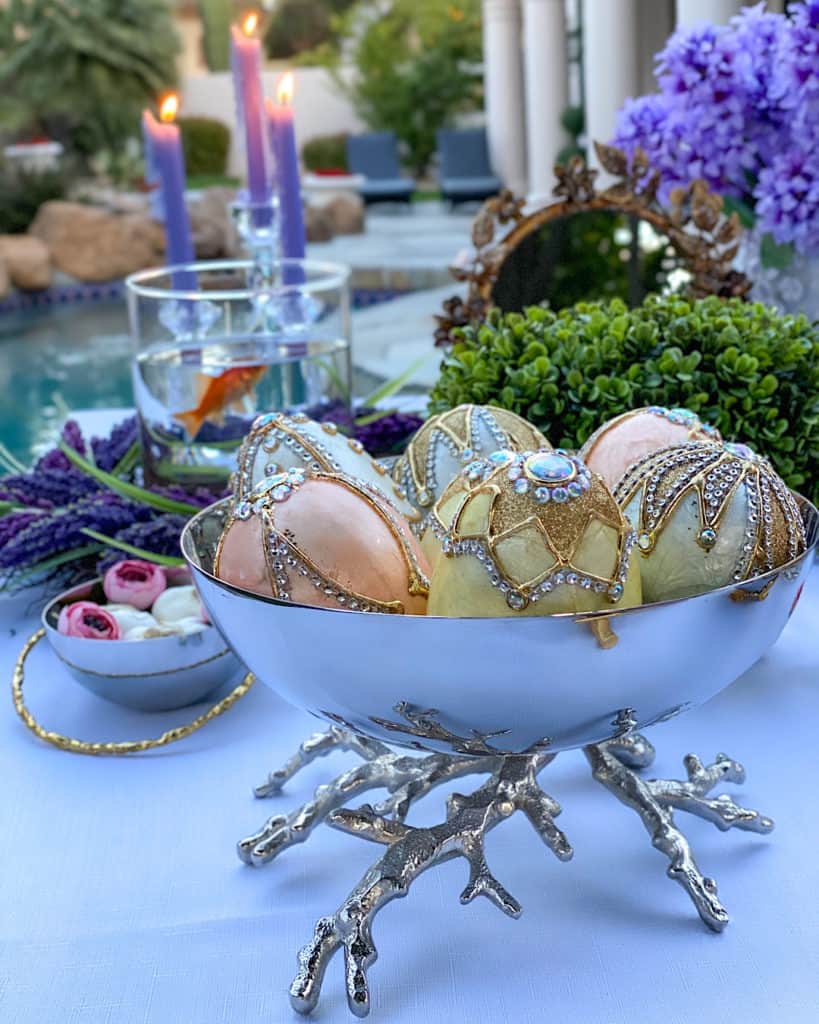 Bowl of Goldfish: symbolizing life, and the sign of Pisces which the sun is leaving
A crystal bowl of water with an orange in it: symbolizing the earth floating in space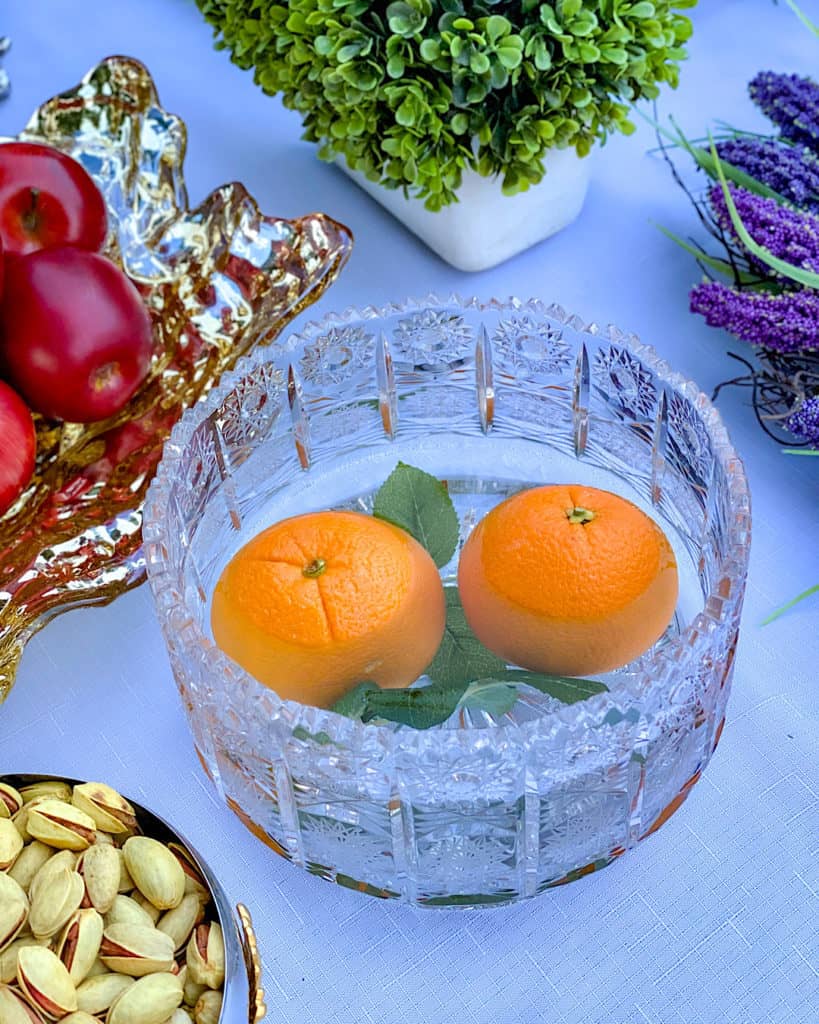 Lit Candles: symbolizing enlightenment and happiness
Dried nuts and fruits, pistachios, and raisins, called "Aajeel"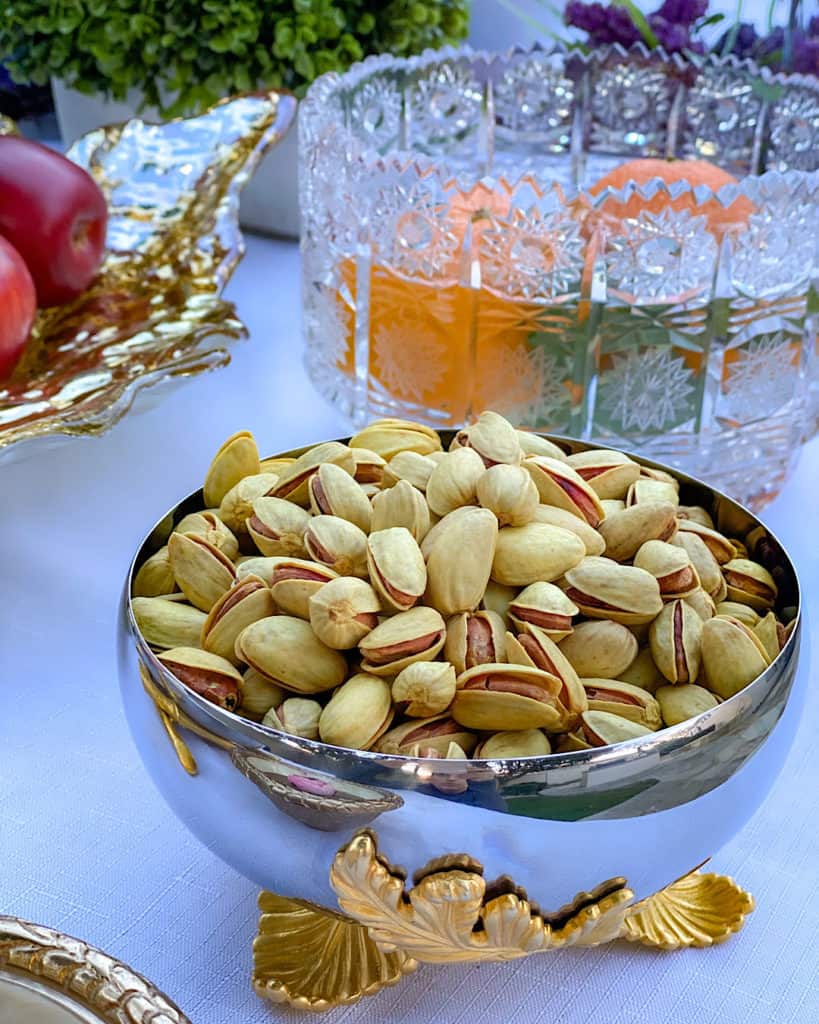 What Do You Eat on Nowruz?
When I lived in Iran, one of the biggest highlights of our Nowruz was going to my grandmother's house on first day of the New Year for lunch! My favorite aunt in Iran was an incredible chef! She cooked the most delicious foods for the entire family for Nowruz! I remember every single dish on the table just like it was yesterday! LOL! Here are some Persian new year food traditions for Nowruz and that is exactly what we had for the New Year!
Sabzi polo ba mahi: Herbed rice served with fried fish.
Kookoo Sabzi: Herbed baked eggs
Morasa polo: Jeweled rice
Reshteh Polo: Noodle Rice
Dolmeh barg: grape leaves stuffed with a mixture of rice and ground lamb
Sholeh Zard: Saffron rice pudding
Bakhlava & tea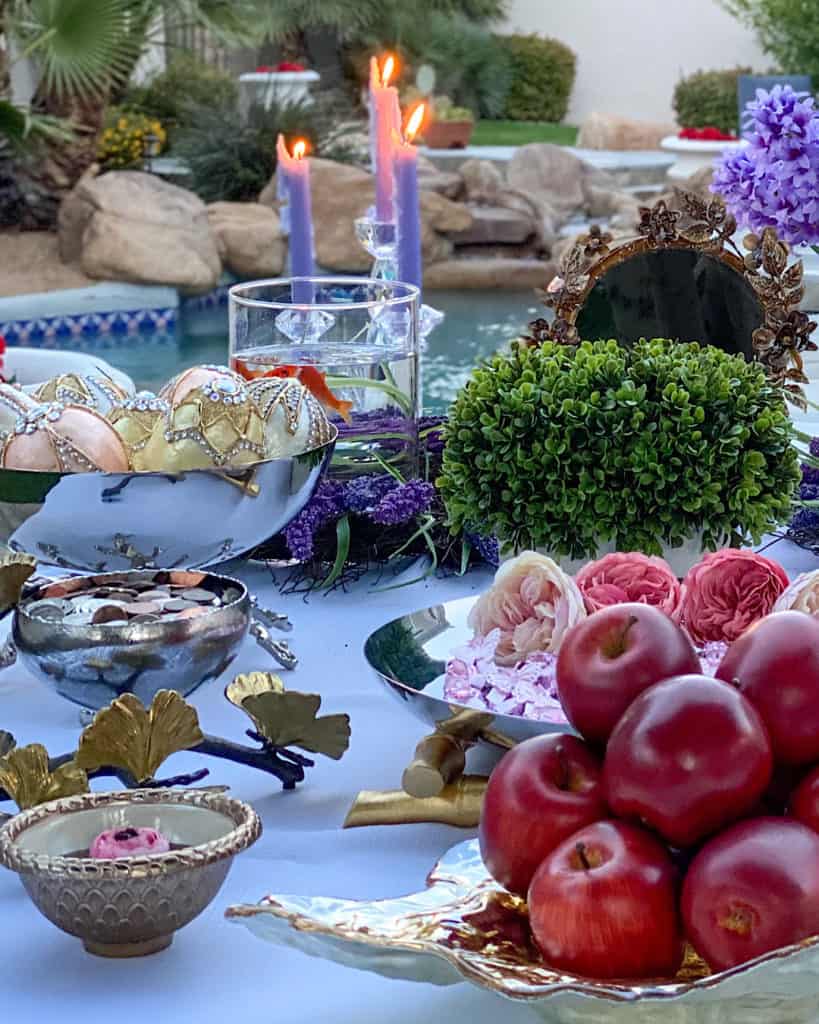 Ahhhh! Writing this post (especially this time of year), makes me miss my beautiful country so much!!! I hope I will be able to visit Tehran next year for Nowruz and get to take Valentina, Alina and possibly Matt with me! My little girls are half Persian and half American. As much as I enjoy watching them learn about the wonderful holidays in US, I would also love to teach them through experience my beautiful culture, foods and traditions. Matt has always been very interested to learn about my country and I hope one day I will get to travel with him to Iran. He also LOVES Persian foods (LOL), so I am sure he will have a blast! Hahaha!
Happy first day of spring and Nowruz, and I hope you enjoy your Nowruz table decorations and Persian New Year!
Love,
Sherry
"This post may contain affiliate links, which means that I may receive a commission (at no cost to you) if you make a purchase using these links".
Shop This Post or Similar

Sherry, xoxo