In this post, I want to share some cute fall hay bale decorating ideas with you! I would also like to share a few easy tips on how to style and create a charming fall porch or courtyard. I love decorating our courtyard for each season! Fall and Christmas decorations are my FAVORITES!!
This post is about fall hay bale decorating ideas and tips on styling a charming fall porch or courtyard.
The very first thing that I like to do is hop on Pinterest and look for some cute fall porch decor ideas. I save a bunch of cute pins on Pinterest and then create a fun "mood board" for myself! Once I create a mood board and know what I need, I start ordering each piece!
Cozy Fall Porch Decorating Ideas
If you are looking to add a touch of fall charm to your home this season, here are some tips on how to style a charming Fall porch or courtyard. First, think about the theme of your décor. If you want to go with a fall motif, then you might want to go for cozy and comfortable decorations like hay bales and pumpkin patches.
Related Post: How to Decorate Your Home in Pink for a Romantic Fall Look
You can also go for neutral colors like browns and neutrals or opt for brighter shades like oranges and reds. Finally, make sure to add some natural elements like leaves, branches, and acorns to really bring the season alive.
Tip #1: Start Decorating Your Front Door with
Wreaths and Garlands
Eye-catching front door decorations are one of the first things you can do to welcome the fall season. There are a few easy and stylish ways to get started.
Personally, I love decorating our front door and gates with colorful fall wreaths and garlands! I have been using Balsam Hill products for several years! I love the Balsam Christmas wreaths, as well as their lovely fall and spring wreaths and garlands.
Besides their beautiful designs, I love the quality of their artificial flowers, topiaries, wreaths, and garlands. They last a long time, and they are very "low maintenance", which I LOVE (LOL)!!!
When I first saw this beautiful 28″ Apple Spice Wreath and the 6′ Apple Spice Garlands, I fell in love with them right away! I love the two-toned fall apples and cinnamon sticks attached to them!
These wreaths and garlands include beautiful hydrangeas, maple leaves, and oak leaves with intertwining vines. These wreaths and garlands have gorgeous, vibrant fall colors and they give you the perfect "fall look" for your porch or courtyard!!!
If you are looking for a beautiful fall door wreath, you will love this design! I honestly think they look even nicer in person than what you see in the pictures! I also think this elegant Balsam Hill garland will look amazing on a fireplace mantel. You can add the matching wreath on top of your fireplace for a complete look!
We also love two of these beautiful Balsam Hill "Outdoor Boxwood Spiral Topiary" in our courtyard. We put them into our white flowerpots and placed some cute mini pumpkins around them! You can take a look at the entire Balsam Hill Topiary collection.
Fall Hay Bale Decorating Ideas
Tip #2: Buy Different Size Hay Bales
I have to say…, I LOVE the big-size hale bale in our courtyard this year! It helped to complete the look of our courtyard fall decor. I originally bought some medium and small-size hale bales. When I brought them home, Matt said they looked "too small" for what we had in mind!
Related Post: 9 Easy Tips for Outdoor Decorating with Mums and Pumpkins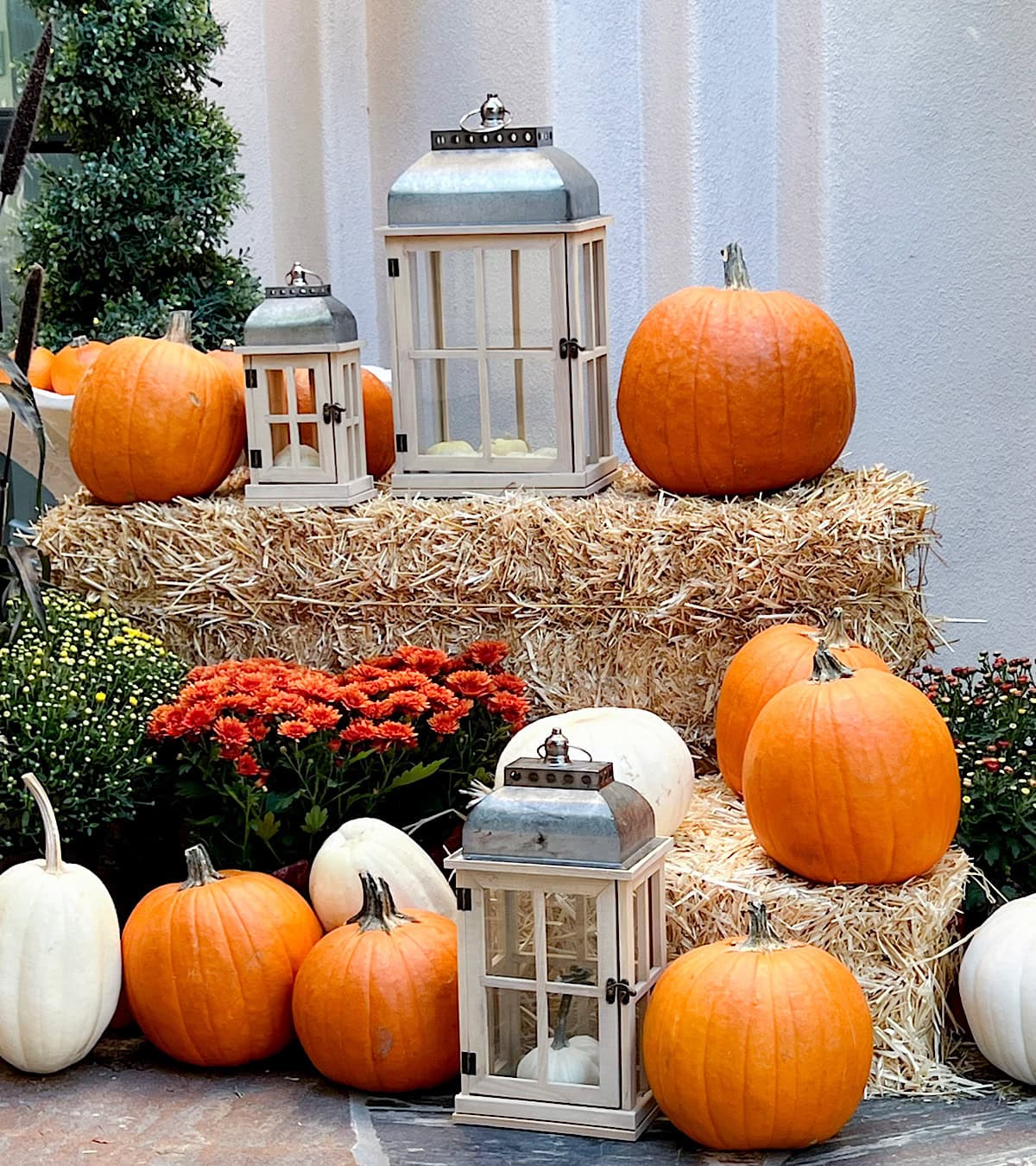 I thought about ordering some straw bales on Amazon first… then I realized most of those straw bales were too small. We looked up hale bale farms and ranches in Phoenix to find bigger size hale bales.
The ranch was about 35-minute drive from our house. I'm so glad we made the trip to the ranch and got the perfect size hale bale for our courtyard.
Start by selecting the right Hay Bale. There are all sorts of different types of hay bales on the market, so it's important that you find one that suits your specific needs.
Some people prefer straw hay bales because they give the impression of being rustic and cool, while others prefer soft hay bales that are more comfortable to sit on. It's also important to consider the size and shape of your porch or courtyard when choosing which type of hay Bale to buy.
Large hay bales decorations are a little easier as you have a wider surface to work on…however, you can still decorate your small hay bales if you have a smaller space to work with! Large or small hay bales will help you design a festive fall porch. Once you've bought your Hay Bale, it's time to start decorating!
Hay Bale Decorating Ideas:
Buy different size hale bales and place them together. This is a great way to create different heights and dimensions.
Place a few big and small size pumpkins on top and the bottom parts of your hale bale.
Mix and match your pumpkin colors
Place some colorful autumn flowers around in opposite corners of the hale bales.
Place one or two lanterns on top of the hale bales
Fill up your lanterns with mini pumpkins or place only one little pumpkin inside each lantern if your lantern is small.
use natural materials like wood, bark, leaves, and twigs to create a rustic look. You can even hang pieces of branches from the bales to create an extra layer of texture and dimension.
mix things up by incorporating different colors and textures throughout your design.
If you are looking for round hay bale decorating ideas, you can click here to get some ideas!
Tip #3: Stack Up Pumpkins
(White Pumpkins, Orange Pumpkins, or Other Colors)
One way to add some fall charm to your outdoor space is to stack up white pumpkins, orange pumpkins, or any other colors you have lying around. You can also use these pumpkins as a focal point for your decorating ideas.
You can either place them around your hay bales (like what I did), put them on the ground near a fire pit, or place them around the comfortable seating area. For a more rustic look, you can simply leave them stacked up on your porch or courtyard without any additional decorations.
Related Post: Glam Thanksgiving Tablescape Using Pink & Purple Pumpkins
And finally, don't forget about the other colors of the pumpkin spectrum! You can experiment with all sorts of different shades and hues to come up with a unique look that's perfect for your space. I bought our pumpkins from our local Whole Foods and a few other pumpkins from Trader Joe's.
Fall Hay Bale Decorating Ideas
Tip #4: Use Corn Husks and Wheat Stalks
Decorative corn husks are another brilliant idea for creating a cozy porch during Fall. You can either buy decorative corn stalks or grab some fresh ones from your local store.
Once you choose your corn stalks, you can stick them into a cute woven basket (like mine). You can also create a fun arrangement on your hay bales with your corn stalks. Some people like to arrange them like a fun bouquet and place them in a vase. If that's what you like to do, make sure to tie the stalks together firmly so they don't blow away by the wind!
Related Post: DIY Pumpkin Centerpiece with Faux Flowers
Some people love to create a fun centerpiece with corn stalks. To create a cornstalk centerpiece, start by gathering a few sturdy stalks of corn. Then, tie the stalks together using some twine or wire mesh to make a cute arch. You can also paint them any color you like and add a bit of detail with leaves and flowers.
Fall Hay Bale Decorating Ideas
Tip #5: Add Some Pinecones
Pinecones are a beautiful way to add some autumnal character to your hay bale decor. Here are a few ideas on how you can style a porch or courtyard with pinecones:
Find a cute woven or mesh basket and place your pinecones in the basket.
Place your pinecone basket on the hay bale next to your pumpkins.
You can also place your basket on the porch or courtyard for a rustic look.
You can add a few pinecones to each hay bale.
Put pinecones in a vase, add some flowers on top, and place the pinecone vase next to the hay bale.
Fall Hay Bale Decorating Ideas
Tip #6: Place Colorful Fall Mums Next to Hay Bales
Ahhhh! I LOVE fall mums!!! I don't think your outdoor fall decor is complete without fall mums! They add the most beautiful splash of vibrant colors to your fall porch or courtyard. I honestly think these beautiful flowers are the perfect element for adding a pop of brightness to any space!!
I love yellow and burgundy and white mums. Every year we stop at our local Home Depot to buy our fall mums. They are always bloomed and look perfect! For some reason, they were not bloomed this year! I bought them anyways… While we are waiting for them to bloom, we bought some other beautiful fall flowers to bring bright colors to our courtyard.
Related Post: Stylish Fall Decor Ideas for Fireplace Mantel and Living Room
Once you've picked out your mum, it's time to start decorating! You can scatter them around the edge of your hay bale (like mine), or simply place them next to your pumpkins or your lanterns.
Tip #7: Decorate with Fall Foliage
If you're looking to add some Fall foliage to your porch or courtyard, here are a few ideas:
Add a few potted plants in bright colors like orange, yellow, and red.
Hang dried autumn leaves from the ceiling or doorways.
Install a lattice fence made out of dried fall leaves or branches.
Use faux fall foliage garland like our Balsam Hill Fall foliage garland or find something similar at your local store or Amazon.
Related Post: Capri Blue and White Thanksgiving Tablescape
Tip #8: Add A Couple of Woven or Bamboo Baskets
If you're looking to add a bit of personality to your porch or courtyard during the fall season, consider using woven baskets as your decor. Woven baskets are simple but elegant pieces that can be used in a variety of ways.
Here are a few tips for styling a woven basket:
Add them to the corner of your porch or courtyard.
Fill them with leaves, acorns, ornaments, or any other fall decoration you like.
Hang them from the railing or support beams nearby to give them some extra height and a great visual.
Place battery-operated candles inside the baskets if you want to create a cozy and romantic atmosphere.
Fall Hay Bale Decorating Ideas
Tip# 9: Fill a Lantern with Cute Pumpkins
Fill your lanterns with cute fresh or faux pumpkins. This is another cute idea you want to explore while decorating your front porch for Fall.
You'll need a lantern and a couple of cute pumpkins of different colors to make this happen. You'll also need small battery-powered lights to provide lights in the lantern. The lights project the colors of the pumpkins, giving you a nice decor for your porch.
Tip #10: Place a Fall Doormat
Fall doormats are another great idea for your outdoor porch or courtyard decoration. With colorful pumpkins and foliage all over the place, you will want to make a welcome statement to your guest with your doormat.
You could also put bright orange pumpkins around your doormat to make it look more charming and welcoming. You might decide to buy a doormat that says "welcome to fall" or other cute fall doormats.
Fall Hay Bale Decorating Ideas
Tip #11: Add a Wooden Ladder Nex to Your Hay Bales
One of the best ways to add a touch of rustic charm to your fall porch or courtyard is by adding a wooden ladder. This can be done in a number of ways, but the best way to do it is by installing it against one of the walls and attaching it with brackets.

This will give you plenty of space to hang your baskets, wreaths, and other decorations. This simple addition will add a touch of elegance and sophistication to your outdoor space.
There are many different styles that you can choose from when it comes to wooden ladders – so it's up to you to find the one that suits your needs and tastes.
I love the vintage-style ladders. Unfortunately, I was not able to find one from our local stores. You can add fall foliage to the side rails and decorate the ladder.
Tip #12: Hang Lights
I love hanging string lights in our courtyard and backyard! We usually hand these lights during the Christmas season. However, I love having these lights as part of our outdoor fall decorations. You do not need to have a large front porch to consider hanging the string lights.
I think they look so beautiful even on a small balcony or front yard. The idea is to make your front porch or courtyard welcoming throughout this season. I think this is one of those great fall decor ideas that you can't miss!
Fall Hay Bale Decorating Ideas
Tip #13: Create a Cozy Corner
A cozy corner makes your front porch decor look so charming! You can decorate this by putting a simple chair with cozy throw blankets in a corner. You can have your fall foliage garland hanging over the chair. Or you can place a cute basket around the corner and add some pinecones or fall leaves. It is always a good idea to add a cute lantern next to the chair for a bit of a personal touch.
Tip #14: Add A Splash of "Spooky"
Porches and courtyards are the perfect places to inject a bit of "spooky" into your autumn decor. Here are some ideas for how to style a porch or courtyard that will bring the Halloween spirit alive:
Install some cobwebs and spider webs throughout the space.
Hang skeleton heads from the courtyard trees, ceiling or walls.
Create a Franken Forest out of fake leaves, branches, and logs.
Install a Fall-themed lighting scheme that includes fun glowing pumpkins.
FAQ
How do I decorate my outside house for Fall?
Start off by decorating your front door with wreaths and garlands.
Buy a few different size hay bales to create different heights.
Place your pumpkins on the top and bottom part of each hay bale.
Buy a few fall woven baskets and place a few pumpkins in the basket.
Buy some fall mums and fall flowers and place them by your front door or the pumpkins.
Buy cute outdoor lanterns and place them by the door.
Hang string lights.
Create a cozy corner on your porch.
Use a wooden ladder.
Place a fall doormat.
Add a splash of "spooky".
How long do hay bales last outside for decoration?
If you keep your bales out of moisture, they can last a long time (sometimes for over 1-2 years). However, if they get rained on, they will start breaking down.
Does Home Depot sell straw bales?
Yes, you can buy decent size hay bales from Home Depot, Joann's, Hobby Lobby, Michael's, or a local farmers' market or ranch.
What do you do with decorative hay bales after Halloween and fall?
You can use them for your porch decor after Halloween. You can place some beautiful flowerpots and outdoor decorations on the bale. If you don't want to have the bales in your courtyard after the fall season is over, you can send them off to your local compost in your town/city. Every year we ask our landscaper to take our hay bales with him. That is another option to consider when you are trying to get rid of your bales.
How do you keep decorative hay bales from falling apart?
To preserve fall hay bales wrap them tightly with net wrap or plastic twine. It'll prevent the hay bale from sagging. The plastic twine also helps prevent weathering and insects.
Bottom Line
Fall is an exciting season to get creative with your decorations. Your front porch or courtyard is a great place to start decorating for fall and bring the new season vibes and excitement into your home. If you are planning to decorate your porch or courtyard for fall, I hope this post was helpful to you! Comment below and let me know if you have any great tips to decorate your porch or courtyard!
This post may contain affiliate links, which means that I may receive a commission if you make a purchase using these links.
Shop This Post or Similar
Sherry, xoxo