DIY Pumpkin Centerpiece With Faux Flowers
Happy fall everyone! As you all know, I have always had a passion for home décor and styling. I love to "mix and match" different colors and textures to create the best possible harmony between complementary shades. This is how I like to create an elegant and inviting ambiance for my family and our guests at home. I sometimes change up colors and the position of each object several times until I like the "final look"!! hahaha! I truly enjoy coming up with ideas to create a simple yet elegant seasonal décor for our house.
In this post, I want to share some easy tips with you on how to create an elegant and DIY pumpkin centerpiece for your holiday table with faux or fresh flowers! I will go over several topics and things to consider that will complement each other to help you create a stunning table centerpiece.
Traditional VS. Trendy Fall Colors to Decorate Your Home
Fall is the perfect time to get creative. Traditionally, the best colors to decorate your house for fall are various shades of yellow, orange, brown, burgundy, and red. However, the trending home décor colors for this fall are warm shades of purple (plum), soft pink, gold, ivory, gray, and "earthy- natural inspired" tone.
In the past few years, I have mostly used the "common fall colors" to decorate our house. For example, I used the "burgundy" color in our living room last year and used the "orange" color the previous year. However, I designed a Victorian blue and white Thanksgiving table last year (which I really enjoyed how the colors turned out).

This year, I decided NOT to use the "common" fall colors (hahaha) and create a "cool and different" fall vibe in our house using soft pink and a warm shade of purple (plum) with velvet pumpkins. I think velvet pumpkins look so rich, chic, and elegant.
These pumpkins were sent to us by "LoveFeast Shop". These are some other velvet pumpkin as well as colorful decorative pumpkins options for you to consider: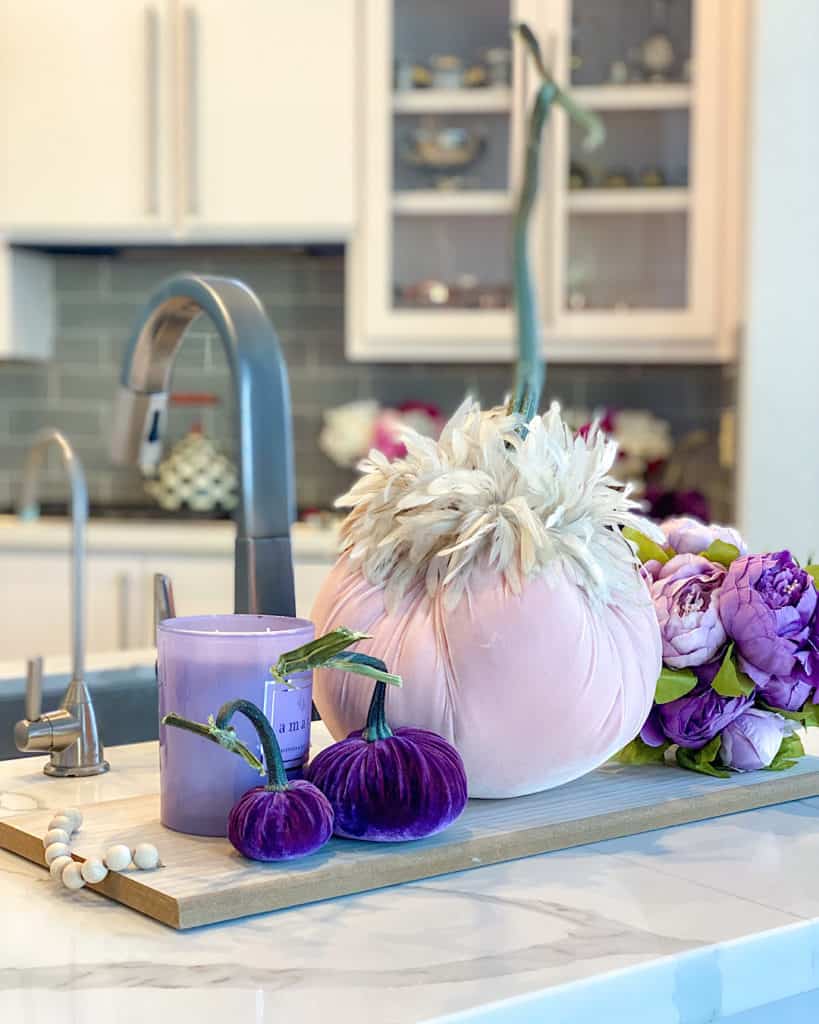 How to Create an Elegant DIY Pumpkin Centerpiece Using Faux or Fresh Flowers!
No matter if you prefer fresh or faux flowers for your pumpkin centerpiece, here are some easy steps to follow to create a beautiful and timeless decoration with your pumpkins for this fall!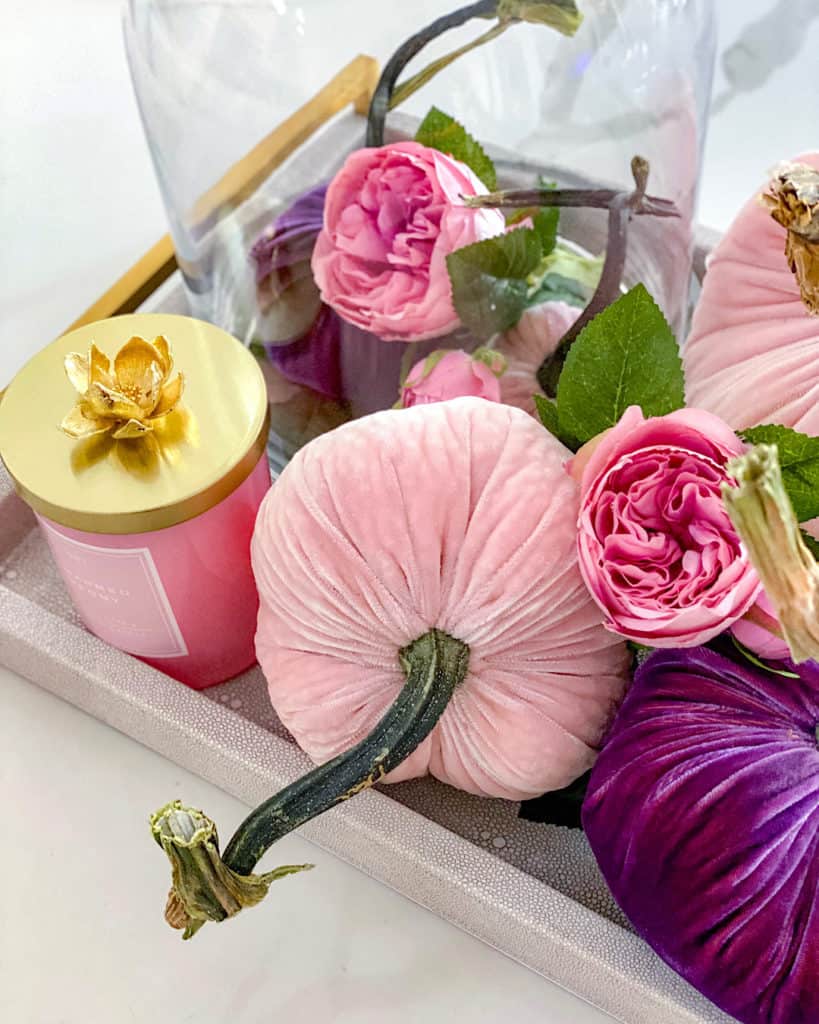 Decorate with Blush Pink Peonies
Pink Peonies: Peonies and roses are two of my all-time favorite flowers! I find myself using peony flowers in most of my home décor and tablescape designs. While I still like ceramic pumpkins as well as glass pumpkins, but I'm so in love with velvet pumpkins that I don't think I can switch back to the ceramic pumpkins for a while!! (Unless if I find a very unique design) hahaha!!!
Easy Steps for Creating an Elegant DIY Pumpkin Centerpiece
You can't go wrong with pink peonies and velvet pumpkins. All you need to do is following these simple steps:
1- Choose a set of two, three, or five pumpkins.
2- Place them on a beautiful tray.
3- You can use a glass display dome.
4- You can also use a glass cake stand to create different heights (like how I did in these pictures).
5- Use some faux peonies or fresh rose heads to insert between the pumpkins!
6- Add some fresh or faux green leaves.
7- Place beautiful fall-scented candles on your centerpiece.
You can now place this beautiful and elegant velvet pumpkin centerpiece on a side table, coffee table, or kitchen counter, or your fireplace mantel for an eye-catching display. I placed ours on our kitchen counter as well as our fireplace mantel.
Fall Pumpkin Table with Purples and Greens
An additional centerpiece idea is to pair purple pumpkins with green leaves which is such a beautiful combination! I love the contrast between these two shades. Using these rich plum velvet pumpkins with real stems and adding a touch of green leaves creates such a simple and yet elegant centerpiece! You can place this piece in any corner of your living room, bedroom, kitchen, or even bathroom.
You can also use this centerpiece for fall as well as your Thanksgiving table! I hope you have just as much fun as me when creating this simple and elegant DIY pumpkin centerpiece!
Happy fall and happy crafting!
Love,
Sherry XOXO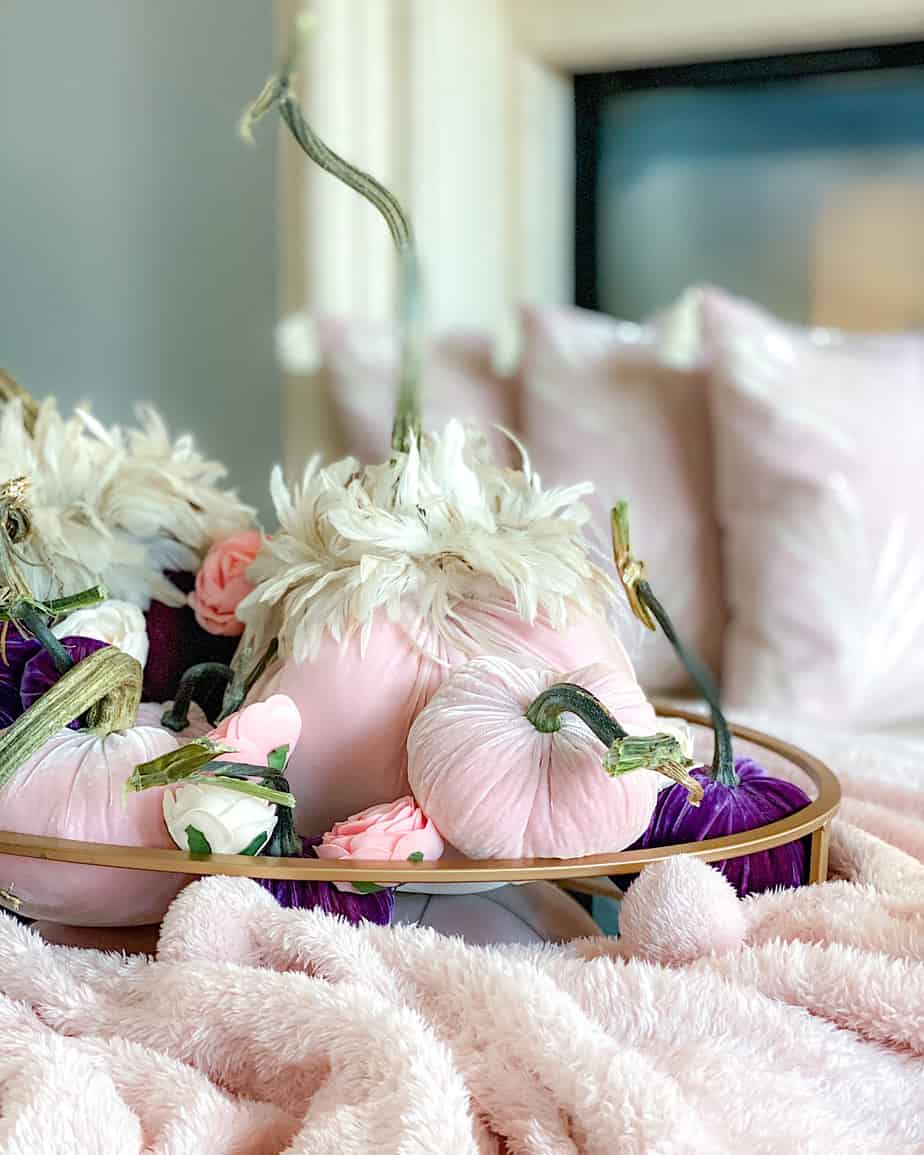 Shop This Post Or Similar
This post may contain affiliate links, which means that I may receive a commission (at NO cost to you)if you make a purchase using these links.