How to Decorate Your Home in Pink for a Romantic Fall Look
There is something about pink fall decor that I love…!!! I think this is such a beautiful, chic and elegant color for fall decor!!! I have previously decorated our home with pink for fall for several years. Last year, I decorated our Thanksgiving table with velvet blush pink pumpkins. I fell in love with that table setting!!!
This post is about how to home in pink for fall!
This year, I decided to come up with another fun pink fall decor idea for our kitchen and living room. I used soft pink, white pumpkins, and some beautiful flowers. In this post, I want to share a few easy ideas on how to style a stunning pink fall decor for your house!
Pink Fall Decor
Related Post: 9 Easy Tips for Outdoor Decorating with Mums and Pumpkins
I am so ready to cozy up with warm sweaters and a hot cup of cocoa even though we live in Arizona! Our summers are super long, and we cannot see the "season change" until mid-October!
Although we don't get to see the leaves start changing colors in Scottsdale and Phoenix, the nights start getting longer and a little cooler.
Those "cooler nights", make me excited to start decorating our home for fall! You are probably planning on changing the linens, pillow covers, and everything that will cozy up your space.
This post may contain affiliate links, which means that I may receive a commission if you make a purchase using these links.
When it comes down to fall decor, people usually think of traditional fall colors like orange, brown, beige, yellow, etc… However, I feel like in the past few years, so many people are getting tired of the traditional orange color for fall decorations. They just want to go for something different!
A lot of home decor brands, designers, and bloggers are beginning to create new fall decor color palettes and ideas. I have noticed that a lot of people are beginning to embrace the trendy fall color schemes and coming up with super colorful fall decoration ideas!
Either for the front porch decor, the living room, bedrooms, or the kitchen! More and more people are buying "pink pumpkins" and decorating them with pink flowers (or other colorful flowers). Or they simply like to purchase colorful pumpkins (pink, purple, yellow, blue….) and create a stunning fall decor!

Pink Fall Decor Tip #1
Buy Some Cute Pink Pumpkins
Pumpkins are one of the essentials in decorating for fall. They come in different colors, shapes, and sizes. Obviously, you can't buy fresh pink pumpkins (LOL)!
However, you can order some cute pink pumpkin decor on Etsy or any other online store! If you are a crafty person, you can also have a little fun DIY project, buy white faux pumpkins and color them in many shades of pink that you would like!

My blush pink velvet pumpkins are from Love Feast Shop. However, you can find something similar here, here, or here. You can always find more affordable pieces on Amazon.
The idea is to decorate your mantel, dining table, centerpiece, or your kitchen with these pumpkins to give a feeling of warmth and radiate a chic look.
Related Post: DIY Pumpkin Centerpiece with Faux Flowers
Pink Fall Decor Tip #2
Use a White Basket to Create Contrast
Using a white basket is a wonderful way to create contrast with your pink pumpkins. Not only do white baskets add such a beautiful design element to your fall decor, but also, they are perfect for keeping your pumpkins in one place!

You can use a cute woven white basket as a centerpiece display on your coffee table or kitchen counter. It is a great look if you are looking to design a perfect minimalist fall decor. Using a white basket is also a good idea if you are trying to create a boho fall decor.

Some people like to hang one or two baskets on their kitchen or living room walls and add some pumpkins to them. I think this is such a cute idea!!!
Lastly, you can use the white basket to create beautiful natural fall home decor. If you do not like to add pumpkins to your baskets, you can simply add some fall flowers.
You can either find high-quality white baskets in stores like Crate and Barrel, Pottery Barn, West Elm, CB2. Or you can find something cute and not that expensive on Amazon, Hobby Lobby, or Michael's! I also LOVE Etsy!
These places as well as others will give you many options! If you are also decorating your porch or courtyard with pink pumpkins, you can use waterproof white baskets and store your pumpkins.
Tip #3: Pink Fall Garland and Wreaths
Related Post: Stylish Fall Decor Ideas for Fireplace Mantel and Living Room
Wreaths and garlands can take your fall decor to the next level! For our outdoor decor, I use garlands and wreaths on our front courtyard gates and front door.
For our indoor decor, I use them in our kitchen, and fireplace mantel. While wreaths are perfect for your front door, they can also be perfect for inside your house!

Pink fall wreaths and garlands are harder to find! I usually look for them on Etsy! I found the cutest pink fall wreath on Etsy last year that I absolutely loved!!!
Etsy has many talented designers who can design a custom order for you! Throughout all these years, I have found several cute home decor pieces on Etsy.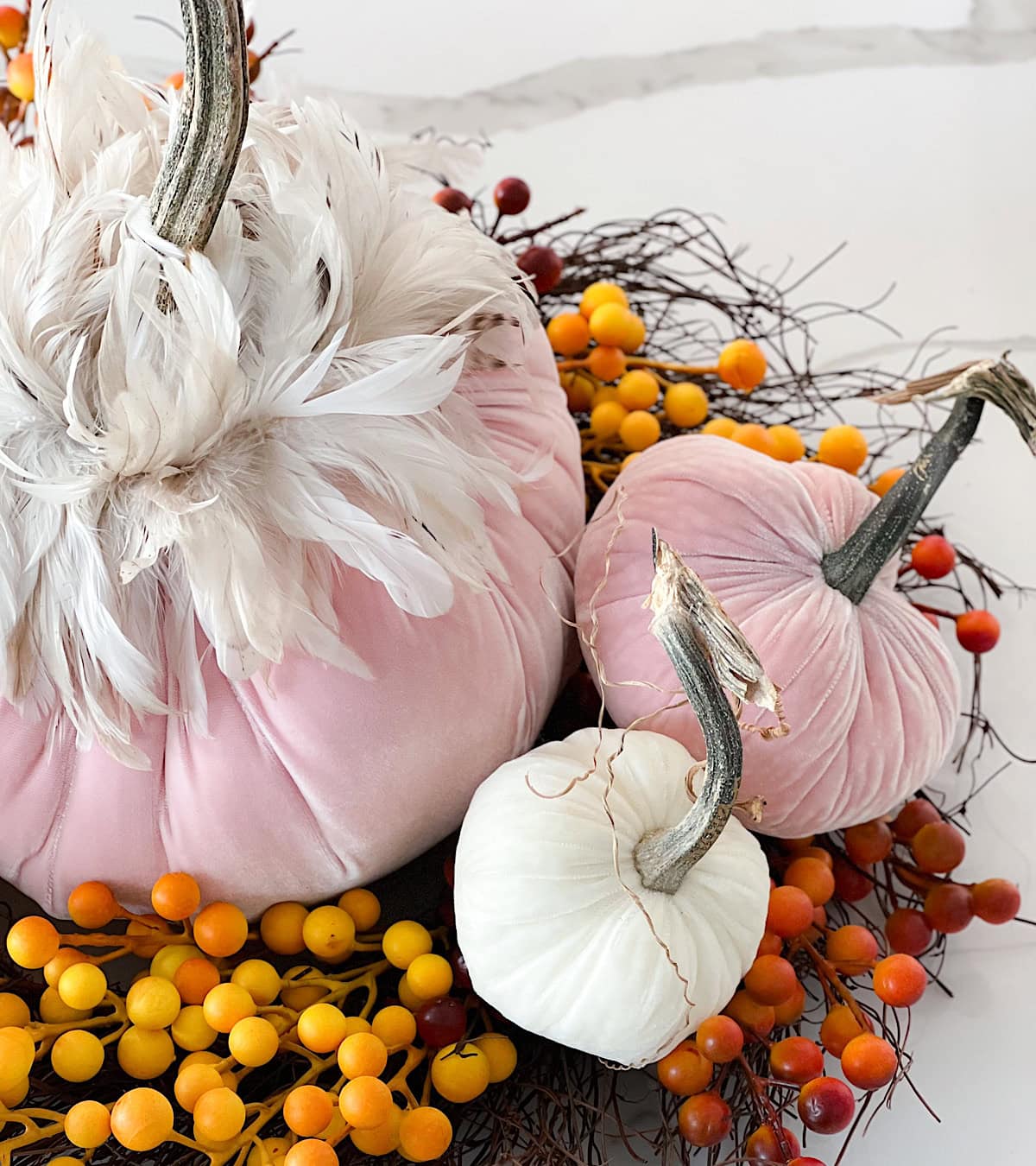 Related Post: Capri Blue and White Thanksgiving Tablescape
If they do not have the color that I want, I usually ask the designer if he/she can make the color that I'm looking for….! I was able to get the color that I wanted about 75% of the time!
So don't be shy to ask for your favorite color! If you are not a big fan of Etsy, you can find cute pink wreaths and garlands on Amazon, Michaels, Hobby Lobby, JOANN, Target, or some other retailers.
Creative Ways to Decorate Using Garlands and Wreaths
You can hang your garlands on your window frames. It adds beauty to the windows. If you have staircases in your house, adding garlands to your staircase will bring so much beauty, color, and fall charms to your house!

If you like to use wreaths instead, you can hang them at the front door, entryway, living room, dining room, fireplace mantel, and kitchen to cozy up your home. I personally like to combine my wreaths and garlands together to bring so many colors to our fireplace mantel and living room.
Tip #4: Bring Out Your Candelabras
Add Pink Candles
Candles are the easiest way to cozy up your living room. Of course, candles can be burned at any time of the year. However, there is a special place for them during the fall and winter seasons as they add more charm and coziness to your fall decor. I have different candelabras at home.

However, my favorite ones are the individual candelabras that I can stack up together to create different highest. Putting a few different candelabras with pumpkins and flowers is all you need to style a chic fall centerpiece for your coffee table or your kitchen counter.
If you want to bring a little rustic fall flair to your table, a wooden candle holder is a perfect addition to your decor. There are a variety of fall-themed candle holders to choose from, including ones with acorns, leaves, and apples.
You can use any shade of pink candles. I like to use soft blush pink candles. They are so beautiful and go perfectly with these light pink velvet pumpkins. You can decorate your mantel, shelves, windowsills, and other indoor areas with an array of candles.
Decorate Your Living Room with Candles
It is always a good idea to welcome your guests with soft candle lights as they enter your home. You can arrange your candles on your coffee table centerpiece. You can also put the candles in jars and placed them on a wooden tray with blush pink pumpkins. This can be replicated for your dining table decorations.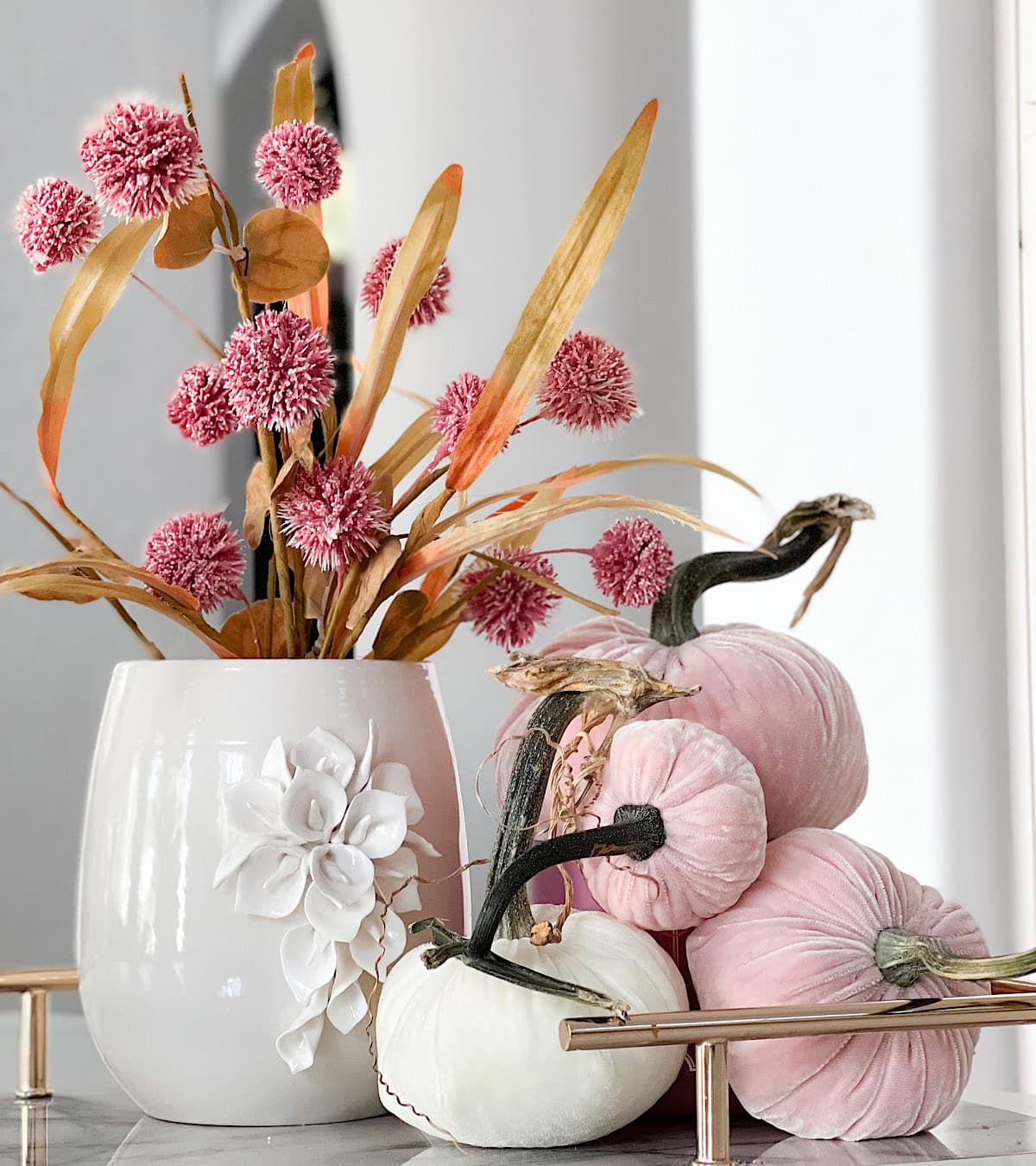 Decorate Your Mantel with Candles
The mantel is one of the first places to decorate during the fall season. I place my candles in between my pumpkins and leaves on our fireplace mantel. It creates such a beautiful look on top of our fireplace.

Decorate Kitchen Counter with Candles
After decorating our fireplace mantel, I decorate our kitchen counter for fall! This is where I see our fall decor every day. I try to style a little centerpiece with pumpkins, candles, and flowers!

Pink Fall Decor Tip #5
Add Lanterns
Using beautiful lanterns is always a good idea when decorating for fall! I usually like to stack up some pumpkins next to my lanterns. It is such a cute idea for this time of year!
Also, if you are into "pink Halloween decor", you can use lanterns and make it all spooky and pink! You can stack some pink pumpkins and giant fake spiders on the lanterns.

The good thing about this fall decor idea is that it can be applied both to indoor and outdoor decoration. Here are some inspirations for you when you want to decorate with lanterns:
Exterior Illumination Lantern: Exterior illumination with lanterns is one way to brighten up your outdoor fall decor. I think this is such a fun idea!!! It also helps to pop your exterior decoration.
Lantern table decoration: I love to use smaller lanterns for table decor. You can style two or three lanterns together and add a few pumpkins to this setup. Your centerpiece is ready to go! The other idea is that you can create a centerpiece by using a long basket. You can then put two small lanterns together, add some fresh or faux leaves, and finally add your pumpkins.
Use LED Decorative Lantern: Ahhh! I LOVE, LOVE, LOVE LED candlelight lanterns that are operated by battery! Most of them are waterproof, and you can use them inside or outside. Place some pumpkins by your led lanterns and create a cute and cozy fall corner!

Pink Fall Decor Tip #6
Add Pink Fall Pillows and Throws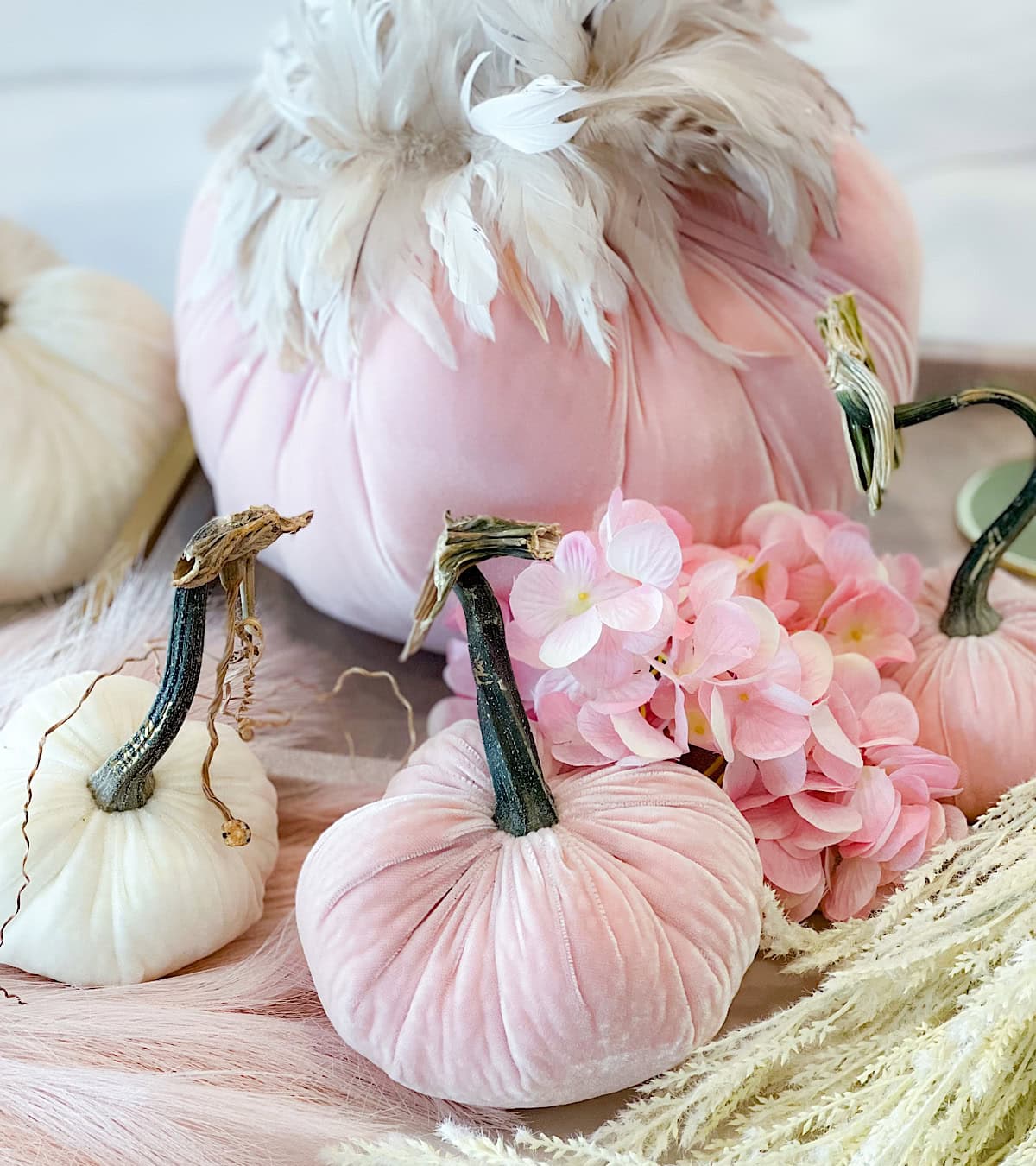 Another idea to create a beautiful blush pink fall decor is using pink pillows and throws. These are a great addition to your sofa or chair. I personally love blush pink throws and pillows.
However, if you are more into "hot pink", vs softer blush pink then go with that shade of pink! Although finding pink pumpkins can be a little tricky, finding pink pillows and blankets is so easy! You can find them at most home decor stores or on Amazon!

If you have an outdoor sitting area, you can also add a couple of pink pillows and a blanket to your outdoor chairs and create a cozy corner! You can always mix and match the pillows and blankets. You can consider mixing velvet pillows and wool blankets. Or simply use choose the same material for both blankets and pillows.
Blend Pink Fall Throw and Pillow with Other Colors
I love to mix and match colors for Fall! If you are decorating your outdoor space or indoor, you can always add other colors to compliment your pink fall decor! For example, soft orange and blush pink complement each other so nicely!
You can get a light pink pillow or (pillow cover), and style it with a beautiful soft orange blanket! Try mixing orange, pink, and white pillows together! There is no need to stick with only pink as your main color! Feel free to mix and match with colors that complement pink and will be a good fit for fall!

The bottom line is if you love to spend your weekends lounging on the couch with a cup of tea and Netflix, a cozy throw blanket is a great option for your fall decor. Not only is a blanket a great way to add a pop of color to your space, but they are also the perfect way to stay warm and cozy during the cooler fall and winter months.
Pink Fall Decor Tip #7
Add Greenery to Your Pumpkins
Why should you add greenery to your fall decor? Adding greenery to your pumpkins creates a natural and rustic look to your decor and makes it look so beautiful. I also love how greenery adds more texture and color to your overall fall decor.
Your pink pumpkins will pop even more when you add some greenery to them. I usually get faux greenery, so they last the entire season without changing any color!

You can also use fresh greenery if you prefer not to use faux ones! Personally, I love to use a beautiful fall leaf garland and place it on top of our fireplace mantel. Then I place my pumpkins in between the leaves!
Tip#8: Display Baked Goodies and Pumpkins
Baking is a great way to bring fall vibes into your home. My sister is very good at bringing the joy of fall to her home by baking fall favorite treats. You can smell the scent of cinnamon spice and pumpkin pie when you first walk into her home.
I think this is a great idea to bring incredible fall vibes to your house! Once you bake your favorite fall cookies and pies, you can place them next to your beautiful pink pumpkins. Baked goods are an easy way to add fall flair to your decor.
There are endless recipes for autumn-themed baked goods, like apple pies, pumpkin-spice cookies, and more. If you don't know how to bake, like me (LOL), You can also buy fall treats and display them on your coffee table or the kitchen counter.
Consider setting up a baked treats display. Baked cookie displays are typically wooden tray that holds a few different types of cookies and treats. You can find these in just about any store and they are great for keeping your treats fresh.
Tip #9: Lighted Decorations for Nighttime
You may want to consider adding a few lighted decorations to your home. If you love to spend time in your backyard or a patio (like our family), bringing in some lighted decorations is a great way to extend the season.

If you love spending time outside, consider bringing some string lights to set the mood. We added a bunch of string lights in our courtyard and our backyard this fall! We absolutely love the way it looks!
You can even bring these lights into the kitchen or dining room to create a cozy atmosphere. Try hanging string lights over a table or around the room to create a beautiful ambiance.
FAQ
What is the best way to decorate for fall using pink accents?
Adding curtains, throw pillows, and rugs can help add warmth to your space, while asymmetrical schemes are popular during the fall months because they give your room a fresh new look. You can use different shades of pink together or go with a cohesive color scheme that incorporates both pink and green.
One of the best ways to decorate for fall is by using pink accents in your home. This includes adding pink flowers to a vase, using pink accessories like lamps or bowls, or even using pink wallpapers or furniture. By decorating using pink accents, you'll create a welcoming and cozy atmosphere for fall.
What are some tips to dress up my home for fall?
1. Add candles, flowers, and throws into your décor. These accessories can add a little extra romance to your home and make it feel more autumnal.
2. Use pastel shades throughout the house – this will help to bring in the fall colors and tone down any bright colors.
3. Choose walls, floors, and furniture materials that will coordinate well with your chosen fall decor. For example, use wood floors in a cottage-style home, or go with warm tones like pumpkin or autumn pink on walls and furniture.
4. Get creative – go ahead and decorate your home in a way that you've always wanted! You can try incorporating leaves into your décor or using pink accents throughout the house to really make it pop.
How do I accessorize my home with pink to make it feel cozy and romantic?
– Choose pink furniture pieces like sofas, chairs, or sets that will work well together.
– Add pink accents to different parts of your home like rugs, curtains, and accessories.
– Another great idea is to add a few potted plants in shades of pink to add life and freshness to the room.
If you are aiming to add a touch of pink to any room in
your home, consider these tips:
1. Think about the style of your room and what color palette you would like to emulate. If you're looking for a more subtle pink tone, try incorporating it into accessories or floral arrangements.
2. Remember that fall is the perfect time to add some warm wood tones to your home as well, such as beige, taupe, and camel. This will help to make the room feel cozy and inviting.
3. For a bolder look, go for brighter shades of pink – think hot pinks, fuchsias, and purples. These will help to update your room with a fun and exciting new look.
If you are a pink lover like me and would like to style a beautiful pink fall decor around your house, I hope this post was helpful! Not only does this beautiful color reflect the fall season perfectly, but it also has a romantic feel that is sure to make you feel loved. Start decorating today and enjoy the season in style!
This post may contain affiliate links, which means that I may receive a commission if you make a purchase using these links.
Shop this Post or Similar









Sherry, xoxo