I cannot believe Thanksgiving is only two weeks away! As you know, all of the holidays feel very different this year! We always celebrated Thanksgiving with our family (my sister, brother in-law, aunt, and uncle) and friends visiting us from out of town. Unfortunately, this year, we will not have any visitors from out of state this year due to all the travel risks related to Covid-19.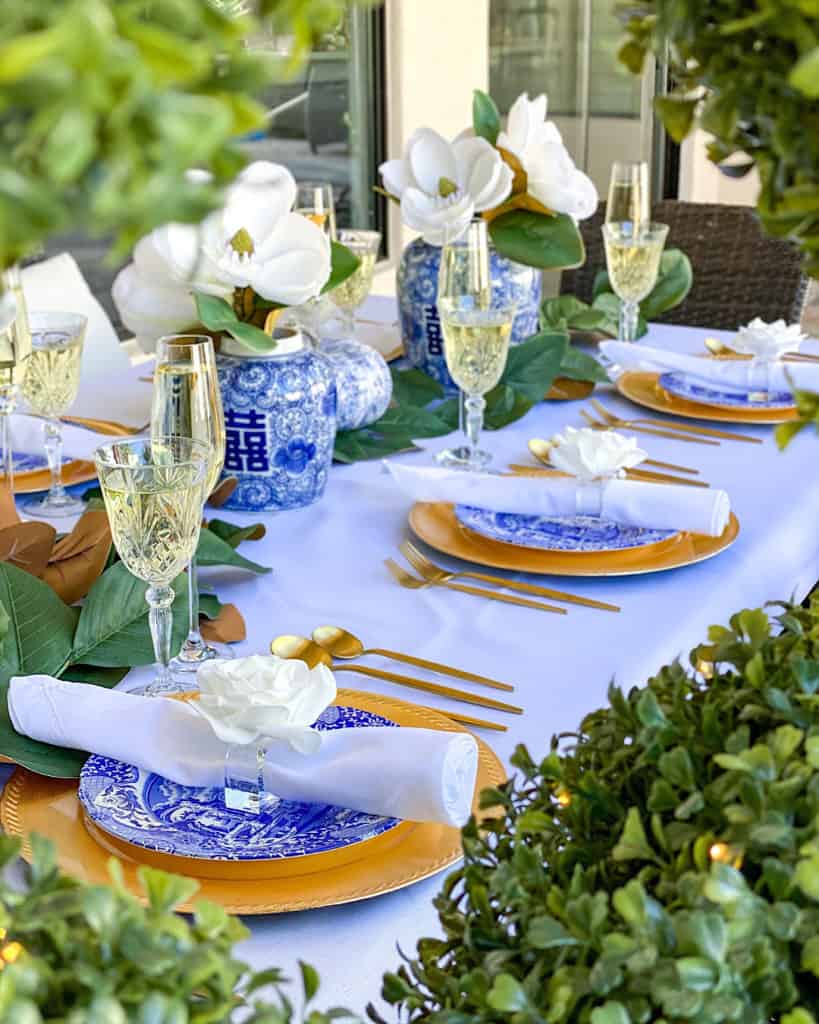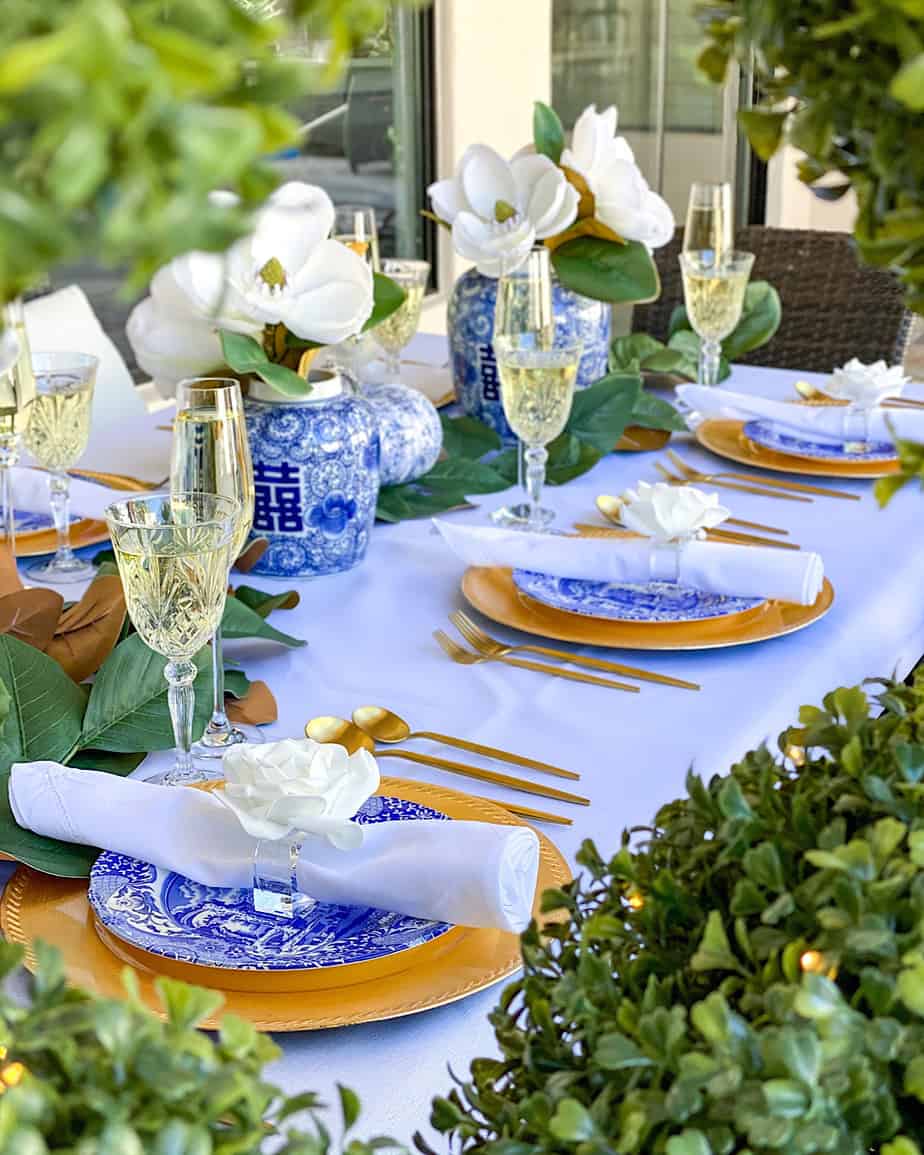 This post may contain affiliate links, which means that I may receive a commission if you make a purchase using these links.

Although we are not having that many guests for Thanksgiving this year, it does not mean that I am not going to setup our usual Thanksgiving tablescape! I truly love and enjoy the table setups and decorations for each holiday (especially Thanksgiving)!!!! I also love to teach our children the importance of each holiday and why we celebrate. And today I'm going to show you how I created my beautiful Capri blue and white Thanksgiving tablescape! Since we are so lucky with weather in Arizona this time of year (the temperature in November is usually around mid 70s), we are planning to set up our table and enjoy the Thanksgiving dinner outside on our patio.

This is how our Thanksgiving table is going to look this year: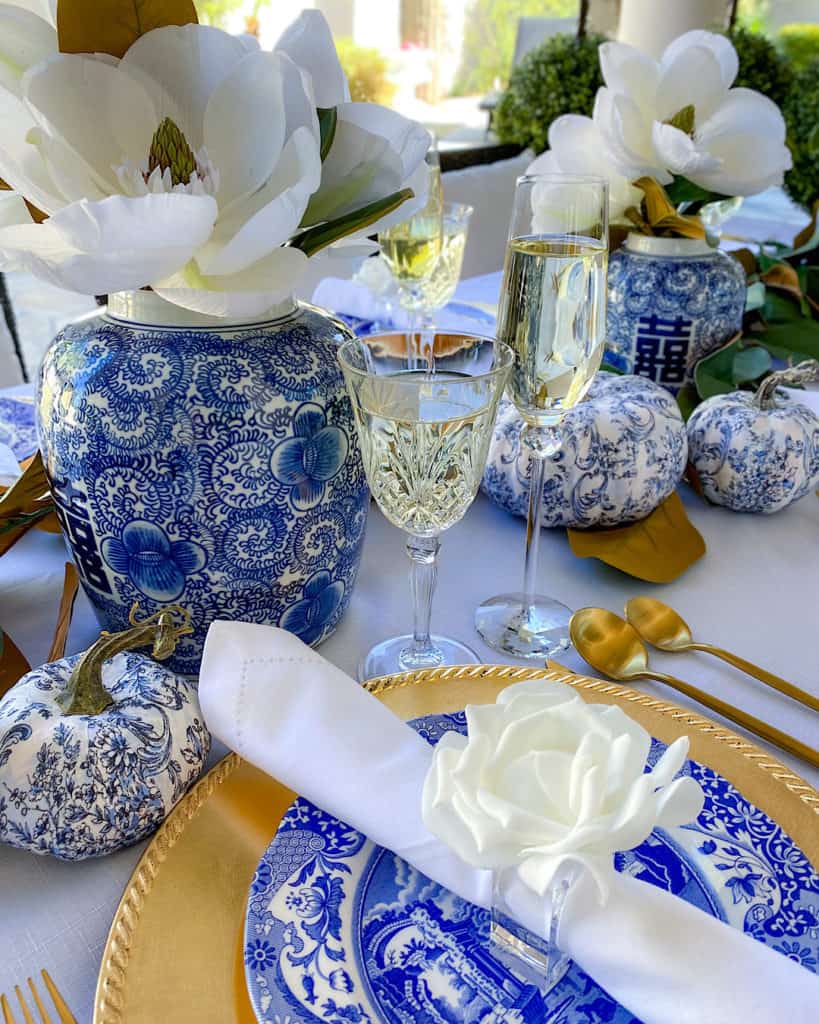 Victorian Thanksgiving Table Setting
This was our 2018 and 2019 Thanksgiving table settings. While I absolutely love "orange" color for Thanksgiving table décor, I also like to try out different colors each year!
I have recently been so into Capri blue and white chinoiserie home décor. Therefore, I decided to go with blue and white pumpkins, dinner plates and blue and white ginger vases for this year's Thanksgiving table decor.
I am going to share a few tips with you on how to decorate an elegant blue and white Thanksgiving tablescape and I will show you where to purchase these items for your table.
Why I chose "Blue, White and Rose Gold" to decorate our
Thanksgiving table this year?
When I decorated our kitchen and living room this spring with blue and white chinoiserie vases along with light pink peony flowers, I fell in love with that look so much that I wanted to repeat the similar type of look again this year!
Antique blue and white patterns on ginger vases, dinner plates or other home décor items, reminds me of elegant boutique hotels and villas in Capri and Amalfi coast in Italy. This pattern also reminds me of chic Victorian style homes in England. That is why I decided to give this style a try and create an elegant blue and white Thanksgiving tablescape this year.
Tips on Decorating Blue and White Thanksgiving Tablescape
1- Blue and White Chinoiserie Dinner Plates: One of the first things you need to start decorating your table in blue and white is deciding on what you want to put on your table. I think one of the easiest ways to make your table pop is choosing your favorite design blue and white dinnerware.
There are so many beautiful chinoiserie dinnerware and décor options in the market. It all depends on your personal style and preferences. The one I chose for our Thanksgiving table this year, can be ordered on Amazon. I ordered this dinnerware because I liked how they got so many positive reviews on Amazon! I also love these gorgeous dinner plates at Williams Sonoma, and these ones from Target, and these ones from Bloomingdale's.
2- Charger Plates: Charger plates are large plates used at full course dinners or to dress up special events like parties and weddings. I personally like charger plates because they add elegance to your table! I bought our rose gold chargers couple of years ago. You can find similar chargers on Amazon, or some other beautiful designs on Wayfair, or many other designs like these from Crate & Barrel.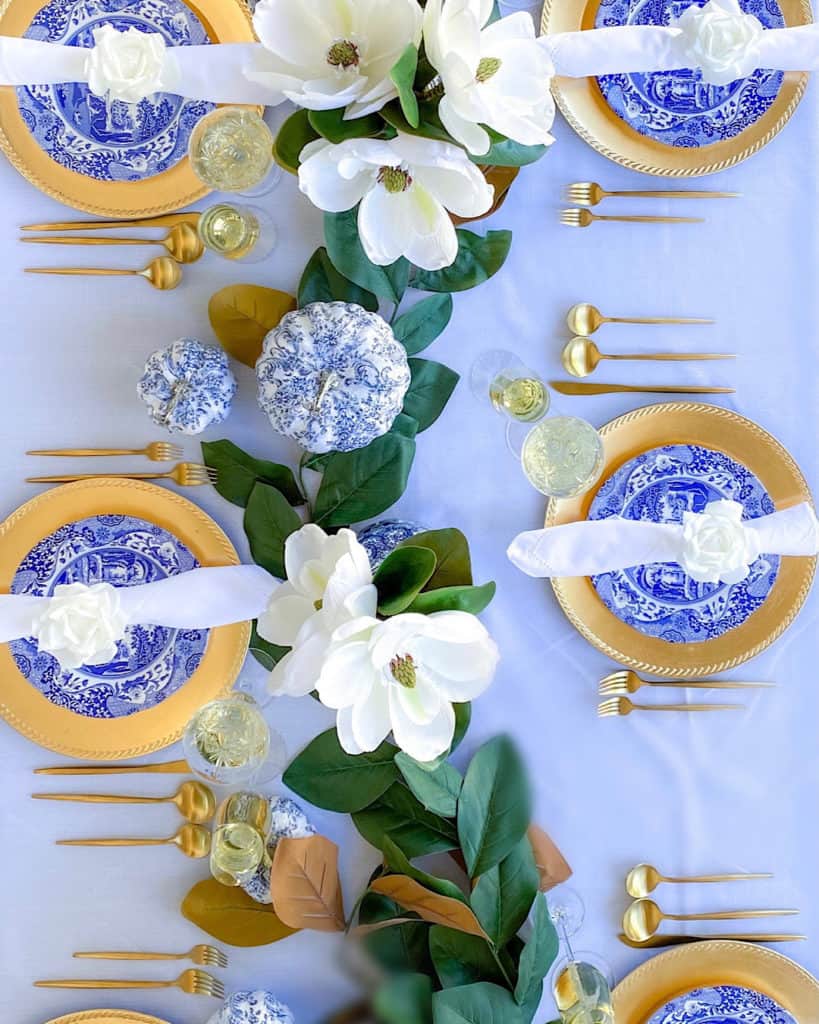 3- Crystal Wine and Champagne Glasses: You can always place an "all purpose wine set" on your table so if you have some guests that do not drink alcohol, you can still serve them "non-alcoholic" drinks in these elegant crystal glasses! Some of my favorite crystal wine glasses for this season are this stunning set from Amazon, this lovely set from Wayfair and this vintage set from Williams Sonoma. I also purchased our champagne glasses from Zgallerie.
4- Blue and White Chinoiserie Vases: If you would like a blue and white Thanksgiving tablescape, you must consider purchasing two or three blue and white chinoiserie vases (depending on your table size). These vases can make a huge statement on your table! There are so many beautiful Chinoiserie vases on Amazon or many other home décor stores. Some of my favorite ones are this beautiful blue ginger jar from Williams Sonoma and this small Italian vase from Macys.
5- Blue and White Chinoiserie Pumpkins: Finding a "matching" pumpkin to go with our blue and white chinoiserie vases and dinnerware was not as hard as I thought! I first tried Amazon, but I was not able to find what I had in mind! So, I decided to check Etsy! I LOVE Etsy and always find my favorite things on Etsy! They are usually handmade items that are unique. These are the pumpkins that I ordered on Etsy.
I also love ordering the most adorable and unique pumpkins from LoveFeast Shop. They gave my followers and blog visitors 15% discount on all orders until end of Nov 2020. If you want to order and get the discount, you need to enter Promo Code: 20RB15 when you are ready to checkout. I am obsessed with their velvet feather pumpkins! They are STUNING!
6- Napkins: Linin napkins are an easy and important addition to make your place setting much more warm and elegant!
7- Elegant Napkin Rings: If I had more room in our house, I would buy every single napkin ring in the world! Hahaha! I just LOVE them so much! You can either choose white napkins and white napkin rings, or you can create a beautiful contrast by choosing an opposite color of napkin rings. If your napkins are white, choose blue napkin rings, if your napkins are blue, choose a white napkin ring! I had bought these beautiful napkin rings from Zgallerie last year and I thought they would go nicely with our table this year. So, I did not buy any new napkin rings. I think these ceramic blue and white napkin rings from Williams Sonoma are perfect for this table setting.
8- Elegant Flatware: I chose rose gold flatware for this table setup. Personally, I love "rose gold" color and I think it adds elegance to any table décor. However, you can choose royal blue, white or silver flatware for your table. This is the beautiful rose gold matte silverware set on our table. This is a set of 4 and I ordered two sets for us. This is going to be the first time that I will use them. There are so many great reviews on Amazon about this set. That is why I ordered them and I am so excited to use them for the holiday season! I also like this set from Pottery Barn, as well as this set from Macys.
9- Elegant Faux Boxwood Topiaries: One of my favorite parts of our Thanksgiving table setup for this year are these stunning "double ball" outdoor LED cypress topiaries by Balsam Hill. You can always find so many different topiaries online, but Balsam Hill products are such high quality and I simply love the look and quality of these topiaries. They look even prettier in person! You can use them for indoor or outdoor.
I also purchased these planters to complete the look! I placed these topiaries next to our Thanksgiving table along with some candles. They make our table look 100 times more lush and more elegant!
10- Faux Green Leaf Garland: As soon as you place the tablecloth on the table, you should add a faux green leaf garland on the center of your table. Once you add the garland, then you can place your ginger jar vases, pumpkins, dinnerware, and candles around it. These is the faux green leaf garland that I thought would be perfect for our table! I ordered two of them for our table!
While I was ordering some items for our Thanksgiving table online, I came across some questions regarding Thanksgiving home and table décor. I decided to cover some of those questions in this post:
What Decorations Do You Put Up for Thanksgiving Around the House?
I think some of the easiest ways to start decorating your home for Thanksgiving are:
Adding Fall colors to your countertops with bold autumnal branches in a ceramic or rustic vase. I love to make big Fall leaf arrangements in white ginger vases and place them on our kitchen counter from early September until late November (Thanksgiving Day).
You can place pumpkins around the vase and light up Fall scented candles!
You can change the kitchen and bathroom hand towels to Fall pumpkin harvest prints as well as adding Fall scented soaps for your bathrooms and kitchen.
Adding beautiful leaf garlands, autumnal flowers, and cornucopia filled with fruits and vegetables on your fireplace mantel, front door entrance, kitchen and bathrooms are all great ideas to decorate around your house for Fall and Thanksgiving.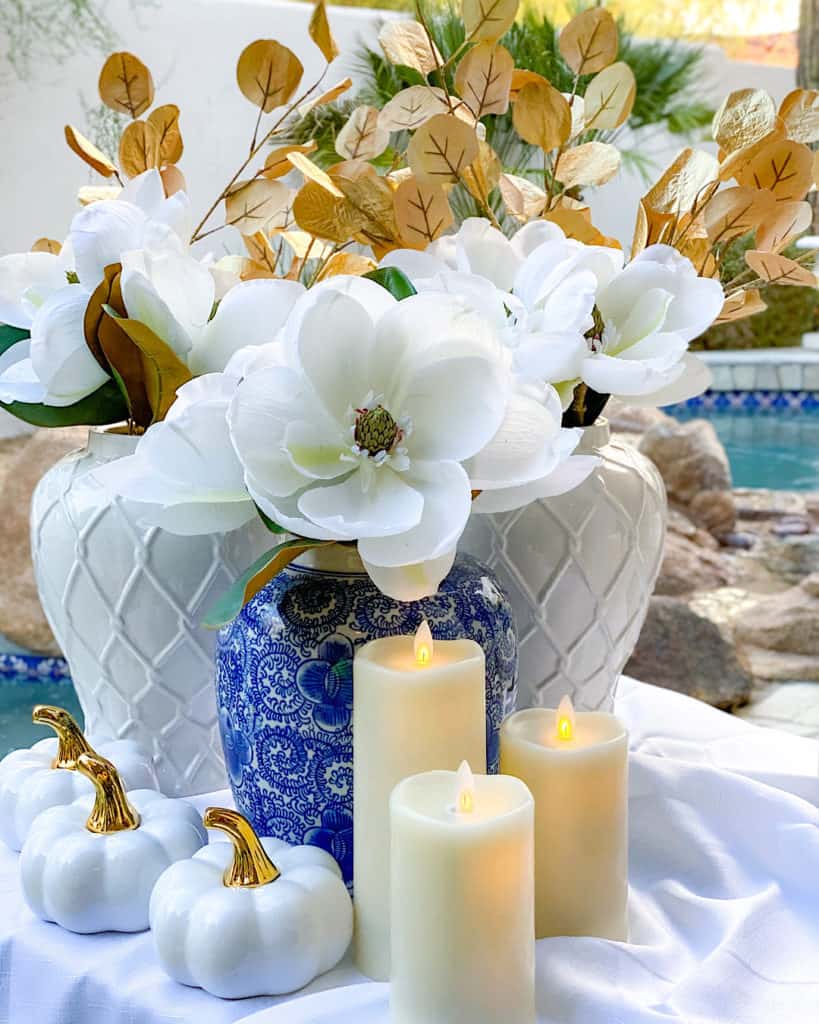 What colors are for Thanksgiving?
The colors mostly associated with Thanksgiving are red, brown, burgundy, yellow, and orange. However, you can always think outside of the box and be creative and "mix and match" colors on your Thanksgiving table. I usually like to stick with only "two or three solid colors" for our table.
I also recommend adding either "green topiaries", "green leaves", or any other "greenery plants" around your Thanksgiving table for an "extra lush look" (regardless if you are table is setup indoor or outdoor).
As you can see, I added these gorgeous topiaries by Balsam Hill, and it made a HUGE difference in the overall look of our table!
When Do You Start Putting Fall and Thanksgiving Decorations Up?
With Halloween, Thanksgiving, and Christmas all so close together, you can choose fall decorations that last for a few months. From fall-inspired wreaths to cute and colorful pumpkins, you can create a themed atmosphere that is perfect for each holiday.
Some people prefer to bypass the Halloween decorations all together! On the other hand, some people love to go crazy with the Halloween décors (both inside and outside). So, it all depends on YOU and what category you belong to!
I personally do not go that crazy on Halloween decorations. We usually put up our Fall decorations mid- September and bring our Halloween decors (mostly Halloween wreaths), about 3 weeks before Halloween.
Halloween has its own home décor (if you like to decorate), as does Christmas, but Thanksgiving is more of a "grey zone". Because of this, some people decide to put up the holiday décor once the Halloween decorations come down.
I personally like to mix and match Thanksgiving and Christmas decorations! As soon as Halloween is over, I like to put our Christmas trees up in our living room. But I keep our Fall decorations on our fireplace mantel as well as our kitchen and bathrooms! Once Thanksgiving is over, then I take all the Fall decorations down and ONLY work on completing our Christmas decors.
No matter what color theme or design you end up choosing for your Thanksgiving table, what matters the most is why we celebrate Thanksgiving! Thanksgiving is not just a long weekend holiday where we eat a lot of turkey, stuffing and delicious pumpkin pies! It is important to remember this is a holiday where we celebrate gratitude, something that unfortunately we do not do enough of these days. One of the things I love about my husband's family is they make the entire month of November a "gratitude celebration".
It is so important to remember how lucky and fortunate we are for a life and family that we have! Not only on Thanksgiving Day, but EVERY DAY, we should not forget about helping less fortunate children and families.
So I hope you got some inspiration from my blue and white Thanksgiving tablescape, and I hope you got some fun ideas to decorate your Thanksgiving table too! And I also wish you all a fantastic Thanksgiving celebration with your loved ones!
Happy Thanksgiving!
Love,
Sherry XOXO
This post may contain affiliate links, which means that I may receive a commission if you make a purchase using these links.
Shop This Post Or Similar