I like to share how to style a glam thanksgiving tablescape for your friends and family this year! I love to style the Thanksgiving dinner table more than planning the menu (LOL)!!! I'm not the best "chef" when it comes down to thanksgiving dinner (LOL)…. That is why I ask my sister to take care of the Thanksgiving food preps and I take my time to decorate the table!
An Unexpected Twist on Fall Decor!
When we think of "fall colors" we immediately think of orange, yellow, brown, burgundy, etc. Using blush pink and purple is an "unexpected twist" on fall décor and does not necessarily remind you of fall or Thanksgiving table décor!
This post is about how to design a glamorous thanksgiving tablescape!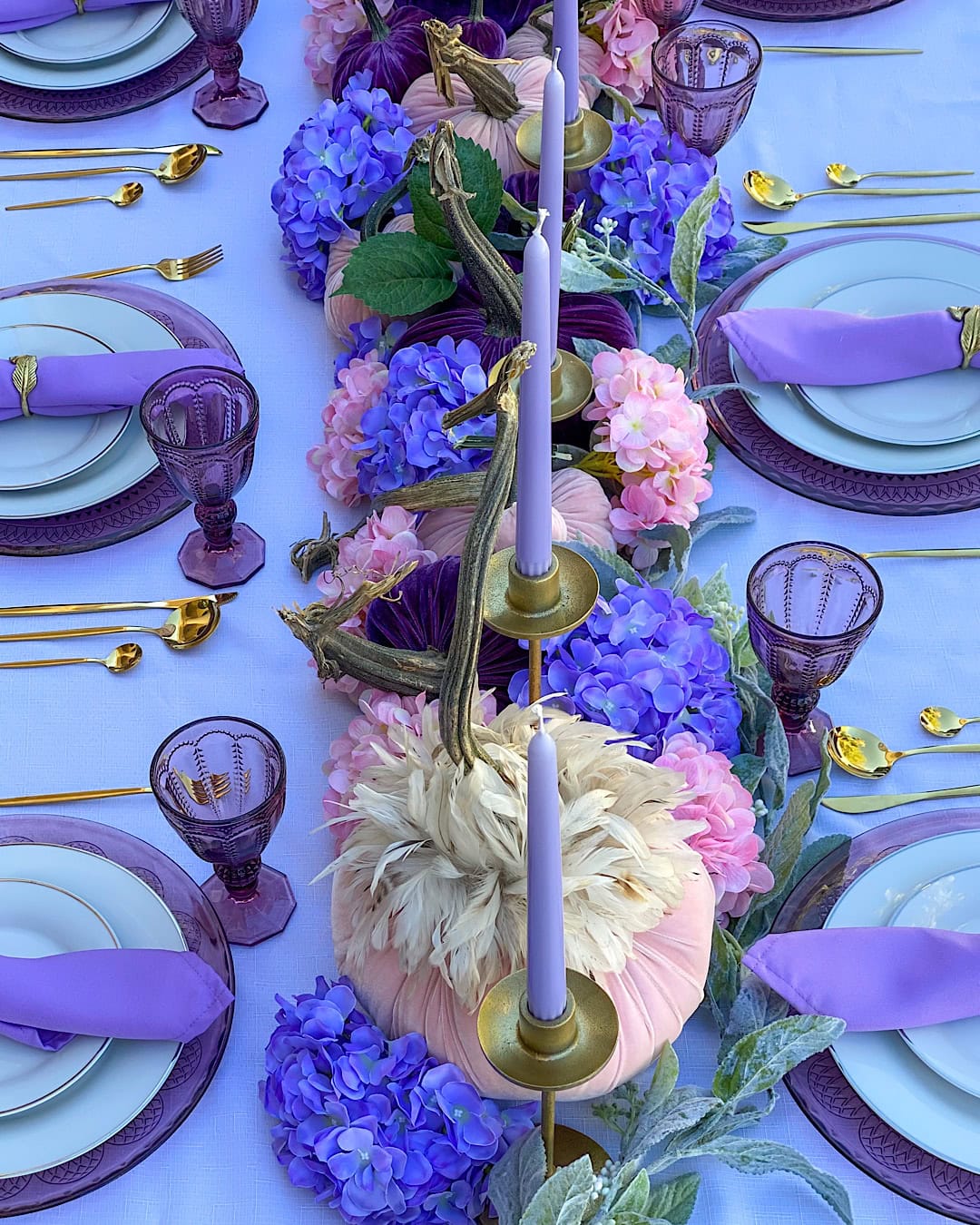 Related Post: DIY Pumpkin Centerpiece with Faux Flowers
However, when I was trying to decide on a thanksgiving table setting for this year, I looked up "Pinterest trending" and noticed how the "blush pink and purple" combination is currently trending in home décor and will continue trending next year.
I thought this is a beautiful color combination and decided to style our table with elegant velvet pumpkins using a blush pink and purple color scheme.
Let's talk about this Glam Thanksgiving Tablescape which you can also be used for any other fall table setting!
My last year's "Blue and White Thanksgiving tablescape" was the same thing! I noticed that color combination was trending on Pinterest. That trend is still strong!! I truly enjoyed designing our Thanksgiving table with that color combination.
This post may contain affiliate links, which means that I may receive a commission (at NO cost to you) if you make a purchase using these links.
Outdoor Thanksgiving Tablescape
We are so lucky that we have such mild temperatures in Arizona during the fall and winter seasons (low 80s Fahrenheit). Therefore, we can easily dine outdoors on our patio and enjoy Thanksgiving dinner.
Therefore, I usually set up our Thanksgiving table on our patio in order to enjoy the spectacular weather. I'm now going to walk you through how to easily set up a beautiful and elegant Thanksgiving or fall tablescape using blush pink and purple pumpkins.
You can also use this beautiful tablescape if your wedding is during the fall season!
How To Create a Glam Thanksgiving Tablescape
Glam Thanksgiving Tablescape
Tip #1: Start with Blush Pink, Purple, or White Velvet Pumpkins
Your pumpkins will be the biggest highlight of your glam fall tablescape! Make sure to choose some cute designs and good-quality pumpkins. I LOVE these big velvet pumpkins!
They look so chic, and I think you can create a very elegant tablescape using velvet pumpkins. You can also add several mini pumpkins to your centerpiece. This is a great way to create different heights for your pumpkin's centerpiece.
These velvet pumpkins were sent to me as a gift from Love Feast Shop. They have real stems, so elegant and are very high quality! They also have other beautiful table styling pieces. You can take a look at them here! You can choose white pumpkins if you are not a big fan of "purple pumpkins". White pumpkins and blush pink pumpkins go so nicely together! You can also choose several other pumpkins with different price points for your table.
Here are some fun pumpkins to consider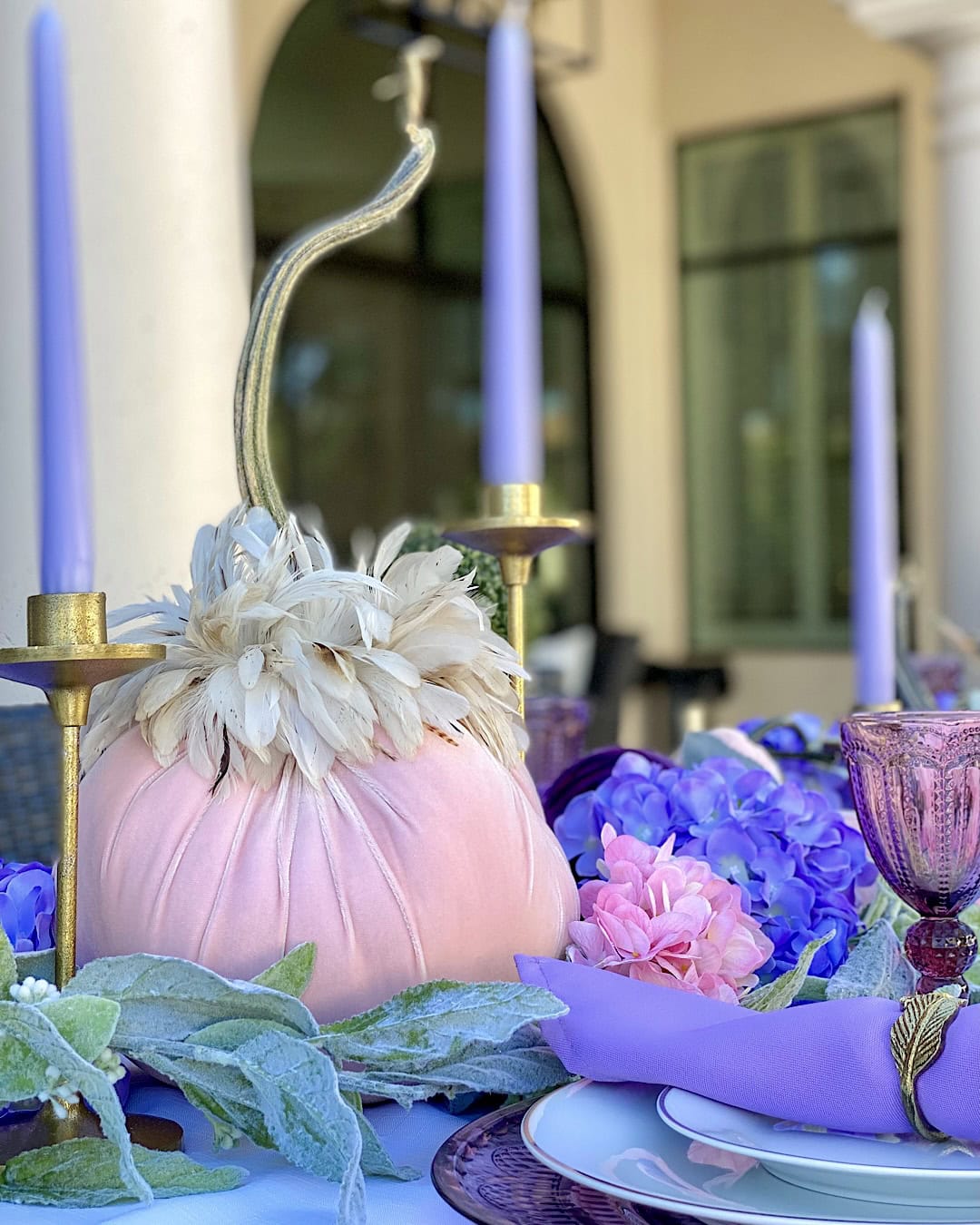 Glam Thanksgiving Tablescape
Tip #2- Add Fresh or Faux Flowers to the Centerpiece
I ordered these blush pink and purple faux hydrangea from Amazon last year! I have used them for several of my tablescapes and home decorations! I like how these hydrangeas look so full and they easily fill up gaps between my pumpkins for my centerpiece.
If you are looking to add some natural elements to your table, pair your pumpkins with roses! For some reason, roses look incredible with pumpkins! You can easily buy one or two dozen roses and pair them with your pumpkins!
Here are some faux hydrangeas for you to consider

Related Post: Capri Blue and White Thanksgiving Tablescape
Glam Thanksgiving Tablescape
Tip #3- Green Garland or Green Leaves Take Your table to the Next Level
I add green leaves or green garlands to most of my tablescapes! Greeneries add color and create a contrast to your setup!
I sometimes use decorative "loose leaves" for my centerpieces and other times use one or two green garlands. For this setup, I used two green garlands to cover the entire length of my table.
I placed my pumpkins on both sides of the garlands. The green leaves created a great contrast against the purple pumpkins, and it turned out beautiful!
No matter what thanksgiving tablescape ideas you have in mind, adding greeneries to your table is always a good idea!
Here are some beautiful green garlands and green leaves to consider:

Tip #4- Add Candelabras and Candles to Your Centerpiece
Candelabra and candles are the perfect way to bring life, elegance, and romance to your table without breaking the bank. I use candles on 90% of my tablescapes (except for our little girl's birthday parties). Hahaha!
They truly make a BIG difference in the final look of your table! I use them for setting up a formal table or placing them in the center of the table for any casual gathering or dinner!
I usually try to make sure my candle's colors compliment the tablecloth, runner, or linen napkins! This is an easy way to create harmony on your table!
I get my tall taper candles from Amazon (my first choice), Target, Crate and Barrel, William Sonoma, or Pottery Barn!
Honestly, I feel like Amazon is always the most convenient choice for me as I can order any color or shape without even leaving my house! Hahaha
Here are some candelabras that you can consider:

Tip #5- Table Runner and Tablecloth
A great tablecloth can add texture or color to your glam fall tablescape! I have designed several tables without a tablecloth, and they still looked great!
However, I certainly prefer using tablecloths (especially for formal tablescape design and holiday dinners like Thanksgiving, Christmas Eve dinner, etc.…).
I usually use solid colors for my tablecloths! It is very rare if I use a "busy pattern tablecloth". The only way that I may consider using a "checkered pattern" or any other "busier patterns" tablecloths is if I can find a matching linen napkin to go with the tablecloth! (Like my last year's Easter tablescape). Otherwise, I stick with solid colors!
I love also table runners!!! A table runner is usually seen as the base of your dining table decor. I like how it prevents any food spills or candle wax on your table.

It also helps to make the decorations more visually appealing! I personally, do not use table runner as much when styling my tables! I feel like I have a much harder time fitting the bigger-size placemats along with my centerpiece when using a table runner.
These are some thanksgiving table runners that you can consider

Related Post: Halloween Dessert Ideas
Tip #6- Linen Napkins and Napkin Rings
Linen napkins and tastefully designed napkin rings add a very special touch to your table! I think if you are hosting a formal dinner or a special holiday dinner, using linen napkins and napkin rings is a MUST!
Here are some beautiful napkin rings for you to consider:

Tip #7- Charger Plates, Dinnerware, and Flatware
You can use charger plates or placemats. Placemats are still popular; however, the charger plate trend is growing faster for upscale dining experiences. I personally like to use charger plates more than placemats for special occasions or holiday dinners.
For your fall or Thanksgiving tablescape, there are so many beautiful dinnerware and flatware options available. Pick the ones that complement the colors of your fall and Thanksgiving table!
I personally like "modern" as well as "classic" designed dinnerware. I'm not a huge fan of "traditional" designed dinnerware.
However, you need to choose what is best for your taste and your table design. Gold charges are always a good idea for a formal thanksgiving table setup.
Here are some beautiful charger plates, dinnerware, and flatware to consider:


Tip #8- Elegant Colored Glassware
Colored glassware is one of the coolest tableware trends that I have been loving for the past couple of years! They add so much charm and character to your table! I simply LOVE them! You can order a beautiful set of colored glassware for your fall table.
These are some beautiful elegant colored glassware for you to consider: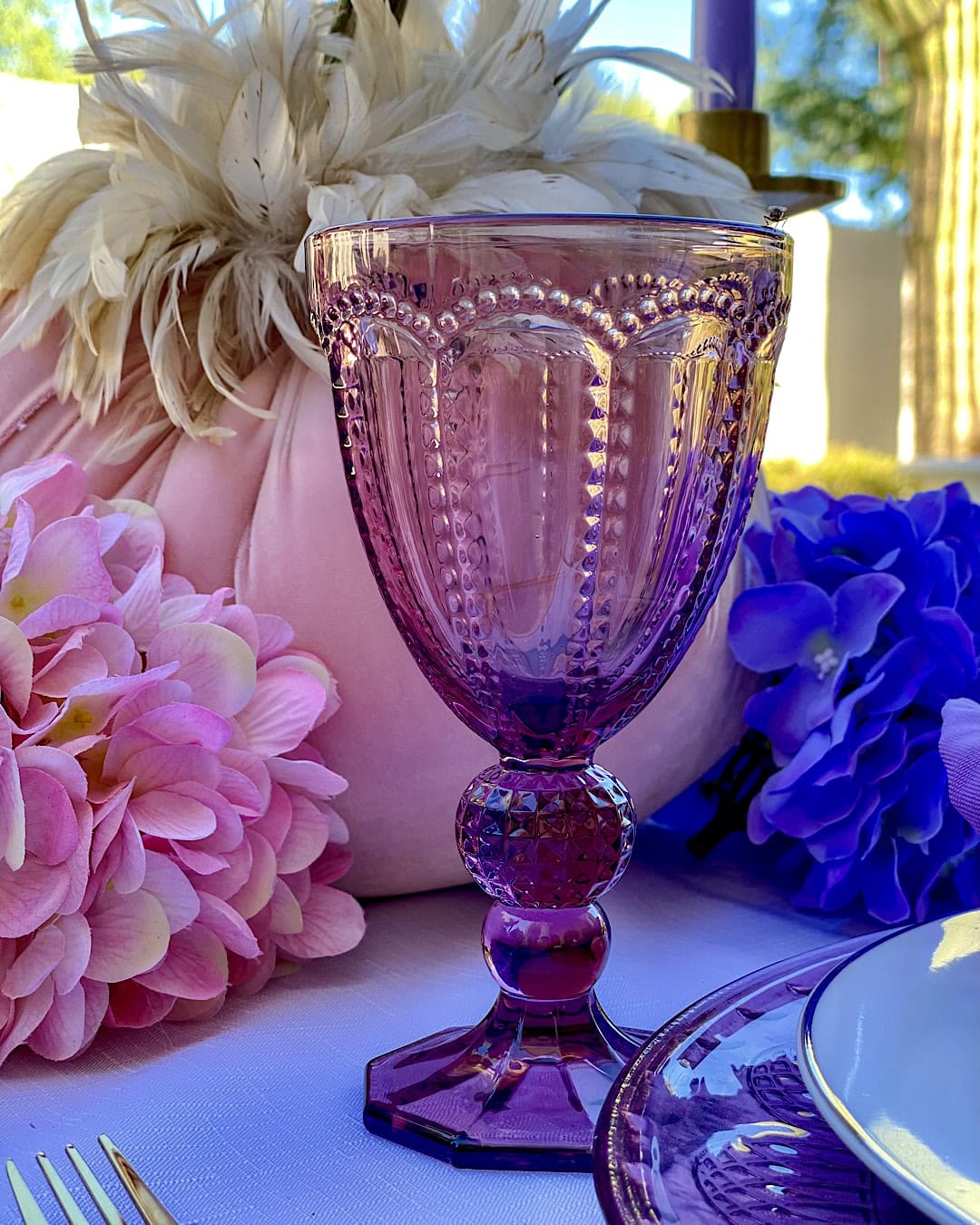 I love everything about this time of year from decorating, enjoying the special holiday foods and drinks, and giving thanks. The crisp cool air makes it ideal to be outside doing all those things we love to do during the fall season. I am excited to host our friends and family around this fall tablescape for Thanksgiving.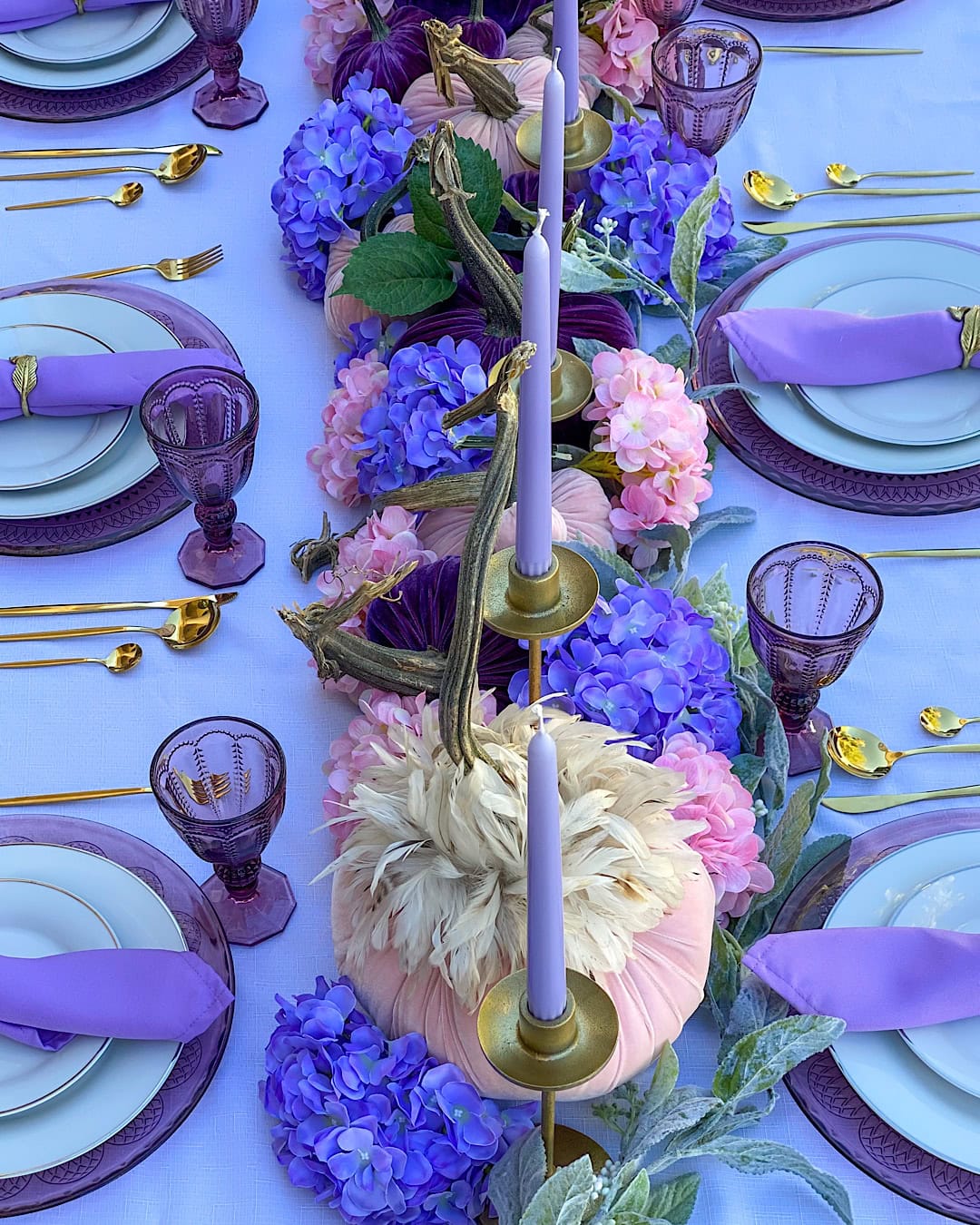 Regardless of the colors for your fall and Thanksgiving table, I hope you will enjoy designing your table as much as I do! And hope this post will give you some great ideas to style a glamorous thanksgiving tablescape!
One of my favorite quotes for Thanksgiving Day: "It is not happy people who are thankful, it is thankful people who are happy". Happy Thanksgiving to you all! I am thankful for each and every one of you!
Love,
Sherry
Shop This Post or Similar
This post may contain affiliate links, which means that I may receive a commission (at NO cost to you) if you make a purchase using these links.










Sherry, xoxo