Stylish Fall Decor Ideas For Fireplace Mantel And Living Room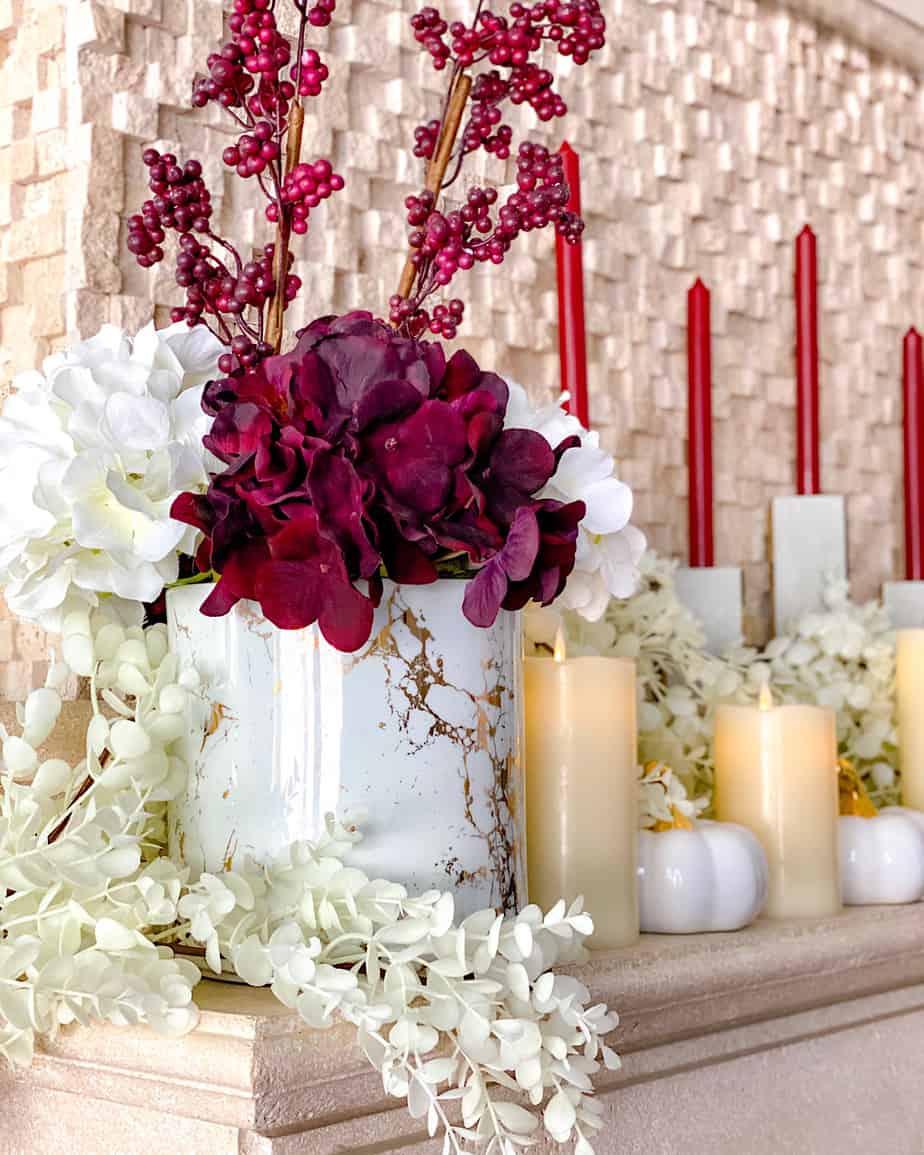 Today's post is all about stylish fall decor ideas!
Fall is truly one of my favorite seasons of the year! October for us (Phoenicians) means that we are officially done with the hot summer months and we are ready to enjoy the beautiful and mild fall/winter temperatures for the next few months. November feels so heavenly!
Living in Scottsdale simply means that we do not get to experience the seasonal vibrant color change. If we want to see the leaves changing colors, we must drive to the northern part of AZ (like Sedona, Flagstaff, Prescott, etc.…) or bring the "Fall vibes" at home through decorations! We usually drive to Sedona one or two weekends during the Fall season to enjoy the beauty of Fall! I also start decorating our home with Fall colors and Fall candles.
While I love and enjoy outdoor fall decorations, my favorite part of our fall home decor (or any other season) is decorating our "fireplace mantel". Since our fireplace is in our living room, we can get to see the decorations while watching the TV or when eating dinner in the dining room or the kitchen! 
As you know there are hundreds of thousands of Fall decor ideas for living rooms on Pinterest, Instagram, or any other home styling magazines! But the best way to decorate your house is by figuring out your OWN taste and style!
Is your style modern? contemporary? traditional? minimalist? French country? rustic? Decide on your favorite style and look for proper decorations! I personally used to be ALL about modern and contemporary styles.
While I still LOVE modern decorations, I feel like I am getting a little "tired" of that look since modern and contemporary decors have been around for over a decade now! Therefore, I have been more and more into the "transitional" decorations! That simply means not "too modern" and not "too traditional" decor!
Stylish Fall Decor Ideas for Fireplace Mantel
One of my favorite places to change up the seasonal decor in our house is our fireplace mantel. I will share some of my favorite Fall fireplace decor ideas with you here and give you some tips for decorating your home for Fall.
While I absolutely love the orange color for Fall home decor, each year I like to change up the colors of my pumpkins, candles, fall flowers and the leaves around our house. They are still "fall colors", however, they do not need to be the repeated/traditional orange every year!
This year, I decided to go with burgundy/wine, gold and white for our fireplace mantel fall decor and our living room fall decorations.
These are three easy steps to style your fireplace mantel:
Anchor: Add a large object like a mirror, beautiful wreath in the center, or any other kind of artwork as the focal point.
Layering: Layering creates depth and that is important in every kind of display. Simply layer items in front of each other.
Work on both sides of the mantel: I personally love symmetry! If you are like me and like symmetry, look for matching candelabra, matching vases, or any other decoration pieces that you like and prefer! If you do not like symmetry, then you can use various but cohesive pieces like floral arrangements, candlesticks, or your favorite decorative items.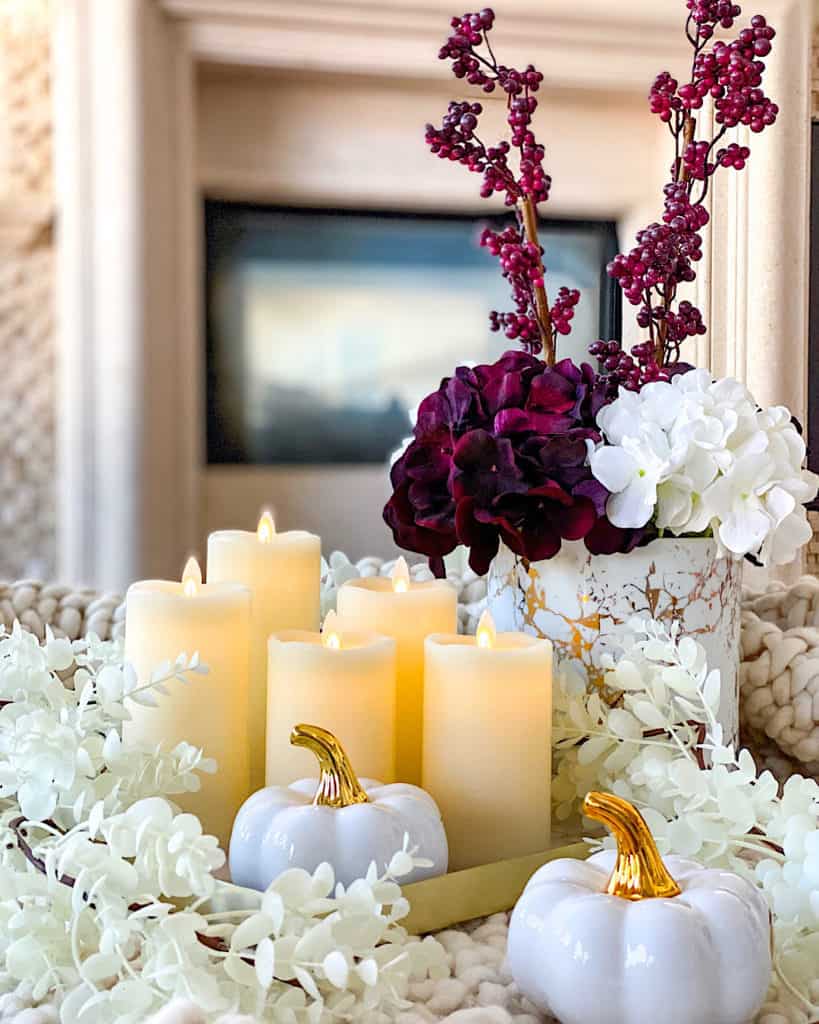 What Looks Good on A Fireplace Mantel?
Great Items for Fireplace Mantel Decorating:
Candlesticks
Picture frames
Vases
mirrors
Statues
Clocks
Framed paintings
Decorative plates (on stands)
You can use your own decorative pieces for top of your fireplace mantel while decorating for Fall or you can purchase a few new pieces every year to change up the look of your decorations!
When decorating our fireplace mantel, I like to add some faux leaves or faux flowers in between placing the candlesticks, vases, or picture frames! You can either order some beautiful faux leaves on Amazon, or any other craft stores near to your house (Michaels, Hobby Lobby, Joann Fabric….), or Crate and Barrel, Pottery Barns, etc.…
How Can I Decorate My Living Room for Fall?
Bring fall colors into your house: As I mentioned above, it does NOT have to be ALL orange! Pick your favorite Fall colors (orange, red, burgundy, brown, gold, yellow, olive green, taupe, beige). Once you decide on your favorite colors, then create a "theme" thought your living room or your entire house!
Choose your colors wisely: Make sure to choose colors that complement each other!
Mix up fresh flowers with faux flowers or leaves: There are so many gorgeous faux flowers and leaves in the market these days that they make your decorations much easier and they are so elegant!
Layer up your sofa and chairs with a cozy throw and blankets: Once you choose your favorite fall colors, add some pillows, and throws on your sofa/couch.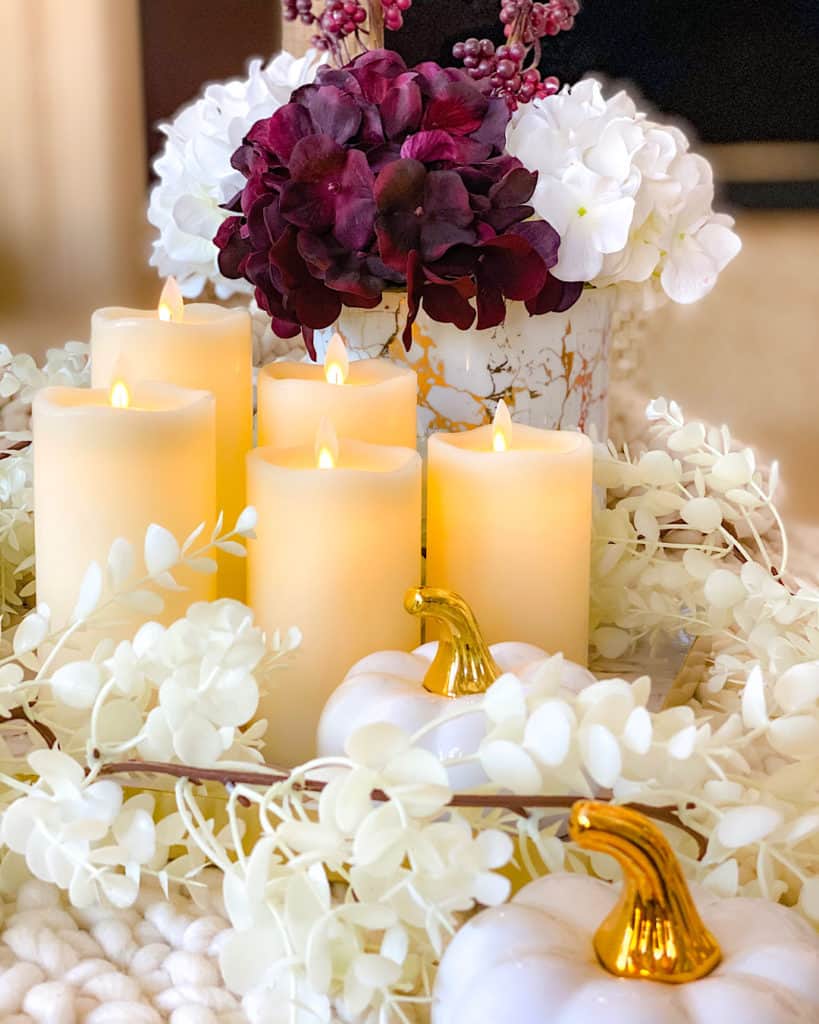 Add some pumpkins: Add real or faux pumpkins around the fireplace, kitchen counter, coffee table or any other areas in your house and living room that you prefer! I also love stack pumpkin topiaries for the front door!
Candles, candles, candles: Make sure to get some awesome "fall scent" candles to bring the smell of Fall into your home! You can also add some bigger size decorative candles and place them next to the pumpkins by fireplace or your favorite area around the living room and kitchen.
Buy or arrange some elegant autumn wreaths: Autumn wreaths can be used for indoor decor or outdoor decor or both! I love how wreaths are such a wonderful, warm touch to the house for any season! I love to add fall wreaths to our front door, living room windows and sometimes to our kitchen!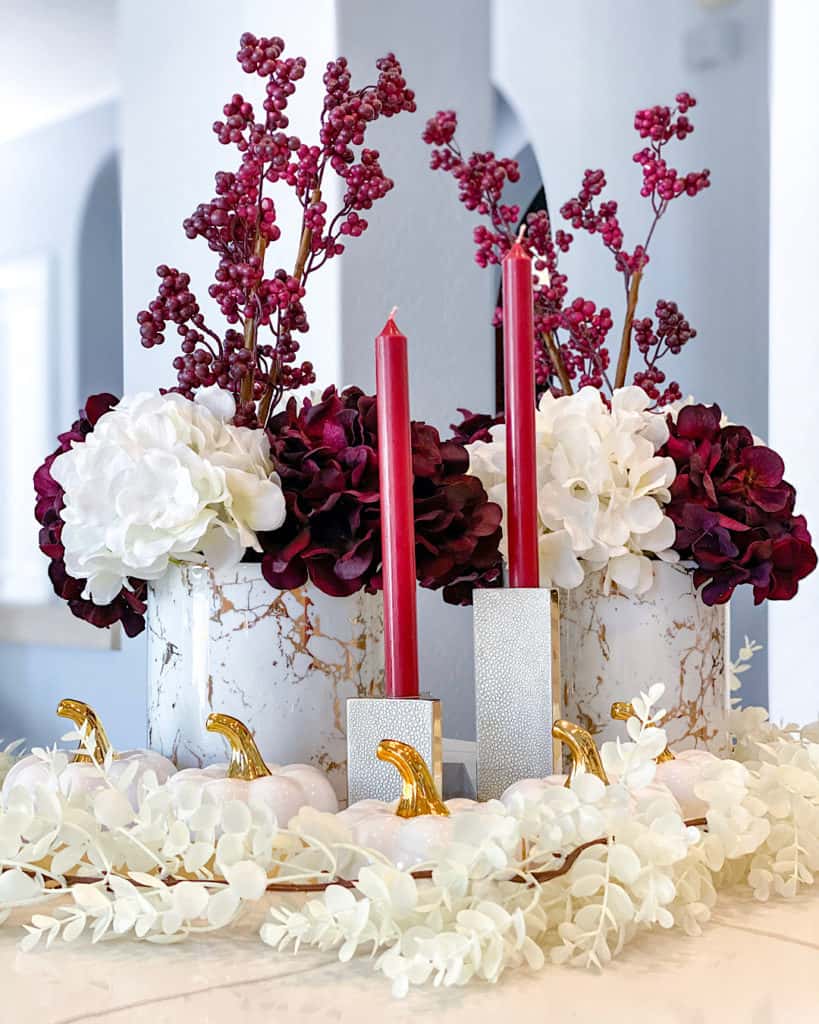 Best Stores to Buy Fall Decor
1- You can always find cute faux flowers, leaves or faux pumpkins from your local craft stores like Hobby Lobby, Michaels, JoAnn Fabric or any other craft stores in your area.
2- If you want a higher-quality Fall wreath and Fall home decors, you can always check Balsam Hill, Grandinroad, William Sonoma, Crate and Barrel, Pottery Barn, Z Gallerie, West elm, Nordstrom, Nieman Marcus, etc.
3- If you do not want to shop for you Fall decorations from your local craft stores, and do not find what you want from the stores that I listed above, you can always check other stores like Kirkland, Target, Home Depot, Lowes, Bed Bath and Beyond, Wayfair and of course the EASIEST and my number one choice, AMAZON!!! There's so much choice when you are shopping for stylish fall decor ideas!
These are the items that I used this year to decorate our fireplace mental and our living room:


Shagreen Ivory Taper Candle Holder: I got two large and two small sizes of these beautiful candle holders for our fireplace mantel.
Overlook Throw: This cozy throw is such a beautiful addition to your house for fall/winter season.
Palazzo Medium Marbleized Planter: Make sure to get the medium size of this gorgeous planter. It is SO beautiful in person. I honestly could not believe it was only $29!!! You can also buy the large size of this planter for indoor or outdoor plants! They are SOOO pretty!
Active Large White Marble Tray:  I am all into "marble looking" trays these days! Hahaha! I love this tray because not only you can use it as a beautiful seasonal decor piece, you can also use it as a bathroom vanity tray! Love this simple and elegant tray.
Artificial White Berry Garland: The one that I purchased earlier in the season (on these pictures) are all sold out. But this "artificial white berry garland" from Crate and Barrel is a great choice or you can also choose a less expensive option which is this beautiful "white silver dollar garland" from Michaels.
Dripless Taper Candles: These candles are dripless and so beautiful! You can order the color of your choice!  
These Are Some of My Other Favorite Fall Decor Accessories in 2020




No matter if you like modern fall decor, classic, rustic, minimalist, traditional or any other styes, I think decorating your home each season is so good for your mind and soul! And Yes… decorating your home for each season can be a little bit of a "work", however, you do not need to go all elaborate while decorating! Of course, you can if you want to, but you can simply add a few seasonal scented candles, flowers and just bring the season colors into your house in your own style! However you do it, I hope having fun trying our your own stylish fall decor ideas! And PS if you want to really get into the Fall spirit, try these amazing Halloween themed recipes!
Happy decorating!
Love,
Sherry, xoxo