Disclosure: My family and I were invited as guests by Arizona Biltmore Resort in Phoenix. As always, my opinions are my own.
With a blink of an eye the 2021 holiday season ended!!! I thought should share a post on Must-Dos at Arizona Biltmore Resort During the Christmas. I also want to share our incredible experience and our fun staycation for the holidays at the historic Arizona Biltmore resort. Although this was a short weekend staycation, we had an absolute blast as a family!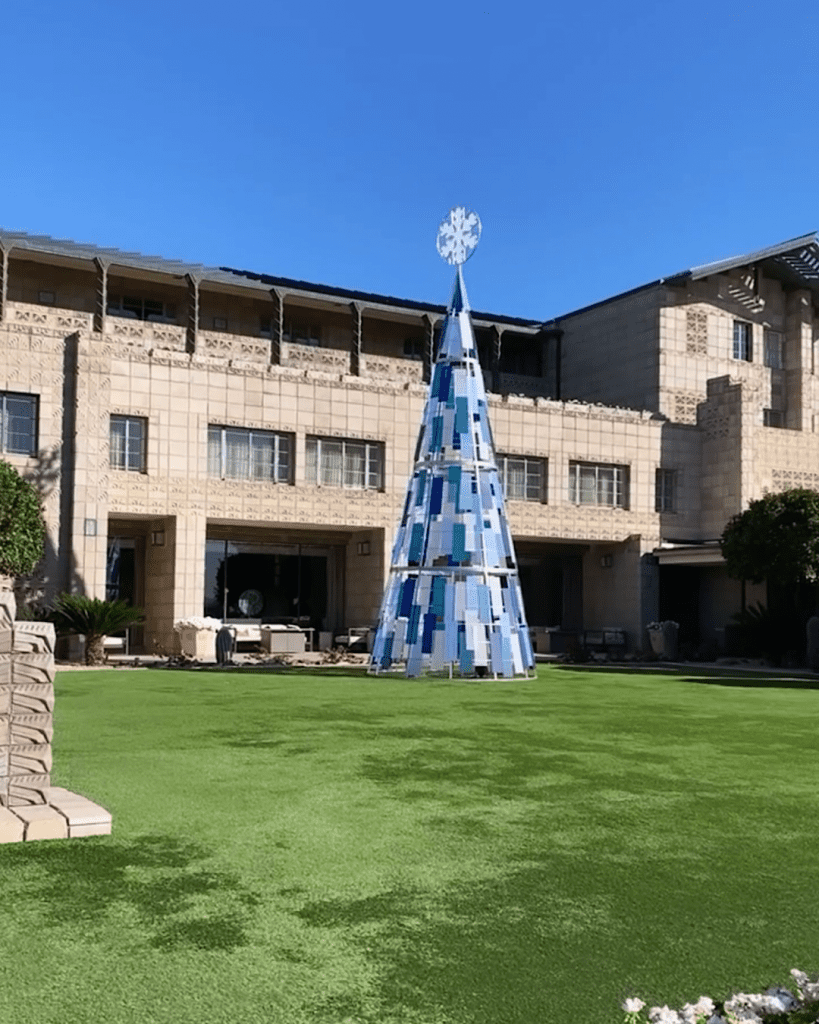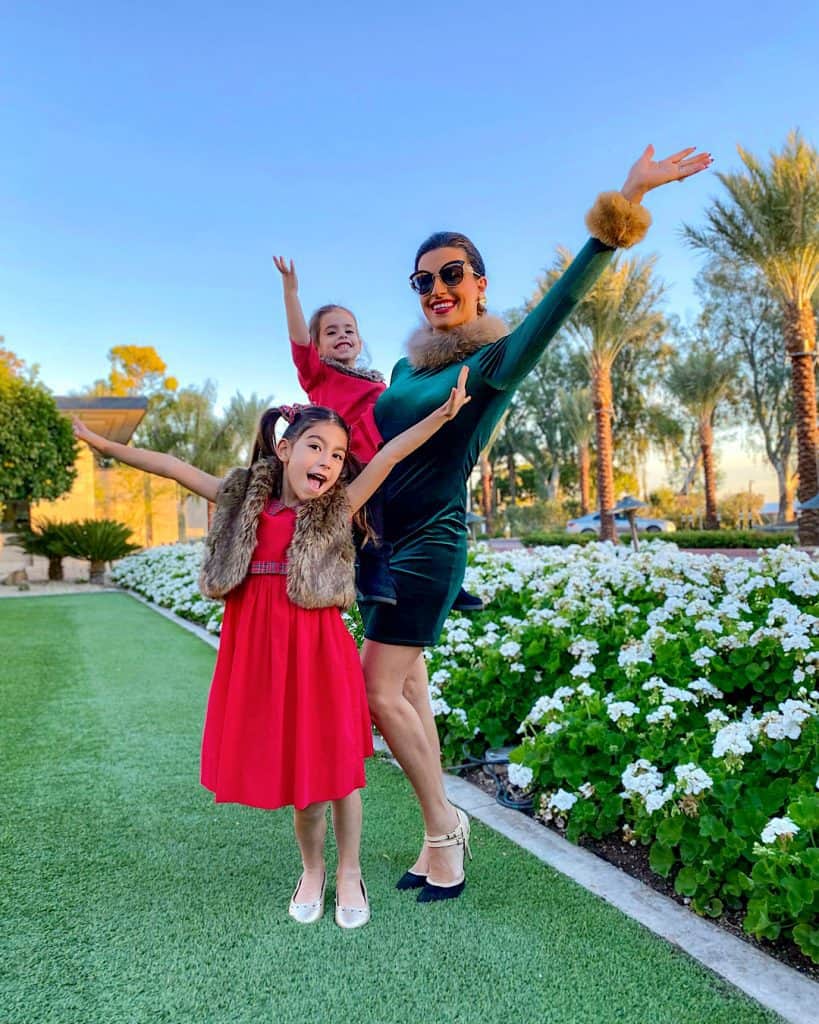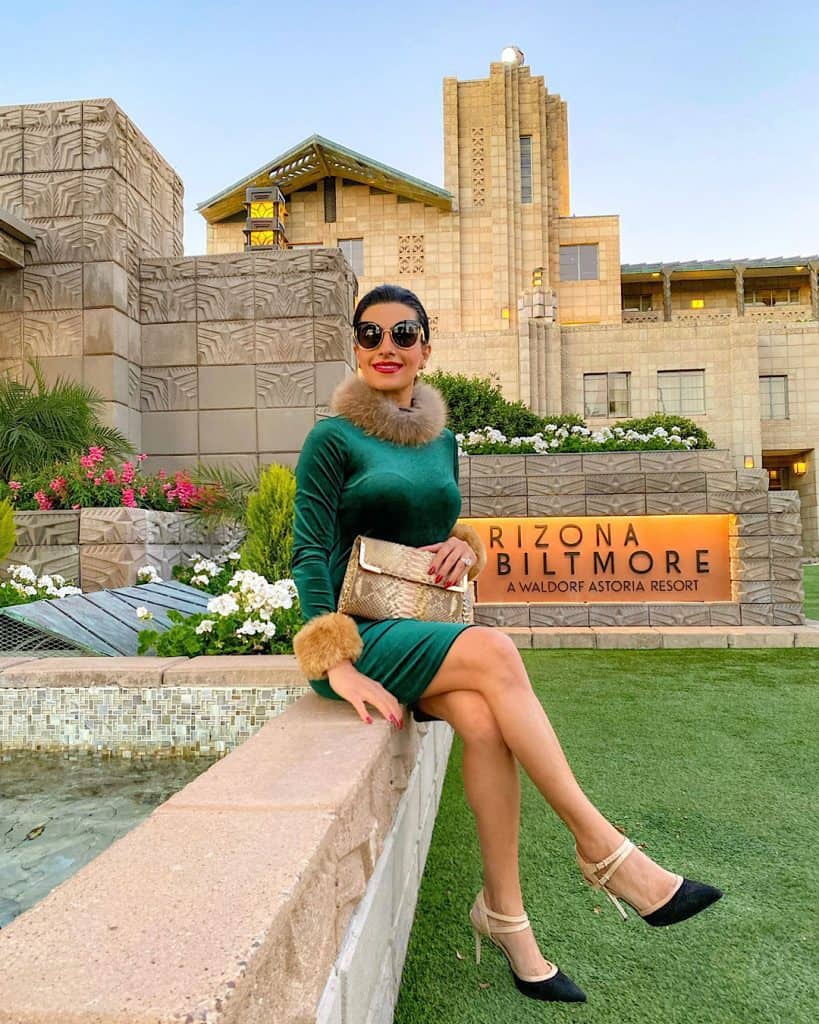 We originally booked a trip to Vancouver, BC for Christmas. However, since Valentina and Alina got sick with the flu a few times throughout the winter season, we decided to cancel our trip to Vancouver and stay in Arizona. Planning a fun little staycation at the Arizona Biltmore resort, was simply perfect and made us feel like we were on a fun vacation without fighting crowded airports and getting on a plane! Hahaha!
Christmas at Arizona Biltmore Resort
From the moment we walked into the resort we were treated so kindly by the resort employees. The sweet front desk employees brought the cutest Santa and Elf sunglasses for Valentina and Alina at our check-in time! They both got SO excited and took lots of pictures with them! Hahaha! Beautiful holiday songs were playing in the resort lobby, the patio, hallways and pretty much everywhere around the resort. It put us in such a great festive mood! The lobby and everywhere you walked you could feel the spirit of the holiday season as there were eye-catching festive decorations throughout the resort.
Meeting & greeting with Mrs. Claus
After checking into our room and unpacking we got ready to start the evening! As soon as we walked out of our room, we met Mrs. Claus! Valentina and Alina were literally exploding from excitement of meeting Mrs. Claus. Especially since they have mostly met Santa Claus in previous years and not so much Mrs. Claus. Hahaha!!! After talking to Valentina for a little while, she promised that she would pass along all of Valentina and Alina's Christmas wishes to Santa! Hahaha! It was such a fun and exciting moment for our little girls!
After meeting Mrs. Claus, we walked around the resort, took some fun pictures, let the girls play in the huge grass areas with other kids while Matt and I sat by the patio firepit and ordered some drinks.
Must-Dos at Arizona Biltmore Resort During the Christmas that
You Do Not Want to Miss!!!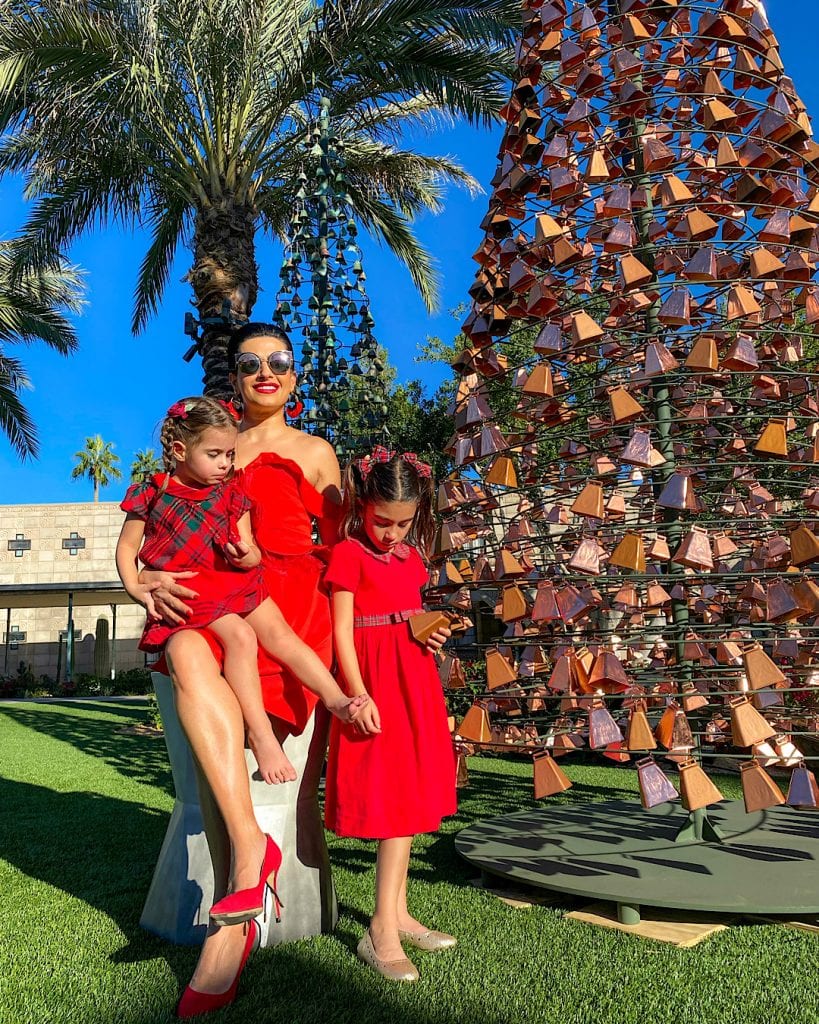 There are a lot of great December holiday activities at Arizona Biltmore Resort that you should not miss! Arizona Biltmore Christmas was simply beautiful! Not only the resort was fully decorated for the holidays, but they also such had great holiday activities for families, couples, and group gathering/ friends that I want to share with you: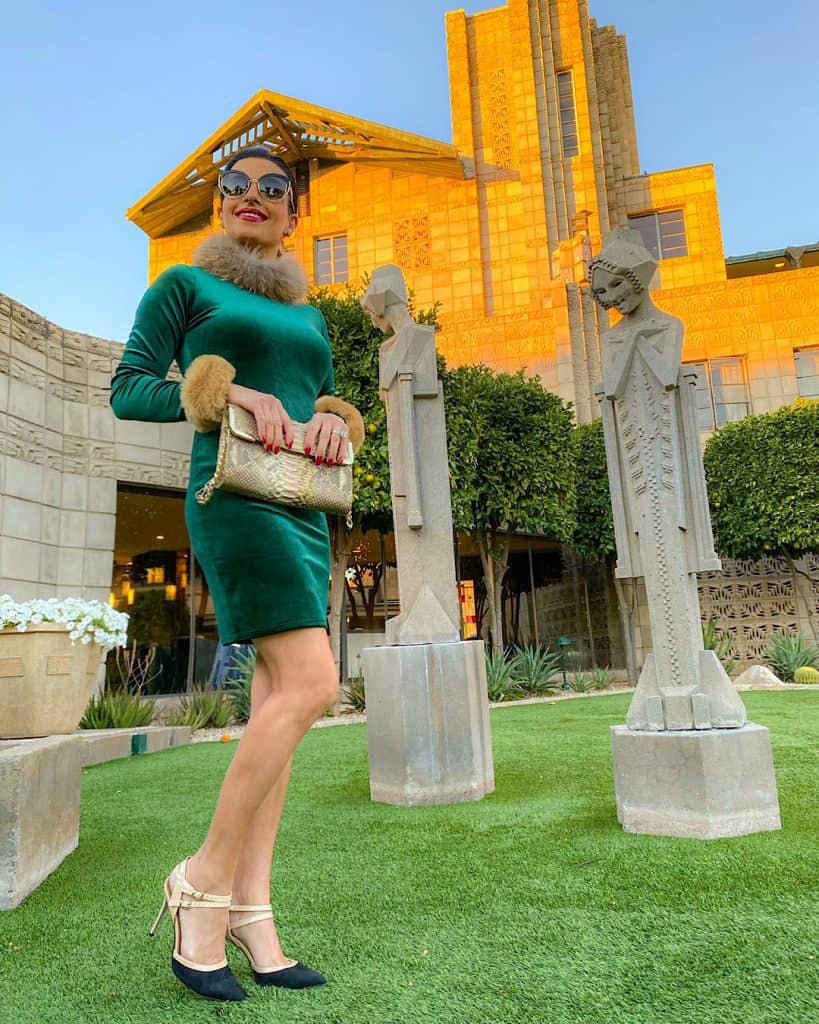 1- Firepits and Roasted Marshmallows on the Spire Lawn
From all of their incredible holiday activities, the one we LOVED most was sitting by the beautiful outdoor fire pits on the Spire lawn, roasting some marshmallows and sipping on the delicious holiday cocktails and some wine!
Honestly, I think there's nothing like sitting around a fire with friends and family while you roast marshmallows. This cozy activity was truly the most fun and the highlight of our stay at the Biltmore resort! Valentia was so excited to keep roasting more and more marshmallows for everyone (including some other tables/hotel guests that were sitting close to us)! Hahaha!
Another highlight was that our own room also had a beautiful fire pit on the patio! The sweet hotel staff left us some roasting sticks, marshmallows, graham crackers and chocolate squares…yummmmm…SMORES!!! After having a long night of the girls playing outside, it was really nice to drink some hot chocolate and sit by our patio fire pit when we got back to our room.
2- Holiday Cocktails at the Arizona Biltmore
The drink menu at Renata's Hearth and Frank and Albert's offered amazing holiday cocktails. We loved the "Golden Orchard Martini", and the "Peppermint Paradise" the most! Honestly, they had so many different great holiday cocktails on the menu, but we could not try all of them as we had our little girls with us! Hahaha! If you go with your friends or just as couples, you should try different cocktails on the menu! You will not be disappointed!
3- Live music at the Wright Bar
The Wright Bar offered an amazing live music and created such a festive ambiance at the resort for all the guests! Valentina and Alina danced with several of their favorite songs while Matt and I enjoyed a nice bottle of wine! I totally recommend checking their website and making sure to visit the resort when they have a live band either at the Wright Bar, the Renata's Hearth restaurant or at the lobby!
4- Holiday Cookie Decorating & Holiday Crafting
I am so disappointed that we missed this fun holiday activity at the Arizona Biltmore resort during our staycation! Since Valentina and Alina had so much fun playing on the Spire lawn and made friend with some other little kids, we completely missed out on the holiday cookie decorating as well as the holiday crafting! We marked that on our calendar for next Christmas! We can't wait to take the kids back to the resort for this fun holiday activity!
5- Hot Cocoa Bar at Arizona Biltmore Resort- "The Café"
There is nothing better than sipping on a cup of hot cocoa to warm you on the cold winter days!!! The Café, at Arizona Biltmore Resort, between 4-5pm served some delicious hot cocoa for all tastes and preferences!! You must try their hot cocoa!!! You should also try the "Gingersnap Latte"! It was amazing!
6- Family Yoga at Arizona Biltmore Resort
The Christmas holiday is the perfect time to get everyone in your family together for some bonding, relaxation, and fun. As an added bonus this year Arizona Biltmore Resort organized a special offer just for their guests – Family Yoga! I think this will be a perfect way to spend time together while also getting some rest before wrapping up another great year.
7- Christmas Eve Dinner Specials at Arizona Biltmore Resort
Frank and Albert's offered a great variety of dining options for every appetite and taste for Christmas Eve! If you want to have a relaxing Christmas Eve dinner with your family without all the cooking and clean-up at home, this is a great holiday festivity to consider!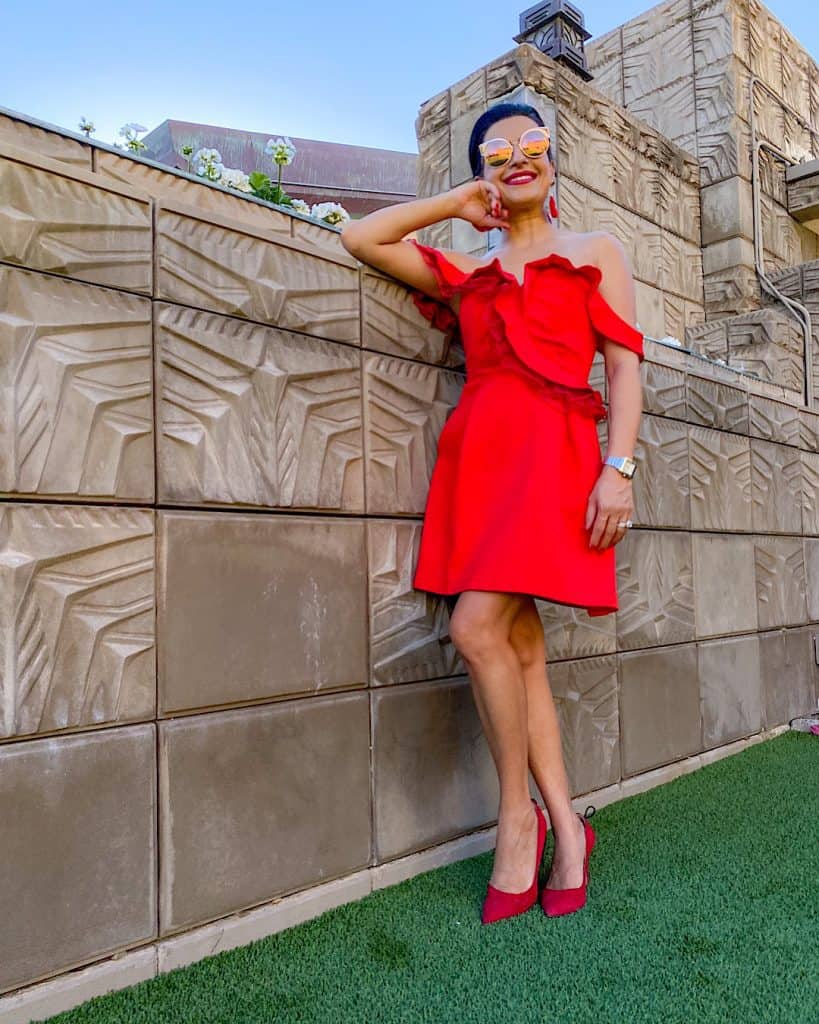 What to Know About Arizona Biltmore – A Waldorf Astoria Resort
Now that I covered all the fun and "Must-Do" holiday activities at Arizona Biltmore resort, I want to share some information about the resort's new renovation, the rooms, the spa, the golf and the dinning/restaurants within the resort with you!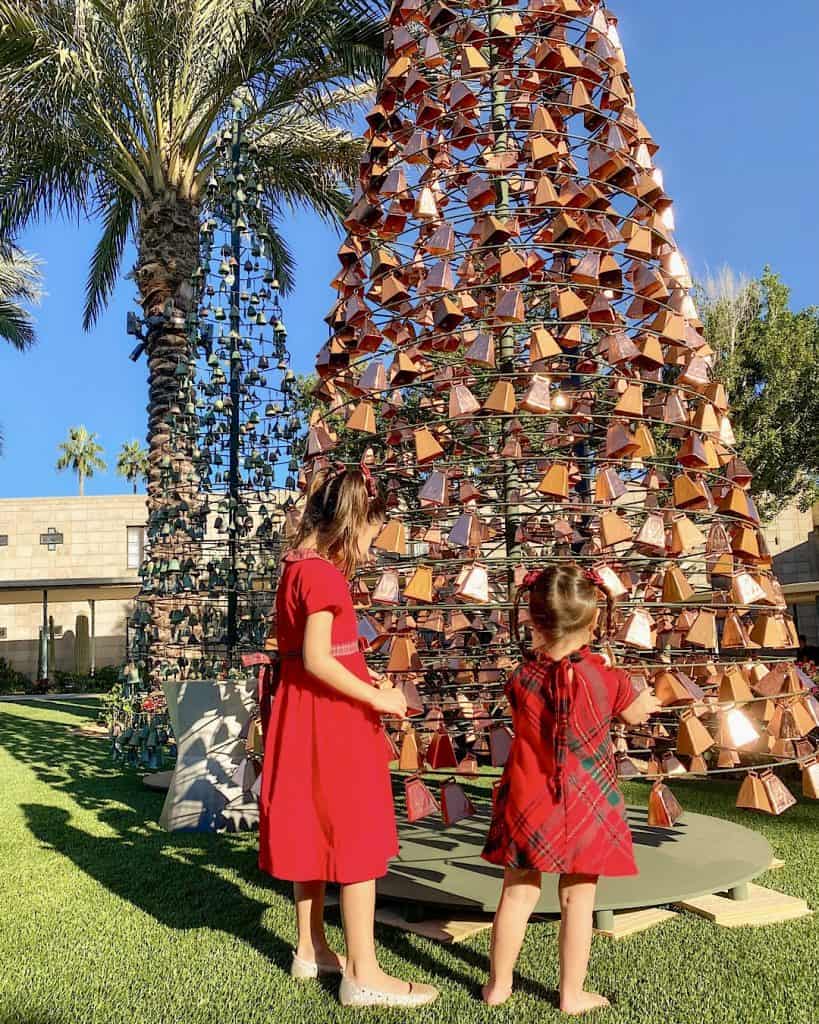 The Iconic Arizona Biltmore's $70-million Renovation
According to Travel + Leisure, Marilyn Monroe, Elton John, Frank Sinatra, Barack Obama, and every US president since 1930s have been the guests of Arizona Biltmore Resort. I am not surprised because this is simply a lovely resort…! The resort recently underwent a major renovation and was closed for over a year! This renovation has completely transformed the resort and created a neat, modern, and elegant look to it! The hotel features architectural design by Frank Lloyd Wright and Albert Chase McArthur.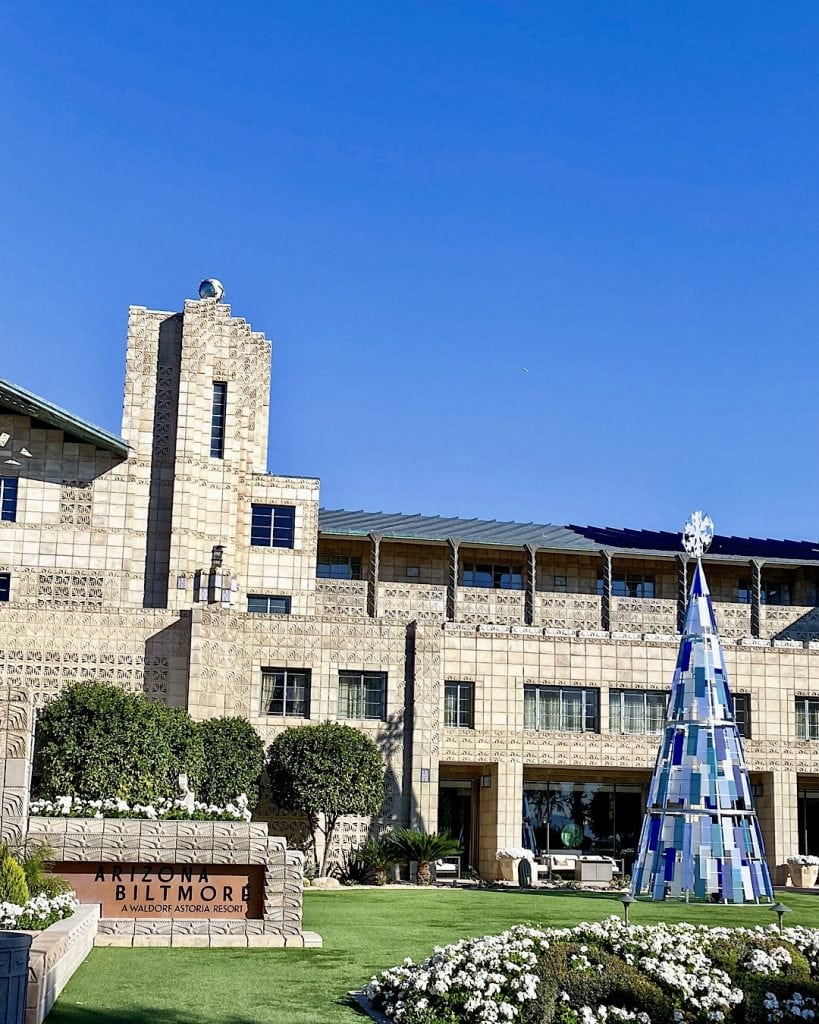 The Spire Bar: One of our FAVORITE parts about this renovation was the new "The Spire Bar". This bar has considered to be the best outdoor bar in Phoenix, Arizona. It has the best "day views" and "night views". During the daytime, you have the most beautiful view of Piestewa Peak, the green lawns, and the pool, while enjoy watching the games or Sunday football! The Spire Bar has also very cool views during the nighttime, surrounded by beautiful colors of light shows and several huge TV screens. This was Matt's favorite spot during our stay at the Biltmore Resort!
Arizona Biltmore Resort Rooms
Our room was spacious, bright, and beautiful! Our favorite part about our room (especially having kids) was the fact that it was facing the pool and huge water slides! I was telling Matt that we need to book this EXACT room for summer! We could literally walk outside of our patio to the pool and the waterslides! I can't wait to go back this summer and enjoy the room and the view!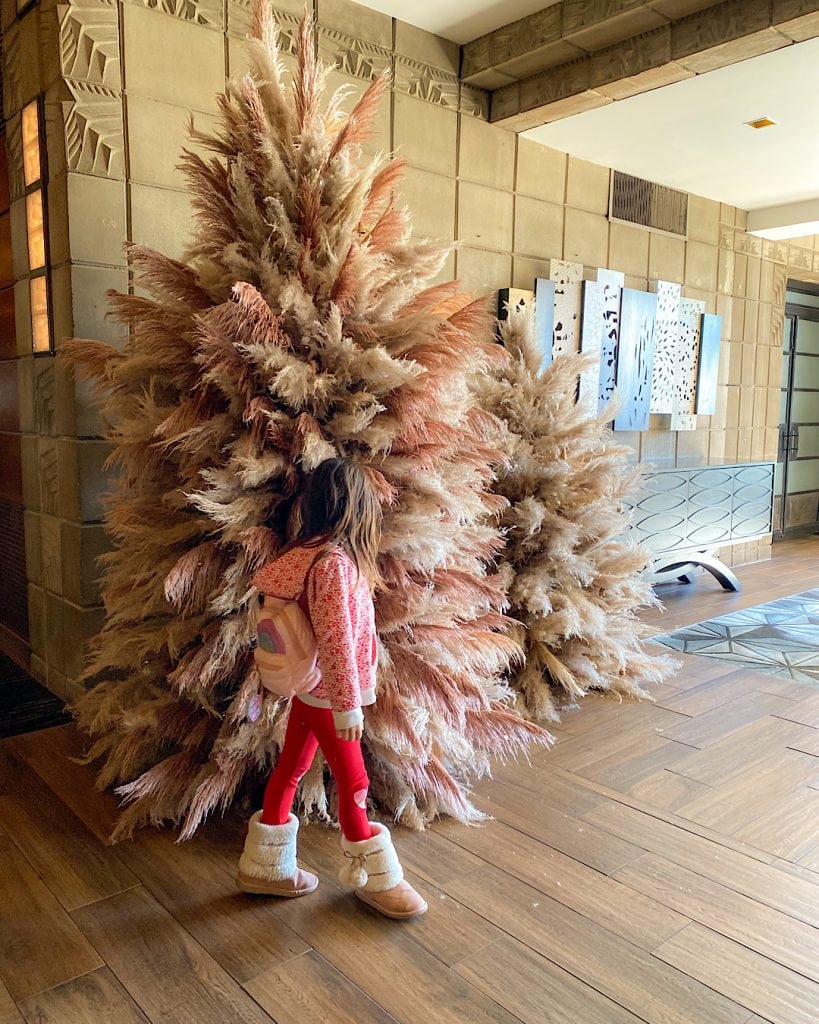 Arizona Biltmore Resort offers several different kinds of guest rooms, suites, villas and cottages!
The Suites Include:
The Guest Rooms Include:
The Villas Include: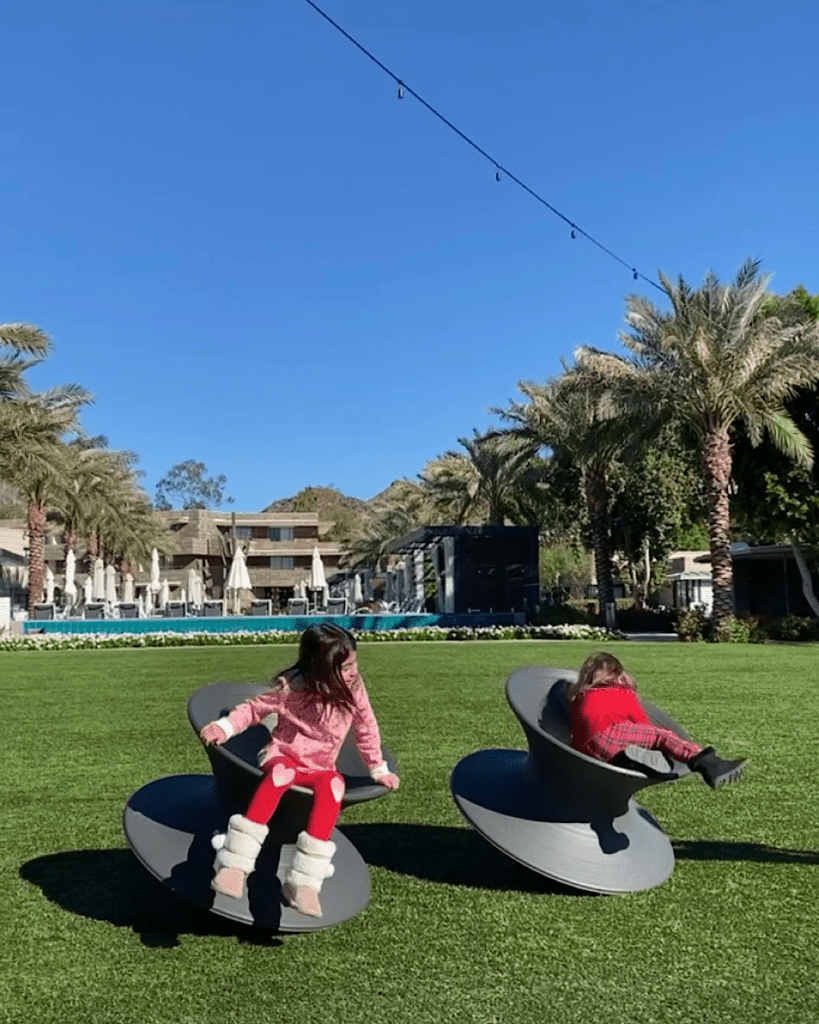 The Cottages Include:
Arizona Biltmore Dinning
Regardless of what time of year you visit Arizona Biltmore resort, you can enjoy dinning at any of these lovely restaurants. Arizona Biltmore Sunday brunch is also very well-known among Phoenix foodies!
Renata's Hearth: This is a modern Latin cuisine with the loveliest outdoor patio dining, lovely decorations, and a great Latin cuisine menu located at Arizona Biltmore resort.
Frank & Albert's: Frank & Albert's restaurant at Arizona Biltmore Resort has a menu that will suit anyone looking for American classics or Southwest dishes. With options from all tastes, there is something on their extensive list to satisfy your cravings!


The Spire Bar: The Spire Bar is a beautiful outdoor bar viewing the gorgeous Piestewa Peak Mountain and is in Arizona Biltmore resort! It is one of the coolest outdoor bars in Phoenix where you can enjoy some nice cocktails, wine or beer while watching your favorite games on the big TV screens surrounding the bar! Even if you don't watch a lot of games (like me), hahaha, you can still enjoy the beautiful view of the Piestewa Peak Mountain and the lovely green Spire lawn while sipping on your wine or a cocktail with your friends, family or your significant other! We absolutely loved this beautiful bar!
The Wright Bar: The Wright Bar at Arizona Biltmore resort is a glamorous and contemporary spot for drinks. With its sleek blue/lavender walls, blue leather tall stool chairs as well as live string music this place offers something to suit every taste! Since we had Valentina and Alina with us, we did not hangout by this beautiful bar! Matt and I decided that we will go back for a "date night" sometime soon and enjoy this bar! During the Christmas holiday it was so busy and so "happening"!!! I totally recommend it!
Arizona Biltmore Spa-Tierra Luna
Ahhhh!!! Let's talk about the "RELAXATION"!!! What everyone of us needs in this crazy, busy world! I wish I had a chance to experience this beautiful spa but unfortunately, I did not!!! We were too busy with all the holiday activities and dinner plans! However, I can't wait to go back to Arizona Biltmore resort and experience a relaxing spa day at Tierra Luna.
The Arizona Biltmore Tierra Luna spa menu literally offers so many great services for those looking to pamper themselves. They offer anything from" signature rituals", to "couple rituals", to signature massage and body experiences, skincare, manicure, and pedicure, etc.… If you are planning to stay at this beautiful resort, make sure to book a relaxing spa day at Tierra Luna!
Arizona Biltmore Golf
This beautiful 36-hole golf course is in the heart of Phoenix Mountain preserve. Arizona Biltmore golf courses are located just few minutes from the Camelback corridor, Biltmore Fashion Park and some nice restaurants and dining. According to their website, they claim to be of the most centrally located golf clubs in the Valley! If you are a golfer, you will absolutely enjoy golfing at this beautiful gold club!
How Far is Arizona Biltmore Hotel from Airport?
The distance from Arizona Biltmore hotel to Phoenix Sky Harbor is about 9 miles. Depending on the traffic, it takes about a 15-to-20-minute drive to arrive at the hotel! The hotel offers different transportation opportunities to and from the airport to the hotel guests!
How Many Rooms Does the Arizona Biltmore Hotel Have?
The Arizona Biltmore has over 700 guest rooms!!!
How Many Pools Does the Arizona Biltmore Have?
Seven beautiful pools designed perfectly for both adults and kids!!
This post was all about the "MUST-Dos" at Arizona Biltmore resort during the holiday season! I also shared my opinion about what to and where to eat while staying at the Phoenix Waldorf Astoria! We really enjoyed our fun little family holiday staycation at the Arizona Biltmore resort. It is a lovely resort that offers a one-of-a-kind experience in the beautiful Arizona Sonoran Desert.
If you're looking for an escape from your ordinary life, this is a great resort to consider staying! I have also shared some of our other fun staycations at other beautiful resorts in Scottsdale and Phoenix here and here!
Hope you have fun relaxing at this beautiful Waldorf Astoria resort!
Love,
Sherry