7 Best Thanksgiving Gift Baskets Ideas
Thanksgiving is a time for family and friends, to reflect on the past year and look forward to the year ahead. In this post, I have put together a list of 7 different Thanksgiving gift baskets and great ideas that can be customized to fit any occasion.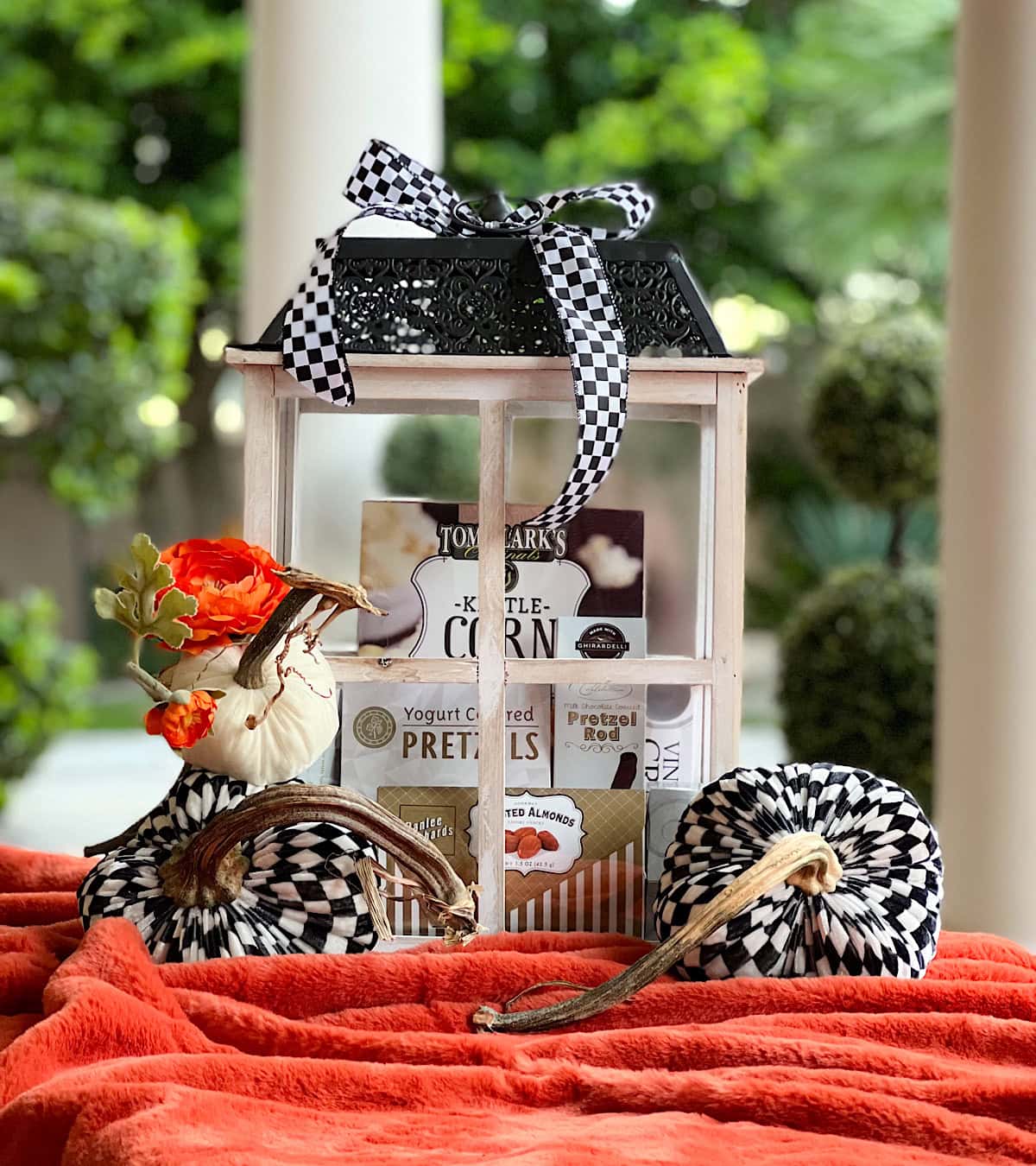 Related Post: Glam Thanksgiving Tablescape Using Pink & Purple Pumpkins
It's also a time for giving, whether it's homemade gifts, store-bought gifts, or gifts sent through the mail. From a simple Thanksgiving fruit basket to fine wine and more elaborate gift baskets packed with your loved ones' favorite foods, there's something for everyone on this list!
Thanksgiving Gift Baskets
Idea #1- Consider a Food Basket
Thanksgiving food baskets make great gifts for friends and family members who are difficult to buy for… I think they'll love getting something they really want instead of just receiving another gift. Plus, it's the perfect way to show your gratitude for all their love and support throughout the year!
There are many different delicious thanksgiving gift baskets on the market! Some of the most popular options for the turkey day include:

A basket filled with traditional Thanksgiving foods like turkey, ham, stuffing, potatoes, and yams. A perfect Thanksgiving meal!
A basket filled with Belgian waffles, cookies, pies, and other sweets.
Peanut butter pretzels
A vegetarian or gluten-free food basket.
A wine or beer basket.
A pet food basket.

Thanksgiving Gift Baskets
Idea #2- A Floral Gift Basket
A beautiful floral arrangement or an elegant floral basket is a perfect thanksgiving gift for your loved ones. She/he can easily place it on the Thanksgiving table. Not only do they convey feelings of love and happiness, but they also remind people that you care. Plus, they make a beautiful and fragrant centerpiece for your Thanksgiving feast!
Related Post: Capri Blue and White Thanksgiving Tablescape
There are many different types of flowers that can be incorporated into a Thanksgiving gift basket and the best flowers for thanksgiving gift baskets vary depending on the occasion and recipient.
Some flowers that can be particularly appropriate for a thanksgiving gift basket are lilies, hydrangeas, yellow sunflowers, and orange roses. You can get lots of great Thanksgiving flower arrangements here. You can also order some of the best floral gift baskets or arrangements for Thanksgiving here:

Classic Thanksgiving baskets: These baskets include flowers such as roses, chrysanthemums, and lilies. They're ideal for anyone who wants a traditional Thanksgiving gift.
Flowers and wine Thanksgiving baskets: For someone who enjoys good wine with their food, this is the perfect option. The basket might also include various kinds of flowers, wine, cheese, and even crackers to go along with it.
Thanksgiving Gift Baskets
Idea #3- Wine Gift Basket
Start thinking about what wine gifts to give your friends and family! Whether you're shopping for someone who enjoys red or white wine, there are plenty of great options available that they can enjoy with thanksgiving dinner. Here are some ideas for Wine Gift Baskets: 

Give a basket filled with different types of wines from around the world.
Choose a specific region or country and include wines from that area in the basket.
Create a themed gift basket based on something special happening during Thanksgiving (like pumpkin wines).
Appetizer & Wine Gift Basket: Make sure to include some olives, antipasto skewers, nuts, dried fruits, red and white wines. It can be customized to include any allergies or dietary restrictions of the recipient.
Gourmet Cheese & Wines Gift Basket: Decorate this basket with fresh herb sprigs (for example), different types of cheeses (brie, gorgonzola, etc.), high-quality chocolates, and sparkling wine bottles for added visual appeal.

Thanksgiving Gift Baskets
Idea #4- Delicious Fruits Gift Basket
Some of the best fruit gift baskets for thanksgiving include:
A basket full of fresh fruits, including apples, pears, oranges, grapes, and bananas. 
A mixed bag of different types of berries – wild blueberries, raspberries, blackberries, etc. 
A chocolate fruit cake or pie basket that includes assorted fruits as toppings.

Thanksgiving Gift Baskets
Idea #5- Personalized Gift Basket
There are many different types of gift baskets you can create for Thanksgiving, and they all come in varied price ranges. You can get baskets that are filled with traditional items like pumpkin pie or stuffing, or you could go for something more unique and personalized. I always love adding a few personalized items to my thanksgiving celebration basket.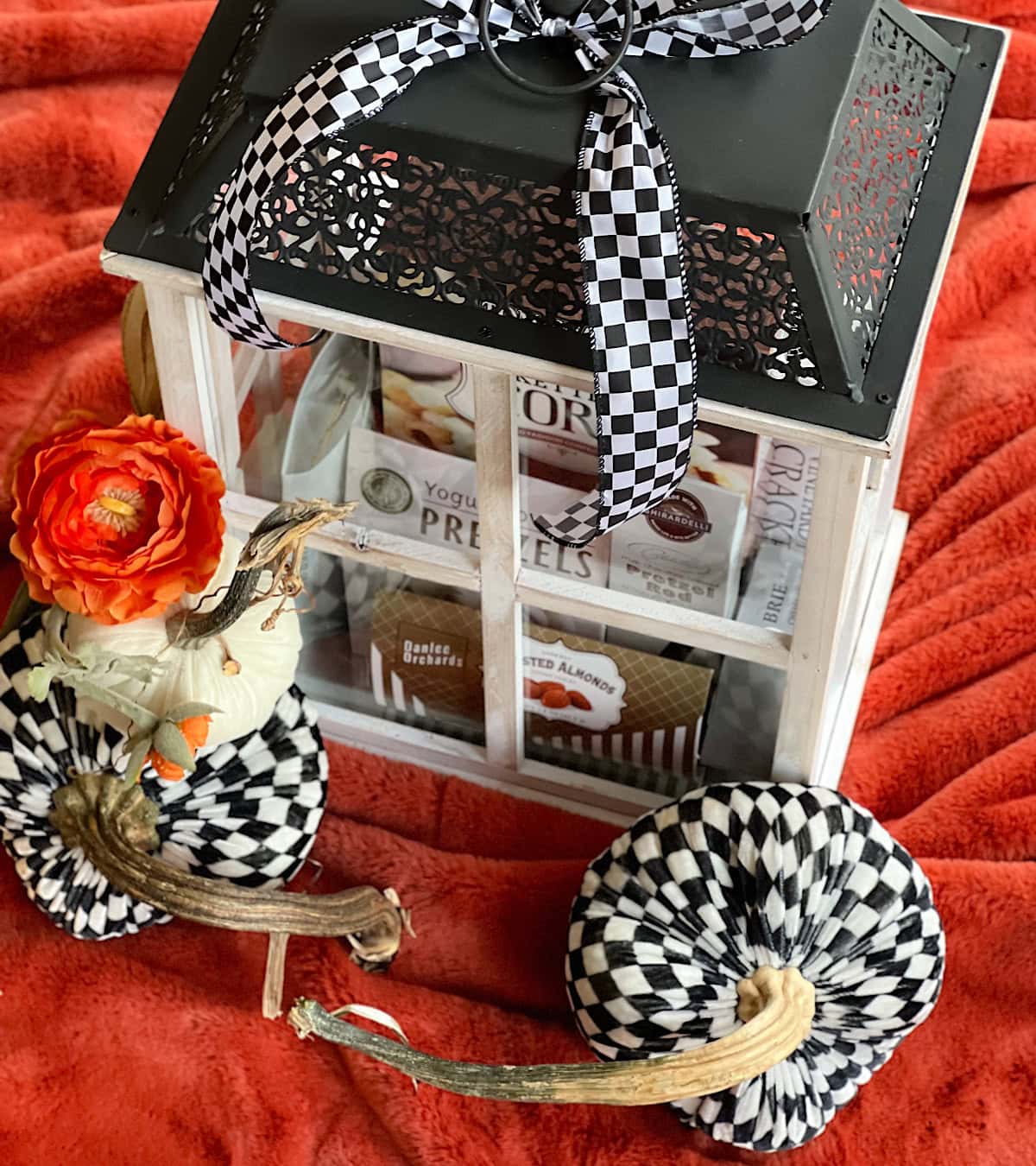 Related Post: How to Design an Elegant Pink, Gold & White Thanksgiving Tablescape
Some of the most popular options include baskets filled with DIY gifts like homemade cookies or cake, wellness goodies like organic tea or lavender bath bombs, and delicious treats like sugar-free pumpkin spice muffins or rich dark chocolate.

You can also get creative and fill your gift basket with unique items like personalized soap samples or custom espresso cups. Whatever you choose, make sure to personalize it by adding the recipient's name (or initials) along with sweet holiday messages.
Here are a few different personalized gift baskets and great ideas that will be perfect for Thanksgiving:

A wellness basket full of natural supplements and detox teas to help get through the holiday season stress-free.
A fruit basket overflowing with fresh fruits and vegetables for a healthy diet during the festive season.
A wine basket packed full of great wines from around the world to enjoy during the festivities
A delicious gourmet food basket filled with cheese curds, chocolates, truffles, etc.
A decadent chocolate lovers' basket curated by our team of chocolatiers containing all of your favorite flavors
Thanksgiving basket filled with favorite comfort foods like macaroni and cheese and stuffing
A holiday basket filled with festive treats like gourmet snacks, pumpkin pie, cranberry sauce, and eggnog
Thanksgiving Gift Baskets
Idea #6- Delicious Gourmet Treats
Here are a few delicious gourmet treats for your thanksgiving gift box or your beautiful basket:
Cranberry Orange Swirl Bread Pudding
Maple Roasted Turkey
Pumpkin Spice Cake Popsicles
Apple Pie Jam
Apple Butter Cake Bites
Maple Bacon Apple Pie
Pumpkin Pie Mousse Cake
Gourmet meat
Gourmet chocolate (dark chocolate or white chocolate).

Thanksgiving Gift Baskets
Idea #7- Cheese Gift Basket
Choose cheeses that everyone will love. This is the most important part of designing a cheese basket! Go with classics like gouda, brie, and cheddar!
Pair different types of cheeses together to create interesting flavors and textures. A basic cheese basket usually includes two soft kinds of cheese (brie and camembert), two creamier styles (cheddar and blue cheese), and one hard type (pepper Jack). Experiment by adding other kinds of harder cheeses like Roquefort or Gorgonzola into the mix!
Include plenty of crackers, fruits, nuts, olives, etc., along with your chosen cheeses so guests can build their own bites dish style they enjoy best.

What to Put in a Thanksgiving Gift Basket
As I mentioned above, there are a lot of different things that you can put in a Thanksgiving gift basket, depending on the person's interests and favorite things. I decided to put together an easy list for you and some ideas: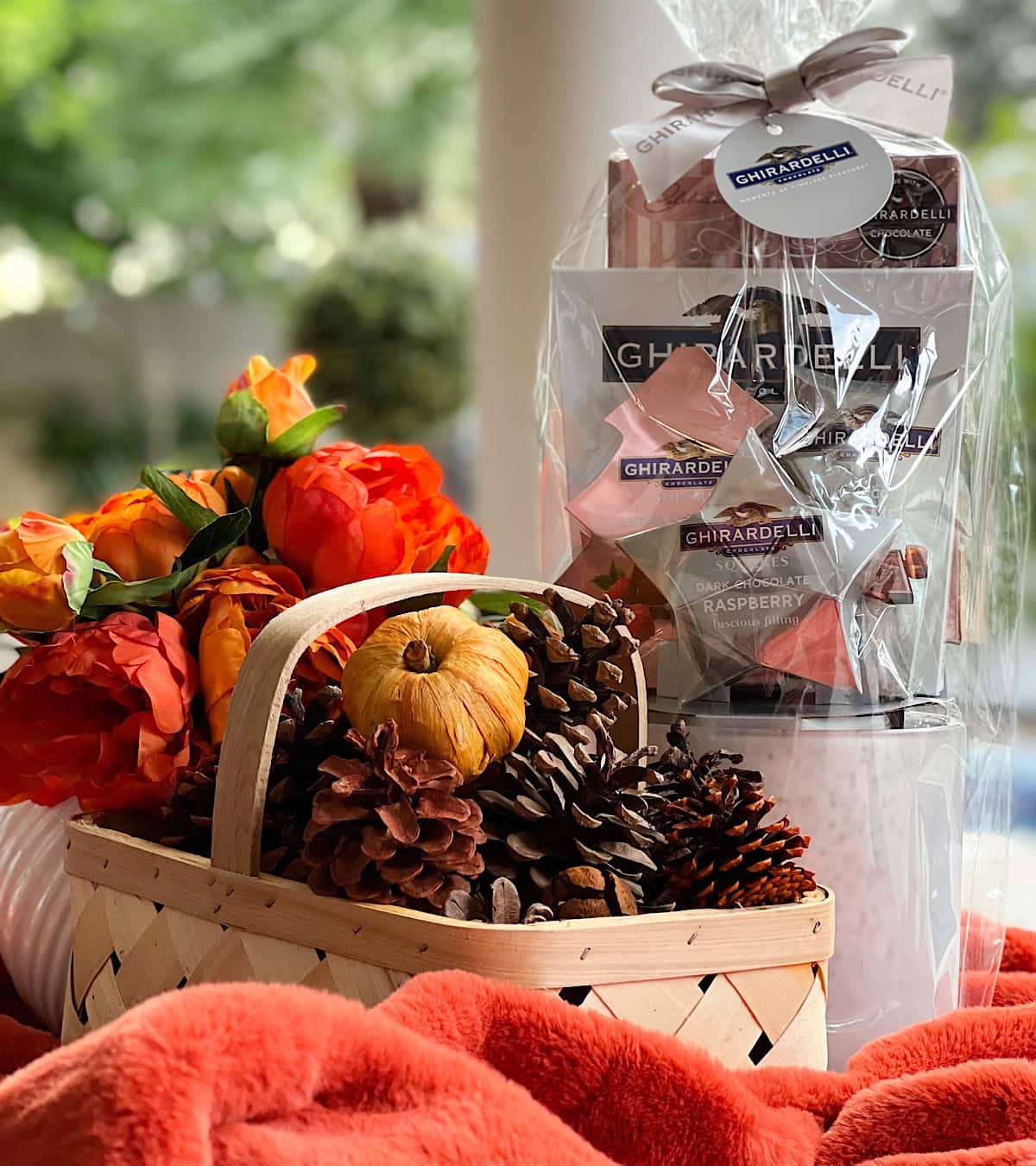 Edible Gift Ideas
Sweets: A lot of people love sweet treats! Adding some sweet treats to the basket makes is a great way to bring a smile to his/her face! There are tons of different types of sweets to choose from, so you're bound to find something that the recipient will love.
Fine Wine: Fine wine is another popular choice for Thanksgiving baskets. It goes well with many dishes, and most people like to drink it during the holiday season. I'm such a wine lover and I would LOVE to receive a nice bottle of wine as a gift 🙂 You can also add a nice bottle of champagne to your basket if you think she/he prefers it.
Garlic bread: Garlic bread is another classic dish that can be enjoyed at any time of year, but it really shines on Thanksgiving Day! Make sure to include plenty of this delicious bread in your gift basket so that everyone can enjoy it!
Turkeys: Some people prefer to buy their own turkeys, while others may prefer to get them pre-cooked and packaged. Whichever route you choose, make sure to include plenty of delicious bird meat in your gift basket!
Stuffing mix: Stuffing mix is a must-have for any Thanksgiving feast, and it's a great way to add flavor and texture to any dish.
Related Post: Thanksgiving Love & Decor
Non-Edible Gift Ideas
Flowers: Flowers are always a popular choice for Thanksgiving, and they make a great addition to any gift basket.
Crafts: If you prefer not to create edible arrangements, then consider crafts! Crafts are always popular gifts because they can be personalized and made just for the person receiving them. This makes them feel special and appreciated.
Home decor: Many people like to add home decor to their Thanksgiving baskets in order to make their homes look festive and welcoming. This can include things like wall hangings ornaments, candles, or even table centerpieces. I think the home decor is a perfect gift to add to your thanksgiving basket.
A gift card to a favorite restaurant or store: This is a great gift for anyone who loves to eat out, or who has a lot of shopping to do during the holiday season!
Gift certificates: Gift certificate to local movie theaters or theaters showing holiday movies.
Other Options
Some of the other options include vegan and gluten-free baskets, as well as meat-free and dairy-free baskets. You can also choose baskets that are filled with traditional American Thanksgiving favorites like macaroni and cheese, stuffing, cranberry sauce, pumpkin pie, savory snacks, etc. As I mentioned above, there are a lot of different things you can put in a Thanksgiving gift basket, but here are some of the most popular items:
Turkey or ham
Cranberry sauce or grape jelly
Mashed potatoes or gravy
String beans or green beans
Dinner rolls or sweet rolls
A couple of bottles of wine or a nice bottle of liquor.
Fresh fruit and vegetables like oranges, apples, and grapes.
Canned goods like pumpkin, cranberry sauce, and canned corn.
Packed meats like ham or turkey.
Sheets of chocolates or cookies.
How to Assemble a Thanksgiving Gift Basket
Here are six tips for assembling the perfect Thanksgiving gift basket:
First, think about the person you are shopping for. What do they like? Do they prefer gifts that are practical (like candles or cookware), sentimental (like jewelry), or interactive (an activity book)? Once you have an idea of what kind of gift would fit their personality, start looking for related items online or in stores. 
Once you have an idea of their likes, start gathering ingredients accordingly. If you know your friend enjoys eating healthy foods, then focus on including healthier items in your basket such as fruits, vegetables, whole grain bread, etc.
Always keep things fun and exciting by adding unique twists on classic gifts like baskets filled with chocolate novelties or gourmet popcorn baskets loaded with favorite movie theater snacks. 
Last but not least – make sure everything is wrapped up nicely! No one wants an open box at Christmas dinner! Balloons, bows, tags, ribbons… these little details can really tie everything together.
Bottom Line
I hope that this post has helped you select the right thanksgiving gifts for your loved ones. There are many unique and amazing gift baskets that you can surprise them with something they've never received before. There are always various add-on options… from wine to chocolates, cookies to personalized gifts… and so much more!!! It is easy to make someone's day by giving them one of these baskets!
I hope you have a fantastic Thanksgiving Day and enjoy celebrating it with your friends and family!
Love,
Sherry









Sherry, xoxo