10 Reasons Why Montage Los Cabos is Great for Families
Cabo San Lucas, Mexico is one of my favorite places to visit when we think of going on a little getaway! While Cabo is known for its non-stop party scene, bachelor/ bachelorette parties and spring breakers, it also offers several stunning resorts if you are planning to relax and destress.
Believe it or not, there are also great "family friendly" resort options if you want to visit with your family. For a great Cabo vacation idea list, check out my last post "Top 10 best things to do in Cabo".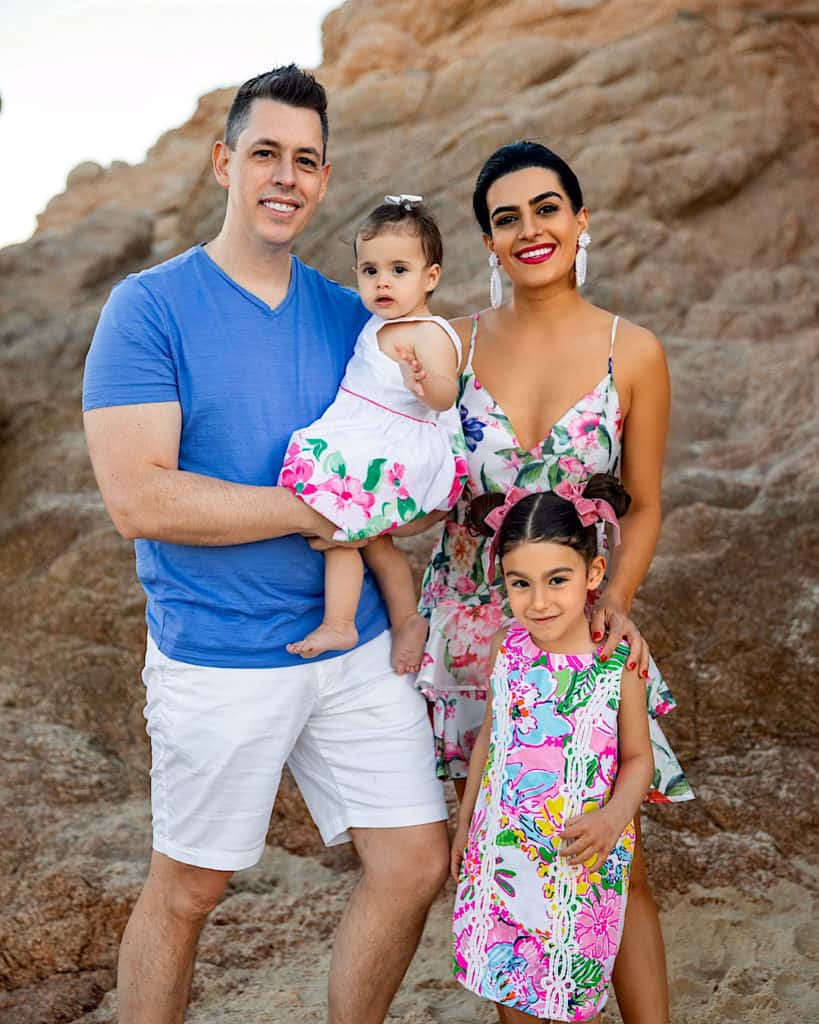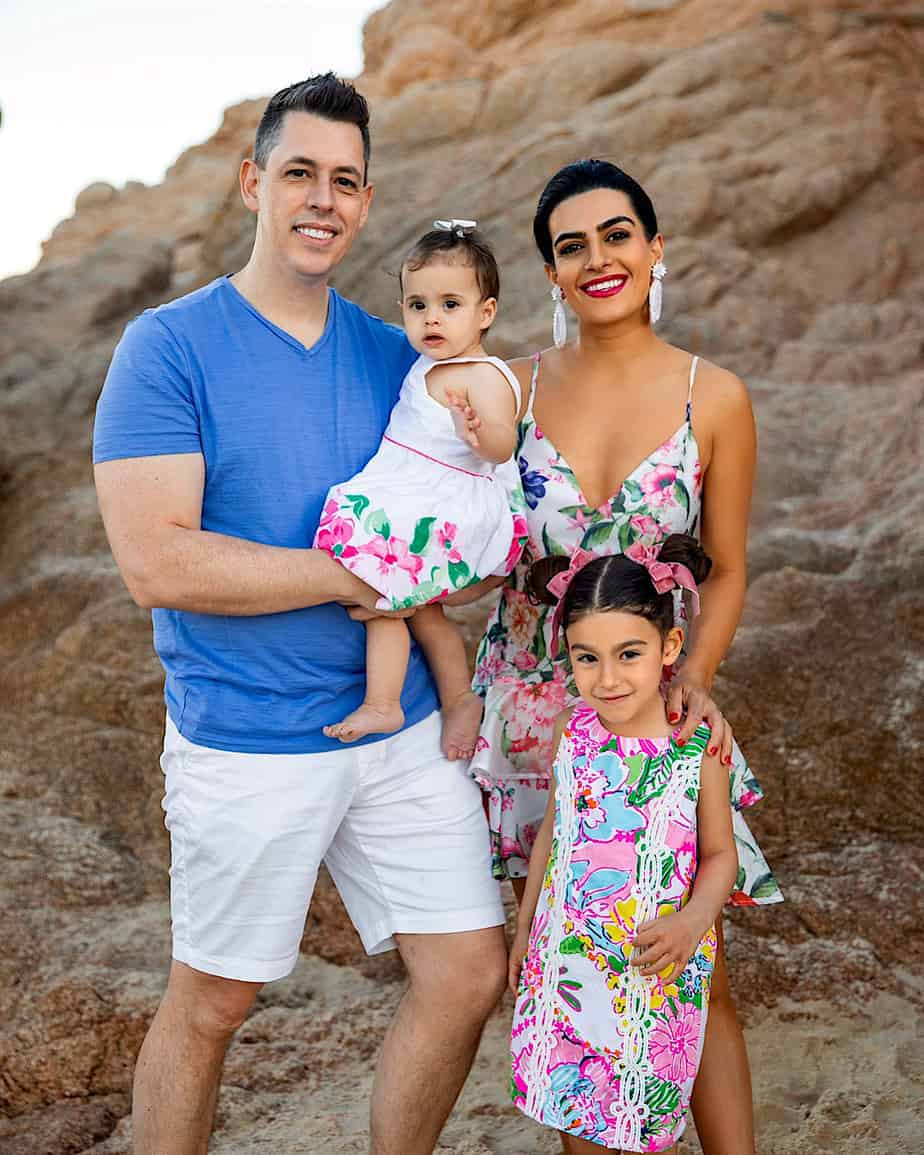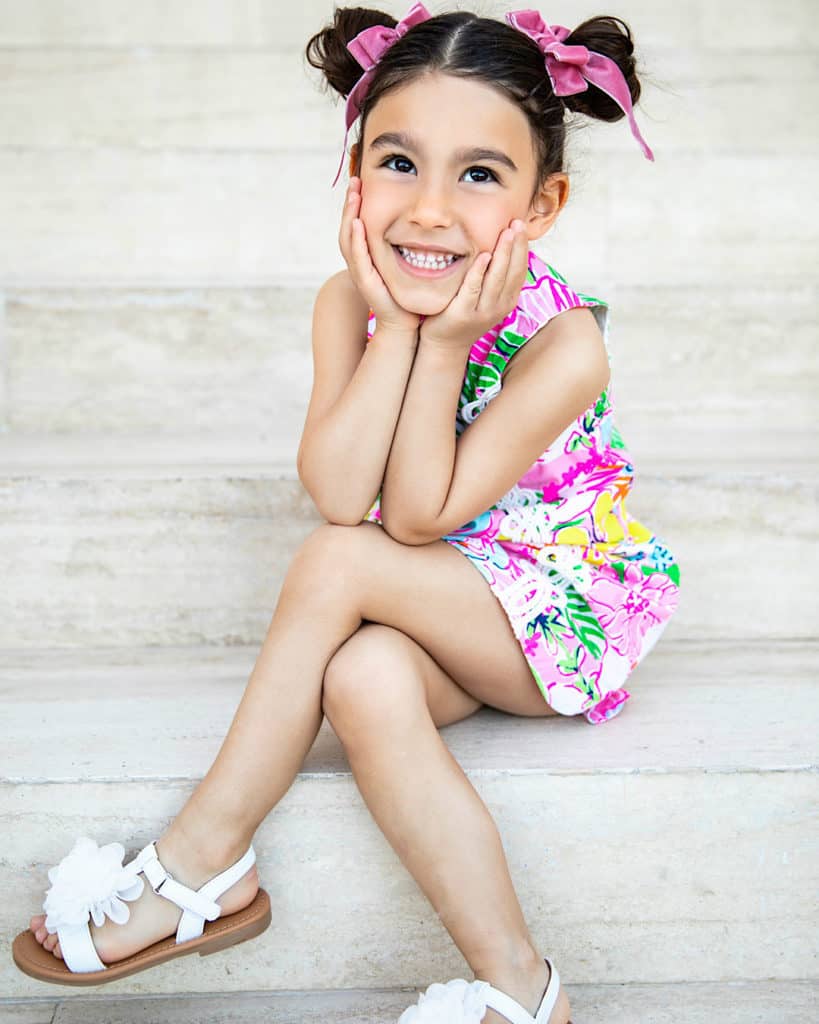 Our baby Alina's first birthday was one that we wanted to be fun and memorable, therefore, we decided to celebrate her birthday in Cabo. While planning her birthday, I did a lot of research about where to stay in Cabo with family.
It wasn't that long ago that there were hardly any family friendly resorts and most hotels were advertised as "Adults Only" resorts. Thankfully, for the past couple of years more and more family resorts have opened in Cabo.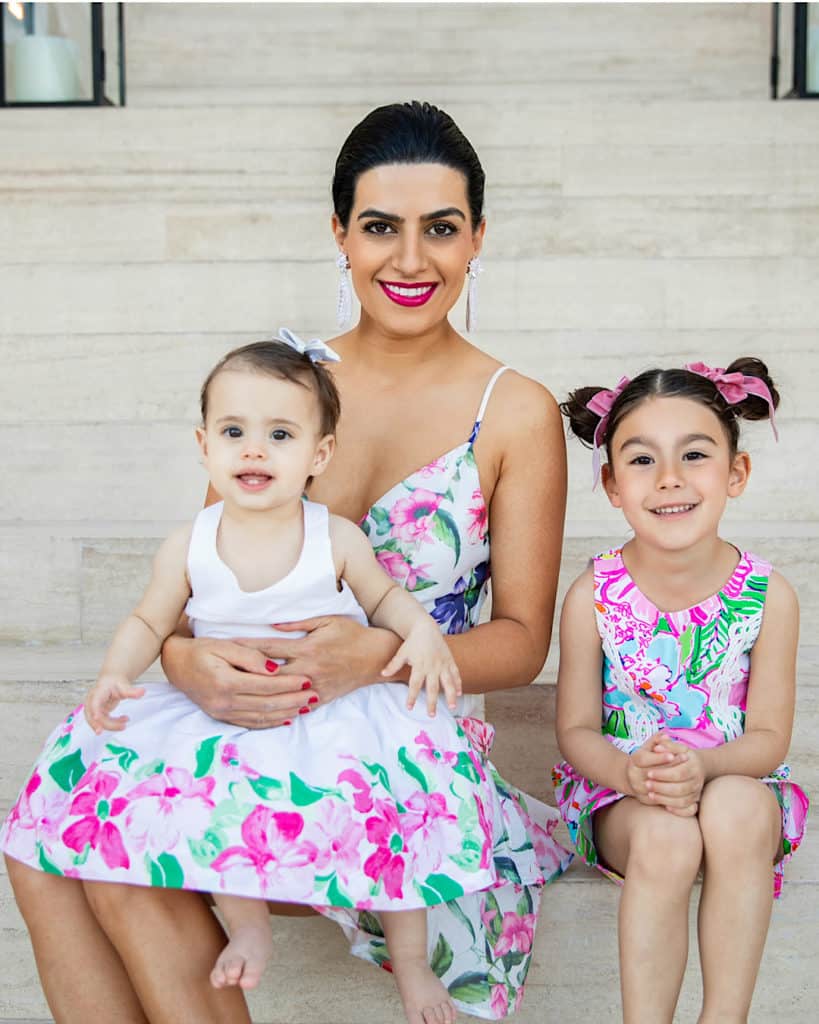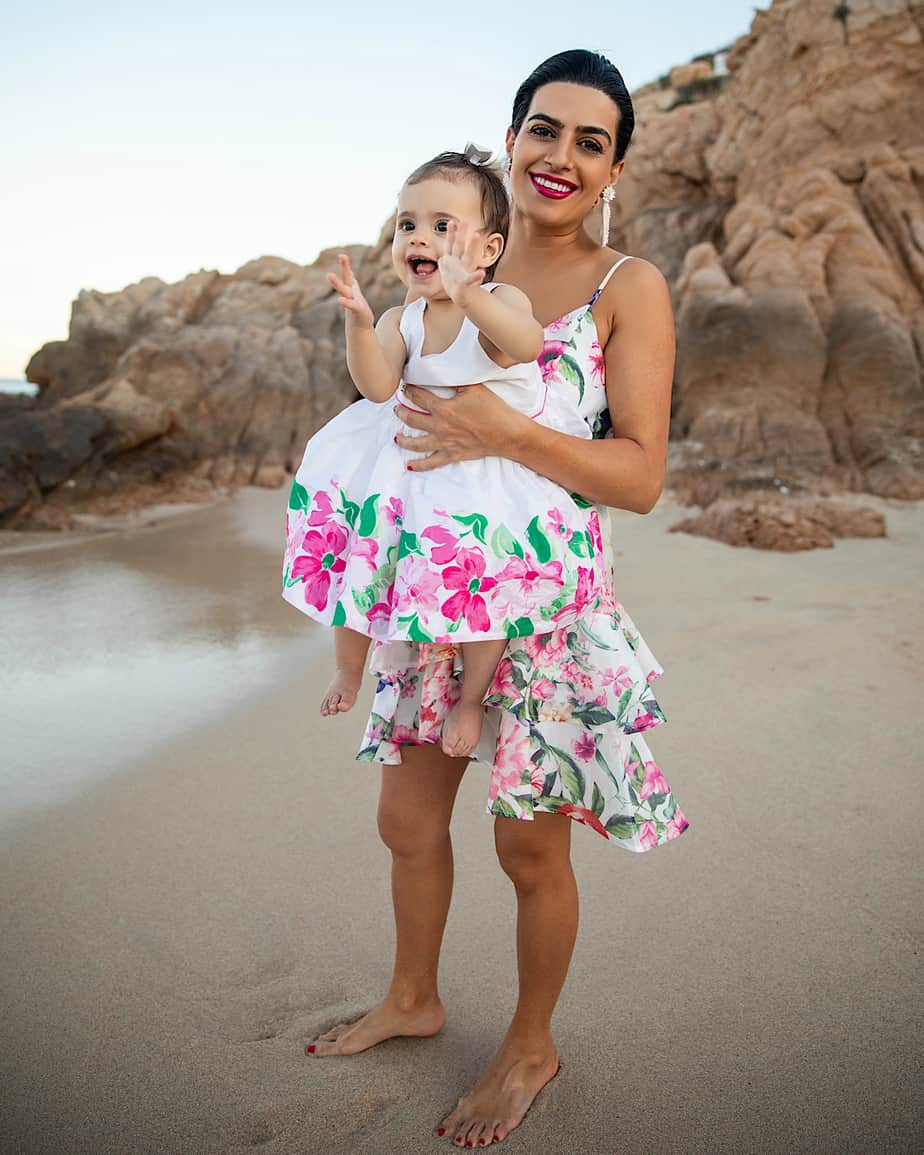 Where We Stayed in Cabo
Montage Los Cabos: After so much research on where to stay in Cabo, we decided to stay at the family-friendly, Montage Los Cabos. This property is new as of 2018.
So firstly, the resort is located on the calm coast of Santa Maria Bay. This means they have the calmest waters in the region and therefore, they have one of the best and one of the few swimmable beaches in Cabo. The grounds are immaculate, the service is extraordinary and the food is unbelievably delicious.
Our Experience at Montage Los Cabos
Secondly, the service! The service at this modern, minimalist desert vibe luxury hotel is EXCEPTIONAL!!!! From the moment we walked into the hotel lobby until the minute that we left, I felt like we were treated like a "king and queen"!
Everyone knew our names including our little girls. As soon as we walked into the lobby to check-in we were warmly greeted with a smile and we were served the most beautiful refreshing drinks.
They surprised Valentina (our 4.5 year old daughter) and Alina (our one year old daughter) with the coolest remote-control wagon cart coming out of a corner of the lobby offering several stuffed animals for them to choose!
They brought them several colorful balloons, coloring books, candies and so many more surprises that Valentina was losing her mind from the excitement! Hahaha! We were also introduced to our concierge (Renee) who would attend to our every need throughout our stay.
Since they knew we were staying at their resort for our baby's 1st birthday, they decorated our room for Alina's birthday upon our arrival which was an AMAZING surprise.
There was a colorful printed banner on the wall above her crib and they had monogramed our little girl's first name on their own pillow cases and left a beautiful birthday card in her crib. They had prepared cakes, treats and fruits on the room table.
Thirdly, the attention to detail was out of this world and some of the "extra touches" were small but excellent! For example, they places chocolates each night next to your bed along with fresh bottled water, slippers for each person including the baby.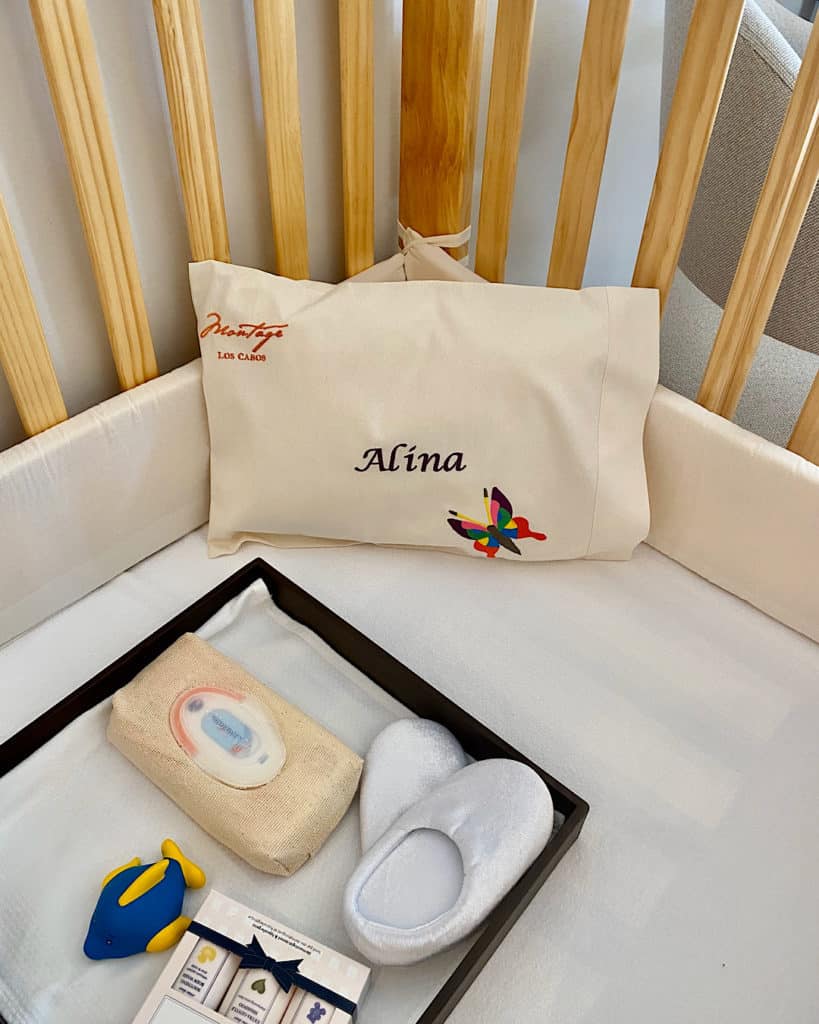 Additionally, every morning and evening they placed fresh fruit in the living room. If you asked for something simple like ice, they would deliver ice to your room several times a day.
They would call our room every morning and asked if we needed help with any reservations at any restaurants, etc… Their phenomenal service made our stay a thousand times more memorable!
Fourthly, the Rooms:
The rooms are absolutely gorgeous! Modern, beautifully decorated and very spacious. Our favorite part of the room was the "out-door shower" which we used every single day!
Soaking into the beautiful warm bathtub at nights, was the best way to end the day. We loved going into our big balcony every morning and looked out at the calm ocean before heading out for breakfast.
Fifth has to to be the Pool. Montage Los Cabos pools are simply beautiful. The swim-up bar made with the most beautiful white and gold marble is the best place to relax, enjoy couple drinks and soak up some sun!
They also had two children pools with children hot tubs and few other adult pools. What I loved the most about their pool was they would ask parents (especially with young children) to only stay in the kid's pool area. That way, the young children were safe and adults had their "quiet" time around the adult's pool.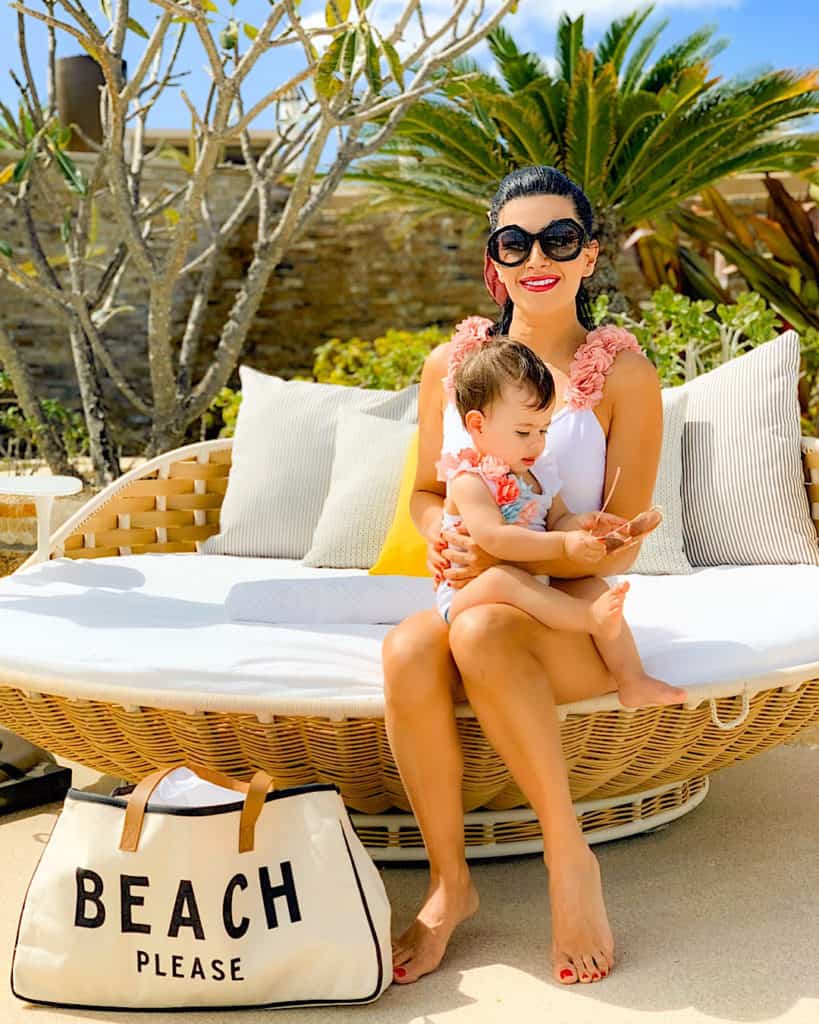 Number six, I can't forget the Spa. Montage Los Cabos also offers a dream spa!!! Adult-only outdoor serenity pool, jetted pool, gorgeous garden lounges, steam rooms and so much more!
Unfortunately, we couldn't experience it since we were traveling with our two little girls. But if you are traveling as an adult, definitely try their spa and adult-only pools! It looked so beautiful, relaxing and peaceful!
Number 7, the Beach: We were told that Montage Los Cabos was built on a hillside spilling down to Santa Maria Beach. This beach is another on a protected small bay where you can swim among gentle waves. There are also some spots by the rocks where you can go snorkeling and see lots of fish.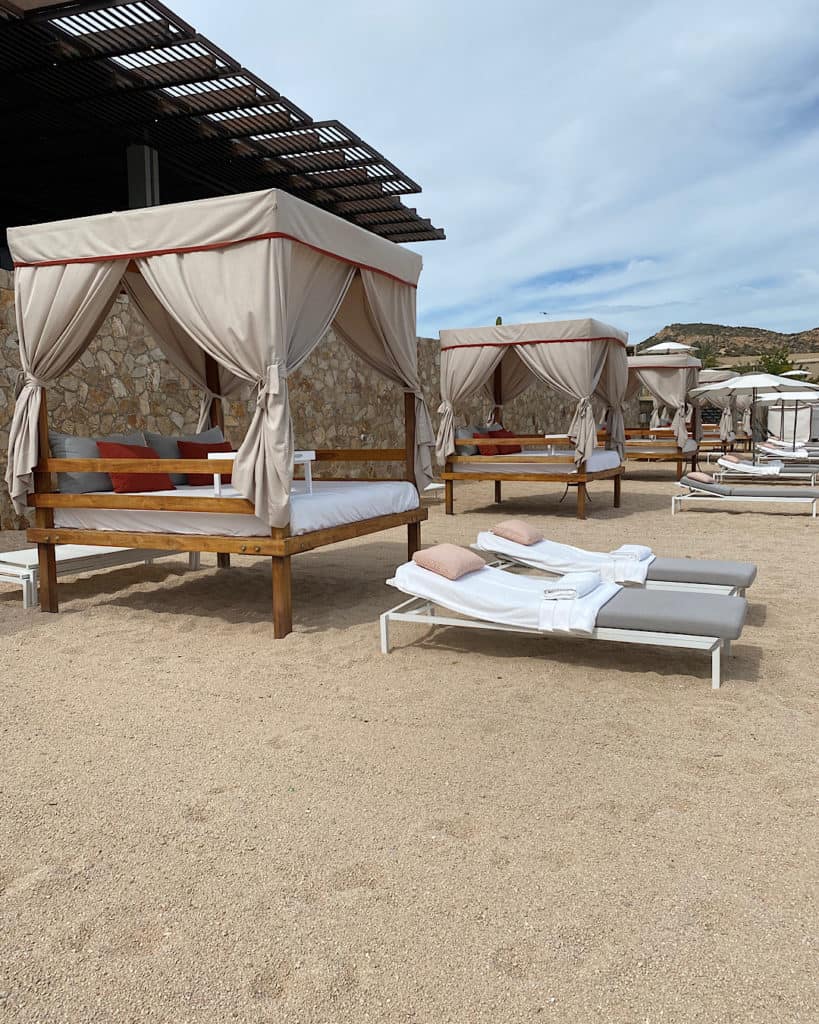 Our favorite time of the beach was the SUNSET time! The colorful sky looked like an incredible art work! Every day we ran and played around the beach, until it got completely dark! Hahaha!
The 8th reason why we love Montage Los Cabos is the Kids Club.
Paintbox Kid's club is a dream for families with young children (age 5-12). They offer full-day or half-day arts and crafts, in-door and out-door activities for your children if you would like to have some time with your spouse/partner at the pool or the beach!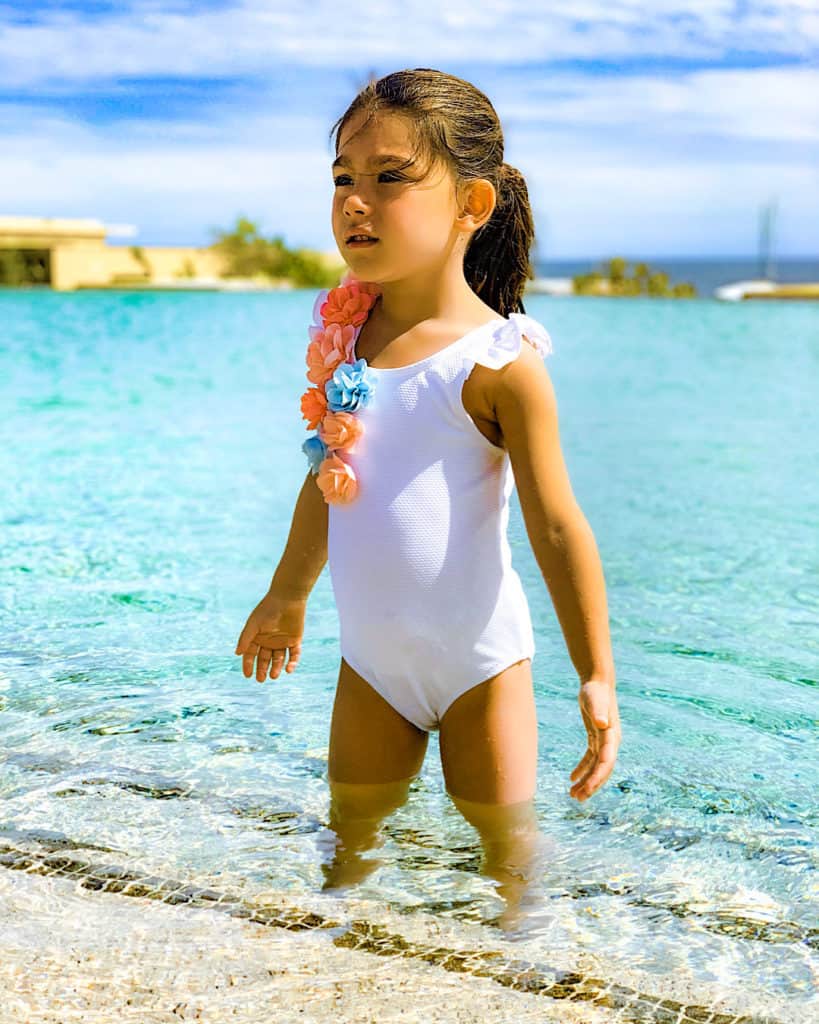 Number 9… Water Sports:
We were informed by the concierge that all the water sports at Montage Los Cabos are complimentary! Which is an AMAZING offering!
They have lots of options like stand-up paddle boarding, surfing, sport fishing, Kayak tours and so much more… Once again, Matt and I didn't get to experience any of the water sports since we had our 1 and 4.5 year old little girls with us! Hahaha!
10. Foods & Drinks: We can't remember ordering anything that we didn't love! The food was SPECTACULAR!!!! They offer both contemporary Mexican food and other incredible international food options.
Breakfast: Every morning we had our breakfast either at Marea Bay or Mezcal restaurant. Our favorite dishes were pancakes with fresh berries, waffles and avocado toast!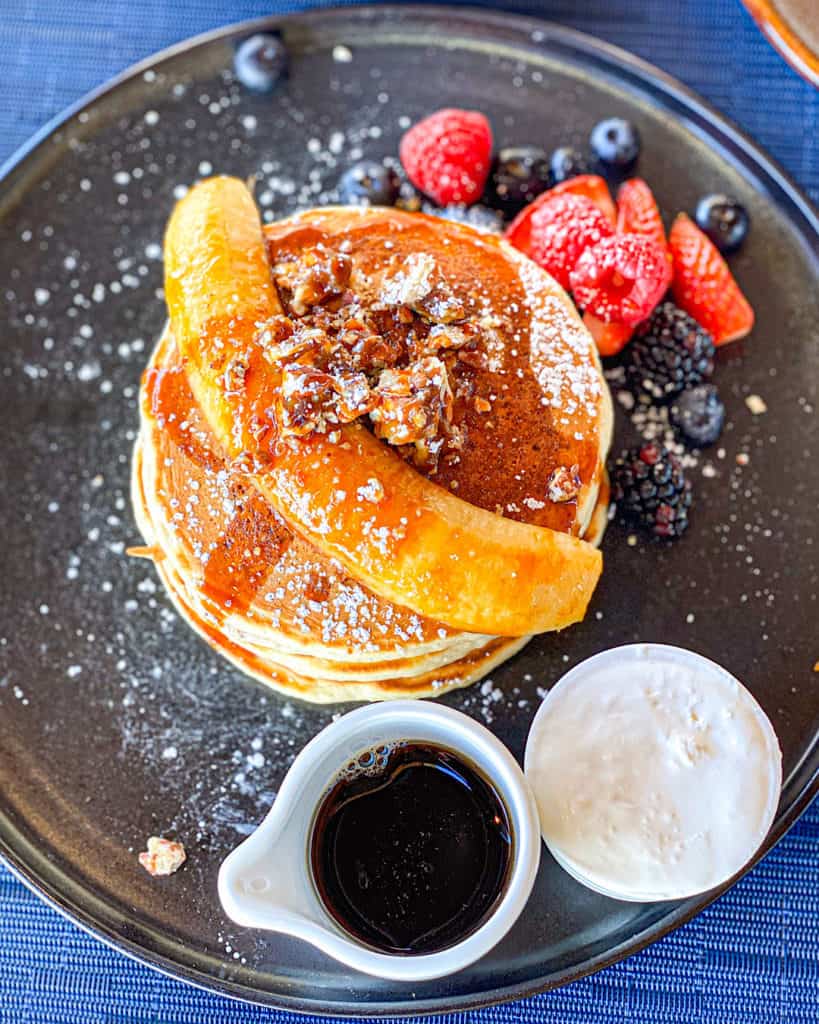 The freshly squeezed orange juice was the top of our list every day! They also offer a great kids menu! The breakfast was so big that we were pretty full until 3 or 4pm in the afternoon!
Lunch: We usually ordered our lunch by the pool… Something light (like salad or ceviche). Their ceviche is to die for!!! The staff is always ready to attend to you but were never overly intrusive.
Every day at 4pm they would come around with an assortment (Pina colada, peach, pineapple, tangerine and more) of delicious popsicles in a cool little cart. They tasted amazing!!!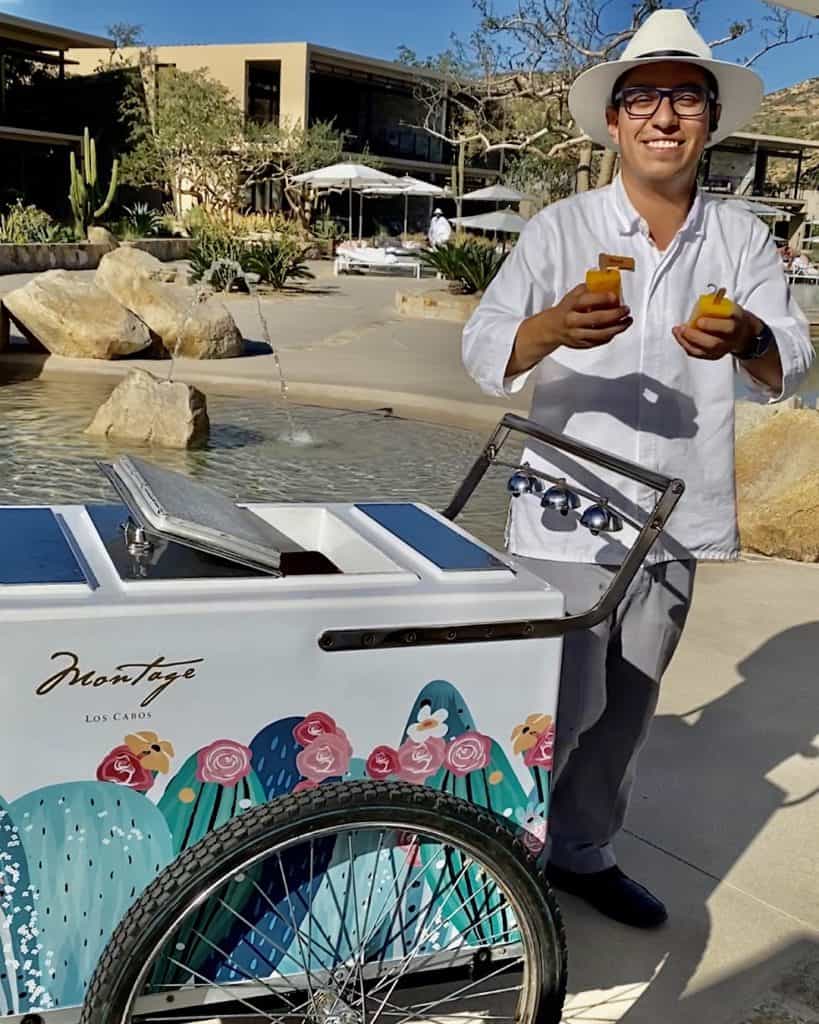 Dinner: Our favorite restaurant to dine for dinner was Mezcal as it had the most beautiful view of the Santa Maria Bay, and it offered the most incredible dinner and wine menu.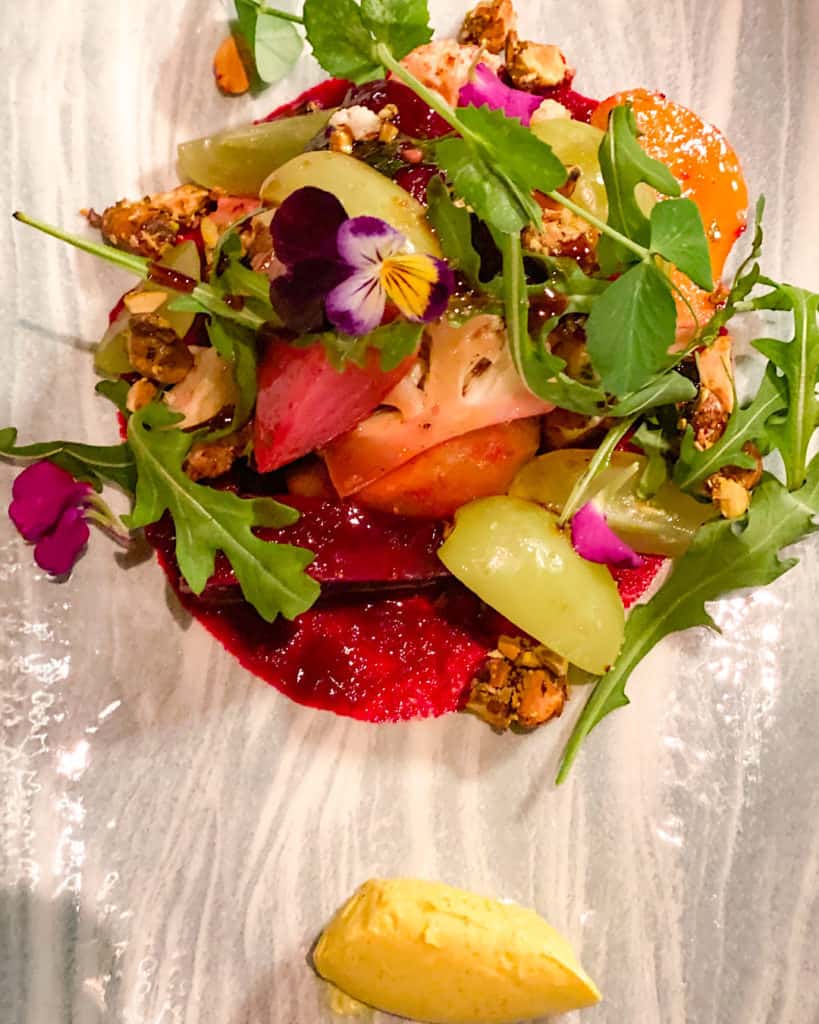 Every night they had different live bands and they played the nicest songs! We didn't want to end our dinner as we truly enjoyed listening to the music while sipping on our wine and enjoining the ocean breeze.
The staff remembered the drinks that we had ordered the night before and asked us if we were interested in the same drink or if we wanted something new. They were willing to modify most menu items to your liking without hesitation. All of their suggestions were excellent and spot on.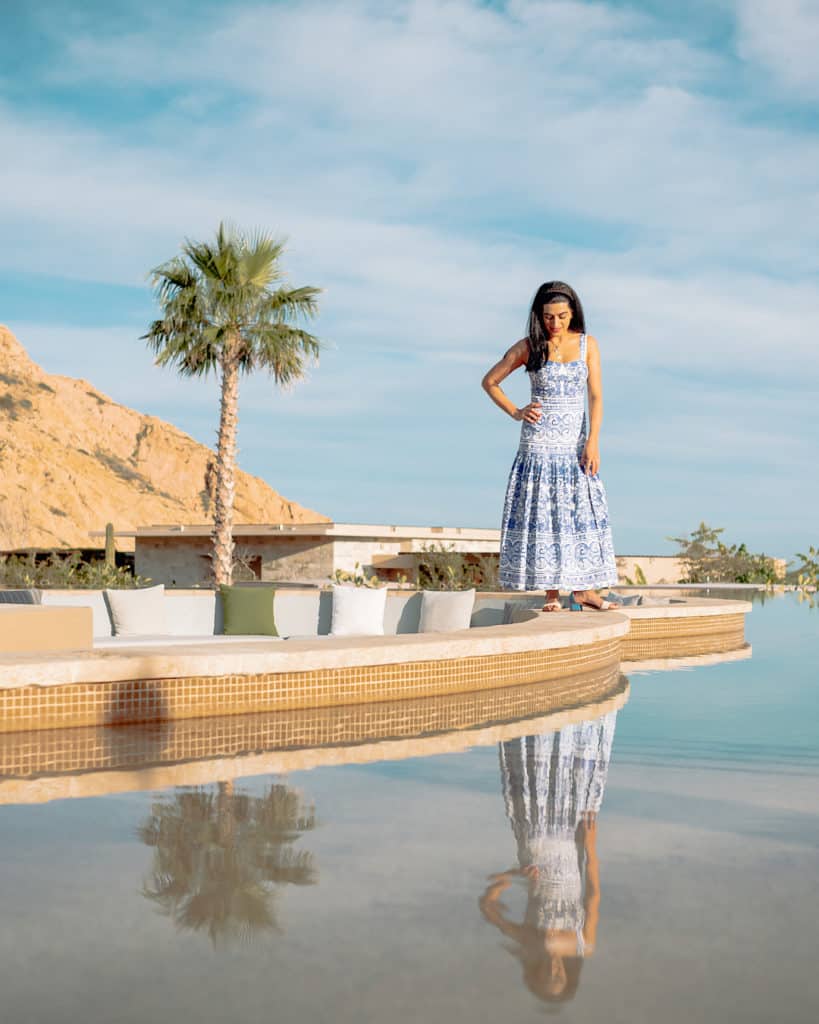 I honestly think Montage Los Cabos has thought of EVERYTHING for EVERYONE!!! It's an incredible resort with so much attention to details!
The only thing I can suggest is, if you are trying to look for a hotel to party, Montage Los Cabos might not be the best fit for you. This breathtaking resort feels like a giant SPA!!!!
It's quiet and is the most perfect place to relax with your spouse, partner, friend or family and NOT that much of a party place!
We had such an amazing time and enjoyed the most incredible foods and drinks. They truly treated us like family and it felt like we were getting pampered by the staff around the clock. I'm dreaming of going back there again.
We had an amazing birthday party and family vacation at Montage Los Cabos. The resort grounds, location, staff, rooms, kid pools and activities, food/drinks and breathtaking beaches and sunsets make this family resort the ultimate vacations spot in all of Cabo San Lucas. It is truly in a class all of its own.
I hope from this post you can get a taste of the fantastic experience we had at Montage Los Cabos. It was a birthday and family vacation that we will never forget. Have fun traveling to Cabo San Lucas, Mexico!
Love,
Sherry, xoxo