Here are the Ten Best Things To Do In Cabo San Lucas Mexico with kids – and without!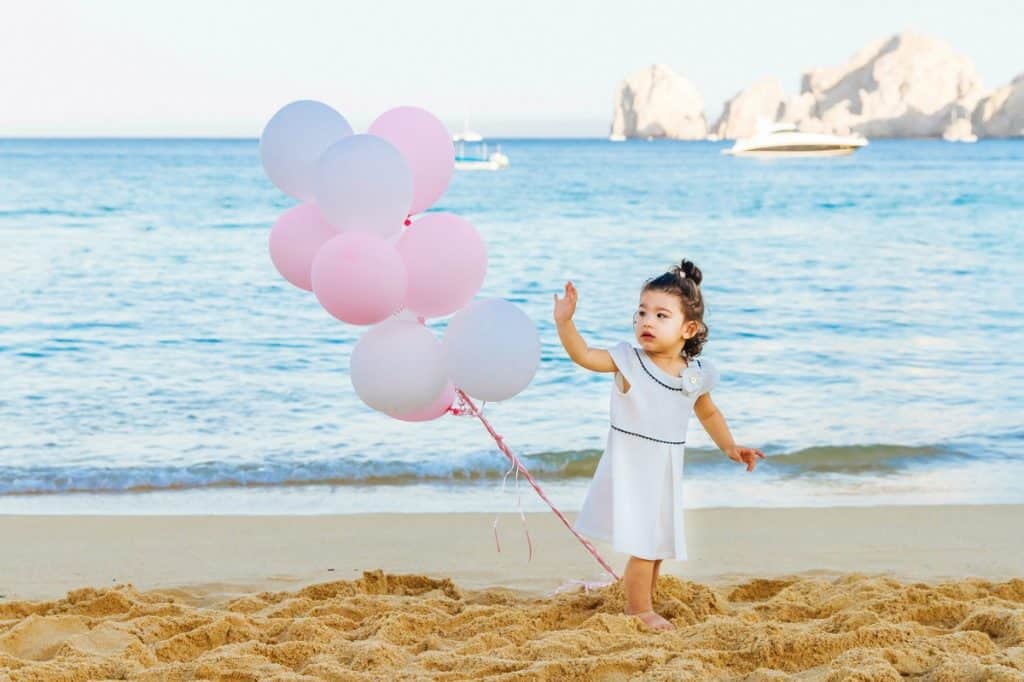 Of all the places in the world Cabo San Lucas, Mexico still gives me butterflies in my stomach. That's where my husband and I got married back in 2010.
Besides how fun our wedding night was, we simply had a blast being surrounded by our amazing family and friends that we loved the most. We truly had so much fun for 10 straight days in Cabo.
After we came back to Arizona I told my husband Matt, I don't want to go back to Cabo again as I wanted to keep those memories the way we left Cabo after our wedding.
Now, here we are 7 years later, deciding where to go for a fun beach trip with our little two year old daughter, Valentina.
Related Article: Travel Guide Playa Mujeres Mexico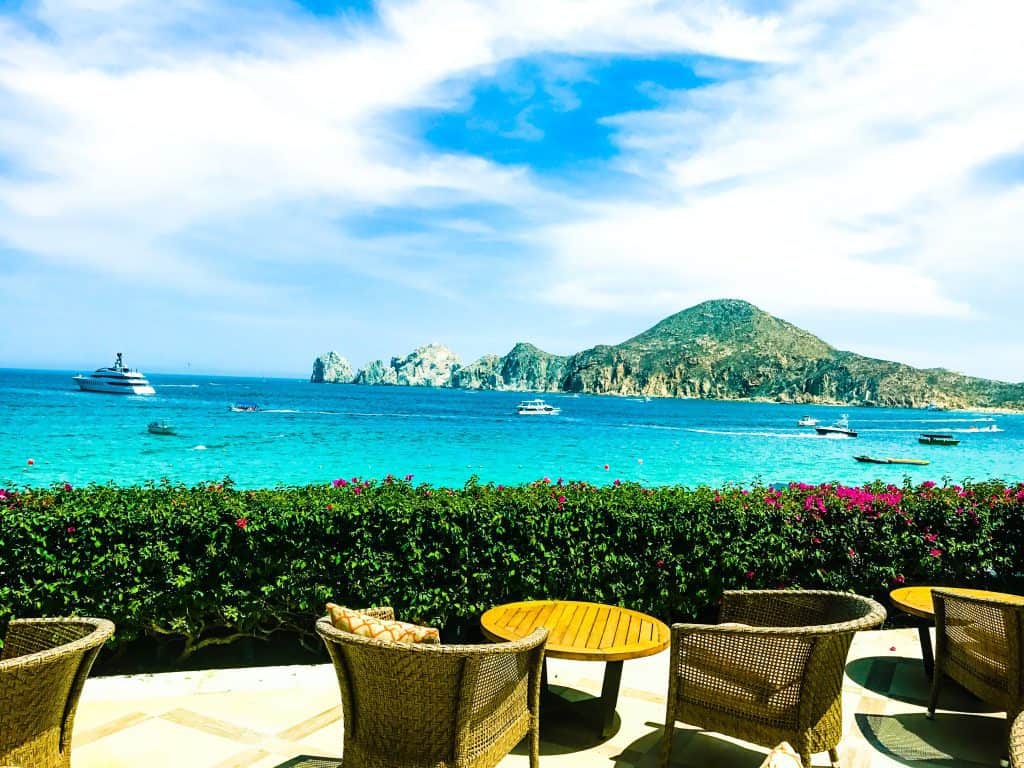 When it comes down to beach trips, as beautiful as California beaches are, we don't love them as much because the water is so cold that you can't swim (at least for us living in Arizona we call California beaches cold ).
Therefore, the first place that came to our mind was the gorgeous Mexican beaches. There are many great choice beaches but we love Cancun, Playa Del Carmen & Cabo San Lucas the most.
Since Cabo is only less than 2 hours flight from Arizona my husband convinced me to go back there since we had our little Valentina with us and didn't want to fly that far with her.
I'm so glad we went! We had an unforgettable time! Off course, it was defiantly nothing like our wedding trip, but Cabo is always a fun beach trip for us!
At our wedding we partied around the clock with our awesome fun friends and visited so many cool lounges, clubs and hookah bars in down town Cabo.
But going with our little two year old Valentina, was different since we couldn't really party like how we did last time but we still had such an amazing time, mostly playing on the beach, lots of fun pool time, great food along with awesome beach drinks:)
When it comes down to where to stay in Cabo San Lucas you might have a bit of a challenge finding a good "Family friendly resort" rather than the many "Adults Only" resorts especially compared to Cancun.
I consider, in my opinion, Cabo as more of a party destination and spring break spot where Cancun offers that plus several more family friendly resorts.
If you don't have kids or you are traveling "adults only" there are tons of great options in Cabo! However, if you are traveling with kids/family, your choices are much more limited in Cabo.
These are the top 10 best things we love to do when we visit Cabo:
1- Beach: Cabo beaches can be divided into "swimmable and non-swimmable". Depending on where your hotel is located it may or may not be safe to get into the ocean/sea. Luckily our resort was located on Medano beach which is the located in the swimmable zone.
We absolutely enjoyed every second of it! Lots of music (awesome Spanish live bands), great drinks (my favorites were mango martinis, Pina Colada, Mango Mojito, Tequila Sunrise). Snacking on yummy chips and guacamole is a must all day long while soaking up some sun!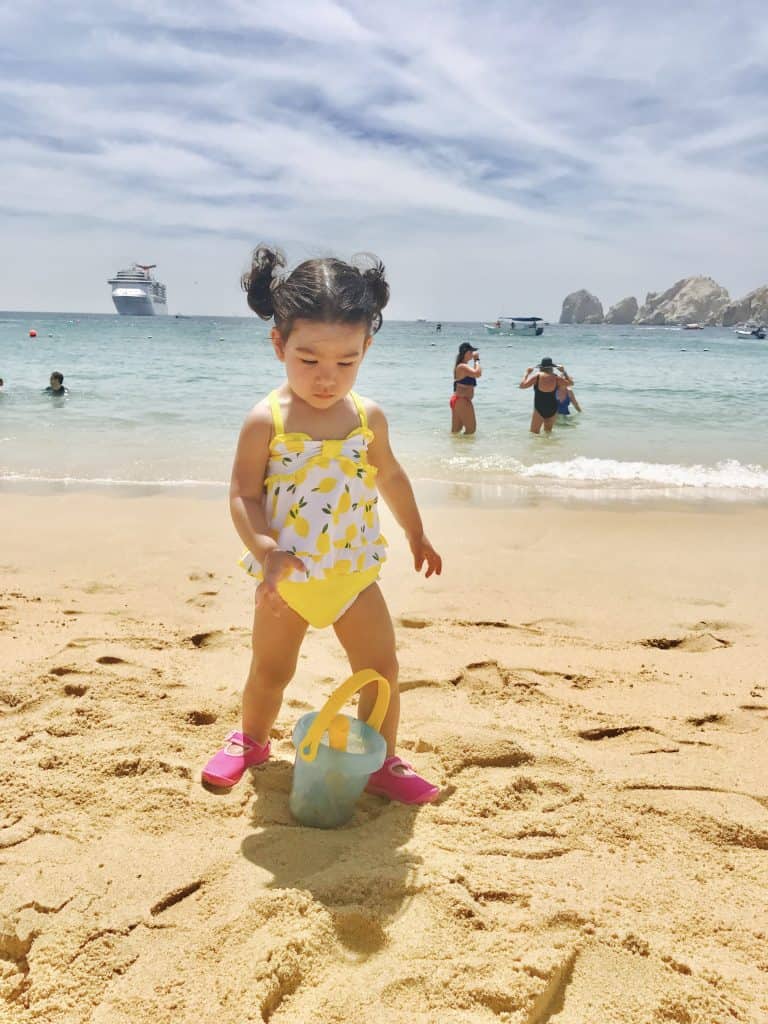 2- Getting your hair braided: One of my favorite things to do on the beach! They offer this service at the resort's spa, however, I love to sit on the warm sand while sipping my tropical drink and getting my hair braided!
3- Dinner cruises: This dinner cruise by far was one of the most fun dinner cruises we have ever done! The one our resort recommended was called "Caborey Gourmet Dinner Cruise". It departed from the Cabo Marina and lasted about two and half hours. The music was fantastic and the food and drinks were good! They offered mostly nice Spanish dishes and we loved most of them! They call it "gourmet dinner", but don't expect a 5 star really fancy dinner! It's only a two and half hour cruise and their biggest focus was on entertainment and dance! We had a fantastic time!
4- Visit El Arco Arch: One of the most iconic views (from both land and sea) and an absolutely breathtaking landmark of Cabo! You need to visit El Arco before leaving Cabo and cross that off of your bucket list!
5- Playa del Amor (Lover's Beach & Divorce Beach): Unfortunately, since the waves were pretty strong this time, they closed the lovers beach for the entire week! So we missed out on visiting our favorite beaches!
Lover's Beach, is one of Cabo's most famous stretches of shoreline. It sits south of Cabo's downtown area, but it's pretty easy to access by water taxi, party boats or fun, cool yachts from your resort or Marina.
6- Down Town Cabo: This beautiful little beachy downtown has so many cute souvenir shops, awesome beach bars and tons of great sea foods restaurants where they get daily fresh sea food straight from the ocean!
7- Restaurants & Bar hopping: If you are tired of eating every day all day at your resort and would like a little change, then try some fun restaurants in downtown Cabo and Marina area. Some good choices are:
Cabo Wabo: The food is Ok but it's a must see if you like margaritas and live music.
The Office: Awesome lunch spot and good food for being a beach restaurant where you can have your feet in the sand while you eat and enjoy fun live music.
Monkey Business Bar: (It now called Monkey Cave Bar), It's a funky little outdoor bar with absolutely the best margaritas in Cabo! Don't forget to order their Mojitos which they are as good as their margaritas!
Mango Deck beach club: Fun Spring break spot and beach party scene with average food! Their live music and drinks are both fantastic and that's why it makes it a fun lunch place if you go with a big group of friends.
8- Jet Skiing & Jet Packing: The most popular jet skiing site is around Medano Beach. No matter if it's only you and your hubby traveling together or you are traveling with a big group of friends! Jet skiing is a must!!
9- Sailing & Snorkeling: There are many wonderful sailing tours followed by an hour or so snorkeling in Cabo. Unfortunately, snorkeling is not one of my favorite things to do but my husband absolutely loves it! There are many wonderful sailing tours in Cabo and one the most famous one called Cabo Sailing Ocean Adventures. We'll definitely try this beautiful sunset sailing boat next time!
10- Hiking Mt. Solmar: Every time we go to Cabo Matt and I talk about hiking on Mt. Solmar but have never done it since we end up spending all our time on the beach. But we have heard from the locals that this hike is totally worth the time. It's a pretty short hike and the views on top are well worth the climb!