Disclosure: My family and I were invited as guests by the Hyatt Regency Scottsdale Resort & Spa at Gainey Ranch. As always, all opinions are my own.
I have been living in Scottsdale, Arizona since 2002 (19 years)!!!! And I cannot even believe it as I am writing this number! LOL! Time flies! Since I have lived in Scottsdale for so long, I have visited many beautiful hotels, resorts, restaurants, bars, lounges and so much more! There are several lovely resorts in Scottsdale and Phoenix to stay and relax.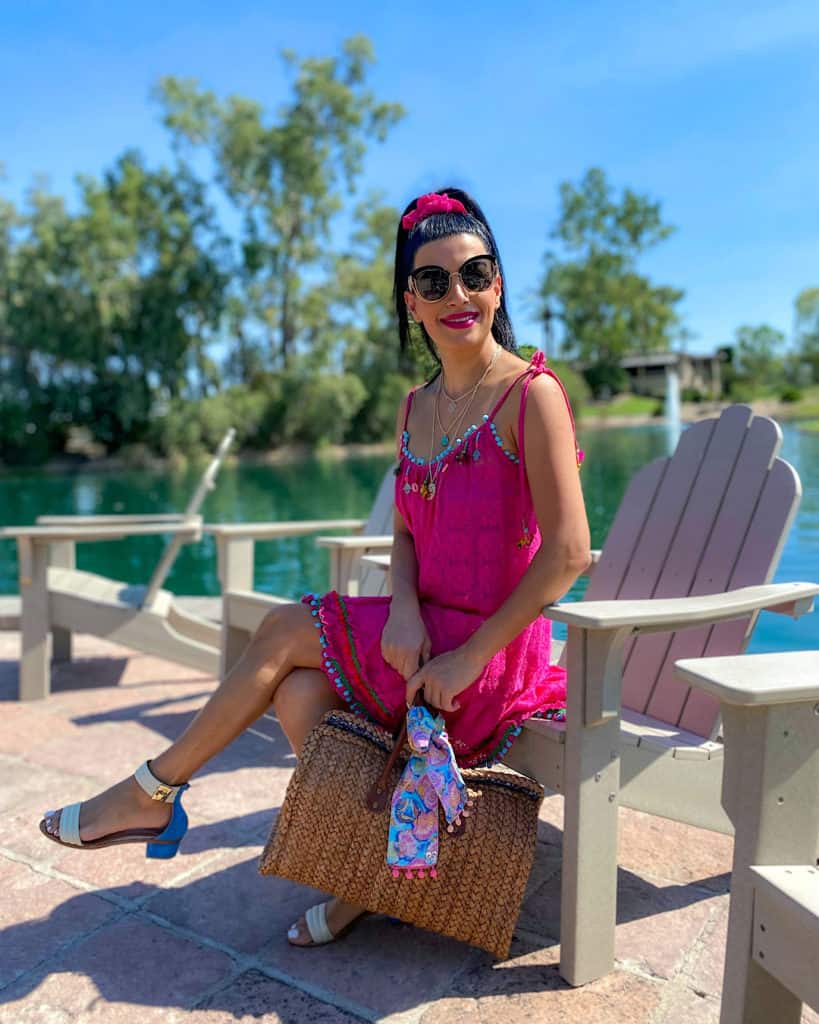 Now that we are vaccinated and feel more comfortable getting out and "explore" again, we decided to experience more of the Scottsdale and Phoenix beautiful resorts and spas for some fun "family summer staycations".
Hyatt Regency Scottsdale Resort & Spa at Gainey Ranch
Oasis In the Middle of Arizona Desert
I remember Matt and I went to this lovely resort on our second date for a beautiful and romantic dinner! It was in early March, and we sat on the Patio! Since it was the beginning of the Spring season in Arizona, I remember a cool crispy breeze at nighttime and the weather was simply incredible!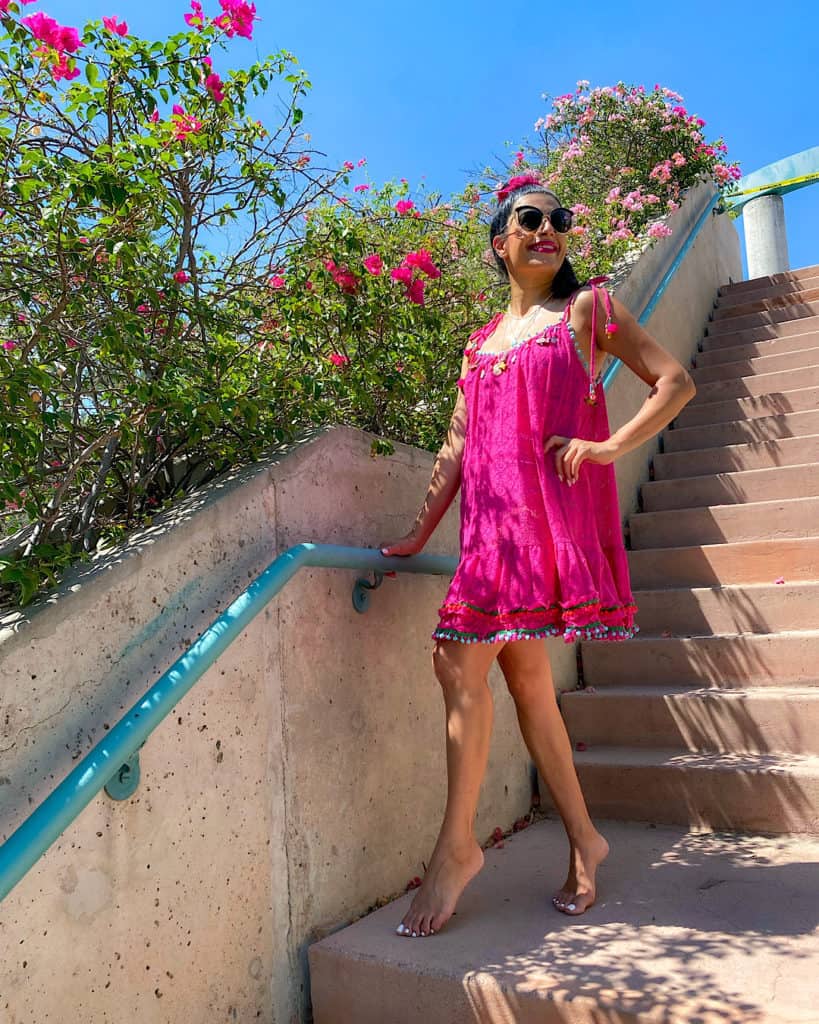 We had an amazing dinner with some great wine and desserts on the patio viewing the tallest and the most beautiful palm trees while a great live band played the coolest songs! 14 years later, Matt and I have dined at this gorgeous resort several times and took our little girls for staycations! The Hyatt Regency Scottsdale Arizona is becoming one of our favorite places to stay in this city!
This summer we decided to start our fun summer staycation plan with Hyatt Regency Scottsdale Arizona because we knew Valentina and Alina were going to have a blast with their waterpark and the fun sandy beach, water slides, and pools!
A quick little reminder: You do not have to have a family to enjoy this beautiful resort! There are so many wonderful things to do for "couples" or a "friends' getaway" at this resort!
Here are 9 reasons that I think going on a family vacation or staycation at Hyatt Regency Scottsdale Arizona is a good idea!
1- Over 2.5-Acre Water Playground at Hyatt Regency Scottsdale Arizona
One of the biggest highlights of our stay at Hyatt Regency Scottsdale was their fun sandy beach for kids and adults, the loveliest pools surrounded by manicured Bougainvillea and other gorgeous flowers, picture-perfect waterfalls, the coolest waterslides, water basketball, and volleyball areas and so much more!!!
Valentina and Alina would wake up at 6 am every morning from the excitement of getting ready to go to the pool, kid's beach area, and the waterslides! We did not blame them! The water playground was simply AWESOME!!!!
What I loved the most about the sandy beach part was there were several comfy beach chairs inside the shallow part of the beach… We sat on the chairs and enjoyed sipping on our drinks while Valentina and Alina were playing in the pool and the beach!
It kept us cool, and it was so relaxing! The staff at the pool area were so kind, friendly, and always on top of bringing us food and drinks!
There were several couples and groups of friends sitting on those chairs, drinking, and cheered for the weekend! It is a really FUN getaway spot for couples, family, and friends! I totally recommend trying the pool area if you are planning to stay at Gainey Ranch resort!
2- Luxurious Indoor-Outdoor Oasis at Spa Avania
At Hyatt Regency Scottsdale Arizona
Ok…I have been to several spas in Scottsdale and Phoenix throughout the years, however, there are a handful of spas that I dream of going back to over and over again! Avania Spa at Hyatt Regency Scottsdale is one of them!
First of all, the staff is EXTREMELY kind and loving and so professional! Everyone treats you so kindly from the moment you walk in that you feel like you are home!!
As you walk down the stairs toward the pool, the relaxing soft music gives you all the peace you need for the week!!! Hahaha! They offered us lovely mimosas while enjoying the spa…
The pool and jacuzzi are surrounded by the tallest and most breathtaking palm trees! You can relax at the pool all day or while waiting for your message or any other spa services!
Unfortunately, Matt and I did not book the couple massage this time since we had limited time to spend at the spa! However, we have tried their couple massage (hot stone massage) in the past, and it is INCREDIBLE!!!
You MUST try if you are planning to go with your partner to relax! They offer different types of massages, facial and body therapies. I wish I could try them all!! LOL!
Here are some of my top treatment choices at Avania Spa:
Hot Stone Massage
Swedish Massage
Spa Reflexology
15 Minutes Scalp Massage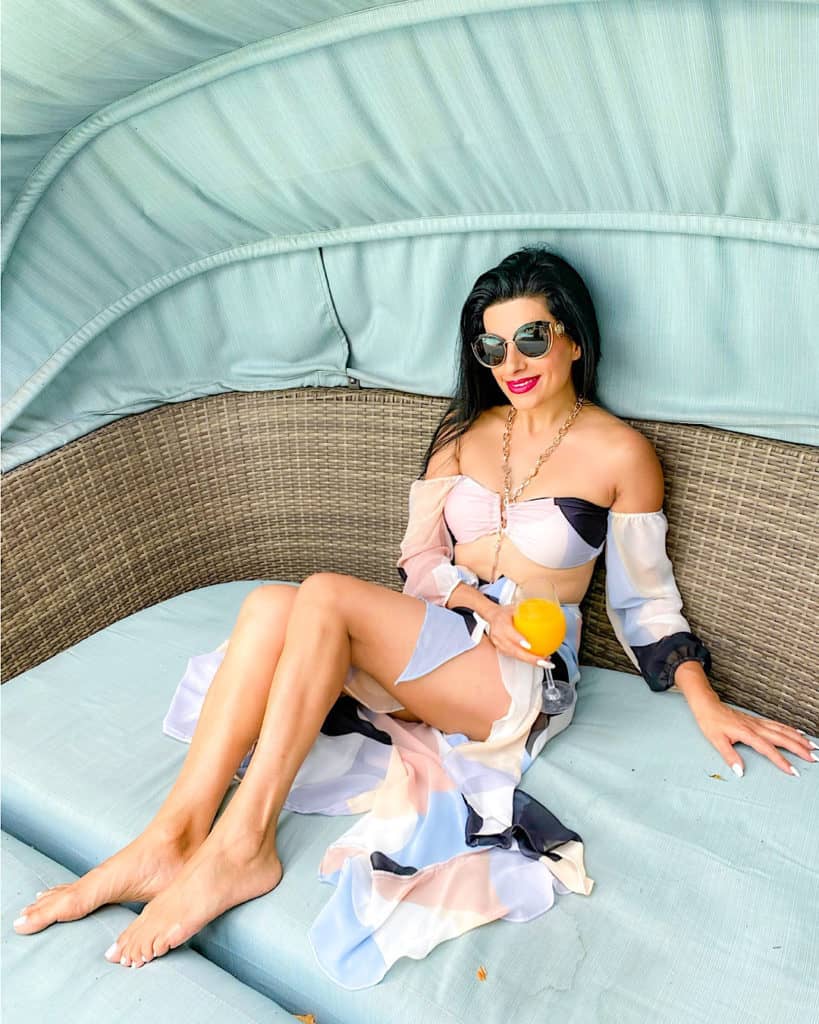 15 Minutes Foot Ritual
C + C Vitamin Facial
Collagen Mask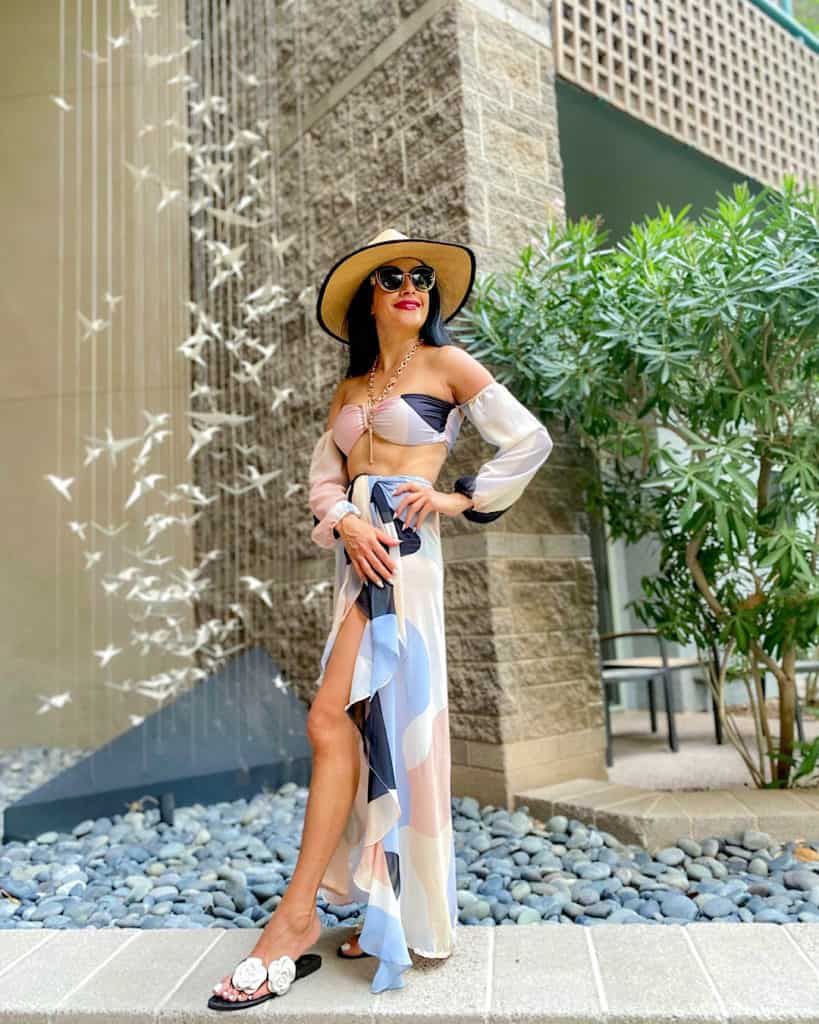 We admired the spa for following the Covid-19 safety guidelines. As soon as we walked in, they wanted to make sure everyone has the mask on while walking toward the pool, salon, or massage rooms.
3- Gainey Ranch Golf Club @ Hyatt Regency Scottsdale Arizona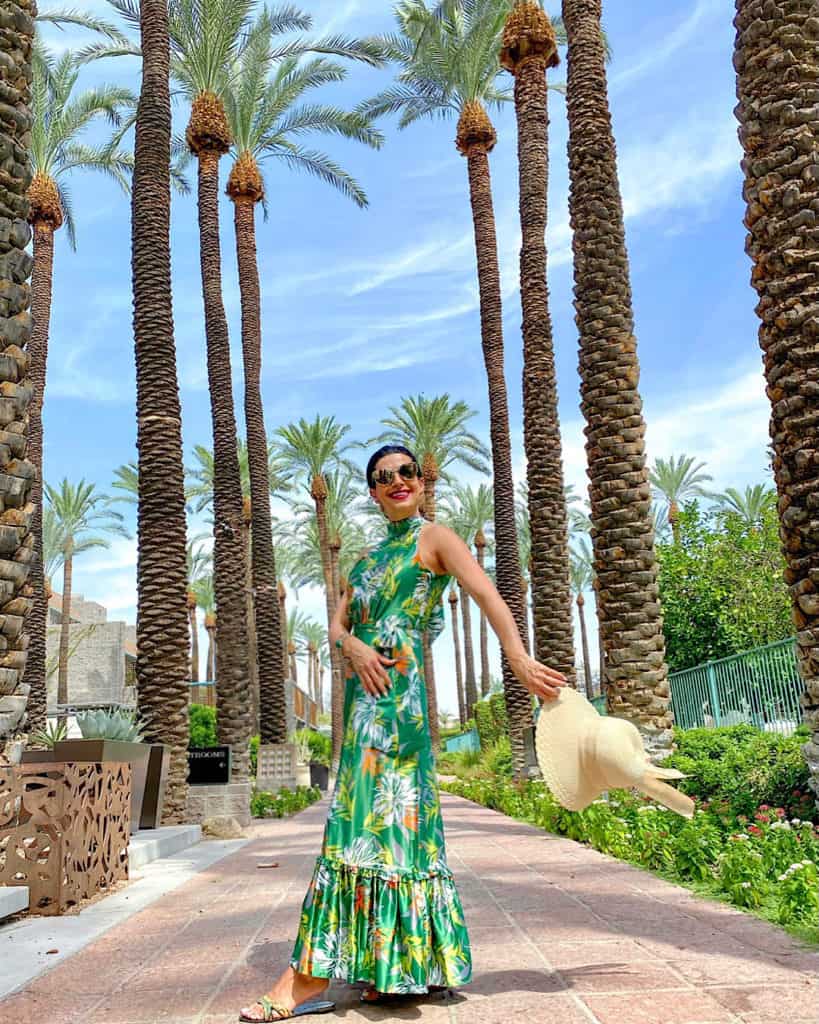 We did not experience playing golf at their golf course! However, if you are a golfer and staying at Hyatt Scottsdale, do not miss out on playing golf at this lovely resort!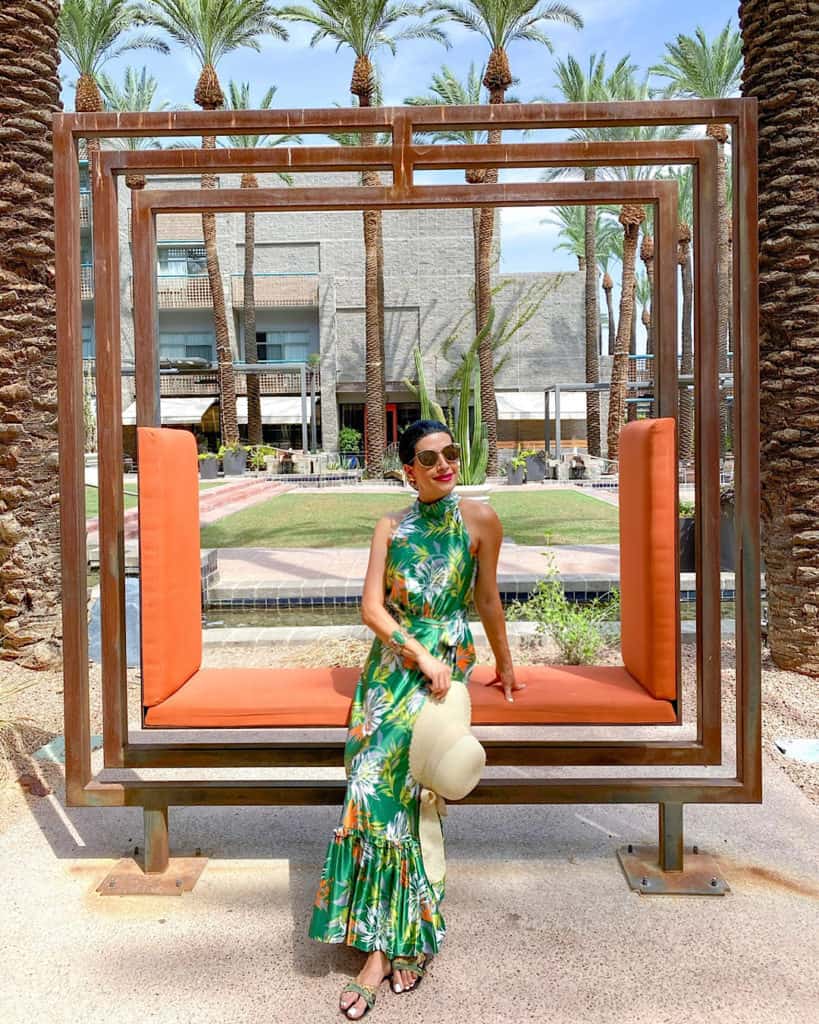 The Gainey Ranch Golf Club is exclusively available only to private club members, AND the guest of Hyatt Regency Scottsdale Resort and Spa! The lakes surrounded by these golf courses and the water features are simply breathtaking!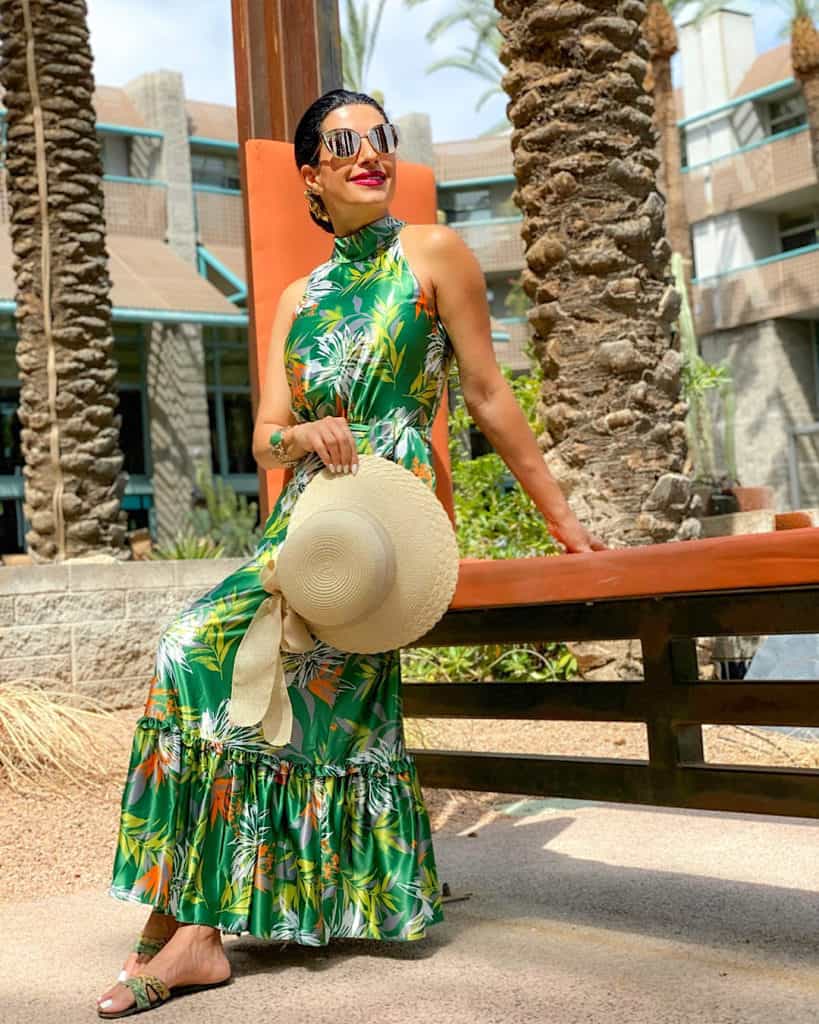 4- Live Music & Entertainment
Our morning fun was all about swimming and splashing water in the pool, our evening fun was all about enjoying the live music at the Center Stage Bar! Valentina and Alina LOVED all the songs as much as we did! LOL!
They danced so much on the stage and "invited" some other people to join them to dance! Hahaha! We were so happy to watch them having so much fun! The band plays "Tuesday-Saturday" from 6:00 pm to 9:30 pm.
5- Dining & Delicious Foods + Drinks – so much choice at the Hyatt Regency Scottsdale Arizona!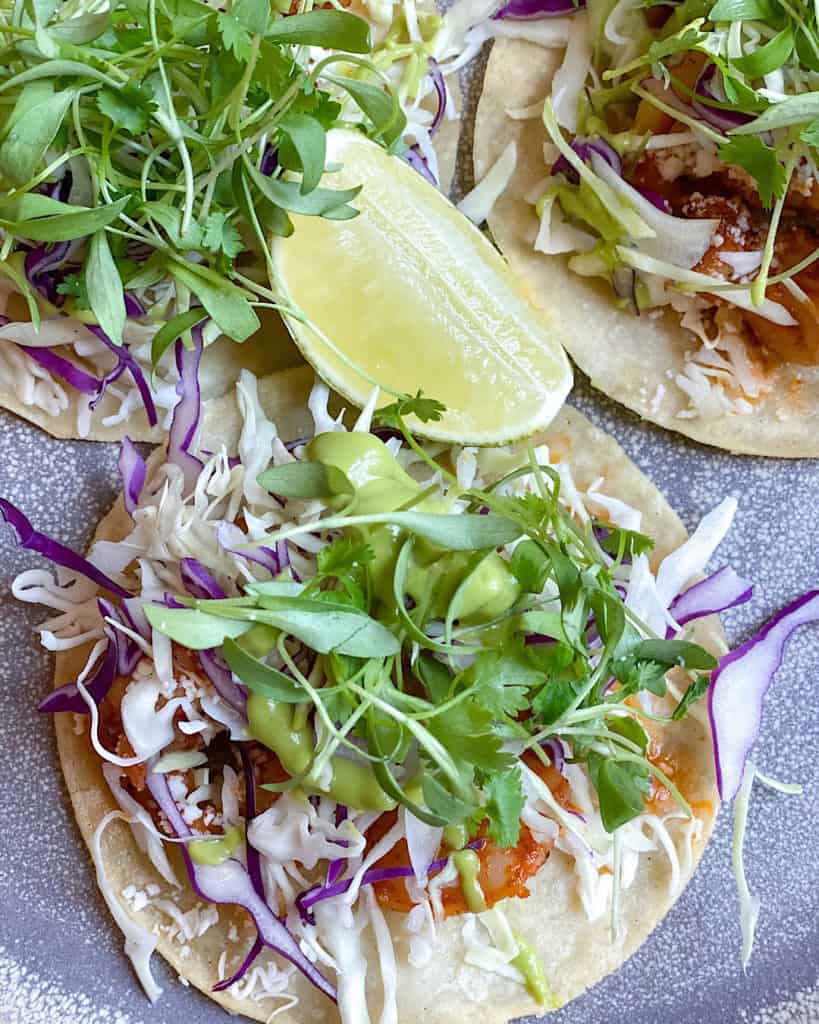 As I mentioned above, Matt and I have dined at Hyatt Gainey Ranch restaurants several times throughout the years! Sometimes we love to just go to this resort on Friday or Saturday nights to dine, have a glass of wine and enjoy the live music after dinner! You do not need to stay at the resort to enjoy their restaurants!
SWB, A Southwest Bistro
Alto ristorante e bar
Center Stage Bar
Noh
H2Oasis
Canyon Market
SWB: A Southwest Bistro
SWB is open from morning (for breakfast) until nighttime (for dinner). Their patio is absolutely amazing and it has the most beautiful views of the big yard/garden and the palm trees! Did I mention "palm trees" again?!! LOL!! This resort is surrounded by the most beautiful palm trees, and you see them on every corner you turn! I just love the beauty of this resort and its palm trees!
My favorite dishes at SWB were "Blackened Salmon" for dinner and "Guacamole Toast" for breakfast! The Blackened Salmon was SO flavorful! Matt loved his "Campbell River Salmon" for dinner and "SWB Omelet" for breakfast. We also loved our appetizers!
Their food presentations are lovely, and we loved most of the dishes that we ordered! Of course, we did not try everything on the menu (hahaha)!!! We had lunch at the different restaurants by the pool every day!
Alto Ristorante e Bar- Italian
If you like Italian foods, you will enjoy Alto! We started with some wine and appetizers "Spanish Octopus" and "Antipasti". I ordered "Tagliatelle Alla Bolognese" and Matt ordered "Cioppino". We loved our choices; however, we were both a little full after having our appetizers. Therefore, we could not finish our food! Valentina and Alina requested some ice cream for dessert (LOL), so we ordered the "Sweet Republic Ice Cream". The ice cream was gone within the first two minutes! Hahaha! It was SOOO good! They are open Thursday- Saturday.
Center Stage Bar
Since we had Valentina and Alina with us, we could not sit by the bar and order some foods/drinks from Center Stage Bar. However, Matt and I have ordered some drinks and appetizers at this lovely bar while enjoying the live band playing by the bar! They offer great cheese bread and flatbread, chopped salads, salsa and guacamole, and some other great appetizers!
We love how the Center Stage Bar is indoor-outdoor and there is a beautiful fireplace outside! When the temperature drops, we love to sit by the fireplace and enjoy some cocktails and desserts! They are open Tuesday-Saturday.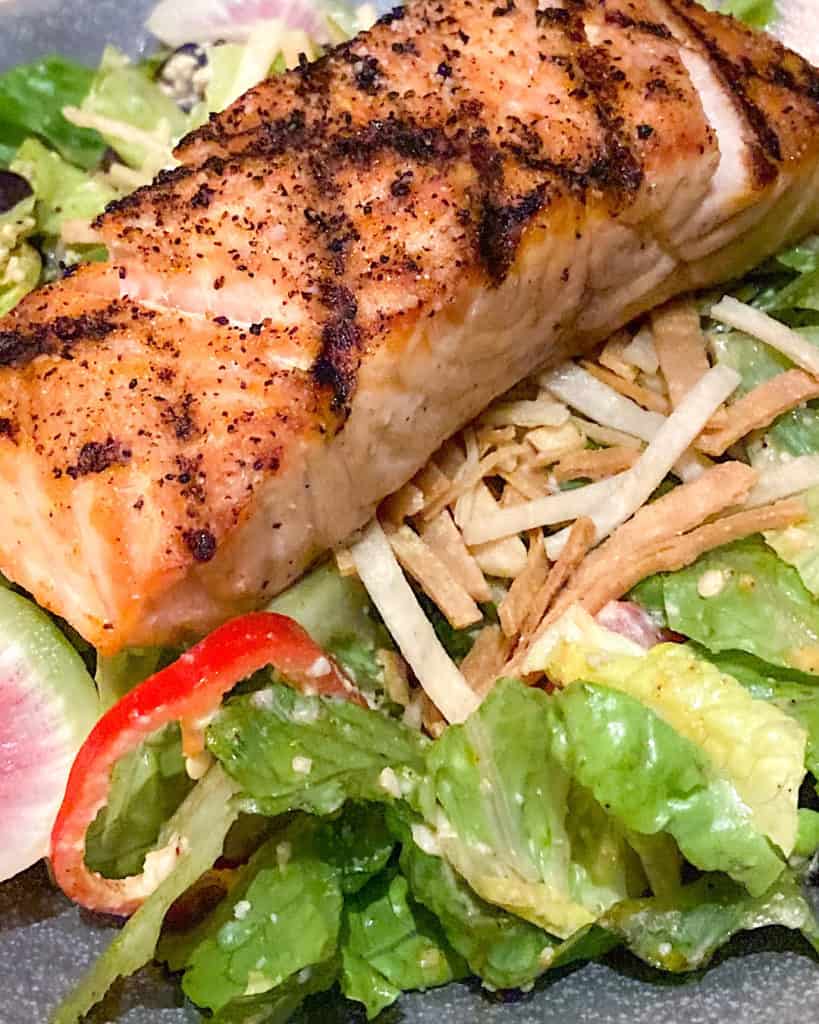 H2Oasis
This is a fun poolside restaurant. They offer Chips and Salsa, Roasted Garlic Hummus, Fruit plates, Nachos and so much more! Our favorite poolside foods were the "Shrimp Ceviche Stuffed Avocado" and "Shrimp Tacos". Valentina and Alina loved their "Chicken Tenders". They also offer lots of different frozen drinks, cocktails, wine, and beer! Although the pool area is huge, their staff worked pretty fast, and they were very friendly!
Noh
This is Japanese cuisine and offers great sushi, sashimi, and other great Japanese dishes! We did not dine at Noh this time, but we were thinking to plan a dinner/date night there soon when we do not have our little girls with us! They are open Wednesday- Friday.
Canyon Market
This is a cute little "lifestyle market" serving Starbucks coffees, cookies, freshly-baked muffins, different juices, water, etc.…We got a delicious ice coffee in the morning from the Canyon Market before heading to the spa.
6- Gondola Romantic Boat Ride
We were planning on booking the Gondola boat ride after having dinner at Alto, the Italian restaurant. Unfortunately, we were so sad to hear that after Covid, they stop this lovely boat ride at their resort! They said they are not planning on stopping the Gondola boat ride altogether. However, for now, they need to put a "pause" on the boat operation. We hope that Hyatt Regency Scottsdale Gondola ride will start its operation in the near future, as this is another wonderful reason to visit and stay at this lovely resort.
7- Outdoor Kids Playground and Rock-climbing Wall
The outdoor playground, the rock-climbing wall, and kids mini-golf course are all located by the white sand beach and the kid's pool. It's called "Fun Zone". I could not move Valentina and Alina out of the "fun zone" (LOL)!! While they were mostly playing at the beach and the pool, Alina truly enjoyed the little kids' playground. This area is SOOO fun for kids!
8- Location
This resort is located in Central Scottsdale! If you are visiting Scottsdale as a tourist, you will love the location of this resort! As you may know, you certainly need a car to get around while visiting Scottsdale or Phoenix. However, if you stay at Hyatt Gainey Ranch in Scottsdale, you can simply get an Uber or Lyft to downtown Scottsdale shops, restaurants, and bars. The Hyatt Regency is only 5 miles away from downtown Scottsdale.
This resort is also not that far from other lovely outdoor shopping and dining areas in Scottsdale such as "Kierland Commons", and "Scottsdale Quarter". It is about 11 miles distance to these shopping and dining areas. You can easily travel there by a quick Uber ride! If you want to visit other parts of Phoenix or travel to Sedona, you need to consider renting a car!
9- Most Picture-Perfect Grounds
If you are anything like me and enjoy capturing beautiful moments and memories in life, this resort is for you!!! Hahaha! The big and lush grounds, the palm trees, the manicured plants and flowers, the beautiful waterfalls covered by giant Bougainvillea, the lovely pools and so much more…. the Hyatt Regency Scottsdale Arizona, has it all!
There are several luxury resorts in Scottsdale and Phoenix! However, there are only a few resorts that make you feel so unbelievably pampered and refreshed. If you have stayed at the Hyatt Regency Scottsdale resort and spa, please share your experience with me here in the comment section! I would love to hear what your favorite things were to do at this resort and which restaurant you enjoyed the most to dine in!
Have a safe and happy summer travels!
Love,
Sherry, xoxo
PS With fall just around the corner, check out one of my favorite fall family activities around Scottsdale – pumpkin picking!