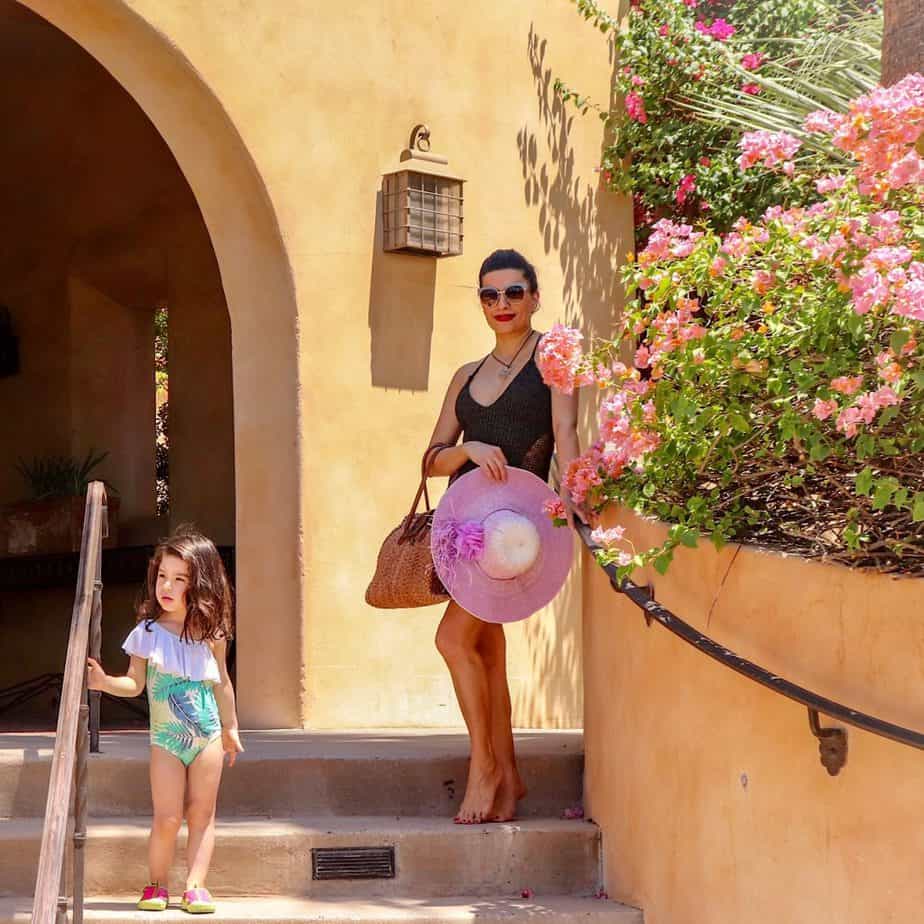 Family Holiday or Staycation?
Hello everyone! Every year we try to "escape" Arizona summer heat by doing few staycations at different resorts in Scottsdale, Phoenix or Sedona. Arizona is warm year-round, but it's brutally hot in summer. So you have to try to get out of town as much as you can, or when you are in town, you have to plan different things to escape the heat! When I talk about "escaping the heat", I don't mean the temperature is cooler at the resorts, hahaha! But somehow you won't feel the heat as bad when you spend the day by the resort's pool or the poolside bars! Your pool at home does not feel the same! Maybe it's a combination of great music, food, drinks and tons of people around that makes you have so much fun that you won't feel the heat as much!
We have already been to several resorts in town for the past few years, but there are still a few more on our list. So this year, we decided to go to the "Royal Palms Resort and Spa" for a family holiday. We used to only go to dinner at their beautiful restaurant (T. Cook). But we heard so many great things about this resort and off course it always looked absolutely gorgeous! So we decided to book a weekend there! Since we had Valentina with us, we decided to book a bigger room which included a living room.
When we first checked into the room, we loved the good sized room and living room, but if I'm being honest, we thought the room looked a little "outdated" for a 5-Star resort. One thing to remember is this resort is very historical. It was originally built in 1926. Many historical resorts want to maintain their "vintage look". So if you are a fan of historical hotels, this resort will be a great choice for you! But if you like more "modern" bathroom, showers and room decor, this is not the best choice for you! Matt and I both love the more modern look, that's why we thought this resort was gorgeous but maybe not for us for future stays.
The Royal Palms grounds are absolutely stunning! There are so many charming corners, fountains, trees, flowers and stairs that you can't do anything but stop and take some pictures! The first night we ate and relaxed at their lovely restaurant, T. Cook! The dinner was delicious. We had an amazing steak and red wine, Branzino fish and sautéed mushrooms, and decided to end our dinner with an incredible dessert.
On Saturday and Sunday, we pretty much hang out by the pool. We had lots of chips and guacamole, several dishes of hummus, cucumber and olive, and some awesome drinks by the pool! We went back to T. Cook on Saturday night for dinner and we had a fantastic time again! We had a memorable stay at this charming, Mediterranean style resort. Valentina was not ready to leave the resort on Sunday… We ended up having so much drama leaving the resort! LOL! No family holiday would be complete without drama hahah!!
But overall, we had a great time and we look forward to our next staycation in another lovely resort in Arizona.
Sherry Xoxo
PS Want more family friendly holiday ideas? Check out my travel posts here!