Hi everyone! May is such a wonderful month for setting up a spring/summer brunch tablescape and having nice, outdoor meals with family and friends. I love having company over for a beautiful brunch in the spring and summer time!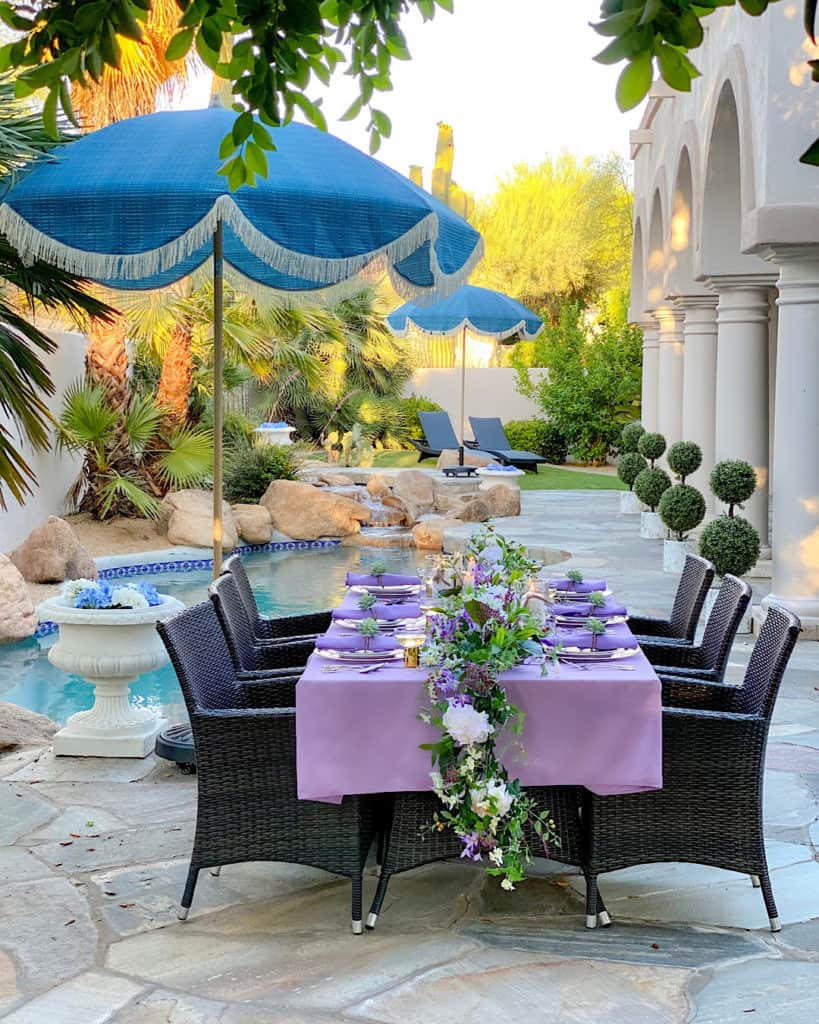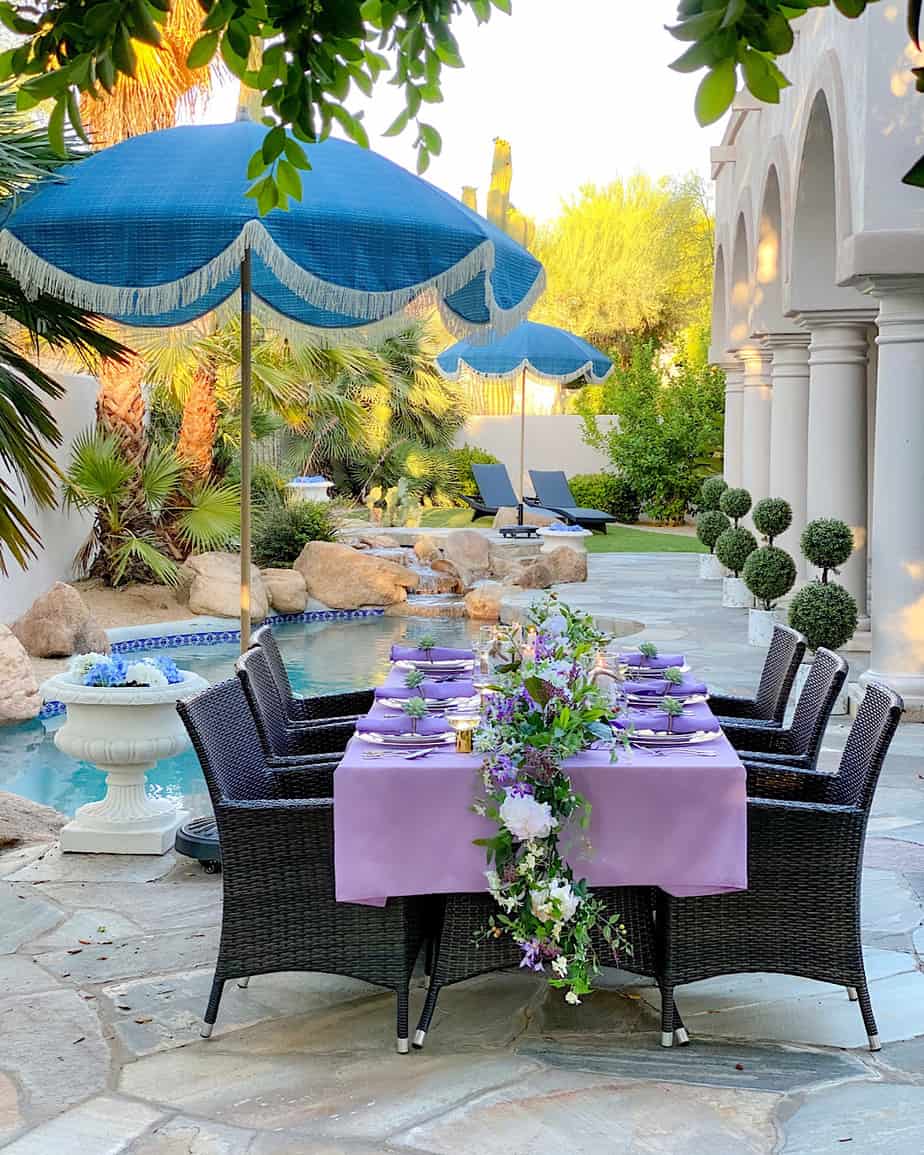 Shop This Post
This post may contain affiliate links, which means that I may receive a commission if you make a purchase using these links.

I set up my spring tablescape pictured here for Mother's Day brunch while my mom was visiting. I loved setting it up, and it was incredibly easy. So, I decided to share with you how easy it really is to set up elegant tablescapes for spring or summer brunch so that you can do it too!
My Guide to Creating a Beautiful Spring/Summer Brunch Tablescape
Here are the top 10 tips to help you bring the best parts of summer and spring to your tablescape for a colorful and beautiful brunch!
1- Bring Your Brunch Outdoors
I love setting up outdoor brunch tablescapes in the warmer seasons. It's the perfect time to get together for Memorial Day weekend, or just take a Sunday to enjoy company and good weather. Setting up your brunch table outdoors is simpler than you might think! And you may find that you even prefer it over eating indoors!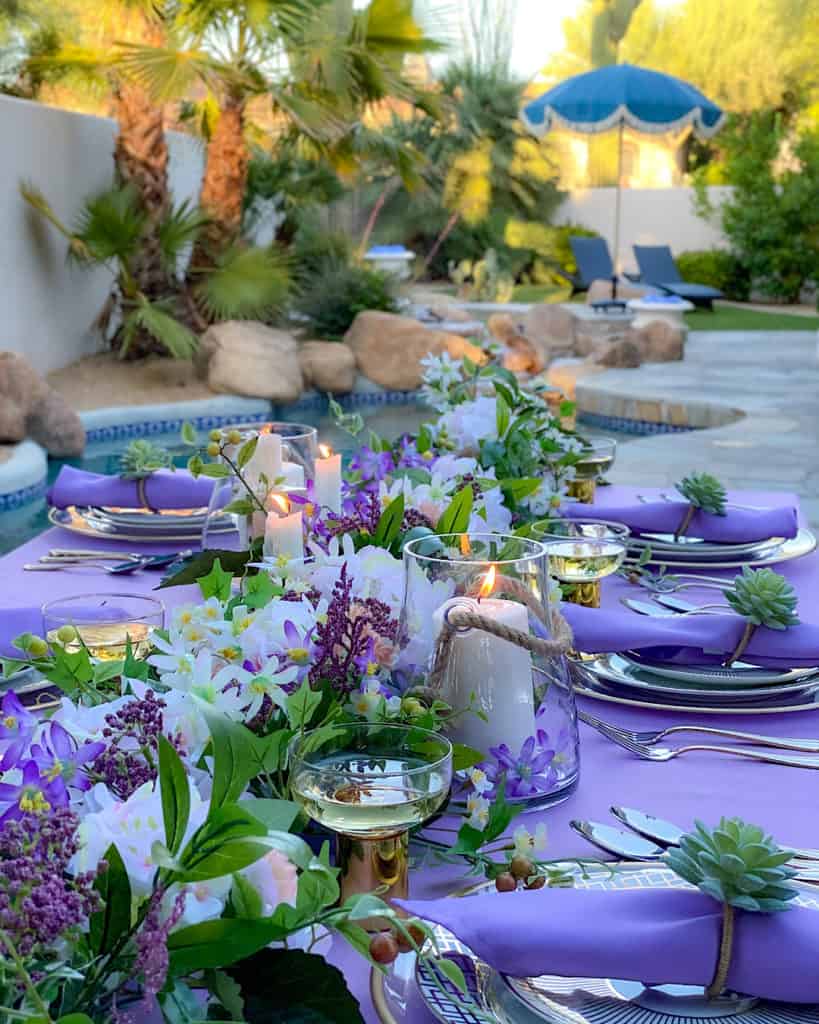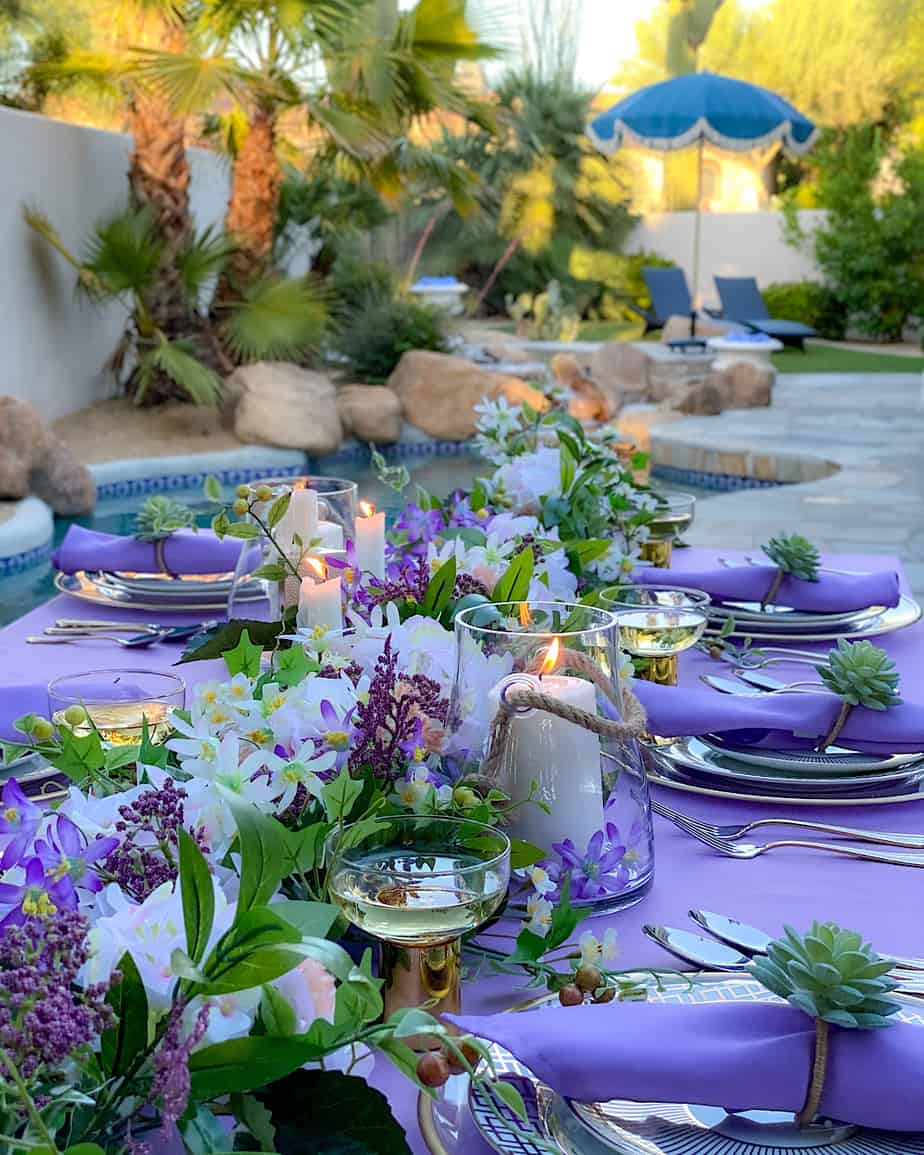 How to Style a Beautiful Outdoor Brunch Table
When you have your brunch table outdoors, this is the perfect opportunity to combine nature-inspired pieces with your classy spring brunch decorations:
Flowers are, of course, a go-to for spring and summer table decorating. But try getting experimental with the types of flowers, colors, and heights that you use.
Decorate the table with some faux or real fruit, such as lemons for a punch of bright color.
Natural elements, such as faux branches and leaves give a homey, rustic look to your tablescape
Get creative and try out some of these decoration ideas for your spring/summer brunch tablescape!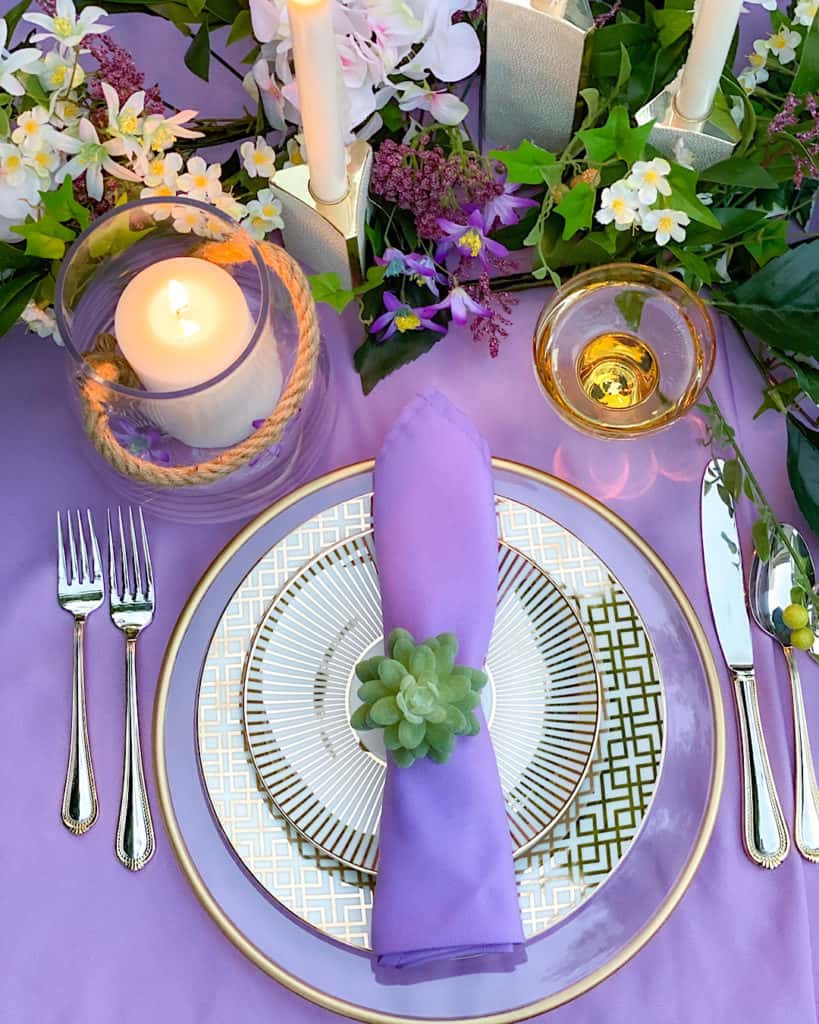 2- Use Floral Elements to Decorate Your Table
I LOVE using floral elements to spruce up my brunch decorations. I think it gives the table such a nice look for spring and summer. Balsam Hill has some GORGEOUS floral table decorations that can really bring your tablescape to life!
How Balsam Hill Realistic Floral Garland and Wreaths Elevated Our Spring Brunch Table
I absolutely love these Balsam Hill floral decorations. As you can see in the photos, I COVERED our table in these lush garlands and Balsam Hill outdoor wreaths! They have a beautiful Outdoor Enchanted Garden Foliage collection that we used to make our tablescape look like a magic garden!
I love their amazing quality and design. The colors compliment the table setting so well, and the faux flowers look SO natural and real. I was so excited to use these at my brunch table! The Balsam Hill floral garland is covered in white, pink, and purple flowers, and drapes beautifully over the side of the table. I used this garland as an artificial flower table runner, and the matching wreaths looked so elegant along with the other adornments. PERFECT for the spring and summer!
While I used the garland from this collection for my Balsam Hill centerpieces, I used the matching wreath as another centerpiece accent on our outdoor coffee table. I added some beautiful candles in the center of the wreath and it looked amazing next to the champagne glasses, berries and other appetizers on the table. It simply complemented my other decorative items on the table and it added extra color to my outdoor décor. Balsam Hill has plenty of spring and summer decorations and table garland greenery to choose from. I LOVE buying my spring and summer décor from their site!
3- Set Out Gorgeous Spring/Summer Table Centerpieces
There are a million great ideas for spring/summer brunch tablescape centerpieces! You can do a similar style to what I did in my photos. Table garland centerpieces are always a gorgeous option. Or, try some of these other beautiful centerpiece ideas for spring:
Real flowers in a mason jar or watering can for a rustic look
Woven vase centerpieces
Gold leaf centerpieces with spring flowers
Add butterflies or faux bird eggs to your flower arrangement for pops of spring
Single flowers in perfume bottles for a classy look
Glass vases or jars filled with faux robin eggs – Bonus if you add flowers too!
Vintage floral terrariums
Check out my Spring Floral Arrangement blog for some great tips on creating step-by-step floral arrangements for your brunch table centerpiece!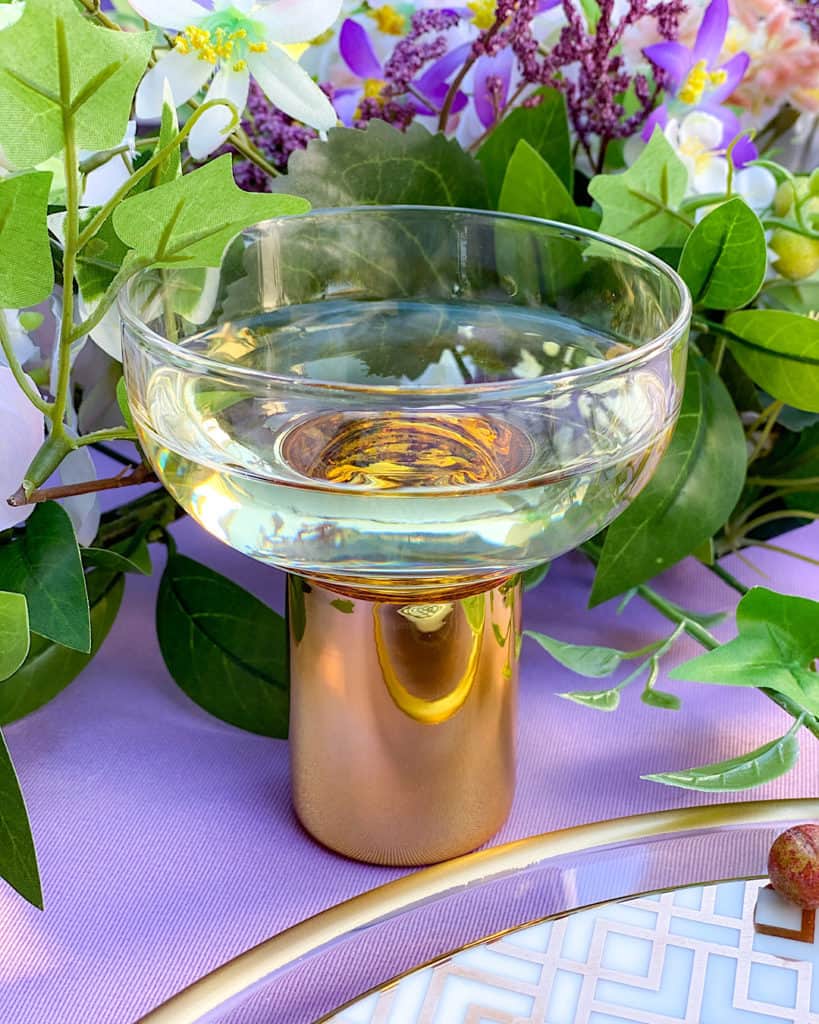 4- Choose Table Color Schemes (I Chose Lavender and Mint Green)
One of the best parts of designing your spring/summer brunch tablescape is choosing your color scheme! Spring is the best because there are SO many pretty colors to choose from! I chose lavender and mint green for mine because I love purple table settings. But there are a ton of other options to choose from the spring color palette.
Here are some other ideas:
Blue and white
Blush and light green
Periwinkle and light pink
Yellow, green and white
Cocoa, cream, and caramel
Lime green and white
You can mix and match spring colors any way you'd like! The important thing is to make it your own! If you do go with a lavender and green table setting like I did, check out some of the lavender table decorations that I used in the pictures for inspiration!
5- Choose the Right Tablecloth, Napkin and Napkin Rings
It may seem like one of the tiniest details… but trust me, it counts! Having beautiful napkins and napkin rings incorporated into your tablescape setting makes a major difference! I used pretty lavender napkins rolled neatly into these Oli Succulent Napkin Rings to go with the Balsam Hill floral garlands that I used to decorate the table.
You can add napkins in other spring colors, like robin's egg blue, pale yellow, or blush pink, and fold them into pretty floral napkin rings, nature-themed napkin rings, or whatever you would like!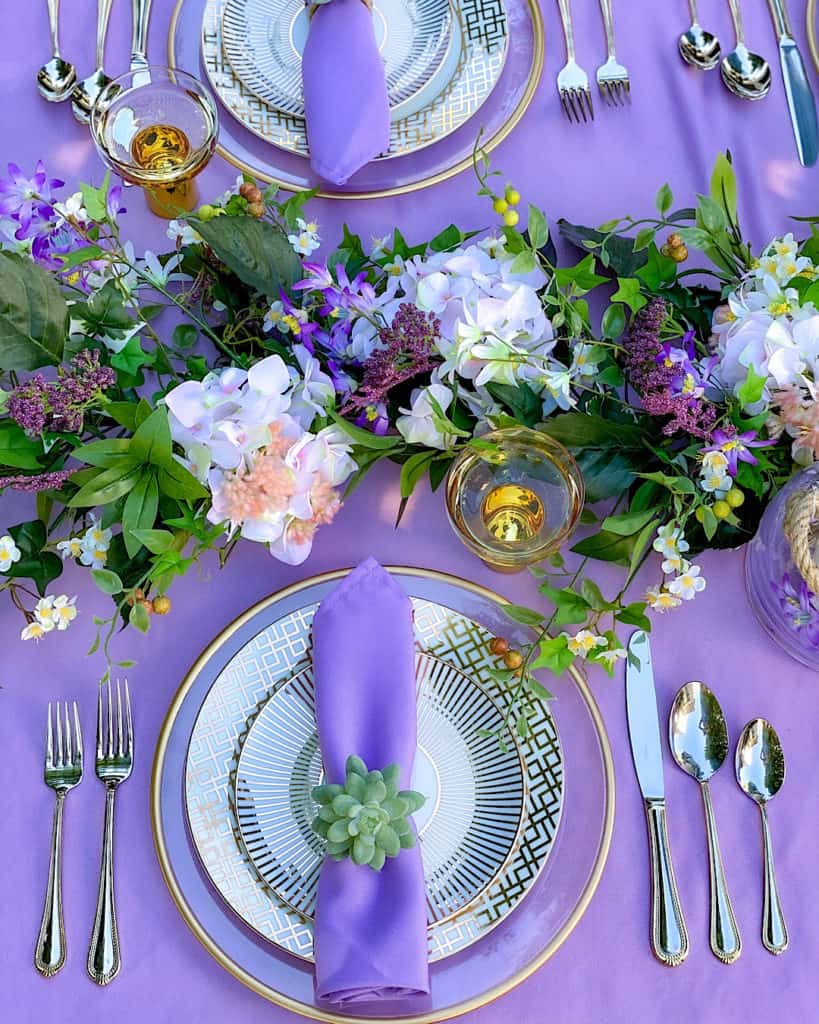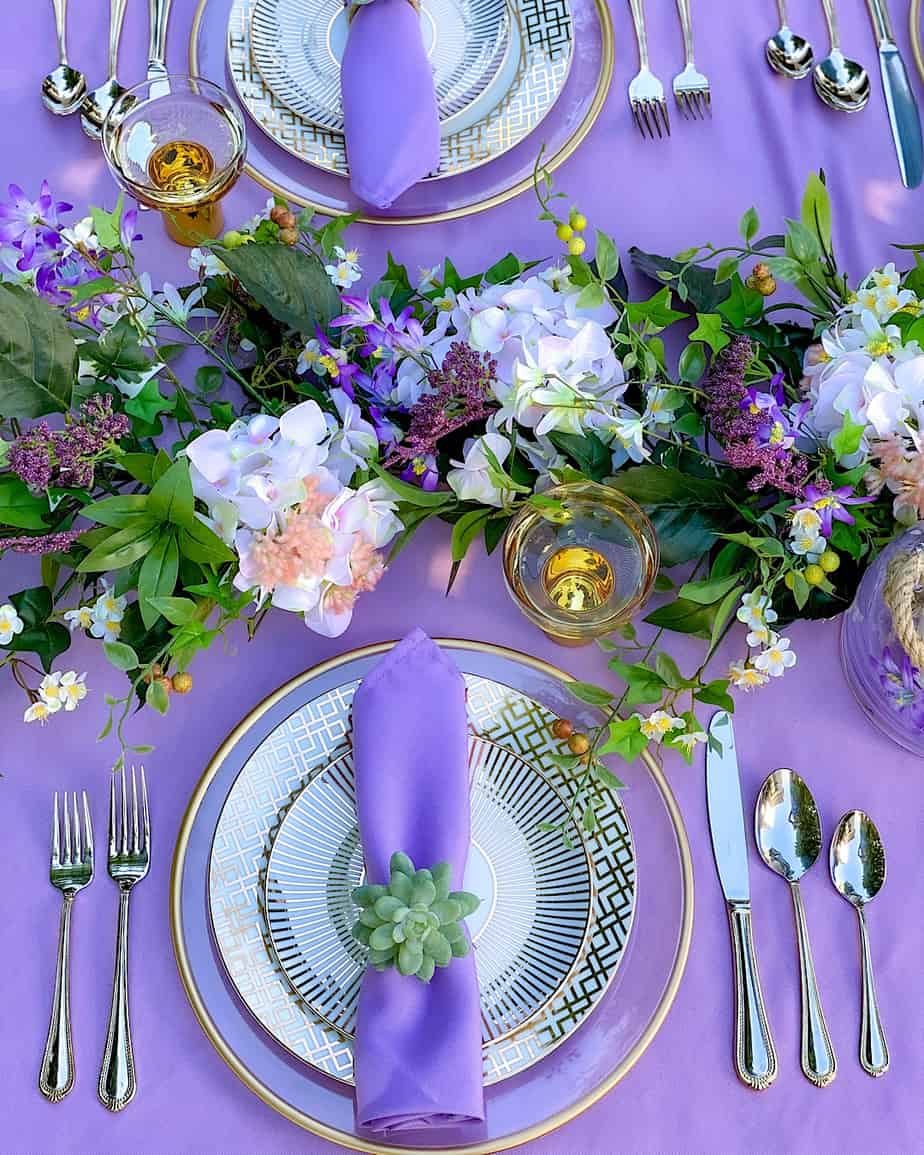 6- Choose the Perfect Flatware and Plates
Along with the perfect napkins and napkin rings, adding in the perfect flatware and plates is just as important for a beautiful tablescape! I bought these beautiful white and gold dinnerware from Z Gallerie last year. They are now sold out, however you can buy something similar like this set from Z Gallerie or this set from Wayfair. Neiman Marcus flatware is also a great option for spring and summer tablescapes.
They have such a variety! I also love their dinner plates, like this gold Brushstroke dinnerware set or this Coastal chic blue and white. Wayfair also has some unique and beautiful options for dining, like these Isabella 24 piece dinner plates. All of these flatware options and plates can spruce up your brunch tablescape to make it a beautiful display for spring or summer!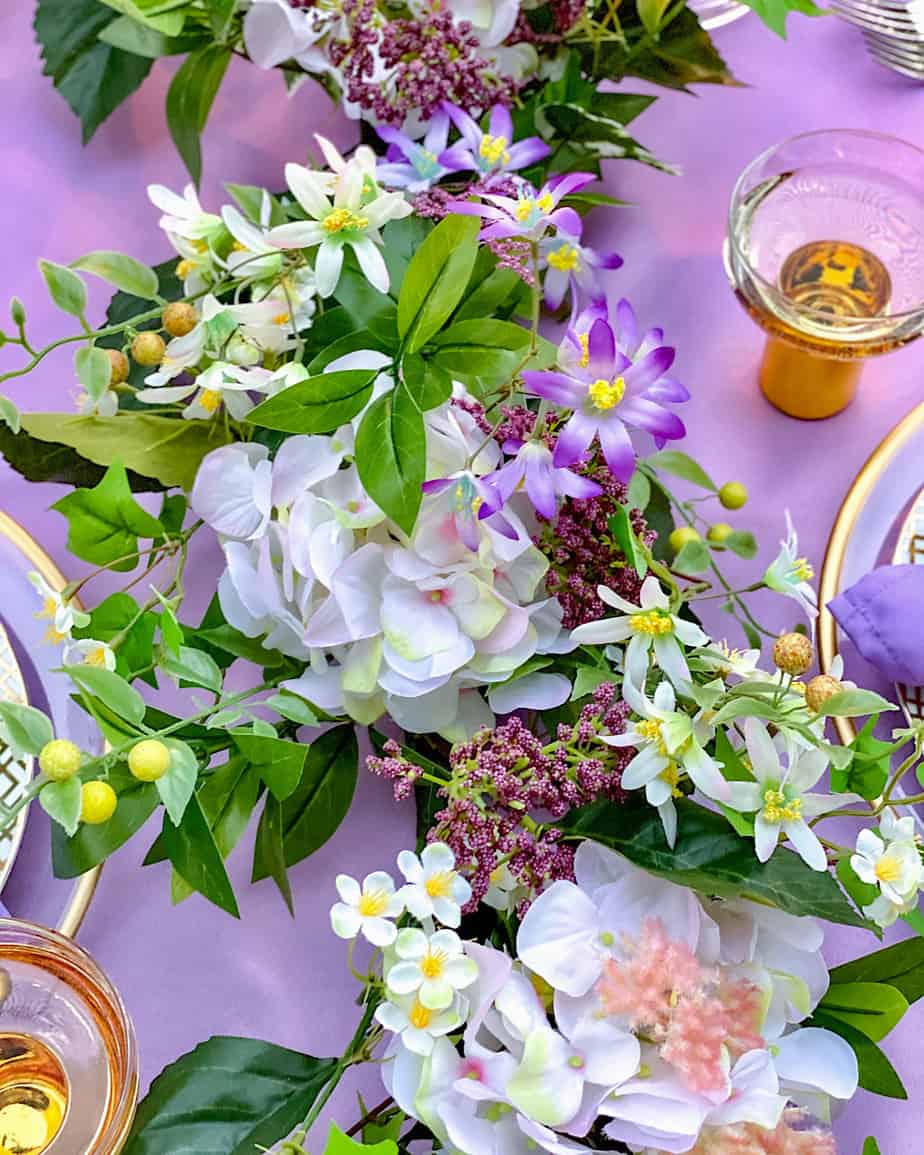 7- Add a Variety of Drinking Glasses
Drinking glasses are another very important item to think about for your spring or summer brunch tablescape! I LOVE these Calder Coupe from Crate and Barrel. I used them for my brunch tablescape! They look so nice with all of the other tablescape pieces, and have such a glamorous shape. I love them!
Another great option are these Prismatic Stemware glasses from Z Gallerie, which I also used for my tablescape. I really like the lovely design with the beautiful sphere on the stem and the light-reflecting prismatic base. Serve up these modern drinking glasses with mimosas, fresh cocktails, fruit juice, iced tea, or anything else you'd like to add to your brunch!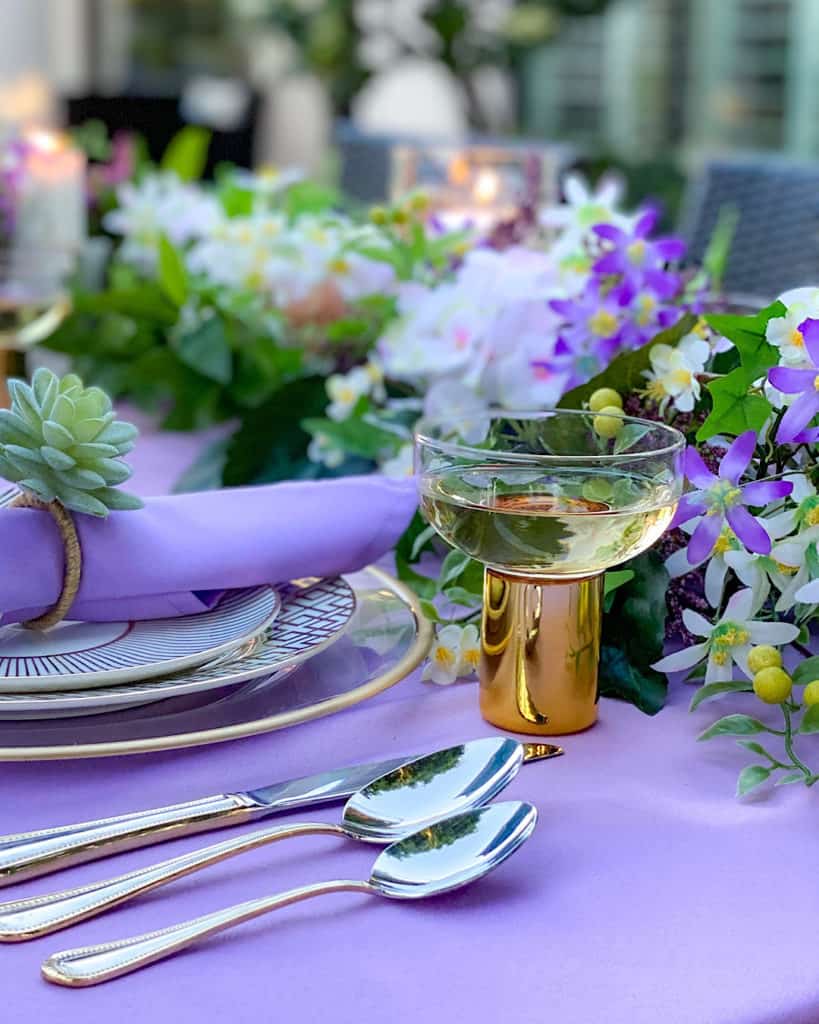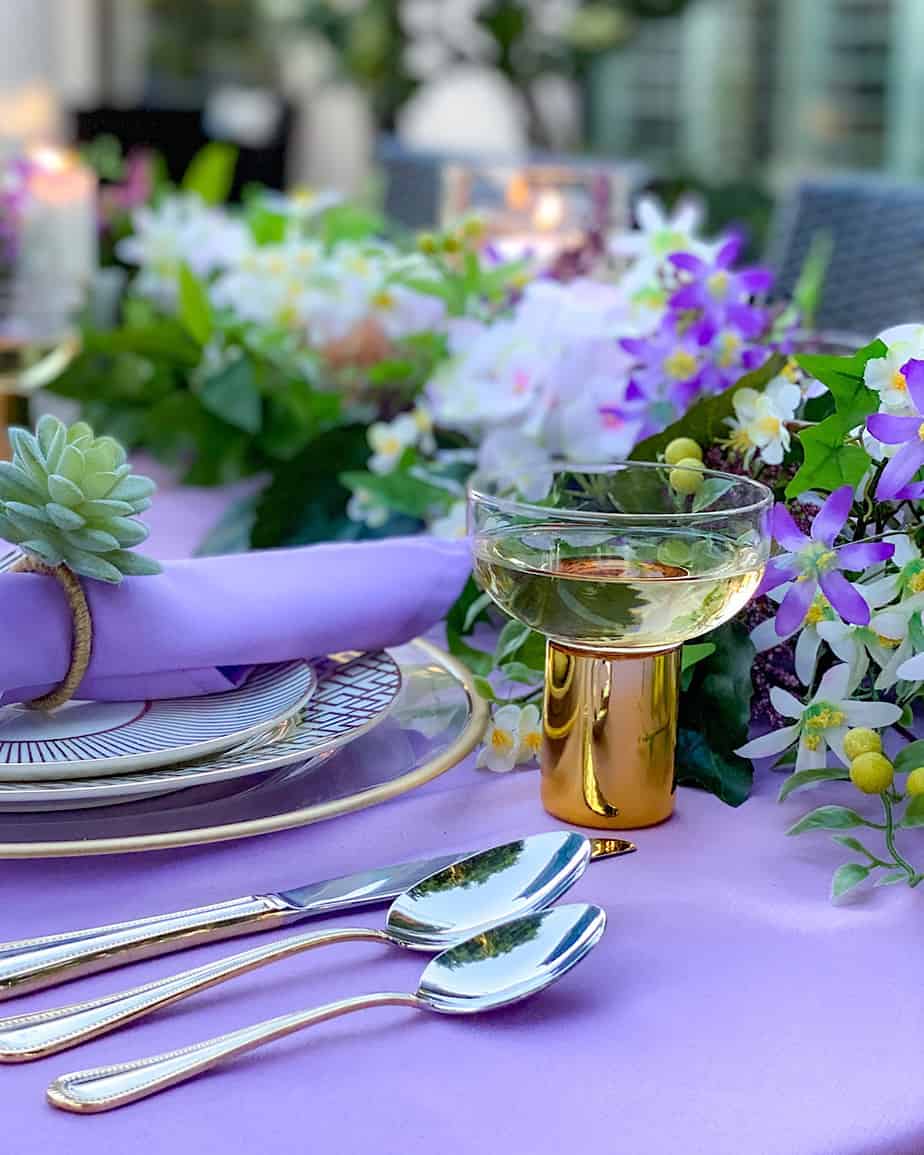 8- Add Candles for Your Spring/Summer Brunch Tablescape, YES… Even During the Day!
Candles are NOT just for evening dinners! They make a beautiful addition to brunch table decorating. I love these Craft Glass Hurricane Lanterns from Amazon. They are so cute and perfect for outdoor. There are many other amazing candle options for a spring/summer brunch tablescape, such as:
Lavender candles
Eggshell candle holders
Spring-scented candles (floral, sweet, or fruity scents)
Spring-colored ombre candle holders
Candlesticks to match your color palette
Mix and match and get creative!
9- Plan Your Brunch Menu
And now for the FOOD!!
There are a million different brunch food ideas floating around on Google, Pinterest, recipes books, you name it! Here are a few that I have gathered up to make your brunch extra special and extra DELICIOUS!!
Eggs benedict
Blueberry pancakes (or any other flavor!)
Parfaits
Frittatas or quiches
Muffins (any flavor you'd like!)
Bagels with cream cheese and lox
Variety of salads
Chicken salad or egg salad sandwiches
Avocado toast
These are only a few options. Cook up your favorite recipes and share your special dishes with your brunch guests!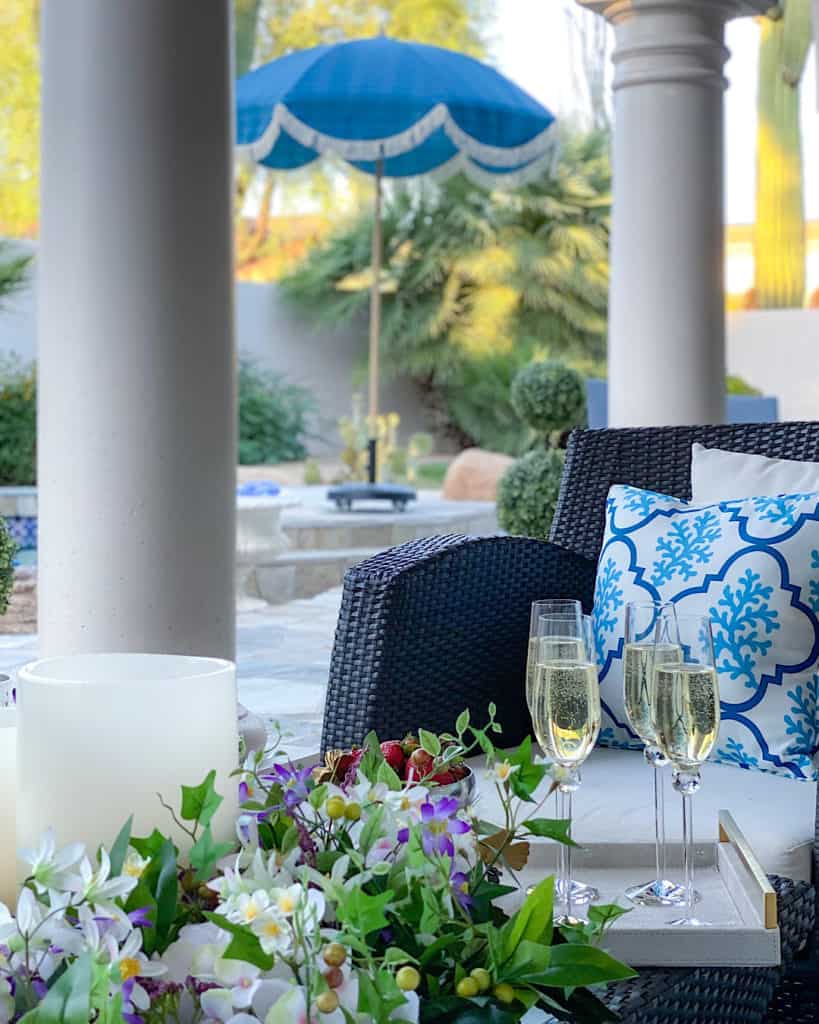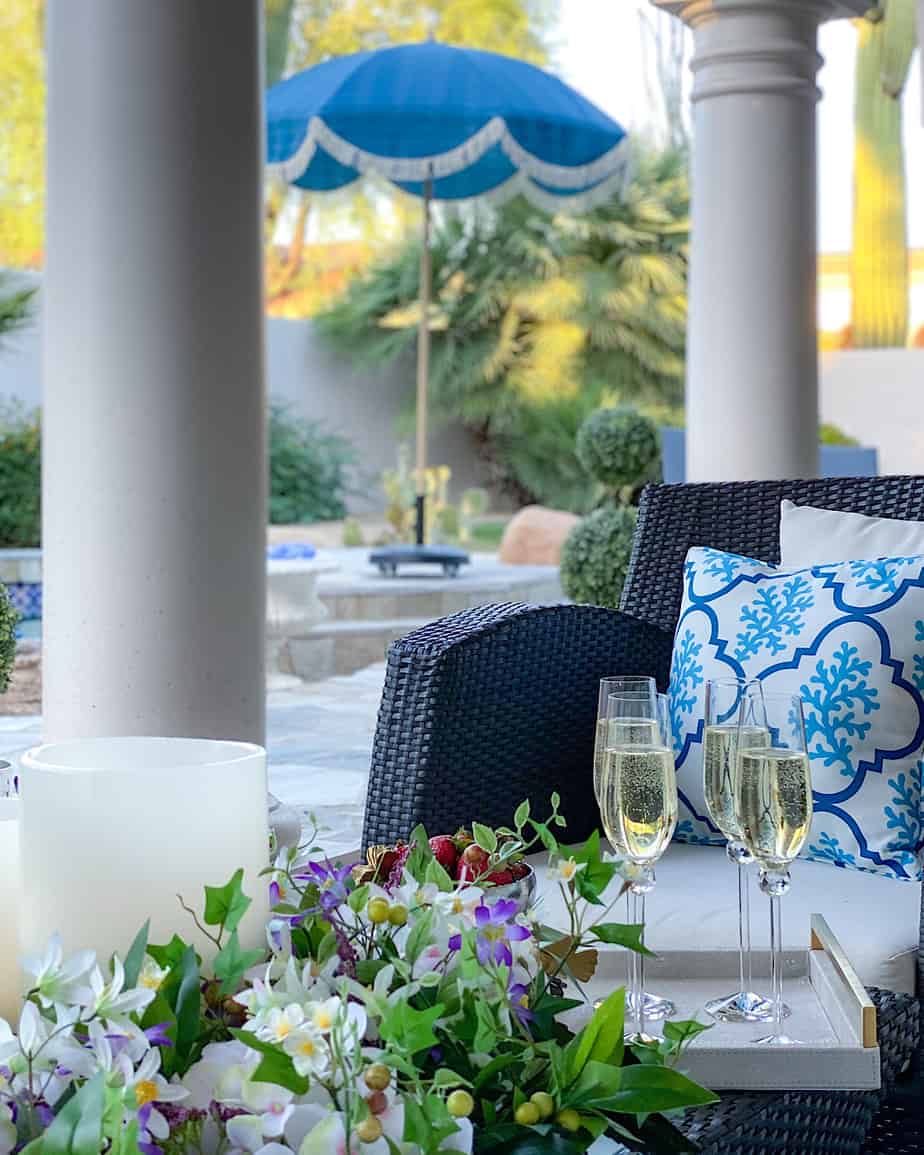 10- Let Your Personal Style Shine!
Last but not least, the final tip I have for you when creating your spring or summer brunch tablescape is to let your unique personality shine! Your tablescape should reflect your individuality, style, and flair. Get creative, experimental, and have fun with decorating! Make it your own!
Other Brunch & Luncheon Tablescape Decoration Ideas!
If you're still looking for more brunch decoration and luncheon table setting ideas, here are a few more tips:
Set out food on tiered serving trays
Use placemats and trays to prevent messes
Experiment with different spring colors and patterns
Use woven or natural materials for a rustic look
Use teacups to decorate the table, hold candles, and flowers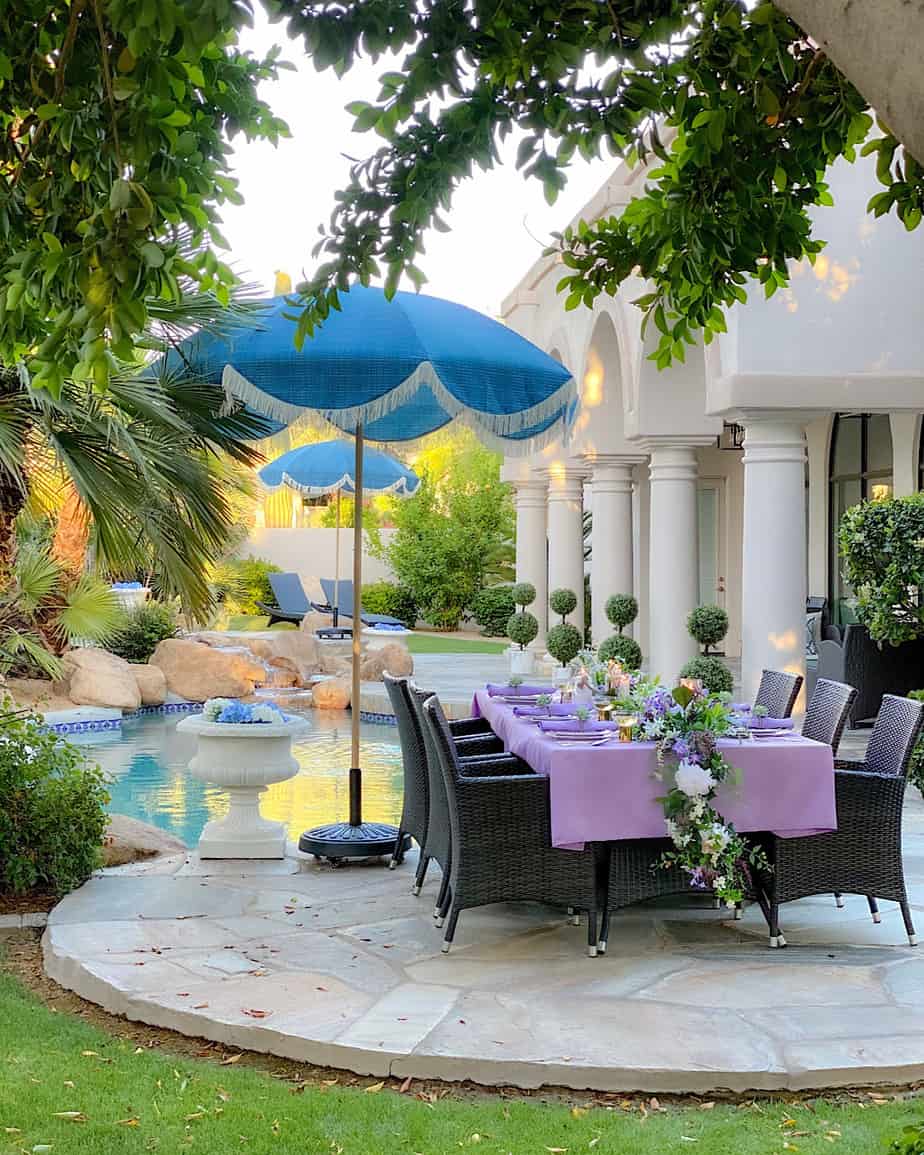 Use this spring/summer brunch tablescape guide for holiday brunches, birthday brunches, decorating your spring table setting for Mother's Day brunch, and any other occasion.
I hope these tips help you make the most of your spring/summer brunch!
Cheers!
XOXO Sherry
Shop This Post
This post may contain affiliate links, which means that I may receive a commission if you make a purchase using these links.