Happy Monday everyone! We are a little over a week into January 2021. As much as I always get excited to start a New Year and set new goals for myself, I also get so upset when all the holiday excitement is over (Thanksgiving and Christmas). My sister said taking all the Christmas decorations down feels like returning home from a fun trip! Hahaha! I thought it was SOOO true! That is exactly how I feel… So here are top tips on how to make your home feel cozy after Christmas!!
One of the parts that I do not like about "after the holidays" is our home all of a sudden feels so "bare" with no decorations! Bringing our regular home decors back out does not make me that excited! Haha! That is why every January I try to add a few cozy winter decors to our living room and kitchen! I am going to share how you can transition your home from Christmas decorations (or any other holidays that you celebrate) to a cozy and warm winter décor. Checkout our 2020 Christmas decorations!
How to Make Your Home Feel Cozy: Decorate Your Home After Christmas
"This post may contain affiliate links, which means that I may receive a commission if you make a purchase using these links".
Start With "Decluttering": This is my favorite part about beginning the new year and cleaning up our home after Christmas! I DECLUTTER so much! I find myself collecting so much stuff (from mugs to vases to trays, candles, decorative faux flowers…) and so much more! Of course, I keep the ones I know I will use, but I donate the ones that I know I am not going to use anymore. It helps to open up so much more space in your home and makes it already look "cleaner."
Leave The "Winter White" Decors: I love the "winter white" look! I like to keep that look in our home until the end of February. You can always find fun white winter decors at Hobby Lobby, Michaels, Jo-Ann or any other local craft stores in your area. Or you can find "higher quality" winter decorations from stores like Crate and Barrel, Pottery Barn, William Sonoma, Nordstrom, Neiman Marcus, etc.…I shop from all these stores… sometimes I find very cute items at craft stores and sometimes I find very pretty winter decors from places like Crate and Barrel or Pottery Barn!
I bought these beautiful white and gold ceramic vases in October of 2020. I am going to keep them out until end of February. They are elegant and simply perfect for any floral arrangement. These beautiful white faux flowers, white candleholders and candles are perfect for a nice "winter white" look!
Shop These Items Here

These are some more beautiful "White Winter Decors"

Keep the Colors Natural: Keep natural colors around your house. It helps with transitioning your home décor from Christmas to winter. I like to use beige, white, gold, khaki, and cream.
Hold Off on Packing Your Cozy Faux Fur Blankets: Soft and cozy throw blankets are my most favorite items during the winter season! Beside placing them on our sofa, I like to place them on the chairs around the fireplace! They make your living room look so beautiful and peaceful! One of my favorite stores to shop for faux fur blankets and throws is Pottery Barn! I think Pottery Barn faux fur throws are so high quality! My sister bought me one of their faux fur throws almost 6 years ago and it still looks incredible! Valentina and Alina played on it, dragged it around the house, ate food on it (LOL), and it still looks amazing!!! I totally recommend them!
These are some of my favorite "Faux Fur Blankets"

Candles and Fire: Candles do magic when decorating! I am simply obsessed with candles! One of the first things I always think about when decorating our fireplace mantel is using candles. Besides burning scented candles around our home (living room, kitchen, bedrooms, and bathrooms), I have recently been so into battery operated candles with a timer.
I love to keep them on our fireplace mantel in the evenings, and they turn off at the set time every night! You do not need to use the ones with a timer, you can use any kind you like or simply burn the real candles.
These are some of my favorite "Battery-Operated Candles"

Place a Woven Basket and Birch Logs Next to Your Fireplace: You can buy any cute woven basket, put some decorative birch logs in the basket and place it next to the fireplace! This definitely helps make make your home feel cozy – it creates a cozy winter look to your home! This basket is very solid and well-made! I highly recommend it!
I added a few battery operated pillar candles and faux gold leaves next to the basket!
Shop These Items Here

Decorate with Pine Cones: Pine cones are perfect to add to your winter décor! I love to put the pine cones in cute decorative glass jars, plates, or pair them with some scented candles.
These are some of my favorite "Scented Pinecones"

Leave Out Faux Greenery and Flowers: If you have artificial garlands, faux eucalyptus, boxwood wreaths or any other greeneries, these can help to maintain the "winter look." You can use your faux flowers and greenery in your kitchen, living room, bedrooms or bathrooms.
These are some of my favorite "Faux Greeneries and Flowers"

Shop These Items Here

Add Texture: I learned this from Matt (my husband)! Hahaha! Although he is not an interior designer, he has an incredibly good eye for "space" and how to put things together to look the best! He always tells me that we need to add "TEXTURE"!!! LOL! He is right….! As soon as I add some cute furry pillows, thick and chunky blankets, woven baskets, or any other "textures", it makes a HUGE difference in our space!
Winter Porch and Winter Outdoor Decorating Ideas
One of the first things you notice when walking into your home every day is your front door, courtyard, porch, or entryway! Even if you live in an apartment or townhouse, you can always "dress up" your front door with cute winter outdoor decorations.
No matter where you live (whether you get snow in wintertime or not), you can always make your winter porch look beautiful. Since we get no snow in Scottsdale, Arizona during the winter season, we can put any type of wreaths or decorations on our porch and courtyard.
We decided to keep our winter white wreaths that we used during the Christmas season on our front door and our gate. But we removed all other Christmas decorations and outdoor Christmas lights. If you have some white wreaths or any other "natural colored" wreaths for outside, you can keep them until spring.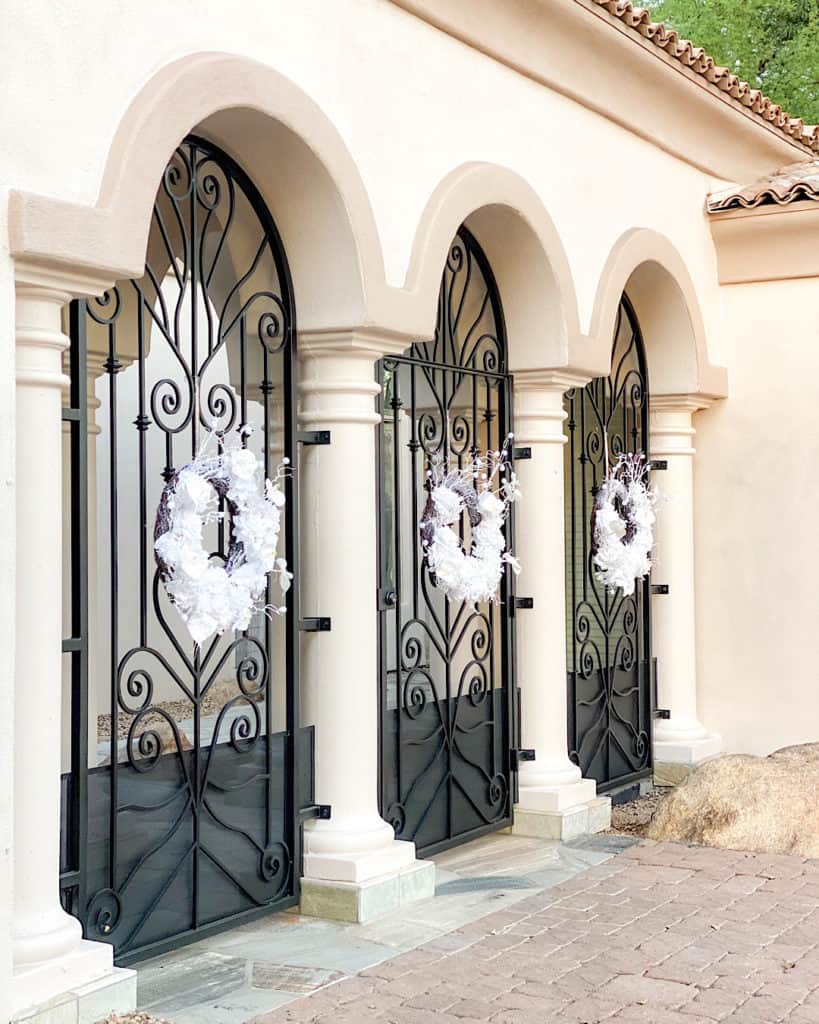 Here are some tips to make your porch more inviting in winter:
Use green wreaths with white ribbon.
Leave a cute woven basket with logs, winter branches, or pinecones.
If you live in a snowy area, put vintage wooden skis outside of your front door and decorate the skis with cute pine cones!
Wood planters and "fresh evergreens" are always a good idea to make your winter porch look more welcoming.
Display winter accents on your porch (snowman, skates, skis…).
Use a decorative winter doormat.
How to Make Your Home Feel Cozy for Winter
Like I have mentioned throughout this post, it is so easy to make your home cozy for winter. Here is a brief summarized list of "things to do" and how to make your home cozy and inviting in winter:
If you do not have a fireplace, invest in a portable fireplace
Add some warm curtains to your space
Rearrange your furniture for gathering
Add some extra lamps in your living room
Add some accent pieces (mirrors, vases, candle holders…)
Keep your fireplace on
Warm your home with new area rugs!
Add centerpieces with winter greenery
Decorate your living room and bedrooms with cozy faux blankets
Use furry decorative pillows
Add texture
Keep the colors white or natural
For cute winter mantel décor, add candles onto the mantel
Add seasonal scents to your space
I hope this post gives you some ideas to make your home feel cozy after Christmas and transition your home from your beautiful holiday décor to warm and cozy winter décor! In a month from now, I am excited to decorate our home for Valentine's Day!
Love,
Sherry
"This post may contain affiliate links, which means that I may receive a commission if you make a purchase using these links".
Shop This Post Or Similar






Sherry, xoxo