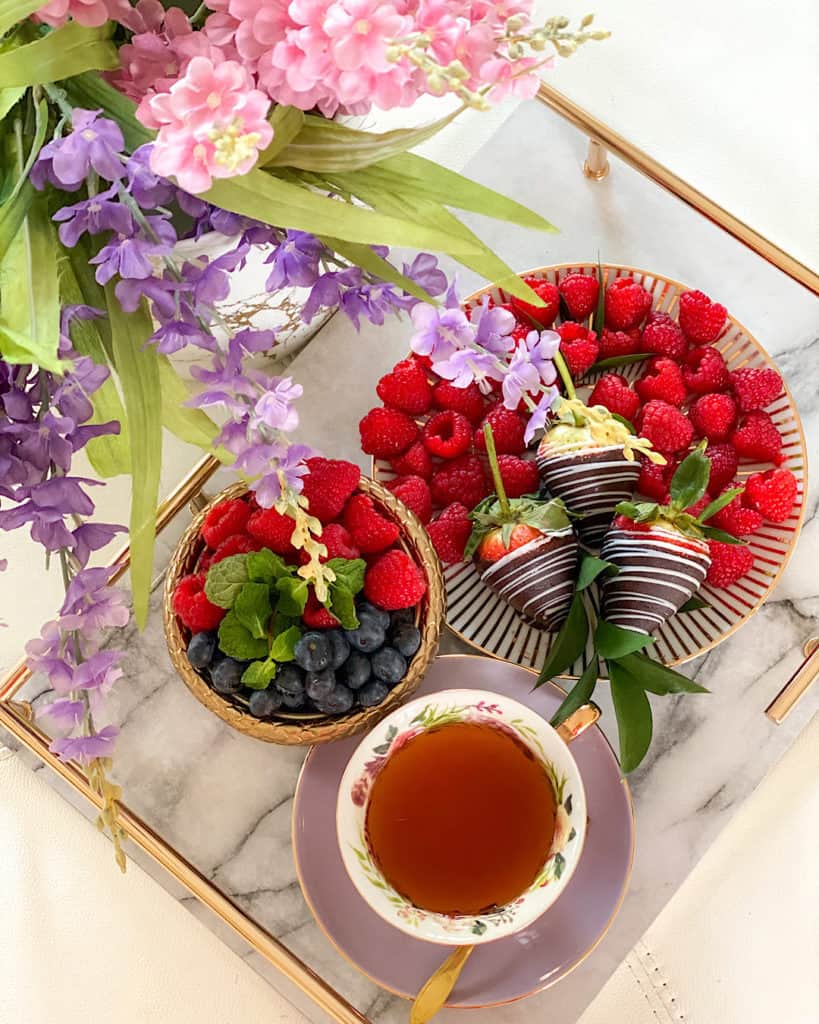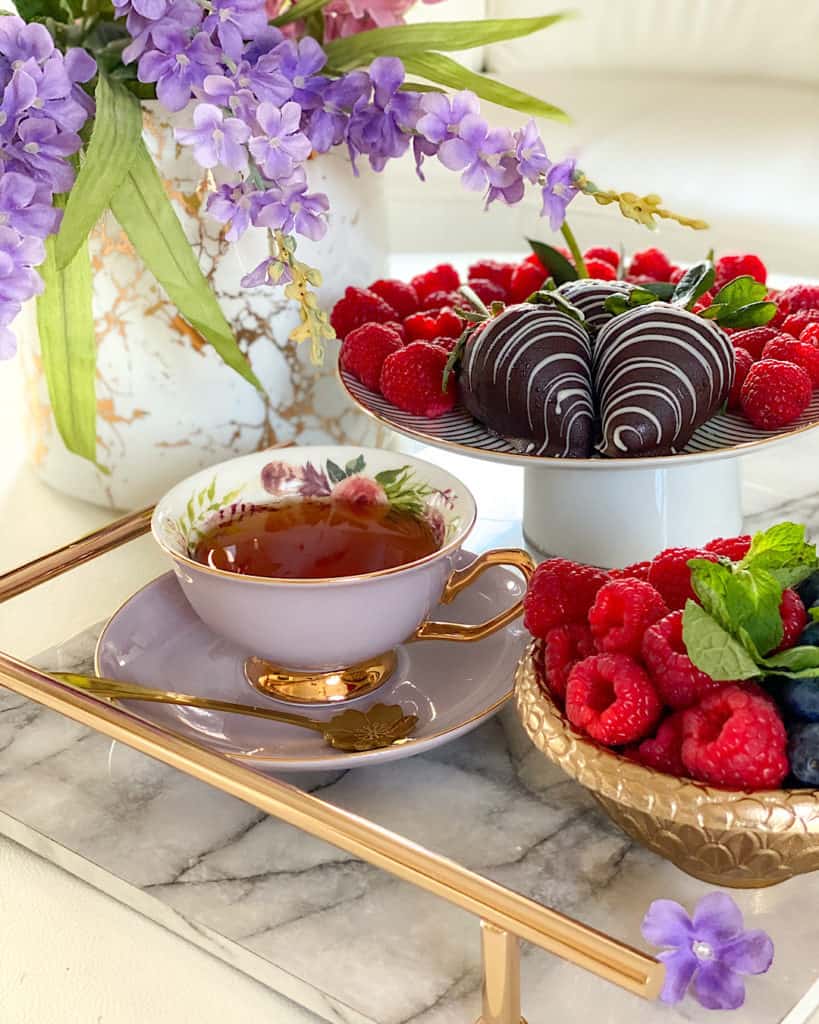 Shop This Post

How to Choose Teacups and Teapots
I have been such a tea and coffee lover all my life! So I'm always looking for beautiful teacup sets, teapots, and cool coffee mugs! Today, I want to share some of my favorite finds online for the best Afternoon Teacups Teapots and Saucer Sets, as well as the best serveware and serving dish sets for your next elegant afternoon tea!
How to choose the perfect teacup? It completely depends on what you are trying to do when shopping for the perfect teacup! When looking for a teacup and saucer set, you need to ask yourself what you plan on using them for. Are you trying to collect vintage teacups and matching saucers as an investment? So many people love to collect antique teacups (especially vintage English tea sets), which in my opinion, are great investments!
Or, do you want to buy a few cute teacups to look chic and elegant on your tea/coffee table only for the purpose of serving afternoon tea with friends? Or perhaps you simply want to buy a high quality teacup set for yourself to enjoy your afternoon tea and possibly display them in your glass kitchen cabinet. No matter what your purpose is when shopping for teacups, here are some qualities you should look for in a good, high-quality teacup:
Non-Porous
Cool Slowly
Thin Lip
Practical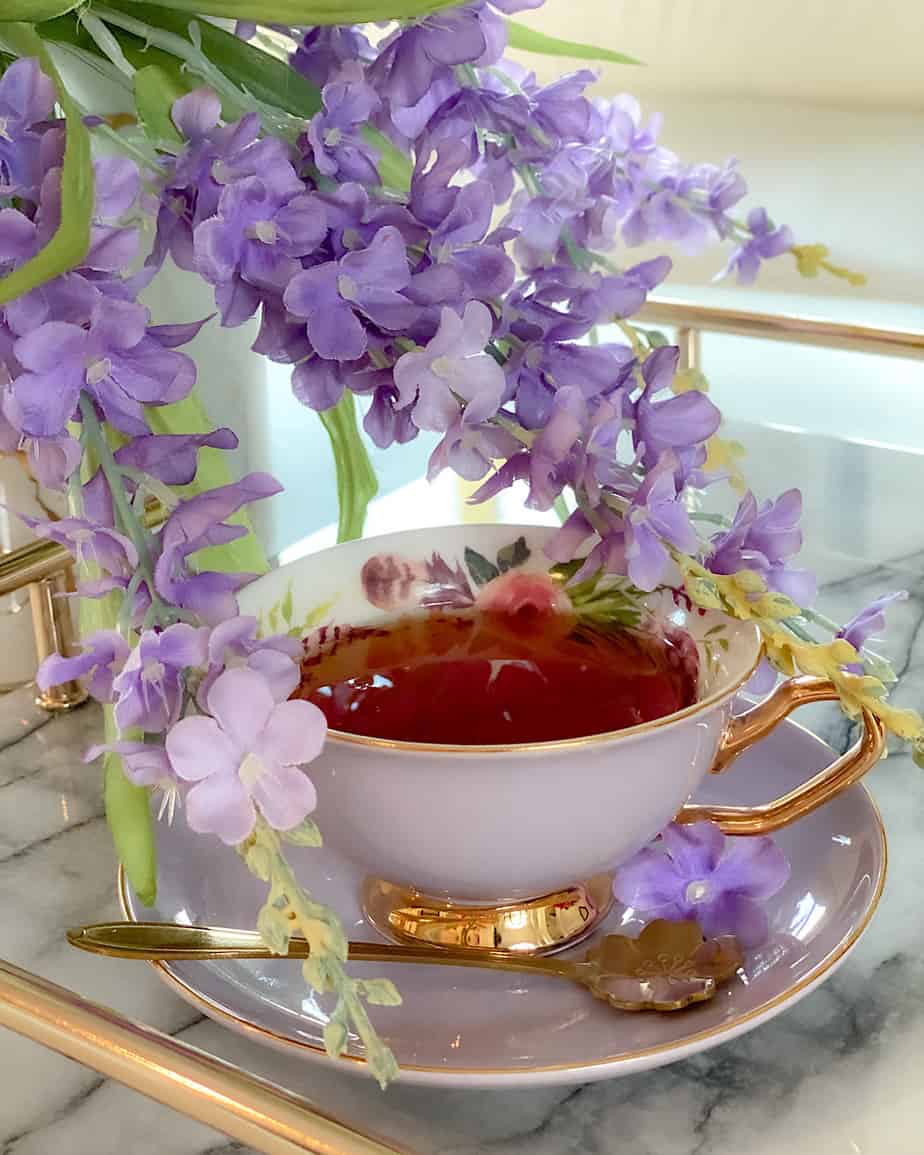 Love this Lavender Vintage Ceramic Teacup with Spoon Saucer Set

A good teacup should be non-porous! Simply because a porous material will hold in different flavors! It should also allow the tea to cool slowly! A cup with a wide rim cools tea faster, while a tall, narrow one keeps it hot longer and concentrates the aroma. Your teacup needs to be practical! When it comes to everyday use, we need something that is easy to use and clean! The best way to do this is to find a cup with a nice and easy handle or some type of silicone cover to allow you to hold the cup without burning your hands!
Best Afternoon Teacups Teapots and Saucer Sets
Best Teacups by Type and Material
Porcelain cups and bone china have been used for ages as teaware. They are simply considered the top materials when it comes to drinking tea. Ceramic teapots are great for black teas. Since white and green teas are brewed at lower temperatures, porcelain teapots are the most appropriate to use.
Tip: For black or dark tea, or any tea that requires boiling, choose smaller cups with shorter handles. For green tea, bigger handless stoneware, porcelain, or glass cups are all great options. Here are some of my favorite Vintage High Tea Set, Floral Teacup and Saucer Set, Royal Albert Old Country Roses Teacup and Saucer Set, Modern Afternoon Tea Set, Teacup Saucer and Spoon Set, Teacup and Snack Plate Set, Pink Teacups, Unique Teacup Set.



"This post may contain affiliate links, which means that I may receive a commission (at no cost to you) if you make a purchase using these links".
Which Teapot Makes the Best Tea?
Let's talk about how to choose the best teapot first! There are several types of teapots:
Porcelain teapots
Glass teapots
Stainless steel teapots
Ceramic teapots
Cast iron teapots
What Is The Best Teapot Material?
Porcelain Teapots
Porcelain is the most prized material for teapots, and while it is recommended mainly for white and green teas, it can also be used for any other type of tea. Porcelain holds the temperature very well and is easy to clean, which is one of my favorite features (haha)! These are some of my favorite choices:

Glass Teapots
Glass tea pots are usually very elegant and refined since you can see through them. They can be used to brew loose leaf tea, herbal tea, black tea or tea bags. My Dad makes one of the BEST teas (LOL) and he mostly uses porcelain teapots or glass teapots. You can't go wrong with either one! These are some of my favorite choices:

Ceramic Teapots
Ceramic teapots are perfect for oolong and black teas! They absorb a small amount of tea into the pot while brewing and they retain color and flavor. Do not put your ceramic teapot on the gas stove or electric stove. These are some of my favorite choices:

Cast Iron Teapots
According to some tea drinkers, cast iron teapots offer the best way to brew tea, due to the cast iron distributing the heat evenly around the pot. This helps to bring out the full flavors of the tea! The cast iron teapot is only for brewing tea, so make sure you don't put it over a stove-top so that it stays in the best condition! These are some of my favorite choices:

What Is the Best Gift for Tea Lovers?
Here are some fun gift ideas for tea lovers:
Tea gift set
Cute teacups and saucers
Cute teapots
Team hamper
Sugar Bowl Set
Tea Quote mug
Tea Tumbler with Infuser
One Touch Tea Maker
Electric Kettle
Silicone Tea Infuser
Tea Travel Mug
Tea Ornaments



Which Teas to Serve for Afternoon Tea?
Black teas: Black teas are always expected for an Afternoon Tea. Examples include: English Breakfast Tea, Earl Grey, or Darjeeling.
Herbal teas: Lavender teas are particularly popular for afternoon tea. Peppermint tea, Chamomile tea, and Lemon Balm tea are some other great herbal tea options.
Green teas: Some green teas have strong flavors and are not the best option for afternoon tea. However, lightly flavored green tea is a nice addition to the tea-table. For example, light raspberry green tea or pomegranate green tea are both great options.
Best Serving Dishes, Platters, and Trays for Your Tea Party




Regardless of whether you like to collect teacups, saucer sets, or teapots, or would like to host a beautiful afternoon tea party with your friends, you can choose any of these tea sets that I recommended in this post. Or, you can find thousands more options online! I also think this is a lovely article explaining the difference between afternoon tea and high tea and this article explaining the history of afternoon tea. I enjoyed reading them both!
If you need a little inspiration for what to serve with your Afternoon Tea, or how to set up an elegant dessert table, check out my post here!
Enjoy your Afternoon Tea and I hope you find the best Afternoon Tea teacups, teapots and saucer sets for you!
Love,
Sherry
Sherry, xoxo