White and Gold Christmas Tree Decorations for a Luxe Look!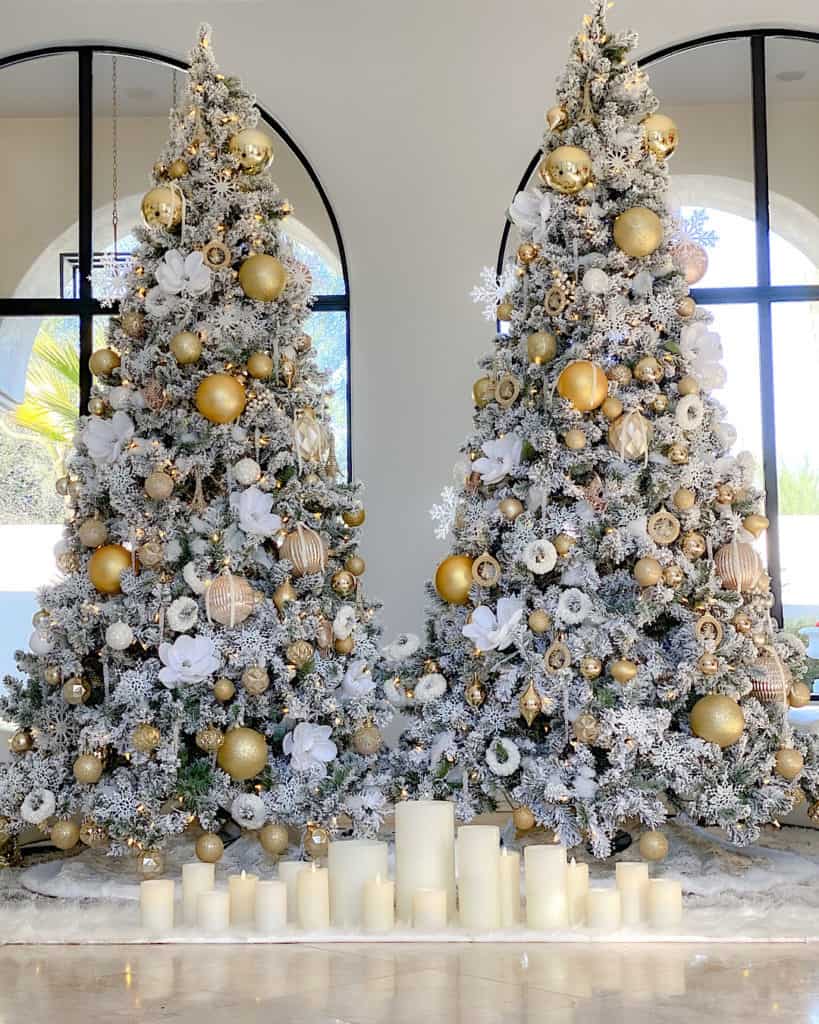 Happy Christmas Season everyone! Today I want to tell you about my White and Gold Christmas decorations!! I think Christmas is one of the happiest seasons of the year. Some people celebrate Christmas, some celebrate Hanukkah and some others do not celebrate any of these holidays.
No matter what holidays you celebrate, these celebrations are filled with lights, family, food and presents! Hahaha! It is not just because there are lots of gifts being given out, but it is simply how most people feel being cared about! There are lots of hugs, kisses, nice cards, and kind words for each other! You just feel the most positive energy in the air!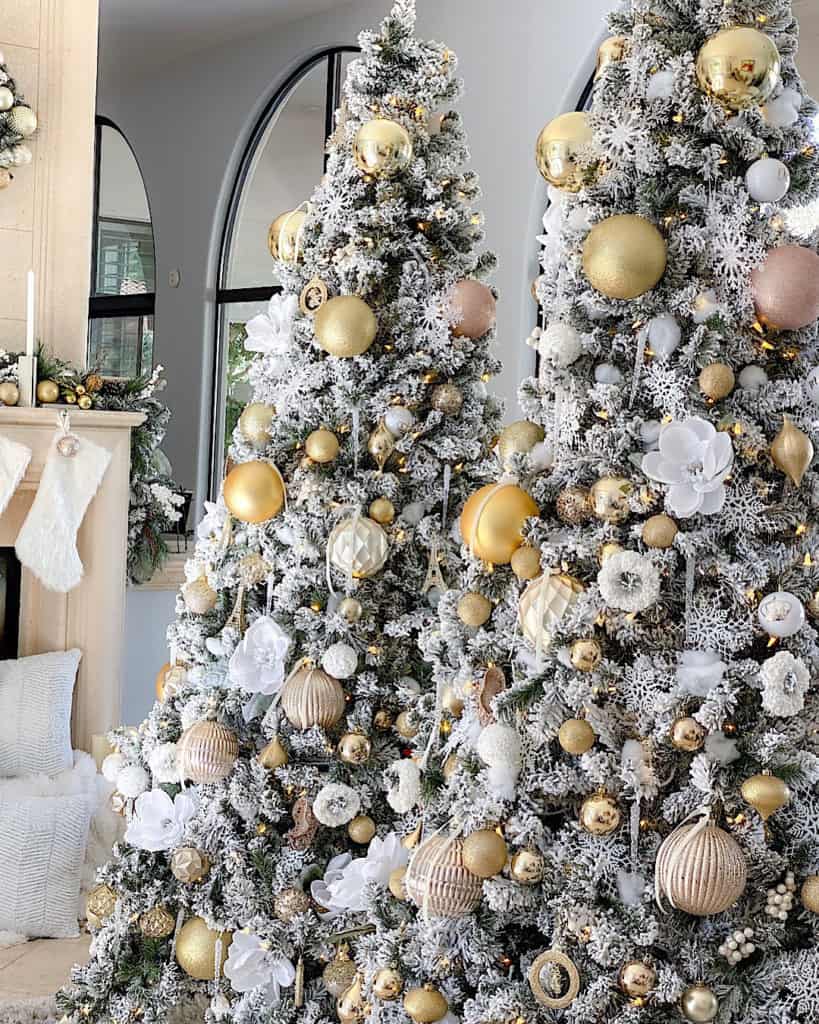 As I have said in the past, my top three holidays of the year: Christmas is always my #1 favorite, Thanksgiving is #2 and Valentine's Day is #3. Since I love Christmas so much, I love to decorate our home for Christmas as early as possible! Hahaha!
I used to wait to decorate our home for Christmas after Thanksgiving Day. However, this year due to the pandemic, I decided to put up and decorate our Christmas trees sooner since we spend most of our time in the house. I thought this way, we enjoy our Christmas decorations longer!
Christmas Top Trends
Some of the top Christmas design color trends are "Blue and White", "Pink and Gold", "Black-White checkered design with Red strips". I absolutely love the "Pink & Gold" combo! I think is looks STUNNIG on ANY tree!!! This is exactly why last year I decorated our Christmas tree "Light Pink and Rose Gold". I remember last year that I had a little harder time finding "pink" Christmas decorations. This year, you can find them much easier. There are so many gorgeous pink decorations everywhere!
I have been also obsessed with "Blue and White" décor this year! That is why I designed our Thanksgiving table in "blue and white" this year. I have seen many beautiful Christmas decorations in blue and white that I loved! If you use a "right shade of blue", your tree will turn out amazing!
I also love the Black and White checkered designs along with red stripes. It looks pretty cool! It reminds me of a "candy shop" (LOL), but it looks so fun and "different"! You do not need to use "black ornament". You can use white and red ornaments and add "black and white" checkered ribbons to your tree.
Why I Chose White and Gold for Our Christmas Decorations This Year?
I have been thinking about "winter wonderland" decorations for several years! Since we live in Arizona, we can never have the natural, "all-white" winter wonderland for Christmas! Hahaha! Therefore, I tried to bring the "winter wonderland" to our home this year! I thought since we have "flocked" Christmas trees, it was going to be much easier to create the winter wonderland "look".
As soon as I started putting up our white ornaments and other white Christmas decorations, I realized I needed another color to create a contrast! As much as I wanted to only use "white", I did not like the way it looked in our home.
I always love white and gold tree decorations. As soon as I started adding some rose gold ornaments to the trees, I loved the decorations so much more! I just love the White and Gold Christmas look… A White Christmas tree with gold decorations is a great idea if you have not designed your tree in gold and white for the past few years!
Why I Chose Two of The Same Christmas Trees This Year?
I got several DMs on Instagram asking me why I chose two of the same Christmas trees! Hahaha! To be honest, the is no specific reason behind it. I have always loved the look of two side by side Christmas trees! Last year, I loved the quality of our King of Christmas Flocked tree so much that I decided to get the exact same tree. (10' Queen Flock Artificial Tree With 900 Warm White Led Lights). I also think white flocked Christmas trees are gorgeous to have in your living room.
I am so in love with our side by side white flocked Christmas trees this year, that I do not think I want to go back to one tree for a while! LOL! I have to admit, it is more work when it comes down decorating two trees, however, since I truly enjoy ANYTHING to do with Christmas decorations, I did not mind to spend a little more time to decorate two trees!
How Do You Decorate A White and Gold Christmas Tree?
White and gold Christmas tree decorations are the easiest in my opinion. Gold and white are both classic Christmas colors. Therefore, when you put them together, they create a beautiful contrast.
If you have a flocked tree (like ours), your white ornaments may not show as well. That is why it is a good idea to place one rose gold ornament next to each white ornament. You can also add opposite color ribbons on each ornament. You can add gold ribbons on white ornaments, and white ribbons on gold ornaments. Ribbons are the easiest way to add texture and depth to your tree!
You can also add wider ribbons around your tree if you prefer that look. I personally do not like huge ribbons on Christmas trees. However, so many people like it and it looks great! I am going to share some of my favorite white and gold Christmas decorations with you in this post!
What Are the Most Popular Christmas Decorations?
Candles
Garlands
Ribbons
Ornaments
Wreaths
Nutcracker
Elf
Artificial Boxwood Topiary
Glass Vases Filled with Ornaments
Photo Prints Ornaments
Why I Chose King of Christmas Flocked Christmas Tree?
A Flocked Christmas tree is an artificial Christmas tree that has been treated with a "paint-like" material to give it a more natural, snow-covered appearance. There are a few different ways that companies and manufactures flock the artificial Christmas trees. Some trees have very heavy dusting, and some other trees have light dusting. This comes down to your personal choice on what tree to pick!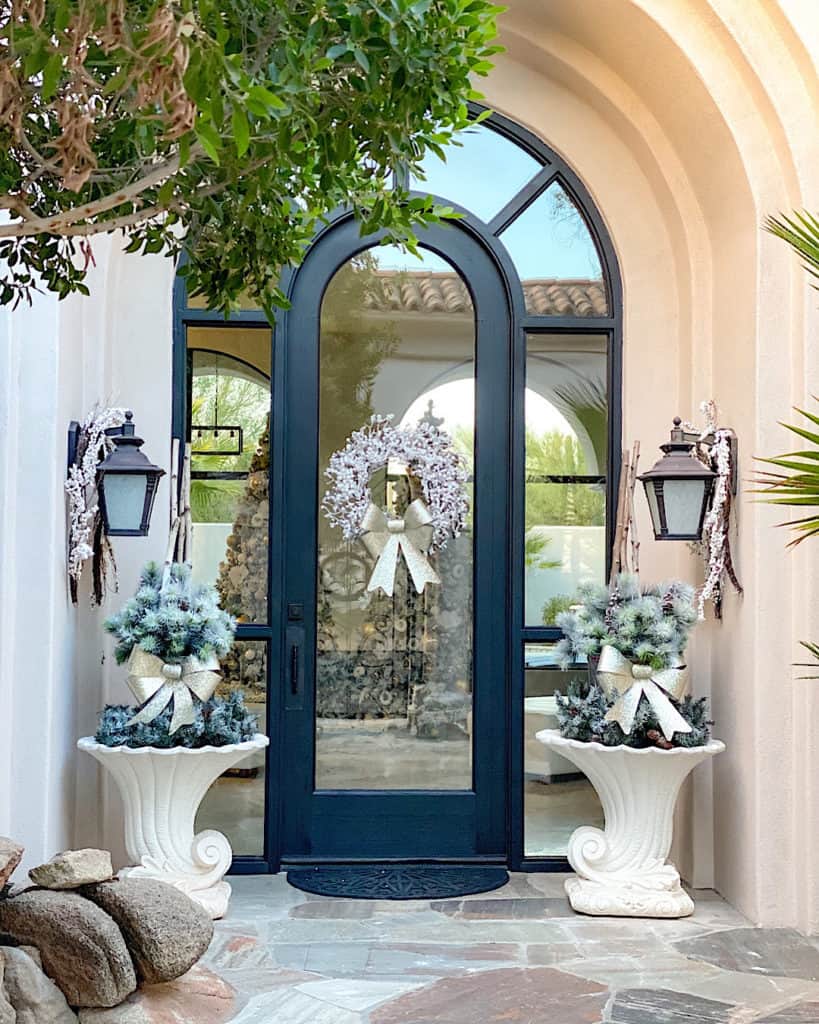 King of Christmas flock trees have a fair amount of "fake snow". But most of their flock trees are considered "light dusting". One of the reasons that I like "light dusting" flocked trees is because they "shed" a lot less. Therefore, they do not make a big mess in your home! The flocks on their tree are so beautiful that you can go minimal on decorations if you want to!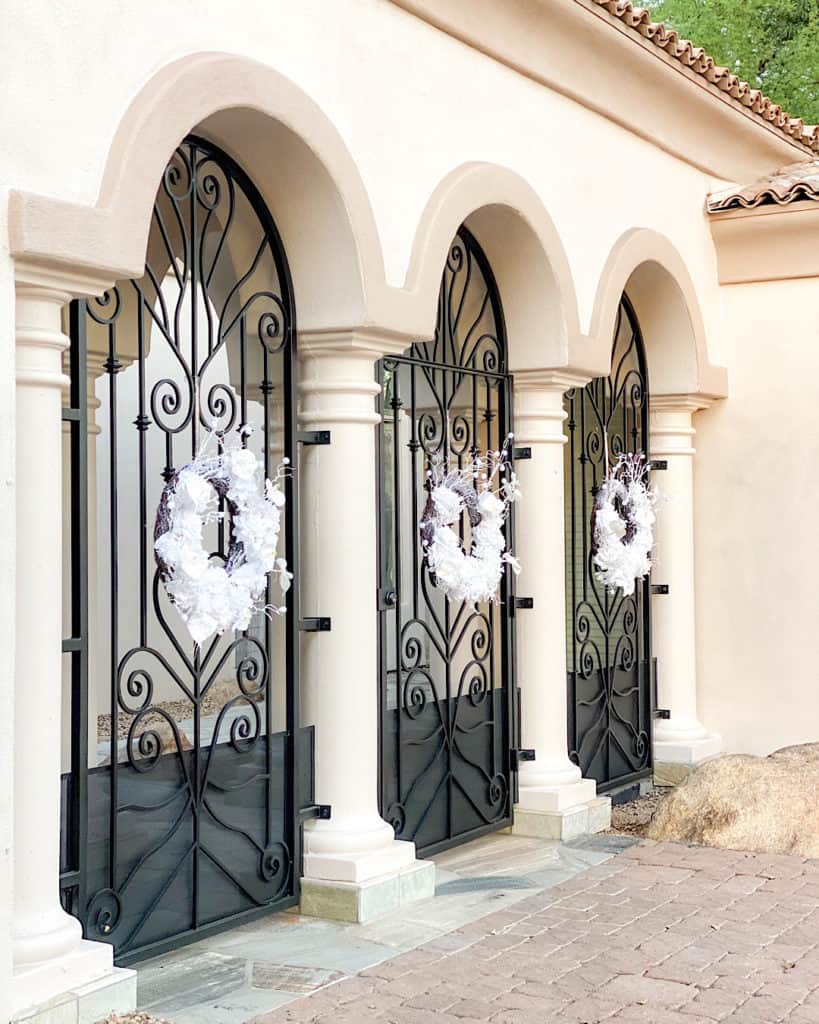 The other thing that I love about King of Christmas flock trees is the "type of needle" they use on their trees. The type of needle you choose for your tree matters! It will have a big impact on the way your tree feels and looks. I personally prefer softer needles. They look much nicer and easier to decorate! Make sure to order the "pre-lit" King of Christmas trees. I love this White and Gold Christmas look but they are gorgeous even without any decorations!
The best part about these trees is they are super easy to put together! I do not hear any complains from Matt when he installs our King of Christmas trees! Hahaha!
No matter what type of tree you have or what theme or colors you like to choose, at the end of the day what matters the most is the quality time spent with your family and friends. To me, creating the atmosphere and the warm feeling of Christmas makes the time with family and friends that much more unique and special.
I believe holiday traditions are an important part of our lives which build a strong bond between family, friends, and our community. (I know… it sounds so cliché, but so true)!!! I think this time of year, is a great opportunity to teach our children about generosity, giving, sharing or even letting them to pick their favorite charity to help!
Let us not forget to teach our children that Christmas is not all about "receiving" presents, it is more about sharing with others who are less fortunate.
I hope you have a fantastic holiday season!
Happy Holidays and Merry Christmas!
Love,
Sherry
Sherry, xoxo
This post may contain affiliate links, which means that I may receive a commission if you make a purchase using these links.
Shop this post or similar