Hello my friends!! Today I'm sharing one of my favorite products that I have recently tried, Embryolisse moisturizer. In the dry Arizona winter, my skin has been LOVING this extra hydration. I can see the difference if I skip it for a day!! Below I'll be sharing my Embryolisse moisturizer review.
This post is about how to use Embryolisse moisturizer!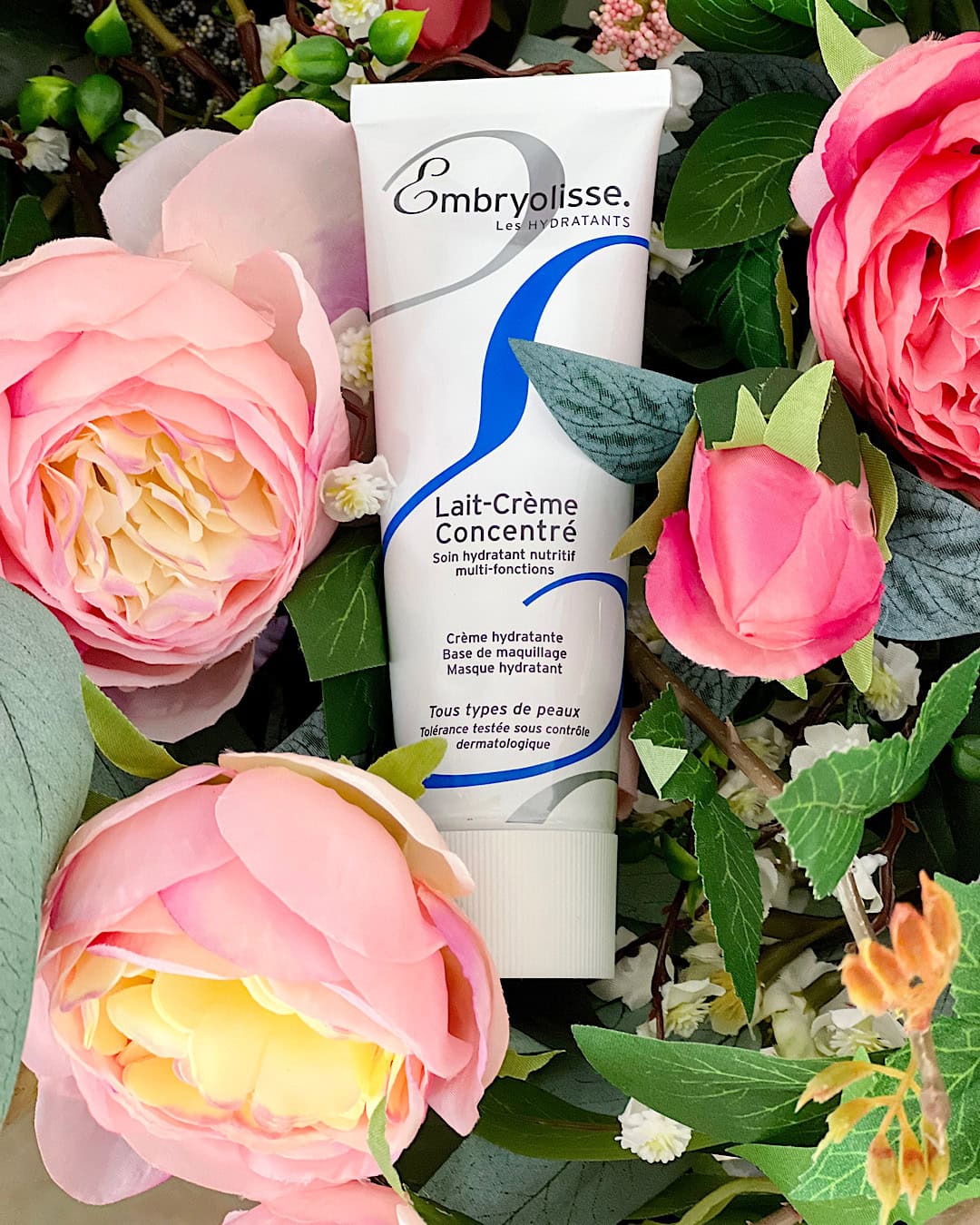 One of the best parts of Embryolisse is how easy it is to get ahold of it. It's available easily online from Amazon as well as other stores like Costco, Dermstore, Revolve as well as their own website. And the Embryolisse moisturizer price is unbeatable…you get so much benefit for such a reasonable price!!! Since everyone has a different type of skin, just try it out once and find out if this is a good fit for YOU and your skin!
Best Embryolisse Moisturizer
No matter what your skin needs, they have something for you. Embryolisse moisturizer for oily skin, Embryolisse lotion, Embryolisse face cream, Embryolisse 24-hour miracle cream, Embryolisse lotion micellaire. There is something for everyone!!
I've been loving the Embryolisse 24-hour miracle cream. I've been using it for over a while now. I don't have wrinkles around my eyes yet (hahaha), but I do have some fine lines under my eyes that my makeup tends to settle into. Using this all over my face has definitely helped me get rid of some of those fine lines.
Embryolisse Lait Creme Concentre Moisturizer
One of my favorite products recently!! This embryolisse face cream not only moisturizes, it has many other functions too. It serves as a make-up base, beauty mask, and even cleanser. It can also function as aftershave care and to help soothe the skin after sun exposure! This product is seriously AWESOME!
I was SO used to having separate products for all these different uses, and spending extra money and cluttering my drawers for all these products but not anymore! This embryolisse lotion seriously does it all. I could NOT be happier with it!
The embryolisse lotion is also SO soft on your skin. It is lightweight and easily absorbed and doesn't linger on your skin too long.
Embryolisse Where to Buy| Pricing Information
You can find these products pretty much everywhere!! Embryolisse products are available at most drugstores and beauty retailers. You can get them at Target, Costco, or Sephora. Anywhere that carries beauty or self-care products, you should be able to find them.
Online, you can buy them from the Embryolisse website or from other retailers like Amazon. This is so convenient, since it's just a click away!! You can also sometimes find Embryolisse moisturizer at Sephora and Target!

Embryolisse Cream Benefits
To start, it is a natural product! Embryolisse lotion and Embryolisse face cream include natural ingredients. They have ingredients extracted from flowers and fruit. This is combined with cutting edge ingredients like hyaluronic acid and collagen!!
This combination of natural ingredients and cutting edge is EVERYTHING. It makes sure that the ingredients help soothe irritation and redness and also good for acne prone skin!!
Embryolisse face cream also makes sure to nourish and moisturize the skin. This makes it look smoother and plumper, keeping your skin vibrant and beautiful!! Also, it can be used as a primer before makeup which is a huge plus. I've been using embryolisse face cream before I put on foundation, and it makes a big difference in the way other products appear on the skin.
FAQS
Is Embryolisse Good for Sensitive Skin?
Yes!! Embryolisse lotion and embryolisse face cream are great for sensitive skin. The formulas are made to be gentle and light weight, so you should be all good! Some people that suffer from sensitive skin and reacted to other products reported that embryolisse lotion helps soothe this irritation and redness. So yes, if you have sensitive skin, embryolisse face cream and embryolisse lotion is PERFECT for you!!
How Do You Use Embryolisse Moisturizer?
Well, there are so many uses for embryolisse moisturizer!! First, you can use it as a primer before make-up. It helps make sure the skin is hydrated well before you apply makeup.
You can also use it on dry skin to help moisturize. Embryolisse can be used as moisturizer for your face or your body. It can help with just about anything!! Anywhere you have irritated or dry skin, embryolisse lotion can help.
Embryolisse lotion can also be used as an aftershave!! It can help prevent itching, redness and irritation. Also, it can be used after sun exposure to help soothe the skin. Pretty much just like aloe!
Is Embryolisse Good for Acne?
Yes! Embryolisse face cream is good for acne too. Dry skin can actually cause some breakouts! This is because your skin produces extra oil as it senses it is dry. Keeping your skin properly hydrated can help make sure that your breakouts are tamed.
Embryolisse moisturizer for oily skin is also especially good for acne prone skin. That and embryolisse face cream contain ingredients that help to reduce inflammation and clear up breakouts.
Can I Use Embryolisse Daily?
Embryolisse face cream can absolutely be used daily! It is important to keep your skin hydrated and to moisturize consistently. I've been using it daily, if not TWICE a day if my skin is really dry. And this has been working great for me!! Embryolisse lotion can be used as much as you need, it all depends on your individual needs and preferences.
Can I Use Embryolisse as A Night Cream?
Yes!! Embryolisse face cream can be used as a night cream. Embryolisse face cream is a great way to hydrate and nourish the skin while you sleep. I've been using it at night to make sure that my skin doesn't get dry while I sleep. I love waking up to radiant, hydrated skin from the embryolisse face cream.
Is Embryolisse Good for Mature Skin?
Yes, Embryolisse lotion can be used for mature skin!! Make sure to choose the right product for your specific needs. It is important to moisturize mature skin and choosing the right one will help the product go the extra mile.
For mature skin, I recommend the Embryolisse Lait-Crème Concentré!! This is a good option because it has been used for decades by make-up artists, actresses and top models to keep their skin youthful. The formula of this product is just AWESOME!! It has fatty acids and vitamins, helping maintain moisture in the skin. It also reduces the appearance of wrinkles!!
There you have it!! Everything you need to know about Embryolisse moisturizer. You can probably see by now why I love this product so so much!! Whether you're looking for a good moisturizer for sensitive or acne prone skin, Embryolisse has your back!! I hope this blog post was helpful for you in learning about the science behind moisturizer and why I think these products are so great!
If you have any of these products share your opinion about them in the comments below! I would love to hear about how they are working for you and which ones you think are best! I love when other people have the same favorite products I do!!
Love,
Sherry
Sherry, xoxo