If you are wondering what to wear in New York, this post is for you!!! I am sharing some EASY tips and great ideas on how to pack for your NYC trip, especially if you are traveling in fall or winter. No matter what season you travel to New York City, you can use these great tips to pack light and stay stylish!
This post is about what to wear in New York during the fall/winter season.
The fall season in NYC is so dreamy! The fall foliage is unbelievable! I think one of the best places to see the fall foliage is in Central Park!
This is why Matt and I decided to book a little "fall getaway" trip to New York together. We really wanted to enjoy this beautiful season in the Big Apple!
How to Dress in New York
When most people think of packing for New York City in the fall, they immediately think of heavy coats and layers upon layers of clothing.
While it is true that you will need to pack some warm clothing for your trip, there is no need to go overboard.
The key to packing for NYC is to pack versatile pieces that can be mixed and matched to create different looks.
I packed only a few sweaters, a couple of skinny jeans, a light jacket, one pair of high boots, and one evening wear for fine dining in the city.
What Clothes to Bring to New York in Fall/Winter?
In this article, I want to give you some packing tips for NYC in the fall/winter. I will also provide you with a packing list of essential items that you should bring with you to make sure you are prepared for anything!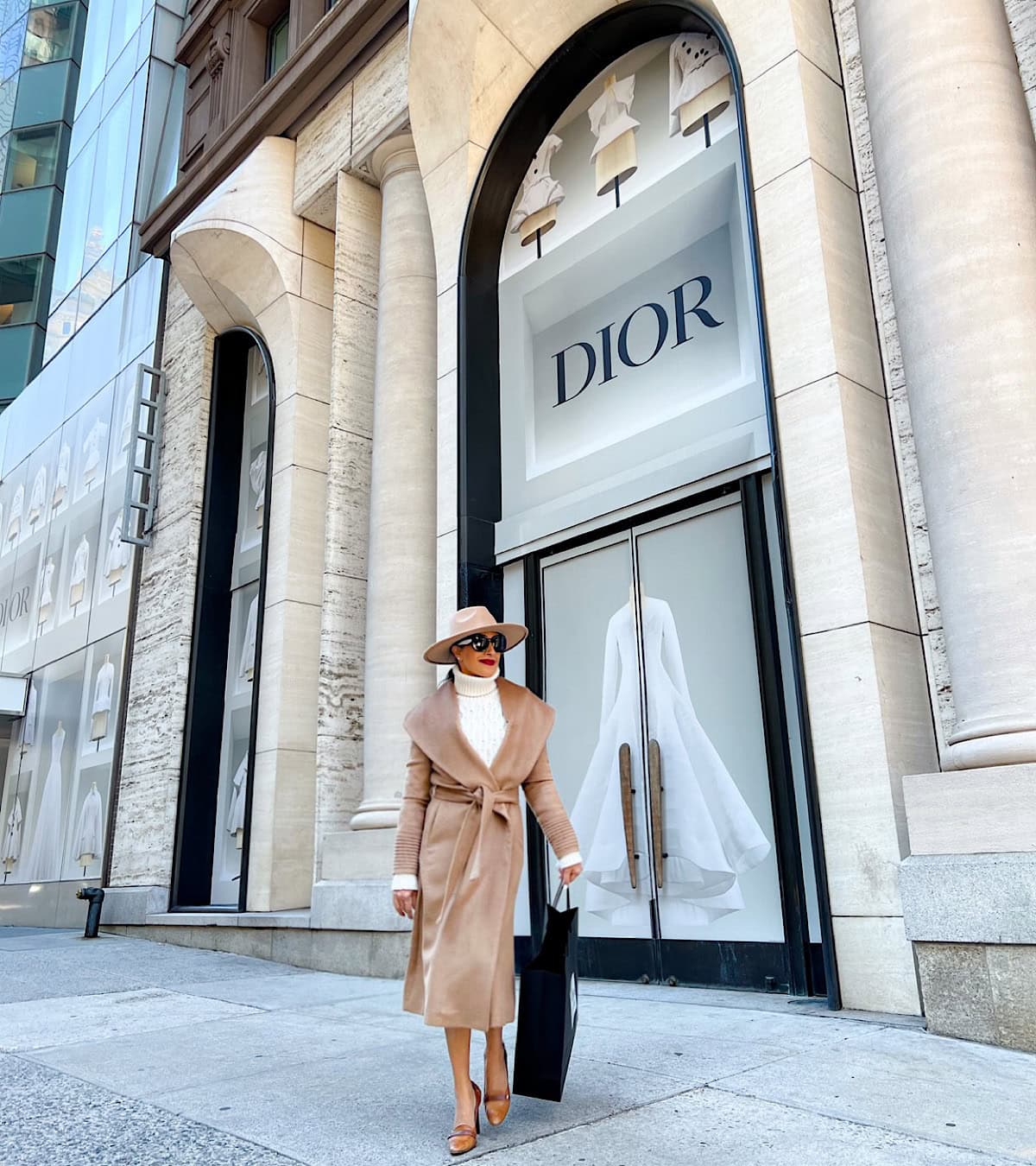 This coat is designed by one of my favorite Canadian designers, Sentaler. This name of coat is the "Suri Alpaca Long Shawl Collar Wrap". Their coats are very high- quality, absolutely beautiful and they feel so incredibly soft! Take a look at some of the "Must-Have" Sentaler coat styles in this post.
You can also shop their beautiful coats from other department stores like Saks Fifth Avenue or Nordstrom. Beside the camel color coat that I'm wearing, I love these styles as well:
What is the Best Time to See Fall Foliage in New York?
The best time to see fall foliage in New York is typically in late October. This is when the leaves of most trees have reached their peak color. However, the exact timing can vary from year to year depending on the weather.
Although we booked our NY trip for the last week of October, unfortunately, the leaves had not completely changed color! Despite this, we were so excited to go for a walk in Central Park and enjoy the fall foliage.
During our stroll through the park, we noticed that 80% of the leaves were still green! Here and there we found groups of trees that were "trying" to change color.
If we had waited one or two more weeks, it would have been more likely that we could see the vibrant fall foliage. In early fall is sometimes tough to guess the exact time for the best fall leaves.
I think this year was a little warmer deep into October, therefore the leaves had not changed their color like we expected. We had an amazing time enjoying Central Park anyway.
Is November Too Late for Fall Foliage?
It depends on the local weather condition. However, in general, the best time to see the fall colors in Central Park will be between the end of October and to beginning weeks of November.
If you hit the road in early October, you can see the most beautiful vibrant colors at higher elevations like the Bear mountains, Catskill, or Adirondack mountains.
My orange coat is from Reiss which I purchased couple of years ago. Here are some of their new styles that I love:
Here are some other colorful coats that are NOT part of the Reiss collection, but I love them:
What to Wear in New York (During Fall and Winter)
Tip #1: Know the Temperatures
It can be hard to know what to pack when you're planning a trip to New York City in the fall or winter. The temperatures vary so much from day to night.
Related Post: My Birthday Weekend Celebration in New York City
Related Post: 14 Fall/Winter Fashion Essentials for Your Wardrobe!
It is easy to get confused about what clothes to bring. This means before coming up with your NYC packing list, you need to check the weather forecast and know the temperatures in order to pack appropriately.
Matt and I got so lucky with the mild fall temperatures during our stay in NY. We enjoyed beautiful sunny days with temperatures between 60-65F (15-18C). And 45-50F (7-10C) during the nighttime. The weather changes from day to night, and even within the same hour.
In addition, the city has some unique challenges, such as high humidity, extreme temperatures, and unpredictable rainstorms. So, make sure to check the weather before packing!
What to Wear in New York
Tip #2: Layer Clothing for Insulation and Comfort
All you need to keep yourself warm during the city stroll in the big apple is LAYERING!!!! You basically need a three-piece outfit. Base layer, middle layer, and outer layer! For the base layer, I usually choose a stretchy long-sleeve top!
Related Post: Stylish and Trendy Capes and Ponchos to Try This Fall
I like the Spanx or other stretchy fabrics because it will allow me to add the second and 3rd layers easily! The spandex fabrics don't bunch up or cling to another top that they are layered with! I highly recommend it!!
Another tip is to make sure that your clothes are easy to move in and don't restrict your movement. This means choosing clothes that are lightweight and quick drying.
Layering your clothes is always a good idea when trying to stay warm during the fall or winter season in NY or any other cooler cities. By layering your clothing, you'll be able to stay warm without having to wear a lot of weight or layers.
Here are some tips for how to layer in the fall and winter:
Wear clothes that are made from different materials – this will help them insulate each other and keep you warm.
Layer clothes so that they're not too tight or restrictive – this will prevent them from becoming uncomfortable or restrictive.
Choose flexible clothes that can move with you in order to keep your body temperature regulated.
Tip #3: Choose Versatile Pieces that Can be
Dressed Up or Down
I love to pack pieces that can be easily dressed up or down! This is pretty much how I try to pack light for the fall/winter trip. For example, you can wear a cute sweater dress and flat boots during the daytime.
You can wear the same sweater dress for dinner if you switch your flat boots with high heel boots or shoes. You can also add some accessories to your outfit for nighttime.
I love adding a belt and fashion jewelry to my outfit for dinner time.
You can also wear warm sweaters, leggings, and flat boots for the daytime when you stroll around the city.
You can change your snow boots or flat boots to high heels shoes or boots for dinner time or if you are going to a Broadway show.
Honestly, this is the best way to transition your casual outfit to an appropriate dress code for each restaurant, rooftop bar, Broadway show, or any other evening activity.
Taking versatile pieces with you makes a huge difference in your suitcase weight! I always like to leave some extra space in my suitcase for shopping (hahaha)!
Here are a few tips for dressing in NYC during the fall and winter seasons:
Choose items that are versatile enough to be worn in multiple ways. This means items like sweaters, jackets, and boots.
Stick to neutrals or basic colors so you don't have to worry about matching everything. Plus, these colors will work well with any outfit you put together.
Use accessories to help make your outfits look more polished and complete. A scarf, a hat, or even a pair of gloves can really add dimension and style to an outfit.
Tip #4: Keep Everything in Your Bag
Clothes, Shoes, Umbrella and Makeup
Every morning when we were about to leave our hotel room, I made sure I have a light jacket (or any other outer layers), scarf, and makeup bag with me in my bag! This is what most New York women do on daily basis!
Going from home to work and then dinner with friends. The traffic in NYC is INSANE!!! Therefore, one of the best things you can do is to take some of the items with you, so you don't have to go back to your hotel. This will save you a lot of time and hassle!!
You can also take a pair of comfortable walking shoes with you as you have to walk so much in NY! Since NYC is such a walkable city, there's no need to pack heavy shoes. You just need to stick to flats or sneakers!
You also want to make sure to bring along an umbrella! Always check the weather before leaving your hotel room! Thankfully it did not rain while we were staying in NY this time.
However, the NY weather is all over the place and so unpredictable! Even if the weather app shows no rain, it can still rain sometimes (LOL)!!! Not being prepared for sudden showers can lead turn even a short walk into a slippery nightmare!
Tip #5: Accessories Matter
A good hat: Not only will a good hat keep you warm, but it will also add character and style to your look.
Gloves: It can be cold outside even when the weather is sunny, so make sure to bring along gloves in case you need them.
Scarves or wraps: If it starts raining or snowing, make sure to bring along a scarf or wrap so that you can stay warm and fashionable at the same time.
The crossbody bag: Always carry a crossbody bag or shoulder bag so that you can easily grab what you need on the go. Crossbody bags should always be on your New York City packing list. Since you will be walking so much in NY, you want to avoid shoulder bags, totes, hobo, and bowler bags. Crossbody and messenger bags are one of the easiest ones to carry around and are simply great options.
Tip #6: Opt for Neutrals When Selecting Colors
I love bright colors. Not only for spring/summer but also for fall/winter! However, when it comes to packing for your fall/winter trip to NYC, opting out for neutral colors is always a good idea! This is simply because neutral colors make it easier to mix and match different pieces of clothing to create different looks.
Therefore, you do not have to pack lots of clothes! When choosing neutrals, you can go for anything from blacks, browns, grays, and whites to light khakis, sweaters, and coats. You can also try mixing and matching different shades of each color together to create a more personalized look.
Here are some tips for selecting neutrals:
Choose colors that are close to each other on the spectrum.
Stick with basics like black, grey, brown, or navy. These colors go with everything, and they'll never go out of style.
Try not to overdo it with patterns or prints.
Tip #7: Use Loose-Fitting Clothes to Stay Comfortable All Day Long
I love wearing comfy sweatshirts, loose-fitting long winter coats, or comfy sweater dresses while walking around the city! To be honest, I love to be comfortable when shopping and walking around in big/ major cities.
Loose-fitting clothes will allow you to move easily and avoid getting sweaty or cold. Make sure to pack a variety of clothes so that you can switch between them depending on the weather conditions.
Every night after dinner, Matt and I went back to our hotel and changed up our clothes to comfy sweatshirts and sneakers. We started walking around Times Square for some "people-watching" or walked to Rockefeller center.
Being comfortable is one of the most important factors if you want to be able to walk all day long and enjoy city life!
I highly recommend taking easy and loose-fitting clothes to stay comfortable during the day or night. Also, make sure that you take a warm jacket or coat in case it gets cold at night.
What to Wear in New York
Tip #8: Street Style: What to Wear This Fall & Winter
When it comes to dressing up or down in New York City, there's no one right answer. It all depends on where you are going and what are your plans while visiting NYC.
It also depends on if you are visiting this beautiful city during the fall/winter or summer months. Regardless of what time of the year, you are visiting the "Big Apple", you can always consider one great style, which is called "Street Style"!
What makes street style so special and becoming so popular?
Street style is a trend in fashion, and it's all about dressing down to look chic. You don't need a lot of expensive clothes or accessories to rock street style – you just need something that looks good on you and makes you feel comfortable!
Some might say that street style is simply what people wear when they are out and about – whatever looks good on them at the moment!
Others might say that it captures the spirit of contemporary culture in a way that traditional fashion doesn't.
Streetstyle photography allows us to glimpse into different worlds and see how people dress differently in different parts of the world.
It also gives us an inside look at how trends change over time – which can be very inspirational! Many people love how versatile street style can be – you can wear it to work, out with friends, or even on a date!
How do you go about styling your own street style?
I personally love to mix and match my random outfits and make a fun little street style. Sometimes I wear my "Alo" leggings with a cute sweater and flat boots.
I add some accessories to my outfit (a cute hat, scarf, or fashion jewelry). I'll be set to go!!!
The key is to experiment and play around!! Try combining different pieces together in unique ways and add some interesting accessories for extra flair.
You could also consider trying out new hairstyles or makeup looks – there are endless possibilities!
Tip #9: Pack Cold Weather Boots and Comfortable Sneakers
Since we were traveling in Fall, the temperatures were mild! Luckily, we did not experience cold weather or rain! However, you need to keep in mind that in the cooler months of the year, it's important to pack a little bit differently when traveling to NYC.
Not only does the weather in New York City vary significantly from day to night, but different parts of the city require different clothing styles and shoes/boots.
Wear comfortable shoes that you can walk around in all day long. Cold-weather boots or sneakers will do the trick!
This is a piece of great advice that you can get from New Yorkers! They invest in comfortable cold-weather boots or sneakers!
A couple of years ago, Matt and I went to NYC with a few of our friends for my birthday. My birthday is only two days before Christmas! I remember that I was wearing regular tall boots!!! That was NOT enough…!!!
I had to wear 2-3 layers of socks to keep my feet warm (LOL)!!! That is why your best bet is to buy cold-weather boots or simply wear a few layers of warm socks! My personal opinion is when working on your New York packing list, taking cute "furry snow boots" is always a good choice and a great idea!
These gears will help keep your feet warm while also protecting them from ice and snow. There are many beautiful women's faux fur snow and winter boots that are such a good look with leggings and long or short coats.
FAQ
Tips for Wearing Heels in NYC
Invest in a good pair of heel grips to keep your heels from slipping.
Try to avoid walking on escalators or busy sidewalks while wearing heels in NYC.
Carry a pair of flats in case you have to take them off for some reason. I do this ALL the time!!! (LOL).
Try to walk in your flats or sneakers during the day and wear your heels at night.
Wear a good pair of heels that will make you look taller and slimmer.
When walking in heels, make sure to maintain a good balance and keep your back straight.
Take small, quick steps and avoid making any sudden movements.
Avoid walking on sidewalks that are wet or covered in ice, as these surfaces can damage your heels.
What Clothes to Bring to New York in the Fall and Winter?
Clothes that can be easily layered are a must when visiting New York in winter. This will help you stay warm and comfortable even when the temperature dips below freezing. You should also pack clothes that can be easily washed if necessary. For footwear, wear durable shoes that can stand up to icy conditions.
A coat, gloves, and a hat are necessary in order to keep yourself warm.
Woollies or a scarf to keep you warm.
A pair of sturdy boots to keep your feet warm.
A hat to keep your head warm.
What are the Best Coats for New York in Fall/Winter
A coat made out of wool is the best option in New York during winter. Wool is a natural fiber that traps heat, keeping you warm all day long.
A coat made of waterproof and breathable fabric is another great addition to your fall/winter NYC outfit.
A coat with a hood can also be a great choice as it will help you keep your head warm.
A pair of gloves will come in handy in cold weather as they will help you keep your hands warm.
How Do I look Fashionable in NYC?
The key to looking fashionable in NYC is to be versatile.
You don't have to stick to one style all the time.
Mix and match different pieces of clothing to create a look that suits you.
Choose accessories that go well with your outfits and help you stand out.
Opt for minimalistic and modern clothing pieces that flatter your figure.
Stick to neutrals and earth tones so that you are not too in-your-face with your fashion choices.
Opt for accessories that add interest and dimension to your outfit, without overpowering it.
What to Wear for Dinner in NYC
A dress or skirt that's comfortable and stylish.
A blazer or cardigan to keep you warm.
Heels that will elevate your look and make you feel confident.
A clutch to keep your makeup and credit cards with you.
A pair of dark denim jeans to pair with a blouse or top.
A statement jacket or cardigan to add some color.
Designer-heeled boots.
What is the evening chic dress code for NYC?
For evening chic, you should wear designs with a little feminine touch. You can choose an elegant lace dress, or simply choose soft colors like beige, ivory, or pink…
I also like dresses with delicate straps and flowing fabrics to flatter your curves. You can also go for knee-length dresses, A-line skirts, and fitted tops. Make sure to wear a beautiful piece of jewelry to add a touch of elegance to your look.
Keep in mind that for the evening chic dress code, you can go for dresses that are knee-length or shorter, with a sleek silhouette.
You can choose dresses with strappy details, crisscrossing straps, and broad shoulders. You can also go for blouses with plunging necklines and high waistlines. To finish the look, with statement earrings and a clutch.
New York Fall/Winter Attire
Keep your look sophisticated and chic with a blazer.
Wear knee-length skirts or pants to add an edge of sophistication.
Opt for a statement necklace and earrings.
A comfortable pair of shoes to walk in all day.
A scarf or a hat to keep you comfortable and warm.
Gloves if it gets really cold outside.
Add a statement piece like a scarf or clutch to give your look an edge.
What kind of shoes should I wear in New York in fall/winter?
If you are visiting New York in the fall or winter, you should preferably wear ankle boots or knee boots as the temperature can drop below freezing point.
If you are going to be walking a lot, go for flats. This is the only way you can walk all day long!
If you will be visiting museums or other places that may require you to stand for a long time, go for boots or shoes with good arch support.
Go for boots or shoes with good insulation.
You should also avoid wearing sandals or flip-flops as they will not be able to handle the cold.
What kind of purse should I carry in NYC?
There is no one-size-fits-all answer to this question, as the best purse for NYC depends on your individual needs and preferences.
However, some general tips that could help you include carrying a small cross-body bag if you want to be hands-free, a large shoulder bag if you need to carry a lot of items with you, and a clutch if you only want to carry a limited amount of essentials with you.
My personal favorite is a good cross-body bag! A cross-body bag is a perfect option when shopping and needing to carry other necessities in New York City.

It's versatile and can be used for both work and leisure activities. You can also choose a purse with a strap so that it's easier to carry on your shoulder or carry in your hand.
What should I carry around NYC?
A map of the city so that you don't get lost. Or your phone's Google map!
A credit card in case you get lost or have an emergency.
A phone charger in case your phone runs out of battery.
A weatherproof raincoat or umbrella to keep you dry.
A sunhat and sunglasses to protect your skin from the harsh sunlight.
A water bottle to stay hydrated.
A pair of earphones to keep you entertained while on your travels.
Cash for emergency situations.
What to Wear in New York during fall/winter
Bottom Line
The best way to pack for a trip is to have an idea of places you want to visit and what outfits you plan on wearing. Then, look for the pieces that will make your outfit complete. Before you hit the road, ask yourself if there's anything you forget about.
Maybe it's a scarf or gloves? Along with these tips, it is also essential to keep in mind the occasion. Whether you are going for a casual or formal event, it will be important to dress appropriately.
Have Fun Traveling to NYC!!!
If you are traveling to NYC to enjoy the fall foliage or planning to spend Thanksgiving or Christmas there, I hope you have a fantastic time!
I also hope this post helped you and gave you some ideas on how to pack for NYC in fall/winter or simply dress like a native New Yorker!
I LOVE, LOVE, LOVE New York, and can NEVER get enough of this beautiful, live city 🙂
Love,
Sherry XOXO
This post may contain affiliate links, which means that I may receive a commission if you make a purchase using these links.
Shop This Post or Similar
Sherry, xoxo