Looking for Where to Stay in Mykonos Greece? Here is my travel guide including the best hotels in Mykonos and other travel tips!
We had such a relaxing and magical time in Santorini. As I mentioned in my "Travel Guide To Santorini", Santorini is all about relaxation and Mykonos is all about partying!
There are several fun beach clubs (day and night clubs) all over Mykonos! Matt and I ended up continuing our relaxation even in Mykonos! Hahaha!
We went to a couple of beach clubs, but to be honest, our hotel was so beautiful and the food was sooooo amazing that we didn't want to miss the gorgeous view from our hotel! So we were hanging out most of the day by the pool at our hotel and we were out and about in the evening time!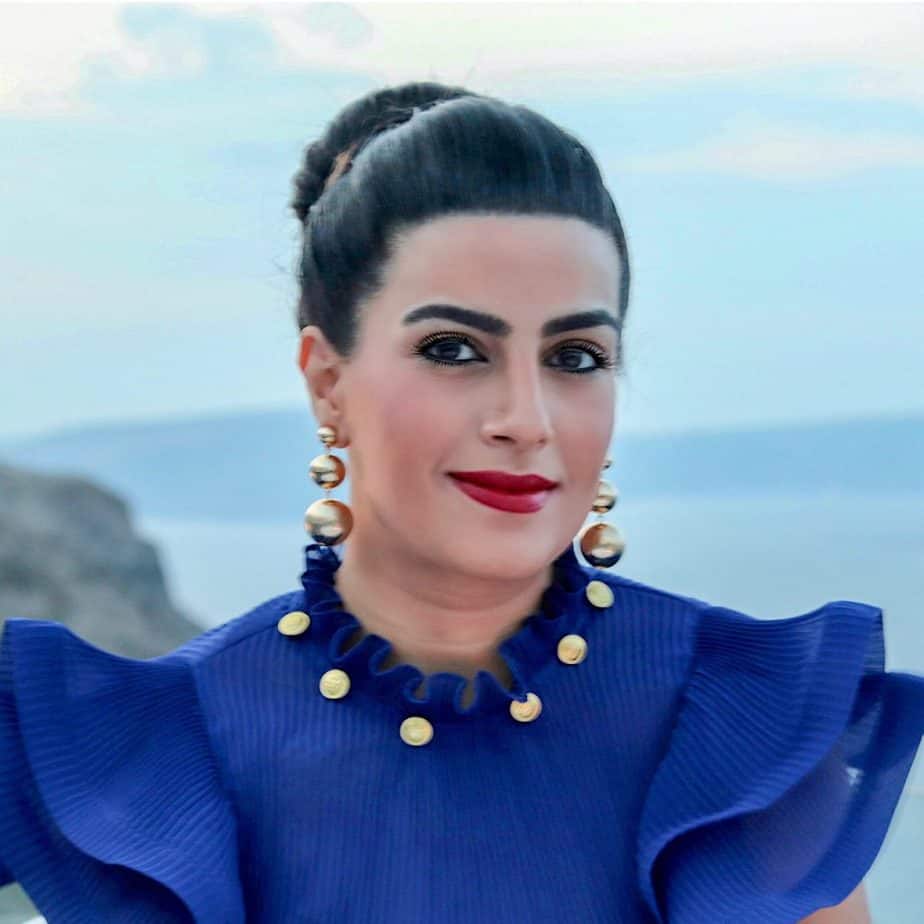 How To Get To Mykonos
If you are going to Mykonos from other cities in Europe, there are direct flights available. We decided to take the high speed ferry from Santorini to Mykonos.
We thought ferry would be a better option since we didn't really like to go through all the airport securities, check in the suitcases, etc so we purchased the "Express" ferry to Mykonos!
Taking the ferry was NOT a good idea! I will not recommend it to anyone! If we go back, we'll 100% fly and will NOT take the ferry anymore!
First all of the line for ferry is sooo long and people are constantly trying to push each other while standing in the line with several big suitcases!
Secondly, the ferries are apparently never on-time!! (That was a pretty well-known thing among all the locals)! Our ferry had a two hour delay. And lastly the sun is pretty harsh (although we went mid-September) but if you stayed in the sun for too long, you would be very uncomfortable.
The only positive thing was, there were several coffee shops right there so we went and got a table with shade at one of the coffee shops, ordered some snack and drinks until our ferry arrived!
So if you choose to go by ferry to Mykonos, make sure to go to one of those coffee shops so you will avoid the sun and standing on your feet for hours!
When we finally boarded the ferry, it looked very nice, with few little coffee shops inside and it was nicely air conditioned.
We were told the "Express" ferries travel time from Santorini to Mykonos was only 2 hours, but it was about 3.5 hours. By the time we arrived to Mykonos, we felt like we lost the entire day because of the long ferry delay and long ferry ride!
If we would fly, it would only be 45 minutes flight and we could maximize our day better. Oh well…. The good news is we finally made it to Mykonos! Hahaha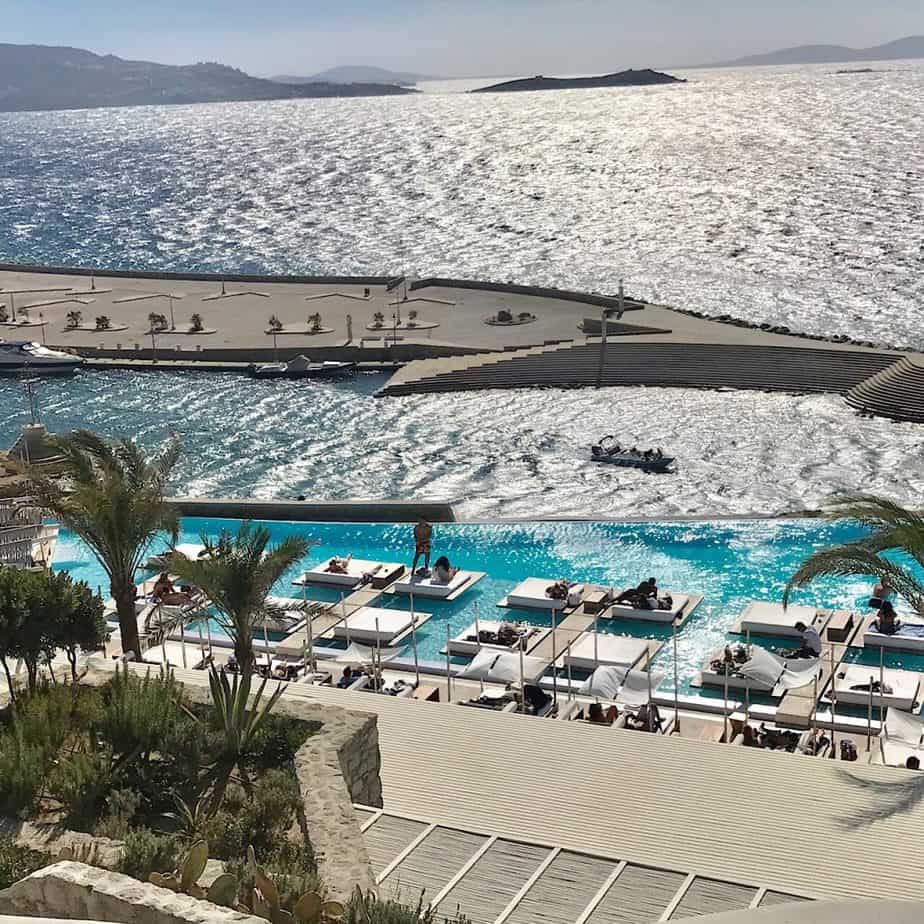 Where To Stay in Mykonos
The way we chose our hotel in Mykonos was pretty much the exact same way that we chose our Santorini hotel!
We stayed at Cavo Tagoo because of several of my favorite travel bloggers recommended it and their pictures on social media looked amazing! We really didn't look anywhere else and just booked at this hotel.
The hotel offers a complimentary shuttle service. They picked us up at the ferry port and gave us a nice and smooth ride to the hotel which only took about ten minutes.
When we walked into the hotel, we instantly fell in love with the beautiful lobby! The lobby was surrounded by big, tall glass windows so you could enjoy the breathtaking view! The lobby smelled so good that I can still remember that wonderful sent. Hahaha!
We were greeted so kindly by their lovely staff. They served us some beautifully decorated refreshment drinks and some champagne upon our arrival.
Beside the incredible lobby, the gorgeous pool and the breathtaking view, they had an elaborate, complimentary breakfast! They had the best cappuccino (better than the ones we had in Italy), delicious Greek yogurt, so many different kind of fresh baked pastries and muffins, amazing egg station and breakfast meats.
The juice bar was to die for! Our favorite juices were the freshly squeezed pomegranate and orange juice combo! I think I had 2-3 of those every morning! I felt embarrassed to order more but I couldn't resist! Hahaha!
Their green juice selection was sooooo good too! We truly enjoyed every second of our breakfast!
The location of the hotel was fantastic! We loved how the hotel was less than 5 minutes taxi ride to Mykonos town, only 10 minutes away to the port and only 10-15 minutes away to the airport!
The hotel also offers a free shuttle that runs 24 hours a day between the hotel and Mykonos town which we took advantage of it every day!
Matt and I booked one of the Classic Room .TheCave Pool Suite looked incredible on the pictures! However, those suites besides being very expensive (over $1500-$2000 a night), many reviewers also suggested don't waste your money for over the top rooms in Mykonos as you will hardly spend any time in your room.
There is so much to do in Mykonos, from visiting their charming town to restaurants, shops, sunset cruises, tons and tons of rooftop bars and beach clubs. They were completely right! We were hardly at our room!
But when we walked into our classic room, I wished we had one of those "Cave Pool Suites"! We heard from the other guests at the hotel that those rooms are absolutely stunning!
If you really want to treat yourself nicely then book one of those rooms, but make sure to book way far in advance as the hotel informed us those rooms are very limited and they book very quickly!
Where To Eat & Drink In Mykonos
I know I keep saying this but we had the best food in Greece! I'm not sure what kind of spices/ingredients they use to cook, but all I can say is their food is AMAZING!!!!
1- Kiku at Cavo Tagoo: Kiku was located in the Cavo Tagoo hotel. We ate dinner there the first night we arrived. Since we arrived in Mykonos in the late afternoon, we decided to just relax at our hotel until later in the evening and enjoy the beautiful view of the pool, cruise ships, the most amazing music and the ocean breeze.
Kiku had the coolest looking cocktails! Matt LOVED them and tried several different ones! Hahaha! We finally sat down for dinner and were lucky enough to get the table with an amazing view!
We ordered an amazing rock shrimp starter and several amazing sushi rolls. The presentation of the food and the atmosphere was perfect. Lastly, we ended with a fantastic chocolate lava cake and ice cream…it was so delicious!
2- Principote Beach Club: A couple of our friends went to Mykonos a few weeks before our trip and they recommended a few fun beach clubs to us! One of their favorites was Principote!
I strongly recommend this place! Although this is a really popular upscale spot to visit in Mykonos, it was not over crowded which we loved! The outdoor design was stunning, the food was AMAZING, the sunbeds were so comfy and the music was incredible!
They were playing so many cool songs back to back that we didn't want to leave, EVER! Hahaha! Definitely visit them if you have time while visiting Mykonos (make sure to go there on Tuesdays or Sundays… those are the best days for Principote).
3- 180 Degree Sunset Bar: This bar is one of the coolest bar in the island! Situated in a perfect spot in Mykonos! The layout and the décor is amazing and is just the best spot to watch the sunset (get there early like around 6:30pm to get the best spot to watch the sunset).
They had a great DJ and the music was amazing! The food and drinks were not the best in the island but the ambiance was so cool that it was worth going. It was a very memorable experience!
4- Nammos: Nammos has one of the best beaches in Mykonos. Go there early to get a good location on the sunbeds. Make sure you book for lunch as this place will turn into a party in the middle of the day.
The food and music are both excellent! The only downside is this place gets very over crowded therefore, the service was not the best!
3- Scorpios : Unfortunately, we didn't have enough time to make it to Scorpios! But we heard so many great things about this place from other people and our hotel's concierge!
We have been told that Scorpios is one of the gems in Mykonos! Beautiful beach, amazing view, excellent food and music! If you visit Mykonos, keep this place in mind!
What To Do In Mykonos
Eat, Drink, and Party: Mykonos is all about partying and having a good time! There are many beautiful bars, restaurants and beach clubs with incredible views! Our favorite ones were Kikus (at our hotel, Cavo Tagoo), Principote and 180 degree sunset bar! But there were so many other fantastic options to explore!
Visiting Mykonos Town: Mykonos town is so charming (just like Santorini) with so many cute shops and restaurants! There are so many incredible places to take pictures all over the town… Lots and lots of beautiful white and blue staircases, gorgeous flowers and more! So don't forget to take your camera!
Visit the Windmills in Chora: The windmills are among the most recognized landmarks of the island and one of the most famous Mykonos attractions along with Little Venice. The most famous ones are the Kato Myloi ( Lower Windmills) that stand on a hill facing the sea. Only seven of them have been preserved.
Rent an ATV: Some of the beaches and attractions are spread around the island, so this is a great transportation option to explore the island! You will find ATV shops all around the island, and all that is required to rent them is a passport or a driver's license.
Take a day trip by boat around the island: Mykonos offers so many different beaches. It's hard to see them all! The day trips will give you access to a few beaches that can only be accessed by boat. You can explore each beach for a few hours! It's a great way to see the different beaches around the island!
Mykonos Sunset and little Venice tour: Mykonos and Santorini are both famous for their breathtaking sunset! We heard Santorini's sunset is out of this world! That was true… but Mykonos sunset doesn't disappoint either! So try to book one of the Island's sunset tour that it will take you around and let you truly enjoy the dreamy sunset over the ocean, island and the shores!
There were so much more rooftop bars, restaurants, beach clubs, island cruises, etc to visit, but you can only visit so many places in 4-5 days while you are also trying to relax and enjoy your trip along the way!
We tried to relax all we could, but also visited several great places that were recommended to us! We didn't have enough time to visit them all, but we made unforgettable memories at the places we visited!
If you have been to Mykonos before or know of any great place to stay, eat or party, please share your thoughts on the comments here!
Sherry XOXO