Whether you are looking for Where to Stay in Santorini or what to do in this gorgeous city, this Travel Guide to Santorini Greece has everything you need for the perfect vacation getaway.
For the past several years, Matt and I have talked about visiting Santorini and Mykonos but we always ended up going to somewhere else and didn't make it to Greece.
This year, we were thinking where to go for summer, but the thought of taking our 3.5 year old daughter Valentina, was giving us anxiety!
We took her to Europe a year ago and she did not do well in the plane! She easily gets bored after about an hour of flight and wants to exit the plane! Hahaha! She loves to travel and loves the beach trips, but she can't handle the plane ride!
Related Article: Where To Stay in Mykonos Greece
My parents offered to come help us out with Valentina so that Matt and I could go on a couple trip. We jumped on their kind offer and booked our trip right away!
Santorini and Mykonos are both famous for not being very "kid friendly" places (especially Mykonos). Most hotels don't accept kids (at least the ones we liked…).
So we decided to go to Santorini and Mykonos this year while Valentina was staying with my parents. Once we visited both places, we realized why they are not "kid friendly" Islands.
There is nothing for the kids to do on those islands! Only gorgeous views and incredible food which we enjoyed every second!
How to get to Santorini
There are several ways to get to Santorini. We flew out of the US by booking the direct flight from Phoenix Arizona to London by British Airways.
Then we took a connecting flight to Athens. The flight from London to Athens was not as short as I thought (3.5 hours).
We slept one night at the Sofitel hotel inside the Athens International airport. This hotel was fantastic.
You can walk right out of your arrival gate, and then walk to airport exit door #3 and the hotel was right in front of you. How fantastic is that? No need for a taxi or extra transportation to the hotel.
Our room was beautiful, we had plenty of room to stretch out and relax after a long flight (they upgraded us at the check-in into a bigger room). Nothing feels better after a crazy long flight than a steamy hot shower and a good night sleep for the next morning flight.
In the morning, we woke up only an hour and a half before our flight and walked to our gate. It was a fantastic stay, we were fully rested after a long flight from US and were ready to start our trip!
From Athens to Santorini, we flew by Aegean Airline! It was a tiny little plane and a super short flight (45 minutes). Since the flight was so short, we didn't care how tiny the plane was! Hahaha!
We have already arranged the transportation with our hotel in Santorini Astarte Suites to pick us up from the airport. The ride was 30 Euros per round (60 Euros roundtrip). It was the greatest thing we did!
We didn't need to wait in the long taxi line. As soon as we got out of the airport, the driver was waiting for us outside of the door and helped us to get our suitcases in the car and leave. Less than 20 minutes later we arrived to our beautiful hotel!
About Astarte Suites
We did a lot of research before booking our hotel! To be honest, there are several travel bloggers on Instagram that I always love where they stay! One of them recently went to Santorini and Mykonos for her honeymoon and she talked very highly of Astarte Suites.
The hotel looked absolutely amazing and the reviews on the trip advisor and other travel websites were incredible. There was only one (none-positive) thing everyone (including that travel blogger talked about), which was this hotel is not very close to the other towns.
For example, to Fira is a 20-25 minutes cab ride and to Oia is a 40 minute cab ride at least! But every reviewer said since you don't need to do much in Santorini but relax by the pool and enjoy the view, you don't need to be close to the town.
After doing what seemed like endless research, we decided to book at Astarte Suites! From the moment we walked into the hotel, we were greeted so kindly by their lovely staff and delicious bubbly refreshments.
Katerina, George and Kostas and Eva were in charge of guest services! They were so beyond kind and friendly that I can't even describe their warm welcome!
They always smiled, called us by our first names and would call our room to check on us and see if we need anything every single day! They truly made us feel very special the entire stay. Their amazing service was something that we'll never forget!
Astarte hotel was absolutely gorgeous, it had the most beautiful negative edge pool viewing the water with lots of giant inflatable swans for their guest to use. They had one restaurant on the property called Alali. Their restaurant is located on the cliffs and had the most breathtaking view!
We made sure to make the dinner reservation every morning as they would get booked so quickly. The first night we sat down on the lower patio and had a delicious fresh sea food dinner with the most breathtaking views! Our favorite thing was the morning's breakfast!
They bring it to your room and set it up on your room's patio. The night before, they would give you a list and you had to choose what you wanted for breakfast and what time you wanted them to serve it.
They had the best fresh squeezed orange juice that I have ever had, amazing omelet and a great fresh fruits dishes.
Although we were not on our honeymoon, but we booked the Honeymoon Suites hahaha! The pictures of the room looked amazing so we couldn't resist not booking!
The room was pretty big (not huge, but very good size and comfortable), had an amazing private jacuzzi (which we enjoyed every single night before going to sleep), and incredible private patio with the most stunning view!
That was where they would serve the breakfast every morning. I totally recommend booking either the honeymoon suite or any other suites with the private pool. You will not regret the experience!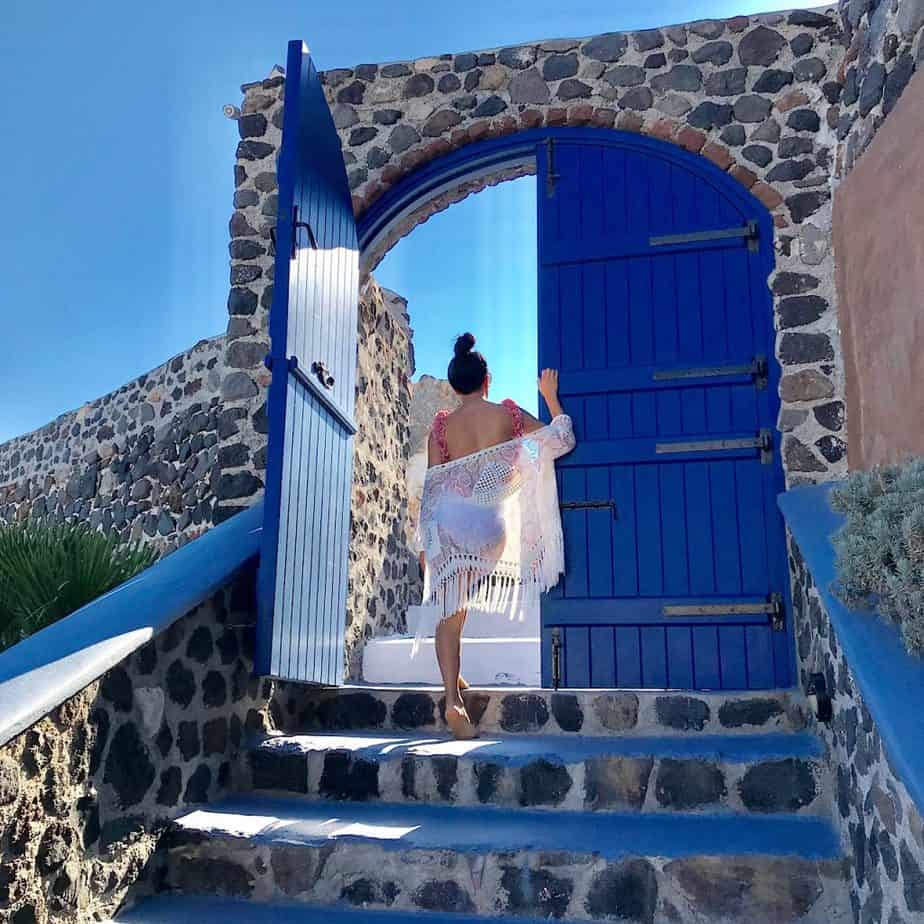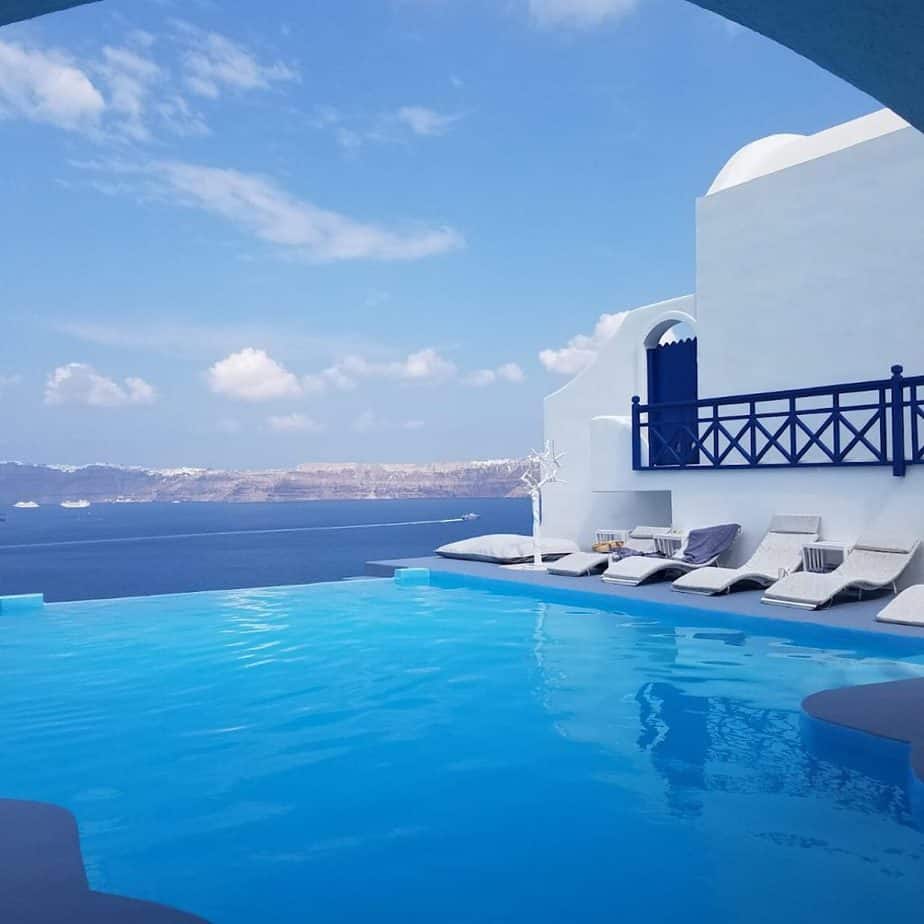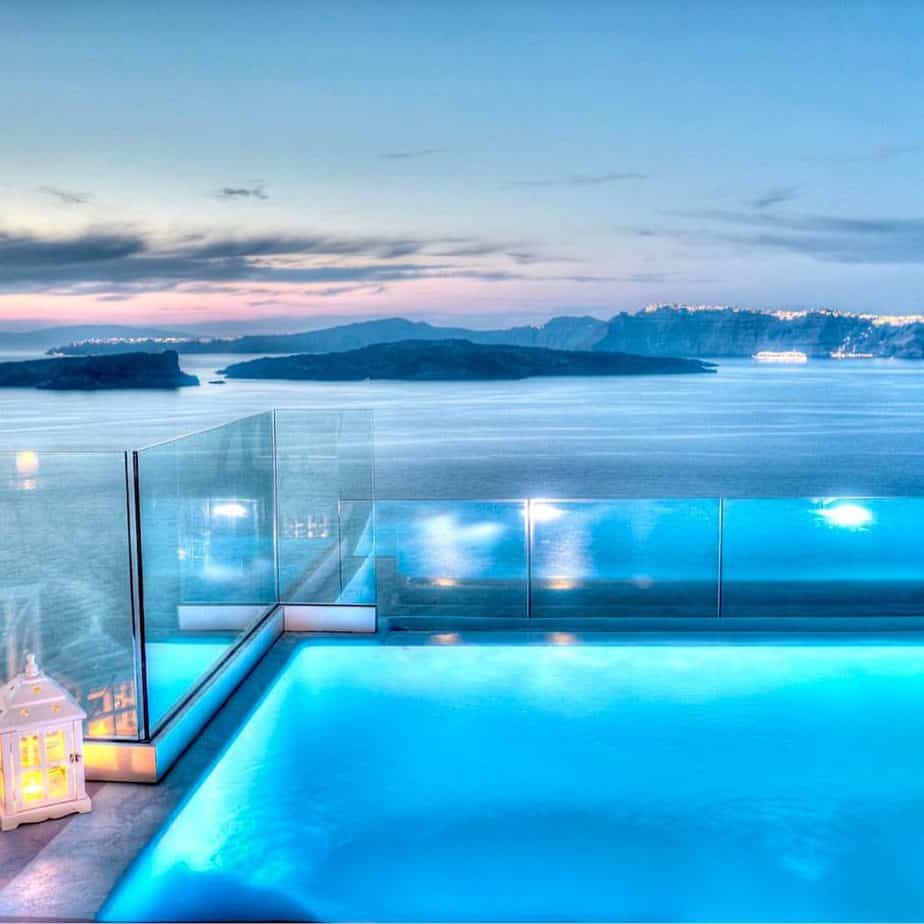 Where to stay in Santorini
It honestly all depends on if you want to truly relax and enjoy the views, or if you would prefer to be in the middle of busy streets filled with tourists and nightlife. Both choices will offer a different experience but both will be perfect, it just depends on what you want!!
Since Santorini is known for being a romantic place and all about the views, we decided to stay at Astarte Suites which is built on the side of a cliff viewing the caldera which is surrounded by the stunning water of the Aegean Sea.
Oia (pronounces, Eeeyaaa) is the top of the island and is absolutely beautiful. But to be honest, it was so crowded that we couldn't even move around and enjoy the beauty of it.
So many people were pushing and trying to take pictures with the blue domes that we truly wanted to run out of that area! Hahaha! Based on what our hotel informed us, September is within the highest traffic season for Santorini & Mykonos.
We were there in the middle of September (which we truly enjoyed the heavenly temperature), but we were so happy that we didn't stay in Oia since it was so incredibly crowded.
If we would go back to Santorini, and wanted to try a different area, we would probably look at hotels in "Imerovigli"! Imerovigli is only a 5 minute cab ride to Fira (which is the capital of Santorini) and 20 minutes cab ride to Oia.
Imerovigli, had several beautiful blue domes (with no people pushing and shoveling around it for pictures) and many gorgeous hotels on the cliffs viewing the water. It definitely did not have the traffic of Oia which was great!
We also heard there were some places in Oia where the crowds weren't allowed. So if you stayed in a nice hotel in Oia then I'm sure you would have a better experience than we did just being a tourist in Oia! Just make sure your hotel is further away from all the crowds!
Where To Eat & Drink In Santorini
We made so many lovely memories in Santorini and Mykonos! But one thing Matt and I will never forget will be the FOOD! It was absolutely incredible!
To be honest, it was better than the food we had in Italy, Spain, Turkey (all the foodie countries…).
First of all, everything was super fresh! We had lots of sea food and I can't even describe how fresh they tasted! Our favorite was the Greek salad! And every restaurant had their own version of Greek salad!
Most restaurants would bring you some fresh baked bread, a small plate of different type of hummus, olives and olive oil! That was my favorite thing, ever!
This restaurant was at our hotel. But even if you are staying anywhere else in Santorini, make sure to make a reservation here for one great romantic dinner!
I have to say, beside their incredible food, their choice of music was absolutely amazing! So many beautiful back to back incredible love songs to the point Matt asked them who is in charge of putting all these lovely songs together!
The combination of delicious food, romantic music, exceptional service and breathtaking views, you don't need to ask for anything more! The first night we had dinner on the lower patio, on the cliff, viewing the water. It was amazing!
We read about "Argo" on trip advisor before we went to Santorini. One day when we were visiting Fira, after a long day of walking and some shopping, we got hungry….
So we asked some people around that what restaurant they recommend, several local people recommended Argo and that's when we remembered we heard about it on Trip advisor too.
So we decided to eat our lunch at Argo! The restaurant had nice views and the food was delicious. I would say, it's not something to make a trip to go there, but if you are visiting Fira, the restaurant is nice and the food is not "touristy"!
This restaurant was on our list but unfortunately, after visiting Oia and Fira we got pretty tired and decided to enjoy our resort for the last couple of nights before heading to Mykonos.
But if we go back to Santorini, we would love to go eat and drink here! We heard so many positive reviews about this restaurant. I just want to go only for the view! Hahaha
This restaurant was recommended by our hotel and it was a lovely experience! Great view, food was spectacular and the service impeccable.
We had a wonderful dinner on the terrace overlooking the Santorini Caldera. The seafood salad and octopus dishes were outstanding. It's a great option if you are in Oia.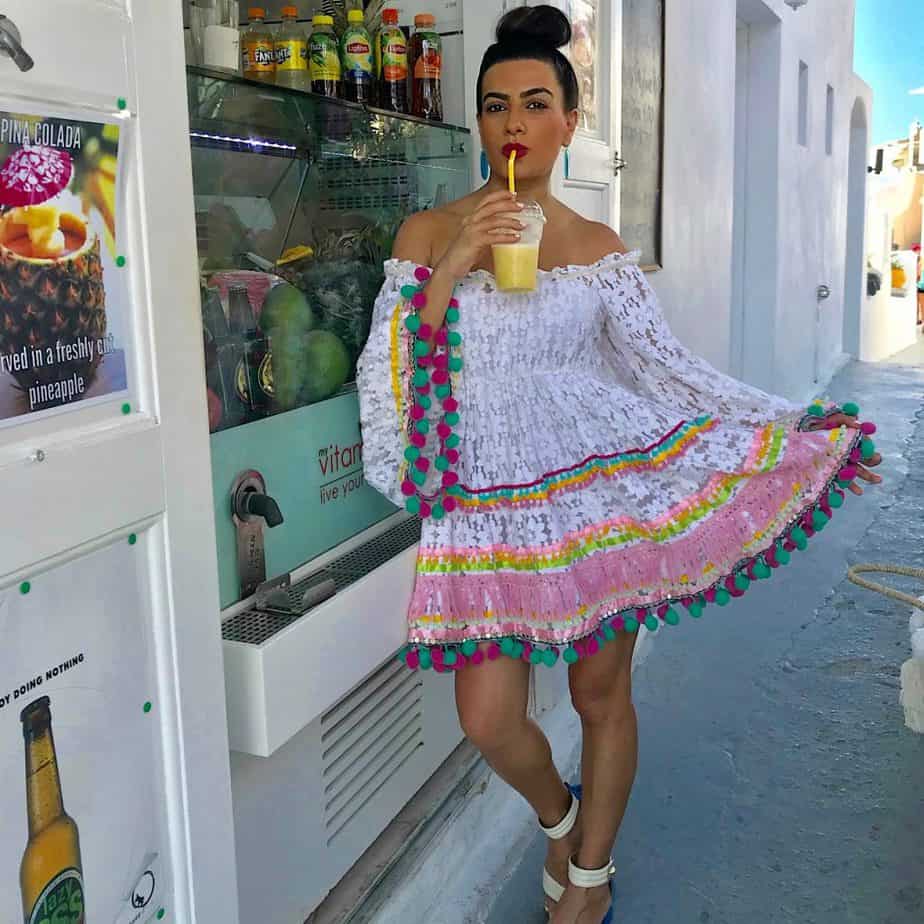 What TO DO In Santorini
Visit Imerovigli, Oia and Fira
Visit Amoudi Bay
Visit the red beach
Santorini day tour with sunset in Oia
Boat trip to volcano
There are several cruises (private and semi-private) offering dinner, drinks and taking you around to watch the most memorable sunset!
Shop! They have some very cute local boutiques that I found the cutest dresses, hats, scarf and gorgeous, fun jewelries.
One little side note about Santorini is, by looking at the pictures on social media or online, I always thought those beautiful blue domes are every corner you turn, but that was not true! You have to go find them!
Which the best place to find them is either in Imerovigli or Oia. We truly enjoyed our time in Santorini and made unforgeable memories!
The other thing is I think I have never seen that many stray cats all over the place than Mykonos and Santorini! Hahaha
If you have ever been to Santorini, and have a favorite hotel, restaurant or town in mind, please leave that in comment section! Would love to hear all about it!
LOVE
SHERRY XOXO