Shop This Post Or Similar

Happy Thursday everyone! Today I'm sharing with you some tips from my last trip to LA – here's my perfect itinerary for 3 Days in Los Angeles!
As we all know 2020 has been a remarkably high stress year for everyone! Covid-19 has been the around the clock topic of the year and the most talked about subject on every news station, social media and has become one of the biggest concerns for most families.
Our family has also been concerned and extremely careful about this vicious virus! We have been taking the social distancing recommendations as serious as possible by staying home, wearing mask, constantly washing hands, using sanitizers around the clock, not eating out and keeping our distance with others.
Since we have been in a true lockdown at home since March (5 months), and not really socializing anymore, we felt like our little girls (especially our 5-year-old Valentina) started to feel very down.
Matt and I tried our best to keep them occupied and entertained at home by playing with them in the backyard, family picnics, playing in the pool, coming up with different art projects, watching fun TV shows and so much more!!! But eventually we were repeating the same things every day! I am sure if you are a parent of young children you can relate! Hahaha!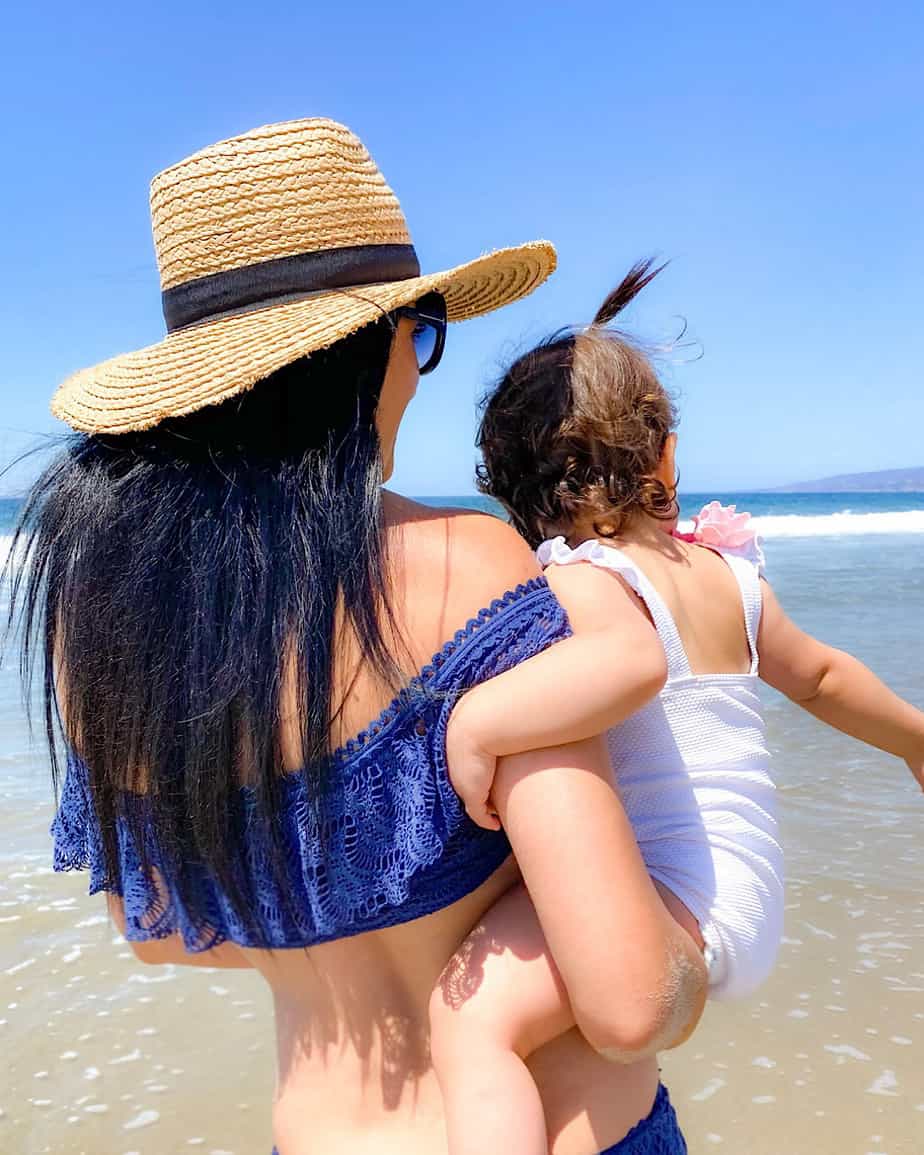 A great opportunity came along which involved an apartment rental in Santa Monica right by the beach! The best part about that apartment was it belonged to friend of mine that we knew very well. We knew the apartment was "Covid safe" because they had a strict mask and elevator policy (mandatory mask and no more than 3 people in the elevator at a time and hand sanitizer everywhere)!!
We certainly did not want to fly and sit in an airplane while Covid-19 cases were skyrocketing in Arizona. Although I get car sick with long car rides, I took some Dramamine and had to suck it up as that was our only option!
It ended up being a nice car ride as I did not get as sick (the Dramamine worked), and our two little girls slept most of the ride which helped us relax during the drive to Southern California.
We packed our lunch and tons of snacks so we did not have to stop at any restaurants on the road (we tried to avoid all indoor dining).
Once we arrived in Santa Monica, Valentina and Alina were sooooo excited to finally be "out of their home". Their "over the top" excitement made Matt and I feel so happy!
Since Matt's work schedule would not allow us to stay very long, we decided a short 3-day getaway is better than nothing! We tried to do as much as we could in that short period of time! However, since we were traveling with our two little kids we had to make our plans around our kids.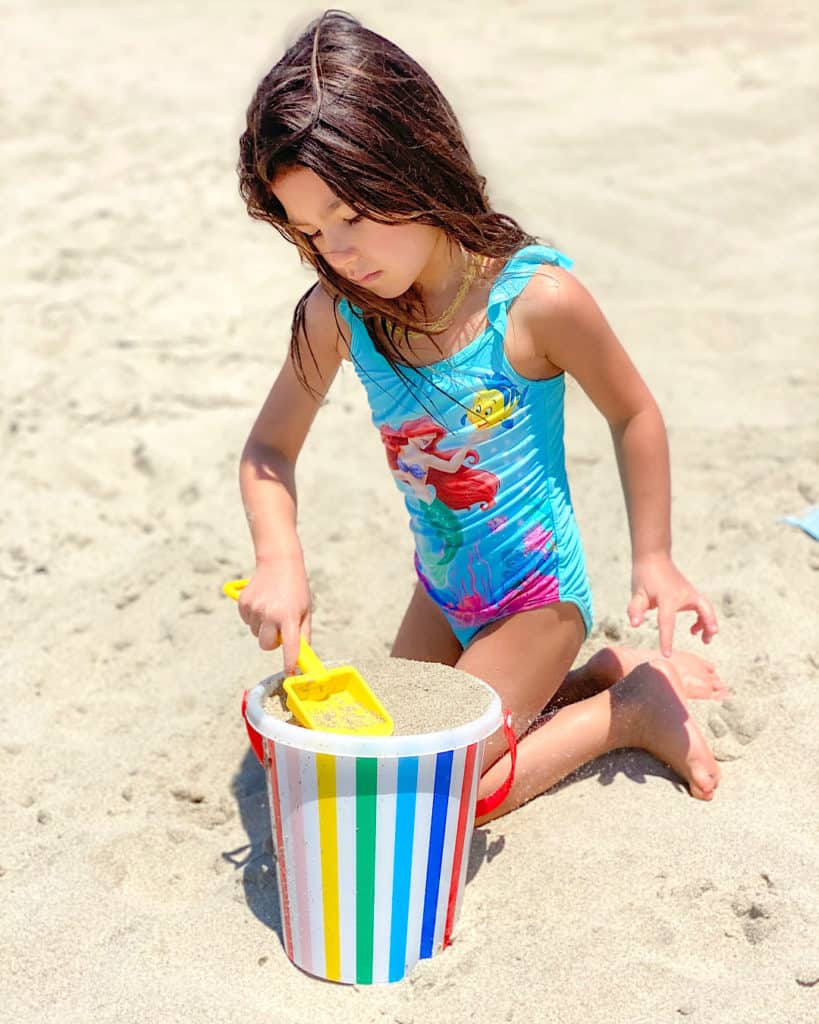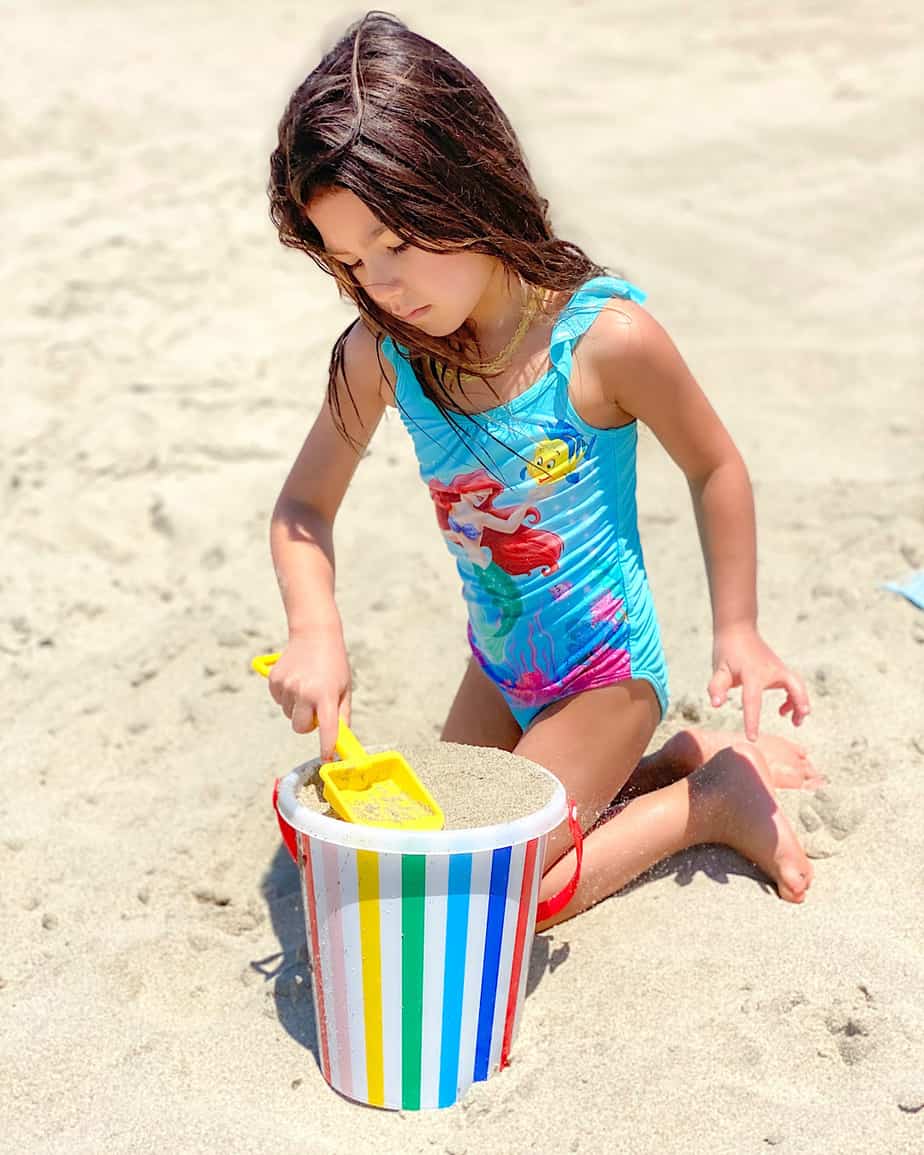 If you are traveling with or without kids, I am going to share some of my favorite things to do on a short trip to Los Angles! As you know, Los Angles is a huge city and there are so many wonderful places to visit! For most of these places you want to have a ONE FULL day to visit!!! However, if you are in Los Angeles for only 3 or 4 days, you can only choose what sounds "the best" to you! Here are my top choices if you are visiting Los Angles for the first time (even second or third time):
3 Days in Los Angeles
DAY ONE
Santa Monica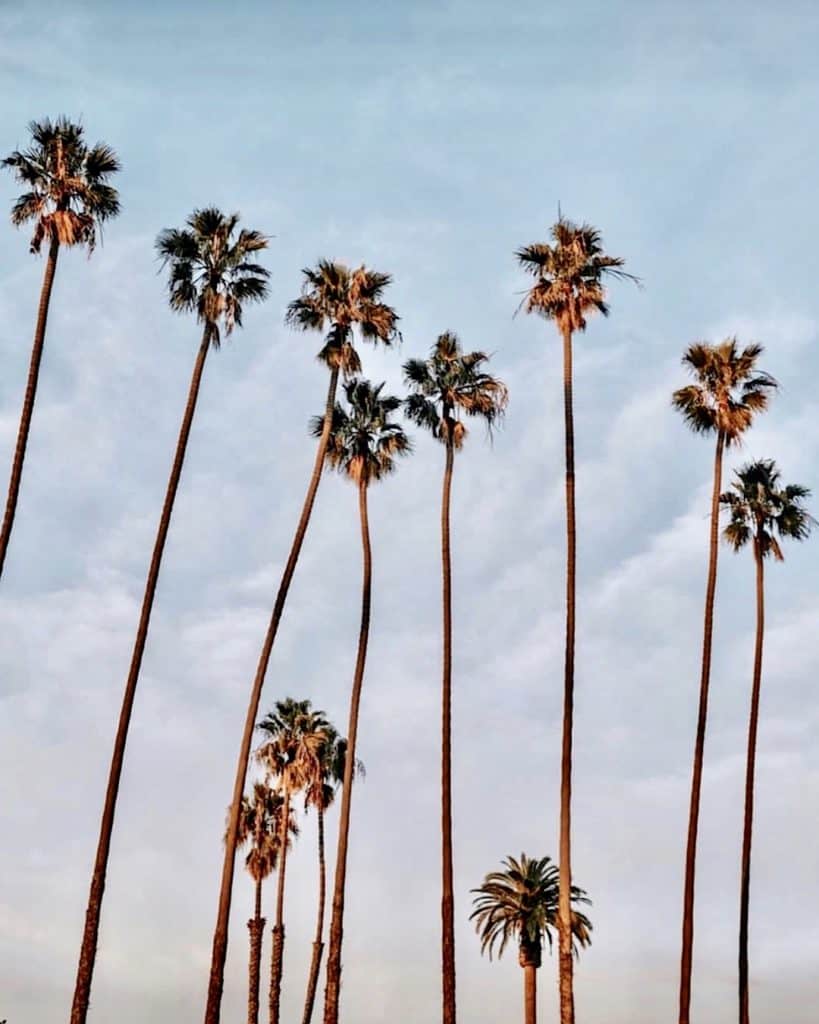 Santa Monica: I love the vibe around Santa Monica! People are so chill and laid back! Every time I walk around Santa Monica boulevard, I feel like even the locals are on vacation like me!! hahaha!
Everyone is either biking, jogging on the beach, surfing, fishing, shopping at the beautiful farmers markets (Santa Monica farmers market is held on Saturdays and Wednesdays), or they are simply enjoying their ice cream from cute ice cream carts on the streets! It is such a LIVE city! Santa Monica is a MUST on your itinerary!!!
Visiting Santa Monica beach is always our very first stop!!!
Santa Monica Pier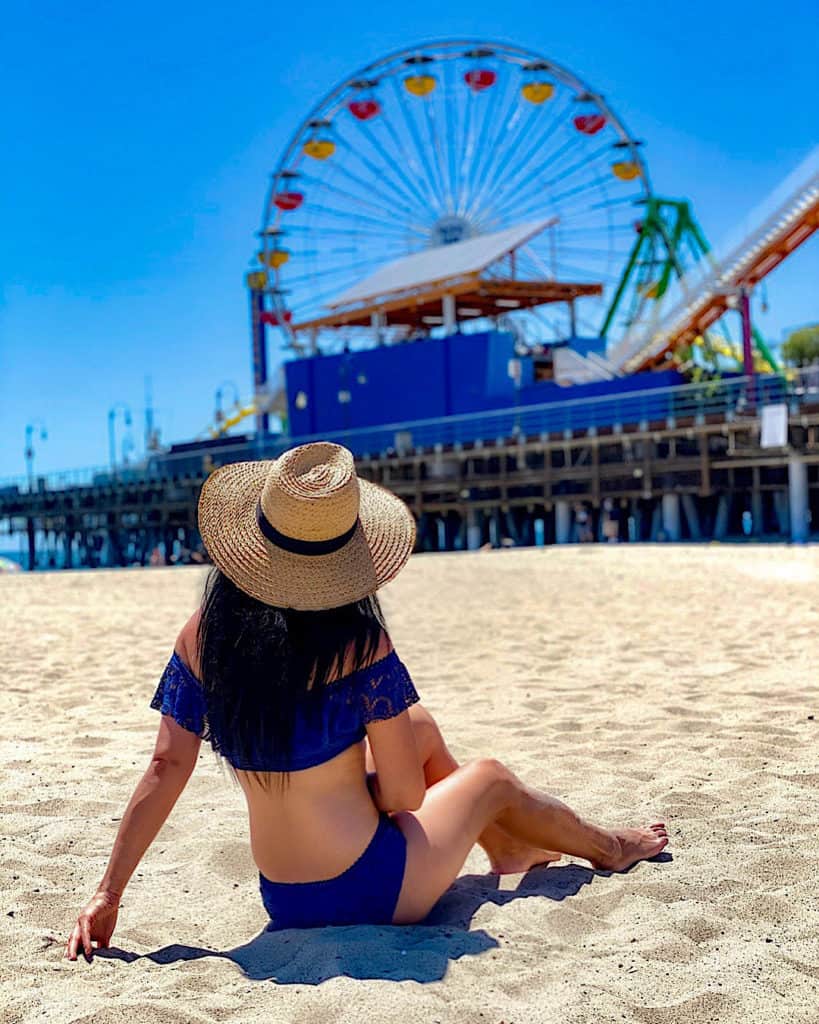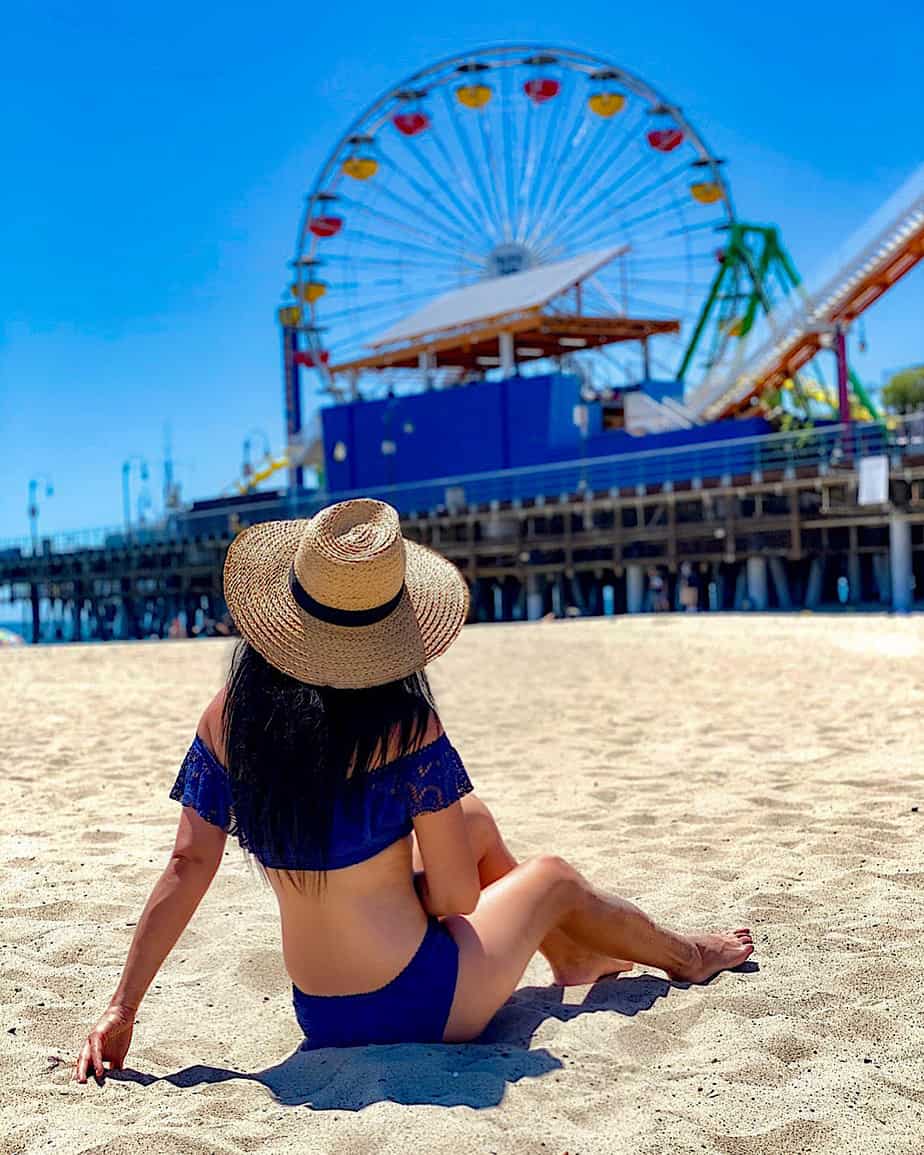 Santa Monica Pier: When you think of Santa Monica, the attraction of the Pier inevitably comes to your mind. Unfortunately, due to Covid there was not much going on Santa Monica Pier as it was closed. But normally the Pier offers Pacific Park, plenty of restaurants, bars, souvenir shops, street vendors and so many more fun things to see! It is also a fantastic place to "people watch" as there are many types of characters there.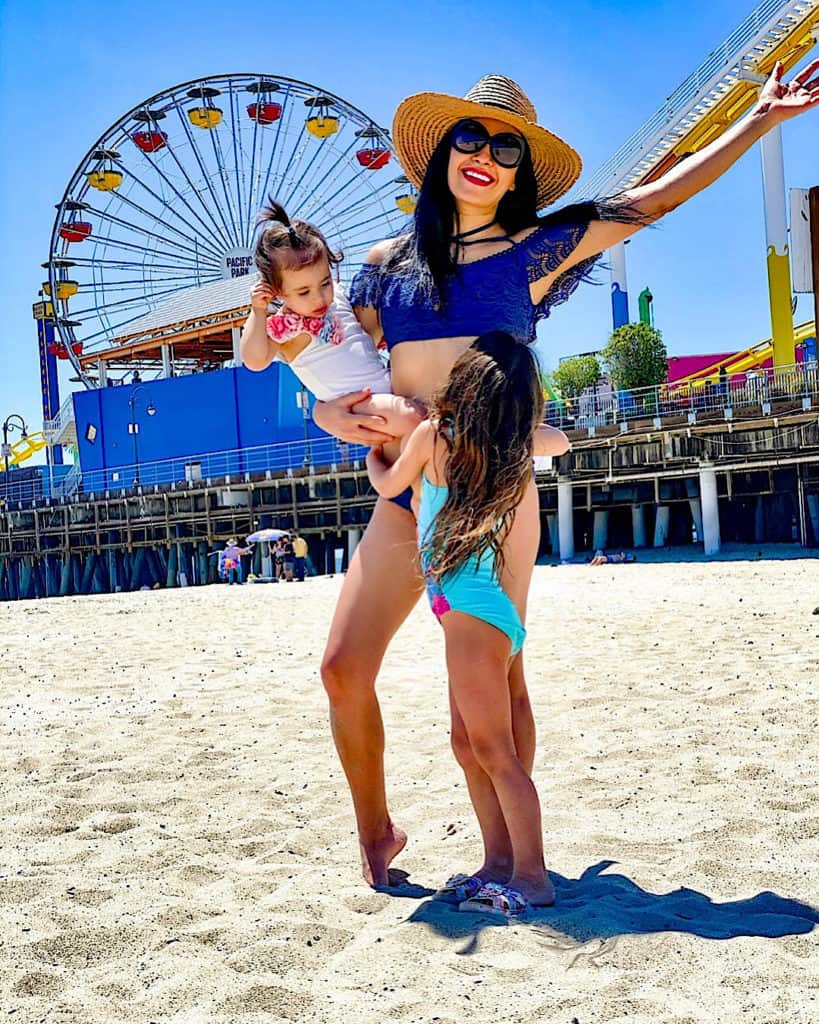 Third Street Promenade
Third Street Promenade: The Promenade is located in the heart of downtown Santa Monica! There are a lot of great things to see and experience at the promenade. There are several great shops and restaurants, street bands and the famous Santa Monica farmers market! It's such a fun place to visit and that's why it's a must-see – even if you only have 3 days in Los Angeles!
Farmers Market on 3rd Street: Santa Monica Farmers Market is on 3rd and Arizona in Santa Monica. This market is so beautiful! It is one of my FAVORITE things to do while in Santa Monica! You can almost get most of your grocery shopping done at the Santa Monica Farmer's Markets. There are meat and seafood vendors, vegetables, fruits, flowers, oils, spices, sauces, condiments, juices, and so much more to see and shop! Make sure to stop by and get some of your favorite fruits and vegetables so you can also help supporting the locals!
3rd Street Farmers Market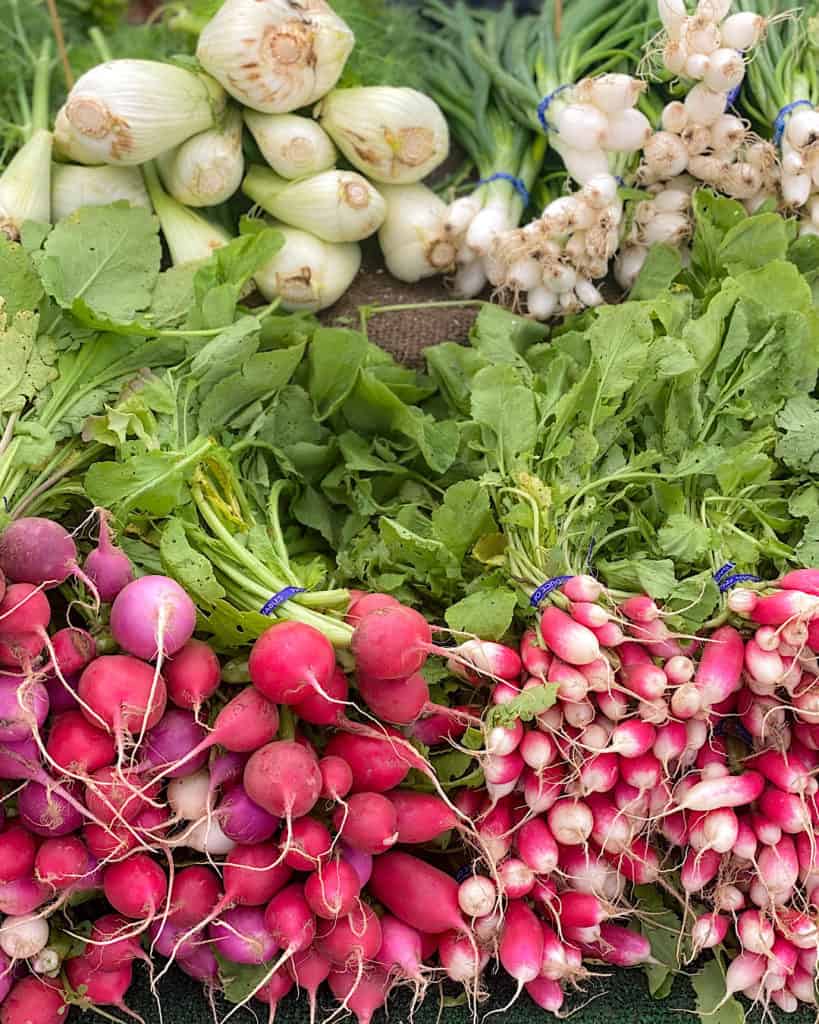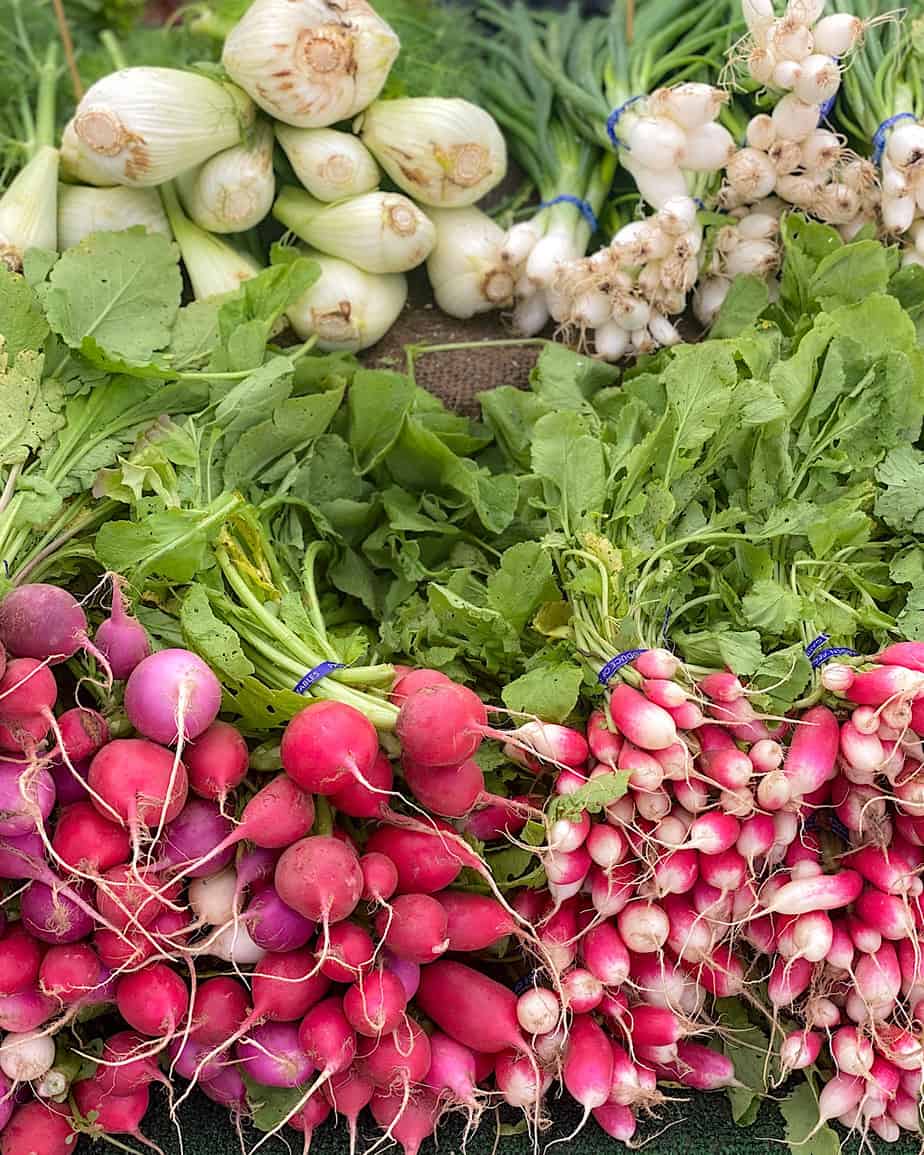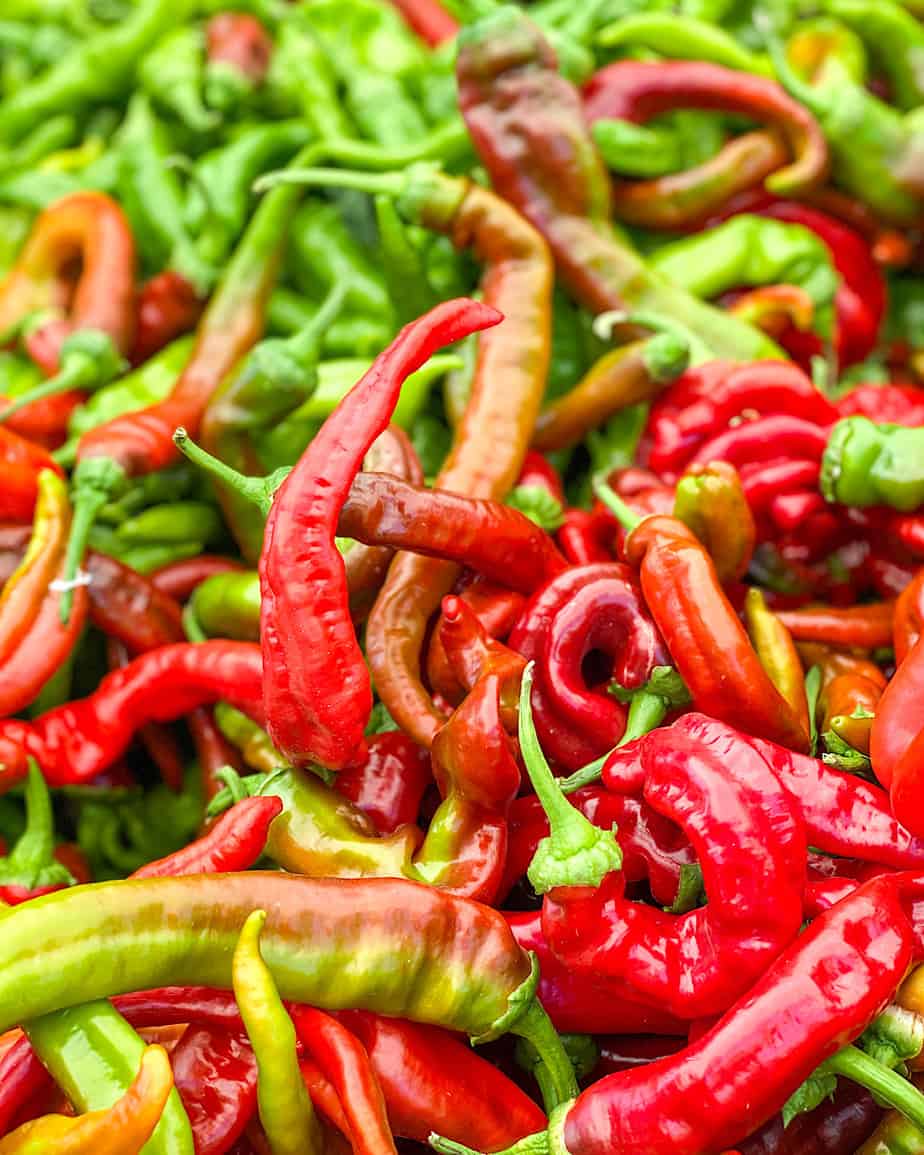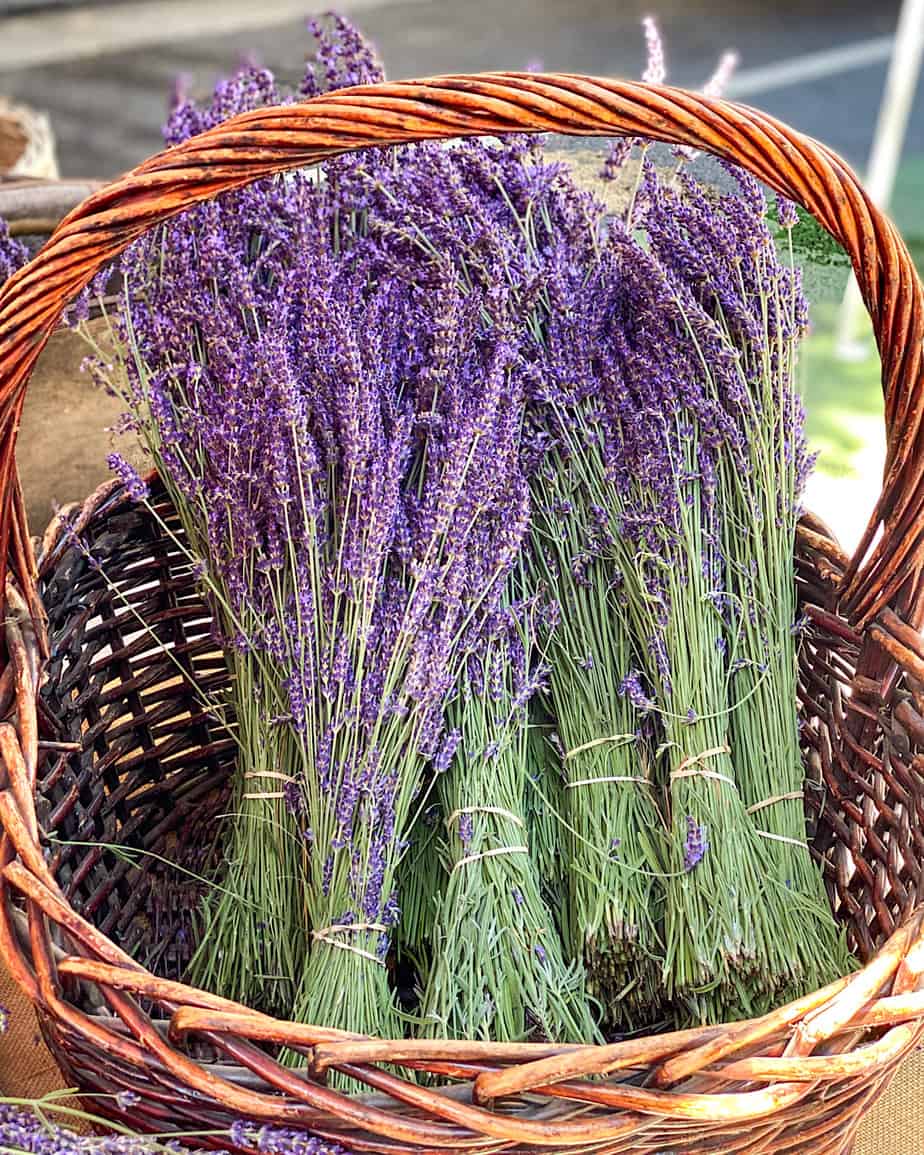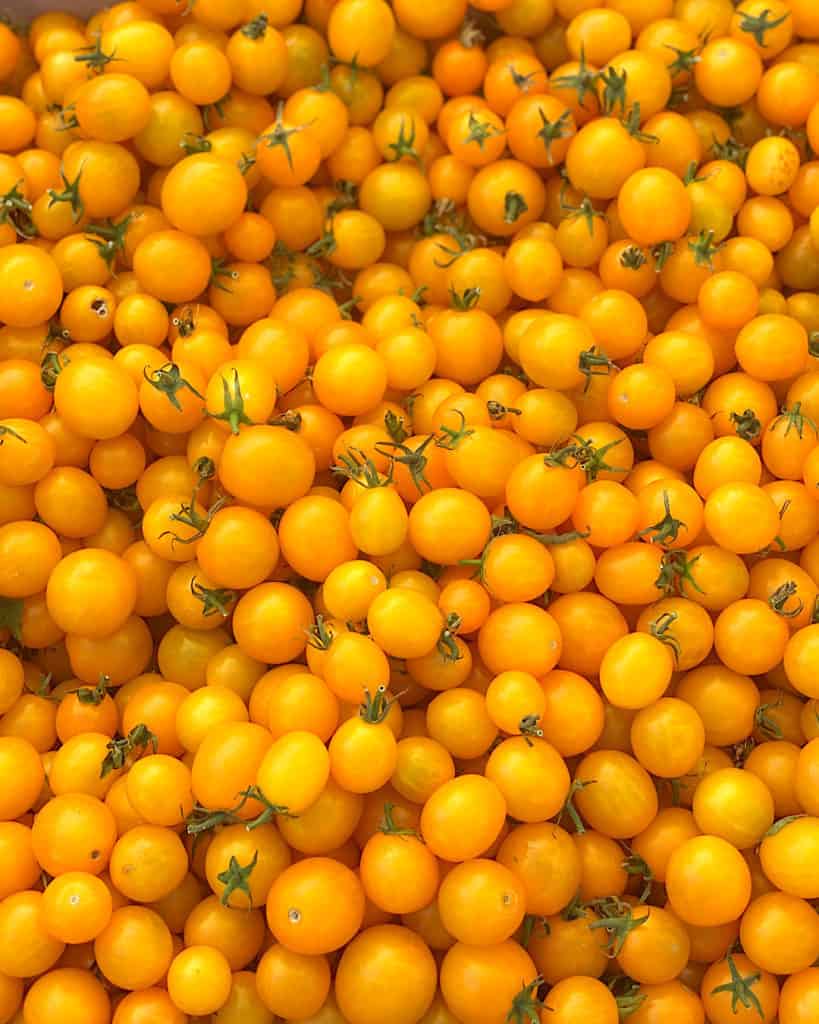 Unfortunately, Third Street did not look or feel the same as usual due to the closure of so many wonderful restaurants, boutiques, and other big brands!!! I honestly could not believe what has happened to all those incredible stores in such a short period of time!!!
I am hoping once the pandemic stops, most of these stores open again and they can bring the "energy" and the "excitement" back to this beautiful shopping and dining district of Santa Monica!
Venice Beach
Venice Beach: While visiting Santa Monica, you should visit Venice beach! You can easily walk or ride your bike from Santa Monica to Venice beach! The walk from Santa Monica Pier to Venice beach is about 2 miles.
My favorite part about visiting Venice beach is to stop by Rose Café for brunch. If you decide to try the Rose Café brunch, make sure to order "heart roasted brioche French toast" as well as "avocado toast"! You will LOVE them! To be honest, I love everything on that menu! LOL!
Beside the charming restaurants and shops, Venice is known for its canals, a beach, ocean front walk, pedestrian promenade that features performers, fortune-tellers, artists, street vendors and so much more! It is such an entertaining district to visit!
Palisades Village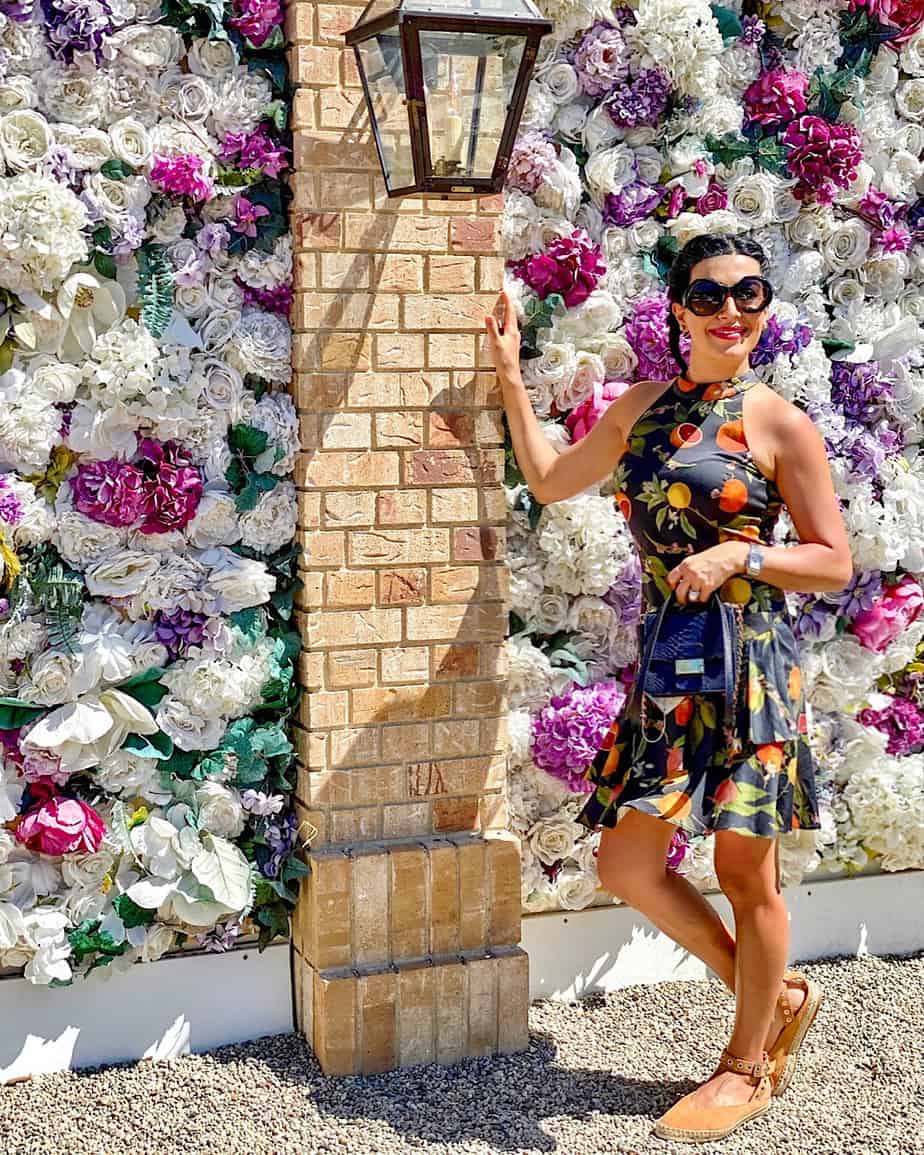 Palisades Village: I honestly think this beautiful outdoor shopping/dinning was designed to be "picture- perfect". There are beautiful stores such as Zimmermann, Tamara Mellon, Bonjour Fete that makes you feel like you are shopping in Europe!
There is a nice small "park" where the kids can run around and play to burn off some energy. There is an ice cream salon conveniently located on the perimeter, as well as a coffee shop for the adults. I loved how parking was so nice and easy and there is always soothing music playing throughout the entire premises. Forget about being on a diet (LOL) and stop by at "McConnell's Fine Ice Creams" in Pacific Palisades. Their ice cream is so delicious!
DAY TWO
Hike to Hollywood Sign
Hike to Hollywood Sign: If you are an "early riser", you can start your day by hiking to the Hollywood Sign! The hike from "Canyon Drive" to Hollywood sign is about 4 miles which takes anywhere between 2-3 hours to complete (depends on how fast or slow you would like to hike).
There are several hiking trails that give you different "viewing" options of the iconic Hollywood Sign! These are some of the best trails to get to the Hollywood sign! Make sure to apply a lot of sunscreen and take enough water supply with you as it can get hot in summer days (even fall) as there is very little shade!
These are some of the best trails to hike to get to the Hollywood Sign:
Griffith Park Hiking Trails
Brush Canyon Trail
Hollyridge Trail
Burbank Peak Trail
Innsdale Drive
You can also use the "Dash Observatory Bus" OR, if you love horses and enjoy horseback ridings you can experience a fun horseback riding under the Hollywood sign with the best view through "Sunset Ranch Hollywood".
Universal Studios Hollywood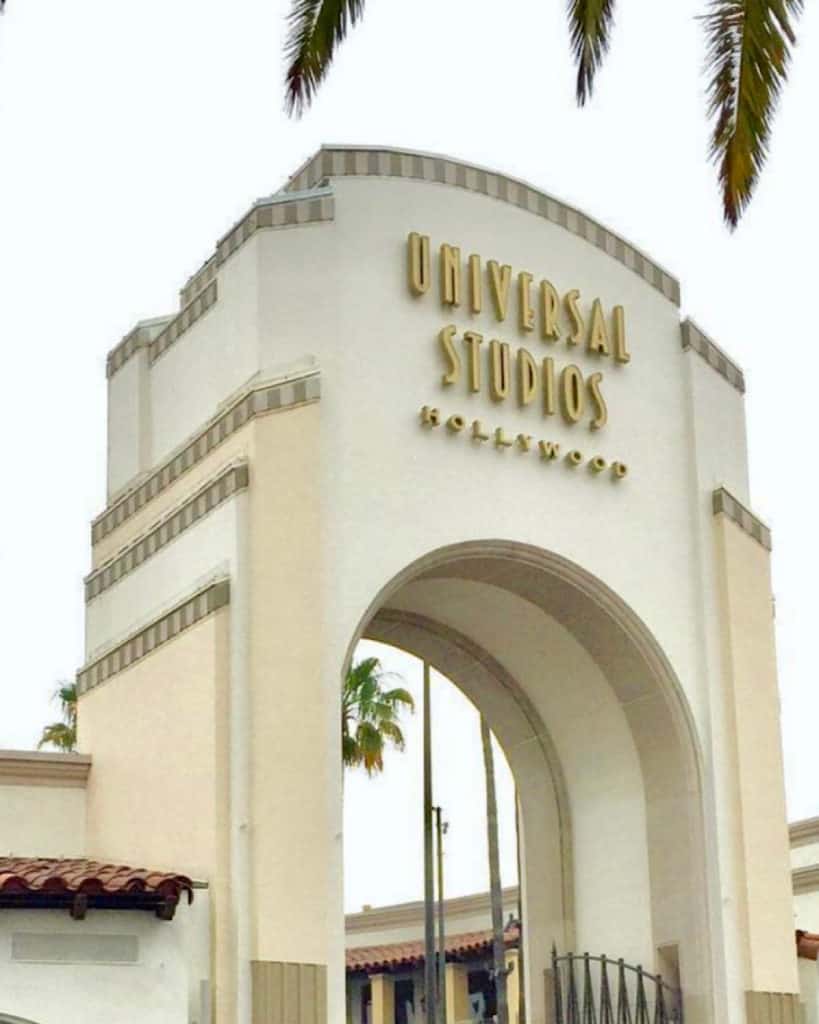 Universal Studios Hollywood: Universal Studios Hollywood is a film studio and theme park in the San Fernando Valley area of Los Angeles County, California. I have not personally been to Universal Studios. But I would love to take our kids on our next visit to LA. Universal Studio is a ONE DAY park for most people! It is a fun place for kids but even more fun for adults!
Hollywood Walk of Fame
Hollywood Walk of Fame: The Hollywood Walk of Fame is one of those places that you probably want to see if you are visiting Hollywood for the first time. However, do NOT be too surprised by its simplicity!!! Hollywood Walk of Fame is not at "glamourous" as you would expect! It was certainly not what I had "in mind" when I first visited several years ago! But I still think it is worth to check off the bucket list while you are visiting Los Angles. There are several blocks of "names" and you may need to walk a bit to find your favorite "stars".
Beverly Hills
Beverly Hills: If you are staying in Santa Monica, it is about 20-25 minutes' drive to Beverly Hills! As you may know, Beverly Hills is home to many Hollywood stars, and it features the upscale shopping street of Rodeo Drive. The beautiful Beverly Gardens Park has fountains, stunning rose gardens, and the famous illuminated Beverly Hills sign.
Rodeo Drive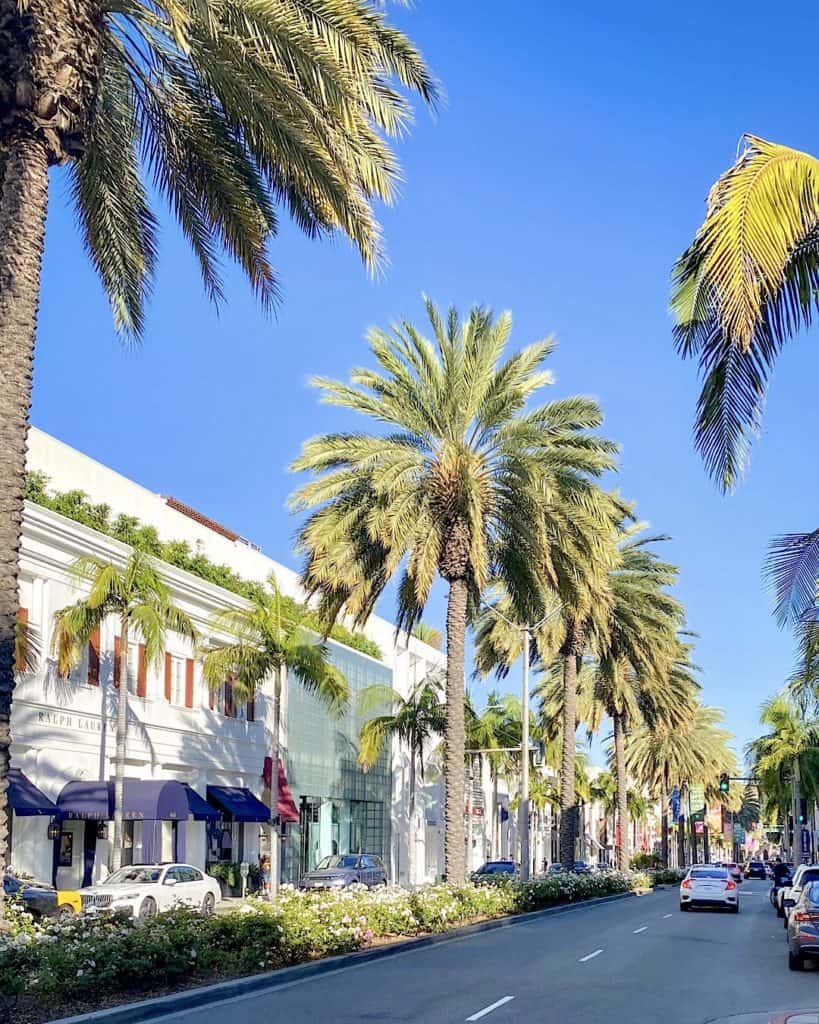 Rodeo Drive: Once you arrive to Beverly Hills, make sure to visit the famous "Rodeo Drive" and its beautiful shops as well as Beverly Wilshire, a Four Seasons hotel which was the iconic setting of Pretty Woman!
Graystone Mansion
Graystone Mansion: Another beautiful area in Beverly Hills that is my ABSOLUTE favorite is the Graystone Mansion and gardens/ the Doheny Estate! There have been so many beautiful series and movies (including Spider-Man) have been filmed in this mansion! There have also been many presidential dinners and other elegant events held in the mansion! It is so worth the visit!
DAY THREE
Malibu
Malibu: By day three, you may be tired of covering so many great places that you visited in just two short days! However, if you want to just "chill" and "relax" and do not want to make so many stops anymore, I recommend visiting Malibu!
Some people also like to "fit" Santa Barbara on their 3-Days visit to Los Angeles. It is completely up to YOU on how much you would like to cover on your stay in LA. The driving time between Santa Monica and Malibu is about 1.5 -2 hours (depending on the traffic).
I recommend to either go to Malibu OR Santa Barbara on your last day! If you choose to go to both destinations, you probably won't get to enjoy either destination to the fullest.
Malibu is west of Los Angles and is simply gorgeous! It is known for its sunny beaches, the most beautiful sunsets and incredible surf spots! Every time I think of Malibu, I think of relaxing fun in the sun! hahaha!
You do not really go to Malibu to shop or visit a lot of historic places. You go to Malibu to lay on the beach, enjoy the cool Pacific Ocean breeze or sunset! It is pretty much spring like temperature all year! My favorite restaurants with incredible views in Malibu are Nobu, Carbon Beach Club, Geoffrey's and Moon Shadows! There are lots of other great options and different price points to dine and enjoy the views in Malibu!
You can also consider going to Zuma beach while in Malibu. This beach is not as crowded as some of the other beaches near LA and it is also one the nicest places to watch the sunset.
Santa Barbara
Santa Barbara: I honestly think you need one full day to chill and relax in Santa Barbara! But if you've only got 3 days in Los Angeles, you'll probably have to keep it short! However, you can still make the best out of your half/day Santa Barbara visit (if that is all the time you have left to spend). If you love and enjoy wine, one of the best things to do in Santa Barbara is visiting some of their beautiful wineries. I am going to list some of the loveliest Santa Barbara wineries here:
If you are not into wine or wine tasting, you can visit these wonderful places in Santa Barbara:
Shop & dine in downtown Santa Barbara
If you are visiting on a Tuesday or Saturday, make sure to stop by the charming farmers market to shop from locals, talented chefs and bakers!
Visit Stearns Wharf Pier
Visit Lotusland
Visit the Santa Barbara Botanic Garden
Visit Old Mission Santa Barbara
Visit Santa Barbara Zoo (if you want to do something fun your kids)
Since LA is a huge city, I recommend renting a car if you want to cover a lot of ground. Of course, you can always use Uber, Lyft, taxi, or public transportation! We mostly use Uber or Lyft when we travel to LA so we don't have to deal with parking (one of the big issues in LA). Keep that in mind that you certainly need some sort of transportations to get you around the city!
As I mentioned above, there are so much to do and see in Los Angles! However, I tried to cover the best of LA in three short days. If you've got 3 days in Los Angeles then I hope this helps you, and have fun exploring this beautiful city!
For me, I really really love Santa Monica, and if you want a specific travel guide for Santa Monica, I have one right here for you!
If you have been to Los Angles before, what are your favorite parts? Please let me know in the comments below!
This post may contain affiliate links, which means that I may receive a commission if you make a purchase using these links.
Shop This Post Or Similar

Sherry, xoxo