I always look online and try to come up with fun and interesting ideas of "what to do with your kids" on the weekends. There always seems to be a long list of "things to do" on the internet, but somehow most weekends we end up repeating the same things over and over again! Hahaha!
What To Do With Your Kids
Our usual weekend routine is going out to brunch or lunch, followed by going out to walk or shop with our little ones and then some dinner plans with our friends or family! Sometimes we take Valentina to a friend's birthday party on the weekend!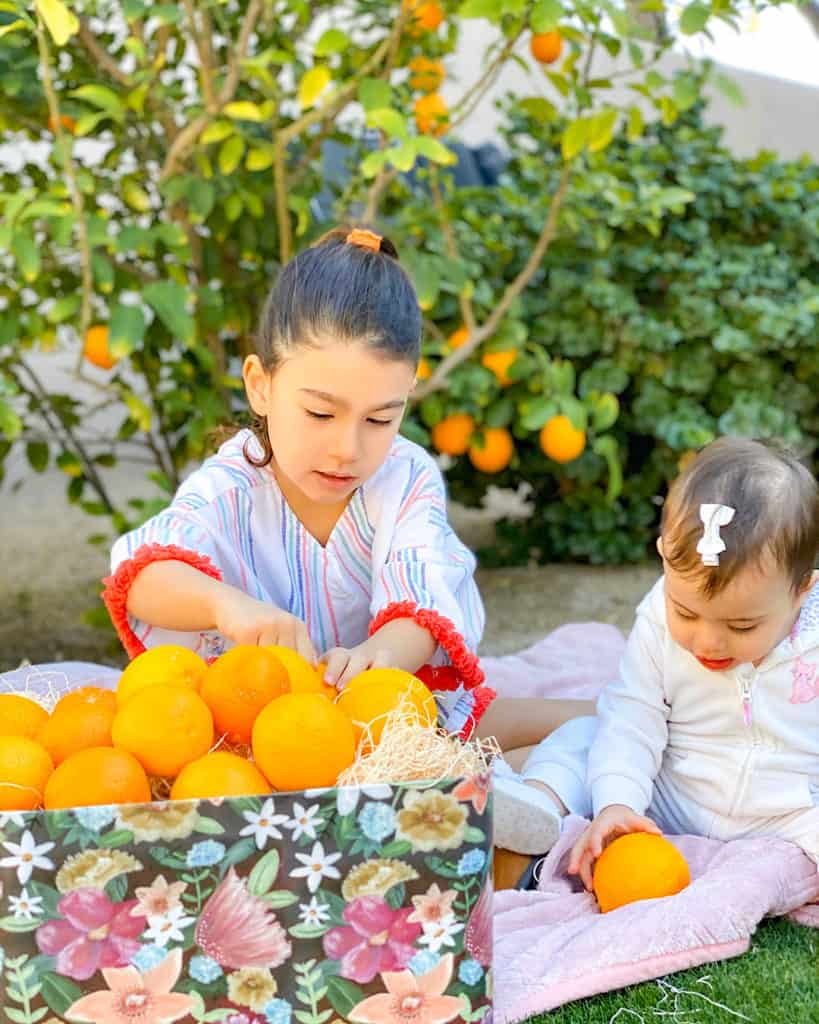 A Fun & Simple Weekend Activity with Your Kids!
Last weekend we decided to do something different with our kids and come up with a new fun activity in our own backyard! Our idea was to take them to pick the oranges and lemons off of our trees in our own backyard!
Valentina loved to help pick the oranges off of the tree and Alina was "being a baby" and put everything in her mouth as usual (the oranges, the leaves and everything else falling off the tree)! Hahaha! It started off nicely but it ended up messy and crazy with so many oranges and lemons everywhere and our baby Alina walking all over them!
But guess what….?! It didn't matter! Sure… we had to do more "clean up" after we brought the kids inside, but we were in the backyard for couple of hours playing around, filling up the basket with the lemons and oranges, peeling some of the oranges and eating them "fresh" – such a great thing to do with your kids!
It was a very simple activity in our own backyard, but yet, we got the kids out of the house and away from the TV. They got a great experience in "teamwork" and play. It got them outside where they could soak up the sun and vitamin D.
Most importantly, we had an amazing time doing an activity as a family which is worth its weight in gold for their development. It was great, just two sisters hanging out with mommy and daddy!
Since I'm always looking for ideas and "things to do with your toddler", I'm going to list some of these activities here and hope you mommas out there find this list helpful!
10 Fun Activities To Do With Your Toddler
Go to nature: Go for a walk and collect items from Mother Nature. When you get back at home make a collage out of the found items.
A visit to the Farmer's Market: Best place to buy fresh fruits and vegetables and educate your kids about the benefit of eating healthy and good nutrition.
Mud Pie: Let the kids be messy and have fun (although I personally can't really let them get all muddy and messy- it drives me crazy! Hahaha) but Valentina LOVES to get messy and muddy! Thanks to Peppa Pig and the "muddy puddles"! (And if you want to try the real thing – here's my fave Mississippi mud pie recipe!!)
Water War: If the temperature allows, fill up the water guns, and balloons and turn on the sprinkler for a water fight. Most kids LOVE water fights!
Play hide and seek: A classic kid activity, but it's not just fun and games. Hide and Seek is amazing for our kids' brains, hearts and bodies!
Play in a sandbox: Bring the beach to your own backyard! Hahaha! Nothing makes Valentina more excited than playing with the sand! To be honest I have tried the sandbox once in our backyard and never did it again!!! LOL! That's because I have severe O.C.D and can't watch the house get all messy with sand everywhere! Hahaha! But if you are one those easy going moms and don't care, defiantly try this activity with your little one! They love it!
Art projects: There are so many wonderful benefits in art work for toddlers and kids. Art encourages fine motor skills, problem-solving abilities, neural development, creativity and so much more! In our house, art projects are the daily activity! Especially since summers are so hot in Arizona, I find art project as one of the best indoor activities!
Bake cookies: Baking can give your child alot of opportunity to develop and use their hands in a coordinated way. I think it is best if you can make a playdate out of it and invite couple of your child's friends over to your house. I think this is a great activity for bonding with friends, the kids learn so much, and they also have a fun treat to share at the end of baking!
Have a picnic: It is a great opportunity for breathing fresh air, learning about nature and the best way for family bonding without any other distractions. If you live in a place that you are closer to the beach, lake or river, that's even better! I LOVE to do a little "beach picnic" when we travel to California.
Go to a museum: Museums introduce your kids to unknown worlds and provide them with a lot of valuable learning experiences. Bringing children to museums opens their eyes to different ideas and perspectives that are relevant to their lives. Toddlers can't handle staying inside the museums too long, but even 30 minutes to one hour of museum time is very beneficial for their growth.
Too much of life today is consumed by work, TV, iPhone, iPad which decreases the amount of time interacting and playing with our kids and significant others. So put down the devices and turn off the electronic babysitter and enjoy time with your little ones. This stage of when they are infants and toddlers goes by so quickly. Hopefully, the activities on this list will provide simple and unforgettable great memories.
Please share some of your favorite activities with your little ones and what you love to do with your kids in the comment section!
And if you liked this, check out my post on fun family things do around Valentine's Day!
Love,
Sherry, xoxo