I feel like taking toddlers to a pumpkin patch is a process! LOL! This is why I created this post to share some great tips for taking your toddler to the pumpkin patch!
Later in this post, I will also share some tips on how to take great photos of your children at the pumpkin patch. Those cute photos will stay with them as a beautiful part of their childhood memories!
This post is about sharing great tips for taking your toddler to the pumpkin patch. It also shares lots of cute pumpkin patch outfits for children.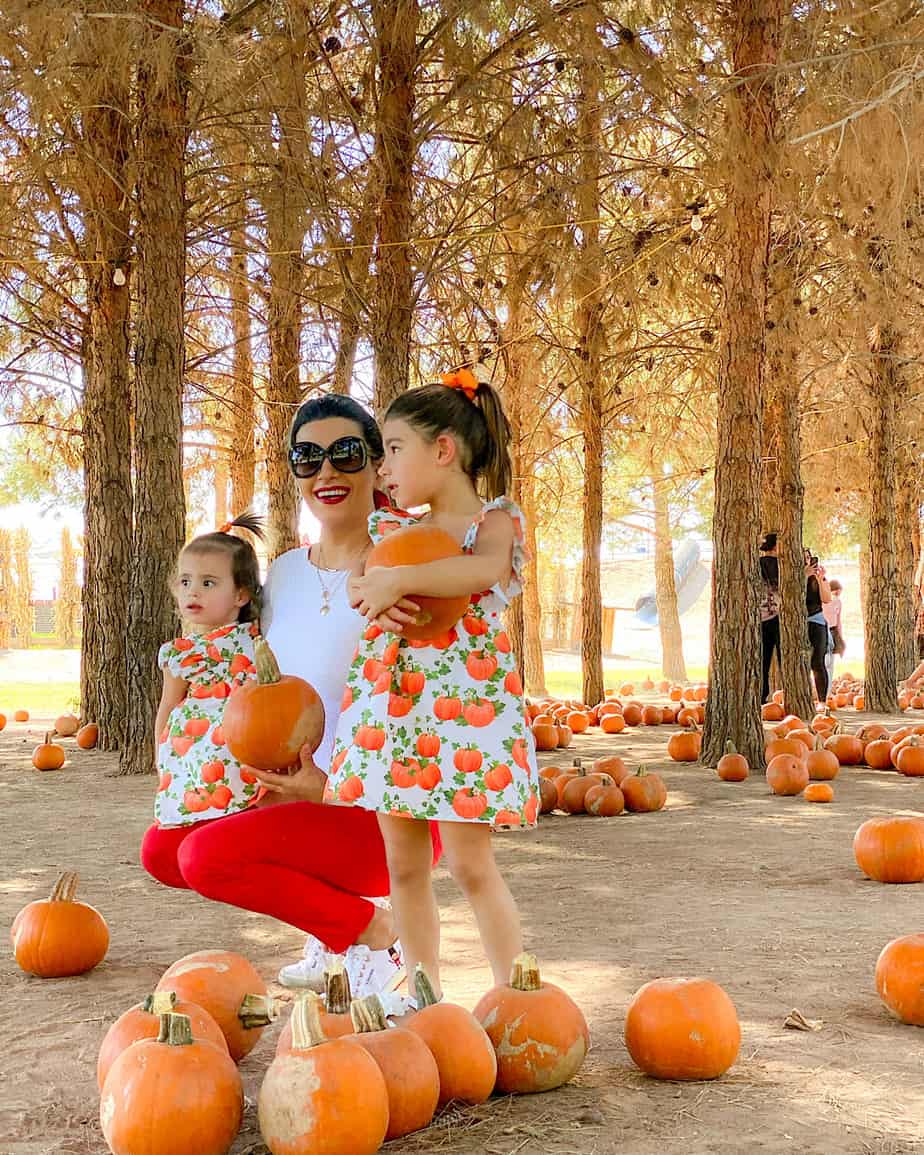 Related Post: Breakfast at Tiffany's Costume| A Fashionable Halloween Trend
This post may contain affiliate links, which means that I may receive a commission if you make a purchase using these links.

October, November, and December are my favorite months of the year! For one obvious reason and that is there are a lot of great holidays, celebrations, and fun things to do around this time of year!
While taking your toddlers to the pumpkin patch is so much fun, it can easily become hard on toddlers and the whole family! Pumpkin patching and all the activities involved at the pumpkin farm can take several hours!
However, if you plan ahead, you can have a much better experience and can stay much longer at the farm. I am going to share some tips here so that if this is your first time taking your baby or your toddler to the pumpkin patch, you can be better prepared!

Pumpkin Patch- Buy Your Own Pumpkin
There are many beautiful family farms and local pumpkin patches that offer fun activities for families in Arizona. For the past 5 years, we have been going to the same pumpkin patch farm in north Scottsdale called MacDonald's Ranch. However, this year we decided to try a different pumpkin patch farm called Mother Nature's Farm.
Since this was pretty far from our house, I first checked their website and read several reviews about them. There were many more positive reviews than negatives, therefore, we decided to make the drive for a different pumpkin patching experience! I am so glad we did!
Mother Nature's Farm is so beautiful and is just a perfect pumpkin farm with a lot of cute farm animals, kid's adventures, a fun wagon ride, and a lovely farm boutique!
Related Post: 9 Easy Tips for Outdoor Decorating with Mums and Pumpkins
Pumpkin Picking
One of my favorite parts about this farm is the beautiful tall trees with so many pumpkins on the ground when you first enter the farm! The ocean of pumpkins made our little girls Valentina and Alina so excited! Valentina was so excited to buy her own pumpkin and take it home!
If you live in Arizona or if you are visiting Phoenix during October, I recommend visiting this cute farm and its petting zoo with your family. You will love it even more if you have young children.
We spent about 3-4 hours on this farm since Valentina and Alina did not want to leave! They played with the cute farm animals, sat on the hay bales, and just had an amazing fun day! If you are planning to take your toddlers or your babies for a fun pumpkin patching experience, these are some tips that I hope will help!
Tips for Taking Your Toddler to the Pumpkin Patch
Related Post: Cute Pumpkin Patch Outfit Ideas
1- Choose a Good Time of Day
If your toddler or baby takes morning or afternoon naps, make sure to plan your trip to the pumpkin patch around their nap times! If you take them after a nap, they will have so much energy to run around and truly have fun! Going to a pumpkin patch feels like a little field trip.
You can be there half day or all day! You and your toddler can get very tired! The last thing you want is to leave the pumpkin patch only after an hour just because your toddler is tired!
A second thing to keep in mind is most pumpkin patches are outdoors. Therefore, you will be in the direct sun for a while. That is why it is important to go either first thing in the morning (when they first open), or later in the afternoon so you will avoid the direct sun!
Additionally, it is always a good idea to bring and apply sunscreen for your children especially if you live in Arizona.
2- Take Boots or Right Shoes
Make sure to wear comfortable "closed-toe" shoes for yourself and have comfortable closed-toe shoes or boots for your little toddler! There will be so much walking around the farm that it is best to wear comfy shoes!
Since Valentina loves to choose her own shoes, we let her wear her favorite white sandals as we were leaving our house, but we knew she needed comfortable shoes to walk around (especially when pumpkin picking).
Therefore, we took her comfortable Nike shoes for her. Sure enough, we had to change her sandals to her Nike shoes 10 minutes after we walked into the farm and the hay maze! Hahaha!
These are some of my favorite shoes for kids when pumpkin patching

Related Post: Best Toddler Girl Clothes on Amazon
3- Change of Clothes
Take an extra set of clothing to change! This is something I ALWAYS forget to pack when we go pumpkin patching! Running around the pumpkin farms, getting on the hay rides, playing with the cute farm animals, and picking up pumpkins from the ground can make your toddler's outfit dirty so quickly!
Every time we are done with pumpkin patching, I realize that I wish I had an extra set of clothes for my little girls to change before buckling them up in their car seats! I promised myself that I will not forget this, on our next pumpkin patching trip!

Another thing to keep in mind is sometimes there are special events at your local pumpkin farm. There are lots of fun photo props, face painting, and live music that you can stay longer, take pictures and enjoy the event.
However, if your little one is covered with dust and dirt, you need to take her/him home to clean up! So make sure to take an extra set of clothing (and shoes) with you!

4- Take Wipes and Hand Sanitizer
Do NOT forget about taking wipes and hand sanitizer. You need them after your kids play with pumpkins or pet the farm animals.
Valentina loves to go to the food truck and eat some of her favorite snacks or drinks while at the pumpkin patch. We always make sure to wipe her hands and use hand sanitizer before letting her eat her snacks!
5- Take Lightweight Stroller (Canopy Umbrella Stroller)
If you have kids under 5, I recommend taking a lightweight stroller with you! I know…most kids are just too excited when they get to the pumpkin farm, and they do not want to sit in the stroller! However, at some point, they get so tired of walking!
Taking a lightweight stroller is a great way for your little one to rest while you can still be at the farm and enjoy the outdoors and the fresh air! That is when the lightweight canopy strollers are so handy! I recommend you do not take your daily stroller as they can get dusty at the farm!
Here are some of my favorite lightweight strollers to take with you!

6- Apply Sunscreens
As mentioned above, do not forget to apply sunscreen on yourself and your little ones! For us living in Arizona, we are so used to covering our bodies with sunscreen from March to the end of October! Hahaha! So, if you live in the area where you will be in the direct sun while pumpkin patching, make sure to apply sunscreen on your face and body!
Here are some of my favorite sunscreens for kids!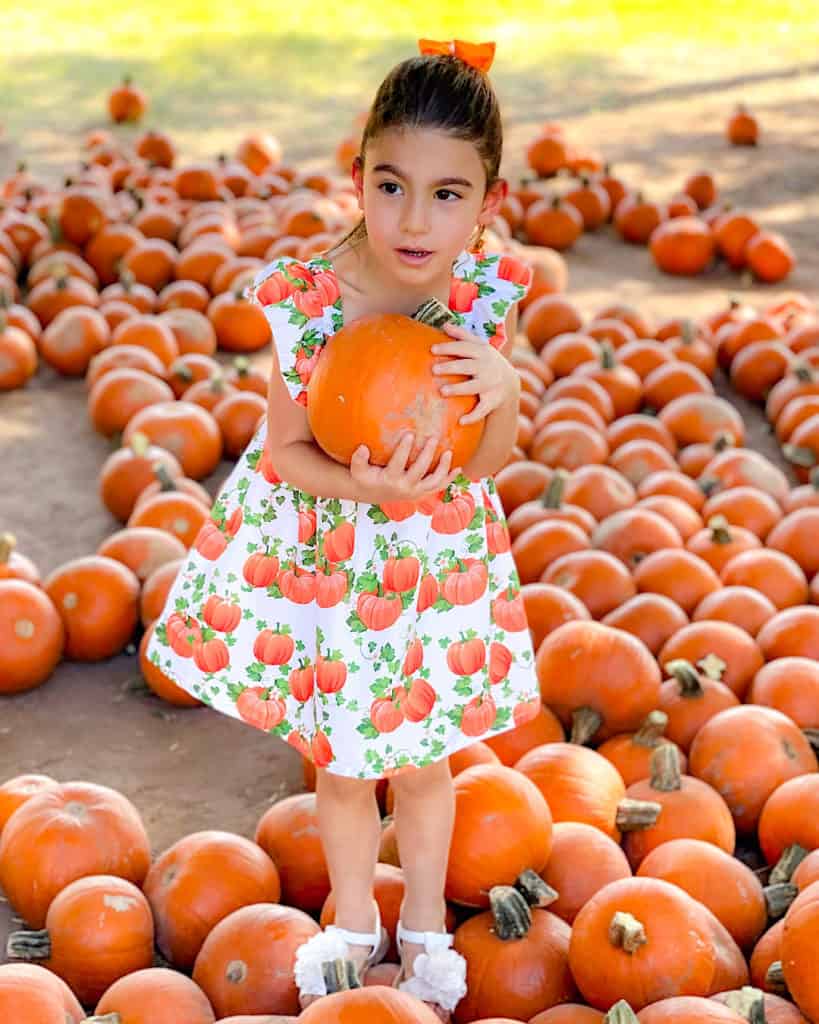 7- Take Snacks and Water Bottles
Some parents are so prepared and will remember every single item that they need for their toddler! Personally, I always assume that I will find and buy everything that I need at the pumpkin patch! (LOL)!!!
While there are usually one or two stores to purchase drinks or snacks, sometimes the line to buy even one bottle of water is SOOO long! If your toddler is thirsty or hungry, standing in that line will be so miserable (hahaha)!
Make sure to take a couple of water bottles and some of your toddler's favorite snacks! This is one of the best tips that I can share with you in this post!
Also keep in mind that some pumpkin patch farms offer a water and snack station, and some do not! Just to be safe, I recommend taking your toddler's favorite snacks, juice, and water.
This year, I am so glad we thought about taking some snacks to the pumpkin patch! Because the line to buy water and snacks was so long! Toddlers usually do not have the patients to stay in long lines!
8- Bring Cash- Some Farms Don't Accept Credit Card
Some pumpkin patch farms do not accept credit cards when purchasing snacks or water! Make sure to take cash before you go to the pumpkin farm!
The farm we went to this year for pumpkin patching (Mother Nature's Farm) had an ATM inside their gift shop, however, most farms do not have an ATM available! I recommend you take cash so you can purchase some snacks or water if you need it.
9- Take Your Camera
I think I use my iPhone more than our DSLR camera these days! But if you prefer to take your pictures with a DSLR camera, make sure to pack it up! You want to capture as many high-quality pictures as you can of your little sweet baby or toddler with the colorful pumpkins.
A great DRSL camera can take your picture quality to the next level! If you do not have a DSLR camera, just take some fall fun pictures with your iPhone or Android.
10- Buy Some Pumpkins from The Patch
Taking pictures with all of the pumpkins is so much fun, however, I believe that purchasing some pumpkins helps support locally owned farms.
Usually, pumpkins at the pumpkin patches are double the price of buying them from the grocery stores, but if each family buys even only 2,3, or 4 pumpkins, can help their local farm so much! Don't forget to support your local farm!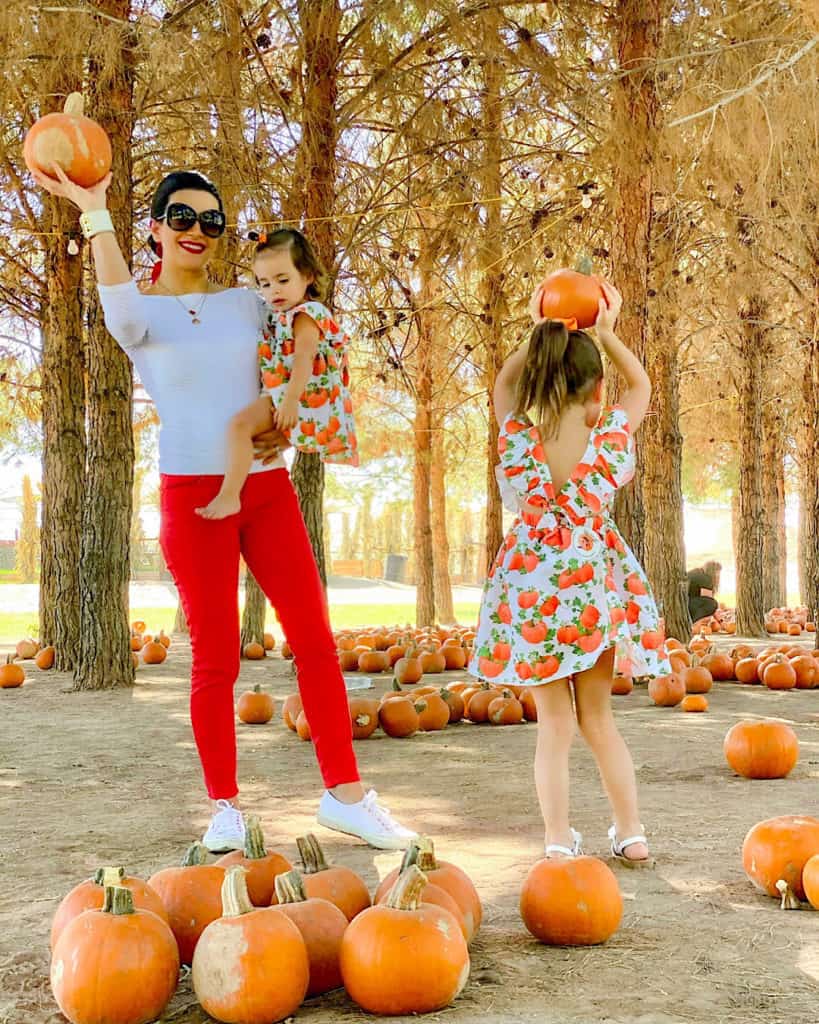 11- Bath and Clean Up Afterwards
Even if you take an extra set of clothes to the pumpkin patch, giving your little toddler a warm bath is a MUST!
Touching and playing with the pumpkins in the patch, playing with the farm animals, a fun tractor ride with other kids, horseback riding, and just running around the pumpkin patch can you make your little one filthy dirty! Hahaha!
Let your kids have a fun farm experience, and then give them a nice warm bath after you get home!
FAQ- Tips for Taking your Toddler to the pumpkin Patch–
How to take Great Photos of Your Children at the Pumpkin Patch
Feed everyone before heading to the pumpkin patch. They will be grumpy if they are hungry! Make sure YOU eat too!
Choose a sunny day!
Choose the right time of day when is not too crowded (when the pumpkin patch opens or late in the afternoon is the best time).
Choose the right color and texture of clothing (wear orange, yellow, or brown color).
Capture the moments while your kids are playing and having fun!
Don't let your kids know you are taking their pictures! Those pictures end up being the most beautiful pictures!
What to Wear to the Pumpkin Patch for Women
If you are going to the pumpkin patch on a cooler day, you can wear long-sleeved shirts, your favorite skinny jeans, a colorful sweater (I recommend yellow, orange, burgundy, or copper color), tall boots, and a fun plaid scarf to complete your "fall look".
Since we live in Arizona and the temperature is still over 100 Fahrenheit (almost 38 Celsius) in October, we will literally bake if we wear sweaters! Hahaha!
Therefore, I add some "fall colors" to me and my little girls' outfits. This way we all get into the "Fall Mood" right away! Hahaha! If you live in warmer areas, this is the best way to dress for trips to the pumpkin patch!
These are some fun pumpkin patching outfits for women


How To Dress Your Toddler to the Pumpkin Patch
Toddlers and babies need to be comfortable while pumpkin patching! The very first thing to keep in mind is making sure their outfit is comfortable so they can play and run around!
A cute little fall dress, leggings, boots (if you live in a cooler area), cute fall/pumpkin hair accessories (for little girls), or a fun little fall hat, can make the most adorable outfit for the pumpkin patch.

I love these adorable "pumpkin print dresses" that I ordered for Valentina and Alina. I ordered them from a seller on Etsy. Unfortunately, I was not happy with the service that I received from the seller! It took a LONG time for the outfits to arrive, and the sizes were not correct.
Therefore, I am going to share some other cute outfits that I had in mind before ordering these dresses! I am also going to share some of my favorite looks for pumpkin patching for little girls, boys, toddlers, and babies here!

When should I go to the pumpkin picking?
The first two weeks of October is the best time for pumpkin picking or visiting a pumpkin patch! Most pumpkin farms open the first week of October and they close the last weekend of October.
There are a few that may still operate through the first week of November. If you are planning to go to a specific pumpkin farm, it is always a good idea to check their operating days and times on their website before driving to the patch!
Pumpkin patches in Arizona
When I was doing some research on the "best pumpkin patch in Arizona", I noticed that there are many more pumpkin patches in Phoenix and all over Arizona than I thought!
As I mentioned earlier, we used to go to the same pumpkin patch (McDonald's Ranch) which is closer to our house every year. But now that I know there are so many, I would like to try a different pumpkin patch each year!
If you live in Arizona or you are planning to visit Arizona in the month of October, these are some great pumpkin patches that you can try with your family!
10 Best Pumpkin Patches in Phoenix and Around Arizona
Finally, you should keep in mind that you do not need to have little kids to go to a pumpkin patch! I used to go pumpkin patching with my sister or my friends when I was single! I always had a blast!
Have fun pumpkin patching with your little ones, friends, family, and loved ones!
Love,
Sherry
This post may contain affiliate links, which means that I may receive a commission if you make a purchase using these links.
Shop This Post or Similar






Sherry, xoxo